Michigan Wolverines:

Scott Sypniewski
January, 20, 2014
1/20/14
9:00
AM ET
And we now we finish up our position-by-position breakdown with the good, the bad and the future of the special teams.

THE GOOD:
Kicker
Brendan Gibbons
was clutch, for the most part, in 2013, nailing 44 of 44 extra points and hitting on 15 of 20 field goals. His five misses came from at least 30 yards. His most memorable game (in a bad way) was against Penn State when he missed a potential game-winner from 52 yards, had a 40-yarder blocked and then missed a 33-yarder. But his best moment of the season came when he hit the field goal to send the Michigan-Northwestern game into overtime. In other positive special teams news, the Wolverines continued their upward trend in kick returns under coach Brady Hoke. In the 2011 season, the Wolverines averaged 18.4 yards per return. Last season, that number improved to 22 yards per return, and this season, it saw an ever-so-slight increase to 22.1 yards per return. Sixteen percent of the Wolverines kickoff returns went for 30 or more yards, which ranked 45th nationally and third in the Big Ten.
THE BAD:
While the statistics have gotten better for kick returns, punt returns are another story. In Hoke's first season, the Wolverines averaged 9 yards per return. In 2012, that dropped to 8.8 yards per punt return, and this season, it dropped to 6.7 yards per return (89th nationally, 10th in the Big Ten). Only twice in 2013 did Michigan return a punt at least 20 yards (60th nationally, tied for sixth in the Big Ten). And when it came to punting, it was even worse.
Matt Wile
, who punted 61 times, averaged 40.6 yards per punt, which ranked 105th in the nation. Wile punted inside the opponents 10-yard line six times this season, which was only good enough for 59th nationally. By comparison, Michigan State's
Mike Sadler
led the nation with 23 punts inside the 10-yard line, while second place wasn't even close (Auburn's
Steven Clark
with 15).
Punt and kickoff coverages weren't great, either. On average, opponents lined up at their own 31-yard line after punt returns (106th nationally, 10th in the Big Ten), and 57 percent of the time opponents returned punts at least 5 yards (91st nationally, ninth in the Big Ten). On kickoffs, opponents' average starting point was at their own 28 (93rd nationally, ninth in the Big Ten), and 21 percent of the time opponents returned kickoffs at least 30 yards (102nd nationally, 11th in the Big Ten). By comparison, Wisconsin led the Big Ten by allowing opponents to return kickoffs at least 30 yards on just three percent of kickoffs.
THE FUTURE:
Wile should take over as the fulltime kicker and will continue punting duties most likely, though Michigan hopes to see vast improvements in that area. Down the road, this job will likely go to
Kenny Allen
, who will be the holder next season. Meanwhile,
Dennis Norfleet
will continue on returns and long snapper
Scott Sypniewski
will step in for three-year starter
Jareth Glanda
.
Previous posts:
Quarterback
Running backs
Wide receivers
Tight ends
Offensive line
Defensive line
Mike/Will linebackers
Sam linebackers
Defensive backs
July, 23, 2013
7/23/13
9:00
AM ET
ANN ARBOR, Mich. -- The summer camp season proved to be exciting, as it always is. Here are 10 things we learned through this summer.
1. Camp will always be a proving ground
The 2014 class will only have about 18 members, so when Michigan headed into this summer's camp with 10 commitments, it was unsure how many camp offers would really exist (especially considering how many highly-ranked guys had, and still have, interest in Michigan). But for guys like
Brandon Watson
(Elkton, Md./Eastern Christian Academy) and
Freddy Canteen
(Elkton, Md./Eastern Christian Academy), camp was all they needed. Their performances there were enough to garner offers. Sooner rather than later, those two turned those offers into commitments. And it wasn't just true in the 2014 class. Offensive lineman
Jon Runyan Jr
. (Philadelphia/St. Joseph's Prep) became the Wolverines' third commitment in the 2015 class after he proved himself at camp and picked up and offer.
2. The barbecue in the Big House is still … big
June, 24, 2013
6/24/13
10:37
PM ET
ANN ARBOR, Mich. -- Brady Hoke has pledged a commitment to special teams players. He showed this in the 2013 class by offering a scholarship to long snapper
Scott Sypniewski
(Ottawa, Ill./Marquette). And it keeps getting better for special teams recruits across the country.
Hoke proved his commitment even further Monday when he extended an offer and accepted a commitment from 2015 kicker
Andrew David
(Massillon, Ohio/Washington).
"I grew up a Michigan fan," David said. "My wardrobe and my carpet in my room are maize and blue. It was a lifelong dream to go there and now it's coming true. It's awesome."
To continue reading this article you must be an Insider
February, 15, 2013
2/15/13
10:30
AM ET
ANN ARBOR, Mich. -- Long snapper is a position in which offering a scholarship is still somewhat unorthodox. Much like giving kickers and punters scholarships a decade ago, this new wave of scholarship offers is slowly gaining acceptance.

As football continues to become more specialized, giving long snappers a free ride for four years is beginning to happen more often.

Michigan was always going to take a long snapper somehow. It has been a personal preference of coach Brady Hoke for years, and this season made the most sense to grab one.


January, 29, 2013
1/29/13
10:00
AM ET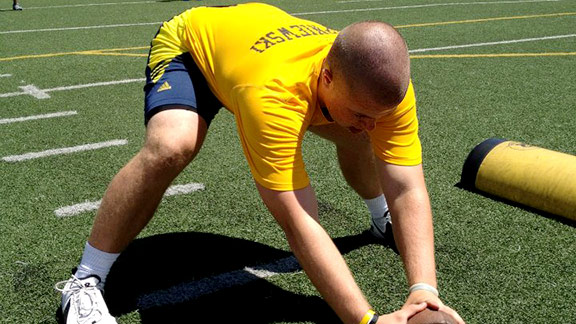 Courtesy of Rubio Long SnappingScott Sypniewski, a long snapper, received a scholarship offer from Michigan.
ANN ARBOR, Mich. -- Michigan coach Brady Hoke surprised quite a few people last summer when he extended a scholarship offer to long snapper
Scott Sypniewski
(Ottawa, Ill./Marquette). The general consensus among fans was puzzlement as they wondered why the scholarship wouldn't go to a more "valuable" skill player, where the Wolverines were struggling to get commits.
However, according to Jeremy Miller, former Michigan long snapper and one of Sypniewski's coaches, the decision was the correct one.
To continue reading this article you must be an Insider
September, 17, 2012
9/17/12
9:10
AM ET
The atmosphere inside Michigan Stadium was still lively despite the lack of competition in the Wolverines' 63-13 rout of Massachusetts. The 110,708 fans in attendance made noise early on, which gave visiting recruits a sample of how exciting the atmosphere can be.
"The atmosphere at Michigan was exciting," 2014 linebacker William White (Detroit/Cass Tech) said. "Seeing the players and parents I have been seeing since I was a child really made it better. Also the fans were very friendly people."
White and classmate Damon Webb, a cornerback, were supposed to take in Michigan State's game against Notre Dame after Michigan's game. A traffic jam didn't allow them to do that, so the Wolverines inadvertently prevented the Spartans from hosting the top prospects.
To continue reading this article you must be an Insider
June, 6, 2012
6/06/12
6:11
PM ET
Scott Sypniewski (Ottawa, Ill./Marquette Academy) was sitting with Michigan coach Brady Hoke on Wednesday afternoon in Ann Arbor, chatting about future majors when the second-year Wolverines coach stunned the prospect in the room with him.
He offered Sypniewski, a long-snapper, a scholarship. Moments later, the Ottawa, Ill. native became the 21st member of Michigan's Class of 2013.
"Michigan did definitely show the most interest," Sypniewski told WolverineNation on Wednesday afternoon. "They said from when they first met me they wanted me to be their long-snapper."
To continue reading this article you must be an Insider
Michigan C Cites Concussions In Decision To Quit
BIG TEN SCOREBOARD
Thursday, 9/3
Friday, 9/4
Saturday, 9/5
Sunday, 9/6
Monday, 9/7