Michigan Wolverines:

Reon Dawson
February, 3, 2014
Feb 3
12:30
PM ET
For the most part, Brady Hoke really doesn't like recruiting surprises. The majority of his commitments at Michigan have come early in the recruiting cycle, and by the time signing day rolls around, there aren't many spots left in Ann Arbor.
That's largely the case again this season. Michigan had six early enrollees, so only 10 will sign Wednesday. The Wolverines are really waiting on only one possible signee -- in-state defensive lineman
Malik McDowell
. The 6-foot-6, 260-pound prospect out of Southfield, Mich,. will decide among Michigan, Michigan State, Ohio State and Florida State.
Most later commits for the Wolverines have happened because Michigan offered a scholarship late in the process. However, the Wolverines have been in on McDowell for years. And on Wednesday, McDowell could join the very short list of Hoke's signing day surprises. Here's a look at those players from his first three classes.
2013 | Signing day: Feb. 1
RB Derrick Green | Jan. 26
[+] Enlarge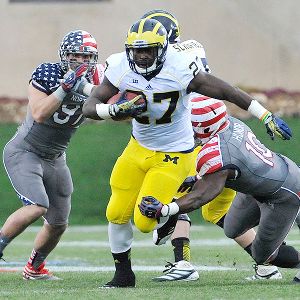 David Banks/USA TODAY SportsDerrick Green was a big signing for Brady Hoke at Michigan.
He was the last commitment in the 2013 class for the Wolverines and one of the freshmen who contributed the most this season. He chose Michigan over Auburn and Tennessee, who had both just gone through coaching changes. However, there was quite a bit of tension going into his decision day as to whether Hoke would be able to sign a player of Green's caliber from outside the Midwest.
DB Reon Dawson | Jan. 14
Dawson changed his commitment from Illinois, the in-state school he had been committed to for nearly eight months. Michigan came in with a late offer, not until about a month before he committed to the Wolverines. However, Dawson attended high school with longtime commit
Mike McCray
, so he said he had heard plenty about Michigan.
OL Dan Samuelson | Jan. 12
Samuelson was a bit of a surprise for a few reasons. He had been committed to Nebraska for eight months (and before that, he had been committed to Pitt for less than a month). However, he decided he wanted to be closer to his Indiana home and Michigan was only three hours away. But the bigger surprise was that most observers believed the Wolverines' offensive line recruiting was pretty much completed, as Hoke had already secured five four-star linemen.
2012 | Signing day: Feb. 2
WR/KR/PR Dennis Norfleet | Feb. 1
He really has been the only game-time decision during Hoke's tenure. The Wolverines were able to flip Norfleet's commitment from Cincinnati in the final days. Hoke had offered a scholarship to Norfleet the week before signing day, but he didn't decommit from Cincinnati until the night before.
DT Willie Henry | Jan. 31
Henry had taken his official visit to Michigan the weekend before signing day and then chose the Wolverines over MAC and Big East schools. Henry was an important late commit for the Wolverines because he kind of stopped the bleeding after several recruiting runner-up finishes for the Wolverines (TE
Sam Grant
, CB
Armani Reeves
, OL
Alex Kozan
, OL
Josh Garnett
).
2011 | Signing day: Feb. 3
The 2011 class as a whole was kind of a surprise class, as Hoke had less than two months to put it together. So there were a few guys, such as quarterback
Russell Bellomy
, offensive lineman
Chris Bryant
and linebacker
Antonio Poole
, who committed within two weeks of signing day. Today, that would seem like a lot of late commitments for Hoke, but for the 2011 class, it wasn't that crazy. The Wolverines picked up three commitments in the few days leading up to Hoke's first signing day at Michigan.
TE Chris Barnett | Feb. 2
Before Barnett got to signing day with Michigan, he attended four different high schools and broke commitments to Arkansas and Oklahoma. He ended up staying in Ann Arbor for only one season.
DE Frank Clark | Feb. 2
Clark was on campus for the first recruiting weekend of Hoke's tenure. The late add of not only an Ohio kid, but a player from Cleveland Glenville -- an Ohio State pipeline school -- was impressive for Hoke in his first few months on the job.
RB Thomas Rawls | Feb. 1
Rawls had visited only Michigan and Central Michigan, so it wasn't a huge surprise that he ended up choosing the Wolverines. However, in an interesting turn of events, Rawls was granted his release from Michigan following this season and will play for Central Michigan next season.
March, 13, 2013
3/13/13
9:00
AM ET
Michigan begins spring practice on Saturday with both some question marks and some major returning talent. Brady Hoke says of his team: "We're very young. But these guys have a lot of fight to them." There will also be a lot of fighting for starting jobs, beginning in a few days. I recently caught up with the third-year Wolverines coach for his thoughts on the approach of spring ball:
What are the main things you're looking for this spring?
Brady Hoke:
Well, you know, we've got a lot of open spaces. Some guys graduated, some guys aren't with the program anymore and we've got a lot of young guys. I think we only have 11 starters back on both sides of the ball, so there's going to be a lot of great competition, which is exciting. I think the leadership of our seniors, they've done a nice job of holding everybody accountable. But when you get out there with the pads on, it's a little different than just running around in shorts.
[+] Enlarge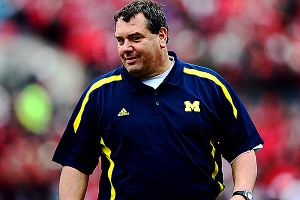 Andrew Weber/USA TODAY SportsWith only 11 returning starters, Michigan coach Brady Hoke said he's excited about the competition this spring.
Some of that competition will be on the offensive line, where you've got three open jobs on the interior. How do you see those battles right now?
BH:
Well, I think the interior of both lines, there's going to be a lot of competition. We've got to find a center, and that's between [
Jack] Miller
and [
Graham] Glasgow
, and
Joey Burzynski
will try to figure that out a little bit, too. At the guard positions,
Ben Braden
is going to move down inside and start out at the left guard, but he'll have a lot of competition because Burzynski is back and so is
Blake Bars
.
Kyle Kalis
will move into the right side, and it will be interesting again with [
Kyle] Bosch
and some of the guys who have been here a little bit. I think it will be a really good competition at all three of those inside positions.
Having
Taylor [Lewan
] back is huge. I think it's great for him and great for Michigan.
Mike Schofield
has had a really good winter. He had some real bright spots during the course of last season, and I think his development is going to be something special.
You mentioned the defensive line, where you also lost a couple of veterans. How does that shape up?
BH
: I think inside, we get
Jibreel Black
for another year and
Quinton Washington
. But once you get through that, there are a lot of young guys ...
Willie Henry
,
Ondre Pipkins
,
Ryan Glasgow
,
Richard Ash
and
Chris Wormley
are all guys who can either play the inside tackle or the strongside end. We'll find out the guys who are competitive.
Tommy Strobel
is another guy we think had a real good winter, and
Keith Heitzman
. So it's going to be fun to see them compete.
Does having so many young guys in key spots on the line make you nervous? Or do you have a lot of confidence in them because you recruited most of them?
BH:
I think it makes you nervous if you think you may have recruited the wrong guys. But we like the work ethic. We like how they've come in to learn and with a lot of enthusiasm. I think there's some competitiveness that we need to keep pushing as a program. You know, we lost five games on the road. We've played pretty well at home but we've got to do better on the road and that's a mindset, a mentality that you have to compete through everything, on every down.
Devin Gardner goes into spring practice as your starting quarterback. How has he developed as a leader?
BH:
I have been really excited about the progress he's made. I'm seeing that maturity that it takes and the leadership it takes and the competitiveness it takes to be the quarterback at Michigan. I think that's a real big part of how he's grown, and I think he's done a nice job with it. I'm liking the direction he's going, and hopefully he can just keep going and keep growing.
What about your running back position this spring, with Fitz Toussaint hurt and Derrick Green not there yet?
BH:
You know, Fitz has come along pretty well. I don't think he'll do a lot of contact or anything like that, but I think he'll be cleared for a lot more drill work. That's gone real well. We've moved [
Dennis] Norfleet
back to running back and we're going to give him an opportunity. Dennis, he's a smaller guy, but he's a very competitive, very tough young man.
Drake Johnson
is a guy we redshirted a year ago, and we really liked the way he competed in scout situations. In the bowl practices, we did some scrimmages and gave him a lot of carries, and we're very excited about what he has to offer.
Thomas Rawls
is coming back, and I think he learned a lot last year about the vision he needs to play with, and I like how he's competed through the [winter]. And
Justice Hayes
is a guy who gives you a little bit different look because of how he can get on the perimeter. He did some things in a couple of games last year, but now I think he'll have a big stage to prove himself more this spring. And he's a bigger guy now, he's 190-something pounds, so he's a little bigger.
[+] Enlarge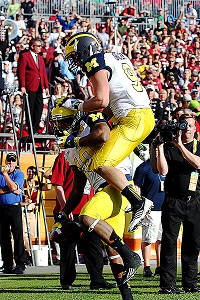 Kim Klement/USA TODAY SportsMichigan coach Brady Hoke said that he's pleased by more than just the on-field success of WRs Drew Dileo and Jeremy Gallon.
You have Jeremy Gallon back at receiver, but you lost Roy Roundtree. You sounded excited about some of the younger guys there during bowl prep. Is spring their time to step up now?
BH:
Yeah, I think so. First of all, I think the leadership with Gallon and
Drew Dileo
, they've done a really nice job being leaders at that position. They're not big guys, but they have a real spirit for the game and really do a nice job of working and leading. We have
Amara Darboh
, who played a little last year, and
Jehu Chesson
, who we redshirted a year ago. And I think
Jeremy Jackson
has had a very good winter; we're very excited about some of the progress he's made.
Joe Reynolds
is a guy who walked on here, and he's done a very nice job. And
Bo Dever
, his dad played here and he walked on. I think that during the course of the spring, we'll be in pretty good shape there. I think as we keep going, we'll keep improving at that position.
Linebacker was a strength for you last year and looks to be so again. Do you see some good competition there this spring, particularly at the weakside spot?
BH:
Yeah, I think with
Desmond Morgan
and
James Ross
, there's going to be great competition.
Joe Bolden
and
Royce Jenkins-Stone
and
Mike Jones
are all guys who are very competitive, and I think the three young guys coming in are going to be guys who will give us a lot of good competition and a lot of good depth.
Kaleb Ringer
is coming back from injury, so we'll see what he can give us. At the sam linebacker,
Jake [Ryan
] is coming back, and we really like what
Cam Gordon
has done during the winter. So I think we feel a little stronger at that position.
How do you replace what Jordan Kovacs gave you in the secondary?
BH:
I don't know if you ever replace that kind of leadership, but I really think
Thomas Gordon
, he's played a lot of football here, and it's time for him to demonstrate the leadership. And he's doing that. Because of the number of snaps and everything he's done, he's really fallen into his own a little bit.
Courtney Avery
has played a lot of football, and whether he's a corner a nickel or wherever, he's got to give us great leadership and great reps.
Blake Countess
is getting healthier; he'll do some things during the spring.
Josh Furman
, I think, has come on.
We've got to see where
Terry Richardson
is and where
Marvin Robinson
is. Both those guys have played a number of snaps. We've got
Raymon Taylor
back, who I think started every game for us last year, we're excited about his development.
Dymonte Thomas
is a guy who's going to compete, and he'll pressure some guys.
Jarrod Wilson
is another guy who played some last year for us. Ross Douglas is here early.
Jeremy Clark
is a 6-foot-4, 210-pound safety we redshirted a year ago, and it's going to be a big spring for him to make some moves.
So I think we may have more personnel back there. And even more in the fall when
Channing Stribling
gets in, and
Reon Dawson
gets in and
Jourdan Lewis
. I think it's going to add something to our secondary.
Finally, what has your message been to the team this offseason after last year's 8-5 season?
BH:
Well, our message has been, we haven't met the expectations at Michigan. That's something that as a football community… that we really feel that we have to do a much better job in all areas, from the coaching aspect of it, from learning and playing with the competitiveness we want to have, from every player at every position playing with the intensity we want to play with. It's about having a mindset and a mentality of how we want to play the game. We make no excuses, but at the same time, we know we have a lot we can do to play better football.
February, 28, 2013
2/28/13
10:00
AM ET
The writers at WolverineNation and BuckeyeNation put their heads together to break down the rivals' 2013 classes. Position by position, they'll give you a look at who Brady Hoke and Urban Meyer brought in and, ultimately, which class edged out the other. It's too early to say what will happen over the next few seasons, and we won't make any promises except that Hoke and Meyer are going to put talent on the field.
Ohio State got:
The Buckeyes were praised nationally for their wide receiver/athlete, linebacker and defensive line positions, but there's no doubt the defensive backfield is the headliner of the 2013 recruiting class. From ESPN 150 cornerbacks
Eli Apple
(Voorhees, N.J./Eastern) and
Cam Burrows
(Trotwood, Ohio/Trotwood-Madison) to other ESPN 150 defensive backs such as
Gareon Conley
(Massillon, Ohio/Washington) and
Vonn Bell
(Rossville, Ga./Ridgeland), Ohio State is loaded in the secondary. The fact ESPN 300 safety
Jayme Thompson
(Toledo, Ohio/Central Catholic) is the fifth-best DB on the list shows just how strong the unit is. Add three-star safety
Darron Lee
(New Albany, Ohio/New Albany), who is ranked 22nd at his position, and Ohio State's strength will come in air defense for the next four to five years.
February, 8, 2013
2/08/13
4:48
PM ET
Michigan signee
Reon Dawson
(Trotwood, Ohio/Trotwood-Madison) recently told the Dayton Daily News in an interview that he was an Ohio State fan, despite his commitment to Michigan. That riled up the Wolverines fan base.
To continue reading this article you must be an Insider
February, 8, 2013
2/08/13
10:00
AM ET
Michigan's defense has been much improved under coordinator Greg Mattison, but it's still not at the level he knows it needs to be.
Mattison has coached at all levels and knows the type of player he needs on his defense to be a national contender. Through recruiting the coaching staff has been working to get back to that talent level on defense, and a big part of those efforts have been with recruiting the right type of defensive backs.
"First thing is we always want to be a pressure team, but we want to pressure more when we want to, not because we have to," he said. "To do that you have to be able to play zone and you have to be able to play some straight man."
To continue reading this article you must be an Insider
January, 28, 2013
1/28/13
10:00
AM ET
Michigan's secondary suffered a big blow in the first game of last season when sophomore starter
Blake Countess
went down with an ACL injury. The already thin unit held together well without him, but the depth was a concern going forward, especially at cornerback.
That concern was evident on the recruiting trail as Michigan currently has six defensive back commits for 2013, five of which will likely be corners. The secondary in general is a younger position group, so competition for a few spots might be up for grabs in the future.
To continue reading this article you must be an Insider
January, 21, 2013
1/21/13
12:00
PM ET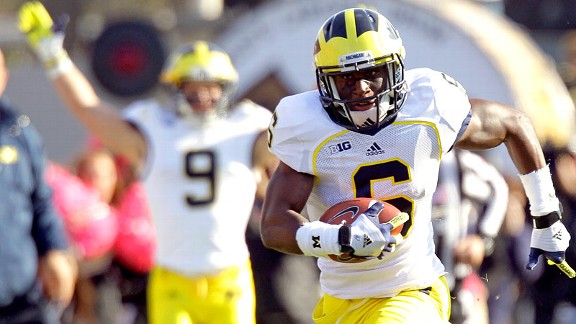 AP Photo/Michael ConroySophomore Raymon Taylor was thrust into a starting cornerback position when Blake Countess went out for the season due to injury, and his experience should help Michigan's secondary next season.
Over the next few weeks, WolverineNation will look at every position on the Michigan roster and give a depth chart analysis of each position on the roster heading into the offseason.
This was considered a position of strength entering last season, with two experienced corners getting ready to man their positions and have breakout years. It didn't really take place as
Blake Countess
missed all but one game of the season with an injury and
J.T. Floyd
was consistent but didn't make the next leap.
Now, entering next season, Michigan is in the same position. It has two starting cornerbacks ready to jump up a talent level and a bunch of guys behind them who are talented but don't have much experience at all.
To continue reading this article you must be an Insider
January, 14, 2013
1/14/13
9:53
PM ET
The Wolverines were successful in flipping former Nebraska offensive line commit Dan Samuelson (Plymouth, Ind./Plymouth) on Saturday. Samuelson committed while visiting Ann Arbor, and now Michigan has once again flipped another Big Ten commitment.
To continue reading this article you must be an Insider
January, 13, 2013
1/13/13
9:41
PM ET
Reon Dawson
was ready to open up his wallet. He thought he was going to have to pay for his ticket to the Michigan game.
Mike McCray II
(Trotwood, Ohio/Trotwood-Madison) was the recruit, not him.
But Dawson, the Trotwood-Madison defensive back, was being recruited by the Wolverines, too, even if he didn't know it.
To continue reading this article you must be an Insider
December, 27, 2012
12/27/12
8:00
AM ET
The Weekly Update at WolverineNation is a sneak peek inside Michigan recruiting.
SAM MUSTIPHER
Good Counsel High School in Maryland has been a hotbed of recruiting and continues to produce top talent, including offensive lineman
Sam Mustipher
in the 2014 class. Mustipher recently received an offer from Michigan, and it seems to have him pretty excited.
To continue reading this article you must be an Insider
December, 13, 2012
12/13/12
1:48
PM ET
The Weekly Update at WolverineNation is a sneak peek inside Michigan recruiting.
BRANDON LEE
Linebacker numbers are still going to be tight for the 2014 class, but a few top prospects have already started to hear from Michigan. Outside linebacker
Brandon Lee
(Indianapolis/Lawrence Central) doesn't yet have an offer but says Michigan is a school he contacts frequently.
To continue reading this article you must be an Insider
December, 10, 2012
12/10/12
9:38
PM ET
Reon Dawson
(Trotwood, Ohio/Trotwood-Madison) has been committed to Illinois since May, but the three-star safety recently added an offer from Michigan.
The offer from the Wolverines has caused him to think his recruitment over, and Dawson's teammate
Mike McCray II
is a Michigan commit.
Dawson will officially visit Illinois this weekend instead of Michigan, though, Dawson said in a text message. He said he plans to visit Michigan in January but no date has been set.
Dawson is No. 41 among safeties nationally and No. 40 overall in Ohio.
To continue reading this article you must be an Insider
December, 3, 2012
12/03/12
5:32
PM ET
Trotwood-Madison (Trotwood, Ohio) has been kind to Michigan in the past and in the 2013 class, and the Wolverines coaches are hoping to mine the high school hotbed one more time.
Michigan sent out an offer to safety
Reon Dawson
on Monday, Dawson reported. The coaches called him Monday during lunch to let him know of the offer.
"Length and speed," the 6-foot-1 Dawson wrote in a text as to what the coaches told him was the reason they offered.
To continue reading this article you must be an Insider
November, 29, 2012
11/29/12
10:10
AM ET
The Weekly Update at WolverineNation is a sneak peek inside Michigan recruiting.
OFFENSIVE LINE
Michigan is still pursuing an offensive lineman for this class and it looks like the main targets right now are
Kenny Lacy
(Phoenix/Mountain Pointe),
Cameron Hunt
(Corona, Calif./Centennial) and Na'ty Rodgers (Pomfret, Md./McDonough).
To continue reading this article you must be an Insider
Big Ten Recruiting Report Card
BIG TEN SCOREBOARD
Thursday, 8/28
Friday, 8/29
Saturday, 8/30