Michigan Wolverines:

Pat Narduzzi
December, 3, 2013
Dec 3
12:00
PM ET
The only way college football could be better is if people had stronger opinions about it.
November, 7, 2013
Nov 7
6:00
PM ET
My first chat of November is in the books. Did you miss it? Check out the
full transcript here
.
Some highlights:
DJ from Mlps:
When reading bowl projections, one thing that always seems to come up is Minnesota having a bad reputation for traveling fan support. In fairness, Minnesota hasn't played on New Year's Day in over 50 years and I believe that Minnesotans would flood any warm destination to a Bowl Game of more prominence. We had the largest fan support in our run to the NCAA Final Four in 1997 (since taken off the books). Can Minnesota get past this reputation issue? Hoping for a Gator Bowl bid if we can knock off Penn St. this weekend!
Adam Rittenberg:
DJ, some good points here. Ultimately, it's Norwood Teague's job to sell Minnesota to the bowl reps. I've had multiple bowl people tell me Minnesota travels worse than any fan base in the Big Ten, but part of that could be apathy about the bowls the Gophers have made. There's certainly some enthusiasm around the program right now, and a New Year's Day bowl would only enhance that. I don't think you can compare a Final Four to, say, a Gator Bowl appearance, but Minnesota will have opportunities to sell why it should go to a good bowl.
---
Matthew from Winston Salem:
If you had to pick one coordinator from the B1G to be head coach of your team, who would you pick and why?
Adam Rittenberg:
I'd go with MSU defensive coordinator Pat Narduzzi, and not just because I like him personally and would love to cover his teams. Narduzzi would instill the type of defense that could take a bad or middling program to the next level. Recruits would want to play for him, especially on defense. Narduzzi also has matured a little and should handle the head-coaching spotlight better than he would have a few years ago. I also think Wisconsin defensive coordinator Dave Aranda is a future head coach, but Narduzzi is further along in his career.
---
Mike from Texas:
Does Urban win coach of the year? Or is OSU just ineligible for the award?
Adam Rittenberg:
Mike, I'm going to write this soon, but if Ohio State runs the table again, Urban absolutely should win the award. It shouldn't just go to a first-year coach or one who improves a middling team. We haven't seen a Big Ten team go undefeated in back-to-back years for a very long time. It's absurd that an Ohio State coach can't seem to win the award, but that should end this year if the Buckeyes win out.
---
Steven from Madison, Wis.:
If the coaching hires were reversed for Purdue and Wisconsin, how do you see this season shaping up for each team? (i.e. is Wisconsin doing better because of better players in the system, or is Anderson a better coach?)
Adam Rittenberg:
Interesting question, Steven. Gary Andersen certainly deserves credit for Wisconsin's success, and for keeping the team on track after the Arizona State debacle. But let's be honest here. Andersen inherited a great situation in Madison, one you almost never see for a new coach. Wisconsin has 25 seniors, a defensive superstar in Chris Borland, two exceptional running backs and other standouts. Hazell stepped into a much shakier situation at Purdue. Does that absolve him of blame for a team that might be the worst in recent Big Ten history? No. But the situations are very different and the coach can only do so much.
---
Mike from Detroit:
Rich Rod struggled his first year at UM and the excuse was that Lloyd Carr left the cupboard bare. Rich Rod's teams gradually got better when "his" recruits arrived. Brady Hoke went 11-2 with seemingly all of Rich Rod's recruits. Now UM seems to be getting gradually worse on the field as more of Brady Hoke's recruits come in and Rich Rod's graduate or leave. Does that not seem like there may be a coaching issue at Schembechler Hall?
Adam Rittenberg:
There could be, Mike, but let's keep in mind that Hoke is still on track to win more games this season than Rodriguez ever did at Michigan. He has opportunities still to beat some of the Big Ten's better teams, which Rodriguez never did. Is his tenure a failure so far? By his own standards, yes. But three years isn't enough time, especially when the recruiting seemingly has been so strong. Like I said before, if we're still sitting here in 2015 and Michigan isn't winning the Big Ten, a change may be in order.
Thanks again for the questions. Let's do it again next week.
November, 4, 2013
Nov 4
9:00
AM ET
We have true separation in the Big Ten, and not just with Ohio State at the No. 1 spot. Although the Buckeyes remain the league's kingpin, both Wisconsin and Michigan State also belong in the Big Ten's upper crust.

The big debate in these rankings concerns the No. 2 spot, which Wisconsin has occupied for several weeks. The Badgers handled Iowa on the road and delivered a salty defensive performance even without superstar linebacker
Chris Borland
. Michigan State smothered Michigan, complementing a dominant defense with timely passes from
Connor Cook
. Both teams have won at Iowa and at Illinois. Michigan State has the best win between the bunch but has played the easier schedule.
For now, we're keeping Wisconsin at No. 2. We realize we're in the minority there, but Wisconsin hasn't done much to move down since the Northwestern game. It's too bad the Badgers and Spartans can't play this season to decide the second spot.
Elsewhere, Nebraska avoids another drop thanks to its Hail Mary against sad-sack Northwestern. We debated whether to move Minnesota higher, and we will if the Gophers keep winning. Iowa falls down a few spots, and the bottom of the rankings remains unchanged.
Here's one last look at the
Week 9 rankings
.
Now, the new rundown ...
1. Ohio State (9-0, 5-0 Big Ten; last week: 1):
Ross-Ade Stadium is no longer a graveyard for the Buckeyes, who buried Purdue in a matter of minutes Saturday. Ohio State scored 28 first-quarter points and 42 in the first half, as the tight ends got involved, quarterbacks
Braxton Miller
and
Kenny Guiton
both had jump-pass touchdowns and the defense blanked Purdue. Whether style points matter, Ohio State is finally getting them. The Buckeyes are off this week before visiting Illinois on Nov. 16.
2. Wisconsin (6-2, 4-1; last week: 2):
The offense struggled and top defender Borland watched from the sideline with a hamstring injury, but Wisconsin found a way to beat Iowa.
Marcus Trotter
was fabulous filling in for Borland, as the Badgers' defense repeatedly turned Iowa away in plus territory. Running back
James White
came alive late as Wisconsin pulled away. The Badgers will need a stronger performance this week as they step out of league play against a good BYU squad.
3. Michigan State (8-1, 5-0; last week: 3):
Not only did the Spartans reclaim their superiority against in-state rival Michigan, but they looked like a worthy competitor for Ohio State in a potential Big Ten championship game matchup. If Nebraska falls this week at Michigan, MSU would have a two-game lead on the rest of the division with three weeks to go. An elite defense had its best performance under Pat Narduzzi, as end
Shilique Calhoun
and linebackers
Denicos Allen
and
Ed Davis
combined for seven sacks and 8.5 tackles for loss. Cook made some impressive throws as the Spartans pounded Michigan. They'll have some extra time to celebrate during an open week before visiting Nebraska on Nov. 16.
4. Nebraska (6-2, 3-1; last week: 7):
One play makes all the difference between another Power Rankings drop for Big Red and a three-spot gain. Nebraska had defensive problems early and turnover problems late against Northwestern, but the Huskers never gave up and won a game on a Hail Mary to
Jordan Westerkamp
for the first time in team history. Credit running back
Ameer Abdullah
for keeping a potentially splintering team together. The young defense also shut down Northwestern's offense in the second half. Nebraska must beat Michigan on the road this week to stay in the Legends Division race.
5. Michigan (6-2, 2-2; last week: 4):
That Notre Dame win feels like years ago as Michigan's warts were exposed in Saturday's loss at Michigan State. The Wolverines are either too young or simply not tough enough, as they were pushed around the field at Spartan Stadium. Michigan had a program-low rushing total (minus-48 yards) and couldn't protect quarterback
Devin Gardner
. The program's Big Ten championship drought almost certainly will reach nine years, and it's fair to question where things are really headed under third-year coach Brady Hoke. At least Michigan returns home, where it has never lost under Hoke, to face Nebraska this week.
6. Minnesota (7-2, 3-2; last week: 6):
The Minnesota mojo continues, thanks in large part to an inexcusable crunch-time blunder by Indiana. Minnesota blew a 22-point third-quarter lead but rallied behind
Philip Nelson
, who established himself as the team's offensive leader with 298 pass yards and four touchdowns. It was a rough second half for the defense, but linebacker
Aaron Hill
came up with the decisive play late as the Gophers got out of Bloomington with their third consecutive league win. Minnesota is a factor in the Legends Division race but must keep winning this week against Penn State.
7. Iowa (5-4, 2-3; last week: 5):
Sure, the Hawkeyes are improved this season, but some of the same maddening offensive traits remain, like being unable to finish drives. Iowa should have been up at halftime rather than down 7-6 to Wisconsin, and although quarterback
Jake Rudock
's injury impacted the game, the Hawkeyes' second-half struggles on offense are nothing new. The defense is good enough to get Iowa a few more wins, but can the offense start scoring? Iowa visits Purdue this week.
8. Penn State (5-3, 2-2; last week: 8):
It isn't always pretty with Penn State, but the Lions don't quit, especially on their home field. Freshman quarterback
Christian Hackenberg
once again rallied his team from a late deficit and stepped up in overtime as Penn State avoided what would have been a bad loss to Illinois.
Bill Belton
established himself as the team's top running back with 201 yards and a touchdown. The defense remains far too vulnerable to big passing plays. Penn State will need to be better on both sides of the ball this week as it visits surging Minnesota.
9. Indiana (3-5, 1-3; last week: 9):
Coach Kevin Wilson's crew doesn't quit, but the Hoosiers still don't know how to win. They were 9 yards away from completing a huge second-half comeback against Minnesota and moving a step closer to bowl eligibility. At worst, they were in position to send the game to overtime. Instead, everything fell apart on a dropped backward pass to
Tevin Coleman
, who had a big game (108 rush yards, TD). The quarterback race took another turn with
Nate Sudfeld
outplaying
Tre Roberson
, and the defense had a wildly inconsistent performance. Indiana hosts Illinois this week but will need a road win at Ohio State or Wisconsin to become bowl eligible.
10. Northwestern (4-5, 0-5; last week: 10):
The former Cardiac Cats are only giving their fans heartache at this point as they've forgotten how to perform in the clutch. Northwestern had another golden opportunity for a road win, but let it slip away when it couldn't finish off Nebraska on either side of the ball, leading to the Hail Mary touchdown to
Jordan Westerkamp
. Injuries continue to mount in a snakebitten season for the Wildcats, who likely won't make a bowl. Northwestern has an off week to regroup before hosting Michigan on Nov. 16.
11. Illinois (3-5, 0-4; last week: 11):
The Big Ten losing streak has reached 18 games, and arguably no defeat stung more than Saturday's at Penn State. Illinois wasted opportunities early, took the lead late and still couldn't hold on for a victory. Tim Beckman's team performed better than expected and can take some positives from its performance in Happy Valley, but there's still too much inconsistency on both sides of the ball, as the defense allowed 250 rush yards. Illinois visits Indiana this week.
12. Purdue (1-7, 0-4; last week: 12):
The misery continues for Darrell Hazell's crew, which is on its way to its worst season since 1993 (1-10) and might be one of the worst squads in recent Big Ten memory. Young quarterback
Danny Etling
had another rough outing as Purdue never challenged Ohio State and had no answers for the Buckeyes' offense. Purdue has been shut out in consecutive games and has scored just 17 points in four Big Ten contests. The remaining schedule is a little more favorable, but Purdue has to show something positive by season's end.
October, 31, 2013
Oct 31
12:00
PM ET
October, 17, 2013
Oct 17
12:00
PM ET
I assume I'm an alternate for the selection committee.
September, 9, 2013
Sep 9
11:10
AM ET
Week 2 didn't provide a lot of enticing matchups, but it did get us dreaming a little bit.
Michigan's impressive takedown of Notre Dame moved the Wolverines up near the edge of the top 10 in the polls and gave the Big Ten another national title contender alongside Ohio State. But those aren't the only teams looking good right now. If league teams can survive some of their nonconference challenges this weekend, we could have some serious heavyweight showdowns on tap in the coming weeks. Would any of these interest you?
5-0 Michigan at 5-0 Penn State on Oct. 12?
It could happen, with the Wolverines playing Akron, UConn and Minnesota next, while the Nittany Lions have UCF, Kent State and Indiana.


5-0 Ohio State at 4-0 Northwestern on Oct. 5?
The Wildcats have looked great in beating a pair of AQ teams -- Cal and Syracuse -- by double digits in the first two weeks. They've got Western Michigan and Maine left before gearing up for the Buckeyes. Ohio State, of course, still has to get past Wisconsin on Sept. 28 in what should be another high-stakes duel. But the game against the Badgers is in Columbus.
8-0 Nebraska at 8-0 Michigan on Nov. 9?
This is far from guaranteed, as the Huskers have a tough matchup with UCLA this weekend, after which comes some pretty easy sledding until November. Michigan would also have to survive road trips to Penn State and Michigan State. But both teams will likely be favored in each game leading up to Nov. 9.
11-0 Michigan at 11-0 Ohio State on Nov. 30
, followed by a rematch the following weekend? Like I said, we're dreaming.
What makes daydreaming about these games even more fun is the realization that none of them should turn into defensive slogs (weather permitting, of course). The five current ranked Big Ten teams can all really score, as each one is averaging at least 41 points per game through two weeks. Sure, the competition has yet to really stiffen, but we know that Nebraska's offense is for real, that
Devin Gardner
has completely changed Michigan's attack and that Wisconsin can run the ball with the best of them. Northwestern has scored 92 points against a pair of AQ teams and has gotten almost nothing from
Venric Mark
.
Carlos Hyde
hasn't played a down for Ohio State, while
Braxton Miller
has yet to play a full game and
Dontre Wilson
is still learning.
Throw in Indiana's passing game, Illinois' vastly improved offense, the potential for Penn State and
Christian Hackenberg
under Bill O'Brien's play calling and even Minnesota's increased playmaking skills, and points could be coming in waves this fall.
Michigan State fans just got sick.
Take that and rewind:
[+] Enlarge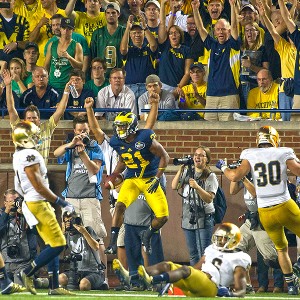 Matt Cashore/USA TODAY SportsJeremy Gallon helped Michigan ring up 41 points on Notre Dame.
Team of the week:
With apologies to Illinois, which registered a
critic-silencing win over Cincinnati
, Michigan grabs the honor this week after its 41-30 win over Notre Dame. The Wolverines got to make all the
chicken jokes
they desired by shining bright under the Big House lights. And while Irish haters want to use that result solely as an excuse to bash Notre Dame, the fact is Michigan scored 41 points on a defense full of future pros.
Worst hangover:
Buzz swirled around Indiana this offseason and grew louder when the Hoosiers rang up 73 points in their opener versus Indiana State. That's why it was so deflating for
Kevin Wilson
's team to lose 41-35 at home to Navy. The Midshipmen ran for 444 yards on 70 (!) rushing attempts and never once punted. With an underrated Bowling Green squad up next, followed by Missouri, Penn State and the two Michigan schools, the Hoosiers need to get up off the mat quickly.
Fun with numbers (via ESPN Stats & Info):
Wisconsin is one of only three teams in the country that has yet to allow a point and the only defense that has done so through two games. This week's opponent, Arizona State, has also yet to give up a point but has played only Sacramento State. The Badgers also lead the FBS in yardage margin, outgaining opponents by 444 yards per game. Playing cupcakes is good for your stats. ... Northwestern, deadly efficient with both quarterbacks versus Syracuse, has the league's highest QBR score and is 14th nationally. Michigan is right behind at No. 15. ... Penn State is dead last in the FBS in third-down conversion percentage (2-for-26) but is 4-for-4 on fourth downs. ... Purdue is in the bottom 10 nationally in yards per game, yards per play, QBR, points per game and red zone efficiency. That looks even worse when you consider that the Boilers' two opponents -- Cincinnati and Indiana State -- served up a combined 118 points in their other, non-Purdue matchups. ... Illinois'
Nathan Scheelhaase
has accounted for 73.5 percent of his team's offense, by far the highest percentage in the Big Ten.
Big Man on Campus (Offense):
Notre Dame had no solution for Michigan wide receiver
Jeremy Gallon
. The senior had eight catches for a career-high 182 yards and three touchdowns, averaging 23 yards per reception. "He's like a little bulldog," Wolverines quarterback Devin Gardner said.
Big Man on Campus (Defense):
Michigan State defensive end
Shilique Calhoun
was named the Walter Camp national defensive player of the week after he scored two touchdowns, one on a fumble return and another on a pick-six. Calhoun now has three scores in his first two games. "He's our running back of the defense, I guess," defensive coordinator Pat Narduzzi said. "Just hand it off to him, let him go."
Big Man on Campus (Special teams):
Minnesota's
Marcus Jones
returned a punt 65 yards for a touchdown late in the first half to help break open the game against New Mexico State. It was sweet revenge for Jones, who got hammered after signaling for a fair catch earlier in the game. He now has scored on a kickoff return and a punt return in his first two games of the year.
Best play:
Purdue
pulled this off
on the opening kickoff versus Indiana State. That was one of the few highlights for the Boilers, who might have lost without that special-teams strike.
Strangest moment:
Week 2 was full of them, from Michigan's quarterback wearing the Old 98, to Eminem's
halftime-interview-as-performance-art
to Tom Izzo
bribing Michigan State students to evacuate
Spartan Stadium during a thunderstorm by promising to sit with them later (which he did).
But the best theater of the absurd happened in Las Cruces, N.M., where Minnesota played in front of an announced "crowd" of just over 16,400 at New Mexico State. The game was broadcast by something called Aggie Vision, which conveyed the look and feel of a 1980s high school game tape. Everything about the game was as non-big-time as a Big Ten team could find. Week 2 was supposed to be when Minnesota played at North Carolina, but the Gophers paid $800,000 to get out of that road trip. They chose instead to put themselves in the Area 51 of college football. At least they won.
Looking ahead:
It's the best week of the nonconference season for the Big Ten, with three ranked opponents on the schedule: No. 16 UCLA at Nebraska, No. 19 Washington versus Illinois in Chicago, and No. 21 Notre Dame at Purdue. Plus, Wisconsin goes to Arizona State, Ohio State travels out to Cal, Iowa plays rival Iowa State and Penn State faces a dangerous UCF squad.
August, 7, 2013
Aug 7
3:08
PM ET
May, 20, 2013
May 20
9:00
AM ET
Ohio State already had started paying more competitive salaries for assistant coaches before Urban Meyer arrived in November 2011.
But when Meyer and athletic director Gene Smith sat down to discuss staff pay, Smith soon realized he needed to do more.
"I think Michigan had stepped up with their coordinators," Smith recalled last week during Big Ten spring meetings in Chicago. "So we were already going to that before Urban Meyer came, but we bumped it up a little more. Any time there's change, you have that opportunity."
[+] Enlarge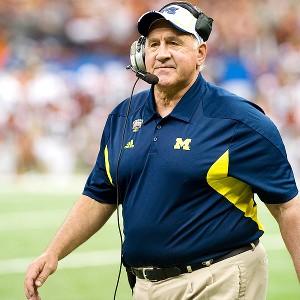 Lon Horwedel/Icon SMIMichigan DC Greg Mattison ranks as the highest-paid assistant coach in the Big Ten for the 2013 season.
"Everyone's always focused on head coaches' salaries," Smith continued. "That's always the thing. But really when you look at the changes, it's really been assistants' salaries across the country -- not just in the SEC, but the Big 12, Pac-12, all across the country."
The Big Ten is part of the change, too, as the league is allocating more money toward football assistants than ever before. The Detroit Free Press has an
excellent look at Big Ten assistants' salaries
, complete with a
database
that includes 10 of the 12 current members (Northwestern doesn't submit salaries as a private institution, and Penn State doesn't have to because of state laws).
The Free Press found that eight of the 10 schools are paying more for assistants in 2013 than they did in 2012 (only Indiana and Illinois are not). There are some significant total increases, such as Wisconsin (up $558,000), Nebraska (up $518,500), Purdue ($400,000) and Minnesota ($355,000). Staff pay had been an issue at Wisconsin, which lost six assistant coaches following the 2012 Rose Bowl, and at Purdue, which paid less for its staff during the Danny Hope era than any Big Ten school.
The total trend among the 10 schools is an increase of $1,720,852.24 for 2013.
Ohio State and Michigan remain No. 1 and No. 2 in Big Ten staff salary, as the Buckeyes allocate $3.416 million and the Wolverines allocate $2.805 million. Nebraska and Wisconsin make the biggest moves in the league for 2013, as the Huskers rise from sixth to third and the Badgers rise from seventh to fourth.
Illinois, which replaced five assistants from the 2012 team, including co-offensive coordinators Chris Beatty and Billy Gonzales, dropped from third in staff pay ($2.314 million) to eighth ($2.065 million).
The database shows that nearly every Big Ten assistant with "coordinator" in his title -- whether he's the sole coordinator or a co-coordinator -- will earn north of $300,000 for 2013. Only 18 assistants listed will make less than $200,000 in 2013 -- 15 work for Minnesota, Illinois, Purdue and Indiana.
Some notes:
Although Wisconsin paid former offensive coordinator Paul Chryst good coin, the school has increased its commitment for Gary Andersen's staff, not only with the coordinators but with some coveted position coaches like running backs coach Thomas Hammock ($300,000).

All of Nebraska's assistants are earning $200,000 or more for 2013, but there's a huge drop-off between Beck and the next highest-paid assistant (defensive coordinator John Papuchis at $310,000).

Michigan State has a similar drop off between Narduzzi and co-offensive coordinators Dave Warner ($270,000) and Jim Bollman ($260,000). Warner will be the primary offensive play-caller and has been on Mark Dantonio's staff since 2006, while Bollman is a newcomer.

Although Michigan is paying top dollar for its coordinators, the school gets its assistants for a relative bargain. Receivers coach/recruiting coordinator Jeff Hecklinski will earn $225,000 in 2013, while the others all will earn $205,000. Ohio State, meanwhile, pays all but one of its assistants $286,000 or more.

The Big Ten's three lowest-paid assistants all are in their first years: Illinois wide receivers coach Mike Bellamy ($125,000) and Purdue linebackers coach Marcus Freeman and running backs coach Jafar Williams (both at $120,000).

Although schools like Illinois, Wisconsin and Iowa ($325,000) pay their coordinators the exact same amount, others have slight differences in salary. Purdue's Shoop makes $5,000 more than defensive coordinator Greg Hudson. Minnesota defensive coordinator Tracy Claeys ($340,000) makes $5,000 more than offensive coordinator Matt Limegrover. Wonder if that leads to any underlying jealousy?

Most Big Ten schools have assistant salaries in round numbers, but there are some interesting totals from Indiana, which pays co-offensive coordinators Seth Littrell and Kevin Johns $255,500.04 and new recruiting coordinator/assistant defensive line coach James Patton $173,740.08. Never know when that change can come in handy.
The Big Ten still lacks some of the OMG totals seen in the SEC -- LSU is
paying new offensive coordinator Cam Cameron $3.4 million
in the next three years -- but the overall trend puts the league more on par with what we're seeing nationally.
October, 29, 2012
10/29/12
9:00
AM ET
There's no more debate. Quarterback
Braxton Miller
and the
Ohio State Buckeyes
made sure everyone knows they're the best team in the Big Ten.
The so-called Ineligi-bowl on Saturday night in State College paired the top two teams in the most recent power rankings. Penn State came in brimming with confidence following five straight wins, but it missed several big opportunities early in the game. Ohio State took over behind Miller and a surprisingly good defense, showing that it remains the class of the Big Ten.
Nebraska moves up to the No. 2 spot after keeping Michigan out of the end zone, while Michigan, Wisconsin, Penn State and Iowa all drop. Wisconsin looks very shaky without top quarterback
Joel Stave
, and Iowa is a mess after being outclassed for the second straight week. Aside from Wisconsin's and Iowa's drops, and Minnesota's and Indiana's rises, there's not a ton of movement. Purdue and Illinois remain at the bottom of the barrel.
As a reminder, the power rankings are a snapshot of a team's current state -- how it is performing in real time. Injuries are considered.
Here's the rundown ...
1. Ohio State (9-0, 5-0 Big Ten, last week: 1):
The Buckeyes have the Big Ten's best player in Miller and the league's best team, period. They racked up 234 rush yards and three touchdowns against a stout Penn State defense and controlled the line of scrimmage on both sides of the ball. Ohio State's defense had one of its best efforts, keeping Penn State out of the end zone for more than three quarters. Urban Meyer's squad had looked shaky the previous two weeks, but it cranked things up in the second and third quarters and never looked back. A perfect season seems much more realistic with three games to play.
2. Nebraska (6-2, 3-1, last week: 5):
Three weeks after being crushed by Ohio State in Columbus, Nebraska has new life and control of the Legends Division. The Huskers have regained their swagger on defense and capitalized on a
Denard Robinson
-less Michigan team in the second half Saturday night, allowing just 52 yards. Nebraska has survived almost two full Big Ten games without top running back
Rex Burkhead
, who should be back this week at Michigan State. Bo Pelini challenged his team to win out after Ohio State, and the players have responded. Another test awaits this week against the Spartans.
3. Penn State (5-3, 3-1, last week: 2):
Bill O'Brien's team had been efficient and opportunistic in its first three Big Ten games. The Lions were neither against Ohio State, failing to build a bigger first-half lead and making too many mistakes in the middle part of the game. Penn State had too many penalties, not enough third-down conversions, not enough in the run game and not enough third-down stops against Ohio State. The Lions took a big step up in class but couldn't match the Buckeyes despite an electric atmosphere in State College. They aim to get back in the win column this week at Purdue.
4. Michigan (5-3, 3-1, last week: 3):
No Robinson equaled big, big problems for Michigan against Nebraska. Backup quarterback
Russell Bellomy
struggled mightily, and Michigan could have a tough time in the coming weeks if No. 16 doesn't return to the field. The defense still performed well against Nebraska, at least until the fourth quarter, but Michigan is too invested in Robinson on offense and has very few answers without him. The Jug Game becomes a lot more interesting as Michigan visits a Minnesota team coming off of its best performance in Big Ten play.
5. Northwestern (7-2, 3-2, last week: 6):
After three very shaky weeks on offense, Northwestern finally established its identity behind junior quarterback
Kain Colter
and the option game. Iowa had no answers for Colter and the Wildcats' ground attack, as Northwestern piled up 349 rush yards, averaging 7.1 yards per attempt. Northwestern's defense once again allowed some yards but limited points and big plays, making Iowa work for every point it scored. Pat Fitzgerald's team got through October, a month when it typically struggles, at 2-2, and enters November with some momentum.
6. Michigan State (5-4, 2-3, last week: 7):
There's new life in Sparta as Michigan State's beleaguered offense showed up just in time and helped the Spartans rally past Wisconsin in Madison. Pat Narduzzi's defense has been elite for most of the season but cranked things up a notch at Camp Randall Stadium, limiting Wisconsin to 10 first downs and 19 net rushing yards, and racking up five sacks and 12 tackles for loss. Defensive end
William Gholston
finally had a breakout game, and linebacker
Max Bullough
and others were fabulous. The Spartans now return home to play the spoiler role as they host Legends Division front-runner Nebraska.
7. Wisconsin (6-3, 3-2, last week: 4):
The Badgers lost their first home game since 2009 and also their top quarterback, Stave, to injury. All the mojo generated from three consecutive impressive wins is gone, as Wisconsin's offense reverted to its early September form under backup
Danny O'Brien
. Wisconsin still has the inside track to represent the Leaders Division in Indianapolis, but Indiana is now in the running, too, and the Badgers must get things together offensively during a much-needed open week before heading to Bloomington.
8. Minnesota (5-3, 1-3, last week: 10):
The future is now, and his name is
Philip Nelson
. Minnesota's freshman quarterback dazzled before the home faithful Saturday against Purdue, firing three first-half touchdown passes and finishing with 246 pass yards, 37 rush yards and no interceptions. With Nelson at the controls, Minnesota scored more points (44) against Purdue than it had in its first three Big Ten contests (39). An improved defense shut down Purdue until garbage time and received a nice lift from cornerback
Michael Carter
. Minnesota looks to make a major statement and regain the Little Brown Jug this week against Michigan.
9. Indiana (3-5, 1-3, last week: 11):
Kevin Wilson and his team finally celebrated a Big Ten win Saturday, and several more could be coming in the next few weeks. Indiana -- yes, Indiana -- controls its own fate in the Leaders Division and has two huge home games coming up against Iowa and then Wisconsin, the only other team that can represent the Leaders in Indianapolis. The Hoosiers made fewer mistakes than Illinois, received a nice lift from their defense at times and seemed to identify their top quarterback in freshman
Nate Sudfeld
. IU has been in every game this season and could be tough to beat down the stretch.
10. Iowa (4-4, 2-2, last week: 8):
The frustration is mounting in Hawkeye Country as Iowa received a thorough beating for the second straight week. The Hawkeyes lost by only 11 at Northwestern, but they never stopped the Wildcats' rushing attack and couldn't attack a shorthanded secondary down the field. The offense piled up 336 yards but couldn't translate them into nearly enough points. A bigger concern is a defense that has surrendered 937 yards the past two weeks. If Iowa can't rebound this week against Indiana, it could be staring at a bowl-less season.
11. Purdue (3-5, 0-4, last week: 11):
The Boilers' season is on life support, and
Danny Hope's tenure as head coach could be, too
. Billed by Hope as his best team, Purdue hasn't shown up for three of its first four Big Ten contests. The Boilers' defense, featuring several future NFL players, let Minnesota's Nelson have his way with them Saturday at TCF Bank Stadium.
Caleb TerBush
clearly isn't the answer at quarterback, but it has taken too long for Hope to figure that out. Purdue has replaced Michigan State as the Big Ten's biggest disappointment, and it'll be tough for the Boilers to get bowl-eligible with four games to play.
12. Illinois (2-6, 0-4, last week: 12):
Illinois had more first downs (23-14) and total yards (372-292) than Indiana, and held the ball for more than 33 minutes Saturday. But a flurry of mistakes -- penalties, turnovers, sacks, you name it -- allowed Indiana to score 24 of the game's final 27 points.
Nathan Scheelhaase
did some good things and
Donovonn Young
(124 rush yards) provided a boost in the ground game, but Illinois makes far too many errors to win games right now. It only gets tougher for Tim Beckman's crew as it heads to Columbus.
September, 27, 2012
9/27/12
9:00
AM ET
Prediction time is here again, and at last, we can start forecasting some Big Ten conference games.
League play opens up at five Big Ten venues Saturday, while Purdue returns from an open week to wrap up its nonleague slate against Marshall. Week 4 was a rough one for Brian Bennett, who went 6-4 in predictions and fell three games behind Adam Rittenberg in the season standings. The good news: The entire Big Ten slate remains, so Bennett, like most Big Ten teams, has time to improve his record.
Let's get started ...
INDIANA (2-1) at NORTHWESTERN (4-0)
Brian Bennett: The Hoosiers are apt to hang around in this one, and their passing game could give the Wildcats' still somewhat shaky secondary a big test. But Northwestern has shown too much toughness so far this season to slip up now.
Venric Mark
rushes for two scores and
Kain Colter
throws for two more as Pat Fitzgerald's team moves to 5-0.
... Northwestern 35, Indiana 21
Adam Rittenberg: These teams typically play close games, and Indiana's passing game, led by quarterback
Cameron Coffman
, will challenge Northwestern's secondary more than the Wildcats' past few opponents did. Northwestern's offensive line is in a good rhythm, though, and Mark will record another 100-yard rushing performance and two touchdowns. The Wildcats open up their passing game a bit in the second half and improve to 5-0.
... Northwestern 34, Indiana 26
PENN STATE (2-2) at ILLINOIS (2-2)
Adam Rittenberg: Penn State is hitting its stride under Bill O'Brien, and the Lions will be fired up to face poacher coach Tim Beckman and the Illini. Matt McGloin and
Allen Robinson
connect for two more touchdowns, and running back
Bill Belton
adds another score in his return. The Lions bottle up Illinois' run game in the second half and win their third straight.
... Penn State 21, Illinois 17
Brian Bennett: The Nittany Lions' offense isn't going to give the Illini defense as many fits as the spread teams have this season. But McGloin is slinging it pretty well, and I don't know what the offensive identity is for Beckman's club. This one won't be pretty, but Penn State gets out to an early lead and hangs on with a defensive stand in the fourth quarter.
... Penn State 17, Illinois 10
MINNESOTA (4-0) at IOWA (2-2)
Brian Bennett: Somehow, Iowa is favored in this game. But even though it's at Kinnick Stadium, all the good vibes belong to Minnesota going into Saturday. The Gophers' pass defense has been strong, while
James Vandenberg
and the Hawkeyes' passing attack has sputtered.
Mark Weisman
will batter his way to 160 yards, but the Gophers come up with two picks and a special teams score to hogtie the Hawks.
... Minnesota 21, Iowa 14
Adam Rittenberg: I went against the Gophers last week and paid the price. Not happening again. The Gophers' defense contains Weisman and forces some mistakes from Vandenberg, while the run game surges behind
Donnell Kirkwood
. It'll be an up-and-down day for
Max Shortell
, but he finds senior tight end and Iowa native
John Rabe
for the game-winning touchdown in the fourth quarter.
... Minnesota 24, Iowa 20
MARSHALL (2-2) at PURDUE (2-1)
Adam Rittenberg: After dealing with a migraine in the Eastern Michigan game, Purdue quarterback
Caleb TerBush
bounces back nicely with a three-touchdown, zero-interception performance against the Thundering Herd. The Akeems run all over a woeful Marshall defense and Purdue pulls away in the second quarter and cruises to another easy win.
... Purdue 38, Marshall 21
Brian Bennett: The Thundering Herd lead the nation in passing, so they'll have a puncher's chance in West Lafayette. But they also have one of the worst defenses in the country, which should help TerBush and company enjoy a big day.
Kawann Short
and the Purdue defensive line are too much here, sacking
Rakeem Cato
five times.
... Purdue 48, Marshall 24
No. 14 OHIO STATE (4-0) at No. 20 MICHIGAN STATE (3-1)
Brian Bennett: At some point, the Spartans have to start catching balls thrown right at them. How about this week? This is a better matchup for the scuffling Ohio State defense, but I think Spartans defensive coordinator Pat Narduzzi will devise a plan to contain
Braxton Miller
. An actual touchdown pass from
Andrew Maxwell
and a 100-yard day from
Le'Veon Bell
will be just enough for Michigan State to escape at home. Next prediction.
... Michigan State 19, Ohio State 17
Adam Rittenberg: Ohio State looks like a team waiting to be beaten one of these weeks, but Miller Time refuses to lose. Miller starts slowly but turns in a big fourth quarter and breaks free for two touchdown runs to rally Ohio State for the victory. Michigan State's passing woes continue, and the Buckeyes' defense forces a key third-quarter turnover and starts looking a bit more like the silver bullets again.
... Ohio State 20, Michigan State 17
WISCONSIN (3-1) at No. 22 NEBRASKA (3-1)

Adam Rittenberg: Although Wisconsin started to look like its old self a bit at the end of the UTEP game, I don't see how the Badgers win this one. Nebraska has more weapons on offense, the home-field advantage and no shortage of motivation after being embarrassed last year in Madison.
Chris Borland
and the Wisconsin defense keeps this close for a while, but Nebraska quarterback
Taylor Martinez
goes off in the second half, and
Rex Burkhead
adds another long touchdown run.
... Nebraska 34, Wisconsin 21
Brian Bennett: I don't like where this is headed for the Badgers. They've got a quarterback making his first start on the road, a banged-up
Montee Ball
and injuries on their defensive line. These are all bad signs against a Huskers team that is averaging 54 points per game at home this season. Martinez (three touchdowns) and the Nebraska defense get redemption by pulling away in the third quarter. Call it an early retirement gift for Tom Osborne.
... Nebraska 35, Wisconsin 17
Michigan is off this week.
Season Records
Rittenberg: 36-10 (.783)
Bennett: 33-13 (.717)
September, 13, 2012
9/13/12
9:00
AM ET
Redemption Saturday is nearly upon us. That certainly goes for the Big Ten, which went 6-6 in a miserable Week 2, and for the Big Ten bloggers, who didn't fare much better (Rittenberg went 8-4; Bennett went 7-5).
This week's slate certainly looks a lot more manageable for the Big Ten, and several teams -- looking at you, Wisconsin, Iowa and Penn State -- definitely need a W.
It's prediction time ...
WESTERN MICHIGAN at MINNESOTA
Brian Bennett: The Gophers improve to 3-0 -- barely.
Jordan Wettstein
nails his second game winner of the young season after
MarQueis Gray
leads the team down the field in the final two minutes. Minnesota overcomes three turnovers to escape at home. ...
Minnesota 27, Western Michigan 24
Adam Rittenberg: Broncos quarterback
Alex Carder
provides the first real test for Minnesota, which gives up two early touchdowns before settling down. It'll be a close one, but Gray and the run game do enough as Minnesota goes to 3-0.
... Minnesota 30, Western Michigan 24
ARKANSAS STATE at NEBRASKA
Adam Rittenberg: It'll take more than a week for Nebraska to fix its defensive woes against fast-paced, spread-ish offenses. Gus Malzahn's team makes some plays, but Arkansas State can't stop anyone, and both
Taylor Martinez
and
Ameer Abdullah
rush for more than 100 yards.
... Nebraska 41, Arkansas State 21
Brian Bennett: I think the Huskers come out angry after the loss to UCLA and take it out on Malzahn's team. The defense gives up some big plays but keeps Arkansas State under 400 total yards. Martinez has four touchdowns, including two scoring tosses to
Kenny Bell
. ...
Nebraska 45, Arkansas State 24
CALIFORNIA at No. 12 OHIO STATE
Brian Bennett: No rest this week for
Braxton Miller
, but he'll enjoy running and passing against Cal's shaky defense. The Golden Bears hang around for a while, but two more picks by an opportunistic Buckeyes defense kills any upset thoughts
... Ohio State 35, Cal 21
Adam Rittenberg: I grew up in Berkeley going to Bears games, and it's sad to say the Cal program is in free fall under coach Jeff Tedford. Ohio State has some initial trouble figuring out the Cal defense, but Miller gets going eventually and accounts for three touchdowns. Cornerback
Bradley Roby
records his first interception of the season as Ohio State pulls away in the third quarter.
... Ohio State 31, Cal 17
CHARLESTON SOUTHERN at ILLINOIS
Adam Rittenberg: We ranked this as the
worst Big Ten nonconference game
, and it won't disappoint (not sure if that's possible).
Josh Ferguson
eclipses 200 rushing yards, and at least two Illinois quarterbacks fire touchdown passes as the Illini roll.
... Illinois 45, Charleston Southern 3
Brian Bennett: I'd be more interested in watching the Illini stage an intrasquad scrimmage than this yawner. Doesn't matter if
Nathan Scheelhaase
or a line cook from Nathan's Famous starts at quarterback. Illinois will win in a rout, and we won't learn a thing. ...
Illinois 49, Charleston Southern 0
EASTERN MICHIGAN at PURDUE
Adam Rittenberg: Eastern Michigan looks like the perfect opponent for Purdue's offense to recharge against.
Akeem Shavers
rushes for 150 yards and three scores against the nation's No. 118 rush defense, and
Caleb TerBush
fires two touchdown passes.
... Purdue 38, Eastern Michigan 14
Brian Bennett: The Boilers, still smarting from the Notre Dame loss and the
Robert Marve
injury news, get off to a slow start. But their defense and running game take over and wear down Eastern Michigan. Shavers runs for 100 yards and two scores.
... Purdue 42, Eastern Michigan 17
BOSTON COLLEGE at NORTHWESTERN
Brian Bennett: I love the way the Northwestern defense stepped up against Vandy, and
Venric Mark
is becoming a star. But ... history tells us the Cats usually slip up after good things happen. So I'm picking the mild upset here, with
Chase Rettig
throwing the winning score late in the fourth quarter.
... BC 31, Northwestern 28
Adam Rittenberg: Toughest game of the week to predict. (I haven't been right on Northwestern yet.) I like Pat Fitzgerald's approach to ward off a letdown, and while Boston College jumps ahead early and attacks Northwestern's secondary more, I don't think the Eagles can slow down Mark and the run game for four quarters. Expect another
Trevor Siemian
-led rally as Northwestern improves to 3-0.
... Northwestern 28, Boston College 27
MASSACHUSETTS at No. 17 MICHIGAN
Adam Rittenberg: This isn't the same UMass team that nearly stunned Michigan in the Big House in 2010. The Minutemen are awful. Fitz Toussaint gets back in the groove with three rushing touchdowns, and
Denard Robinson
puts up more sick stats in a total laugher.
... Michigan 65, UMass 0
Brian Bennett: If Brady Hoke wanted Robinson to get 700 yards in this game, he could. Instead, Robinson puts up 100 yards rushing and three total touchdowns before sitting in the third quarter, while Toussaint finally gets going against what is likely the nation's worst FBS team.
... Michigan 55, UMass 3
NAVY at PENN STATE
Brian Bennett: OK, I incorrectly picked the Nittany Lions to win the first two weeks (although they won everywhere but the scoreboard at Virginia). I'm guaranteeing that Penn State gets off the schneid against the Midshipmen. The Lions' problems on defense have revolved around stopping the pass, which won't be an issue against the option.
Matt McGloin
helps PSU find the end zone three times. ...
Penn State 24, Navy 14
Adam Rittenberg: Penn State has played well enough to win, and the Lions finally get over the hump this week. I like the matchup for Penn State's defense, which doesn't have to worry too much about the pass. McGloin fires two touchdown passes, and
Sam Ficken
connects on a 50-yarder as Penn State finally celebrates.
... Penn State 17, Navy 13
NORTHERN IOWA at IOWA
Adam Rittenberg: I've wanted to pick against Iowa twice now and hesitated, getting burned last week. This time, I'm going against the Hawkeyes, even though the opponent is Northern Iowa. The FCS Panthers have nothing to lose, while Iowa continues to play tight on offense. UNI nearly beat a good Iowa team in 2009. It beats a bad one this year.
... Northern Iowa 17, Iowa 16
Brian Bennett: The Hawkeyes fail to score a touchdown yet again, but get by on four
Mike Meyer
field goals. Iowa blocks a three-point try by the Panthers on the final play to survive. ...
Iowa 12, Northern Iowa 9
BALL STATE at INDIANA
Brian Bennett: The 2-0 start for Indiana is a nice story, but the schedule hasn't been very good. Ball State is a major step up, and with
Cameron Coffman
getting his first start at quarterback, this is a dangerous assignment for the young Hoosiers. They lead early but can't control the Cardinals' running game in the fourth quarter. ...
Ball State 35, Indiana 28
Adam Rittenberg: I really think the Hoosiers are getting better, but I agree with you about the schedule. Ball State is a significant jump in competition, and while Coffman fires two touchdown passes, he also fires two interceptions in his first start. The Cardinals rally to make it three straight against the Hoosiers.
... Ball State 31, Indiana 30
No. 20 NOTRE DAME at No. 10 MICHIGAN STATE
Adam Rittenberg: Get ready for another defensive struggle at Spartan Stadium. Michigan State's defense has been as advertised, and coordinator Pat Narduzzi told me this week that the unit is nowhere near its potential.
Isaiah Lewis
and the Spartans make it a rough night for Notre Dame's quarterbacks, and
Le'Veon Bell
rushes for two scores as MSU improves to 3-0.
... Michigan State 17, Notre Dame 10
Brian Bennett: This one will come down to defense, as Michigan State hasn't allowed an offensive touchdown all year and the Irish front seven will give
Andrew Maxwell
some problems. The Spartans' D is just better, however, and creates one score off a turnover. Bell does the rest with two touchdowns. ...
Michigan State 21, Notre Dame 17
UTAH STATE at WISCONSIN
Brian Bennett: No Badgers assistant coaches will lose their jobs after the team gets back in the winning column. But it won't be easy against an Aggies team that just beat Utah. The Wisconsin offensive line looks a bit better, and
Montee Ball
runs for 125 yards and two scores. ...
Wisconsin 23, Utah State 14
Adam Rittenberg: If Wisconsin's offensive linemen have any pride, they come out angry in this one. And a bunch of angry 300-pounders means bad things for the Aggies. The Badgers start quickly and get their swagger back, racking up 250 rush yards.
... Wisconsin 31, Utah State 17
SEASON RECORDS
Rittenberg: 18-6 (.750)
Bennett: 17-7 (.708)
September, 12, 2012
9/12/12
3:45
PM ET
Investor confidence in the Big Ten neared an all-time low in Week 2. But past performance does not necessarily indicate future results. Let's check the stock market:
Stock up
Chi Chi Ariguzo:
The Northwestern linebacker moved into a starting role for the first time this season, and the move has gone very well for the redshirt sophomore. Ariguzo -- whose actual first name is Ikechi -- was named the Big Ten defensive player of the week after collecting 10 tackles, including three for loss, against Vanderbilt. In Week 1 at at Syracuse, he had an interception and returned a botched lateral for a touchdown. He currently leads the Big Ten with 4.5 tackles for loss.
Devin Funchess:
The Michigan true freshman tight end was outstanding against Air Force, hauling in four catches for 106 yards and a touchdown. The athletic 6-foot-5, 229-pounder showed receiving skills, and could provide a much needed target for
Denard Robinson
. He has future star written all over him.
[+] Enlarge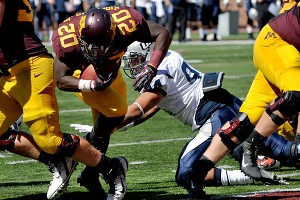 AP Photo/Tom OlmscheidRunning back Donnell Kirkwood has sparked an improved rushing attack for Minnesota.
Minnesota's running game:
The Gophers currently rank fourth in the Big Ten at 224.5 rushing yards per game, a marked improvement over last season's 160 yards per game. It hasn't just been quarterback
MarQueis Gray
, either, as sophomore
Donnell Kirkwood
has rushed for at least 70 yards in the first two games. Head coach Jerry Kill says better play out of the receivers is opening some things up for the running game. Minnesota must prove it against better defenses than UNLV and New Hampshire, but is off to a good start in building a more complete offense.
Iowa's linebackers:
Not much has gone right for the Hawkeyes' offense, but the linebackers have done their part. Head coach Kirk Ferentz said
James Morris
, who had 12 tackles and a key interception late against Iowa State, played tremendously last week.
Christian Kirksey
has been doing his part as well, which Ferentz said has opened opportunities for
Anthony Hitchens
. A first-year starter, Hitchens tallied an eye-popping 19 tackles last week. Now, if the defense could just get some help ...
Purdue in the red zone:
Boiler up inside the 20. Purdue is currently tied for the national lead in red-zone offense, scoring on all nine drives inside the opponent's 20-yard line. That includes eight touchdowns. The Boilermakers also rank 13th nationally in red-zone defense, having surrendered just four scores -- and only two touchdowns -- during their opponents' seven trips inside their 20.
Stock down
Iowa in the red zone:
The Hawkeyes, of course, have scored only one touchdown all season, and that came from outside the red zone on a 23-yard run by
Damon Bullock
against Northern Illinois. Iowa has been in the red zone on offense six times in two games -- and come away with only five field goals.
Wisconsin's running game:
You knew the Badgers' offensive output was atrocious, which led to offensive line coach Mike Markuson being dumped this week. Wisconsin has only 203 rushing yards as a team after two games, an average of 101.5 yards per game. To put that in perspective,
Montee Ball
alone only had three games all of last season when he failed to gain at least 115 yards, and he exceeded 203 yards against both Purdue (223) and Illinois (224).
Quarterback fears vs. Spartans, Buckeyes:
There was near universal agreement this preseason that Michigan State and Ohio State would field the best defensive lines in the Big Ten this season. While they haven't been bad, it's somewhat shocking to see that the Spartans and Buckeyes have combined for only four total sacks this season. Urban Meyer has stressed the need for a better pass rush from his team. Michigan State has gotten decent pressure, but has only sack to show for it, and defensive coordinator Pat Narduzzi says he's not happy with the play of the defense overall. Sack numbers can be overrated, but it's also true that both lines can do a better job bringing down quarterbacks.
Illinois' defense:
The Illini defense looked terrific in the opener against Western Michigan, continuing a string of great performances dating to last season. Which is why it was so shocking to see Arizona State move the ball at will against Illinois in last week's 45-14 shellacking. Players said this week that they had mix-ups in communication and were caught off guard by the Sun Devils' tempo. The latter doesn't make much sense since Todd Graham's teams have always played up-tempo, and the Illini defenders practiced against their own spread offense all preseason. We'll see if this was just one bad showing or an alarm bell.
Big Ten expansion candidates:
With Notre Dame off the chessboard and the ACC going to a $50 million exit fee, who's left if the Big Ten ever decides to expand again? Rutgers? UConn? Louisville? None of those are very appealing, and it means that the league will be better off staying at 12 for the foreseeable future -- or at least until the next big seismic conference shift.
Weekend Recruiting Wrap: Big Ten - Dec. 2