Michigan Wolverines:

Ohio State football
July, 19, 2013
7/19/13
11:00
AM ET
ANN ARBOR, Mich. -- The Michigan-Ohio State rivalry has a ton of individual moments which stick out in the memories of fans, be it individual performances or games or sometimes even the hoopla surrounding it.
Considering this rivalry is among the biggest, longest and best in sports, there is an overflow of Michigan-Ohio State moments to pick from when it comes to selecting the five most memorable, from a Michigan perspective.
Here's one man's look at five signature moments in the Michigan-Ohio State rivalry.
1. Michigan upsets Ohio State in 1969
: The game which turned the rivalry from just another rivalry into one of the most celebrated rivalries regardless of sport in the nation. First-year head coach Bo Schembechler and Michigan upset Ohio State, 24-12, snapping a 22-game winning streak for the Buckeyes. The win sparked the "Ten-Year War" between Michigan and Ohio State and its legendary coaches, Schembechler and Woody Hayes. At the time it was considered among the biggest upsets in college football history.
[+] Enlarge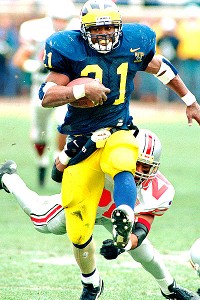 AP Photo/Tom PidgeonMichigan running back Tim Biakabutuka high steps past an Ohio State defender to gain some of his career-high 313 yards.
2. Tim Biakabutuka, 1995:
Perhaps the single-most impressive individual performance from a Michigan player in the history of the rivalry. While Biakabutuka only scored once in a 31-23 win over then-No. 2 Ohio State, ruining the Buckeyes' national title hopes, he gained 313 yards, slashing through the entirety of the OSU defense. It was the second-best single-game rushing performance in Michigan history and one of two 300-plus yard rushing games in school history.
3. Snow Bowl, 1950:
Like most seasons, the Big Ten title was on the line when these teams played in what the Ohio State library website quotes the Ohio State University Monthly as a "full-scale blizzard." Michigan won, 9-3, in a game where Wolverines punter Chuck Ortmann punted 24 times. The game's only touchdown, according to the OSU library site, came after a blocked Ohio State punt in the end zone was recovered by Michigan.
4. Punt returns. So many punt returns:
Stop in the end zone. Look around. Pose. When Desmond Howard finished off a 93-yard punt return for a touchdown in 1991, he struck the iconic Heisman pose still replayed more than 20 years later. The return -- and the pose against Ohio State -- helped cinch his Heisman Trophy. Six seasons later, with another potential statue there for the taking, Charles Woodson caught a punt of his own and returned it 78 yards for a touchdown to help Michigan knock off the Buckeyes. Woodson didn't pose after his return, but the win pushed Michigan to the Rose Bowl and eventual national championship. Oh, and for Woodson, the first and only primarily defensive player to win the Heisman.
5. The day after Bo Schembechler's death:
The day before the biggest game in the history of this rivalry, one of its biggest icons collapsed and died of a heart attack. Bo Schembechler, the architect of a lot of what has turned into the Michigan football of today, had passed away. The
last 24 hours of his life included a funeral for a former player, speaking to the 2006 Michigan team and a dinner with old friends
. While Michigan lost the next day in Columbus, it turned what would usually have been one of the more intense atmospheres of the year into a somber remembrance. Ohio State honored Schembechler, a former assistant, before the game. His death also transformed Michigan's program for a handful of years until Brady Hoke's hire in 2011.
July, 16, 2013
7/16/13
11:00
AM ET
ANN ARBOR, Mich. -- The Game still might be more than four months away and the start of the season still more than a month from beginning to take shape, but both Michigan and Ohio State always have at least bit of their focus on, well, each other.
So will we. Without knowing how things will play out over the course of camp and in the season, here's a quick look at what could be some strengths and weaknesses for the Wolverines at the end of November.
STRENGTHS
The back seven
[+] Enlarge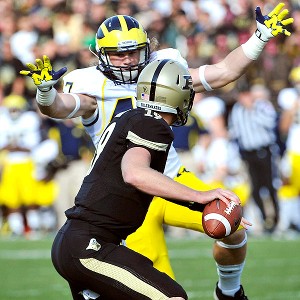 Sandra Dukes/US PresswireIf Jake Ryan is back to full speed in time for the Ohio State game, Michigan's back seven could make life difficult for Braxton Miller.
By the time Michigan faces Ohio State in the regular season finale, star linebacker
Jake Ryan
should be back from his ACL injury and actually in form, if he hits the October return timetable Brady Hoke continually has mentioned for him. Adding him to an experienced and talented secondary and a deep linebacking corps could prove problematic for Ohio State's offense, led by quarterback
Braxton Miller
. Miller played well as a freshman against Michigan and beat the Wolverines as a sophomore, so this could be the biggest matchup to watch.
Miller could end up as a Heisman Trophy candidate, and the Michigan back seven could have a large say whether or not he ends up taking home the stiff-armed trophy.
Gardner-to-Gallon
What is potential with some production now could become the league's best quarterback-to-receiver combination by the time these two teams play in the fall. Receiver
Jeremy Gallon
had six catches for 67 yards against Ohio State last season, and
Devin Gardner
was 11-of-20 for 171 yards, a touchdown and an interception. All of that was done with a somewhat odd game plan which had an injured Denard Robinson, unable to throw, lining up at quarterback intermittently.
Robinson is in the NFL, and while Michigan's receiving options other than Gallon are vast unknowns at this point, Gardner-to-Gallon should be as reliable as it can get in college football this season.
WEAKNESSES
Running game
While there is some reason for optimism in Michigan's run game by the end of the season between fifth-year senior
Fitzgerald Toussaint
and freshman Derrick Green, there are way too many issues here between the questions at running back and the interior of the offensive line, which will feature three new, yet talented, starters. If even one of those things doesn't go completely well, it could be some major issues for the Wolverines this season.
Why? Michigan long has said it would like to have a run-based, pro-style offensive game plan. Without a run game from a running back, well, Michigan tried that last season with varying levels of success.
Getting run over
This isn't a knock on the Michigan front four, just more of the same questions. Ohio State's offensive line might end up as the best in the Big Ten this season, led by a dominant left side with tackle
Jack Mewhort
and guard
Andrew Norwell
. Expect the Buckeyes, with Miller and
Carlos Hyde
, among others, to try and run toward the left side over and over again.
Again, Michigan has potential and youth on the line, but there is a question at essentially every spot on the front four. Can
Quinton Washington
turn into a leader and be productive when dealing with double teams? Will
Frank Clark
play to the hype from the spring during the actual season? Does Michigan find strong rotation players and starters at the strong side end and defensive tackle spots? Until these questions are answered, Ohio State could do well by running right at the Wolverines' line.
July, 15, 2013
7/15/13
9:30
AM ET
ANN ARBOR, Mich. -- Nothing really says as much about a rivalry as a good villain. Every narrative, whether someone wants to admit it or not, has one. There's a white hat, a black hat, all of those cliched things.
With Michigan and Ohio State, there is plenty to go around.
Here's a look at the top five Michigan villains for the Buckeyes, most of whom had a hand in critical wins in the last game of the regular season.
1. Bo Schembechler, Coach:
Much like Woody Hayes on the Ohio State side (and maybe Jim Tressel) there is no surprise Schembechler is tops on this list. Heck, a band made up of Ohio State fans even called themselves the Dead Schembechlers. Bo vs. Woody still ranks among the best coaching rivalries in the history of sports. Schembechler finished 11-9-1 against his biggest rival and a 5-4-1 record against Hayes. Oh, and if there were any questions about this, Schembechler's win over Ohio State in 1969 ignited the "Ten-Year War," which elevated this rivalry to among the best in all of sports.
[+] Enlarge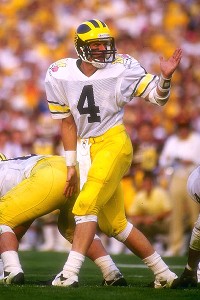 Mike Powell/Allsport Michigan quarterback and Ann Arbor native Jim Harbaugh guaranteed a win over Ohio State in 1986 and delivered.
2. Jim Harbaugh, QB:
You make a guarantee that you will beat your rival, you'd better back it up. When Harbaugh, who grew up in Ann Arbor, said Michigan would beat Ohio State, he permanently placed himself in the history of this rivalry. The Monday before The Game in 1986, Harbaugh said "I guarantee we will beat Ohio State and go to Pasadena." Michigan's response -- they had to do it. Harbaugh did, leading the Wolverines to a 26-24 win at Ohio State that Saturday, sending his team to the Rose Bowl.
3. Charles Woodson, DB:
Where to start? Woodson talked trash with Ohio State receiver David Boston prior to the 1997 contest, then went out and clinched the Heisman Trophy with a 37-yard touchdown reception, a 78-yard punt return touchdown and an interception. This on top of his 1995 performance as a freshman, where in the Tim Biakabutuka game he intercepted two passes to knock off the undefeated Buckeyes. Being from Fremont, Ohio, only makes it more difficult to deal with.
4. Tom Harmon, HB:
Harmon wasn't really even a villain in this rivalry except that he was just so much better than the rest of his peers at the time. According to the Heisman Trophy website, Harmon completed 11 of 12 passes for 151 yards and two touchdowns along with 139 rushing yards and two touchdowns in the final game of his college career and against Ohio State. He also intercepted three passes and kicked four extra points in the game. Harmon won the Heisman after the season. Why wasn't he a bigger villain? Consider this: After the performance, the Michigan Alumnus magazine (on the Bentley Historical Library website) said the crowd at Ohio State gave Harmon a "thundering ovation." Chances are, that doesn't happen today.
5. Barry Pierson, DB:
In the game which really launched the rivalry -- that 1969 one -- Pierson intercepted Ohio State three times. He also had a massive special teams play, returning an Ohio State punt 60 yards to set up a Michigan touchdown. While that entire 1969 team could probably be on that list, Pierson statistically made a major impact that day.
Bonus selection: Drew Henson, QB:
Henson is on this list for a couple of reasons. He was the last Michigan quarterback to beat Ohio State in Columbus in 2000. While that alone might not be enough to be on this list, consider this: When he left Michigan to pursue baseball following that season, he was assigned to be the third basemen for ... the Columbus Clippers. It did not go well. Henson was booed over and over again despite playing for the hometown team and the Triple-A affiliate of the Yankees. All because he played for Michigan and beat Ohio State.
January, 1, 2013
1/01/13
9:41
PM ET
LAKE BUENA VISTA, Fla. -- Offensive tackle
Cameron Hunt
(Corona, Calif./Centennial), committed to Cal since July, is about to get busy again with recruiting.
[+] Enlarge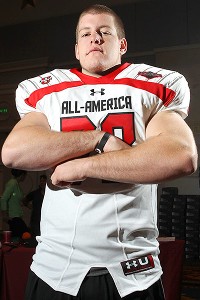 Miller Safrit/ESPN.comCameron Hunt looks forward to an upcoming U-M visit, for which former teammate Kyle Bosch will likely be his host.
Hunt plans to visit Michigan on Jan. 11 after he returns home from the Under Armour All-America Game, Oregon on Jan. 18 and Cal on Jan. 25.
He's also considering Ohio State, though he has yet to set a visit. It has been a long road for Hunt, who drew little recruiting interest before a breakout camp circuit last spring.
July, 31, 2012
7/31/12
8:58
AM ET
Welcome to "Inside The Game," a weekly discussion of some aspect of the Michigan-Ohio State football rivalry with BuckeyeNation's Austin Ward and WolverineNation's Michael Rothstein.
To kick things off, Ward and Rothstein will make arguments for each position group as to which has a better unit -- Michigan or Ohio State. Then you get to decide. The two start where almost everything starts on a college football team -- the quarterback.


BUCKEYES
Ward:
Thrown into the pool as a freshman,
Braxton Miller
didn't drown.
Playing in an offense that might not have been ideally suited for his skills, the sophomore now has a spread system and a new Ohio State coach in Urban Meyer who is salivating over his athleticism.
A year older and with starting experience, still as dynamic but in an offense tailor-made for his abilities, Miller could be on the brink of exploding on the national scene.
And assuming he stays healthy, he'll have almost another full season of action under his belt by the time the Buckeyes take on their rivals in November -- a showdown that could include two of the best dual-threat quarterbacks in the country.
Miller might not have quite as much national recognition as his counterpart just yet, but what might give the Buckeyes an edge is the depth they have under center this fall thanks to a similar set of skills backup Kenny Guiton brings to the table.
Both players are more than capable of making plays on the ground, and while there might have been some initial concern about accuracy or arm strength, Meyer tested his passers plenty in the spring and clearly feels comfortable with both options heading into camp.
WOLVERINES
Rothstein:
Denard Robinson
is back for one final go-round and if he wants to have the kind of success he'd like this season, all of it will start with how accurate his passing is. Gone are his two biggest safety nets -- Junior Hemingway and Kevin Koger -- and in their place come
Roy Roundtree
,
Jeremy Gallon
and a lot of inexperienced players at receiver and tight end.
This means Robinson will have to be more accurate with his passing.
His running will be there and he has a shot at breaking Pat White's NCAA quarterback rushing record with a good season. But for the Wolverines to have success, he has to finally mature as a passing quarterback as much as a rushing one.
Robinson has already made great strides in other areas. His leadership has improved. His public speaking has grown exponentially. All of that could help him on the field, but if he puts the type of effort into the on-field growth as much as he did with his off-the-field stuff, he could have a special year
Teams still don't know totally how to stop him and he's going on his third season as a starter. All of that could line up for a special final season for Robinson at Michigan.
July, 19, 2012
7/19/12
2:20
PM ET
TALLAHASSEE, Fla. -- Wide receiver
Artavis Scott
(Tarpon Springs, Fla./East Lake), a 2014 prospect, was one of the top wideouts to compete at the
Jimbo Fisher Camp
on Thursday. The 5-foot-11, 170-pound athlete says he has enjoyed his experience in Tallahassee.
"I love it," Scott said. "It's a home town, it's in Florida, they have the best weather and I love the facilities. I'll probably be back to see some games this year."
Scott picked up an offer while camping at Florida in June and said he will likely visit UF for a game this year as well.
"I love the coaches at Florida," he said. "Every time I go I could just see myself there. I like Florida, I like how they fit me -- I just liked it. I'll probably go see some games at Florida too and maybe UCF."
To continue reading this article you must be an Insider
July, 18, 2012
7/18/12
2:09
PM ET
It was a long trip to Baton Rouge, La., for 2014 cornerback
Damon Webb
(Detroit, Mich./Cass Tech), but it certainly paid off.
Webb became the latest 2014 prospect to secure an offer from LSU during Day 3 of the Tigers' July camp. Webb finished up his workout for the LSU coaching staff Wednesday afternoon, and he had some time to share his thoughts on what is now his seventh scholarship offer.
"I wasn't expecting it, but I was hoping I would get an offer," Webb said. "I felt good, because LSU is a great school and they offered me -- that felt really good."
To continue reading this article you must be an Insider
June, 13, 2012
6/13/12
1:03
PM ET
By
RecruitingNation
| ESPN.com
The 10 Years War. The Charles Woodson-David Boston fight. Woody Hayes refusing to buy gas in Michigan.
Recruits burning letters
from the other side.
The Michigan-Ohio State rivalry is perhaps the fiercest in sports. And with Michigan on the rise again and Ohio State starting fresh with Urban Meyer, nothing will ever change that.
Or so we thought. Behold the healing power of ribs! For the full story (ESPN Playbook), click
here
.
November, 23, 2011
11/23/11
1:45
PM ET
Brady Hoke chatted with the media one last time before shutting things down in preparation for Ohio State on Saturday -- oh, and he wished the media a Happy Thanksgiving, too. Here's what mattered from the presser, in convenient bullet form.
Freshman linebacker Brennen Beyer "probably won't play" Saturday against Ohio State. He injured his leg against Nebraska last week. Hoke was unsure of his availability for whatever bowl game the Wolverines end up playing in as well. Otherwise, Vincent Smith and Ricky Barnum are doing fine.
Hoke on Nebraska coach Bo Pelini's comment about defensive players faking injuries this season: "That's ridiculous. I wouldn't do that. (Jordan) Kovacs? Come on. Us?"
To continue reading this article you must be an Insider
November, 22, 2011
11/22/11
12:35
PM ET
Michigan coach Brady Hoke just finished up his final 10-minute Big Ten teleconference media session of the season. As always, here are the important things in convenient bullet form:
Hoke on whether or not the Big Ten should receive two BCS berths: "I think this conference always deserves whatever it can get. The competitiveness that is shown every Saturday, I don't know why they wouldn't."
Hoke on facing Ohio State quarterback Braxton Miller: "He obviously presents a lot of problems because being a dual-threat quarterback and how good he is with the ball in his hands."

More on Miller from Hoke, and whether or not facing guys like him the past two weeks in Illinois quarterback Nathan Scheelhaase and Nebraska's Taylor Martinez helps Michigan: "I don't know. I wouldn't say yes or no. We have a guy that is pretty special in his own right who we play against in spring and fall camp who makes us look pretty silly sometimes."

That guy, of course, would be Michigan quarterback Denard Robinson.
To continue reading this article you must be an Insider
Harbaugh: Split With 49ers Not Mutual
BIG TEN SCOREBOARD
Thursday, 9/3
Friday, 9/4
Saturday, 9/5
Sunday, 9/6
Monday, 9/7