Michigan Wolverines:

Nick Vannett
October, 18, 2013
10/18/13
11:00
AM ET
By
Brad Bournival & Tom VanHaaren
| ESPN.com
It's time to dip into the Big Ten recruiting mailbag and answer some of your questions. We'll try to give everyone a chance to get their questions answered. We encourage you to send your questions by Twitter to
@bbournival
or
@TomVH
.
[+] Enlarge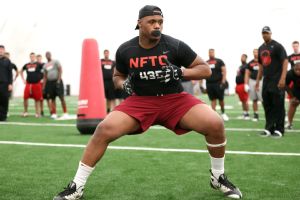 Tom Hauck for Student SportsOT Damian Prince, who is No. 22 in the ESPN 300, no longer seems like a sure thing for Ohio State.
@darkknight1093: Does the late offer to Frank Ragnow indicate that the Ohio State staff believes Damian Prince is trending away from the Buckeyes?
Brad Bournival:
I won't speak for the Ohio State staff, but I'm almost firmly convinced the Prince-to-the-Buckeyes ship has sailed. In fact, I would put it at 95 percent right now that he signs with Maryland in February.
That's how confident I am that Prince (Forestville, Md./Bishop McNamara) he stays in-state at the end. When a program tells you it wants you to be the face of the program like the Terrapins have, it's hard to argue against it.
@dannograef: Who is the biggest sleeper commit in the Big Ten?
Tom VanHaaren:
It's no secret that I think highly of Minnesota running back commit
Jeff Jones
(Washburn, Minn./Washburn), who completed his regular season with 39 touchdowns. I think he's a candidate, I also like Illinois commit
Mike Dudek
(Naperville, Ill./Neuqua Valley), Michigan commit
Noah Furbush
(Kenton, Ohio/Kenton) and Northwestern commit
Dareian Watkins
(Galion, Ohio/Galion). Penn State commit
De'Andre Thompkins
(Swansboro, N.C./Swansboro) is in the ESPN 300, but doesn't get talked about enough. He's going to do big things for the Nittany Lions.
@HoosierHolmes: How much would making a bowl help Indiana's recruiting efforts?
Bournival:
To answer that question, I send you over to Penn State where recruits have gone on record to say they won't choose the Nittany Lions because of the inability to go to a bowl for the next two seasons.
To be more precise, winning breeds winning and attracts more attention from bigger names. The proof is in the fact the same schools in the Big Ten stay on top of the recruiting rankings for that very reason. Kevin Wilson is slowly turning the program around. If he can end the five-year bowl absence this season, don't be surprised to see a boost in recruiting as well.
@mike_albach10: I really like Malik McDowell's size and intangibles. What do you think his ceiling is?
VanHaaren:
He is ranked No. 67 overall and the No. 4 defensive tackle. He is a giant, first of all. He has slimmed down some this season, but he is still head and shoulders bigger than everyone on his team. I think McDowell (Southfield, Mich./Southfield) would make an excellent 3-technique defensive tackle for any team in a 4-3 scheme. In Michigan's defense, he would be able to slide outside to the strongside end spot in running situations and inside to tackle on passing downs. I think he is yet to tap a lot of his potential no matter where he ends up.
@WWEFan20134: Who do you think the final six will be for the class of 2014 for Ohio State football recruiting?
Bournival:
With
Mike Gesicki
(Manahawkin, N.J./Southern Regional) picking Penn State I only see five. The others I feel much stronger about are
Raekwon McMillan
(Hinesville, Ga./Liberty County),
Chad Mavety
(Garden City, N.J./Nassau Community College),
Thomas Holley
(Brooklyn, N.Y./Lincoln) and teammates
Marshon Lattimore
(Cleveland/Glenville) and
Erick Smith
.
@Collin_Stauder: Could the play of Michigan State's defense this year be enough to possibly sway (Parrker) Westphal or McDowell?
VanHaaren:
Michigan State always plays good defense, so that's not something new for those guys. I think that's part of what attracted them to the Spartans in the first place, so I don't think that's a bonus at this point that will tip the scales.
I think the Spartans probably have a better shot with Westphal (Bolingbrook, Ill./Bolingbrook) than McDowell at this point, but at the same time I still think Northwestern has a lot to say in Westphal's recruitment as well.
The play on the field has definitely helped attract some top prospects lately, but Michigan State needs to build on the Indiana win and show more than defense to some of their targets.
@buckeyefan686: Since the Buckeyes missed out on Gesicki who do you believe they land at tight end, or would they just not take one in this class?
Bournival:
I think getting a tight end is an absolute must as I'm not convinced moving
Sam Hubbard
(Cincinnati/Moeller) over is the solution. Even though Ohio State doesn't utilize the tight end much, there's not a plethora of depth at the position.
Jeff Heuerman
and
Nick Vannett
will be back next season, but Blake Thomas' career is likely done with the Buckeyes and
Marcus Baugh
is unproven at this point. Expect them to make a harder push for
DeAndre Goolsby
(Derby, Kan./Derby), who took an official visit for the Wisconsin game.
@hartley_nick:
Any negative recruiting vibes with Michigan's struggles on the field?
VanHaaren:
Not yet. It was only one game and Michigan still only has one loss. It was an emotional loss for the fans because of how deeply they dig into things and diagnose the issues in specific games.
Recruits don't tend to go that far into things like fans do. If you were to ask a recruit what they saw in that game, they would probably tell you two teams who fought hard into four overtimes and one came out on top.
If that type of play continues, though, and Michigan doesn't show progress, then I think you could start to see some noise. I don't think would be any issues with the 2014 class or even the 2015 kids that have already committed. If the season goes downhill, I think you'd see the most impact on uncommitted 2015 targets, but still that doesn't seem too likely at this point.
August, 22, 2013
8/22/13
4:00
PM ET
We are one week from kickoff, people. One week! Remember to breathe.
And if you're not
following us on Twitter
, get to it. We're going to have a lot of great updates on there throughout the season, especially on game days. More than 86,000 followers can't be wrong.
Now back to the old-school way of communicating -- by email.
---
Ryan W. from West Michigan writes:
With all the talk about the Big Ten's perception, tell me why I should even care? Outside of the new playoff committee starting next year, who cares what other people outside of the B1G think? I mean, if us fans enjoy the product on the field, I couldn't care less what someone in Oregon or Florida thinks about my favorite team and conference.
Brian Bennett:
Ryan, if you want to go all Midwest isolationism, have at it. There's something to be said for just following your favorite team and caring primarily about winning the Big Ten. The success of the Big Ten Network validates this. The flip side is, if you want to take that approach, you can't complain about where your team is ranked in the polls, when it is snubbed for a spot in the four-team playoff or when the media incessantly cover the SEC. Perception can also play a large role in recruiting, as some top prospects want to go where they think they have the best chance for a national championship and national exposure. The nature of college football's postseason and the different schedules each team plays has made perception of conferences important in the big picture. But if you like focusing on the small picture, so be it.
---
Tom from Marion, Iowa, writes:
Help me out, fellow Redbird fan. I just don't get it! Well I do get it... the SEC is King. But, in the BCS era, the Big 12 has been in the BCS title game seven times, won two lost five; ACC, Big East, B1G and Pac-12 three times, all with one title; ND o for 1. All I hear is how much the BIG stinks. Where's the hate for the others? Specifically the Big 12; they've lost five out of seven? That's what I don't get.
Brian Bennett:
Huge stretch coming up for the birds on the bat. Anyway, I think there are a few things at play here in terms of the Big Ten's reputation. One is the power of the what-have-you-done-for-me-lately mentality. The Big Ten hasn't had a team play for the national title since the 2006 season, and that's an eternity in our Instagram society. Also, the last two times the league played on that stage, Ohio State got blown out in consecutive years by SEC teams, beginning the whole SEC-speed-trumps-Big-Ten-narrative. Another problem is that the Buckeyes are the only conference team to play for a title, whereas leagues such as the Big 12 (Texas and Oklahoma) and Pac-12 have (USC and Oregon) have had more than one team in the BCS championship game and others right on the cusp of it (Oklahoma State, Stanford). Finally, the Big Ten has not performed well in the past couple of years against the SEC in bowl games or in its nonconference games in general, and its Rose Bowl record in the past decade-plus is abysmal.
Other conferences, as you mention, have had their own failures, and you could argue that Oklahoma has fared just as poorly, if not worse, on the big stage as Ohio State. Why they have escaped the vitriol seemingly directed at the Big Ten is not entirely clear, but some moves by the league that have been viewed as pompous -- ahem, Legends and Leaders -- surely played a role.
---
Darrin from Reedsburg, Wis., writes:
It appears
Tanner McEvoy
is going to be third on the QB depth chart at best. Any chance of seeing him at wide receiver this year?
Brian Bennett:
Darrin, McEvoy worked out at receiver during practice this week. Though he was rather adamant about not playing receiver when
I asked him about it earlier this month
, it makes sense for both him and the team. McEvoy is an excellent athlete who is 6-foot-6, and he played receiver in high school until his senior year. Wisconsin is also very thin at wideout beyond
Jared Abbrederis
. This could be a situation like
Devin Gardner
at Michigan, where McEvoy sacrifices for the team for a while before eventually working his way back to quarterback.
---
Brian from Portland, Ore., writes:
Hey Brian -- cool name! Ohio State offensive coordinator Tom Herman said that he has the two best tight ends in the nation in
Jeff Heuerman
and
Nick Vannett
. To which, I would respond, "Uh, who?" Who's your pick for the top TE in the B1G this year? My bet is on someone wearing blue and white.
Brian Bennett:
As far as tight end groups go, it's hard to beat Penn State. Bill O'Brien seemingly has about a dozen options there, led by
Kyle Carter
and
Jesse James
. I'm also excited to see true freshman
Adam Breneman
-- the nation's No. 1 tight end recruit last year -- in action this season. The Nittany Lions aren't the only ones blessed with outstanding tight ends, however.
Jacob Pedersen
is a proven weapon for Wisconsin.
Devin Funchess
could have a huge year at Michigan.
Ted Bolser
is a big-time receiving threat for Indiana, and Iowa's's
C.J. Fiedorowicz
has a boatload of ability. I even left out a few really good ones. Tight end should once again be a position of strength in the Big Ten.
---
Mike from Macungie, Pa., writes:
Someone posed a question about
Allen Robinson
(I think) being in the running for a Heisman. My question isn't that we do/don't have a Heisman contender, but do you think the sanctions would put a contender from Penn State at a disadvantage? Let's say (and this is a HUGE hypothetical) Allen Robinson has as good of a year, or a better year, than last season. If he's in the top three for the Heisman, do you think the voters would take into account the sanctions against Penn State in possibly not voting for him? Matt Barkley came close two years ago, and you could argue similar circumstances.
Brian Bennett:
It's an interesting question. I don't think probation necessarily hurts a Penn State player's chances of winning the Heisman. Sure, some voters might hold it against a Nittany Lions star, but think about what a great story it would be if a player had a tremendous year and led the team to a 12-0 regular season. That narrative would carry a lot of weight. And remember, Heisman voting is done before the bowls. A Penn State player would potentially be hurt by the lack of a conference championship game, as his season would end a week earlier than some other candidates. The bigger question is, of course, whether the Lions will have enough depth to go 11-1 or 12-0, which is likely a requirement for one of their players to get in the mix. And no matter how good Robinson is, receivers have almost no chance of winning the Heisman. If
this guy
couldn't do it in 2003, or
this guy in 2007
with those ridiculous numbers, forget about it.
---
Shifty from O'Fallon, Ill., writes:
I've seen plenty of references (to include yours in the mailbag Monday), about what Bill O'Brien can do with
Christian Hackenberg
based on how he transformed Matt McGloin. I think they'll likely be great together, but I think everyone underplays how important McGloin's B1G experience was to his breakout season. It's not like McGloin was a 18-year-old walk-on. Dont you think we need to pump the brakes a little before we decide the only thing between Hack and Todd Blackledge is four weeks with BO'B?
Brian Bennett:
Shifty, huh? Remind me not to enter into a real estate deal with you. Anyway, I agree that they hype is probably getting a little out of control for Hackenberg, since he's only a true freshman. But that's what happens when you're the No. 1 quarterback recruit in the nation. I don't think anyone is suggesting that he will put up McGloin's numbers from last year (3,266 yards, 24 touchdowns) right away. McGloin, as you mentioned, had a lot of experience. But as much as I loved watching McGloin's bust out last year, let's not forget that A) he really struggled at times before O'Brien came along; and B) he never had the biggest arm. Hackenberg simply has better physical tools. Does that mean he'll grasp the system and play with McGloin's moxie this year, or ever during his career? Not necessarily. But when you combine his pure skills, O'Brien's quarterback acumen and an offense loaded with receiving targets, the outlook is pretty bright for Hackenberg.
---
Enrique from Grand Rapids, Mich., writes:
Brian, put yourself in Mark Dantonio's shoes.
Damion Terry
has performed admirably the first two fall scrimmages. Your other quarterbacks have been lackluster, failing to make big plays. Meanwhile, your exciting true freshman is 14 of 21, for 341 yards in the air, 40 on the ground, with four touchdowns and no interceptions, and much of that has come against the first-team defense. If (yay, hypotheticals!) Terry can continue to perform this well in the fall practices, would you, the head coach, go with the young upstart? You might not get a better chance than this year to make it to the Rose Bowl after a prolonged absence. Or do you redshirt him and prep him for next year?
Brian Bennett:
Next question
.
Oh, sorry. I got a little too into my Dantonio role-playing. First all, let's acknowledge that Dantonio and his offensive coaches know a heck of a lot more about who's playing well in practice and who understands the system than you and I can glean from some reports and limited practice viewing. And let's not anoint a true freshman based on one glowing scrimmage performance. But I do believe Michigan State should play Terry this season, especially in the first few games, so he could redshirt if he were to get hurt. I'll be surprised if
Andrew Maxwell
is not the starter vs. Western Michigan next Friday, but I think Dantonio should give Terry snaps in some special packages just to see what the kid can do. He is the future, and the future is now for the Spartans. They have an elite defense and a favorable schedule, so they need to go for it this year. The last thing the team needs is a quarterback who is going to make a bunch of mistakes, and there is a serious risk of that with Terry. But he can likely be very effective in certain situations and in a handful of plays per game, giving Michigan State a much-needed different look on offense.
That's me in Dantonio's shoes, anyway. (
So where's the tread?
).
August, 21, 2013
8/21/13
12:00
PM ET
My dog tried to play with a skunk this week. I think we're all getting stir crazy waiting for the football season.
Michigan C Cites Concussions In Decision To Quit
BIG TEN SCOREBOARD
Thursday, 9/3
Friday, 9/4
Saturday, 9/5
Sunday, 9/6
Monday, 9/7