Michigan Wolverines:

NFL Draft
March, 14, 2013
3/14/13
3:44
PM ET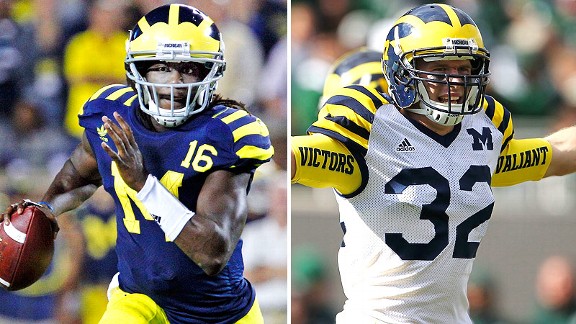 Icon SMI, Getty ImagesDenard Robinson and Jordan Kovacs had a competiton at school's pro day on Thursday.
ANN ARBOR, Mich. --
Jordan Kovacs
didn't need much more motivation for Michigan's pro day on Thursday, but just in case, his workout partner
Denard Robinson
gave him some anyway.
Kovacs and Robinson set up a three-event competition for the pro day. Loser buys dinner at The Chop House, an expensive downtown Ann Arbor steakhouse.
This could come as a potential surprise, but Robinson will be the one paying.
"Oh man, stop. Stop bringing it up," Robinson said, laughing. "He did great today and take my hat off to him. I knew he'd do great today."
While the former Michigan quarterback turned wide receiver did not do much other than positional drills at wide receiver, running back and punt returner during the Michigan pro day, Kovacs stood out.
The former Michigan safety beat Robinson's times in the 20-yard shuttle -- which he ran in 4.19 seconds -- and the three-cone drill, which he completed in 6.62 seconds. Robinson's NFL combine times in those drills were 4.22 in the 20-yard shuttle and 7.09 seconds in the three-cone drill.
Robinson handled Kovacs in the 40-yard dash, running 4.43 seconds at the combine to Kovacs' 4.6 seconds at pro day.
Kovacs entered Thursday knowing he needed to prove his speed and athleticism. Beating Robinson in the competition, along with a good bench-press score for a safety (16 repetitions), helped to prove that.
The Curtice, Ohio, native maintained, though, that while doing well in drills was good for him, it is about what he can do on the field that matters more.
"It's different. We're training for the underwear Olympics today; it isn't football," Kovacs said. "Coach [Aaron] Wellman did a great job of not overdoing it. A lot of guys will go places and think you've got to kill yourselves.
"Coach Wellman, we worked on power. I'm not in great football shape right now. Conditioning-wise, I'm not where I need to be but we weren't worried about that. I was worried about running 40 yards and I think I did that today."
Robinson and Kovacs were the two Michigan players who chose to stay in Ann Arbor and the Michigan facilities to train for turning professional, yet another link the two have. Michigan's two captains last season, they ended up training together while finishing their undergraduate classes in order to graduate in May.
Robinson would be the first in his family to graduate from a four-year college, and that is very important to him. He said he never considered leaving Ann Arbor without his degree in hand.
"I'm taking five classes and working out and putting in the time," Robinson said. "I want to prove something. I want to get my degree.
"... I want to be a role model to my nieces and nephews to be a role model for them and school was important to me."
Together they were diligent on both their workouts, where Robinson is converting to a receiver, and their diet. They were planning to celebrate being done by being able to eat their favorite guilty pleasures -- Oreo cookies for Kovacs and honey buns for Robinson.
They were planning on doing that -- and then eventually grabbing steak dinner as well. On Robinson.
Said Kovacs: "I'm going to enjoy that."
December, 12, 2012
12/12/12
5:15
PM ET
Taylor Lewan
mightnot have made a decision whether he will return to Michigan for his final year of eligibility next season, but the left tackle has been receiving plenty of praise as a potential high draft pick if he leaves this year.
ESPN's Todd McShay has the 6-foot-8 Lewan as the
second tackle off the board in his first mock draft
-- and that would put him in the top 10 and in potentially familiar company. Lewan is also slowly moving up McShay's board
into the Top 15 players
eligible for the draft.
Meanwhile, fellow analyst Mel Kiper Jr. has Lewan
right in the middle
of his big board of prospects and
in his Top 5
junior eligibility offensive tackles.
The only other player mentioned in any list is quarterback/receiver/running back
Denard Robinson
, who is listed as the No. 5
senior receiver in the class
. Robinson has two career catches for 24 yards.
April, 29, 2012
4/29/12
2:23
PM ET
The three-day NFL Draft came and went over the weekend with few surprises for Michigan players. Three players -- Mike Martin, David Molk and Junior Hemingway -- were drafted.

Many more were not.

The three players drafted equaled the 2010 NFL Draft, which had Brandon Graham go in the first round, Zoltan Mesko in the fifth round and Stevie Brown in the seventh.

In this year's draft, Martin went to Tennessee in the third round, while Molk and Hemingway were selected in the seventh round by San Diego and Kansas City, respectively.

Hemingway, the last Michigan player taken, joins Steve Breaston as a wide receiver in Kansas City.


April, 28, 2012
4/28/12
6:52
PM ET
He spent most of his career playing in an offense ill-fitting to his skills. But
Junior Hemingway
, the comfortable safety valve at receiver for Michigan quarterback
Denard Robinson
, has a place in the NFL.
Hemingway was selected by Kansas City in the seventh round with pick No. 238. He'll join former Michigan receiver Steve Breaston in Kansas City.
The Conway, S.C. native caught 88 passes for 1,638 yards and 11 touchdowns in his career, including two touchdowns in his final college game at the Allstate Sugar Bowl, where he was named MVP.
Previous five players picked at No. 238
: 2011 -- David Ausberry, WR, USC (Oakland); 2010 -- Ricardo Mathews, DT, Cincinnati (Indianapolis); 2009 -- Stoney Woodson, CB, South Carolina (N.Y. Giants); 2008 -- Cory Boyd, RB, South Carolina (Denver); 2007 -- Abraham Wright, LB, Colorado (Miami)
More on Hemingway:
April, 28, 2012
4/28/12
6:20
PM ET
The Rimington Award winner has a professional home.
Former Michigan center
David Molk
, who was named the best center in college football last season, was selected by San Diego with the No. 226 pick in the seventh round of the 2012 NFL draft on Saturday.
"There are always obstacles that I've had to face," Molk told Chargers.com. "There's always limitations that people put on me and there's always something that people can say that I don't do well enough and something that I don't have that sets me back, and it's just proving them wrong over and over and over again until finally there's nowhere else to go."
Three of the last four players drafted from Michigan have gone to San Diego, joining Jonas Mouton and Stephen Schilling last year.
Molk, one of Michigan's captains, anchored an offensive line that had one of the best rushing offenses in college football in 2009 and 2010. In 2011, Molk's experience helped the Wolverines transition to more of a hybrid offense under new offensive coordinator Al Borges.
Previous five players picked at No. 226:
2011 -- Greg Romeus, DL, Pittsburgh (New Orleans); 2010 -- George Selvie, DE, South Florida (St. Louis); 2009 -- A.Q. Shipley, C, Penn State (Pittsburgh); 2008 -- Chaz Schilens, WR, San Diego State (Oakland); 2007 -- C.J. Wilson, CB, Baylor (Carolina)
For more on Molk:
April, 27, 2012
4/27/12
10:31
PM ET
Former Michigan defensive tackle
Mike Martin
is in the NFL.
Martin, who was a three-year starter for the Wolverines and a team captain in 2011, was the first Michigan player taken in the 2012 NFL Draft, going to Tennessee in the third round at pick No. 82 overall.
Martin had 172 tackles, 25 tackles for loss and 10 sacks in his career. As a senior, he had 64 tackles, six tackles for loss and 3.5 sacks.
The last time Michigan had a player drafted in the third round was 2008, when Shawn Crable went to New England with the No. 78 pick and Mario Manningham went to the New York Giants at pick No. 95.
Last five No. 82 selections:
2011 -- Vincent Brown, San Diego State (San Diego); 2010 -- Emmanuel Sanders, SMU (Pittsburgh); 2009 -- Derrick Williams, Penn State (Detroit); 2008 -- DaJuan Morgan, N.C. State (Kansas City); 2007 -- Tank Tyler, N.C. State (Kansas City)
Prior stories on Mike Martin:
April, 26, 2012
4/26/12
11:00
AM ET
ANN ARBOR, Mich. --
Troy Woolfolk
will likely be in New York City on Saturday, but he won't be anywhere near the NFL Draft. Actually, the former Michigan defensive back is going to New York to escape the pressure of this weekend.
Unlike former teammates who will likely be drafted this weekend,
Mike Martin
and
David Molk
, Woolfolk has no idea whether or not he'll be selected. That uncertainty has left him like many of the Michigan seniors who will graduate from the university this weekend -- wondering about their future.
The difference is the process for Woolfolk,
Ryan Van Bergen
and others plays out publicly.
March, 15, 2012
3/15/12
4:57
PM ET
ANN ARBOR, Mich. -- Pittsburgh Steelers coach Mike Tomlin called Ryan Van Bergen and Mike Martin over, pulled his defensive line coach in, too, and told them to all work out.

The Steelers coach wanted to see the two former Michigan defensive linemen go through their position drills at the Wolverines' Pro Day on Thursday at Schembechler Hall.

Van Bergen got the feeling he did well.
March, 14, 2012
3/14/12
4:09
PM ET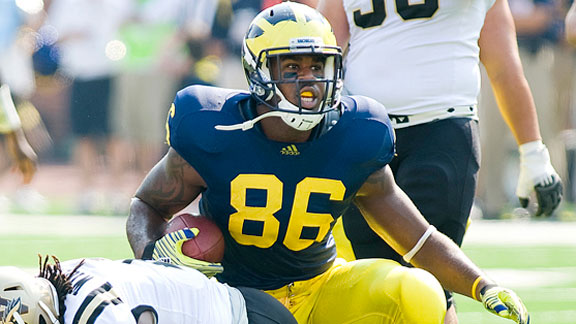 Lon Horwedell/Icon SMIKevin Koger believes a sub-4.7 40 time could secure him a place in the upcoming NFL draft.
ANN ARBOR, Mich. -- As much as
Kevin Koger
wanted to last month, he couldn't pull himself away from the television. It was kind of a forced torture, a reminder of what he felt should have been and could have been all at once while sitting in his Ann Arbor home.
On his television, in half-hour increments, was the NFL scouting combine in Indianapolis. The former Michigan tight end had felt he performed well enough during his career and at the East-West Shrine Game to snag an invite but instead was left out.
So he watched. And watched.
To continue reading this article you must be an Insider
February, 29, 2012
2/29/12
3:44
PM ET
Former Michigan tight end
Kevin Koger
told WolverineNation on Wednesday he is no longer planning on attending this weekend's NFL Regional combine in Chicago, something he was originally intending to do after not being invited to last week's national scouting combine in Indianapolis.
It was a decision reached recently mutually between him and his agent.
Koger is instead banking on following up a good performance in the week of practice leading up to the East-West Shrine Game with a strong pro day at Michigan on March 15.
To continue reading this article you must be an Insider
February, 13, 2012
2/13/12
5:02
PM ET
PLYMOUTH, Mich. -- Two former Michigan tight ends will participate in a Regional NFL Combine, held at the Chicago Bears training facility on March 3.
Both
Kevin Koger
and
Steve Watson
, who were passed over for next week's national NFL Scouting Combine, told WolverineNation on Monday they were planning on participating in the regional combine.
"Since I'm not going to the actual combine, it's a point for me to go out there and get exposure," Koger said before a workout at BarwisMethods. "I just want to go down there. It'll be good to test there before Pro Day. I know Pro Day will be more important than the regional combine but it'll be nice to get comfortable in that kind of environment."
January, 26, 2012
1/26/12
3:20
PM ET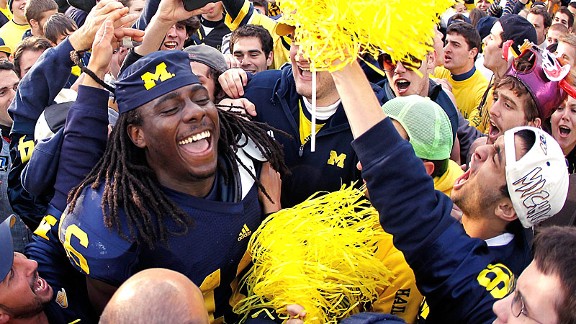 Gregory Shamus/Getty ImagesCan Denard Robinson transition from college QB to NFL WR?
As NFL Draft analyst Mel Kiper Jr. continues to laud the possibility of Michigan quarterback
Denard Robinson
as a wide receiver in the NFL --
he has him as his No. 2 senior NFL Draft prospect at receiver for 2013
-- the question remains.
Could Robinson be a first-round draft pick having never caught a college pass?
To continue reading this article you must be an Insider
January, 18, 2012
1/18/12
12:44
PM ET
Former Michigan center and Rimington Trophy award winner David Molk is the lone Wolverine in the draft that made ESPN.com NFL draft expert Mel Kiper Jr.'s first Top 5-by-position rankings leading up to the draft.
To show the Big Ten depth at the position -- he is one of three Michigan players in the top five in that group.
To continue reading this article you must be an Insider
Michigan C Cites Concussions In Decision To Quit
BIG TEN SCOREBOARD
Thursday, 9/3
Friday, 9/4
Saturday, 9/5
Sunday, 9/6
Monday, 9/7