Michigan Wolverines:

Nathan Brink
February, 22, 2013
2/22/13
10:10
AM ET
"Exit Interview" is a series started at WolverineNation last season in which we speak with Michigan players who are leaving the Wolverines.
ANN ARBOR, Mich. --
Nathan Brink
started from the bottom as a preferred walk-on and worked his way up, the cliched story of a guy doing everything he could to be a college contributor.
Then, in an instant, it all disappeared as an injury forced Brink to retire with a year of eligibility remaining. Between his arrival and the end, he became a rotation player on the defensive line, making three tackles -- 2.5 for loss -- in 16 career games and one start.
October, 8, 2012
10/08/12
4:09
PM ET
ANN ARBOR, Mich. --
Taylor Lewan
said he believed what he heard and what he was asked, that through the first month of the season he thought the offensive line was struggling because that was what he was told.
Now, though, he believes something else. With one week of Big Ten play put away, the redshirt junior said he thinks this year's line has a chance to be "special."
So what does "special" mean, exactly?
October, 4, 2012
10/04/12
9:00
AM ET
By
WolverineNation Staff
| ESPN Insider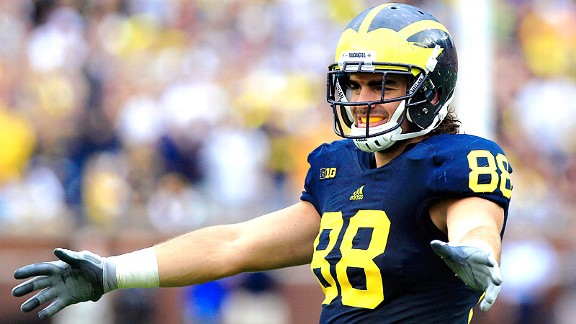 AP Photo/Carlos OsorioDefensive end Craig Roh has 11 tackles and half a sack thus far in 2012.
Michigan's football season is nearing the halfway point and its basketball season is a week away from starting so Tom, Mike and Chantel jump in on three questions surrounding football, basketball and the omnipresent football recruiting in this week's WolverineNation roundtable.
1.) Michigan's defensive line has suffered several injuries in the two-deep this season. Which player is most vital to keep healthy through the conference season?
Tom Van Haaren
: I know his stats aren't off the charts, but I think I might go with
Craig Roh
here.
Nathan Brink
is out with an injury and freshman
Chris Wormley
is out with a torn ACL. Behind Roh there isn't much outside of some true freshmen. They could move
Jibreel Black
over, but you're kind of robbing Peter to pay Paul with that. I think Roh has actually done a good job at his position and they need him to stay healthy.
To continue reading this article you must be an Insider
October, 3, 2012
10/03/12
2:33
PM ET
ANN ARBOR, Mich. -- Around this time a season ago, Michigan running back
Fitzgerald Toussaint
started to break out. He began to find his stride and emerge from being just another ball-carrier on the Michigan roster into being
the
running back for the Wolverines.
[+] Enlarge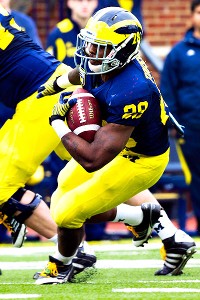 Rick Osentoski/US PresswireFitzgerald Toussaint had his first 100-yard game last season in Michigan's fifth game.
This season, though, it hasn't panned out yet. Through a confluence of events, from his suspension for the season-opener against Alabama to blocking issues with the offensive line to not receiving as many carries as he would like the next three games, Toussaint has yet to find a rhythm or comfort zone.
So Michigan spent part of the off week trying to help him figure out what he needs to do.
"He's been more downhill in my opinion," Michigan coach Brady Hoke said. "Getting him vertically is what we need to do and what he needs to do. It's blocking for him a little better, sticking your foot in the ground as a back and not seeing any ghosts. Know where you want to go with it and be physical.
"Know where you want to go with it."
That was part of Toussaint's issue when this coaching staff arrived before last season. His vision wasn't as good as it needed to be, so he would miss cuts and holes. Throughout last season and the spring, though, it improved to the point where Michigan didn't consider it a concern anymore.
It occasionally still happens, especially as he continueds to try and find the form which turned him into a 1,000-yard rusher a season ago.
"I definitely feel I need to get back in my rhythm but I've been preparing for anything," Toussaint said recently. "So I was able to go out there and do what I had to do."
Last go for Roundtree:
Roy Roundtree
knows it is coming by now during the Purdue week, how the fifth-year senior wide receiver switched his commitment from the Boilermakers to Michigan at the last minute, prompting then-Purdue coach Joe Tiller to call then-Michigan coach Rich Rodriguez a "guy in a wizard hat selling snake oil" for poaching Roundtree.
Roundtree said in past years he has heard from guys on the field during the game about it, including Purdue defensive standouts
Kawann Short
and
Ricardo Allen
.
"They are all good guys out there," Roundtree said.
He doesn't think much, though, about how his career might have changed if he never pulled back from the Boilermakers.
"
J.T. [Floyd
] talked about it the other day and said, 'Me and you wouldn't be good friends,' " Roundtree said. "If I was at Purdue I don't know if I would have still been there, because I don't know if I would have redshirted or not.
"I'm enjoying this right now."
This and that:
Hoke had no injury updates Wednesday and would not delve more into what happened to defensive lineman
Nathan Brink
, who is out indefinitely with an undisclosed injury. ... While Hoke has played a lot of freshmen on defense thus far this season, he is also aware of what could happen as the season progresses, that the proverbial freshman wall is out there. "That wall is coming," Hoke said. "Now the good thing was getting them home for 36 hours or whatever, a lot of them, because they are from Ohio or Michigan and that helps a bit." As for when that wall might come? Look for it around November.
October, 1, 2012
10/01/12
3:51
PM ET
ANN ARBOR, Mich. -- Michigan's defensive line took another hit Monday as the school announced redshirt junior defensive tackle
Nathan Brink
will be out indefinitely after suffering an undisclosed injury last week.
Brink played in all four games, making two tackles, including 1.5 for loss.
He is the latest Michigan defensive linemen to have an injury this season. Sophomore end
Brennen Beyer
is expected back Saturday after missing the past two games with a knee injury. Tackle
Richard Ash
is also expected back this week after having an undisclosed injury that forced him to miss two games earlier this season.
Freshman defensive lineman
Chris Wormley
is out for the season with a torn ACL.
In Brink's place, Michigan could turn to Ash and freshman
Ondre Pipkins
to provide support. Pipkins has played in four games, making four tackles.
Brink was not mentioned earlier Monday when Hoke went through his injured players, although he did say in mentioning his other injured players "the guys who aren't out for the year, the rest of them, they are OK."
It is unclear whether that statement included Brink.
August, 29, 2012
8/29/12
2:10
PM ET
ANN ARBOR, Mich. -- He pulled the seven of them in front of the rest of their teammates in the Michigan team room Tuesday afternoon and for a second, cornerback
J.T. Floyd
wondered what was going on.
The seven guys up there, though, were about to get a nice gift for their parents. Free education for at least a semester if not the full year. While it likely wasn't the excitement of Oprah Winfrey giving away cars to everyone in her audience of her television show, there was enough excitement there to produce cheers, yells and high-fives all around.
Defensive lineman
Nathan Brink
, offensive lineman
Joey Burzynski
, long snapper
Jareth Glanda
, fullback
Paul Gyarmati
, tight end
Mike Kwiatkowski
, wide receiver
Joe Reynolds
and quarterback
Steve Wilson
all found out they were no longer just walk-ons for Michigan's football team.
"That was fun. I announced it front of the rest of the team and there were hugs and kisses," Hoke said. "Not kisses. Excitement and all that kind of stuff."
The walk-ons were unaware of what was going on at first, at least according to Floyd, who asked one of them after it happened.
Some of them, though, might end up playing large roles with Michigan this season. Burzynski lost a competition with fifth-year senior
Elliott Mealer
at left guard. Kwiatkowski pushed starting tight end Brandon Moore. Both Brink and Glanda are highly likely to see time this season.
So they all have roles to fill.
"The meeting room went absolutely crazy," Floyd said. "Guys were jumping up and down. Those guys are an instrumental part of our team and they help us out in every facet of the game, with special teams, offense, defense, scout team.
"Those guys are great guys and guys we love to compete with."
No longer suspended, status still unknown
Hoke said the status of running back
Fitzgerald Toussaint
and defensive end
Frank Clark
is still not announced, but he anticipates a decision before Saturday's kickoff.
He did offer some clarity, though, to how the two are currently being viewed. He initially suspended them after their legal issues, but now it is more of a wait-and-see type of thing since Toussaint and Clark have been practicing.
"They would be practicing, maybe not playing," Hoke said. "They've been practicing. Usually if you've been suspended, I don't let you practice."
Hoke wouldn't commit to whether Clark or Toussaint will travel to Texas this weekend.
This and that
If Toussaint does not play, Michigan could look at a running back by committee with sophomore
Thomas Rawls
, senior
Vincent Smith
and redshirt freshman
Justice Hayes
. ... Freshman defensive lineman
Chris Wormley
had successful ACL surgery Monday, according to Hoke.
April, 12, 2012
4/12/12
3:05
PM ET
ANN ARBOR, Mich. -- Saturday will be the first chance the public has a chance to see this season's Michigan football team.
After their spring practices, the Wolverines will take the field in a coordinated scrimmage with the ones facing the ones and the twos facing the twos, according to Michigan coach Brady Hoke.
The coaching staff is planning on playing about 60 snaps and having a scoring system, though Hoke didn't specify exactly what that would be.
Some players will see limited playing time and certain parts of the game will be regulated due to the fact that it isn't a full team. Hoke mentioned the lack of depth on both lines and at the wide receiver position as reasons for this.
"You always have depth problems in the spring," Hoke said. "We're not at the point, program wise because of depth issues on the offensive front and defensive front, to draft like you'd want to."
It won't be anything compared to the Wolverines' kick off against Alabama next September, but it is a chance to see how far the team has come since its All State Sugar Bowl victory.
"We get a chance to go in the Big House, play football and compete," Hoke said. "Kind of assess where we're at to some degree."
The scrimmage is the highlight of Michigan's annual "Victors Weekend," which will also feature an alumni scrimmage. More than 350 former football players will be in town for the weekend.
INJURY UPDATE:
The only player that will definitely sit out of Saturday's scrimmage is defensive tackle Nate Brink.
Brink, who has a leg injury, has done individual drills through spring practices, but has yet to compete in any full-contact drills.
Linebacker
Kenny Demens
will play, though he was held out of practice last Saturday and Tuesday with a mild concussion. Hoke said Demens probably could've gone, but they chose to be very cautious with those types of injuries.
Wide receiver
Jerald Robinson
has been "a little beat up" with an AC separation, but, according to Hoke, Robinson has played through it.
SPRING LEADERSHIP:
The team will vote on team captains during fall camp, but Hoke has already pointed out a few rising seniors that have stood out to him in the leadership category.
Wide receiver
Roy Roundtree
, safety
Jordan Kovacs
, offensive lineman
Patrick Omameh
and defensive lineman
Will Campbell
were the four that have impressed Hoke so far, though other names will surely pop up between now and voting.
"I'd be remiss not to name a lot of those seniors," Hoke said. "But I think they're really understanding this is the way we want to go about our business."
"LONG" TIME FRIENDS:
With how intertwined college sports are these days, of course, there's a connection between what's going on at Arkansas with former football coach Bobby Petrino and Michigan football.
Hoke and Arkansas athletic director Jeff Long were high school football and baseball teammates.
Hoke said he reached out to Long recently.
"I texted him, 'I'm glad it wasn't you,' " Hoke said. "That's a hard deal for anybody."
EARLY ENROLLEES IMPRESSING:
During Thursday's press conference, Hoke mentioned all three of the early enrollees as players that have impressed during spring football.
With Demens out with his mild concussion, it gave
Joe Bolden
and
Kaleb Ringer
opportunities to step into the MIKE linebacker spot and show their stuff.
"It was probably a great indoctrination for a young guy," Hoke said of Bolden. "It's been good."
Hoke also said that safety
Jarrod Wilson
will take "a bunch of snaps" on Saturday and has throughout the spring.
"I'm real proud of how they made the transition," Hoke said of the early enrollees. "When you think about it they would be going to prom [right now]."
March, 7, 2012
3/07/12
12:34
PM ET
Michigan is seeing one of its best defensive tackles in recent memory,
Mike Martin
, graduate. It also watches
Ryan Van Bergen
and
Will Heininger
, who rotated between end and tackle throughout the season, leave.
So while the Wolverines have some depth returning at one defensive end slot, they have nothing at defensive tackle. And considering how much of Michigan's run defense and pass rush came out of what Martin was able to do on the line, it is the Wolverines' biggest issue entering the spring.
So what happens?
To continue reading this article you must be an Insider
February, 23, 2012
2/23/12
10:00
AM ET
February, 6, 2012
2/06/12
11:29
AM ET
With our Exit Interview series, we will look at each starter/main rotation player and assess how much his loss will mean to Michigan next season.
Previous Loss Impact:
DL Will Heininger
;
TE Kevin Koger
; WR Martavious Odoms
Mike Martin
was one of the better defensive tackles in Michigan history. He was a three-year starter and four-year contributor for the Wolverines, finishing his career as a team captain and starting every game he played in over the last three seasons.
To continue reading this article you must be an Insider
January, 19, 2012
1/19/12
11:17
AM ET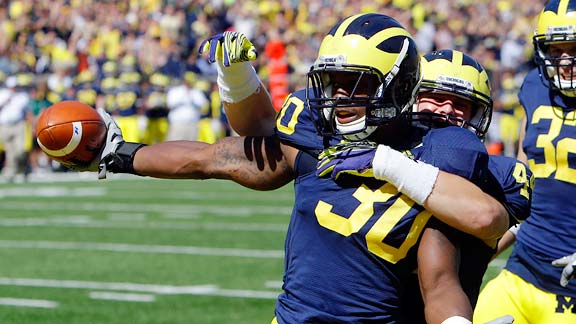 AP Photo/Carlos OsorioDon't be surprised if Thomas Gordon gets pushed by incoming freshman Jarrod Wilson for the starting spot at free safety.
Welcome to the WolverineNation roundtable, where staffers Chantel Jennings, Michael Rothstein and Tom VanHaaren discuss pressing issues and topics surrounding the Michigan sports landscape.
1. Where will the biggest position battles happen for the Michigan football team next season?
TV:
This is a good question, and I think it should be along the defensive line. With
Will Heininger
,
Mike Martin
and
Ryan Van Bergen
leaving, there is plenty of opportunity for competition, mainly among
Will Campbell
,
Quinton Washington
,
Richard Ash
,
Nathan Brink
, and some of the other guys already on the roster.
To continue reading this article you must be an Insider
January, 5, 2012
1/05/12
12:05
PM ET
By
WolverineNation Staff
| ESPN Insider
ANN ARBOR, Mich. -- The 2011 Michigan football season has ended with a result many didn't expect at the beginning of the season. The Wolverines celebrated late into the night in New Orleans on Tuesday after beating Virginia Tech, 23-20, in the Allstate Sugar Bowl.
Meanwhile, the Wolverines men's basketball team has a big week ahead, facing ranked teams in critical early conference matchups. The WolverineNation staff discusses those topics and more in this week's roundtable.
1) What player surprised you the most during Michigan's overtime win over Virginia Tech in the Allstate Sugar Bowl?
To continue reading this article you must be an Insider
December, 28, 2011
12/28/11
2:32
PM ET
Michigan will be a little depleted on the defensive line for the Allstate Sugar Bowl.
Michigan coach Brady Hoke told reporters during a news conference in New Orleans on Wednesday that starting defensive end
Will Heininger
is questionable for the matchup against Virginia Tech with an injured foot.
Heininger has started every game this season for Michigan, making 23 tackles with four tackles for loss, a sack and a pass breakup.
Michigan C Cites Concussions In Decision To Quit
BIG TEN SCOREBOARD
Thursday, 9/3
Friday, 9/4
Saturday, 9/5
Sunday, 9/6
Monday, 9/7