Michigan Wolverines:

Morgan Burke
May, 20, 2014
5/20/14
10:30
AM ET
This September's 42nd Notre Dame-Michigan matchup is likely the last between the schools for the foreseeable future. That doesn't, however, mean that the appearances of Big Ten teams on the Irish's schedule are coming to an end.
Michigan State and Purdue have been stalwarts on Notre Dame's slate -- more than Michigan. And athletic directors from both schools are happy to see their respective rivalries with the Irish continue, even if they're on an abbreviated basis.
Among imminent matchups, Notre Dame will "host" the Boilermakers Sept. 14 at Lucas Oil Stadium in Indianapolis for its annual off-site Shamrock Series game. The Irish have a home-and-home scheduled with the Spartans for 2016 (at ND) and 2017 (at MSU).
"[Notre Dame athletic director] Jack [Swarbrick] and I are in constant communication, and it's not adversarial whatsoever. But it's a situation where, both with us going to nine [conference] games and with them having to move into the ACC scheduling model, it's created some significant challenges for both of us," Michigan State athletic director Mark Hollis told ESPN.com. "And right now we're kind of in a position of, we know the next two, we know we have two more in the future and we're just kind of taking it one step at a time. We've been in constant communication."
The future, Hollis told local reporters last week, includes an agreement to play a home-and-home in 2026 and 2027, as well as a neutral site game, possibly in Chicago, in 2023.
Notre Dame and Purdue, meanwhile, have five more scheduled games -- Sept. 19, 2020 at Purdue; Sept. 18, 2021 at Notre Dame; Sept. 14, 2024 at Purdue; Sept. 13, 2025 at Notre Dame; and in 2026 on a date and in a neutral site that has yet to be determined.
"I think the relationship between the schools is -- you're not going to take it to San Juan," Purdue athletic director Morgan Burke told ESPN.com. "But we have alums all over the country, too. Strong populations in Texas, in California, in Florida. The likely sites are Chicago and Indianapolis."
Notre Dame coach Brian Kelly
said last week that most of his scheduling conversations with Swarbrick start with Michigan, Michigan State and an SEC team
. But Wolverines athletic director David Brandon told ESPN.com's Adam Rittenberg in an email that there had been no discussions with the Irish.
The mood might have soured between the two schools -- Sept. 7 at Notre Dame will be their last matchup following the Irish's 2012 exercising of a three-year opt-out clause in the series -- but that has not been the case between the Irish and the rest of the Big Ten.
"Jack and I have known each other for a long, long time," Burke said. "He had a hard deal because when the Big East went the way it went, he had to find a home for lots of sports. What he had to do then was to negotiate, he had to use some of the football inventory to do that, and that's what created the issue. There's no issues with wanting to play Purdue or Michigan State. The Michigan thing there's a little bit of a tiff, I guess. But I don't think so.
"Our history goes back a long time. So what we tried to do was to make sure that there was at least a path forward. In other words, don't just announce Lucas Oil and it stops, but try to show people that we're going to play more than just once every 10 years. That's the best we could do now. Who knows what the landscape will be down the road? My hope is that someday, I hope we don't look back and say we lost something that started in 1946, because there are Purdue and Notre Dame folks who have been going to those games for years and tailgated. And you've had some great athletic contests with some great family relationships. And as we break some of this stuff apart and get bigger leagues, do you lose some of those relationships, and 10 or 15 years from now, does that hurt you?"
With Purdue having played Notre Dame 85 times, and with Michigan State having played the Irish 77 times, both schools are hoping that the answer to that question is a resounding no.
"There's going to be fewer games with Notre Dame because of the national landscape, and that's one of the unfortunate parts of conference expansion, is those nonconference games take secondary step," Hollis said. "But it's important to Michigan State that we continue to play on a national stage, so we'll have Notre Dame as much as we can have Notre Dame. They want as many games, we want as many games, it just all has to fit."
April, 17, 2014
4/17/14
12:00
PM ET
Make up your mind, Mother Nature.
February, 18, 2014
2/18/14
2:30
PM ET
Four years ago, the
Big Ten clarified its November night games policy
, saying that while a contractual provision exists between the league and its TV partners about prime-time games after Nov. 1, the games can take place if all parties are on board and planning begins early.
The message back then: We can do this, but we probably won't any time soon.
Last year, Big Ten coaches and administrators
expressed greater support for night games
, including those in November. League commissioner Jim Delany told ESPN.com he wouldn't stand in the way of such games.
[+] Enlarge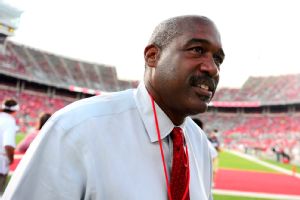 Andrew Weber/USA TODAY SportsIf the matchups are right, Ohio State AD Gene Smith is open to November night games in the Big Ten.
But when the
Big Ten prime-time schedule came out for the 2013 season
, it included no night games after Nov. 1.
Will 2014 be the year we see Big Ten football kick off under the lights after Nov. 1?
We won't know for sure until ESPN/ABC and BTN announce their prime-time schedules this spring, but there's momentum for more night games and later night games, and talks are underway.
"We're more amendable to that first November Saturday," Ohio State athletic director Gene Smith recently told ESPN.com, "and I think some of us will be willing to look at that second Saturday in November if the contest is right."
Weather is still a potential deterrent for Big Ten schools to schedule night games later in the season, as it creates possible logistical problems for all involved (fans, game operations staff, police/security). But the temperature difference between late October and the first portion of November often is negligible.
The 2014 season includes Saturdays on Nov. 1 and Nov. 8.
Here are the schedules:
Nov. 1
Indiana at Michigan
Maryland at Penn State
Illinois at Ohio State
Wisconsin at Rutgers
Northwestern at Iowa
Purdue at Nebraska
Byes: Minnesota, Michigan State
Nov. 8
Penn State at Indiana
Michigan at Northwestern
Ohio State at Michigan State
Iowa at Minnesota
Wisconsin at Purdue
Byes: Maryland, Rutgers, Illinois, Nebraska
The bad news: The Nov. 1 schedule doesn't feature too many big-time games, which could decrease the likelihood of a prime-time contest, especially on ESPN/ABC.
[+] Enlarge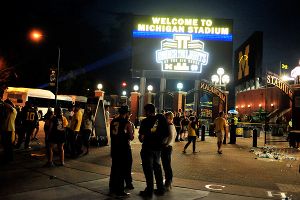 AP Photo/The Ann Arbor NewsMichigan likes for its night games to be major events, which could rule the Wolverines out for an early-November game under the lights in 2014.
The good news: Several of the schools hosting games that day are among the most open in the league to hosting night games. Penn State and Nebraska welcome such contests -- in part because of their pre-Big Ten history -- and Ohio State, which is installing permanent lights at Ohio Stadium for the 2014 season, has become increasingly interested. Rutgers comes from a league where you played whenever TV asked you to, and a night game against a good opponent like Wisconsin would bring some nice exposure for one of the new Big Ten additions.
Michigan wants its night games to be major events, and facing Indiana doesn't exactly qualify. Iowa hosting Northwestern is a possibility, especially since the Hawkeyes play only one other home game (Oct. 11 against Indiana) between Sept. 15 and Nov. 1.
The Nov. 8 schedule includes arguably the Big Ten's marquee game of the year in Ohio State visiting Michigan State, a rematch of the 2013 league championship. I'd absolutely love to see this at night, and what a way to kick off November prime time in the league. It's definitely a possibility, but the game also could fill the 3:30 p.m. ET window, which many Big Ten athletic directors prefer (Purdue's Morgan Burke recently called it "the sweet spot").
The Penn State-Indiana game is another potential prime-time kickoff, mainly because Indiana has been so open to night games (six in the past two seasons, nine since the 2010 season).
"We've probably had more night games than most of our colleagues in the conference," Indiana athletic director Fred Glass said. "We think it's a good thing for us, it helps our attendance. We're certainly open to that, and my guess is that will be more of a trend."
Illinois athletic director Mike Thomas echoes the support for night games, noting that several Big Ten ADs and coaches previously spent time in the Mid-American Conference, where playing at night and on weekdays, especially late in the season, is common.
"We experienced all of that in our past lives," said Thomas, who served as Akron's athletic director from 2000-05. "We talk about the opportunities for the prime-time windows and where we are as individual schools and as a conference in having that kind of exposure.
"I would certainly support it."
Many of Thomas' colleagues seem to be on board. Smith said the athletic directors last week spoke about moving up the timetable for prime-time selections so they can begin promoting games. Prime-time schedules typically have been announced between April 20 and May 15.
"We're putting in lights because we've realized that we can handle night games," Smith said. "In 2006, we were a little bit skittish about it. We know our fans love it, so we've shared with the conference that we're amenable to having more. There's a novelty to it. That helps us with our atmosphere.
"It makes things really exciting."
February, 17, 2014
2/17/14
2:30
PM ET
It's not surprising that Big Ten athletic directors spent part of their meeting last week discussing
football attendance, a growing concern
despite the sport's surging popularity.
The real surprise: How much the ADs focused on a group whose devotion to gamedays rarely is questioned. They're the folks with the shortest commute to stadiums, discounted tickets and the most direct connection to the team on the field. And yet they're showing up less and less,
even in regions where football resonates the most
.
[+] Enlarge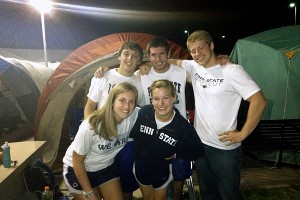 Josh Moyer/ESPN.comThe Penn State student body camps out before games in an area known as "Nittanyville."
"How many stories were written this fall about student attendance?" Illinois athletic director Mike Thomas asked during a recent interview. "Even SEC schools like Alabama, we're talking about a drop in attendance. In 2012 and 2013, that was the difference for us, our student numbers.
"How do you get the students engaged?"
It's a question Big Ten athletic departments are asking, whether their schools are seeing tangible drop-offs in student attendance or maintaining strong Saturday turnouts.
"That's your next generation of ticket buyers," Purdue athletic director Morgan Burke said, "so you better be paying attention."
Some Big Ten student sections have as much tradition as the teams for whom they cheer. The Block I at Illinois just completed its 103rd season. The Block "O" at Ohio State celebrated its 75th anniversary this past fall. Penn State's Nittanyville often is rated as the nation's No. 1 student section.
But almost every Big Ten school is examining how to get students to show up for games and stay until the end. Images like
this
and
this
and
this
have become more common. Iowa reduced its student section size by two sections last fall after sales dropped and no-shows rose.
Some challenges are local, whether it's ticket prices at Illinois or early kickoffs at Nebraska or pricing and seating structure at Michigan or tailgating space at Minnesota. But there are common issues that are getting attention, particularly from the league's newly established football gameday experience subcommittee.
"For students, something like Skull Session at Ohio State or the Tunnel Walk at Nebraska or a Whiteout at Penn State, you're never going to be able to replicate that anywhere but the game," said Big Ten associate director Kerry Kenny, the liaison to the committee. "Those types of things obviously help drive attendance and keep people interested in coming back, but it's that other piece, of how to make that experience a total immersion in the game."
Technology is part of that piece, and Big Ten schools are either implementing or exploring total stadium Wi-Fi and cellular service upgrades. Students are avid social-media users, and many would benefit from stronger in-stadium coverage.
Jake Bradley, director of football operations for the Block "O", said it's nearly impossible to communicate between the two student areas at Ohio Stadium -- at the North and South ends of the facility -- because cell service is poor. While improved coverage would be nice, Big Ten student section leaders don't think upgrades would have a dramatic effect on turnout.
"Being able to text and get on Instagram in the stadium is very difficult," said Kurt Hansen, who oversees the Block I at Illinois football games. "There are so many people on their phones. But do I think it makes that big of a deal? No."
The bigger issue at Illinois, aside from the team's on-field struggles, is the pricing structure. There's no difference between standard student tickets and Block I tickets. Because the Block I charges an additional fee for the perks it provides for students, the overall cost becomes higher.
[+] Enlarge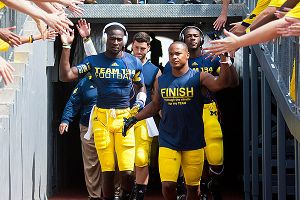 AP Photo/Tony DingMichigan has had some difficulty with student attendance in the past couple of years.
Prices also
have been an issue at Michigan
, which switched from seniority-based seating to general admission seating last season in response to declining student attendance (26 percent absences in the 2012 season) and late arrivals.
Early kickoff times also present a challenge in the Big Ten, especially for schools located in the Central time zone. Although Wisconsin hasn't had a decline in student attendance, according to associate athletic director Justin Doherty, it's typically a late-arriving crowd.
Steve Dosskey, president of the Iron N student section at Nebraska, said students often don't filter in until 15-20 minutes after kickoff because they're at off-campus tailgates. (Nebraska's campus is dry.)
"People usually get there, but we have a difficult time filling up the student section by kickoff," Dosskey said. "Naturally, we're going to have better attendance for the [2:30 p.m.] and for the prime-time games."
Purdue used to spend half the season in the Central time zone, and Burke admits, "I feel for the schools that have 11 o'clock kicks. That's really hard."
Tailgating opportunities are very much on students' radar. Minnesota provided a
new tailgating area for students before the 2013 season
, and the Block I holds tailgates before each home game.
"Let's face it: Most college facilities don't sell alcohol," Thomas said. "Do you lose kids because they'd rather go down to the local bar and hang out with their friends? That does affect some of us to some extent, but [selling alcohol is] not a place we're considering going."
One place more Big Ten schools seem to be going is more attractive nonconference schedules, which could boost student turnout.
Nittanyville president Brian Sanvido saw more empty seats for a September game against Eastern Michigan. Greg Licht of Iowa's Hawk's Nest noted that sweltering heat and an FCS opponent (Missouri State) kept students away for a Week 2 game.
"The tailgate scene in Iowa City is pretty prevalent," Licht said. "If there isn't a big-name opponent or students don't have a reason to see the opponent, they'll stay outside."
The Big Ten still has plenty of places where attending football games is woven into student culture. Penn State students take great pride in Nittanyville's ratings, camping out before games and filling the stands behind one end zone.
"You feel like you've affected the game," Sanvido said. "Students latch on."
But not as much as they used to, so Big Ten leaders are paying attention.
"There's so many options for our young people," Ohio State athletic director Gene Smith said. "The demographic is changing; their interests are changing. We have to respond."
February, 17, 2014
2/17/14
9:00
AM ET
The Big Ten's combination of big stadiums, big fan bases and big tradition has historically made football attendance a rather small issue.
America's two largest football venues -- Michigan Stadium and Beaver Stadium -- sit on Big Ten campuses, and three of the seven football stadiums with six-figure capacities are in the league (Ohio Stadium is the other). Michigan has led the nation in college football attendance for the past 15 years, and the Big Ten occupied three of the top five spots and seven of the top 23 spots in
attendance average for the 2013 season
.
[+] Enlarge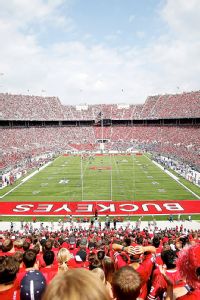 Kirk Irwin/Getty ImagesOhio State averaged 104,933 fans at its seven home games in 2013, which ranked No. 2 in that nation behind Michigan.
The Big Ten in 2013 set records for total attendance (6,127,526) and attendance for league games (3,414,448), and ranked second behind the SEC in average attendance per game (70,431), a slight increase from 2012.
So what's the B1G deal? Eight of the 12 league programs saw a decline in average attendance last season. Some have seen numbers drop for several years.
Student-section attendance
is a
growing concern
, and the Big Ten is tracking the
troubling national
attendance trends
.
"We've been blessed because we haven't been hit with the significant drop-off that many other conferences and schools have experienced," Ohio State athletic director Gene Smith told ESPN.com. "However, we've seen it in certain games, or in not necessarily ticket sales but people actually coming to games.
"So we're concerned."
The league is taking a proactive approach, starting last season with the formation of a football game-day experience subcommittee, which Smith chairs. The committee in August announced that Big Ten schools would be
allowed to show an unlimited number of replays
on video boards at any speed. Schools previously could show one replay at no less than 75 percent of real-time speed.
The move drew positive reviews from fans and no major complaints from game officials.
"If people can see the replay at home on TV, you can't give them a lesser experience in the stands," Purdue athletic director Morgan Burke said.
A "more robust" replay approach is on the way for 2014, and Big Ten leaders are looking at other ways to bolster the stadium experience, which, as Burke noted, seems to have reached a tipping point with the couch experience.
Here are some areas of focus:
Cellular and Wi-Fi Connections
In August, the subcommittee encouraged each Big Ten school to explore full Wi-Fi in stadiums as well as Distributed Antenna System (DAS) coverage to enhance cell-phone functionality. A fan base immersed in smartphones, social media and staying connected demands it.
"Everybody realizes improvements have to be made," said Kerry Kenny, the Big Ten's liaison to the game-day experience subcommittee. "People want to be updated on other games. They want to go in there and take photos or Instagram videos or tweet. They want to be able to stay in touch with family and friends that aren't there but are watching."
Penn State installed Wi-Fi throughout Beaver Stadium in 2012 but is the only Big Ten school to have complete access. Illinois athletic director Mike Thomas said he hopes to have total Wi-Fi in the school's football stadium by the fall, if not the 2015 season. Nebraska's regents last month
approved a $12.3 million Wi-Fi project
for its stadium, and Wisconsin hopes to have full stadium Wi-Fi this season.
Most schools are focused on boosting cell service, which is more feasible and widespread. Ohio State installed more than 200 antennas in Ohio Stadium to improve cell service. For complete Wi-Fi, it would need about 1,200 antennas.
"We don't know what the cost is, but we know it's somewhere north of seven figures," Smith said. "We're studying it, as are my colleagues in the Big Ten."
Student attendance
Student sections aren't nearly as full as they used to be on Saturdays, both in the Big Ten and in the nation. ADs are well aware of the downturn and have tried different approaches to boost attendance.
Michigan in 2013 implemented a
general admission policy
, hoping to get more students to show up early, but
reviews weren't favorable
. Minnesota provided a
new student tailgating area
and
better ticket packages
. Illinois held a clinic for international students, who have told Thomas they'd come to games if they knew more about football.
The technology component resonates for students. Michigan State athletic director Mark Hollis told CBSsports.com that many students didn't show up for a 2012 game against Iowa because
they couldn't send text messages in the rain
.
Even if Ohio State doesn't install complete Wi-Fi at The Shoe, it could do so for the student section.
"Our surveys show that less than 25 percent of the crowd actually uses their cellular device [during games]," Smith said, "but of that 25 percent, a supermajority are students. You want to be able to provide that access."
In-Game Entertainment
"

Everybody realizes improvements have to be made. People want to be updated on other games. They want to go in there and take photos or Instagram videos or tweet. They want to be able to stay in touch with family and friends that aren't there but are watching.

"

Kerry Kenny, the Big Ten's liaison to the game-day experience subcommittee, on Wi-Fi in stadiums.
The days of public-address announcers listing scores from other games during timeouts are over. Schools want to give fans a broader view on Saturdays, whether it's putting live feeds of other games on video boards or replaying highlights shortly after they happen.
"I was at a game at Purdue this year," Kenny said, "and they showed a highlight of a touchdown in the Wisconsin-Iowa game within a couple minutes of that touchdown being scored."
Added Thomas: "If you're watching ESPN or watching a game at home, those are the kinds of experiences you should give people in your venue."
Big Ten athletic directors and football coaches last week discussed having more locker-room video or behind-the-scenes content that can be shown only within the stadium.
"You're in an era where people want to know what's it like before the game, after the game," Burke said. "It humanizes us if people see that side, the highs and the lows."
Burke likens Purdue's sideline to a "Hollywood production," as the band director, a disc jockey and a show producer coordinate in-game music on headsets. Several schools post tweets from fans at games on video boards to create a more interactive experience.
Ticketing and timing
Last month, Penn State became the latest Big Ten school to
adopt variable ticket pricing for single games
, acknowledging, "We have been listening to our fans." Attendance has
dropped 11.2 percent from 2007 to 2012
, while
frustration has grown with the Seat Transfer and Equity Plan (STEP) program.
Big Ten schools are getting more creative with ticket plans in response to attendance concerns. Northwestern last season
implemented a modified "Dutch auction" system
where a portion of tickets were sold based on adjusted price demand rather than set prices.
Purdue last fall
introduced mobile ticket delivery
, which allows fans to download tickets directly to their devices.
Kickoff times are another attendance indicator, as Big Ten schools located in the central time zone often struggle to fill the stands for 11 a.m. games. The Big Ten gradually has increased its number of prime-time games, and while Burke considers mid-afternoon games ideal, more night kickoffs likely are on the way, including those in early November.
Ohio State is in the process of installing permanent lights at Ohio Stadium.
"I'm a big fan of evening games," Thomas said.
As attendance becomes a bigger issue, the Big Ten and its members have surveyed fans about what they want at games. Wisconsin last fall established a 25-member fan advisory council, with two students. The school has received feedback about concessions, parking and whether fans would prefer digital programs rather than the traditional magazine-style ones.
"So much of it is when somebody comes to your venue," said Justin Doherty, Wisconsin's associate athletic director for external relations, "they have an experience that makes them want to come back."
December, 20, 2013
12/20/13
4:00
PM ET
Wishing you a great weekend. Check out the
full ESPN bowl schedule
(with broadcast teams).
Don't forget to follow us
on Twitter
if you aren't already.
To the inbox ...

Mike from Allentown, Pa., writes:
Hey Adam, with all the talk about Penn State's bowl ban being looked into this offseason, I have a hypothetical question for you. If the NCAA were to drop Penn State's bowl ban, would the Big Ten comply and make them eligible for the Big Ten championship? Or, is it possible the Big Ten could extend that ban separate from the NCAA?
Adam Rittenberg:
Mike, the Big Ten's penalties always were tied to the NCAA's. Big Ten rules state that if the NCAA declares a team ineligible for postseason play, that team can't play in the Big Ten championship game. So if the NCAA lifts the bowl ban, the Big Ten would declare Penn State eligible for a league title (the Lions already can win their division). Big Ten commissioner Jim Delany has been pleased with Penn State's response to former Sen. George Mitchell, the independent athletics integrity monitor assigned to the school. So I'd be shocked if the Big Ten added or maintained any sanctions against Penn State once the NCAA ones are lifted.
---

Josh from Indy writes:
Have you ever thought about the comparison between Darqueze and his cousin Alfonzo? Both had great careers for their respective teams. Just wanted your take on this.
Adam Rittenberg:
Josh, I definitely thought about it after
Darqueze Dennard
won the Big Ten's Tatum-Woodson Defensive Back of the Year award, which Nebraska's Alfonzo Dennard claimed in 2011. I can't imagine two family members have won the same award while playing for different teams in the same league. Pretty cool. Darqueze's numbers this season are more impressive than Alfonzo's in 2011, although Alfonzo was a true shut-down guy who basically eliminated one side of the field. Darqueze's pro prospects are better, as many peg him as a first-round draft pick. We'll never know where Alfonzo would have been drafted if he hadn't had the off-field trouble. Both are great players, though.
---

Derek from Preston, Iowa, writes:
Hey Adam, I was just curious as to what you thoughts were on Derrell Johnson-Koulianos' Twitter tirade against Kirk Ferentz. Ferentz is beloved for the most part in Hawkeye Country, and this whole thing just seems weird. Why now?
Adam Rittenberg:
The timing is interesting, Derek, as much of this happened three years ago. I understand Derrell's perspective that Ferentz blackballed him with the NFL and stifled his playing career. Some of his teammates back up the accusations against Ferentz and strength coach Chris Doyle. It's an unfortunate situation, but I would be very surprised if Ferentz or Iowa has anything to say about the accusations, especially so long after the fact. Iowa has moved forward and Ferentz's word still carries weight in NFL circles.
DJK has the right to air his grievances, and he has never held back on his views. Honestly, I can't think of a Big Ten player I've covered who fit in less with a particular program. But I doubt there will be major consequences for Ferentz or Iowa.
---

Fatback from Newark, Ohio, writes:
Just wanting to know what your thoughts about Ohio State's defensive coordinator position. I know Fickell is an OSU guy, but we definitely need a change of pace. What do you think about Fickell moving down to just a position coach ( if he doesn't get another job this offseason), and hiring another person from the outside or moving Mike Vrabel up? I think with Vrabel we would play much more aggressive and sit back in all the zone coverage that teams seem to kill us on. Again, your thoughts?
Adam Rittenberg:
It would be tough for Ohio State to demote Fickell, who was the Big Ten's
third highest-paid assistant this year
($610,000). You're not going to pay that salary to a position coach (at least you shouldn't). Fickell still brings a lot of value to Ohio State as a recruiter, and while his defense has its issues this year, youth in the front seven and
Christian Bryant
's injury didn't help matters. On the other hand, Urban Meyer has extremely high standards, and if he feels Fickell isn't helping the team to a national championship, maybe you make the change.
I've heard that Vrabel has definite head-coaching potential, and he did a nice job with a young defensive line this year. With Everett Withers reportedly departing to James Madison, don't be surprised to see a co-coordinator situation with Vrabel and Fickell. Perhaps Vrabel has more say on play calls. I just can't see Ohio State forcing out Fickell right now.
---
Joe from Kentucky writes:
How can you guys leave off
Blake Countess
and
Stanley Jean-Baptiste
from the All-B1G selection for
Bradley Roby
? Roby was suspended for his off-the-field antics (looks really all-conference) and he got exposed by any of the good WRs he faced.
Jared Abbrederis
and
Jeremy Gallon
made him look silly to the tune of almost 400 yards combined. That does not sound like an all-conference performer to me. On the other hand, Countess led the conference in INTs and Jean-Baptiste was right there (if not tied). I think you guys were a little biased in trying to make MSU and OSU the top two represented teams (which their records show). Also,
Ryan Shazier
is the only person on that Ohio State defense to be named All-B1G.
Adam Rittenberg:
Roby's one-game suspension really isn't relevant, as we included
Carlos Hyde
on the team despite his three-game suspension because he was the Big Ten's best running back in league play (few would argue). I agree that Roby struggled against Abbrederis in the Wisconsin game, but many of Gallon's yards didn't come against Roby in the Michigan game. Roby made a touchdown-saving tackle on Gallon, running completely across the field, one of several displays of athleticism he had this season. He had a very good Big Ten season and is one of the better special-teams players I can remember in this league. SJB had a nice season but no picks in Big Ten play. You could make a case for Countess, but I still feel Roby performed better in Big Ten play than any corner other than MSU's Dennard. Shazier is the only other Buckeye defender on our All-Big Ten team, although lineman
Michael Bennett
deservedly made the second-team.
---

Will from Columbus, Ohio, writes:
Should I be concerned that Michigan will be breaking in two new starters at both offensive tackle positions in 2014? Lewan and Schofield took 99.9 percent of the snaps this year, likely making their replacements having VERY little, to no game experience. After the abysmal display on the interior of the line this year, I do believe there are positives in game time reps of the interior line translating to better protection up the middle next season. Will inexperience on the edge hurt the line more next year than the inside this year, or can you mask the youth more on the outside than in?
Adam Rittenberg:
Some good points here, Will. I agree that Michigan's interior line will be improved next year because of all the experience gained, even through some tough times. It will be interesting to see what Michigan does with
Erik Magnuson
, who can play either guard or tackle but might be best at tackle depending on his development. The staff was excited about
Ben Braden
's development in the offseason, and he could step in for Lewan at left tackle. I'm really interested to see how the line performs in Arizona following bowl practices, but you're right that the group will continue to be under the microscope with both veteran tackles departing.
---
Ken from Carmel, Ind., writes:
When
Clifton Garrett
recently committed to LSU, he mentioned the great game-day atmosphere. Having attended a game there, I agree. Sometimes I think the B10 doesn't get that -- and is slow to pick up other little things like that (night games) that can make the difference in winning or losing recruiting battles, and eventually games. As an Iowa grad, the large number of 11 a.m. games certainly don't help the game-day atmosphere. I get the feeling that the people at the top -- president, and A.D. -- don't understand this. You'll have a couple more arrests with later games, but most people just cheer louder and have more fun - a.k.a., better game-day atmosphere. Your thoughts?
Adam Rittenberg:
Couldn't agree more, Ken, and I've been writing this for years. The Big Ten needs to prioritize prime-time games and become more open to weekday games, which would get some of the smaller programs some much-needed exposure. The good news: the league is definitely warming up to the idea, adding more prime-time games and becoming open to November night games, most likely in the 2014 season. Purdue athletic director Morgan Burke said Thursday that the Big Ten's next television contract will feature more prime-time games. That's a good thing, as the noon ET and 3:30 p.m. ET windows just don't carry the same weight with recruits.
December, 9, 2013
12/09/13
12:00
PM ET
After Sunday's announcements, these links are served in a bowl.
February, 1, 2013
2/01/13
9:00
AM ET
As we've written for the past several days, Big Ten athletic directors have a whole host of decisions to make over the next few months, including
how many league games
they should play,
how to align the divisions
,
the next bowl lineup
and even
what to call the divisions
.

"We've got some heavy lifting to do here for the next few months," Purdue athletic director Morgan Burke said.
But what if all that huffing and puffing turns out to be a Sisyphean task? There's one thing that could send conference leaders scrambling back to the drawing board: more expansion.
The decisions the athletic directors will make for the 2014 season and beyond will be based on the new 14-team format with Maryland and Rutgers joining. Many people suspect the Big Ten is not done adding members and could soon grow to 16 or even to 20 members. Ohio State president E. Gordon Gee recently informed us that conference
expansion talks are "ongoing."
The athletic directors are well aware of the possibility that more teams could be coming at just about any time.
"Based on the last three years I've been in this business, you'd be crazy not to think about it," Michigan athletic director Dave Brandon said. "But it's hard to model anything because you don't know what to model. The minute you get yourself convinced that you're going to go from 14 to 16, for all you know you're going to 18, and a lot of people think the ultimate landing place is 20. Who knows?"
For now, all the decisions they make will be based on a 14-team model only.
"You make your decision based on today," Iowa's Gary Barta said. "And today, we have that many teams. We can't worry about something that's not established yet. I don't know if and when there will be more teams. Right now, we're going to make decisions based on the additions of Rutgers and Maryland, and we're going to make them with the information we have, consistent with our principles."
"It's hard to predict the future," added Northwestern's Jim Phillips. "No one would have predicted we'd be at this place we're at right now. I don't think you can get polarized by the what-ifs or the potential of what might be and lose sight of where you're at."
The league's ADs will do their best to come up with the best framework for a 14-team league. If future expansion arrives in time for the 2014 season or shortly after it, at least the conference has gained lots of recent experience in how to deal with it.
"When you get into the discussion of things like 10 [conference games], you say, 'Wow, if we had a couple more teams, it would be easier,'" Ohio State athletic director Gene Smith said. "That's a natural. But it's not something that motivates you to say, 'We've got to position this in case we have another team, or two more teams.' We don't do that."
"What I've liked about our league is, when we added Nebraska, we felt like we needed to settle and watch the landscape. We thought the East Coast was important, and we got two good pickups relative to that principal. So I think we deal with what we have now, sit, monitor the landscape, and if something emerges down the road, we're positioned to be able to absorb."
September, 25, 2012
9/25/12
12:15
PM ET
Notre Dame just got finished dusting off three straight Big Ten teams, beating Purdue, Michigan State and Michigan in order. It was an impressive run but one that might not be possible again in the near future.
The Irish have notified Michigan that they are
opting out of their games
against the Wolverines from 2015 to 2017, the Associated Press first reported Tuesday. The two schools were already scheduled to take a hiatus in 2018-19. That means we won't see a Michigan-Notre Dame game for at least five straight years after 2014 and maybe longer, as nothing beyond that is guaranteed.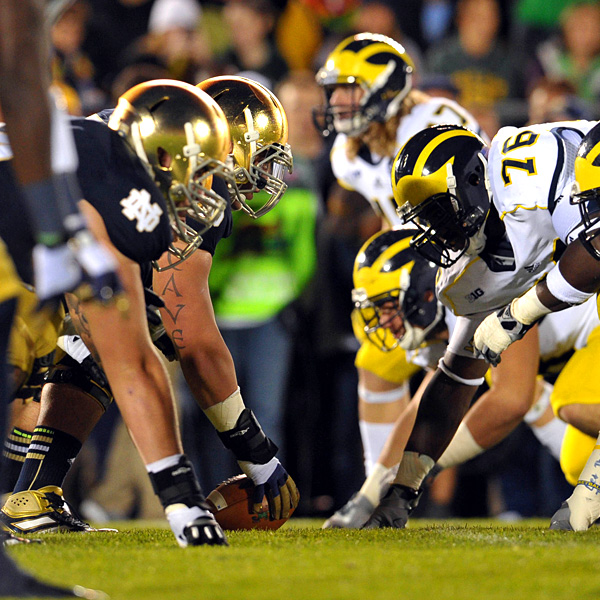 Matt Cashore/US PresswireNotre Dame has notified Michigan that it is exercising a three-year out in their series contract.
This is about more than just Michigan, though. This signals a new era in the Notre Dame-Big Ten relationship. Michigan State and Purdue both have cherished series against the Golden Domers that are no longer safe.
The Irish are clearly moving in a new direction. They recently joined the ACC in all sports but football while agreeing to play five football games per year against ACC teams. With Notre Dame wanting to keep Stanford, USC and Navy on the schedule and desiring to play in major recruiting areas, their need to face three Big Ten teams every year has diminished significantly.
For Michigan, it's a loss but not a crippling one. The Wolverines lose a regional rival, but playing Notre Dame doesn't carry nearly the cachet that it once did. Michigan fans don't live and die by this game like they do Ohio State. Fans will miss it, but they probably won't yearn for it.
In fact, they might not even notice if athletic director Dave Brandon replaces Notre Dame with high-profile games like this year's opener against Alabama. Michigan has already scheduled Pac-12 opponents Utah, Colorado and Oregon State for the near future. Brandon will have to scramble a bit to fill holes in the '15 and '16 schedules because many agreements are signed years in advance. Hopefully, though, the maize-and-blue use this opportunity to play marquee matchups, because that's what a program of this magnitude ought to do, especially with strength of schedule likely a large component of the forthcoming playoff structure. Brandon is a bold-enough thinker to recognize this.
The Spartans have a deal with Notre Dame that extends through 2031, although it's unknown what kind of out clauses the Irish have in that contract. Last week, Michigan State athletic director Mark Hollis
told MLive.com
, "Everything's not up to them. What's up to them is to make a request to alter the contract, and once they make that request, then it will be up to us on how we want to respond."
Hollis already has some big-time games on the future docket, including Oregon (2014 and 2015), Alabama (2016 and '17) and Miami ('20, '21). The Spartans played Boise State this year and will continue that series. They will play a strong schedule regardless, but the Notre Dame series has been good for them on the whole, especially when you consider that their top rival, Michigan, does not view them the same way.
Purdue is the team that should be really nervous here. The Boilermakers really value their in-state rivalry against Notre Dame and love the exposure it brings for a program that sometimes struggles to attract attention. You get the feeling athletic director Morgan Burke would schedule the Irish twice a year if he could.
But the Purdue series does little to benefit Notre Dame except that it is a very manageable road trip in odd years. It doesn't help Irish recruiting efforts or create much of a stir outside of northern Indiana. If Notre Dame truly wants to start being more of a coastal program, then there's little reason for it to play Purdue every year. While the Boilers will do everything they can to keep the series going, they shouldn't be surprised to see a Dear John letter from South Bend arriving in their mailbox soon.
Notre Dame didn't want to join the Big Ten, and the Big Ten would never have agreed to the kind of one-foot-in, one-foot-out arrangement the Irish made with the ACC. So both parties will move in different directions.
The Notre Dame games have been mostly beneficial for the conference, but in years when the Irish weren't that good, they dragged down the nonconference schedules. This year, they handed the Big Ten three losses. Today's news isn't necessarily No. 4.
Michigan C Cites Concussions In Decision To Quit
BIG TEN SCOREBOARD
Thursday, 9/3
Friday, 9/4
Saturday, 9/5
Sunday, 9/6
Monday, 9/7