Michigan Wolverines:

Morgan Burke
February, 1, 2013
Feb 1
9:00
AM ET
As we've written for the past several days, Big Ten athletic directors have a whole host of decisions to make over the next few months, including
how many league games
they should play,
how to align the divisions
,
the next bowl lineup
and even
what to call the divisions
.

"We've got some heavy lifting to do here for the next few months," Purdue athletic director Morgan Burke said.
But what if all that huffing and puffing turns out to be a Sisyphean task? There's one thing that could send conference leaders scrambling back to the drawing board: more expansion.
The decisions the athletic directors will make for the 2014 season and beyond will be based on the new 14-team format with Maryland and Rutgers joining. Many people suspect the Big Ten is not done adding members and could soon grow to 16 or even to 20 members. Ohio State president E. Gordon Gee recently informed us that conference
expansion talks are "ongoing."
The athletic directors are well aware of the possibility that more teams could be coming at just about any time.
"Based on the last three years I've been in this business, you'd be crazy not to think about it," Michigan athletic director Dave Brandon said. "But it's hard to model anything because you don't know what to model. The minute you get yourself convinced that you're going to go from 14 to 16, for all you know you're going to 18, and a lot of people think the ultimate landing place is 20. Who knows?"
For now, all the decisions they make will be based on a 14-team model only.
"You make your decision based on today," Iowa's Gary Barta said. "And today, we have that many teams. We can't worry about something that's not established yet. I don't know if and when there will be more teams. Right now, we're going to make decisions based on the additions of Rutgers and Maryland, and we're going to make them with the information we have, consistent with our principles."
"It's hard to predict the future," added Northwestern's Jim Phillips. "No one would have predicted we'd be at this place we're at right now. I don't think you can get polarized by the what-ifs or the potential of what might be and lose sight of where you're at."
The league's ADs will do their best to come up with the best framework for a 14-team league. If future expansion arrives in time for the 2014 season or shortly after it, at least the conference has gained lots of recent experience in how to deal with it.
"When you get into the discussion of things like 10 [conference games], you say, 'Wow, if we had a couple more teams, it would be easier,'" Ohio State athletic director Gene Smith said. "That's a natural. But it's not something that motivates you to say, 'We've got to position this in case we have another team, or two more teams.' We don't do that."
"What I've liked about our league is, when we added Nebraska, we felt like we needed to settle and watch the landscape. We thought the East Coast was important, and we got two good pickups relative to that principal. So I think we deal with what we have now, sit, monitor the landscape, and if something emerges down the road, we're positioned to be able to absorb."
September, 25, 2012
9/25/12
12:15
PM ET
Notre Dame just got finished dusting off three straight Big Ten teams, beating Purdue, Michigan State and Michigan in order. It was an impressive run but one that might not be possible again in the near future.
The Irish have notified Michigan that they are
opting out of their games
against the Wolverines from 2015 to 2017, the Associated Press first reported Tuesday. The two schools were already scheduled to take a hiatus in 2018-19. That means we won't see a Michigan-Notre Dame game for at least five straight years after 2014 and maybe longer, as nothing beyond that is guaranteed.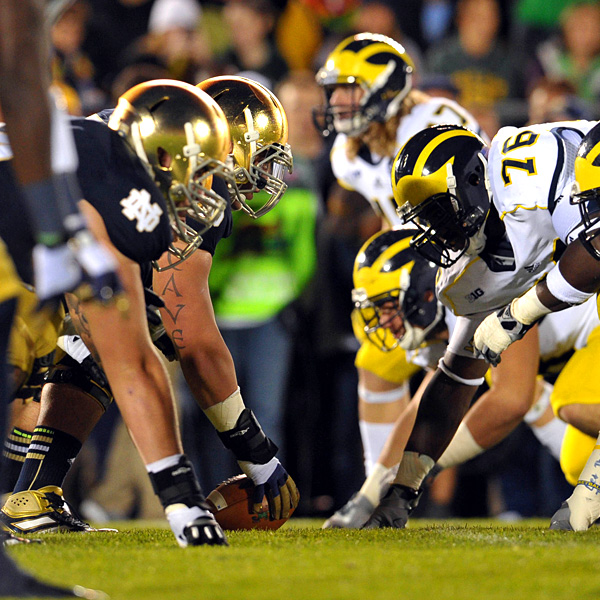 Matt Cashore/US PresswireNotre Dame has notified Michigan that it is exercising a three-year out in their series contract.
This is about more than just Michigan, though. This signals a new era in the Notre Dame-Big Ten relationship. Michigan State and Purdue both have cherished series against the Golden Domers that are no longer safe.
The Irish are clearly moving in a new direction. They recently joined the ACC in all sports but football while agreeing to play five football games per year against ACC teams. With Notre Dame wanting to keep Stanford, USC and Navy on the schedule and desiring to play in major recruiting areas, their need to face three Big Ten teams every year has diminished significantly.
For Michigan, it's a loss but not a crippling one. The Wolverines lose a regional rival, but playing Notre Dame doesn't carry nearly the cachet that it once did. Michigan fans don't live and die by this game like they do Ohio State. Fans will miss it, but they probably won't yearn for it.
In fact, they might not even notice if athletic director Dave Brandon replaces Notre Dame with high-profile games like this year's opener against Alabama. Michigan has already scheduled Pac-12 opponents Utah, Colorado and Oregon State for the near future. Brandon will have to scramble a bit to fill holes in the '15 and '16 schedules because many agreements are signed years in advance. Hopefully, though, the maize-and-blue use this opportunity to play marquee matchups, because that's what a program of this magnitude ought to do, especially with strength of schedule likely a large component of the forthcoming playoff structure. Brandon is a bold-enough thinker to recognize this.
The Spartans have a deal with Notre Dame that extends through 2031, although it's unknown what kind of out clauses the Irish have in that contract. Last week, Michigan State athletic director Mark Hollis
told MLive.com
, "Everything's not up to them. What's up to them is to make a request to alter the contract, and once they make that request, then it will be up to us on how we want to respond."
Hollis already has some big-time games on the future docket, including Oregon (2014 and 2015), Alabama (2016 and '17) and Miami ('20, '21). The Spartans played Boise State this year and will continue that series. They will play a strong schedule regardless, but the Notre Dame series has been good for them on the whole, especially when you consider that their top rival, Michigan, does not view them the same way.
Purdue is the team that should be really nervous here. The Boilermakers really value their in-state rivalry against Notre Dame and love the exposure it brings for a program that sometimes struggles to attract attention. You get the feeling athletic director Morgan Burke would schedule the Irish twice a year if he could.
But the Purdue series does little to benefit Notre Dame except that it is a very manageable road trip in odd years. It doesn't help Irish recruiting efforts or create much of a stir outside of northern Indiana. If Notre Dame truly wants to start being more of a coastal program, then there's little reason for it to play Purdue every year. While the Boilers will do everything they can to keep the series going, they shouldn't be surprised to see a Dear John letter from South Bend arriving in their mailbox soon.
Notre Dame didn't want to join the Big Ten, and the Big Ten would never have agreed to the kind of one-foot-in, one-foot-out arrangement the Irish made with the ACC. So both parties will move in different directions.
The Notre Dame games have been mostly beneficial for the conference, but in years when the Irish weren't that good, they dragged down the nonconference schedules. This year, they handed the Big Ten three losses. Today's news isn't necessarily No. 4.
Weekend Recruiting Wrap: Big Ten - Dec. 2