Michigan Wolverines:

Mike Jones
May, 2, 2013
5/02/13
10:00
AM ET
ANN ARBOR, Mich. -- While Michigan's offense has a bunch of questions surrounding who will play where and how much time freshmen might see, the Wolverines' defense has other issues.

These, though, aren't so bad.

Michigan has significant depth -- albeit some inexperience -- at every spot on its defense. This allows the Wolverines to come closer to reaching defensive coordinator Greg Mattison's goal of being able to rotate players at both defensive line and linebacker to keep them fresh for later in games and later on in the season.
March, 20, 2013
3/20/13
1:42
PM ET
Michigan has suffered a huge setback early in spring practice, as the team announced Wednesday that junior linebacker
Jake Ryan
tore his ACL during Tuesday's practice.
Ryan is the team's top returning defensive player, having led the Wolverines last year with 88 tackles, 16 tackles for loss, 4.5 sacks and four forced fumbles. We named him to our
2012 All-Big Ten team
and rated him
No. 17
in our Big Ten postseason player rankings.
[+] Enlarge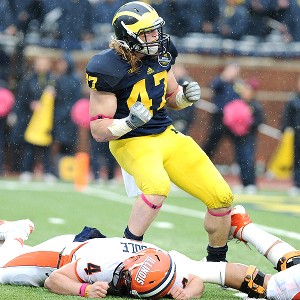 Lon Horwedel/Icon SMIJake Ryan's knee injury leaves a hole in the Michigan defense that will be difficult to fill.
Michigan officials said Ryan is out "indefinitely." If there's any bright side to this injury, it's that it happened on March 19. Typical recovery time for torn ACLs is generally said to be between six to nine months. We don't know how severe Ryan's injury is -- whether it's a complete or partial tear, for instance, or whether there's damage to other ligaments -- but if he were to meet the most optimistic side of that recovery timetable, then he could still come back and play for the Wolverines by midseason. But again, that's if everything goes perfectly.
There have been success stories of athletes recovering quickly from torn ACLs. The most notable one is Minnesota running back Adrian Peterson, who led the NFL in rushing last season after suffering his ACL tear on Christmas Eve 2011.
"I know he will attack his rehabilitation just like he does everything else and will be back when he's ready," head coach Brady Hoke said in a statement.
Linebacker also looks to be Michigan's deepest position. Hoke told ESPN.com last week before Ryan's injury that "we feel a little stronger at that position" and that he expected great competition.
Desmond Morgan
, who started at weak side linebacker last year, had been working out at the middle linebacker spot to allow him and rising star James Ross to play at the same time. The Wolverines also have sophomores
Joe Bolden
and
Royce Jenkins-Stone
, senior
Mike Jones
and incoming freshmen Mike McCray II and Ben Gedeon to compete for snaps.
However, most of those guys -- with the exception of McCray -- profile more as middle or weak side linebackers, and lack the size to play the strong side spot that Ryan occupied. That puts more pressure on senior Cam Gordon -- Ryan's backup -- to play a bigger role. Gordon has appeared in 33 career games, and Hoke praised his winter workout efforts in his interview with ESPN.com last year. But Gordon has yet to show that he can be a star or a major disruptive force the way Ryan has been. Make no mistake about it: this is a big, big loss for Greg Mattison's defense.
The Wolverines have plenty of time to figure out some answers, but it remains to be seen if they can find anyone to fill the playmaking shoes of Ryan. It's the first real negative of the offseason for Michigan, which got great news when
Taylor Lewan
returned, when
Devin Gardner
got his extra year of eligibility, and of course on signing day.
Time will tell how well the team will fill in for Ryan, or whether he can return at all for 2013. But until then, the guy with the flowing golden locks and penchant for making impact plays will be sorely missed.
March, 19, 2013
3/19/13
9:00
AM ET
ANN ARBOR, Mich. -- Brady Hoke and Greg Mattison arrived at Michigan a little more than two years ago with a defensive plan in hand. They had both coached here before, knew each other well and had similar philosophies for how defenses should go.
Now, almost three years in, one of the many facets of the team they would like to put on the field is closer to being possible. Mattison and Hoke relish being able to rotate their defensive linemen and linebackers throughout games in an effort to get more players game reps and keep them fresher for both the fourth quarters of games and the back half of each season.
Yet for the first two seasons at Michigan, it didn't always work as well. Lack of depth combined with a youth movement at both spots led to some rotation, but not as much as Hoke would prefer -- especially at Mike and Will linebacker.
[+] Enlarge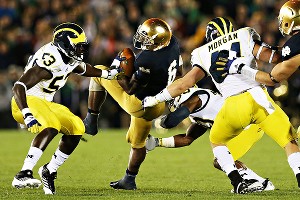 Jonathan Daniel/Getty ImagesDesmond Morgan (right) will slide from Will linebacker to Sam, but the rest of the Wolverines' LB setup is still iffy this spring, at best.
"That position, if you could have four you could rotate through and they are all quality, that would be great," Hoke said. "We rotated a ton at San Diego State. We rotated every four plays.
"We're getting a little more to where we would be able to do that."
Herein lies the snag, something Michigan is hoping to figure out this summer at what could be its deepest position: The talent level is there. The experience level is not.
March, 13, 2013
3/13/13
9:00
AM ET
Michigan begins spring practice on Saturday with both some question marks and some major returning talent. Brady Hoke says of his team: "We're very young. But these guys have a lot of fight to them." There will also be a lot of fighting for starting jobs, beginning in a few days. I recently caught up with the third-year Wolverines coach for his thoughts on the approach of spring ball:
What are the main things you're looking for this spring?
Brady Hoke:
Well, you know, we've got a lot of open spaces. Some guys graduated, some guys aren't with the program anymore and we've got a lot of young guys. I think we only have 11 starters back on both sides of the ball, so there's going to be a lot of great competition, which is exciting. I think the leadership of our seniors, they've done a nice job of holding everybody accountable. But when you get out there with the pads on, it's a little different than just running around in shorts.
[+] Enlarge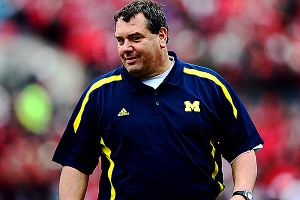 Andrew Weber/USA TODAY SportsWith only 11 returning starters, Michigan coach Brady Hoke said he's excited about the competition this spring.
Some of that competition will be on the offensive line, where you've got three open jobs on the interior. How do you see those battles right now?
BH:
Well, I think the interior of both lines, there's going to be a lot of competition. We've got to find a center, and that's between [
Jack] Miller
and [
Graham] Glasgow
, and
Joey Burzynski
will try to figure that out a little bit, too. At the guard positions,
Ben Braden
is going to move down inside and start out at the left guard, but he'll have a lot of competition because Burzynski is back and so is
Blake Bars
.
Kyle Kalis
will move into the right side, and it will be interesting again with [
Kyle] Bosch
and some of the guys who have been here a little bit. I think it will be a really good competition at all three of those inside positions.
Having
Taylor [Lewan
] back is huge. I think it's great for him and great for Michigan.
Mike Schofield
has had a really good winter. He had some real bright spots during the course of last season, and I think his development is going to be something special.
You mentioned the defensive line, where you also lost a couple of veterans. How does that shape up?
BH
: I think inside, we get
Jibreel Black
for another year and
Quinton Washington
. But once you get through that, there are a lot of young guys ...
Willie Henry
,
Ondre Pipkins
,
Ryan Glasgow
,
Richard Ash
and
Chris Wormley
are all guys who can either play the inside tackle or the strongside end. We'll find out the guys who are competitive.
Tommy Strobel
is another guy we think had a real good winter, and
Keith Heitzman
. So it's going to be fun to see them compete.
Does having so many young guys in key spots on the line make you nervous? Or do you have a lot of confidence in them because you recruited most of them?
BH:
I think it makes you nervous if you think you may have recruited the wrong guys. But we like the work ethic. We like how they've come in to learn and with a lot of enthusiasm. I think there's some competitiveness that we need to keep pushing as a program. You know, we lost five games on the road. We've played pretty well at home but we've got to do better on the road and that's a mindset, a mentality that you have to compete through everything, on every down.
Devin Gardner goes into spring practice as your starting quarterback. How has he developed as a leader?
BH:
I have been really excited about the progress he's made. I'm seeing that maturity that it takes and the leadership it takes and the competitiveness it takes to be the quarterback at Michigan. I think that's a real big part of how he's grown, and I think he's done a nice job with it. I'm liking the direction he's going, and hopefully he can just keep going and keep growing.
What about your running back position this spring, with Fitz Toussaint hurt and Derrick Green not there yet?
BH:
You know, Fitz has come along pretty well. I don't think he'll do a lot of contact or anything like that, but I think he'll be cleared for a lot more drill work. That's gone real well. We've moved [
Dennis] Norfleet
back to running back and we're going to give him an opportunity. Dennis, he's a smaller guy, but he's a very competitive, very tough young man.
Drake Johnson
is a guy we redshirted a year ago, and we really liked the way he competed in scout situations. In the bowl practices, we did some scrimmages and gave him a lot of carries, and we're very excited about what he has to offer.
Thomas Rawls
is coming back, and I think he learned a lot last year about the vision he needs to play with, and I like how he's competed through the [winter]. And
Justice Hayes
is a guy who gives you a little bit different look because of how he can get on the perimeter. He did some things in a couple of games last year, but now I think he'll have a big stage to prove himself more this spring. And he's a bigger guy now, he's 190-something pounds, so he's a little bigger.
[+] Enlarge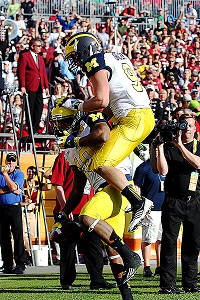 Kim Klement/USA TODAY SportsMichigan coach Brady Hoke said that he's pleased by more than just the on-field success of WRs Drew Dileo and Jeremy Gallon.
You have Jeremy Gallon back at receiver, but you lost Roy Roundtree. You sounded excited about some of the younger guys there during bowl prep. Is spring their time to step up now?
BH:
Yeah, I think so. First of all, I think the leadership with Gallon and
Drew Dileo
, they've done a really nice job being leaders at that position. They're not big guys, but they have a real spirit for the game and really do a nice job of working and leading. We have
Amara Darboh
, who played a little last year, and
Jehu Chesson
, who we redshirted a year ago. And I think
Jeremy Jackson
has had a very good winter; we're very excited about some of the progress he's made.
Joe Reynolds
is a guy who walked on here, and he's done a very nice job. And
Bo Dever
, his dad played here and he walked on. I think that during the course of the spring, we'll be in pretty good shape there. I think as we keep going, we'll keep improving at that position.
Linebacker was a strength for you last year and looks to be so again. Do you see some good competition there this spring, particularly at the weakside spot?
BH:
Yeah, I think with
Desmond Morgan
and
James Ross
, there's going to be great competition.
Joe Bolden
and
Royce Jenkins-Stone
and
Mike Jones
are all guys who are very competitive, and I think the three young guys coming in are going to be guys who will give us a lot of good competition and a lot of good depth.
Kaleb Ringer
is coming back from injury, so we'll see what he can give us. At the sam linebacker,
Jake [Ryan
] is coming back, and we really like what
Cam Gordon
has done during the winter. So I think we feel a little stronger at that position.
How do you replace what Jordan Kovacs gave you in the secondary?
BH:
I don't know if you ever replace that kind of leadership, but I really think
Thomas Gordon
, he's played a lot of football here, and it's time for him to demonstrate the leadership. And he's doing that. Because of the number of snaps and everything he's done, he's really fallen into his own a little bit.
Courtney Avery
has played a lot of football, and whether he's a corner a nickel or wherever, he's got to give us great leadership and great reps.
Blake Countess
is getting healthier; he'll do some things during the spring.
Josh Furman
, I think, has come on.
We've got to see where
Terry Richardson
is and where
Marvin Robinson
is. Both those guys have played a number of snaps. We've got
Raymon Taylor
back, who I think started every game for us last year, we're excited about his development.
Dymonte Thomas
is a guy who's going to compete, and he'll pressure some guys.
Jarrod Wilson
is another guy who played some last year for us. Ross Douglas is here early.
Jeremy Clark
is a 6-foot-4, 210-pound safety we redshirted a year ago, and it's going to be a big spring for him to make some moves.
So I think we may have more personnel back there. And even more in the fall when
Channing Stribling
gets in, and
Reon Dawson
gets in and
Jourdan Lewis
. I think it's going to add something to our secondary.
Finally, what has your message been to the team this offseason after last year's 8-5 season?
BH:
Well, our message has been, we haven't met the expectations at Michigan. That's something that as a football community… that we really feel that we have to do a much better job in all areas, from the coaching aspect of it, from learning and playing with the competitiveness we want to have, from every player at every position playing with the intensity we want to play with. It's about having a mindset and a mentality of how we want to play the game. We make no excuses, but at the same time, we know we have a lot we can do to play better football.
April, 23, 2012
4/23/12
11:00
AM ET
WolverineNation runs a recruiting mailbag feature every week and conducts a live chat in the weeks when the mailbag doesn't run.
Here's a look at this week's questions from the readers:
Q: Paul, Pasadena, Calif.: I see so much #Team134 on the internet that I'm mistakenly starting to think of Michigan as Team 134 even before this year's Team 133. Do you think this type of branding has made a tangible impact on recruiting? If so, do you think the next recruiting classes will have similar success, or is this more attributed to Shane Morris and other recruits' efforts?
To continue reading this article you must be an Insider
Michigan C Cites Concussions In Decision To Quit
BIG TEN SCOREBOARD
Thursday, 9/3
Friday, 9/4
Saturday, 9/5
Sunday, 9/6
Monday, 9/7