Michigan Wolverines:

Michigan State Spartans
June, 2, 2014
Jun 2
10:00
AM ET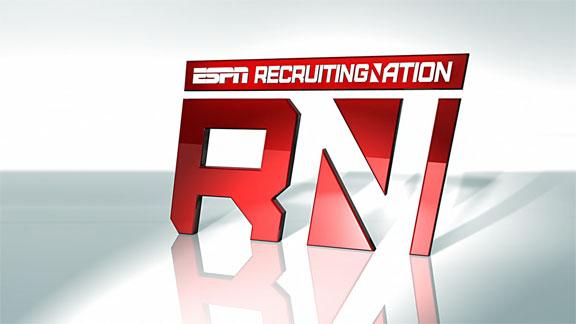 JACKSONVILLE, Fla. —
CeCe Jefferson
is one of the top defensive ends in the country, ranked No. 9 in the ESPN 300. Yet the 6-foot-3, 248-pound, five-star prospect found himself playing middle linebacker, defensive end and even fullback in his team's spring football game.
That's exactly how Jefferson likes it.
"I like moving around because it shows the coaches at the next level that I'm versatile enough to do it," Jefferson said. "I don't mind playing multiple positions in college. Linebacker is probably what I'm going to be because I'm not really that big to play defensive end against 300-pounders all night. So moving around is definitely not a problem to me. I feel like I'm versatile enough to do it, so if a coach asks me to do it, I'm going to do it."
It's Jefferson's versatility and ability to cause so much disruption for opposing offenses that has college coaches from across the country flocking to Glen St. Mary, Florida, to try to land the talented defender from Baker County High School.
December, 19, 2013
12/19/13
12:00
PM ET
November, 4, 2013
11/04/13
5:00
AM ET
1. It's not smart to delve deeply into BCS what-ifs. The season has five remaining weeks -- a full third of the schedule. Besides, the top of the
BCS standings
will sort itself out. It has every year since the FBS went to a 12-game schedule. But the race at the other end of the BCS is worth keeping an eye on. Fresno State has reached No. 16, the minimum threshold a BCS buster needs to secure a bid as long as it's ahead of an AQ champion. Louisville and UCF of the American are No. 20 and No. 21, respectively.
2. No. 1 Alabama and No. 3 Oregon turn their heads toward their biggest conference nemeses. Nick Saban is only 4-3 against No. 13 LSU while since taking over as coach of Alabama. He's 72-10 against everyone else. No. 5 Stanford is the only team to beat Chip Kelly's Ducks twice in his four seasons. Last season's 17-14 overtime loss cost Oregon a berth in the BCS Championship Game. Suffice to say it left a mark. Expect coach Mark Helfrich to have something in his game plan this week. The Ducks kept it pretty vanilla last year, and it cost them.
3. When Michigan State defeated Michigan four consecutive times from 2008-11, it didn't quite feel as if the Spartans owned the rivalry. This wasn't the real Michigan -- coach Rich Rodriguez didn't fit the Wolverine mold. Michigan State took advantage of Michigan, but so did a lot of teams. That's not the case any longer. Michigan has its own (Brady Hoke) running the program. He is in Year Three. Yet Michigan State just beat Michigan
29-6
, the Spartans' biggest margin in their 5-1 run against the Wolverines. The rivalry belongs to Sparty as securely as it did in the mid-1960s run of Duffy Daugherty.
October, 31, 2013
10/31/13
5:00
AM ET
1. Michigan's feuds with Ohio State and Notre Dame always drew more attention than its games with Michigan State. But that has changed, and not, Wolverines coach Brady Hoke said Wednesday on the
ESPNU College Football Podcast
, because the Spartans won four in a row from 2008-11. "I think some of the changes with the divisional races puts a little more emphasis on this football game," Hoke said. "But from a passion standpoint … it's always been a very physical game. It's always a game that been played through the whistle. The intensity of the rivalry is there. It's real."
2. Florida Atlantic head coach Carl Pelini and defensive coordinator Pete Rekstis resigned, a source told my colleague Brett McMurphy, because they attended a party where people used marijuana. I guess the coaches picked the wrong state in which to attend the party. According to Governing magazine, 21 states and the District of Columbia have legalized some form of marijuana usage. No, Florida is not one of them. But still this story, in 2013, is a stunner. Maybe FAU wanted Pelini (5-15 in two seasons) out?
3. Stanford senior defensive end and team captain
Ben Gardner's
season-ending pectoral injury means that the Cardinal will have started only two games with their preseason starting defensive line. Senior
Henry Anderson
hurt his knee in the second game against Army. That the line has remained a strength for the Cardinal is a credit to fifth-year senior
Josh Mauro
, who pretty much turned Anderson into Wally Pipp. But it's a shame that the three seniors will have played together so little in their final season.
June, 14, 2013
6/14/13
1:42
PM ET
By
Michael Rothstein & Chantel Jennings
| ESPN.com
In conjunction with colleague Mark Schlabach's story on the history of pranks in college sports and the differentiation between a prank and vandalism, Michael Rothstein and Chantel Jennings decided to reflect and share our favorite college sports-related prank or mascot-related kerfuffle.
[+] Enlarge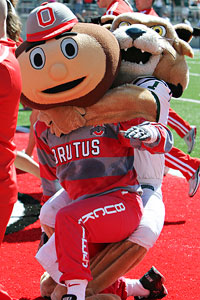 AP Photo/Neal C. LauronIn 2010, there was a premeditated mascot attack in Columbus.
Chantel Jennings:
For the week leading up to the Michigan-Michigan State football game, students will find couches, heaters, speakers and cookouts in the middle of Michigan's bustling academic side of campus. The area, known as "The Diag," houses a famous block M that was once painted green by visiting Spartan students. To avoid that, members of Theta Xi fraternity "Defend The Diag" every year, setting up a perimeter and guarding it 24 hours a day. The group has done this for more than a decade and even has a Twitter page with a profile that reads, "Protecting the most valuable piece of brass in existence from our little brother since 2000."
Michael Rothstein:
For as long as I can remember, I've always found mascots funny. When I was a kid, I loved when they fought. Now as a reporter, sometimes I'll look over to the mascot for moments of levity in the midst of a big game to remind me that, yes, this is all just a game. Mascot-on-mascot violence is often staged and expected. Then, there was this in 2010 when Ohio faced Ohio State. And the only one with the plan before the game was the man inside the Ohio mascot, Rufus Bobcat. Brutus, the Ohio State mascot, ran out on to the field with the rest of his Buckeyes brethren prior to the when he was speared and then chased down again by Rufus. What initially appeared to be a spontaneous idea was actually thought out beforehand as the man behind Rufus, Brandon Hanning, told reporters afterward he tried out to be Rufus
solely for the moment where he could tackle Brutus
. This did not go over well. He was fired for the incident.
February, 12, 2013
2/12/13
11:18
PM ET
EAST LANSING, Mich. -- Some thoughts after No. 8 Michigan State's
75-52 pulverizing
of No. 4 Michigan on Tuesday night at the Breslin Center.


Overview:
As
Adreian Payne
lifted his arms toward the home crowd, trying to get it louder with 7 minutes remaining in a game no longer in doubt, the Spartans forward looked like he wanted more.
All of Michigan State appeared to want more. Meanwhile, Michigan looked like it just wanted to travel the one hour southeast back to Ann Arbor as fast as possible. The Wolverines had already gone deeper than usual into their bench to play guard
Eso Akunne
and by then it didn't matter, because nothing John Beilein's team was doing worked.
Michigan State dominated, almost from tip to final whistle.
Yes, it is tough to win on the road in the Big Ten, but for a program touted as a national-title contender all season, this was Michigan's last chance to win a significant road game in the Big Ten. And it failed. Miserably.
The second-half comebacks Michigan had at Indiana and Ohio State didn't show up, either, mostly due to Michigan State's ability to control the paint and body up the Wolverines' big men.
It all led to Michigan State's first 20-plus-point victory over Michigan in over a decade, when the Spartans beat the Wolverines 71-44 on Jan. 30, 2002.
Turning point:
Michigan State guard
Keith Appling
made three consecutive jumpers, including a 3-pointer in transition with 16:32 left, to give Michigan State a 48-29 lead and whipped the already-hyper Breslin student section into a loud, jumping, delirious frenzy of white shirts going nuts at every possible opportunity.
Key player:
Spartans senior
Derrick Nix
punished Michigan's four-headed big-man rotation inside in the first half and helped to open up everything else for the Spartans. Nix finished with 16 points, 5 rebounds and 3 assists on 7-of-10 shooting.
Key stat:
Zero first-half points for
Tim Hardaway Jr.
After scoring 18, 23 and 18 points in the previous three games, respectively, Hardaway couldn't find anything in the first half. He missed all six of his shots, including four 3-pointers. This from a player who brought Michigan back a week earlier against Ohio State by making six 3-pointers, then followed it up by making what was almost the game-winner at Wisconsin on Saturday. Without Hardaway's production, Michigan struggled to shoot 27.3 percent from the 3-point line in the first half. Hardaway would finish with two points.
Miscellaneous:
Michigan football coach Brady Hoke, defensive coordinator Greg Mattison, former coach Lloyd Carr and former Michigan basketball player Zack Novak all watched the game from behind the Wolverines' bench. Hoke and Michigan State counterpart Mark Dantonio had a brief chat before the game right behind the benches. … After not scoring in double figures for almost a month, Nix now had back-to-back games with 10 points or more.… This ends a rough four-game stretch for Michigan, which started the sequence as the No. 1 team in the nation. After a 1-3 swing with games at Indiana, Michigan State and Wisconsin and a home game against Ohio State, the Wolverines have some major regrouping to do.
Next game:
Both teams receive something of a breather in the Big Ten. Michigan State travels to Nebraska for a game Saturday; Michigan has a home game against Penn State on Sunday.
September, 4, 2012
9/04/12
7:20
PM ET
By
WolverineNation staff
| ESPN.com
Denard Robinson
didn't fall for the bait.
And considering he has never been on the winning side in a Paul Bunyan Trophy game, perhaps it's just as well.
Robinson said Tuesday evening that he had heard about some less-than-complimentary tweets a few select Michigan State Spartans had made about his play against Alabama on Saturday night (11 of 26, 200 yards, one touchdown, two interceptions), but he didn't enter the fray.


"I heard about it but I don't think about it," Robinson said. "I'm not even worried about that right now."
Mark Dantonio was worried about it. The coach has played up the Michigan State-Michigan rivalry ever since he took the Spartans' head job. But Dantonio also knows there's a line that shouldn't be crossed when discussing a rival, and in his mind, several of his players crossed it this past weekend.
In case you missed it, several
Michigan State players took to Twitter to mock
Robinson and the Wolverines during their 41-14 loss to the Tide. Spartans starting linebacker
Denicos Allen
tweeted that
Tommy Vento
, a walk-on quarterback for Michigan State, is better than Robinson. Redshirt freshman safety
Kyle Artinian
was more direct, reportedly tweeting, "DENARD IS SOOOO BAD!" Freshman linebacker
Jamal Lyles
added, "I can play quarterback for the school in blue."
All the Robinson tweets were later deleted, but Dantonio wasn't too pleased about the Twitter display when asked about it earlier on Tuesday. He called it "disrespectful" and said he would address the matter with his players. He even brought up Michigan State's blowout loss to Alabama in the 2011 Capital One Bowl.
"Our guys need to keep their mouths shut," Dantonio added. "That blunt enough? … Especially the ones not even playing."
Allen appeared to
show some restraint early in the Michigan-Alabama game
, tweeting, "I really wanna say somethin about this team I'm watchin... But I'm not." But then
he soon added
, "I coulda told all of y'all that this was gonna happen just to save y'all the pain."
Allen's
last tweet about the situation
came out Sunday afternoon: "Lol well apparently I hurt a lot of feelings sorry guys lol I guess we have to wait till October 20th to play some real football #GoGreen."
Michigan plays host Michigan State on Oct. 20. In case a four-game losing streak to the Spartans wasn't enough motivation for Robinson and his teammates, Michigan State players supplied them with some more.
"You need to approach this game with humility," Dantonio said. "When this becomes personal, that's when it crosses the line."
Wolverines linebacker Desmond Morgan shrugged off the controversy.
"I haven't really read much into it or paid much attention to it," Morgan said. "People are going to say what they say, I guess. We have our quarterback's back and we're a team and we've got each others backs. We're not worried about it."
This report containts material from Big Ten blogger Adam Rittenberg and WolverineNation writer Chantel Jennings.
June, 18, 2012
6/18/12
10:05
PM ET
Monday was a busy day for commitments in the West region, but defensive tackle
Eddie Vanderdoes
(Auburn, Calif./Placer) isn't exactly ready to jump into the commitment scene. More than half of the top 30 players in the West have already made verbal commitments, but Vanderdoes is taking things slowly. On Monday, the 6-foot-3, 285-pound lineman took to Twitter to release a list of his top 15 schools.
Alabama, Baylor, California, Florida, Georgia Tech, LSU, Miami, Michigan, Michigan State, Nebraska, Oregon, Penn State, UCLA, USC and Washington all made the cut. Vanderdoes included in his tweet that he will be cutting that down to a top 10 group soon.
To continue reading this article you must be an Insider
February, 5, 2012
2/05/12
3:07
PM ET
EAST LANSING, Mich. -- Some thoughts following No. 10 Michigan State's 64-54 win over No. 22 Michigan at the Breslin Center on Sunday afternoon.
Player of the game:
Michigan State forward
Draymond Green
. The Spartans senior, after losing to Michigan, 60-59, on Jan. 17, guaranteed his team would win in East Lansing today. And any time Michigan tried to make a run, Green responded. He hit turnaround jumpers on the baseline and in the paint. He grabbed critical rebounds and he did it while still recovering from a left knee injury. He finished with 14 points, 16 rebounds and four assists.
Unsung hero of the game:
Michigan State guard
Keith Appling
. Against Michigan in Ann Arbor, Appling struggled. He couldn't keep up with Michigan freshman guard Trey Burke and was off offensively as well. On Sunday, he was good on both ends. He drove the lane confidently and guarded Burke strongly -- denying him entries into the lane. Appling had 10 points, two assists and three steals.
Stat of the game:
Michigan couldn't rebound much at all. Green -- a one-man machine in his final regular season game against the Wolverines -- had as many rebounds as Michigan as a team . Green had 16 rebounds. Michigan also had 16.
Second guessing:
Michigan sophomore guard
Tim Hardaway Jr.
had one of the worst games of his career on Sunday. He couldn't get anything going from the outside or driving the ball -- shooting 1 of 10 from the field and scoring two points. He also missed his first four shots of the second half when the Wolverines were trying to make a run.
What it means:
After three straight wins for Michigan, the Spartans ensured they wouldn't go two seasons in a row without beating Michigan. For Green, it means he finishes the regular season portion of his career with a 4-3 record against Michigan. The two teams could met again in the Big Ten tournament, of course.
January, 17, 2012
1/17/12
11:32
PM ET
ANN ARBOR, Mich. -- Slumped in a leather chair in the old Michigan locker room inside the Crisler Center late Tuesday night,
Draymond Green
was the last Michigan State player to take off his jersey.
He was the last to make it into the showers, too. He takes the Michigan-Michigan State rivalry more personally than most, plays with more heart and passion than most. So after the No. 19 Wolverines knocked off his ninth-ranked Spartans, the senior vowed not to let it happen again as Michigan has won three straight in the series.
"They won three. Before that, how many how had they won?" Green said. "They got their little three, but they come to East Lansing in a few weeks.
To continue reading this article you must be an Insider
January, 17, 2012
1/17/12
8:57
PM ET
ANN ARBOR, Mich. -- Here are some quick thoughts following No. 19 Michigan's 60-59 win over No. 9 Michigan State.

Turning point: Trey Burke grabbed a long rebound off a Keith Appling miss, drove the court and dished the ball to Stu Douglass for a layup and a 60-59 lead, which would be the final margin. It was the final twist for a back-and-forth game that saw both teams lead and saw the Spartans come back from a double-digit deficit.

Player of the game: Burke. The freshman carried Michigan on Tuesday night. He scored a game-high 20 points, but more than anything else, he controlled the pace of play for both teams. He also drove smartly and took tough shots -- including a quick 26-foot 3-pointer to tie the game at 52-52 with 5:28 left. This was the game where he went from an option for the Wolverines to the first option.

Unsung hero of the game: Michigan senior guard Stu Douglass. His stat sheet wasn't huge, but he scored nine points, made the game-winning basket and is the calming influence for Michigan's budding star in Burke. Also, he had his first start of the season tonight.

What it means: Michigan has now beaten Michigan State three straight times -- the first time that has happened since a five-game win streak from 1996 to '98. It also might turn the tide in a rivalry that had been majorly one-sided for Michigan State. It also gives the Wolverines a signature win for March in January.
January, 17, 2012
1/17/12
7:48
PM ET
Turning point:
Michigan scored on back-to-back layups -- first with a
Trey Burke
drive and dish to Stu Douglass, who one-touched it to
Jordan Morgan
for a layup. Then Burke stole the ball in the Michigan State backcourt and drove in for another layup to give Michigan a 30-20 lead.
Best player in the half:
Burke has been sensational. The freshman, who has improved steadily throughout the course of the season, controlled the pace of the game. He finished with nine points, three rebounds, two assists and a steal -- but more impressive was how he drove to the lane, beating Michigan State guard
Keith Appling
and whomever else the Spartans had guarding him.
What Michigan needs to do, What Michigan State needs to do:
Michigan --
Get Tim Hardaway Jr. more involved. The star sophomore has continued in his slump, shooting 0 of 3 from the field, 0 of 2 from the 3-point line and picked up all four of his points from the free-throw line. If Hardaway Jr. finds his game, Michigan could be in line to win its third straight against Michigan State.
Michigan State --
Go inside more. One of Michigan's big weaknesses is interior defense and the Spartans have three guys who can really hurt Michigan there in
Derrick Nix
,
Adreian Payne
and
Draymond Green
. Combined, they have 15 points and 11 rebounds, but seven of those boards are from Green. Meanwhile Morgan, who is perpetually in foul trouble, hasn't picked up any.
January, 17, 2012
1/17/12
5:03
PM ET
ANN ARBOR, Mich. -- In some ways, few teams are as prepared to handle Michigan's stretch of the next six games as well as the Wolverines.
That, for Michigan, is the good news.
"You just look at the schedule and you have Michigan State, Ohio State and Indiana, all top-ranked teams coming in and going out to play," sophomore guard
Tim Hardaway Jr
. said. "It's going to be a struggle but at the same time you can't get mad, can't get upset, you just have to go out there.
To continue reading this article you must be an Insider
October, 17, 2011
10/17/11
4:08
PM ET
Michigan coach Brady Hoke hasn't moved past the Wolverines' 28-14 loss to Michigan State.
After hanging his hat on his team's toughness through the preseason and the first six weeks of the season, he had to admit that his team was out-toughed, both mentally and physically, by its rival. He believes Michigan was outcoached and outplayed by Michigan State.
"The seniors and I will get together tomorrow and have a very good conversation," Hoke said Monday. "They're a prideful group. Kids are more resilient than we are, period. We'll move forward."
To continue reading this article you must be an Insider
Blue Chip Battles: ESPN 300 Update
BIG TEN SCOREBOARD
Thursday, 8/28
Friday, 8/29
Saturday, 8/30