Michigan Wolverines:

Michael Rose
March, 21, 2014
3/21/14
10:30
AM ET
This is the end, our friends. The last stop on our ultimate Big Ten road trip for 2014.
For those just joining us, we're each selecting one Big Ten game to attend each week during the forthcoming season. This almost assuredly isn't our actual schedule because of travel budgets or editors' decisions. But we can and did pretend with this fantasy itinerary, and it was a lot of fun.
Let's close it out with the Week 14 options
:

Nov. 28-29
Illinois at Northwestern
Nebraska at Iowa
Michigan at Ohio State
Michigan State at Penn State
Minnesota at Wisconsin
Purdue at Indiana
Rutgers at Maryland


Adam Rittenberg's pick:
Michigan at Ohio State
This wasn't a slam-dunk choice as there are potentially good options in Iowa City, Madison and State College. But after attending last year's 42-41 thriller in Ann Arbor, I'm not passing up another edition of The Game. The rivalry has become much more interesting since Brady Hoke came to Michigan. He beat Ohio State in his first year and nearly pulled off a significant upset in last year's contest, where defense was most certainly optional. It's a big year for Hoke, whose wins total has declined from 11 to eight to seven, and while he's not on the hot seat now, he could be on Nov. 29. A Michigan win at Ohio Stadium for the first time since 2000 would be a major boost for the Wolverines and their coach.
Braxton Miller
will try to prevent it in his final home game for the Buckeyes. Miller has been productive in his first three games against Michigan, especially on the ground with 301 rush yards and four touchdowns. The quarterback could be closing in on an unprecedented third Big Ten offensive player of the year award, and possibly the Heisman Trophy, but OSU will need a stronger defensive performance, especially in the secondary, after allowing
Devin Gardner
to go nuts last season. Gardner will be aiming for a signature win.
The Ohio State-Michigan matchup in the Big Ten title game never came to fruition, but the teams could be competing for a spot in Indy, and maybe more in 2014. No better place for me to end this road trip than The Shoe.


Brian Bennett's pick:
Nebraska at Iowa
I strongly considered The Game, which is always a great choice. But since we'll both be in Indianapolis for the Big Ten title game, that would mean five straight weeks in the same city as Rittenberg. I'm afraid we'd start bickering like an old married couple.
So instead, I'll spend a second straight weekend in Iowa City, this time on Black Friday. Maybe I'll just stay there for the full seven days, crash on Kirk Ferentz's couch. The Heroes Game hasn't really reached liftoff as a must-watch rivalry yet, but the Hawkeyes' upset win in Lincoln last year added some ignition fluid to the series. Perhaps the West Division title will be on the line here, which would really start to make this rivalry combustible.
Iowa's 2014 season could well be made or broken by its final two games as it hosts Wisconsin and these Huskers at Kinnick. Nebraska limped into last year's meeting while dealing with an assortment of injuries and couldn't deal with the Hawkeyes' senior linebacker trio of
James Morris
,
Christian Kirksey
and
Anthony Hitchens
. This time around, the Huskers could have a dominant defense if its young linebackers like
Michael Rose
,
David Santos
and
Josh Banderas
continue to develop over the course of the season. It will also be
Ameer Abdullah
's final regular season game, and I'd expect him to leave everything on the field, which he always does.
My ultimate road trip began in Ireland, and it ends with me spending Thanksgiving in Iowa. Sounds just about perfect.
Road trip itinerary
Week 1:
Brian at Penn State-UCF (in Dublin, Ireland); Adam at Wisconsin-LSU (in Houston)
Week 2:
Adam at Michigan-Notre Dame; Brian at Michigan State-Oregon
Week 3:
Brian at Minnesota-TCU; Adam at Penn State-Rutgers
Week 4:
Adam at Miami-Nebraska; Brian at Miami-Nebraska
Week 5:
Brian at Cincinnati-Ohio State; Adam at Minnesota-Michigan
Week 6:
Adam at Nebraska-Michigan State; Brian at Nebraska-Michigan State
Week 7:
Brian at Penn State-Michigan; Adam at Northwestern-Minnesota
Week 8:
Adam at Iowa-Maryland; Brian at Nebraska-Northwestern
Week 9:
Brian at Michigan-Michigan State; Adam at Ohio State-Penn State
Week 10:
Adam at Northwestern-Iowa; Brian at Wisconsin-Rutgers
Week 11:
Brian and Adam at Ohio State-Michigan State
Week 12:
Adam and Brian at Nebraska-Wisconsin
Week 13:
Brian and Adam at Wisconsin-Iowa
March, 17, 2014
3/17/14
5:00
PM ET
Let's round out this Monday with another edition of the ol' mailbag. Remember to keep
those emails coming
or to hit us up on
Twitter
.
Michael from Remsen, Iowa, writes:
Do you think that NEBRASKA's young but very talented linebackers will take that step up this year and be the best linebacking group in the Big Ten? Also, who do you think wins the starting left tackle spot?

Brian Bennett:
Michael, the potential is certainly there. Not all of the linebackers are young; the coaches have loved senior
Zaire Anderson
's talent and potential for some time, but he's just got to stay healthy and in the lineup.
Michael Rose
looks like a rising star,
Josh Banderas
has turned some heads in spring practice so far, and
David Santos
gained a lot of experience last year. Throw in newcomers like
Marcus Newby
and
Courtney Love
, and this is a deep group with loads of athleticism. Best in the Big Ten? I'm not so sure about that, but the league did lose an abundance of star linebackers to the NFL draft. I still need to see the Huskers' defense deliver consistently, but the future looks really bright in that front seven.
As for left tackle, Alex Lewis has been getting reps with the No. 1 unit so far this spring. Lewis transferred in after playing two years at Colorado and withstood some legal troubles. The reshuffling of Nebraska's offensive line remains a big story to watch this offseason.
---


Ol' Red from Sandusky, Ohio, writes:
In your
"Ultimate B1G 2014 road trip: Week 9"
pick of the Michigan-Michigan State game, you pointed out that Michigan has only scored 32 combined points the last three seasons. Just another tidbit I'd like to throw your way... Although Michigan has won four, the Spartans have held U of M to less points than the preceding year for 9 straight games (45, 34, 31, 28, 21, 20, 17, 14, 12, 6). If that trend continues, it will be awfully tough for the Spartans to lose giving up less than 6 points. This really shows the improvement in Mark Dantonio's defense year-to-year. I expect the Wolverines to score only three this upcoming season and be shut out in 2015.
Brian Bennett:
A Rose Bowl victory followed by a Big Ten tournament title and seemingly every expert picking them to win the NCAA tournament understandably has Spartans fans feeling a bit chesty. Michigan State's defense has locked things down against Michigan the past few years. You need some bulletin board material, Doug Nussmeier?
---
Jase from Nebraska writes:
I imagine most networks are doing something very similar to your fantasy trip planning, but on a much larger scale. My worry is at all the *meh* weeks we're racking up will mean few televised game and less exposure.
Brian Bennett:
The return of the dreaded double-bye does make for some less-than-stellar weeks on the 2014 schedule. But the nonconference opponents this year are much better than they were in 2013, and there are still some excellent heavyweight matchups sprinkled throughout the conference season. Ohio State-Michigan State, Nebraska-Wisconsin, Penn State-Michigan, Michigan State-Michigan, Ohio State-Penn State are just a few of those. The biggest question from the broadcast side is how many games will be picked up for primetime, especially in November? But the Big Ten isn't exactly hurting for exposure.
---

Craig from Braintree, Mass., writes:
I see that in
the West Division poll
, Minnesota is rated a distant fourth, barely over Northwestern. I guess most consider Minnesota's performance in 2013 to be a one-time occurrence. I think the team may have a difficult time improving on last year's win-loss totals though the team may be better than last year's.
Brian Bennett:
No doubt there are still some doubters on Minnesota (and polls like that tend to favor the biggest fan bases). The Gophers had a great run in the 2013 season but have yet to really break through as serious division contenders. It's going to be tough to do that without some major improvement in the passing game, something the team is emphasizing this spring for sure. Minnesota has a tougher schedule this year with a road game at TCU, crossover games against Ohio State and Michigan and intra-division road trips to Wisconsin and Nebraska. Still, a solid core returns from last year's team, and the arrow is pointing up in Minneapolis. I'm guessing Jerry Kill doesn't mind being the underdog right now.
---

Scott from Marinette, Wis., writes:
Why is no one talking about
Vince Biegel
this year for Wisconsin on defense? I truly believe he will make a big difference for the Badgers on the front seven this year. He is an absolute animal and will create havoc for opposing offenses this coming year.
Brian Bennett:
Biegel ... animal ...
Jack Russell
... nope, I'm going to stay strong. Biegel made an impact as a redshirt freshman at outside linebacker in the 3-4 and will step into a much bigger role this season. He needs to because the Badgers lost so much talent and experience in that front seven, including linebackers
Chris Borland
,
Ethan Armstrong
and
Brendan Kelly
. At 6-foot-4 and 233 pounds, Biegel has great size and a good chance to make some plays from that pass-rushing position. He's still a young guy, but he'll have to be an anchor for this rebuilt defense.
March, 5, 2014
3/05/14
2:30
PM ET
We're taking snapshots of each position group with each Big Ten team entering the spring. Up next: the linebackers.

Illinois:
The Illini lose an All-Big Ten player in
Jonathan Brown
but still have decent overall depth at linebacker.
Mason Monheim
started every game at middle linebacker in 2013, and
Mike Svetina
started all but one game at the star position. Both players return as juniors. Svetina will move into Brown's spot on the weak side, while the other position could be filled by
T
.J. Neal, who recorded 38 tackles last season. Ralph Cooper has logged significant reps as a reserve, and Eric Finney gives Illinois some flexibility after playing the star position (safety/outside linebacker).

Indiana:
This becomes a more significant position under coordinator Brian Knorr, who plans to use a 3-4 alignment. Indiana should have enough depth to make the transition as it returns two full-time starters from 2013 --
David Cooper
and
T.J. Simmons
-- as well as two part-time starters in
Forisse Hardin
and
Clyde Newton
, who started the final four games of his freshman season. Like Simmons and Newton,
Marcus Oliver
played a lot as a freshman and provides some depth. The key here will be converting all the experience into sharper, more consistent play.

Iowa:
If you're of the mindset that Iowa always reloads at linebacker, you can rest easy this spring. If not, keep a very close eye on what happens as the Hawkeyes begin replacing one of the more productive linebacker groups in team history:
James Morris
,
Christian Kirksey
and
Anthony Hitchens
. There are high hopes for sophomore
Reggie Spearman
, who played in 10 games as a freshman last fall. Spearman, junior
Travis Perry
and senior
Quinton Alston
enter the spring as the front-runners to take over the top spots. The biggest challenge could be building depth behind them with
Cole Fisher
and others.

Maryland:
The good news is the Terrapins return three productive starters from 2013 in
Cole Farrand
,
L.A. Goree
and
Matt Robinson
, who combined for 233 tackles, including 19 for loss. The bad news is Maryland loses its top playmaker at the position in
Marcus Whitfield
, who recorded nine sacks and 15.5 tackles for loss last season. But the overall picture is favorable, and the depth should be strong when
Alex Twine
and
Yannik Cudjoe-Virgil
return from their injuries. Young players such as
Abner Logan
(37 tackles in 2013) will push for more time.

Michigan:
There are a lot of familiar faces in new positions as Michigan not only has shuffled the roles of its defensive assistant coaches, but also its top linebackers. Standout
Jake Ryan
moves from strong-side linebacker to the middle, while junior
James Ross III
moves from the weak side to the strong side and
Desmond Morgan
shifts from the middle to the weak side.
Joe Bolden
, who had 54 tackles last season, can play both outside and inside, and players such as
Ben Gedeon
,
Royce Jenkins-Stone
and
Allen Gant
add depth. The talent is there for a big year if the position switches pan out.

Michigan State:
It won't be easy to replace the Big Ten's top linebacker tandem in
Max Bullough
and
Denicos Allen
, not to mention Rose Bowl hero
Kyler Elsworth
, but Michigan State has some promising options.
Ed Davis
appears ready to step in for Allen after recording four sacks as a sophomore. Junior
Darien Harris
and two redshirt freshmen,
Shane Jones
and
Jon Reschke
, will compete at middle linebacker. Returning starter
Taiwan Jones
is back at the star position, and
Mylan Hicks
should be in the rotation. Depth is a bit of a question mark here entering the spring.

Minnesota:
The Gophers lose key pieces in all three areas of the defense, and linebacker is no exception as two starters (
Aaron Hill
and
James Manuel
) depart. Minnesota will lean on
Damien Wilson
, who started in 12 games at middle linebacker in his first season with the Gophers and recorded 78 tackles. Junior
De'Vondre Campbell
seems ready to claim a starting spot after backing up Manuel last season. There will be plenty of competition at the strong-side linebacker spot, as
Nick Rallis
,
De'Niro Laster
and others are in the mix.
Jack Lynn
is
backing up Wilson at middle linebacker
but could work his way into a starting spot on the outside with a good spring.

Nebraska:
Optimism is building for the Blackshirts in 2014, thanks in large part to the returning linebackers. The three players who finished last season as the starters --
David Santos
,
Michael Rose
and
Zaire Anderson
-- all are back, as Rose will lead the way in the middle.
Josh Banderas
and
Nathan Gerry
also have starting experience and return for 2014. If younger players such as
Marcus Newby
develop this spring, Nebraska could have the Big Ten's deepest group of linebackers, a dramatic departure from the Huskers' first few years in the conference. Good things are happening here.

Northwestern:
The top two playmakers return here in
Chi Chi Ariguzo
and
Collin Ellis
, who combined for seven interceptions and 11.5 tackles for loss in 2014. Northwestern's challenge is replacing the leadership
Damien Proby
provided in the middle. Ellis has shifted from the strong side to the middle, and Northwestern has moved safety
Jimmy Hall
from safety to strong-side linebacker.
Drew Smith
and Hall will compete for the third starting spot throughout the offseason. Sophomores
Jaylen Prater
and
Joseph Jones
should provide some depth.

Ohio State:
Coach Urban Meyer has made it clear that Ohio State needs more from the linebackers, so it's a huge offseason for this crew, which loses superstar
Ryan Shazier
. The Buckeyes return starters at the outside spots in
Curtis Grant
and
Joshua Perry
, although competition will continue throughout the spring and summer. Redshirt freshman
Darron Lee
surprisingly opened spring practice Tuesday working with Grant and Perry on the first-team defense.
Camren Williams
appeared in all 13 games as a reserve and will be part of the rotation, along with
Trey Johnson
. Meyer said last month that the incoming linebacker recruits won't redshirt, which means an opportunity for mid-year enrollee
Raekwon McMillan
.

Penn State:
Linebacker U is looking for more bodies at the position after struggling with depth issues throughout 2013. The Lions lose leading tackler
Glenn Carson
but bring back two players,
Mike Hull
and
Nyeem Wartman
, who started most of the season. The new coaching staff is counting on Hull to become a star as a senior.
Brandon Bell
, who appeared in nine games and recorded 24 tackles as a freshman, will compete for a starting spot along with
Gary Wooten
. Penn State hopes
Ben Kline
can stay healthy as he provides some experience, and incoming freshman
Troy Reeder
could enter the rotation right away.

Purdue:
Expect plenty of competition here as Purdue loses leading tackler
Will Lucas
and must get more consistent play from the group.
Joe Gilliam
started for most of the 2013 season and should occupy a top spot this fall.
Sean Robinson
also brings experience to the field, and
Ryan Russell
could fill more of a hybrid linebacker/defensive end role this season. Redshirt freshman
Danny Ezechukwu
is an intriguing prospect to watch this spring as he aims for a bigger role. Ezechukwu is just one of several younger players, including decorated incoming recruit
Gelen Robinson
, who have opportunities to make a splash.

Rutgers:
The Scarlet Knights return a good deal of production here with
Steve Longa
and
Kevin Snyder
, who combined for 219 tackles, including 15 tackles for loss and five sacks.
Quentin Gause
also is back after racking up 53 tackles (8.5 for loss) in a mostly reserve role last season. Gause likely will claim the starting strong-side linebacker spot as
Jamal Merrell
departs. The starting spots are seemingly set, so Rutgers will look to build depth with
Davon Jacobs
, who had 30 tackles as a reserve last season, and
L.J. Liston
, both sophomores.

Wisconsin:
Do-it-all linebacker
Chris Borland
is gone, along with
Ethan Armstrong
and
Conor O'Neill
, so Wisconsin must replace three of its top four tacklers from 2013.
Derek Landisch
and
Joe Schobert
can be penciled in as starters, along with
Michael Caputo
, who played mostly safety last season but should slide into one of the outside spots.
Marcus Trotter
brings experience to the rotation. The spotlight will be on younger linebackers such as
Vince Biegel
, who had 25 tackles last season, as well as dynamic sophomore
Leon Jacobs
and
Alec James
, a decorated recruit who redshirted in 2013.
December, 16, 2013
12/16/13
1:00
PM ET
Earlier today, we presented our All-Big Ten team. Now it's time to honor the top freshmen from 2013 with our Big Ten all-freshman team.
Here it is:
OFFENSE
QB:
Christian Hackenberg
, Penn State (captain)
RB:
Corey Clement
, Wisconsin
WR:
DeAngelo Yancey
, Purdue
WR:
Jordan Westerkamp
, Nebraska*
TE:
Maxx Williams
, Minnesota*
TE:
Jake Butt
, Michigan
OL:
Dan Voltz
, Wisconsin*
OL:
Ben Lauer
, Minnesota*
OL:
Jack Conklin
, Michigan State*
OL:
Jacob Bailey
, Indiana*
OL:
Kyle Kalis
, Michigan*
DEFENSE
DL:
Joey Bosa
, Ohio State (captain)
DL:
Austin Johnson
, Penn State*
DL:
Avery Moss
, Nebraska*
DL:
Willie Henry
, Michigan*
LB:
Michael Rose
, Nebraska*
LB:
Nyeem Wartman
, Penn State*
LB:
T.J. Simmons
, Indiana
DB:
Sojourn Shelton
, Wisconsin
DB:
Desmond King
, Iowa
DB:
Tyvis Powell
, Ohio State*
DB:
Matthew Harris
, Northwestern
SPECIALISTS
K:
Michael Geiger
, Michigan State
P:
Cameron Johnston
, Ohio State
All purpose:
Dontre Wilson
, Ohio State
* -- redshirt freshman
It was a pretty strong year for freshmen in the league, highlighted by Hackenberg and Bosa. Shelton was terrific as well. ... Tight end is a promising position for the future. Penn State's
Adam Breneman
just missed, but he looks like a future star. And Michigan State's
Josiah Price
had a big impact in the Big Ten title game. ... Nebraska's young defense could really turn into something special. We also considered defensive lineman
Vincent Valentine
and linebackers
Jared Afalava
,
Nathan Gerry
and
Josh Banderas
. ... It was also a good year for rookie QBs, as beyond Hackenberg there was Purdue's
Danny Etling
, Nebraska's Tommy Armstrong and Minnesota's
Mitch Leidner
. ... Ohio State's Wilson didn't have a true position, but he did a lot of things and was a good return man, so that's why he gets our all-purpose slot. ... Some others we considered included Penn State receiver
Geno Lewis
and linebacker
Brandon Bell
, Purdue offensive lineman
Jason King
and Indiana defensive lineman
Ralphael Green
.
December, 12, 2013
12/12/13
12:00
PM ET
Where did all the football go?
October, 31, 2013
10/31/13
10:15
AM ET
Storylines to watch this week in the Big Ten:
1. The long October is over
. Has it really been five weeks since Ohio State and Wisconsin played? In some ways, it feels like 10. The Big Ten's October schedule was downright scary -- and not in a Happy Halloween kind of way. Well, the league slate turns interesting again this week as No. 21 Michigan visits No. 22 Michigan State and No. 24 Wisconsin visits resurgent Iowa. Even Minnesota's visit to Indiana holds some intrigue. So long to mismatches like Ohio State-Purdue. That's this week, too? OK, they can't all look good.
[+] Enlarge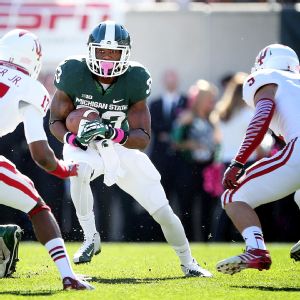 Mike Carter/USA TODAY SportsJeremy Langford and Michigan State can all but run away with the Legends division with a win over Michigan on Saturday.
2. Michigan State might run away with the Legends division.
We'll find out this week. If the Spartans beat Michigan and Northwestern snaps its four-game skid at Nebraska, MSU can book its tickets to Indy. With five straight wins, Michigan State is clearly playing the best football in the Legends. Other than the Spartans, only Minnesota has won consecutive games to enter November. And really, looking at Nebraska's schedule and the way it played last week, it's hard to consider the Huskers a contender at this stage.
3. Let's go bowling.
Friday is Nov. 1, so it's OK to discuss bowl lineups. Taking a peak at the Big Ten, Ohio State, Michigan State, Michigan and Minnesota are bowl eligible. Wisconsin or Iowa will join the mix Saturday, as can Nebraska with a victory over Northwestern. As for the Wildcats, after going 0 for October, it will be getting late in their bid to get back to the postseason without a victory in Lincoln. Indiana has some serious work to do, and Illinois ... the Illini just need to win for the first time in 18 Big Ten games.
4. That's offensive.
Five Big Ten teams rank among the top 16 nationally in scoring. Thirty-six times this year, a Big Ten team has scored 40 or more points -- already up from 27 times all of last season. This week, two of the league's best offensive units face stern tests. Notably, Michigan, which averages 42.4 points, faces a Michigan State defense that allows only 12.3 points, third nationally. Wisconsin, averaging 39.9, visits Iowa and its 12th-ranked scoring defense, giving up 18.1. What will give? Answer that, and you've got your story of the weekend.
5. Braxton Miller needs to do something for an encore.
The Ohio State quarterback is playing the best football of his career after a super-efficient effort last week in the Buckeyes' stomping of Penn State. Miller accounted for 320 yards and five touchdowns on only 35 total-offense attempts in less than three quarters. Up next, Purdue. You've got to wonder when the Boiler D caves, getting no help from the dismal Purdue offense. Maybe it's this week against an Ohio State juggernaut that's scoring 47.3 points per game.
6. Nebraska is searching for defensive answers.
The Huskers expected growing pains with this defense, but they did not expect to be remain so unsettled in the 10th week of the season. Particularly at linebacker, Nebraska has developed little consistency. This week, apparently, freshmen
Josh Banderas
and
Michael Rose
return as starters. Coach Bo Pelini stripped the top-unit players of their Blackshirt practice jerseys. Juggling personnel won't work, though, if the Huskers can't develop a more physical presence.
7. Minnesota coach Jerry Kill is moving toward a return.
Kill, since taking a medical leave of absence following his fifth game-day seizure on Oct. 5, has resumed more coaching responsibilities over the past two weeks. He watched from the press box as the Gophers beat Northwestern, and coached a bit from the booth in Minnesota's upset win over Nebraska. On the road against Indiana on Saturday, Kill plans to do more of the coaching, though he continues to leave control of the sideline to Tracy Claeys, acting head coach and defensive coordinator.
8. Big test for Iowa
. It's time to find out if the Hawkeyes are just a nice story, with their competitive play against Michigan State and Ohio State, followed by an overtime win over Northwestern, or if coach Kirk Ferentz's club is going to make some real noise this fall. Wisconsin presents a stiff challenge, but Iowa's solid rush defense and physical offensive play might make this a good matchup for the Hawkeyes. The schedule sets up well this month for Iowa to turn into perhaps the Big Ten's biggest surprise.
9. Penn State needs to find a fast defensive fix.
The past two losses have turned ugly for the Nittany Lions, who surrendered more points to Ohio State last week than in any game since the 19th century. In its other October games, PSU allowed 84 points, splitting with Michigan and Indiana. All of it has led to scrutiny of defensive coordinator John Butler, defended adamantly this week by coach Bill O'Brien. The Nittany Lions get some relief Saturday against Illinois. Butler shifted a few bodies in the secondary, but he can only work with the talent on hand, and it's not great after key losses to graduation and low numbers because of probation.
10. Michigan is trying to shake its road woes
. Even with that forgettable escape at Connecticut in September, Michigan remains just 6-8 away from the Big House under coach Brady Hoke. He's 19-0 at home, but that won't do any good on Saturday in East Lansing, where Michigan State sacked Michigan quarterbacks seven times in a 28-14 win two years ago. The Wolverines said this week they embrace the hostile environments at their rivals' stadiums. Numbers tell a different story.
October, 7, 2013
10/07/13
9:00
AM ET
Ohio State hasn't been dominant or error-free the past two weeks, but the Buckeyes keep finding ways to win. Urban Meyer remains unbeaten in Columbus after an extremely hard-fought game at Northwestern, as Ohio State had to rally from halftime and fourth-quarter deficits.
Knock the Buckeyes if you'd like, but they've won 18 consecutive games, the longest streak in the nation.
It could turn out that the Buckeyes' past two opponents, Wisconsin and Northwestern, both could make cases for being the league's No. 2 squad. We've been more impressed with the one-loss Wildcats than undefeated Michigan, which gets its own shot at Ohio State on Nov. 30 at the Big House. Not much separates Northwestern, Michigan and Wisconsin right now.
Michigan State and Indiana make positive moves in the rankings, while Iowa, Penn State and Minnesota fall.
Let's take one final look at the
Week 5 Power Rankings
.
Here's this week's rundown ...
1. Ohio State (6-0, 2-0 Big Ten; last week: 1):
For a while it looked like Ohio State's run of perfection would come to an end Saturday night. Quarterback
Braxton Miller
looked rattled, and Northwestern moved the ball well against the Buckeyes' defense. But Ohio State regrouped midway through the third quarter and made enough plays on both sides of the ball to survive another tough test. Meyer stuck with Miller after considering
Kenny Guiton
, running back
Carlos Hyde
had a big night and the young Buckeyes defense stopped the run when it needed to in the fourth quarter.
2. Northwestern (4-1, 0-1; last week: 2):
The talent differential that plagued Northwestern for years isn't there as much anymore, as the Wildcats can keep pace with any team in the league. The problem: They still struggle to finish big games. They might have been a yard away from upsetting Ohio State but couldn't convert a fourth-and-1 in plus territory. The inability to finish drives cost Pat Fitzgerald's crew, which held Ohio State's offense out of the end zone for nearly three quarters.
Venric Mark
provided a big boost in his return from injury.
3. Michigan (5-0, 1-0; last week: 4):
Michigan needed a clean game and got one against Minnesota, as the Wolverines had zero turnovers in a 42-13 victory. Quarterback
Devin Gardner
was efficient in the pocket, and tight end
Devin Funchess
had career highs in both catches (seven) and receiving yards (151). Michigan's defense settled down nicely after allowing an early touchdown, as Minnesota couldn't get the explosion plays it needed to hang around. The Wolverines head back on the road this week in Happy Valley.
4. Wisconsin (3-2, 1-1; last week: 3):
The Badgers had an extra week to think about their missed opportunities at Ohio State before resuming play with another big game against Northwestern. Standout running back
Melvin Gordon
is expected back from a knee injury, and the off week came at a good time to boost the team's overall health. Wisconsin's defense had some struggles against Ohio State's spread offense and faces another spread team this week in Northwestern.
5. Nebraska (4-1, 1-0; last week: 5):
Although the Huskers didn't move up in the rankings, we feel better about their ability to rise up after seeing their defense step up against a big-play Illinois offense. Young defenders like
Jared Afalava
,
Michael Rose
and
Randy Gregory
performed well, and veteran nickelback
Ciante Evans
had two tackles for loss and a forced fumble. Nebraska's
biggest issue might be at quarterback
, as freshman
Tommy Armstrong Jr.
delivered in place of the hobbled
Taylor Martinez
. Armstrong received plenty of help from running back
Ameer Abdullah
(225 rush yards, 2 TDs).
6. Michigan State (4-1, 1-0; last week: 7):
We knew the Spartans had a defense, which showed up big in the second half at Iowa, especially against the run. The big news is the Spartans also have a quarterback in
Connor Cook
, who passed for 277 yards and two touchdowns, finding both
Macgarrett Kings Jr.
and
Bennie Fowler
for big plays. Cook was visibly upset at Notre Dame, questioning the coaches' faith in him after being pulled on the final drive. He restored that faith Saturday and put Michigan State in position to challenge for a division title.
7. Iowa (4-2, 1-1; last week: 6):
Mark Weisman
and the power run game had been Iowa's identity through the first five weeks. But Michigan State stopped Weisman (seven carries, 9 yards) and completely shut down Iowa's offense in the second half. The Hawkeyes once again fell victim to a special-teams fake and couldn't stop big pass plays from Michigan State. Several injuries mounted up for Iowa, and while most don't appear to be serious, the open week comes at a good time before a trip to Ohio State.
8. Indiana (3-2, 1-0; last week: 11):
The off week clearly paid off for Kevin Wilson's crew, which breathed life back into its bowl hopes with an excellent performance against Penn State. Quarterback
Nate Sudfeld
(321 pass yards, 2 TDs) bounced back nicely from his struggles against Missouri, wide receiver
Cody Latimer
(nine catches, 140 yards, fumble recovery) had a huge day and the defense contained Penn State's run game. Indiana's offense faces a much bigger test this week at Michigan State, but the Hoosiers head to East Lansing with some confidence.
9. Penn State (3-2, 0-1, last week: 8):
Bill O'Brien's team has some serious problems after falling to Indiana for the first time in team history. The defense didn't show up against a spread offense for the second time in three games, and Indiana completely dominated the fourth quarter. Penn State has something special with
Christian Hackenberg
and wide receiver
Allen Robinson
, but the defense clearly has taken a step back. Things only get tougher with Michigan and Ohio State up next.
10. Illinois (3-2, 0-1; last week: 9):
There's no doubt Illinois has improved this season, but by how much? The Illini never mounted a serious challenge against Nebraska, even though the Huskers played without Martinez, as Tim Beckman's crew fell behind 30-5 early in the third quarter. Illinois quarterback
Nathan Scheelhaase
has gone from great (Cincinnati) to shaky (Washington) to great (Miami University) to shaky (Nebraska). But the bigger issue is a defense that surrendered 335 rush yards to the Huskers. Illinois is off this week before a critical home stretch against Wisconsin and Michigan State.
11. Minnesota (4-2, 0-2; last week: 10):
It has been a rough few weeks both on and off the field for the Gophers, who dropped their second straight game and played without head coach Jerry Kill, who remained in Minneapolis after suffering another seizure Saturday morning. Minnesota enters an off week, which will put more attention on Kill and his health. The Gophers once again lack enough explosiveness on offense to do much damage against Big Ten defenses. Minnesota resumes play Oct. 19 at Northwestern.
12. Purdue (1-4, 0-1; last week: 12):
The open week gave Darrell Hazell's crew a chance to regroup. Unfortunately, an off-field issue surfaced involving wide receiver
B.J. Knauf
, who has been suspended for the next two games. It will be interesting to see how freshman quarterback
Danny Etling
performs after some time to practice as the starter. Purdue's struggling defense will be tested again as the high-powered
Nebraska Cornhuskers
visit Ross-Ade Stadium.
Michigan C Cites Concussions In Decision To Quit
BIG TEN SCOREBOARD
Thursday, 9/3
Friday, 9/4
Saturday, 9/5
Sunday, 9/6
Monday, 9/7