Michigan Wolverines:

Michael O'Connor
December, 19, 2013
Dec 19
2:00
PM ET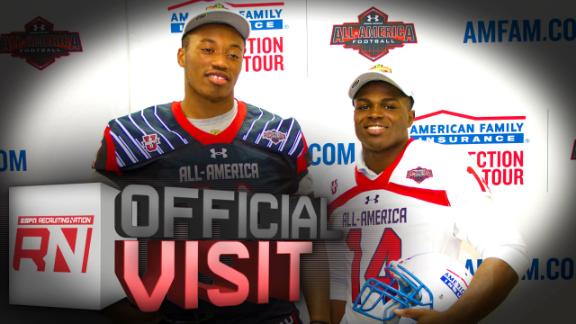 As the calendar year winds down, there is still plenty to talk about within recruiting. Big Ten teams have been on a roll on the recruiting trail as of late, and each program is hoping that continues into signing day.
Here are five things for fans to watch as we head into the holiday season.
Under Armour Game
There are six Big Ten teams represented in the Under Armour All-America game this year with Michigan, Michigan State, Minnesota, Nebraska, Ohio State and Penn State all having commitments scheduled to play in the game.
The game will be played Jan. 2 in St. Petersburg, Fla., but there will be plenty to watch before the big game. The participants will go through tough practices and skill competitions leading up to the event, which always has some interesting storylines.
The practices put the best players in the country against each other, so it's a good measuring stick of top prospects.
To continue reading this article you must be an Insider
December, 17, 2013
Dec 17
8:00
AM ET
Signing day is only 50 days away and there are plenty of questions surrounding the big day. Big Ten programs still have a ton of top prospects on the board, which means there could be some impactful decisions coming in the near future.
Here is a look at some of the top storylines in the conference leading up to signing day.
To continue reading this article you must be an Insider
December, 12, 2013
Dec 12
2:00
PM ET
This is the last week before a dead period, which means coaches will be hosting important targets and visiting as many schools as they can.
There is plenty to discuss within the Big Ten, so here is a look at this week's storylines.
Waiting for Raekwon
The No. 12 ranked prospect in the country, linebacker
Raekwon McMillan
(Hinesville, Ga./Liberty County), is scheduled to annouce his decision Dec. 16.
The No. 1 ranked linebacker has Ohio State in his top three with Alabama and Clemson and will receive an in-home visit from the Buckeyes' coaching staff.
The interesting part about this is there are plenty of rumors swiring around Alabama coach Nick Saban and Texas. Those rumors have likely made their way to McMillan. Whether they impact his decision, or not, is a question that remains.
Booth picking up interest
To continue reading this article you must be an Insider
December, 5, 2013
Dec 5
2:00
PM ET
The Under Armour All-America game is fast approaching and plenty of participants still have questions surrounding their recruitment.
The Big Ten has quite a few of those recruits in the game, so here is a look at five of the bigger storylines heading into the prestigious game.
Will Jabrill Peppers take visits?
To continue reading this article you must be an Insider
October, 23, 2013
Oct 23
9:45
AM ET
With so many different styles of offense within the Big Ten, each school has needed to find the right fit at quarterback. Here is a look at the Big Ten quarterback commits for the 2014 class and how they fit in with their future offense -- in their own words.

Illinois:
Chayce Crouch (Newark, Ohio/Newark Catholic)
Vitals: 6-3, 207
To continue reading this article you must be an Insider
October, 14, 2013
Oct 14
12:00
PM ET
Here are this week's top performances from Big Ten commits and targets:

Illinois
Mike Dudek:
Seven receptions, 97 yards, one touchdown, 103 kick return yards and a touchdown in a 40-25 win over Waubonise Valley.
To continue reading this article you must be an Insider
September, 25, 2013
Sep 25
8:00
AM ET
Who's the next
Johnny Manziel
? For that matter, who has an opportunity to start for a Big Ten team? Is there a Heisman Trophy candidate in the mix in this year's Big Ten recruiting class?
Recruiting writers Brad Bournival and Tom VanHaaren tackle those questions in this week's version of The List:

Current 2014 QB prospect that could start immediately:
Tom VanHaaren:
Most schools either have a returning starter, or younger quarterbacks who will likely be ahead of the 2014 prospects so there likely isn't anyone.
If I had to pick a few that could see playing time I would say Northwestern commit
Clayton Thorson
(Wheaton, Ill./Wheaton North), potentially
Chris Durkin
(Youngstown, Ohio/Ursuline) if Michigan State can't figure out the offense and maybe
Wilton Speight
(Richmond, Va./Collegiate) if there is an injury to
Devin Gardner
.
Brad Bournival:
The problem with most of the Big Ten QB signees is that there's already a big name QB in front of them. Iowa could make a case here with
Jay Scheel
(La Porte City, Iowa/Union), but the fact it has three signal-callers returning kind of ends that talk. Like VanHaaren, I'm going with Durkin at Michigan State. The Spartans are hardly set at the position and Durkin comes in with the athleticism and arm strength needed to succeed at the next level. If he can shore up his reads, Durkin could be the guy in East Lansing.
Program changing 2014 recruiting class:
VanHaaren:
Michigan is filling a lot of holes with its 2014 class and there is a good chance it continues to add to it. The Wolverines have landed nine ESPN 300 commitments and could still add more. The biggest piece, though, is five-star defensive back
Jabrill Peppers
(Paramus, N.J./Paramus Catholic) who is Michigan's highest-rated prospect since the inception of ESPN's rankings.
Bournival:
Ohio State loses four offensive linemen and is light at linebacker and wide receiver. This class has three linemen already as well as three 'backers, and the Buckeyes are the favorite to land the top-rated 'backer in ESPN 300 standout
Raekwon McMillan
(Hinesville, Ga./Liberty County). Where the Buckeyes shine is at the wide receiver/athlete position as six standouts with 4.5 40-yard dash speed or better make up the class.
Current 2014 prospect with Heisman potential:
VanHaaren:
The only Big Ten commit I would feel somewhat comfortable in this category is probably Peppers. Even for him that's going to be a stretch, but he is the only commit who I think could fall in this category.
Bournival:
Like VanHaaren said, this is a tough one as the top-ranked players are
Da'Shawn Hand
(Woodbridge, Va./Woodbridge), McMillan, Peppers and
Damon Webb
(Detroit/Cass Tech) coming in. That said, defense isn't that sexy to Heisman voters. If
Marshon Lattimore
(Cleveland/Glenville) picks a Big Ten team and
IF
he plays offense, he might be the best bet. But that's a lot of ifs.
To continue reading this article you must be an Insider
September, 20, 2013
Sep 20
11:00
AM ET
By
Brad Bournival & Tom VanHaaren
| ESPN.com
It's time to dip into the Big Ten recruiting mailbag and answer some of your questions. We'll try to give everyone a chance to get their questions answered. We encourage you to send your questions by Twitter to
@bbournival
or
@TomVH
.
@buckeyefan686
:
With so many wide receiver/athlete commitments in the last two years, where does Braxton Berrios stand with Ohio State and vice versa?
Brad Bournival:
More than likely, the four-star wide receiver is on the outside looking in. The fact the Buckeyes have so many players who can play the slot position leaves Berrios in a tight situation. The four-star wide receiver has been on official visits to Oregon, Miami and South Carolina already. He's got one more lined up for Tennessee on Oct. 4 and wants to make his decision a few weeks after that.
At this point, I would scratch Ohio State off the list unless the Buckeyes can talk the 5-foot-9, 181-pound Berrios into taking a greyshirt year.
---
[+] Enlarge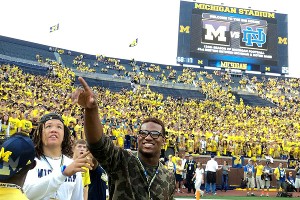 Courtesy John HarrisDa'Shawn Hand loved his trip to Michigan, but what would the Wolverines do if he decided to go elsewhere?
@Kaylen2009: If Michigan misses out on Da'Shawn Hand and Malik McDowell, is there a backup plan or with they save those scholarships for 2015?
Tom VanHaaren:
I think they need help along the defensive line, so if they miss on those two it would probably behoove them to look for help.
I don't think your scenario is very likely. I think Michigan will land those two, but anything can happen in recruiting. Hand had to change his visit schedules, which I believe helps Michigan even more. He has never been out to Florida and won't have much time to really digest his visit from that time until he decides.
If Hand were to choose a different school, Michigan is still technically in the top group with
Garrett Dickerson
(Oradell, N.J/Bergen Catholic). He has Stanford No. 1 and Northwestern in there, too, so he's not likely. That late in the game the coaching staff would likely have to evaluate some prospects and reach out to prospects to gauge interest before figuring out who to target.
It just doesn't seem likely, though, at this rate, that they will miss on those two.
---
@shermez07: Are the Penn State misses on potential pledges due to the sanctions or just normal recruiting reasons (playing time, coaching staff, etc.)?
Bournival:
With only 65 scholarships things can be tough in the recruiting world and it would be silly not to think the sanctions haven't played a role in the decision-making process.
Bowl games aren't just big business for colleges, they're a measuring stick for players as well. The fact the Nittany Lions are still dealing with that issue makes it a hard sell, although that part of the penalty becomes easier and easier with each class.
That said Bill O'Brien hasn't completely whiffed with the two classes he's been in charge of so far.
This year he grabbed ESPN 300 athlete
De'Andre Thompkins
(Swansboro, N.C./Swansboro), quarterback
Michael O'Connor
(Bradenton, Fla./IMG Academy) and wide receiver
Chris Godwin
(Middletown, Del./Middletown). In the 2013 class, quarterback
Christian Hackenberg
(Fork Union, Va./Fork Union Military Academy), tight end
Adam Breneman
(Camp Hill, Pa., Cedar Cliff) and offensive guard
Brendan Mahon
(Randolph, N.J./Randolph) were big gets.
---
@Cyan220 What is the feeling regarding Northwestern? Are they likely to get Parrker Westphal, Dickerson or Brandon Lee?
VanHaaren:
Linebacker Brandon Lee (Indianapolis/Lawrence Central) cancelled his visit to Northwestern on Thursday night. He tweeted that he wouldn't be taking any questions as to why he cancelled the visit either.
That's rather strange since he had been planning to take that trip on Wednesday. There is obviously more to this story, so it will be interesting to see what ends up happening.
The Wildcats do have a shot with Westphal and Dickerson, but it might be safe to say that Stanford leads for Dickerson. He has ties to Northwestern, so there is still a chance.
Westphal is a closed book as far as what he's thinking and what might be next. He and his family do that on purpose, so it's a guess as to where he ends up. Northwestern and Vanderbilt were thought to be the leaders for Westphal, but Michigan State might sneak in there as well.
---
l.fousie@sbcglobal.net: With the addition of Noah Brown to Ohio State's 2014 class, do they still have room for Marshon Lattimore? I have been reading they only have 18 spots for 2014, they have interest/needs in the offensive and defensive line, and they now have 18 commits. Do you think this helps Michigan's chances with Lattimore and do the Wolverines have room with the potential for Hand and McDowell added to this class?
Bournival:
Ohio State's max right now is 18, but remember that number is fluid and should the likes of
Devin Smith
,
Bradley Roby
and
Ryan Shazier
decide to go pro at the end of the season, numbers open back up. The number of scholarship athletes can change from one day to the next, so the Buckeyes would make room for someone like Lattimore.
While Ohio State does need offensive linemen, the Buckeyes are loaded at defensive line, so that part of the equation really doesn't apply. Many insiders believe it's only a matter of time before Lattimore says yes to Ohio State. Cleveland Glenville athletes are hard to pull away from the Buckeyes, so it would be an extreme uphill battle to land him. That could change if there's an official visit lined up to Ann Arbor, but for right now things lean towards Ohio State.
September, 10, 2013
Sep 10
8:00
AM ET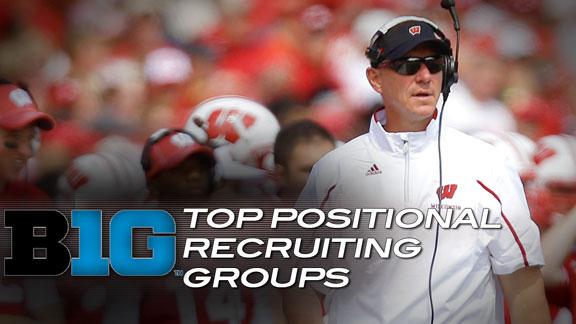 Each class within the Big Ten has its strengths and weaknesses, but there is a lot of talent joining the conference. Here is a look at the top classes in the Big Ten by position.
Quarterback
Strongest class: Penn State
To continue reading this article you must be an Insider
September, 5, 2013
Sep 5
10:00
AM ET
Each week Big Ten recruiting reporters Tom VanHaaren and Brad Bournival outline a few big high school games involving Big Ten recruits and commits. Here is this week's list:
To continue reading this article you must be an Insider
August, 9, 2013
Aug 9
11:00
AM ET
By
Brad Bournival & Tom VanHaaren
| ESPN.com
It's time to dip into the Big Ten recruiting mailbag and answer some of your questions. We'll try to give everyone a chance to get their questions answered. We encourage you to send your questions by Twitter to
@bbournival
or
@TomVH
. Feel free to email us as well at
brad.bournival.espn@gmail.com
or
TomVHESPN@gmail.com
.

@BeerTheDeer:
What are Wisconsin's chances with Joe Mixon and Damien Mama? If the Badgers can pull them both, does that do anything to raise Wisconsin's recruiting pull?
Brad Bournival:
Absolutely. You have to consider that seniors only get five official visits, so the Badgers are already way ahead of the game when it comes to landing the duo. Wisconsin's offensive line legacy and strong education isn't lost on Mama. The Badgers' ability to turn running backs into stars isn't lost on Mixon either. As far as what it would do to help Wisconsin in the recruiting scene, history shows that teams on a roll stay on a roll, especially on a year-to-year basis. Once a team gets hot with top recruits, others start taking a look.
@McArthurMatt:
Will Michigan State start putting the pinch on Michigan's Detroit Cass Tech pipeline with the commitment of Jayru Campbell?
Tom VanHaaren:
It depends on what you mean by pinch. Campbell didn't have a Michigan offer, so I don't know if you can consider that in your question. I think Michigan will still land players from Cass Tech, but Michigan State hiring Curtis Blackwell will certainly make for more competition.
Blackwell was involved with a lot of prospects in Detroit, so his relationship with the prospects and their families is a big bonus. I do think Michigan State has a shot with Cass Tech defensive end Joshua Alabi, who does have an offer from the Wolverines.
If Michigan State lands Alabi, then this is an argument that can be talked about. That would be a big win for the Spartans if they were to land him, but that's yet to be seen.
Michigan State will be a player for a lot of the local prospects now, but I don't think it will have a huge impact overall on Michigan's recruiting efforts.
@roberthendricks:
What do you think about Damian Prince? Where is he headed?
Bournival:
The three teams that look to be separating themselves are Florida State, Maryland and Ohio State, but I think this is a two-team battle between the Terrapins and Buckeyes. Maryland might be selling the in-state angle, but it's more than that as the Terrapins wouldn't mind having him be the face of the program. With 13 offensive linemen under scholarship next season and four starters leaving after this season, the Buckeyes can sell playing time and depth chart to the ESPN 300 offensive tackle. In the end, I think Prince stays home and becomes a part of Maryland's 2014 class.
@Paul_Zinn24:
Overall, how is the Big Ten stacking up in recruiting to other major conferences?
VanHaaren:
Not great. Michigan and Ohio State are holding the fort down with the No. 6 and 12 ranked classes, respectively and Penn State (20) and Northwestern (24) are in the top 25.
Outside of those four teams it doesn't look good. The Big Ten has 25 commitments in the ESPN 300 and 20 of those come from Michigan, Ohio State, Penn State and Northwestern. If you don't feel like doing the math, that means that the other eight teams have five ESPN 300 commitments combined.
The SEC has 77 ESPN 300 commits and the ACC has 35, so the Big Ten is behind significantly.
With that being said, there is still plenty of time left and there are a lot of ESPN 300 prospects that could pick Big Ten schools. Northwestern, Michigan, Penn State and Ohio State are all in on some top targets, so that number could still go up.
@dcarey71:
Is it true because of early enrollments that Penn State will be allowed to offer 17 scholarships instead of 15 this year?
Bournival:
That is correct with a couple of stipulations. The Nittany Lions need to stay at 15 scholarships a year, but it can also count early enrollees toward the class before it. So, since there's some wiggle room in the 2013 class, Penn State can sign 17 prospects in the 2014 class -- as long as two enroll early. Those numbers would meet the NCAA requirements under the sanctions, including the 65-maximum scholarship stipulation as well.
Incidentally, quarterback Michael O'Connor and defensive tackle Antoine White have both stated they want to enroll in January.
August, 8, 2013
Aug 8
9:00
AM ET
By
Brad Bournival & Tom VanHaaren
| ESPN.com
Big Ten fodder is never hard to find, especially in recruiting. Here's a look at a few programs that highlighted a busy week in this week in Big Ten recruiting:
Another Wangler on campus
When 2014 linebacker
Jared Wangler
(Warren, Mich./De La Salle) was offered by Michigan it struck a chord. His father played quarterback for the Wolverines, his older brother and sister are both currently at Michigan and now he has the opportunity to do the same.
To continue reading this article you must be an Insider
January, 29, 2013
Jan 29
1:45
PM ET
ANN ARBOR, Mich. -- Even though most of the focus recently has been on Michigan's 2013 class and its more than a year until the 2014 signing day, Michigan's 2014 recruiting class was the one with news on Tuesday.
Offensive tackle
Denzel Ward
(Bradenton, Fla./IMG Academy) and the Wolverines decided to part ways. It's possible the Michigan coaches had observed some red flags along the way that didn't sit right going forward.
Ward told WolverineNation why he felt the change was necessary.
To continue reading this article you must be an Insider
Weekend Recruiting Wrap: Big Ten - Dec. 2
BIG TEN SCOREBOARD
Saturday, 12/21
Monday, 12/23
Tuesday, 12/24
Thursday, 12/26
Friday, 12/27
Saturday, 12/28
Monday, 12/30
Tuesday, 12/31
Wednesday, 1/1
Thursday, 1/2
Friday, 1/3
Saturday, 1/4
Sunday, 1/5
Monday, 1/6