Michigan Wolverines:

Michael Bennett
April, 10, 2014
Apr 10
4:00
PM ET
Head coaches from the Big Ten East Division, along with a player from each team, addressed the media this afternoon on teleconferences. The
West Division players and coaches
spoke Wednesday.
Here's a closer look at the East:

INDIANA
Defense has been a lingering Indiana concern for years, but coach Kevin Wilson believes he's starting to see a change, thanks to new defensive coordinator Brian Knorr. The scheme hasn't changed radically, but the Hoosiers return 10 starters there -- and Wilson's seen a promising spring so far with an added focus on competition and communication: "They've for sure held their own on a daily basis -- and, in some ways, probably even better -- against the offense."
Wilson believes teams need to invest scholarships into the kicking game, but he thinks it's also too risky to offer recruits straight out of high school. If you look at the NCAA's top 25 kickers, Wilson estimated at least 15 started out as walk-ons. So he's hoping to find some walk-ons who are willing to work for a scholarship, rather than be granted one right away.
At 5-foot-7, Shane Wynn is the Hoosiers' leading returning receiver, and he's transitioning to playing the outside. It's been a little different for Wynn, who said he's had to watch more film as a result. He's reading the corners now, instead of the safeties, as just one example.

MARYLAND
Maryland coach Randy Edsall is confident in his offense and believes the Terrapins have enough options so that opponents can't focus on just one person. If defenses lock on to wideout Stefon Diggs, then quarterback C.J. Brown can take off running or receiver Deon Long can pick up some slack. "The No. 1 thing I do like," Edsall said, "is we can spread the field."
Maryland's staff has already started looking at film of Big Ten teams, so they know what to expect when the conference season begins. Edsall said he wants to at least get a feel for their personnel and what kind of schemes he'll face. He's also confident the Terps will be ready: "We fully expect to be able to compete when we get into the Big Ten this year."
Brown said one of the main reasons he committed to Maryland was the coach who recruited him at the time, former Terps assistant and current Penn State coach James Franklin. He's looking forward to squaring off against Franklin this season, and Edsall said there's no question he would like to develop a rivalry with the Nittany Lions.

MICHIGAN
The quarterback derby will continue, and Brady Hoke included all three of his options in the discussion heading into the offseason. The Wolverines coach did acknowledge, though, that Devin Gardner "probably would be" the starter if there was a game on the schedule this weekend. There isn't, so Shane Morris and Wilton Speight will continue to be in the conversation.
The first opponent on the schedule will always stir emotions for Michigan fans, but Hoke didn't attach any revenge or sentimentality to his reasons for wanting to take on Appalachian State in the opener this fall. "We needed a game," Hoke said. "I thought it would be a good game." Defensive end Frank Clark was certainly aware of the history between the programs, even though he was still years away from joining Michigan and getting a shot at making up for the upset loss in 2007 -- which he called "shocking" and "shows how hard those guys play."

MICHIGAN STATE
Michigan State is coming off a Rose Bowl victory, but coach Mark Dantonio and quarterback Connor Cook would prefer not to think about that any longer. Dantonio said they've talked a lot these last four months about not growing complacent, and Cook only echoed his coach. "A lot of people keep bringing up the Rose Bowl," Cook said. "But we're past that. We're focusing on the now."
The offensive line has made some big strides since January, at least according to Cook. He felt like he had no time in the pocket last spring and said the pass rush was getting to him every time. This spring? He doesn't feel rushed in the pocket, and he thinks that's pretty indicative of how far this line has come.
Jeremy Langford earned a lot of praise from Cook, who said the running back has become a much bigger part of the passing attack. "He's improved a lot with catching the ball," Cook said, complimenting Langford's versatility. "He's done so many different things for us."

OHIO STATE
There is still work to be done in addressing the most glaring weakness on the team last season, but Urban Meyer called Ohio State's pass defense "drastically improved" and will be watching closely for more signs of progress in Saturday's spring game. The Buckeyes will play a traditional game, but the emphasis will be on throwing the football and assessing the skill players on both offense and defense -- giving Meyer a chance to evaluate backup quarterback Cardale Jones in a live setting in addition to checking out the secondary.
Arguably the strongest part of last season's team is undergoing a transition without four senior starters, and the offensive line is somewhat of a concern for Meyer heading into the offseason. With guard Pat Elflein the only other player to have earned a first-team slot to play alongside junior Taylor Decker at this point, that competition is likely to spill over into preseason camp in August. Both tackle Darryl Baldwin and guard Antonio Underwood were praised for their work by defensive tackle Michael Bennett, and Billy Price and Jacoby Boren are dueling at center.

PENN STATE
Franklin said he knew exactly what he was getting into at Penn State, in terms of the current depth and sanctions. He and former coach Bill O'Brien worked together at Maryland, and he said the two had a lot of honest conversations about the current state of the Nittany Lions. The two have continued to talk since.
Derek Dowrey and Brian Gaia are both making transitions from defensive tackle to offensive guard, and Franklin said he has been pleased with their performances so far: "They're doing a good job for us -- and they have to. We're thin at that position."
Franklin said he feels especially comfortable with the talent at running back and defensive line. Middle linebacker Mike Hull was more specific about naming the players who impressed him, pointing to backup linebacker Gary Wooten and cornerback Da'Quan Davis. Hull said Wooten is always around the football and that Davis, who missed part of the spring with a hamstring injury, has come up with several interceptions.

RUTGERS
Another open competition at the most critical position on the field -- quarterback -- is still playing out at Rutgers, and coach Kyle Flood isn't ready to declare a winner in what would seem to be a wide-open battle. Flood indicated that Gary Nova, Mike Bimonte and Chris Laviano are all "really vying for that first-team job."
The change in conference affiliation has been welcomed with open arms by the Scarlet Knights, who can "feel the energy" as theypractice for their first season in the Big Ten. Defensive tackle Darius Hamilton said the team was already buzzing with excitement about the opportunity, and Flood called joining the league a "positive in every way." The move also presents the opportunity for a rivalry to develop with new divisional neighbor Penn State, with both Flood and Hamilton citing the proximity between the schools as a bonus.
April, 1, 2014
Apr 1
12:00
PM ET
It's April Fool's Day. Resist the urge.
Enjoy some spring football:
December, 20, 2013
12/20/13
4:00
PM ET
Wishing you a great weekend. Check out the
full ESPN bowl schedule
(with broadcast teams).
Don't forget to follow us
on Twitter
if you aren't already.
To the inbox ...

Mike from Allentown, Pa., writes:
Hey Adam, with all the talk about Penn State's bowl ban being looked into this offseason, I have a hypothetical question for you. If the NCAA were to drop Penn State's bowl ban, would the Big Ten comply and make them eligible for the Big Ten championship? Or, is it possible the Big Ten could extend that ban separate from the NCAA?
Adam Rittenberg:
Mike, the Big Ten's penalties always were tied to the NCAA's. Big Ten rules state that if the NCAA declares a team ineligible for postseason play, that team can't play in the Big Ten championship game. So if the NCAA lifts the bowl ban, the Big Ten would declare Penn State eligible for a league title (the Lions already can win their division). Big Ten commissioner Jim Delany has been pleased with Penn State's response to former Sen. George Mitchell, the independent athletics integrity monitor assigned to the school. So I'd be shocked if the Big Ten added or maintained any sanctions against Penn State once the NCAA ones are lifted.
---

Josh from Indy writes:
Have you ever thought about the comparison between Darqueze and his cousin Alfonzo? Both had great careers for their respective teams. Just wanted your take on this.
Adam Rittenberg:
Josh, I definitely thought about it after
Darqueze Dennard
won the Big Ten's Tatum-Woodson Defensive Back of the Year award, which Nebraska's Alfonzo Dennard claimed in 2011. I can't imagine two family members have won the same award while playing for different teams in the same league. Pretty cool. Darqueze's numbers this season are more impressive than Alfonzo's in 2011, although Alfonzo was a true shut-down guy who basically eliminated one side of the field. Darqueze's pro prospects are better, as many peg him as a first-round draft pick. We'll never know where Alfonzo would have been drafted if he hadn't had the off-field trouble. Both are great players, though.
---

Derek from Preston, Iowa, writes:
Hey Adam, I was just curious as to what you thoughts were on Derrell Johnson-Koulianos' Twitter tirade against Kirk Ferentz. Ferentz is beloved for the most part in Hawkeye Country, and this whole thing just seems weird. Why now?
Adam Rittenberg:
The timing is interesting, Derek, as much of this happened three years ago. I understand Derrell's perspective that Ferentz blackballed him with the NFL and stifled his playing career. Some of his teammates back up the accusations against Ferentz and strength coach Chris Doyle. It's an unfortunate situation, but I would be very surprised if Ferentz or Iowa has anything to say about the accusations, especially so long after the fact. Iowa has moved forward and Ferentz's word still carries weight in NFL circles.
DJK has the right to air his grievances, and he has never held back on his views. Honestly, I can't think of a Big Ten player I've covered who fit in less with a particular program. But I doubt there will be major consequences for Ferentz or Iowa.
---

Fatback from Newark, Ohio, writes:
Just wanting to know what your thoughts about Ohio State's defensive coordinator position. I know Fickell is an OSU guy, but we definitely need a change of pace. What do you think about Fickell moving down to just a position coach ( if he doesn't get another job this offseason), and hiring another person from the outside or moving Mike Vrabel up? I think with Vrabel we would play much more aggressive and sit back in all the zone coverage that teams seem to kill us on. Again, your thoughts?
Adam Rittenberg:
It would be tough for Ohio State to demote Fickell, who was the Big Ten's
third highest-paid assistant this year
($610,000). You're not going to pay that salary to a position coach (at least you shouldn't). Fickell still brings a lot of value to Ohio State as a recruiter, and while his defense has its issues this year, youth in the front seven and
Christian Bryant
's injury didn't help matters. On the other hand, Urban Meyer has extremely high standards, and if he feels Fickell isn't helping the team to a national championship, maybe you make the change.
I've heard that Vrabel has definite head-coaching potential, and he did a nice job with a young defensive line this year. With Everett Withers reportedly departing to James Madison, don't be surprised to see a co-coordinator situation with Vrabel and Fickell. Perhaps Vrabel has more say on play calls. I just can't see Ohio State forcing out Fickell right now.
---
Joe from Kentucky writes:
How can you guys leave off
Blake Countess
and
Stanley Jean-Baptiste
from the All-B1G selection for
Bradley Roby
? Roby was suspended for his off-the-field antics (looks really all-conference) and he got exposed by any of the good WRs he faced.
Jared Abbrederis
and
Jeremy Gallon
made him look silly to the tune of almost 400 yards combined. That does not sound like an all-conference performer to me. On the other hand, Countess led the conference in INTs and Jean-Baptiste was right there (if not tied). I think you guys were a little biased in trying to make MSU and OSU the top two represented teams (which their records show). Also,
Ryan Shazier
is the only person on that Ohio State defense to be named All-B1G.
Adam Rittenberg:
Roby's one-game suspension really isn't relevant, as we included
Carlos Hyde
on the team despite his three-game suspension because he was the Big Ten's best running back in league play (few would argue). I agree that Roby struggled against Abbrederis in the Wisconsin game, but many of Gallon's yards didn't come against Roby in the Michigan game. Roby made a touchdown-saving tackle on Gallon, running completely across the field, one of several displays of athleticism he had this season. He had a very good Big Ten season and is one of the better special-teams players I can remember in this league. SJB had a nice season but no picks in Big Ten play. You could make a case for Countess, but I still feel Roby performed better in Big Ten play than any corner other than MSU's Dennard. Shazier is the only other Buckeye defender on our All-Big Ten team, although lineman
Michael Bennett
deservedly made the second-team.
---

Will from Columbus, Ohio, writes:
Should I be concerned that Michigan will be breaking in two new starters at both offensive tackle positions in 2014? Lewan and Schofield took 99.9 percent of the snaps this year, likely making their replacements having VERY little, to no game experience. After the abysmal display on the interior of the line this year, I do believe there are positives in game time reps of the interior line translating to better protection up the middle next season. Will inexperience on the edge hurt the line more next year than the inside this year, or can you mask the youth more on the outside than in?
Adam Rittenberg:
Some good points here, Will. I agree that Michigan's interior line will be improved next year because of all the experience gained, even through some tough times. It will be interesting to see what Michigan does with
Erik Magnuson
, who can play either guard or tackle but might be best at tackle depending on his development. The staff was excited about
Ben Braden
's development in the offseason, and he could step in for Lewan at left tackle. I'm really interested to see how the line performs in Arizona following bowl practices, but you're right that the group will continue to be under the microscope with both veteran tackles departing.
---
Ken from Carmel, Ind., writes:
When
Clifton Garrett
recently committed to LSU, he mentioned the great game-day atmosphere. Having attended a game there, I agree. Sometimes I think the B10 doesn't get that -- and is slow to pick up other little things like that (night games) that can make the difference in winning or losing recruiting battles, and eventually games. As an Iowa grad, the large number of 11 a.m. games certainly don't help the game-day atmosphere. I get the feeling that the people at the top -- president, and A.D. -- don't understand this. You'll have a couple more arrests with later games, but most people just cheer louder and have more fun - a.k.a., better game-day atmosphere. Your thoughts?
Adam Rittenberg:
Couldn't agree more, Ken, and I've been writing this for years. The Big Ten needs to prioritize prime-time games and become more open to weekday games, which would get some of the smaller programs some much-needed exposure. The good news: the league is definitely warming up to the idea, adding more prime-time games and becoming open to November night games, most likely in the 2014 season. Purdue athletic director Morgan Burke said Thursday that the Big Ten's next television contract will feature more prime-time games. That's a good thing, as the noon ET and 3:30 p.m. ET windows just don't carry the same weight with recruits.
December, 16, 2013
12/16/13
2:45
PM ET
Officially, we only do
a first-team All-Big Ten
here at the ol' blog. But there were tough decisions and plenty of players deserving of recognition in the 2013 season. So if we had to do a second team, here's what it would look like:
Offense
QB:
Connor Cook
, Michigan State
RB:
Jeremy Langford
, Michigan State
RB:
James White
, Wisconsin
WR:
Jeremy Gallon
, Michigan
WR:
Cody Latimer
, Indiana
TE:
C.J. Fiedorowicz
, Iowa
C:
Jack Allen
, Michigan State
OL:
John Urschel
, Penn State
OL:
Blake Treadwell
, Michigan State
OL:
Rob Havenstein
, Wisconsin
OL:
Andrew Norwell
, Ohio State
Defense
DL:
Michael Bennett
, Ohio State
DL:
DaQuan Jones
, Penn State
DL:
Theiren Cockran
, Minnesota
DL:
Carl Davis
, Iowa
LB:
Denicos Allen
, Michigan State
LB:
Anthony Hitchens
, Iowa
LB:
Jonathan Brown
, Illinois
DB:
Blake Countess
, Michigan
DB:
Stanley Jean-Baptiste
, Nebraska
DB:
Isaiah Lewis
, Michigan State
DB:
B.J. Lowery
, Iowa
Specialists
K:
Pat Smith
, Nebraska
P:
Cody Webster
, Purdue
KR:
Akeem Hunt
, Purdue
Some tough calls here, including the quarterback. Illinois'
Nathan Scheelhaase
has a strong case. But ultimately we went with the guy who was 9-0 in the Big Ten as a starter and won a league title with a 20-to-5 touchdown-to-interception ratio. ... Wisconsin's
Melvin Gordon
couldn't crack our first two teams despite running for 1,466 yards. We thought White and Langford were better in the key parts of the season than Gordon, who did most of his best work in the first six games. ... We had three tackles on our first team, so the interior linemen get their due with four spots on the second team. ... Several of our defensive players here were difficult omissions from the first team, including Allen, Countess, Jean-Baptiste, Lewis and Lowery. ... We chose Smith as the kicker in a close call over Michigan State's
Michael Geiger
, whom we honored on
our all-freshman team
.
December, 11, 2013
12/11/13
5:00
PM ET
The weather outside is frightful. But your emails are so delightful. Well, except for the guy who sent me repeated missives in all caps about how
Braxton Miller
should have been suspended for the Big Ten championship game. Dude, give it a rest.

Anyway, on to the mailbag:
Scott M. from Charlotte, N.C., writes:
Will we ever know why Ohio State felt two carries were plenty for
Carlos Hyde
in the fourth quarter? The game turned in the third quarter because of the bruiser. Braxton Miller is the driver of the car but those two calls late in the game were just awful. How anyone can say I have third-and-three for the game and my 230 pound, 7-yards-a-rush running back will not touch the ball really needs to look at themselves in the mirror.
Brian Bennett:
Should Carlos Hyde have gotten more than 18 carries against Michigan State? Probably. But don't forget that the Spartans defense specializes in loading the box and daring teams to throw deep. Plus, Miller was the more effective runner of the two most of the night and finished with more yards and yards per carry than Hyde.
The fourth quarter began with an Ohio State punt. Then Michigan State drove for a field goal. On Ohio State's first real possession of the fourth, Hyde ran for four yards on second-and-10, setting up a passing situation on third down. Miller then threw an incomplete pass. The series you're talking about started with 7:36 left. The Buckeyes had Miller run it on third and fourth down, and he was stuffed both times. Urban Meyer said it was his call to give the ball to Miller on fourth-and-2.
And it's hard to fault him for that. We're talking about the two-time Big Ten offensive player of the year who ran for 142 yards vs. Michigan State. A running quarterback is one way to counter the Spartans defense. It didn't work out, mostly because Pat Narduzzi called the right blitz and
Denicos Allen
made a great play. After that, Michigan State scored a touchdown to go up by 10 points, and the the time to run the ball was over for Ohio State.
Bottom line is you have to be successful passing the ball to beat the Spartans. And Ohio State went 8-for-21 for 101 yards through the air.
Tommy B. from Savannah, Ga., writes:
Brian, as a Buckeye fan it's crazy for me to think that after the 2011 6-7 disaster that I'd be so disappointed after the team would go 24-1 under Urban Meyer so far. I'd almost forgot what it felt like to lose on a Saturday (emphasis on almost, it felt terrible in case you were wondering). The problem has obviously been complete inconsistency with the defense. They have big name veteran stars with gaudy numbers and at times (including in the B1G title game) they've been dominant. But in the Michigan game and for some big game-changing plays against MSU they've had complete breakdowns. They have the talent to be better than they are. In your opinion, what's the problem? Fickell? Key injuries (Bryant)? Fickell? Youth in key positions? Fickell?
Brian Bennett:
It's a good question. The place we thought Ohio State's defense might be vulnerable to start the year was up front because of all the youth there. Yet that was arguably the strength of the defense, with guys like
Michael Bennett
,
Joey Bosa
,
Noah Spence
and
Adolphus Washington
. The problem really seemed to be at the linebacker positions other than
Ryan Shazier
and at safety, especially when
Christian Bryant
got injured. Michigan State exposed the Buckeyes' safeties early on last Saturday.
It's kind of hard to believe that Ohio State would find itself so thin at linebacker. The Buckeyes recruited some highly-regarded defensive backs last year, but guys like
Vonn Bell
didn't have much of an impact this season. They're still young, so that's to be expected, but it was disappointing that some of the more veteran players didn't have great seasons (relatively speaking, because Ohio State did go 12-0).
The Buckeyes' defensive coaches all have strong track records, so I have a hard time believing it's simply a coaching issue. But Ohio State clearly needs to develop better depth in its back seven, especially if Shazier decides to leave for the NFL.
Randy from Waukesha, Wis., writes
: I just learned that Wisconsin's
Jared Abbrederis
won an award for the national best walk-on player-of the-year in CF! Did I miss your guys' article on this? If not please tell us more..... B1G can use all the kudos it can get, especially at this time of the year!
Brian Bennett:
Yes,
Abbrederis won the Burlsworth Trophy
, which is award to the best player who started his career as a walk-on. We didn't write a post about it, mainly because there are seemingly thousands of college football awards now, but we did tweet it. Abbrederis was a slam-dunk choice for that award, and it's hard to believe he ever was a walk-on. He'll be on an NFL roster next fall.
King from Los Angeles writes:
I agreed with you about the silliness of the coaches' poll. I am a Huskers fan and I do not believe we deserved a top 25 ranking even though Bo thinks so. I think they should change the way coaches vote by making a rule that you cannot vote for your own team. That could take away all the biases. What do you think?
Brian Bennett:
That would only solve part of the problem, as there still would be inherent conflicts of interest involving teams in a coach's own conference, his opponents, friends, etc. The good news is it won't matter at all as part of the national championship provess next year, so the coaches can be as silly as they want to be. And given how little most coaches want to deal with the hassle, I'm not sure why there should even be a coaches' poll next year.
Greg from Lansing, Mich., writes:
In giving conferences more power on selecting bowl match-ups should we just assume Ohio State/Michigan will always occupy the better bowl games? (If they aren't already in the play-off).
Brian Bennett:
I can understand why there's a feeling in some quarters that Ohio State and Michigan get preferential treatment from the league office. But the truth is that the biggest brand-name schools already get preferential treatment from bowls. Is there any reason why Michigan at 7-5, should be in the Big Ten's No. 3 non-BCS bowl this year? Or why Ohio State went to the Gator at 6-6 in 2011? Only one: drawing power.
What the new system will basically do is allow the leagues more input on the process so as to avoid teams going to the same destination over and over again and to create better matchups. Had it been in place this year, however, I doubt we'd see Nebraska going back to Florida for a rematch with Georgia. Bowls are always going to want big-name teams as long as they are businesses. But better matchups and fresher destinations should help fans.
Greg from Atlanta writes:
As an Iowa fan living in Georgia, I'm wondering how an 8-4 Georgia team gets ranked and an 8-4 Iowa team doesn't? Now, I'm not saying Iowa deserves a ranking, because 4 wins shouldn't get you in the top 25. But, Georgia lost to Vandy and needed double OT to beat Ga Tech. They also struggled with teams they should have throttled and fell far below expectations. Iowa played two teams tough that will both play in BCS bowls. Is this just more bias against the Big Ten? If so, will that bias ever go away?
Brian Bennett:
I don't think this is a case of anti-Big Ten bias as much as it is probably pro-SEC sentiment. Iowa is a tough case and a team I debated putting in my final Top 25 for a while before ultimately deciding against it. Barely. The Hawkeyes' four losses are all highly respectable -- Michigan State, Ohio State, Wisconsin and Northern Illinois. But you shouldn't get credit for just losing to good teams. Iowa's best wins are over Minnesota, Michigan and Nebraska, with two of those on the road. Very solid, but not spectacular.
Georgia's in a similar boat in terms of "good" losses, including Clemson and Missouri. The Dawgs also lost on the road to Auburn thanks to a miracle play at the end. They have also beaten South Carolina and LSU, two wins better than anything Iowa can claim, and the team was decimated by injuries this season.
I think the Hawkeyes are good, and they have some nice momentum after winning their final three games. That's why I'm really looking forward to seeing how they play against LSU. Iowa definitely ends the season in the Top 25 with a win over the Tigers in the Outback. And given the wide-open nature of next year's West Division, at least on paper, Iowa could emerge as one of the preseason favorites in that division in 2014.
October, 18, 2013
10/18/13
11:00
AM ET
We've reflected on the
first half of the Big Ten season
, evaluated
each team
and looked ahead to what promises to be a
more exciting second half
.
As we put a bow on the first half, we're selecting a midseason All-Big Ten team. This list certainly isn't as significant as the postseason squad, but these players merit recognition for their performances during the first seven weeks of the season.

The envelope, please ...
OFFENSE
QB:
Nathan Scheelhaase
, Illinois
RB:
Melvin Gordon
, Wisconsin
RB:
Ameer Abdullah
, Nebraska
WR:
Allen Robinson
, Penn State
WR:
Jared Abbrederis
, Wisconsin
TE:
Ted Bolser
, Indiana
C:
Corey Linsley
, Ohio State
OL:
Spencer Long
, Nebraska
OL:
Brandon Scherff, Iowa

OL:
Rob Havenstein, Wisconsin

OL:
Jack Mewhort, Ohio State
DEFENSE
DE: Shilique Calhoun, Michigan State
DT: DaQuan Jones, Penn State
DE: Tyler Scott, Northwestern
LB: Chris Borland, Wisconsin
LB: Ryan Shazier, Ohio State
LB: Max Bullough, Michigan State
LB: James Morris, Iowa
DB: Darqueze Dennard, Michigan State
DB: Stanley Jean-Baptiste, Nebraska
DB: Ibraheim Campbell, Northwestern
DB: Blake Countess, Michigan
SPECIALISTS
K:
Jeff Budzien
, Northwestern
P:
Mike Sadler
, Michigan State
KR:
Marcus Jones
, Minnesota
PR:
Kevonte Martin-Manley
, Iowa
We'll start with the quarterback spot, which has been underwhelming around most of the league, partly because of injury. It was a close call between Scheelhaase and Penn State true freshman
Christian Hackenberg
, but Scheelhaase gets a slight edge with more touchdown passes and fewer interceptions. We had another tough decision at the No. 2 running back spot between Abdullah and Iowa's
Mark Weisman
, who has been very productive so far. Ultimately, Abdullah has made more out of his carries and got the nod.
The Big Ten's depth at linebacker prompted us to go with a 3-4 defensive alignment for the midseason team. We had some debate for the lone defensive tackle spot between Jones, Ohio State's
Michael Bennett
and Minnesota's
Ra'Shede Hageman
, but went with Jones, the league's leader in tackles for loss (8.5). Linebacker is so deep that it was tough limiting the list to only four. We ultimately went with Morris over Illinois'
Jonathan Brown
because Morris has made more game-changing plays. Cornerback has been a deeper position than safety through the first half, so we went with three corners and only one safety.
Kick returner was another close call between Minnesota's Jones and Illinois'
V'Angelo Bentley
.
October, 2, 2013
10/02/13
12:00
PM ET
We're driving Cadillacs in our dreams.
September, 29, 2013
9/29/13
10:00
AM ET
Five lessons from four games in Week 5. Got that?
Let's go ...
1. Ohio State's young defense is growing up:
Lost amid the
Braxton Miller
-
Kenny Guiton
debate this week was the fact a mostly young Ohio State defense with only one returning starter in the front seven would be put to the test by
Melvin Gordon
,
James White
and the formidable Wisconsin run game. The young Bucks certainly earned a passing grade after holding Wisconsin to just 104 yards on 27 carries. Gordon's knee injury limited the Badgers, but Ohio State prevented big runs and forced Wisconsin to win the game through the air. Linebacker
Ryan Shazier
shined, while linebacker
Curtis Grant
and lineman
Michael Bennett
both recorded sacks. The loss of safety
Christian Bryant
to a season-ending ankle injury is a big blow, but Ohio State has enough talent in the secondary to make up for it, as long as they don't run into
Jared Abbrederis
again soon. Ohio State's offense will win plenty of games, but you know what they say about defenses and championship. These might not be the typical Silver Bullets, but they're developing and can build on Saturday's performance as they face an even another formidable offense in Northwestern next week.
[+] Enlarge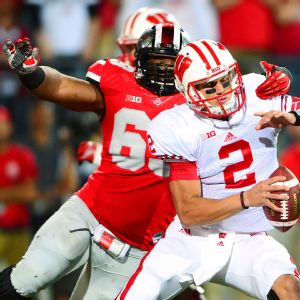 Andrew Weber/USA TODAY SportsJoel Stave and the Badgers hung around, but they were eventually tamed by Michael Bennett and the Buckeyes.
2. Wisconsin is an excellent 56-minute team:
Gary Andersen's crew showed plenty of grit Saturday night in Columbus. Quarterback
Joel Stave
quieted some of his critics -- thanks in large part to a career performance from Abbrederis (10 catches, 207 yards, 1 TD) -- and linebacker
Chris Borland
was brilliant, as usual. But Wisconsin's inability to finish off halves remains a troubling trend, and it surfaced in the loss to Ohio State. The Badgers trailed by only three points when freshman cornerback
Sojourn Shelton
dropped an easy interception near the goal line. Miller found
Philly Brown
for a 40-yard touchdown on the next play, giving Ohio State a huge boost with one second left in the half. Wisconsin struggled to manage the clock down the stretch as its comeback attempt fell short. This isn't a team built to come back in games based on the pass game, and it showed. Coupled with the Arizona State debacle (granted, more officiating than execution), Wisconsin has had a lot of bad things happen at critical moments. That's what could separate the Badgers from a fourth consecutive Big Ten title.
3. Iowa will be a factor in the Legends Division:
The Hawkeyes might not be a great team yet, but it's clear they are vastly improved from last season. On Saturday, Iowa went into Minnesota and pushed the Gophers around on their home turf, piling up 464 total yards and allowing only 30 rushing yards in a 23-7 win. The pig will return to Iowa City, but even more importantly, the hogs up front are getting it done in classic Kirk Ferentz fashion. Iowa has rushed for at least 200 yards in every game this season and went for 246 against a Minnesota defense that thought it had made strides in that area. This team has an identity, and it starts with the power running game led by
Mark Weisman
and a solid offensive line. Quarterback
Jake Rudock
has shown an ability to extend plays, and Iowa even got an explosive play in the passing game when
Damond Powell
took a short pass 74 yards to paydirt. The defense is also playing well right now; the Gophers' only score came after a long kickoff return. The Hawkeyes are 4-1 and gets Michigan State at home next week, while Northwestern and Michigan still must come to Kinnick Stadium. The schedule is difficult the rest of the way, but Iowa will have a big say in who wins the Legends.
4. Nathan Scheelhaase is the Big Ten's most improved player:
A year ago, Scheelhaase was sputtering at the helm of one of the nation's worst offenses, hardly resembling the player who had shown promise as a freshman and during the first part of his sophomore season. No Big Ten player has made bigger strides in the past season than the Illinois senior quarterback, who threw five first-half touchdown passes Saturday against Miami (Ohio) and finished with 278 pass yards on 19 of 24 attempts. Scheelhaase leads the Big Ten in passing yards and is second in touchdowns (12), tripling his total from last season. He's just five touchdown passes shy of his single-season best and 15 shy of Kurt Kittner's single-season team record. Offensive coordinator Bill Cubit deserves a lot of credit for Scheelhaase's surge -- and that of the entire Illini offense -- but Scheelhaase clearly is back on track after a year and a half in the dark. It will be interesting to see what he does this week against Nebraska's shaky defense.
5. Future starts now for Etling, Purdue:
Darrell Hazell stuck with senior quarterback
Rob Henry
through this season's early offensive struggles, but the Purdue coach realized it was time for a change Saturday against Northern Illinois. The last straw was Henry's second interception of the first half, a terribly thrown floater into the Huskies' end zone. That prompted Hazell to give the reins over to true freshman
Danny Etling
, the prized former recruit who made his collegiate debut. This was no fairy tale, so Etling didn't lead the Boilermakers to a comeback victory. He threw two interceptions, including a pick-six, and narrowly avoided another one. But Etling (19-for-39, 241 yards) did show good mobility and flashed his strong arm, especially on his first career touchdown pass, a 16-yarder to
Cameron Posey
. The offense will have more of a chance to stretch the field with him under center. Quarterback is hardly the only problem for Purdue, which got housed 55-24 at home by a MAC team and might have a hard time finding another win this season. But while Boilers fans don't like to see the words "Danny" and "hope" in the same sentence, Etling at least gives them something to look forward to as Hazell tries to work the program out of this mess.
July, 16, 2013
7/16/13
10:00
AM ET
COLUMBUS, Ohio -- Training camp hasn't even started yet. After that grueling month, there's still almost an entire season to be played before "The Game" that matters most.
But it's never too early to set the table for the feud between Ohio State and Michigan, and at BuckeyeNation and WolverineNation, we're doing it all week.
We looked back on Monday at some
heroes
and
villains
on both sides of the rivalry. Today we're looking ahead at the strengths and weaknesses that could decide the latest edition in the storied series, which is just more than four short months away.
STRENGTHS
Ground and pound: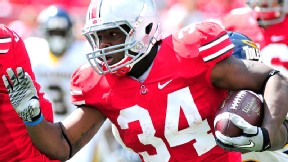 David Dermer/Diamond Images/Getty ImagesOhio State running back Carlos Hyde is poised for a big senior season.
The Ohio State rushing attack was potent enough a year ago, but it's only added more experience and weapons to the mix now. By November, it might be almost impossible to slow down the Buckeyes on the ground as they incorporate the new pieces to the attack and potentially get more support from the passing game.
Braxton Miller
is obviously a threat to score from anywhere on the field, and if
Carlos Hyde
makes the kind of improvement he's targeted in terms of making defenders miss at the second level, that one-two combination will continue to rank among the best in the country, particularly with four seniors back on the offensive line.
But it might be the added dimension of a healthy
Jordan Hall
or a true freshman such as
Dontre Wilson
or
Jalin Marshall
at the hybrid, Pivot position that gives opponents even more fits. Or maybe it's a backfield that can be loaded up with as many as three talented rushers, rolling out
Rod Smith
or
Bri'onte Dunn
in a diamond formation with Hyde and Miller. Either way, the Buckeyes have the personnel to give Michigan a workout in the front seven.
Air patrol:
The expectations are growing for Michigan's passing attack now that
Devin Gardner
has the position all to himself, and he'll have plenty of time to develop and find a rhythm before meeting up with the Buckeyes. But there might be no stiffer test in the country than the one Ohio State can present a quarterback thanks to its overflowing talent and veteran savvy in the secondary. Cornerback
Bradley Roby
and safeties
Christian Bryant
and
C.J. Barnett
would make life difficult on their own, but the Buckeyes can complement that with another senior safety in reserve in
Corey "Pittsburgh"' Brown
, a junior cornerback looking to make a name for himself in
Doran Grant
and a class of incoming defensive backs that represented perhaps the best signing day haul in the nation.
The Buckeyes plan to get as many of those guys involved as possible this season, which could make the secondary even more fearsome by the time Gardner gets a crack at them.
WEAKNESSES
Middle ground:
The fresh faces are almost everywhere in the front seven, but heading to training camp, there's not all that much uncertainty about who will be filling which shoes left behind by the defenders who helped the Buckeyes go unbeaten last fall.
Noah Spence
and
Adolphus Washington
are poised for breakouts at end and
Curtis Grant
and
Joshua Perry
appear ready to lend a hand next to
Ryan Shazier
at linebacker, but there are two critical spots on the inside of the line that bear monitoring as Ohio State prepares to stop opposing rushing attacks.
Michael Bennett
is close to a lock for one role, but there could be a heated competition for reps next to him to complete the rotation.
Tommy Schutt
battled injuries throughout spring practice, but he has the ability to be a future star.
Joel Hale
is a grinder and respected leader, and the junior could be an intriguing option as well. And if big
Chris Carter
can manage his weight, his massive frame clearly could fill up some rushing lanes.
By November, the Buckeyes figure to have long ago answered those questions up front and should have also built up plenty of experience. But that will be at the top of the priority list as Ohio State chases a Big Ten title -- and keeps an eye on its rival.
Kicking it:
More often than not, the Buckeyes had the edge over opponents in the third phase. But considering how much value Urban Meyer places on special teams and how much production he expects, Ohio State wasn't all that close to giving him what he wanted a year ago. Kicker
Drew Basil
wasn't used all that much, aside from the season-ending win over Michigan, but among his 11 attempts last season were a pair of missed field goals from less than 39 yards that didn't exactly inspire confidence. The Buckeyes will be breaking in a new punter as well, and winning the field position battle is as important under Meyer as it has always been under previous regimes at Ohio State -- putting pressure on some young contributors to make plays in kickoff and punt coverage.
Philly Brown
took a couple punts back for touchdowns last year and the "Freak Show" punt block unit made itself a nuisance a few times, but Meyer and newly-promoted special teams coordinator Kerry Coombs keep the bar pretty high in that area of the game. And in tightly contested rivalries, it can make all the difference.
August, 6, 2012
8/06/12
3:00
PM ET
Our "Inside the Game" positional previews with WolverineNation's Michael Rothstein and BuckeyeNation's Austin Ward continue in the trenches.
Ward and Rothstein discuss the contrast in the defensive lines. The Buckeyes could go as far as nine deep and believe they are among the nation's best units, while the Wolverines lost three-fourths of their top-notch line from a year ago, have another player on indefinite suspension and are unsettled at best.


Ohio State
Ward:
The expectation up front for Ohio State is not just to be better than its rivals.
It's not even to be the best in the conference.
The Buckeyes are going into this season with the goal of establishing themselves as the deepest and most talented group in the nation, and they certainly have a shot at building their case.
It helps to start at the top with the return of tireless, tenacious end
John Simon
and the emergence of
Johnathan Hankins
next to him as a force at defensive tackle, but there's plenty more ammunition than that.
Garrett Goebel
and
Adam Bellamy
round out the projected first unit, and even though he's listed behind Hankins,
Michael Bennett
could be too disruptive in the middle to keep on the sideline. When
Nathan Williams
receives full clearance from his knee surgery, he could provide another scary weapon on the edge for a team that could conceivably roll through nine guys without a substantial drop-off.
On top of that, there's a talented trio of newcomers who will fight to either be included or expand that rotation.
Noah Spence
,
Adolphus Washington
and Se'Von Pittman gave Ohio State a recruiting haul in February that would make any program envious. And it figures to set up the Buckeyes not just for a good run in the trenches this fall, but also into the next few seasons.
Michigan
Rothstein:
On a team filled with current or former defensive line coaches -- besides Jerry Montgomery both head coach Brady Hoke and defensive coordinator Greg Mattison came up as defensive line coaches before assuming loftier titles -- there is a lack of a lot of things with their former pet position.
Experience, for one, is lacking as the line will boast three new starters and the one returning starter, senior
Craig Roh
, is adjusting to added weight and a new position as a strongside defensive end.
Depth is another issue, as the Wolverines could see multiple freshmen push for time on the line behind some of the inexperienced starters.
Will Campbell and
Jibreel Black
are the likely starters on the interior of the line, with Campbell being three years of promise without production and Black adding weight and learning to play inside after being converted from defensive end. At rush end, sophomore
Brennen Beyer
slides in as the likely starter after Frank Clark's indefinite suspension due to legal issues.
Behind them are talented freshmen in
Ondre Pipkins
,
Tom Strobel
,
Chris Wormley
and Matt Godin -- all of whom could push for time.
Nathan Brink
provides some veteran stability at end and tackle, but the walk-on doesn't have a ton of experience.
It's a position full of questions at a spot where the Wolverines can't really have them, as much of what Mattison likes to do on defense comes from the expectation of a defensive line getting pressure on a quarterback.
December, 13, 2011
12/13/11
6:05
PM ET
Earlier today, we revealed a handful of our top freshmen from 2011. Now it's time to unveil the entire Big Ten All-Freshman team from the season.
Some positions were easier to find players than others, but this crew should be worth watching in years to come. Both
true freshmen
and
redshirt freshmen
were considered for the team.
Without further ado ...
OFFENSE
QB:
Braxton Miller
, Ohio State
RB:
Donovonn Young
, Illinois
RB:
Ameer Abdullah
, Nebraska
WR:
Kenny Bell
, Nebraska
WR:
Kevonte Martin-Manley
, Iowa
TE:
Jon Davis
, Illinois
OL:
Travis Jackson, Michigan State
OL:
Bernard Taylor, Indiana
OL:
Michael Heitz, Illinois
OL:
Brandon Vitabile, Northwestern
OL:
Tyler Moore, Nebraska
DEFENSE
DL:
Marcus Rush, Michigan State
DL:
Ryan Russell, Purdue
DL:
Michael Bennett, Ohio State
DL:
Ben Perry, Minnesota
LB:
Ryan Shazier, Ohio State
LB:
Jake Ryan, Michigan
LB:
Desmond Morgan, Michigan
CB:
Bradley Roby, Ohio State
CB:
Blake Countess, Michigan
S:
Mark Murphy, Indiana
S:
Ibraheim Campbell, Northwestern
SPECIAL TEAMS
K:
Matt Wile, Michigan
P:
Mike Sadler, Michigan State
KR:
Raheem Mostert
, Purdue
PR:
Ameer Abdullah, Nebraska
There were some tough choices, and several positions had more candidates than others. Cornerback, for example, featured several promising freshmen contributors. Michigan State's Tony Lippett and Penn State's Adrian Amos were close to making the cut. Indiana quarterback
Tre Roberson
is another player meriting mention, although Miller deserved the nod at quarterback.
Not surprisingly, it was a struggle to fill out the offensive line as most freshmen linemen don't see the field. Like we did with the general All-Big Ten team, we didn't assign positions for the O-line and simply picked the best five players. It also was a bit unusual not to have a full-time freshman place-kicker. Michigan's Wile handled kickoffs and some punting, but Brendan Gibbons kicked field goals for the Wolverines.
Michigan Outlook: 2014
BIG TEN SCOREBOARD
Thursday, 8/28
Saturday, 8/30