Michigan Wolverines:

Maurice Ways
September, 10, 2013
Sep 10
8:00
AM ET
September, 3, 2013
Sep 3
8:00
AM ET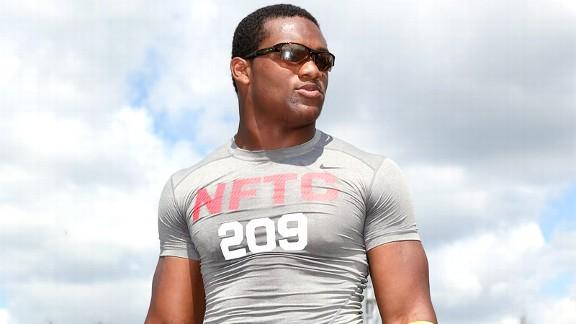 There are still big holes to fill in recruiting for the 2014 class and top targets still on the board. A lot of position groups are being addressed in recruiting, but not many have been completely filled.
Big Ten recruiting writers Tom VanHaaren and Brad Bournival take a look at the most important position for each Big Ten team in the 2014 class.
To continue reading this article you must be an Insider
July, 17, 2013
Jul 17
9:00
AM ET
The state of Ohio, on the heels of exiting the annual Big 33 all-star game with Pennsylvania, has invited the state of Michigan to a new high school all-star game.
The Ohio–Michigan Border Classic will feature high school senior football players from Ohio and Michigan and will put the best 40 prospects from each state against the other. The inaugural game will take place on June 14, 2014, which will allow prospects from the 2014 class to participate in the event.
Larry Merx is the Executive director for the Michigan High School Football Coaches Association and says that they felt this was a great opportunity for their state.
[+] Enlarge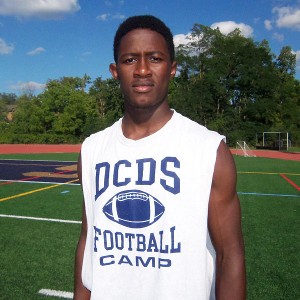 Tom VanHaaren/ESPN.comBeverly Hills, Mich., wide receiver Maurice Ways is excited about the opportunity to play an all-star game against top Ohio prospects.
"We were invited by Ohio to participate in it, and the thought process was that it's exciting. It's a chance to get our best players involved with a game that we think there will be a lot of interest in," Merx said. "When Pennsylvania withdrew (from the Big 33) it left Ohio high and dry. Ohio was looking around and said we have a natural rivalry and they invited us, so we thought it sounded pretty good."
The game will also replace Michigan's East-West all-star game that took place every year featuring some of the top high school talent in Michigan. That game featured 88 players that were nominated by the coaches to play in the game, something that will change with the Border Classic.
"We're going to first select six coaches for the game. Our regional directors will nominate coaches, the all-star committee will meet and select the six coaches that will participate in early December," he said. "Then the coaches will go about recruiting players. The all-star coaches will go out and get the best players in the state and get them in the game."
From an Ohio standpoint, the Border Classic is one prospective players are looking forward to. Some standouts such as
Kyle Berger
(Cleveland/St. Ignatius) and
Sam Hubbard
(Cincinnati/Moeller) already play a few schools in Michigan, but the majority do not, and that has a wave of excitement running through the state.
ESPN 300 cornerback
Darius West
(Lima, Ohio/Central Catholic) lives 90 minutes from the Michigan border and was recruited by the Buckeyes and Wolverines.
The Kentucky commit sees it as much more than bragging rights at the next level, however, as Ohio and Michigan have always measured themselves up against the other.
"It would be pretty fun," West said. "There are a lot of people that think Michigan football is better than Ohio and that Ohio is better than Michigan.
"This would prove which is better. It would be a real good game between two great states. We're right by each other and Michigan and Ohio already have a rivalry."
Hubbard, whose team won both games against schools from Michigan last season, sees the game as an extension of what is already a heated battle.
He also sees it as a way to play some of the best competition in the nation.
"We're obviously already rivals," Hubbard said. "There's always talk on Twitter about who is better, so it should be fun.
"Obviously the game doesn't mean anything, but it is bragging rights. It's something people can get into. It will give you a leg up in confidence when the real games come around. We played Detroit Central Catholic and Grand Rapids Christian last season, so we played against
Drake Harris
. That was intense. I think it's a great thing to switch over to Michigan. It's one of the greatest rivalries in college football."
That view is no different in the state of Michigan. The Michigan prospects are excited about the idea of being able to compete against some of the top prospects, but they know there is a bigger picture to this game.
Michigan wide receiver commit
Maurice Ways
(Beverly Hills, Mich./Country Day) says it would be an honor to represent his state, but this wouldn't be an ordinary all-star game.
"Both states are going to select the best and top players from their state to make sure they win. This won't be just a friendly all-star game, it will be serious and a big deal," Ways said. "Neither states like each other and I'm sure you'll have a guy going to Michigan and a guy going to Ohio (State) so the hate will already be in the air. It's going to be taken seriously and I'm sure it would be an exciting game."
June, 18, 2013
Jun 18
9:00
AM ET
With the No. 1-ranked recruiting class in the country, Michigan still has some big targets left on the board. There are approximately five to seven spots left in the Wolverines' class, so here is a look at Michigan's top 10 targets ranked in the likelihood that they pick Michigan.
To continue reading this article you must be an Insider
May, 17, 2013
May 17
10:50
AM ET
The Wolverines have climbed the ESPN class rankings all the way to the No. 1 spot. The 2014 class for Michigan is off to a stellar start, but a lot will need to happen for the maize and blue to keep their position atop the rankings.
Here is a look at a timeline of the ascent to the top and what the coaching staff will need to do to stay there.
Michigan class rankings
To continue reading this article you must be an Insider
May, 11, 2013
May 11
11:46
AM ET
With seven commitments in the ESPN 150, Michigan has been on a roll in the 2014 class. That continued Saturday as the Wolverines picked up their eighth ESPN 150 prospect.
Defensive end
Lawrence Marshall
(Southfield, Mich./Southfield) confirmed in a text message that he committed to Michigan while on a visit Saturday.
The No. 107 ranked player in the country originally made his pledge to Ohio State in February, but that only lasted a few days. Marshall decommitted from Ohio State after visiting Michigan and Michigan State and since then mainly focused on the in-state schools.
Many believed that the Spartans held the upper hand with Marshall, but Michigan had a secret weapon on its side. Wide receiver commit
Maurice Ways
(Beverly Hills, Mich./Country Day) has been friends with Marshall since middle school and put in some extra work to recruit his longtime friend to Michigan. Ways said at a recent camp that he believed his recruiting pitch to Marshall was working, and it turns out he was right.
The 6-foot-4, 230-pound prospect is likely a weakside defensive end at the next level. He has added good weight in recent months while maintaining his quickness off the line. He will add size and speed to Michigan's pass rush.
Marshall's commitment gives Michigan nine total commitments and two defensive line commits to go along with defensive tackle
Bryan Mone
(Salt Lake City/Highland). Michigan is being considered by some other top-ranked defensive line prospects and Marshall's commitment likely won't deter those efforts.
The overall No. 4-ranked prospect,
Da'Shawn Hand
(Woodbridge, Va./Woodbridge), still holds Michigan in his top group and is probably best suited at strong-side defensive end in college. His recruitment shouldn't be impacted by Marshall. The same goes for defensive tackle target
Malik McDowell
(Detroit/Loyola), who also holds Michigan very high on his list.
May, 9, 2013
May 9
9:00
AM ET
On Sunday at the Chicago NFTC, wide receivers Maurice Ways (Beverly Hills, Mich./Detroit Country Day) and Drake Harris (Grand Rapids, Mich./Grand Rapids Christian) got a little taste of what it will be like to be teammates.
The two Michigan commits seemed inseparable at the event, running drills next to each other and getting reps in passing drills while running routes side by side.
To continue reading this article you must be an Insider
April, 25, 2013
Apr 25
6:03
PM ET
As if landing one commit in one week was enough for Michigan, the Wolverines have added another prospect to the 2014 class.
Wide receiver
Maurice "Moe" Ways
(Beverly Hills, Mich./Country Day) committed to Michigan while on a visit on Thursday. The 6-foot-3 prospect confirmed his commitment via text, and is now the second wide receiver in this class.
Ways grew up a Michigan fan and was recently offered after wide receivers coach Jeff Hecklinski evaluated him in person during the evaluation period. A prospect who was sure to rise up the ranks and continue to add to his offer list, Ways is an excellent addition to fellow receiver commit Drake Harris (Grand Rapids, Mich./Grand Rapids Christian).
With a good combination of size, hands and speed, Ways will be versatile in what he will be able to do in Michigan's offense once he gets to Ann Arbor. Likely slated for the outside, he will be a guy who can stretch the field or go up and get the jump ball, which is exactly what Michigan wants.
Despite having two receivers committed now, Michigan would still take another wideout in this class. Prospects including
Artavis Scott
(Tarpon Springs, Fla./East Lake),
K.J. Williams
(Bethlehem, Pa./Liberty) and
Corey Holmes
(Ft. Lauderdale, Fla./St. Thomas Aquinas) are all still options.
Ways is the No. 7 commitment in Michigan's 2014 class, and there are approximately nine remaining spots.
April, 25, 2013
Apr 25
9:00
AM ET
The Weekly Update is a look into Michigan recruiting:
GARRETT TAYLOR
To continue reading this article you must be an Insider
April, 17, 2013
Apr 17
10:00
AM ET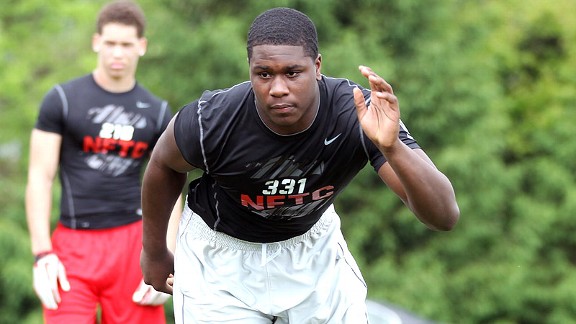 Tom Hauck for ESPN.comESPN Watch List defensive end Malik McDowell doesn't exactly have to worry about losing a potential spot in Michigan's 2014 class.
ANN ARBOR, Mich. -- The weather is warming up in Michigan, which means a few things: basketball is over, spring football is most definitely over, and camps and combines are right around the corner. So, since recruiting is going to dominate the airwaves for the next few months as Brady Hoke puts this next class together, I decided to dedicate most of today's mailbag to questions about the 2014 class.
Next week Mike is taking care of this, so get your questions to him (michaelrothsteinespn@gmail.com or @MikeRothstein). Now, on to this week's questions...
1) Micah Nuechterlein via Twitter:
If
Lawrence Marshall
(Southfield, Mich./Southfield) were to commit, would they still take
Malik McDowell
(Detroit/Loyola) and
Da'Shawn Hand
(Woodbridge, Va./Woodbridge) in this class?
A:
I really don't see that happening. But, if it did (and crazier things have happened), then yes, I do think that they would take all three. Because you just don't pass on a Da'Shawn Hand or Malik McDowell. They are all different players along the line, so as long as the numbers work the coaches wouldn't pass on any of them. That might not matter, though, because they all seem to have different timelines to make their decision. The coaches are aware of where they stand with each guy and how many spots they have left, so I wouldn't worry too much about this scenario.
To continue reading this article you must be an Insider
February, 20, 2013
Feb 20
8:45
AM ET
The past two recruiting classes Michigan has brought in bigger receivers, none under 6-foot-2. The coaching staff has been unable to reel in the elite receiver they have been after though, and are hoping to do so in the 2014 class.
Here is a look at some of the wide receiver targets for 2014:
Offered Targets

: Drake Harris

Grand Rapids, Mich./Grand Rapids Christian

To continue reading this article you must be an Insider
Weekend Recruiting Wrap: Big Ten - Dec. 2