Michigan Wolverines:

Matt Godin
May, 13, 2014
May 13
1:00
PM ET
ANN ARBOR, Mich. -- For many months, there has been hand-wringing and consternation about the state of
Michigan
's offensive line. But what about the other side of the trenches?
The Wolverines' defensive line has produced at a mediocre rate, at best, since Brady Hoke's first season in 2011. That's a fact that has to eat at both Hoke and defensive coordinator Greg Mattison, who are both former defensive line coaches.
[+] Enlarge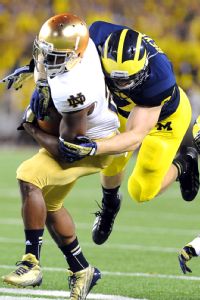 Lon Horwedel/Icon SMISenior defensive end Brennen Beyer will be a key contributor for the Wolverines in 2014.
But unlike the offensive line, which exited spring with question marks remaining, there is hope that Michigan can turn this position into a strength again.
"I've been here for four years and I've seen three different defensive fronts come through here," senior defensive end
Frank Clark
said. "And I think it's the best one we've had."
The group blends a mixture of veterans and youth, with many of the young players getting valuable exposure last season. Some of them were hyped recruits who display obvious size and athleticism, such as sophomores
Taco Charlton
(6-foot-6, 275 pounds),
Chris Wormley
(6-4, 292) and
Willie Henry
(6-2, 297). New position coach
Mark Smith
, who mentored the linebackers the previous three years, was understandably excited for a chance to mold those guys.
"I didn't inherit a bunch of plow horses, now," he said. "I inherited a bunch of thoroughbreds. We look good coming off the bus. We've just got to get the mental aspects of it and our philosophy and the mindset we want up front."
Clark epitomizes the D-line crew in many ways. Long heralded as a star in the making, he started to deliver on some of that promise last season with 43 tackles and 4.5 sacks. After briefly considering a jump to the NFL, he returned to campus determined to do even more in his last go-round.
"I'm the vet," he said. "I'm the big dog now."
Another senior,
Brennen Beyer
, will man the other defensive end spot. Beyer has moved around a lot in his career and sometimes is taken for granted. But Smith said Beyer is one of the best players and leaders on the defense.
Then there's Charlton, who has enough potential to make Michigan fans salivate. Given the nickname Taco from his grandmother when he was born prematurely and weighed less than three pounds, he's more like a fully loaded burrito now. Even playing last season as a true freshman, Charlton said he never felt overmatched physically.
"It wasn't really hard because of my body," he said. "But now I feel like a mature guy, and everything is coming more easily. I know what it takes to play, so I can really relax now and just play without much thinking."
"Taco has immeasurable potential," Smith said. "That kid can be as good as he wants."
How good the Wolverines' line will be this fall likely hinges on the inside spots, where the team replaces starters
Jibreel Black
and
Quinton Washington
. Henry and Wormley played a lot there in 2013 and should improve after getting a season under their belts.
"Chris Wormley is one of those guys who, when he walks in a room, you go, 'Ooh, that's what it's supposed to look like,'" Smith said. "He's come a long way, but in a lot of ways, he's still figuring out what it takes to be an every-down player here."
Redshirt freshman
Maurice Hurst Jr.
made a strong impression this spring at tackle, while sophomores
Matthew Godin
and
Ryan Glasgow
and early enrollee freshman
Bryan Mone
also saw a lot of reps.
Ondre Pipkins
will eventually be back from a knee injury. The coaching staff believes it has now developed depth that will allow it to comfortably rotate several bodies this fall.
The players just have to prove themselves on the field and show they can apply pressure on the quarterback without help, something that has been problematic the past couple of seasons.
"We have a multitude of pass rushers, and we've got physical guys in the middle," Clark said. "If four can rush the passer and let everybody else drop into coverage and do their jobs, that's when you have a great defense."
Michigan hasn't reached that level in a while. The potential of the defensive line at least offers some hope of returning there.
September, 19, 2013
9/19/13
8:00
AM ET
With Michigan coach Brady Hoke and defensive coordinator Greg Mattison as the defensive line coaches at Michigan, the Wolverines' D-line would likely being under the highest scrutiny of any team in the country.
But the problem is, it hasn't looked that way. The Wolverines aren't getting the results they want.

"I told them that on Sunday, I said, 'It's not acceptable how we're pass rushing,' " Mattison said. "I said, 'I'm not doing a good job of teaching you and I'm going to do a good job of teaching you because we're going to be able to pass rush.' And we will."
And they must if they want to compete for a Big Ten title.
The Wolverines narrowly slipped by Akron on Saturday, allowing 311 yards passing and 107 yards on the ground. The Zips gashed the front four time and time again.
The Wolverines ended the day without a single sack, but with six quarterback hurries -- something senior defensive tackle
Jibreel Black
said was promising.
"Us as a defense, we still have faith in our defensive line," Black said. "It's not like we're not getting to the quarterback at all. We're getting to the quarterback, we're getting in his face, he's just getting rid of it, throwing incomplete passes. … That's the way it is sometimes."
UConn's offensive front might be the weakest Michigan has faced this season as the Huskies are still trying to figure out their starting five. That gives an opportunity for the Michigan defensive line as it returns to the basics this week.
Michigan will likely continue to filter in several players as Mattison has been pleased with the defensive line depth. Even though the numbers haven't really backed it up, he has felt as though they were solidly three deep at each position on the defensive line.
One of the major problems might be the fact that a lot of the players getting snaps are young and Mattison said that maybe, after he saw much promise in his D-line depth last spring, that he gave them too much to handle this fall.
"Maybe I've tried to teach them too many things and we've got to go back to the way we were in the spring when we were doing a better job of it and say, 'OK, let's go back and do this first,' " Mattison said. "Sometimes, when I see good things in the practice field I say, 'OK, I'm going to teach you this now, this will even help you more.' Well, you better be able to master the first one first. That's what we're going to go with."
Through three games the Michigan defensive line has accounted for just 30 tackles, one sack and six quarterback hurries.
And most of those numbers are coming from non-starters. Sophomore defensive end
Mario Ojemudia
leads the D-linemen in tackles with nine and is the only defensive lineman to record a sack.
In fact, the only starting defensive lineman who's in the top five for D-line tackles is junior defensive end
Frank Clark
, who has accounted for four tackles (as well as four quarterback hurries). Backups
Ondre Pipkins
,
Chris Wormley
and Matt Godin round out the top five.
Part of that is scheme. Mattison said that starting tackle
Quinton Washington
(who has registered just two tackles through three games) and Pipkins have seen fewer snaps as Michigan has been in more of its sub package the past few games.
"We just have to go back to the fundamentals," Black said. "When you're always having trouble or having difficulties, you just go back to your fundamentals, back to the drawing board and really tune back in to where you started and then build from there."
August, 30, 2013
8/30/13
9:00
AM ET
The Michigan football team kicks of its 2013-14 season Saturday at 3:30 p.m. against Central Michigan. The Chippewas are coming off an impressive season that included a win over Iowa and a victory over Western Kentucky in the Little Caesars Bowl. They pack a solid one-two punch with a talented wide receiver and running back, but their QB is a bit of a question mark.


It doesn't hold quite as much drama as last year's season opener against Alabama, but it's official. College football is back and here are five storylines to watch for as the Wolverines take the field.
1. Youth and inexperience on Michigan's offensive line.
This really is one of Michigan's biggest question marks heading into the season.
Graham Glasgow
,
Jack Miller
and
Kyle Kalis
combine for zero starts. Much of the offense's success rests on how well the offensive line meshes. If these young guys don't play more experienced than they are, it could be trouble. Michigan wants to go with a group rather than tweaking throughout the season and the Wolverines definitely don't want to be tweaking the line the following weekend against Notre Dame, so these three need to be stout in the middle.
2. How much the Wolverines give away offensively
On Wednesday, Brady Hoke said they wouldn't hold anything back against Central Michigan. "We got nothing to hide. We really don't," he said. "We've got nothing to hide in what we do and how we do it. I think that is really overblown when you're trying to keep something that maybe they haven't seen." Now, there's definitely truth to what he said. The Wolverines are going to be who they are and coaches know that. But
Devin Gardner
also said that this is the thickest the playbook has been at this point in the season since he has been here. They obviously won't put everything in this weekend, but I do think they'll show some. Some of that will be to work kinks out but I don't think it's completely insane to say that some of that will be to keep Notre Dame on its heels. For example, two seasons ago, Borges and Hoke unveiled the deuce package -- Gardner and Denard Robinson in at the same time -- in a 58-0 rout of Minnesota. Did Michigan need to use that then? Nope. But it did. And I don't think it's a coincidence that it was two weeks before the Wolverines traveled to East Lansing to play Michigan State. There were definitely a few wrenches thrown in Mark Dantonio's game plan.
3. The return of running back Fitzgerald Toussaint
Michigan coaches say he's 100 percent. He says he's 100 percent. Teammates say he's 100 percent. We'll finally be able to see on Saturday. It's more and more common these days to see athletes, like Toussaint, return from gruesome injuries, but it'll be interesting to see how the coaches use him, how he moves on the field and how he takes that first hit. If the Wolverines get an early lead, don't expect to see too much of him though. Michigan is still working with its running back depth and with six guys on the depth chart, the coaches will be looking for who can really be that third-down back or who they can rely on to step in for Toussaint to give him a rest (or who could overtake him, really). It won't be too crazy -- depending on the score -- if we do see three or four guys get carries as Michigan tests the waters with multiple guys.
4. CMU's senior running back Zurlon Tipton
Other than having the best name of anyone playing Saturday, he could also be the best running back on the field. As a junior, Tipton rushed for 19 touchdowns and 1,492 yards on 252 carries. His hands are solid and he accounted for 24 receptions for 287 yards last season. He's going to be the Chippewas' best offensive weapon and the Wolverines are prepared for that, but whether they'll be able to stop him is another subject entirely. Defensive coordinator Greg Mattison said Tuesday that Tipton is a "great cutback runner and he's a very physical back. He earns a reputation. You watch him, he's running down the sideline and a lot of guys would step out of bounds. He turns back in to try and hit somebody." He should provide a test for the Michigan defense right out of the blocks.
5. The depth along Michigan's defensive line
Mattison said Tuesday that he believes he has enough depth in the defensive line to run three-deep at each position. Obviously, we'd see more of guys like
Jibreel Black
,
Quinton Washington
and
Frank Clark
but don't be too surprised if you do see second- or third-string players --
Willie Henry
, Matt Godin,
Taco Charlton
,
Mario Ojemudia
-- getting into the game and making some plays. Mattison said he had this much depth once before, at Florida. The real test will come when we see if the second and third strings can get as much pressure, from a straight four-man rush, on the opposing QB. Because while Michigan might be able to run three deep against an offensive line and quarterback like Central, they might not be able to do the same against an Ohio State squad.
August, 2, 2013
8/02/13
3:00
PM ET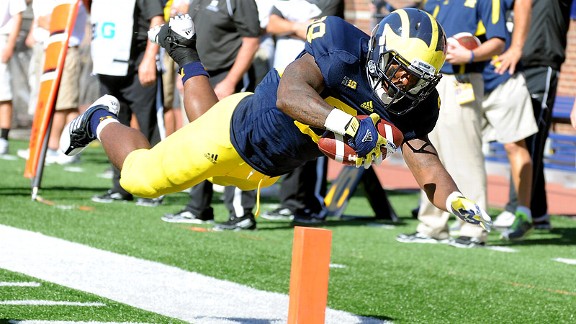 Lon Horwedell/Icon SMIFitzgerald Toussaint has been Michigan's starting tailback the last two seasons. But a broken leg suffered last year, along with talented youngsters behind him, has him in a fight for his job.
ANN ARBOR, Mich. -- As Denard Robinson adjusts to his new role as an offensive weapon playing a little bit of everywhere in Jacksonville, Michigan officially will begin its A.D. era as camp opens this weekend.
While Robinson's replacement at quarterback,
Devin Gardner
, is set, much around him will be new or contested. Michigan will unveil a more fine-tuned version of the pro-style offense it ran last season with new linemen, new wide receivers and possibly a new running back to go with it.
The defense will be playing for the first time in the Brady Hoke era without Kenny Demens at middle linebacker and Jordan Kovacs at safety as the defensive anchors.
So here's at some things to pay attention to over the next three weeks as Michigan prepares for its opener against Central Michigan on Aug. 31.
Top position battles
Running back:
One of four positions on the Wolverines with no clear hierarchy entering camp, as any one of five players could potentially win the job. Redshirt senior
Fitzgerald Toussaint
is the incumbent, but is coming off a broken leg which ended his junior season. Freshmen
Derrick Green
and
Deveon Smith
could both see playing time and will likely compete with Toussaint for the majority of the carries. Junior
Thomas Rawls
, who has yet to show a true burst in two seasons, is another possibility if he has improved. The wild card here might be redshirt freshman
Drake Johnson
, who has track speed -- he was an elite high school hurdler -- and a good frame. He likely won't win the job but could end up stealing carries.
Strong side defensive end:
Keith Heitzman
is likely entering camp as the leader here, but that's a very tenuous lead at best. He has the most experience of the players competing at end, but the youth behind him will likely at least win a share of playing time.
Chris Wormley
, who, like senior
Jibreel Black
, could play both inside and outside, is a candidate here. Wormley was a player who many thought could have played as a true freshman last year before tearing his ACL. Two other redshirt freshmen, Matt Godin and
Tom Strobel
, are also candidates here. Much like what could happen at rush end with
Frank Clark
,
Mario Ojemudia
and
Taco Charlton
, you could end up seeing a three-man rotation here unless someone stands out heavily.
Defensive tackle:
Quinton Washington
is set at one position. The other, like the strong side end, is wide open. Like at end, Wormley and Black could make big moves here -- and Black might be the presumptive starter entering camp. Watch for
Willie Henry
to make a move. The redshirt freshman impressed last season's seniors and he has the size to be a large complement to Washington. When Michigan goes jumbo, sophomore
Ondre Pipkins
, who will likely be in a rotation with Washington, could see time next to him.
Five reasons for concern
January, 17, 2013
1/17/13
11:00
AM ET
Over the next few weeks, WolverineNation will look at every position on the Michigan roster and give a depth chart analysis of each position on the roster heading into the offseason.

Michigan head coach Brady Hoke and his defensive coordinator, Greg Mattison, both have backgrounds as defensive line coaches and perhaps more than any other position on the roster, have high expectations for their defensive linemen. Hoke believes a lot of a team's success starts there.

Both also preach the importance of technique perfection -- and have for years. It is what makes this year's defensive tackles group an interesting one for the Wolverines.
August, 6, 2012
8/06/12
3:00
PM ET
Our "Inside the Game" positional previews with WolverineNation's Michael Rothstein and BuckeyeNation's Austin Ward continue in the trenches.
Ward and Rothstein discuss the contrast in the defensive lines. The Buckeyes could go as far as nine deep and believe they are among the nation's best units, while the Wolverines lost three-fourths of their top-notch line from a year ago, have another player on indefinite suspension and are unsettled at best.


Ohio State
Ward:
The expectation up front for Ohio State is not just to be better than its rivals.
It's not even to be the best in the conference.
The Buckeyes are going into this season with the goal of establishing themselves as the deepest and most talented group in the nation, and they certainly have a shot at building their case.
It helps to start at the top with the return of tireless, tenacious end
John Simon
and the emergence of
Johnathan Hankins
next to him as a force at defensive tackle, but there's plenty more ammunition than that.
Garrett Goebel
and
Adam Bellamy
round out the projected first unit, and even though he's listed behind Hankins,
Michael Bennett
could be too disruptive in the middle to keep on the sideline. When
Nathan Williams
receives full clearance from his knee surgery, he could provide another scary weapon on the edge for a team that could conceivably roll through nine guys without a substantial drop-off.
On top of that, there's a talented trio of newcomers who will fight to either be included or expand that rotation.
Noah Spence
,
Adolphus Washington
and Se'Von Pittman gave Ohio State a recruiting haul in February that would make any program envious. And it figures to set up the Buckeyes not just for a good run in the trenches this fall, but also into the next few seasons.
Michigan
Rothstein:
On a team filled with current or former defensive line coaches -- besides Jerry Montgomery both head coach Brady Hoke and defensive coordinator Greg Mattison came up as defensive line coaches before assuming loftier titles -- there is a lack of a lot of things with their former pet position.
Experience, for one, is lacking as the line will boast three new starters and the one returning starter, senior
Craig Roh
, is adjusting to added weight and a new position as a strongside defensive end.
Depth is another issue, as the Wolverines could see multiple freshmen push for time on the line behind some of the inexperienced starters.
Will Campbell and
Jibreel Black
are the likely starters on the interior of the line, with Campbell being three years of promise without production and Black adding weight and learning to play inside after being converted from defensive end. At rush end, sophomore
Brennen Beyer
slides in as the likely starter after Frank Clark's indefinite suspension due to legal issues.
Behind them are talented freshmen in
Ondre Pipkins
,
Tom Strobel
,
Chris Wormley
and Matt Godin -- all of whom could push for time.
Nathan Brink
provides some veteran stability at end and tackle, but the walk-on doesn't have a ton of experience.
It's a position full of questions at a spot where the Wolverines can't really have them, as much of what Mattison likes to do on defense comes from the expectation of a defensive line getting pressure on a quarterback.
June, 25, 2012
6/25/12
2:35
PM ET
Entrance Interview is a series at WolverineNation -- similar to our Exit Interview series -- where we chat with incoming Michigan football and men's basketball players about their thoughts as they start college, what their expectations are, and what they'll miss most about high school.
Matt Godin
(Novi, Mich./Catholic Central) is one of the closer commits to Michigan's campus, spending his high school years less than an hour away from the school. Now, the 6-foot-6, 280-pound defensive lineman has a chance to work his way into the two-deep early in his career.
WolverineNation caught up with him earlier this spring to chat about what he's expecting when he arrives in Ann Arbor.
To continue reading this article you must be an Insider
April, 25, 2012
4/25/12
11:53
AM ET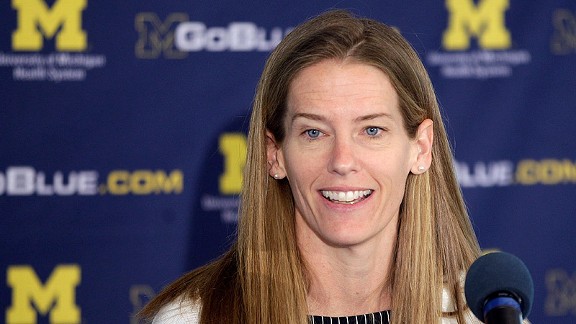 AP Photo/Carlos OsorioKim Barnes Arico comes to Michigan with a successful resume, but then again, so did the Wolverines' past two women's basketball coaches.
Summer is a time for student-athletes to recharge and prepare for their next season. But for fans, it's a solid few months where their questions pile up and turn to torment if they can't be answered.
Well, good thing we're here with the Wednesday mailbag.
To continue reading this article you must be an Insider
April, 25, 2012
4/25/12
11:00
AM ET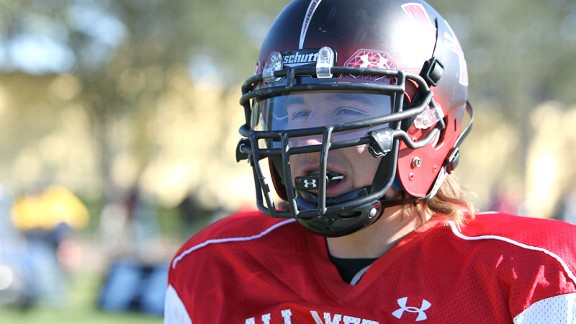 Miller Safrit/ESPN.comEarly enrollee linebacker Joe Bolden could be the starter at the Mike position in 2014.
It's always fun to look into the future and guess where players will be after the next few seasons. So Tom and Chantel decided to sit down and do their best to produce the depth chart for the beginning of the 2014 season. They aren't coaches, nor are they scouts, but this is an educated guess at what could happen over the next few seasons.
View the offensive depth chart here
.
DEFENSIVE DEPTH CHART:
WDE:
To continue reading this article you must be an Insider
March, 7, 2012
3/07/12
12:23
PM ET
January, 30, 2012
1/30/12
3:38
PM ET
WolverineNation will be running a daily series leading up to signing day with all of Michigan's commitments. It will be a Q&A to give the readers a look at each individual player.
Name
: Matt Godin
Hometown
: Novi, Mich.
To continue reading this article you must be an Insider
January, 30, 2012
1/30/12
3:35
PM ET
WolverineNation will be running Q&A's with the parents of the Michigan commitments leading up to signing day to give their perspective on the recruiting process. Here is a look at what defensive line commit Matt Godin's father had to say.
Q
: Are you happy with the way your son's recruitment turned out?
A
: We're very happy with the way it turned out. The folks at Michigan did a wonderful job from the first time we went there and Coach (Greg) Mattison did an excellent job putting things into perspective. Showing him how he would be used, what schemes they would run. He got into a lot more detail than the other coaches did. When we went on other recruiting visits they were more general. They talked about position, but Coach Mattison showed us game tape.
To continue reading this article you must be an Insider
January, 19, 2012
1/19/12
11:17
AM ET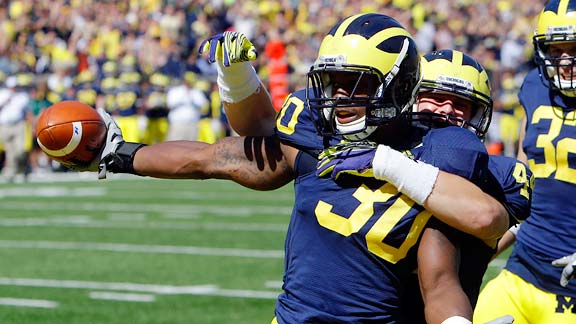 AP Photo/Carlos OsorioDon't be surprised if Thomas Gordon gets pushed by incoming freshman Jarrod Wilson for the starting spot at free safety.
Welcome to the WolverineNation roundtable, where staffers Chantel Jennings, Michael Rothstein and Tom VanHaaren discuss pressing issues and topics surrounding the Michigan sports landscape.
1. Where will the biggest position battles happen for the Michigan football team next season?
TV:
This is a good question, and I think it should be along the defensive line. With
Will Heininger
,
Mike Martin
and
Ryan Van Bergen
leaving, there is plenty of opportunity for competition, mainly among
Will Campbell
,
Quinton Washington
,
Richard Ash
,
Nathan Brink
, and some of the other guys already on the roster.
To continue reading this article you must be an Insider
December, 11, 2011
12/11/11
2:04
PM ET
This was a big visit weekend for Michigan as there were upwards of 14 prospects on hand. There were a few uncommitted recruits the coaches are going after, including tight end
Sam Grant
(Lakewood, Ohio/St. Edward) and offensive lineman
Alex Kozan
(Highlands Ranch, Co./Valor Christian), but the committed prospects made up the majority of the visitors.
Around 13 of Michigan's 2012 commitments decided they would all take their official visits on the same weekend and share the experience together.
This trip gave them all a good look at what it will be like to be in Ann Arbor next year, and what it will be like to be around each other for the next four years.
To continue reading this article you must be an Insider
Big Ten Recruiting Report Card
BIG TEN SCOREBOARD
Thursday, 8/28
Friday, 8/29
Saturday, 8/30