Michigan Wolverines:

Mark Rudner
April, 15, 2014
4/15/14
11:00
AM ET
The most exciting day of the Big Ten offseason is here. OK, not really, but it's definitely in the top five.

The first portion of the Big Ten's prime-time schedule is out as ABC/ESPN made its six selections for games to be played under the lights. The Big Ten Network will announce its prime-time picks next week. Additional kickoff times could be announced later this spring or early in the summer.
Here's the ABC/ESPN schedule:
Sept. 6
Virginia Tech at Ohio State, 8 p.m. ET, ESPN
Sept. 20
Miami at Nebraska, 8 p.m. ET, ABC or ESPN or ESPN2
Oct. 4
Nebraska at Michigan State, 8 p.m. ET, ABC or ESPN or ESPN2
Oct. 11
Penn State at Michigan, 7 p.m. ET, ESPN or ESPN2*
Oct. 25
Ohio State at Penn State, 8 p.m. ET, ABC or ESPN or ESPN2
Nov. 1
Illinois at Ohio State, 8 p.m. ET, ABC or ESPN or ESPN2
*-previously announced
A few notes, quotes and observations:
November night games
Contrary to popular belief, the Big Ten never had a strict policy against playing prime-time games after Nov. 1, but most of its schools preferred to keep those games in the first two months of the season. League members have shown an increased willingness to schedule more prime-time games, and after discussing November night contests for several years, we finally have one.
[+] Enlarge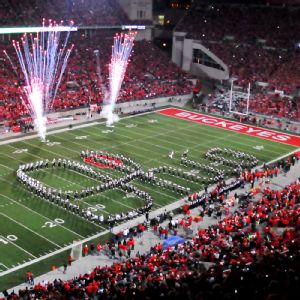 David Dermer/Getty ImagesOhio Stadium will host its first November night game in 2014.
Although the November matchup -- Illinois at Ohio State -- lacks a wow factor, this is still a positive step for the league. Also, this is
not the final list
for November prime-time games, as others will be announced in the future.
"There is a real recognition with our coaches, our athletic directors and our fans that prime-time football is very important," Mark Rudner, the Big Ten's senior associate commissioner for television administration, told ESPN.com. "It's important to the conference, it's important to recruiting, it puts you on a big stage.
"It's a big event whenever you have prime-time football."
Ohio State athletic director Gene Smith and coach Urban Meyer both have vocalized their desire for more night games. The Buckeyes get three of them on ABC/ESPN (two home, one road), and possibly more to come. It's the Urban Effect.
Huskers, Lions back in prime
No two Big Ten fan bases value night football at their home venues more than Penn State and Nebraska. The Nittany Lions and Huskers both host prime-time games on ABC/ESPN in 2014 (Nebraska didn't have an ABC/ESPN prime-time game in 2013) and make multiple appearances.
The Nebraska-Miami game should be a fun one, especially given the history between the two programs in bowl games (their last five meetings took place in major bowl games). Nebraska's visit to Michigan State is one of few must-see division crossover contests, so it makes sense in prime time.
Beaver Stadium will be rocking for the Ohio State game as former longtime Penn State assistant coach Larry Johnson makes his return to Happy Valley wearing scarlet and gray. Although Penn State remains ineligible for postseason play, the Lions' value is reflected here with East Division matchups against both Michigan and Ohio State. The Lions' consecutive winning seasons despite the bowl ban, plus the arrival of coach James Franklin, enhance the program's appeal for top TV slots.
No limits on prime-time appearances
Big Ten teams typically have had no more than three prime-time appearances per season, but like the November night games issue, this was more of a preference than a policy. As schools like Ohio State become increasingly more open to night football, the number of prime-time appearances will increase, and will occasionally exceed three.
Wisconsin played four prime-time games (two home, two road) in the 2011 season.
"That three [limit] was really self-imposed," Rudner said. "You could waive it if you wanted to. I don't know if that will be as hard and fast as it was before. They see the value in these big events, these big games."
Additional games/announcements
Some Big Ten prime-time games were previously announced, such as Michigan's Sept. 6 trip to Notre Dame and Purdue's Sept. 13 neutral-site game against Notre Dame. A game time has not been set for Wisconsin's season-opener against LSU on Aug. 30 in Houston, but the game will kick off in prime time and be televised by an ESPN network.
One thing to remember when predicting or analyzing night-game choices: other games being played in the same window. Prime-time kickoffs offer certain benefits, but teams don't like being overshadowed in the late window.
May, 16, 2013
5/16/13
4:00
PM ET
The
Big Ten released its 2014 league schedule
earlier Thursday, completing what its architect Mark Rudner called a "long, arduous process" of crafting a slate with two new teams, two new divisions and a second open week.
ESPN.com caught up with Rudner, the Big Ten's senior associate commissioner for television administration, to discuss how the 2014 schedule came together.
It's important to note the Big Ten compiled the 2014 slate based upon principles green-lighted by its athletic directors.
They are:
Nonconference games that had been previously contracted were protected. For example, Northwestern visits Notre Dame on Nov. 15, 2014, so the Big Ten made sure not to schedule the Wildcats on that day. Also, Penn State and Rutgers had a previously scheduled non-league game for Sept. 13, 2014, which became a conference game with Rutgers joining the Big Ten. The date wasn't changed.
No more than two consecutive road games
Each team must play two home games and two road games in each half of the season
It's not as if athletic directors ask the league not to schedule multiple rivalry games on the road every year.
"Once you do that," Rudner said, "you're at risk of never having a schedule."
There has been some reaction to Michigan facing in-state rival Michigan State in road games in consecutive seasons (2013, 2014) and Purdue visiting Indiana for the Bucket game the same two years. The Wolverines
never have played the Spartans in East Lansing in back-to-back years
and haven't hosted MSU in consecutive years since 1967-68.
Although it'll be new for Michigan, such back-to-backs are fairly common when a scheduling model changes. Between 2010-11, there were 13 instances of back-to-back matchups, including rivalry games like Iowa-Minnesota (both games in Minneapolis) and Penn State-Ohio State (both games in Columbus) and other good matchups like Wisconsin-Michigan State (both games in East Lansing).
"It's unavoidable," Rudner said. "It happened five times in 2008-2009. So it's not foreign, it's not ideal, but it's unavoidable. When you're introducing new institutions and you dole out home and road games, it just happens."
Big Ten commissioner
Jim Delany has said "parity-based scheduling,"
where teams will face one another more often in crossovers based on historical success,will begin in 2016, will begin once the league goes to a nine-game conference schedule. Rudner said the league asked the ADs if they wanted to start the nine-game schedules in 2014 but they couldn't because of so many signed contracts for non-conference games. If they had, the 2014 would have incorporated parity scheduling.
The 2014 slate ultimately features none of it, as the traditional powers in each division -- Ohio State, Michigan and Penn State in the East, and Nebraska, Wisconsin and Iowa in the West -- don't play at all.
"I don't think it's going to hurt us," Rudner said. "Brand is strong enough. There are enough games that are strong that'll drive television interest. Short of a full round-robin, which nobody in our conference wanted to do, you're going to have these sort of issues."
A few other schedule notes:
Rudner and his staff didn't have a directive to schedule mostly division games in November, but it worked out that way as most teams will play exclusively in their division or play only one crossover in the season's decisive month. "Ideally, that's what we would like to do," Rudner said. "It makes a lot of sense to play division games late in the season, toward a championship."
The Big Ten doesn't look at long-term trends of how often teams open league play on the road when crafting schedules. Athletic directors haven't asked it to a be a principle of building schedules. "It's never been important to them," Rudner said. "What they want to avoid is long road trips and making sure there's balance, home and away, in each half of the season. The rest of it, they can live with. Not everybody plays the same kind of schedule, but they do it based on those principles. They look at it and say, 'That's fair. Let's do it.'" Penn State, by the way, will open league play on the road for the fifth straight year and for the ninth time in the past 11 seasons.
That new members Maryland and Rutgers host traditional powers Ohio State and Michigan on the same day (Oct. 4) was pure coincidence, Rudner said.
The 2015 Big Ten schedule, which should be released by the end of the month, will feature the same matchups at the opposite locations. The league has to maneuver around some previously scheduled non-league games before finalizing the slate.
Michigan C Cites Concussions In Decision To Quit
BIG TEN SCOREBOARD
Thursday, 9/3
Friday, 9/4
Saturday, 9/5
Sunday, 9/6
Monday, 9/7