Michigan Wolverines:

Marcus Hall
May, 12, 2014
5/12/14
10:30
AM ET
Thirty Big Ten players heard their names called
during the 2014 NFL draft, but many others received phone calls immediately after the event. The undrafted free-agent carousel is spinning, and players from around the Big Ten are hopping aboard.
Unlike the draft, the UDFA list is somewhat fluid, and other players could get picked up later today or in the coming days. To reiterate:
This is not the final list
.
Here's what we know right now from various announcements and media reports:

ILLINOIS
LB Jonathan Brown, Arizona Cardinals
WR Ryan Lankford, Miami Dolphins
TE Evan Wilson, Dallas Cowboys
WR Steve Hull, New Orleans Saints
WR Spencer Harris, New Orleans Saints
Notes:
Illini OT Corey Lewis, who battled knee injuries throughout his career, told Steve Greenberg that
several teams are interested in him
if he's cleared by doctors.

INDIANA
WR Kofi Hughes, Washington Redskins
RB Stephen Houston, New England Patriots
Notes
: S Greg Heban and K Mitch Ewald have tryouts with the Chicago Bears.

IOWA
LB James Morris, New England Patriots
OT Brett Van Sloten, Baltimore Ravens
G Conor Boffeli, Minnesota Vikings
WR Don Shumpert, Chicago Bears
LS Casey Kreiter, Dallas Cowboys

MARYLAND
LB Marcus Whitfield, Jacksonville Jaguars
CB Isaac Goins, Miami Dolphins

MICHIGAN
LB Cam Gordon, New England Patriots
S Thomas Gordon, New York Giants
Notes:
RB Fitzgerald Toussaint (Baltimore), DT Jibreel Black (Pittsburgh), LS Jareth Glanda (New Orleans) and DT Quinton Washington (Oakland)
will have tryouts
.

MICHIGAN STATE
LB Denicos Allen, Carolina Panthers
S Isaiah Lewis, Cincinnati Bengals
T/G Dan France, Cincinnati Bengals
WR Bennie Fowler, Denver Broncos
LB Max Bullough, Houston Texans
DT Tyler Hoover, Indianapolis Colts
DT Micajah Reynolds, New Orleans Saints
OL Fou Fonoti, San Francisco 49ers
Notes:
LB Kyler Elsworth has a tryout scheduled with Washington.

MINNESOTA
LB Aaron Hill, St. Louis Rams

NEBRASKA
QB Taylor Martinez, Philadelphia Eagles
OT Brent Qvale, New York Jets
CB Mohammed Seisay, Detroit Lions
DE Jason Ankrah, Houston Texans
C Cole Pensick, Kansas City Chiefs
OT Jeremiah Sirles, San Diego Chargers
Notes:
CB Ciante Evans has yet to sign but will do so soon. DB Andrew Green
has a tryout with the Miami Dolphins
.

NORTHWESTERN
WR Kain Colter, Minnesota Vikings
K Jeff Budzien, Jacksonville Jaguars
WR Rashad Lawrence, Washington Redskins
DE Tyler Scott, Minnesota Vikings

OHIO STATE
S C.J. Barnett, New York Giants
K Drew Basil, Atlanta Falcons
WR Corey Brown, Carolina Panthers
G Andrew Norwell, Carolina Panthers
G Marcus Hall, Indianapolis Colts
WR Chris Fields, Washington Redskins

PENN STATE
OT Garry Gilliam, Seattle Seahawks
LB Glenn Carson, Arizona Cardinals
S Malcolm Willis, San Diego Chargers
Notes:
OT Adam Gress will
have a tryout with the Pittsburgh Steelers
.

PURDUE
DE Greg Latta, Denver Broncos
S Rob Henry, Oakland Raiders
G Devin Smith, San Diego Chargers
DT Bruce Gaston Jr., Arizona Cardinals
Notes:
P Cody Webster will have a tryout with Pittsburgh.

RUTGERS
WR Brandon Coleman, New Orleans Saints
WR Quron Pratt, Philadelphia Eagles
LB Jamal Merrell, Tennessee Titans
DE Marcus Thompson, Miami Dolphins
S Jeremy Deering, New England Patriots
Notes:
According to
Dan Duggan
, DE Jamil Merrell (Bears) and G Antwan Lowery (Baltimore) will have tryouts.

WISCONSIN
G/T Ryan Groy, Chicago Bears
TE Jacob Pedersen Atlanta Falcons
TE Brian Wozniak, Atlanta Falcons
DE Ethan Hemer, Pittsburgh Steelers
Quick thoughts:
Martinez's future as an NFL quarterback has been heavily scrutinized, but Chip Kelly's Eagles are a fascinating destination for him. Whether he plays quarterback or another position like safety, Kelly will explore ways to use Martinez's speed. ... The large Michigan State contingent is still a bit startling. The Spartans dominated the Big Ten, beat Stanford in the Rose Bowl, use pro-style systems on both sides of the ball and had just one player drafted. Bullough, Allen and Lewis all were multiple All-Big Ten selections but will have to continue their careers through the UDFA route. ... Colter certainly
looked like a draft pick during Senior Bowl practices
in January, but that was before his ankle surgery and his role in leading the unionization push at Northwestern. I tend to think the injury impacted his status more, but NFL teams have been known to shy away from so-called locker-room lawyers. ... Other Big Ten standouts like Jonathan Brown, Morris and Pedersen were surprisingly not drafted. Morris should be a great fit in New England. ... Coleman's decision to leave Rutgers early looks questionable now that he didn't get drafted.
February, 17, 2014
2/17/14
12:00
PM ET
These links are presidential.
December, 9, 2013
12/09/13
10:00
AM ET
With apologies to Ohio State fans, the Big Ten championship game was a smashing success.
[+] Enlarge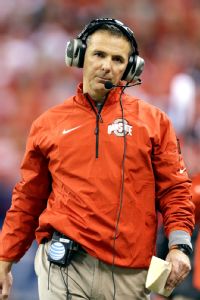 AP Photo/Michael ConroyIt's time to give Urban Meyer credit for taking some strong disciplinary actions.
Two top-10 teams battling it out in prime time with national title implications created the most juice in the game's short history. According to the overnight Nielsen ratings, an estimated 11.6 million viewers watched Michigan State's 34-24 win over the Buckeyes. That's more than twice as large as the audience for last year's game between Nebraska and Wisconsin, which drew 5.1 million. The inaugural game between Michigan State and Wisconsin in 2011 attracted just more than 7 million viewers.
And despite some challenging weather in Indianapolis, the title game had its best crowd in three years. The presence of Ohio State surely helped, as it appeared that scarlet and gray made up about 70 percent of the stands at Lucas Oil Stadium. Attendance figures for the first three Big Ten title games:
2013:
66,002
2012:
41,260
2011:
64,152
Take that and rewind it back ...
For good measure:
Ohio State coach Urban Meyer has faced a lot of criticism for his disciplinary measures and player conduct from his time at Florida. So it's only fair to commend Meyer for taking strong disciplinary actions with the Buckeyes.
There was much hand-wringing last week about the lack of additional punishment for Ohio State offensive lineman
Marcus Hall
, who got a public reprimand from the Big Ten but nothing more after he was ejected for fighting at Michigan and offered his now infamous two-gun salute to the crowd. Meyer announced on Friday that Hall wouldn't start against Michigan State, which led to a lot of wisecracks about Hall coming in on the second or third play.
But Meyer kept Hall sidelined the entire Big Ten championship game. Even when Ohio State fell behind 17-0 and was doing nothing on offense early on, Hall stayed glued to the bench. For a senior to miss three quarters of his team's biggest rivalry game and then the conference title game, that's pretty stern discipline.
Meyer said Saturday night that he'd decided not to play Hall "a while back." Both Ohio State and the Big Ten could have avoided criticism had Meyer announced early in the week that Hall was suspended for the game. But the Buckeyes probably didn't want Michigan State to have that information.
Meyer's other disciplinary moves during his Ohio State tenure, including the three-game suspension for
Carlos Hyde
and one-game suspension for
Bradley Roby
earlier this year, have all seemed fair. So it's time to cut the Buckeyes' coach some slack in that department.
Big Man on Campus (offense):
Raise your hand if you predicted in the preseason, or even in September or October, that
Connor Cook
would be MVP of the Big Ten championship game. But Michigan State's sophomore quarterback earned it by throwing for a career-high 304 yards and three touchdowns, delivering some terrific, clutch throws all night. Cook is uncannily confident in himself, and he's inspiring confidence with the way he's been playing.
[+] Enlarge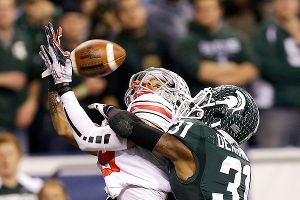 AP Photo/Michael ConroyDarqueze Dennard played a big role in Michigan State's success against Ohio State.
Big Man on Campus (defense):
Ohio State's airspace was under strict no-fly zone restrictions thanks largely to the play of cornerback
Darqueze Dennard
. As he so often does, Dennard locked up his side of the field. He had two big pass breakups, and the Buckeyes went just 8-of-21 for 101 yards through the air, including an 0-for-5 showing by
Braxton Miller
in the fourth quarter.
Big Man on Campus (freshman):
Despite the loss, Ohio State's
Joey Bosa
introduced himself to the country as a future major star. Bosa created havoc all night from defensive end, finishing with two tackles for loss, a sack and three total quarterback hurries. It seemed like he was in the backfield all night.
Noah Spence
and
Adolphus Washington
got all the preseason pub, but Bosa looks like the most fearsome Buckeyes pass-rusher of the future.
Bring on 2014:
We're about to say goodbye to both the dreaded BCS and its
ridiculous use of the coaches' poll
. Even more promising changes are in store for next season when it comes to bowls.
Leagues like the Big Ten promise to have a much greater input on bowl matchups starting in 2014. That should help prevent a situation like we got on Sunday, when the Buffalo Wild Wings Bowl took Michigan over Nebraska to play Kansas State. Selecting the Wolverines might have been in the best interest of that bowl, but it created a matchup with no history or really much of a storyline. It also meant the TaxSlayer.com Gator Bowl got a rematch nobody wanted in Nebraska-Georgia.
It would make much, much more sense, both geographically and in terms of the matchups, to have Kansas State-Nebraska and Michigan vs. Georgia games. The Huskers went to the same bowl in back-to-back years in the 2009 and 2010 seasons (Holiday) and again in 2011 and 2012 (Capital One), and now they play the same team as last year.
Of course, bowls and common sense have rarely gone together. Maybe next year they will.
Fun with numbers (via ESPN Stats & Info):
Miller did not convert a first down on 11 third- or fourth-down attempts, including the stuffed fourth-and-2 rush that all but clinched the game. Miller entered Saturday with a 91.7 Total QBR on third and fourth downs, ninth-best in the FBS. He had converted 49 percent of those downs while averaging 8.1 yards per play the first 12 games of the season. Against Michigan State, he averaged minus-1.4 yards in those situations.
Overall, Ohio State converted just 1 of 12 third or fourth downs against Michigan State. That was its lowest conversion percentage in the past 10 seasons. Entering the game, the Buckeyes had converted 54 percent of third- or fourth-down chances this season, the sixth-highest percentage in the FBS.
December, 4, 2013
12/04/13
5:00
PM ET
How many of you will be milling around downtown Indianapolis this weekend? Maybe we'll see you there. For now, let's correspond via email:
Alex from Denver, N.C., writes:
Please tell me how the two OSU players can avoid being suspended for an entire game, while Will Gholston in 2011 is suspended for what he did in the Michigan game. Watching the OSU player exit the stadium was ridiculous and the OSU community should be ashamed of that behavior. The Big Ten should be ashamed of condoning that behavior. If you don't discipline it, then you allow it.
Brian Bennett:
The argument from the Big Ten is that
Marcus Hall
and
Dontre Wilson
were ejected from the Michigan game, and that satisfied the requirement of revoked playing time. William Gholston was not ejected from the game against Michigan in 2011 but was suspended by the league for the following game. There is some logic to that argument, especially as it applies to Wilson. As for Hall, I believe some additional punishment was warranted for his double-bird salute as he walked off the field (Urban Meyer said he has handed out internal discipline to Wilson and Hall and another player). And there were other players involved in the scrum who could have faced suspensions.
My big problem with the ruling is that the fight was an ugly scene in the league's most high-profile game, and it looks as if the Big Ten is protecting its two marquee teams and its championship game. Handing down even a smaller suspension like one quarter would have carried some symbolic weight. Instead, the completely meaningless "public reprimand" comes off looking extremely weak and does nothing to curb incidents like that in the future.
Victor from Columbus, OH, writes:
Is it just me or does this Ohio State team have that underdog destiny feeling about them? This team reminds me a lot of the 2002 national championship team. OSU isn't dominating opponents, many people nationally aren't giving them a shot, but most importantly, this team refuses to lose! Even with a decisive win (if OSU wins) this coming Saturday, I believe OSU would still be a relatively large underdog in the BCS championship game. Last time that happened OSU won the national championship and shocked the country. Do you feel the destiny or is it just us OSU fans being over optimistic?
Brian Bennett:
Ohio State as underdog? That's something you don't hear much. It's hard to say a team coached by Meyer coming off an undefeated season is in any way an underdog; remember that the Buckeyes were ranked No. 1 in some preseason polls. The 2002 team was coming off a 7-5 campaign and was not ranked in the Top 10 to start the year, and those Buckeyes had a lot of close, low-scoring games.
Ohio State does, however, figure to be an underdog in a potential BCS matchup with Florida State. But it won't be anything like that scenario against Miami and its roster full of future pros in the Buckeyes' last national championship game win. Things have broken right for Meyer's team this year in that other contenders like Alabama, Oregon, Baylor and Stanford have all lost. And it goes without saying that Florida State has a possible major issue on its hands. So in that sense, perhaps the Buckeyes are a team of destiny.
Justin A. from Columbus, Ohio, writes:
First of all I'd like to say that as a Michigan fan living in Columbus, Ohio life can be rough. Attending The Game this past Saturday, felt like a dream that was ended by a rude awakening. It was a heartbreaking loss and I am proud of my team yet I am sure I will hear plenty of smack talk at work on Monday. As for my question, what does more for the Big Ten's perception: Michigan State beating Ohio State in the B1G CG and MSU playing Stanford in the Rose Bowl and OSU getting matched up with Missouri or Alabama and then both B1G teams beat those teams in their bowl games, or OSU winning the national championship against a Florida State team and hearing about how the SEC didn't have a chance to defend its title streak? I think both scenarios would greatly boost the Big Ten's image, yet I can't decide which scenario would boost it more.
Brian Bennett:
I feel for you Justin, and for Michigan fans everywhere. I can imagine it's not too fun to see your two biggest rivals play for the Big Ten championship on Saturday. As for your question, I'll go with the national championship. Sure, there would be some griping from the SEC that Ohio State lucked its way to a title, and even more so nationally if
Jameis Winston
weren't available for Florida State. Still, when people talk about SEC dominance, do they bring up BCS bowl wins? No, they brag about national titles. That's the ultimate prize, and it's been 12 years since a Big Ten team held the crystal football. People would forget in time the circumstances around the championship, but -- as they say -- flags fly forever. A national title from the Big Ten would also give the league a nice boost heading into the playoff era.
Rob NitLion from Morristown, N.J., writes:
I understand the annual awards are individual based, but how can a Michigan offensive lineman POSSIBLY win a conference award? Again, I understand this is an individual award, and
Taylor Lewan
won the award last year, but let's look at some of the stats that directly relate to the offensive line. Team Sacks allowed -- 3rd worst in B1G. Rushing yards per game -- 2nd worst. So the offensive line couldn't pass protect very well (even with a very mobile QB) and couldn't open up running lanes (again includes yards Gardner earned when protection broke down). What exactly did Lewan do to earn this award?
Brian Bennett:
Michigan would tell you that Lewan graded out higher this year than he did a season ago when he was a first-team All-American and the Big Ten offensive lineman of the year for the first time. They'll also say that he didn't give up a sack this year. I feel for Lewan, and offensive line is one area where every single player has to be in sync or the whole thing breaks down. The Wolverines' well-documented blocking woes weren't Lewan's fault. Still, I think some of that lack of team success has to be factored in, and I saw Lewan lose his composure in the Michigan State game. My pick for offensive lineman of the year in 2013 would have been Ohio State's
Jack Mewhort
.
Brutus from The Ninth Circle writes:
Hey, Brian, not sure how to read the Penn State win against Wisconsin this past weekend. Do you think BO'B squad exceeded their potential, or did they finally just live up to it? I'm thinking it's the latter, in that the talent was there all season but just hadn't been working together at the same time. Seems like they may have a a brighter future than some predicted.
Brian Bennett:
Keeping in mind the obvious depth and talent issues that Bill O'Brien faced, there were definitely times that Penn State underachieved this season. The Nittany Lions lost by 20 to Indiana, probably should have lost to Illinois at home and got smoked by 49 points at Ohio State. The defense was a major problem, as was inconsistency on offense. Don't forget that the Lions played with a true freshman quarterback. I saw Penn State as team with some very good players that was capable of putting together strong performances at time. It just happened that its best performance came at the end.
Kevin from Evanston writes:
With Northwestern being a Top-5 APR school can't they go bowling at 5-7? If they were to go to the Little Caesars Bowl in Detroit, plenty of fans would travel.
Brian Bennett:
There is a way that Northwestern could get into a bowl. I wrote about this last year when the NCAA approved a new bowl waiver. Basically, if there aren't enough 6-6 teams to fill all the postseason slots, the bowls can pick other teams in this order:
Teams that finish 6-6 with wins against two FCS opponents;
Teams that finish 6-7 by losing in their conference title game;
Teams that finish 6-7 but normally play 13 games (so, basically, Hawaii);
FCS teams in transition to the FBS that are at least 6-6
FBS teams that finish 5-7, but finish in the Top 5 of the NCAA's academic progress rate
Northwestern ranked No. 1 in the APR so would be eligible under that fifth clause. But it's not going to happen this year. There are 35 bowl games, and more than 70 teams are already at least 6-6 with more possibilities to come this weekend. So the Wildcats will be staying home.
Jim from Albuquerque, N.M., writes:
I think Bo Pelini is right. You take all the media hype about whether or not he is on the hot seat, and it's not right. I am glad he stood his ground. The media is not into "equal harassment." As for the refs, they made a bad call on a block NU's wide receiver made on a PSU defender. I would have been angry as a head coach too. That was a reasonable block; and the receiver's head was in front of the defender. The media is ruthless and should be censured for damage they can inflict on a football program's image. And there should be legal implications.
Brian Bennett:
Sure, Jim. It's the media's fault that Nebraska gave up 70 points in the Big Ten championship game last year and had a whole bunch of fans ready to make a change. It's the media's fault that Pelini has lost four games every year. It's the media's fault that Pelini hasn't delivered a conference championship or a BCS bowl. It's the media's fault that Nebraska continually shoots itself in the foot with turnovers and has the same volatile personality as its head coach. It's the media's fault that Pelini nearly hit an official with his hat and then cursed in his postgame press conference that was broadcast live, just the latest in a long line of examples of Pelini failing to control his anger.
Yep, all of that is on reporters, because certainly no one else had ever talked about or considered that Pelini might get fired. To borrow another man's words, If you want to arrest me, go ahead and arrest me.
December, 2, 2013
12/02/13
8:30
PM ET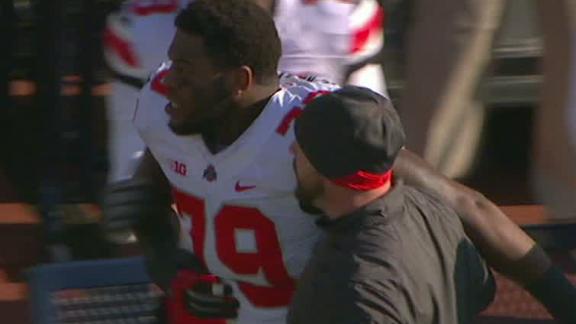 The Big Ten finally has a championship game that rivals the SEC's in national significance.
Unfortunately, the Big Ten is following the SEC's lead in another area: handing out discipline.
A league that considers itself a cut above in every area, including player conduct, had an opportunity to make a statement in the wake of Saturday's fight in the Ohio State-Michigan game. Instead,
the league went soft
, ensuring that its championship game, and Ohio State's national title hopes, would be unaffected by the ugly and embarrassing incident.
Here's what we learned from the Big Ten's ridiculous response Monday night:
Fighting doesn't have long-term consequences. Twisting a helmet? Go right ahead.
Just conduct yourself like a gentleman afterward.
After spending two days reviewing the officials' report from the game and the video of the fracas, the Big Ten decided to hand down no additional discipline to the Ohio State and Michigan players involved. The league merely issued a public reprimand -- the wussiest punishment possible -- for Ohio State offensive lineman
Marcus Hall
and the Buckeyes' coaching staff after Hall gave the crowd a double-bird salute following his ejection from the game. No other players were named by the league, which praised both coaching staffs for defusing the fight.
Ohio State's
Dontre Wilson
and Michigan's
Royce Jenkins-Stone
also were ejected Saturday, but they and others -- like Buckeyes wide receiver
Michael Thomas
and Michigan defensive back
Delano Hill
-- were spared any blowback from the conference.
The Big Ten is falling back on the NCAA's fighting policy, which calls for players ejected in the first half of a game to miss only the remainder of that game. Although the league has issued suspensions before for throwing punches, they have come for players who weren't ejected during the game.
The league had an opportunity to do more and show that behavior like Saturday's, even in a bitter rivalry game, is unacceptable and has long-term consequences. Monday's wimpy response will be seen as an effort to protect the league's title game and one of its biggest brands in Ohio State.
Criticize Ohio State coach Urban Meyer if you want for not tacking on additional playing-time penalties for Hall and Wilson. Honestly, I don't know many coaches who would have. They're trying to win championships and can impose some internal discipline. Michigan State didn't suspend William Gholston for his actions in the 2011 Michigan game, so the Big Ten stepped in with a suspension. The league should have done the same in this case.
Even a half-game suspension, which the SEC probably has trademarked, would have shown some teeth here. Instead, the Big Ten protects its championship game from being affected, and its biggest brand from being impacted in its quest to reach the national title game.
Monday's response will add to the widely held belief by many Big Ten fan bases that the league goes all out to protect Ohio State and Michigan. The response will bring more heat for league commissioner Jim Delany, who still gets ripped for going to bat for Ohio State's "Tat-5" to play in the 2011 Sugar Bowl.
The championship game is a national showcase opportunity for the Big Ten, a chance to display its best product and the values it holds so dear. You'll hear a lot about honoring legends and building leaders, and big lives and big stages.
Then Wilson might return the opening kickoff, and Hall will take the field with Ohio State's starting offensive line. Are those the images the Big Ten wants to present?
"As bad as it was, we're fortunate the incident did not escalate any further," the Big Ten's SECtatement reads. "More can, and should, be done by both coaching staffs in the future to prevent similar incidents."
The Big Ten could have and should have done more, but chose to do the bare minimum.
November, 30, 2013
11/30/13
7:10
PM ET
ANN ARBOR, Mich. -- The Ohio State Buckeyes were losing it: the game, their composure and possibly their perfect season.
They admittedly became too wrapped up in the emotion of The Game. They started by yapping at Michigan players before and after the whistle. Things quickly got much uglier. A
brawl following a Buckeyes kickoff return
early in the second quarter resulted in two Ohio State players (starting right guard
Marcus Hall
and H-back/returner
Dontre Wilson
) and one Michigan player (linebacker
Royce Jenkins-Stone
) being ejected for throwing punches.
"Disappointed with that; I don't know where that came from," Ohio State coach Urban Meyer said. "That's unacceptable."
[+] Enlarge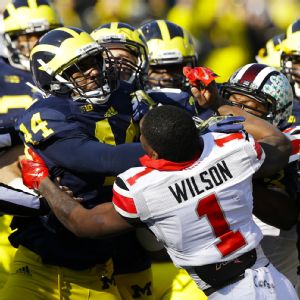 AP Photo/Carlos OsorioDontre Wilson was one of two Ohio State players ejected after this second-quarter brawl at Michigan.
Hall exited the field with both middle fingers raised to the crowd. No, he wasn't making the "H" in O-H-I-O. The image quickly made its way around Twitter.
It could have been the lasting image from Ohio State's first loss under Meyer, one that would have ended the Buckeyes' quest for the crystal football.
Instead, No. 3 Ohio State provided some other snapshots not soon to be forgotten in one of the most memorable editions of The Game in its storied history, one Meyer called an instant classic. The Buckeyes will remember running back
Carlos Hyde
, responding from his fourth-quarter fumble, triggering an overpowering six-play, 65-yard drive that he capped with a 1-yard touchdown run with 2 minutes, 20 seconds to play. Hyde finished with more rushing yards (226) than any Buckeyes player has ever had against Michigan.
They'll also remember redshirt freshman nickelback
Tyvis Powell
stepping in front of a slant pass to
Drew Dileo
on the game's decisive two-point play to record the clinching interception. Linebacker
Ryan Shazier
said the Buckeyes had prepared for two conversion plays from Michigan and the Wolverines ran one of them.
Most of all, they'll remember a
42-41 victory
against a Michigan team that gave its best effort in months.
"That was our season on the line," Powell said. "We had 12-0, Gold Pants, chances for the national championship. It just hit me, like, 'Wow, I kind of just saved the season.'"
Quarterback
Braxton Miller
, who had 153 rushing yards and three touchdowns to go along with two passing touchdowns, noted that every game doesn't go perfectly and teams must handle adversity. But Ohio State hadn't faced any real adversity in weeks, not since an Oct. 19 home game against Iowa, which led at halftime and tied the game entering the fourth quarter. That day, the Buckeyes turned to Miller, Hyde and the Big Ten's best offensive line to mount long, sustained drives.
[+] Enlarge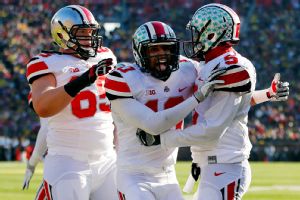 Gregory Shamus/Getty ImagesBraxton Miller rushed for three touchdowns and threw for two at Michigan.
It was a similar formula Saturday as Ohio State's defense had no answers for quarterback
Devin Gardner
and a suddenly dynamic Michigan offense, which stirred from its month-long slumber with a brilliant game plan that produced 603 yards and 31 first downs. The Wolverines gained just 158 yards the previous week at Iowa; they had 208 in the first quarter Saturday.
"They kind of looked like a different team," said Shazier, who added 14 more tackles to his swelling season total. "But we knew that would happen. ... It's called a rivalry."
It's a rivalry Ohio State continues to dominate, winning nine of the teams' past 10 meetings. There was little talk afterward of Michigan State and the upcoming Big Ten title game, or the lack of style points in beating an unranked opponent, or where the Buckeyes would wind up in Sunday night's BCS standings.
The road ahead, at least for now, didn't matter much to Meyer or his players.
"We're living in the moment right now," tight end
Jeff Heuerman
said. "It was such a crazy ending. Everyone's head is still spinning. A win's a win, and we'll take it however we can get it. What's 12 times two? Twenty-four straight wins.
"I'm an econ major. I shouldn't have said that out loud."
Ohio State's overall stock likely fell Saturday, particularly a defense that "didn't execute very well," Meyer said. But it's easy to invest in an offense that has looked unstoppable during Big Ten play, averaging 46 points and 531.3 yards in eight league contests.
The Buckeyes answered three Michigan touchdowns Saturday with touchdowns of their own.
"They matched score for score, and that's tough to do on the road," Meyer said.
Hyde has 1,249 rushing yards and 14 touchdowns in league play, telling ESPN.com that he runs "angry" because of his three-game suspension to begin the season. While Meyer knew his defense needed a breather before the two-point play, the Buckeyes offense was ready for overtime, if needed.
"[Michigan] went for two because they didn't want to go to overtime," Hyde said. "They knew what was going to happen. We would have scored; I have no doubt. We were having success all day."
The days ahead will bring bigger challenges for the Buckeyes, starting with the potential fallout from the fight. The Big Ten is reviewing the officials' report from Saturday's game, as well as video from the fight, to determine if additional discipline is warranted.
Meyer noted after the game that since the fight occurred in the first half, any suspension might not carry over. But the Big Ten typically has added a full game to any player ejected for throwing punches.
"Am I concerned? We're going to enjoy this win, get on the bus and go home," Meyer said, before adding, "I'm concerned about everything."
The fight still could end up costing the Buckeyes, but it didn't on Saturday. They regained their composure just in time, made just enough plays to beat a rival and preserved perfection for another week.
Next stop: Indianapolis.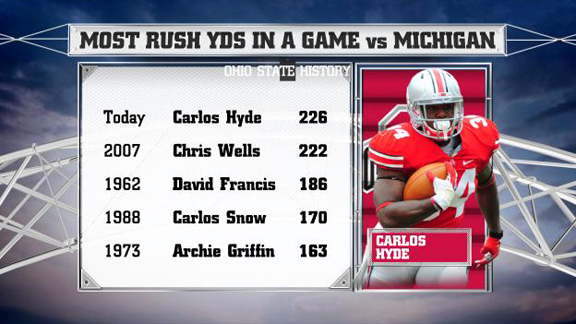 ESPN Stats & Information No Ohio State player has ever rushed for more yards against Michigan than Carlos Hyde did Saturday.
August, 20, 2013
8/20/13
12:34
PM ET
Game week is rapidly approaching ...
August, 7, 2013
8/07/13
3:08
PM ET
July, 24, 2012
7/24/12
2:30
PM ET
It's time to jump back into our preseason position rankings with a look at the offensive line units.
On Friday, we ranked the
top individual players at the position
. These unit rankings reflect star power as well as depth. We're heavily weighing these on last year's performance, along with potential for the 2012 season.
Away we go:
1. Wisconsin:
Sure, the Badgers lost two All-Americans (Kevin Zeitler and Peter Konz) from last year's line. But they've earned the benefit of the doubt for their ability to reload up front. Left tackle
Ricky Wagner
is an Outland Trophy candidate, and center
Travis Frederick
should be one of the best in the Big Ten. The key will be how the new-look right side with
Rob Havenstein
and likely
Robert Burge
moving into starting roles.
[+] Enlarge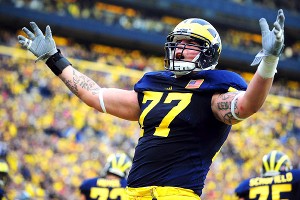 Andrew Weber/US Presswire With top tackle Taylor Lewan returning, Michigan fields one of the best offensive lines in the Big Ten.
2. Michigan:
The Wolverines might have the top tackle in the league with junior
Taylor Lewan
, and guard
Patrick Omameh
is a three-year starter. Senior
Ricky Barnum
is taking over for David Molk at center.
Michael Schofield
should be solid at right tackle, though the left guard spot remains a competition. It should be a strong starting group, though depth here is a major concern.
3. Michigan State:
This could be the best offensive line Mark Dantonio has had in East Lansing. Six players who started games last year are back, and there will be depth and competition at several spots. Third-year starter
Chris McDonald
is one of the league's top guards, while tackles
Dan France
and
Fou Fonoti
are dependable.
Harbaugh: Split With 49ers Not Mutual
BIG TEN SCOREBOARD
Thursday, 9/3
Friday, 9/4
Saturday, 9/5
Sunday, 9/6
Monday, 9/7