Michigan Wolverines:

Marcelys Jones
January, 14, 2014
1/14/14
10:30
AM ET
The
ESPN 300 has been updated
and the Big Ten saw plenty of movement for its commits, both up and down the list. Here is a look at the five biggest movers within the ESPN 300.
Smith shoots up the rankings
Defensive back
Erick Smith
(Cleveland, Ohio/Glenville) recently committed to Ohio State to join teammates
Marcelys Jones
and
Marshon Lattimore
as future Buckeyes. Previously ranked No. 228 overall, Smith moved up 45 spots to 183 in the new rankings. He is a big safety who will add a lot to the Ohio State defense in the future. Smith was an Army All-American and had an outstanding week of practice. His rise in the rankings was earned on the field and should make Buckeyes fans happy he will be in Columbus next season.
November, 11, 2013
11/11/13
8:00
AM ET
The Big Ten conference standings are taking shape and battles are heating up on the recruiting trail. Here is a look at the latest happenings in recruiting over the weekend.
To continue reading this article you must be an Insider
September, 10, 2013
9/10/13
8:00
AM ET
Each class within the Big Ten has its strengths and weaknesses, but there is a lot of talent joining the conference. Here is a look at the top classes in the Big Ten by position.
Quarterback
Strongest class: Penn State
To continue reading this article you must be an Insider
September, 3, 2013
9/03/13
8:00
AM ET
There are still big holes to fill in recruiting for the 2014 class and top targets still on the board. A lot of position groups are being addressed in recruiting, but not many have been completely filled.
Big Ten recruiting writers Tom VanHaaren and Brad Bournival take a look at the most important position for each Big Ten team in the 2014 class.
To continue reading this article you must be an Insider
August, 23, 2013
8/23/13
11:00
AM ET
It's time to dip into the Big Ten recruiting mailbag and answer some of your questions. We'll try to give everyone a chance to get their questions answered. We encourage you to send your questions by Twitter to
@bbournival
or @TomVH. Feel free to email us as well at
bradbournival.espn@gmail.com
or
TomVHESPN@gmail.com
.
@UMKirwin12:
What three players in this class fit the biggest need for their team and will have the biggest impact on their freshmen season?
TomVanHaaren:
There are names that stick out to me, but it doesn't mean the other commitments in different classes aren't important to their respective teams.
The commits that stick out, though, are Michigan commit
Jabrill Peppers
, Michigan State commit
Brian Allen
and Penn State commit De'Andre Thompkins.
Peppers is the top-ranked cornerback in the nation and will provide Michigan with something the defense doesn't currently have. He has excellent size and speed and will be able to cover receivers, but also help in the run game. He is versatile enough to stay in the game in any situation Michigan's defense will be put in, which makes him very valuable.
For Michigan State, the offensive line has been a concern, so landing Allen is a big deal. He might not make an impact his freshman season, because that's often difficult for offensive linemen, but he will eventually make an impact. He is the perfect fit at center and should help anchor the line for the future.
At Penn State, outside of
Allen Robinson
the second leading receiver was a tight end. There are some young receivers on the roster, but landing Thompkins was a big deal. He's a playmaker and a fluid receiver that will help that offense once Robinson is gone. He isn't talked about much, but he was an excellent pickup for the Nittany Lions.
@Wesley20:
What is going on with Ohio State commitment
Marcelys Jones
?
Brad Bournival:
There are rumors the offensive guard -- and first pledge of the 2014 recruiting class -- will take an official visit on Nov. 9 for the LSU game at Alabama, he texted me that he wasn't.
The truth is, the answer is probably somewhere in the middle. I wouldn't be surprised at all if Jones joins ESPN 300 teammates
Marshon Lattimore
and
Erick Smith
, who already have lined up official visits for that date, down in Alabama.
That said, I don't think there is reason to worry. Urban Meyer knew Jones was going on the southern tour with his teammates back in July and if Jones heads to Alabama for the visit, he'll clear it with Ohio State. Throughout all of this, the three-star guard has steadfastly said he was a Buckeye.
@GPF4GOBLUE:
Is Michigan still the front runner in recruiting
Malik McDowell
?

VanHaaren
: I believe so. McDowell has said that he wants to wait to make his decision, but it looks like nothing has changed.
McDowell's parents accompanied him on his last trip to Ann Arbor and they were blown away. His father said he is rooting for Michigan, but letting his son make his own decision.
Anytime you can convince the parents to get on board that is always a positive. McDowell is saying he wants to take visits, but we will see how everything actually plays out.
@HoosierHolmes:
How is Indiana looking in regards to
Micquell Cotton
and
Kenric Young
?
Bournival:
Cotton's trip earlier in the month was a success and Young has an official visit lined up with Indiana on Sept. 20, which is the weekend the Hoosiers play Missouri.

Cotton has Indiana in the mix along with Iowa State and Syracuse, but I still think he's the Hoosiers to lose.
As for Young, seniors take their official visits quite seriously, so Indiana grabbing one of the five allotted trips for the standout wide receiver out of Gainesville, Fla., is a big deal.
Matt, Chicago:
Whose recruiting class in the Big Ten surprises you the most, or who do you think has a sleeper class for 2014?
VanHaaren
: Michigan and Ohio State have highly ranked classes for a reason. They have outstanding prospects committed and are filling many needs. I am excluding them from this question because those two are somewhat expected.
I think there are two schools that stick out that people aren't really talking about and those are Northwestern and Penn State.
The Nittany Lions have three ESPN 300 commitments with five commitments ranked as four-stars. The coaching staff is filling a need at receiver with Thompkins and also
Chris Godwin
.
Looking at Northwestern's class, the Wildcats have done an excellent job playing off the success of the 2012 season and still have a chance to land some top players, including three ESPN 300 prospects. So for me, those two classes stand out for potentially adding excellent value to their respective teams.
@BuckeyesCubs10:
Will anyone stop Ohio State and Michigan from having another 10-year war?
Bournival:
It absolutely can happen. What Bill O'Brien has done in his short time at Penn State is amazing in its own right. He landed a top 25 class in his first full recruiting year with the Nittany Lions and is working on another this year despite the NCAA sanctions. When the sanctions are gone and if O'Brien is still there, he'll likely be a thorn in the side of both the Buckeyes and Wolverines.
Then there is Wisconsin and Nebraska. The Badgers know exactly how to market their brand and remain a contender almost every year. The Cornhuskers have put together four straight seasons of nine wins or more as well. Both schools will be in the West Division next year, which isn't the gauntlet the East is so a trip to the Big Ten championship game will be an easier road for both schools.
August, 16, 2013
8/16/13
11:00
AM ET
It's time to dip into the Big Ten recruiting mailbag and answer some of your questions. We'll try to give everyone a chance to get their questions answered. We encourage you to send your questions by Twitter to
@bbournival
or
@TomVH
. Feel free to email us as well at
brad.bournival.espn@gmail.com
or
TomVHESPN@gmail.com
.
@UMKirwin12:
Which teams are in place to pull in the best group of recruits at each position?
Tom VanHaaren:
If I can use my own criteria, then I'll give you a few answers. Right now Michigan has the No. 1-ranked cornerback in
Jabrill Peppers
(Paramus, N.J./Paramus Catholic) and is still in the conversation with three ESPN 300 defensive backs, so I would give the secondary narrowly to Michigan because of Peppers.
Ohio State is right there with the commitment of
Damon Webb
(Detroit/Cass Tech) and the potential to add Cleveland Glenville teammates
Marshon Lattimore
and
Erick Smith
.
I think Ohio State takes the cake for offensive linemen, but I'm going to throw a few curveballs for a few other groups. I like Northwestern's running back haul with the 31st- 36th- and 51st-ranked backs already in the class. That's two four-star running backs and one who's close.
I also like Penn State's wide receiver haul led by No. 6 ranked athlete De'andre Thompkins (Swansboro, N.C./Swansboro) and
Chris Godwin
(Middletown, De./Middletown), the No. 21-ranked receiver.
Michigan's wide receiver class is also very good, so I'd include the Wolverines on the list.
There is a reason Michigan, Ohio State, Penn State and Northwestern are all ranked higher than the other Big Ten teams, though. They have the best classes in the conference, which means they have the best players.
@buckeyfan686: If a highly rated offensive tackle commits to Ohio State, do you think they still go after Chad Mavety since he is more likely ready to play next year?
Brad Bournival:
That is an excellent question and one that really depends on the numbers. If the Buckeyes can grab ESPN 300 tackles
Damian Prince
(Forestville, Md./Bishop McNamara) or
Alex Bookser
(Pittsburgh/Mt. Lebanon), that would give them a force up front for the next four years with ESPN 300 guard
Demetrius Knox
(Ft. Worth, Texas/All Saints Episcopal) and ESPN 300 tackle
Jamarco Jones
(Chicago/De La Salle) in the mix already.
Add
Marcelys Jones
(Cleveland/Glenville) and
Kyle Trout
(Lancaster, Ohio/Lancaster) and the 2014 class is versatile as well. That said, if Ohio State can massage the numbers and still stay under the NCAA sanctions, getting an attractive piece like Mavety might be too good to pass up. He'd essentially have three seasons to play two, so yes if the piece is there and the Buckeyes can work some magic, they could still take six offensive linemen in this class.
@MeechignAdbug1
:
Who is winning the recruiting battle right now (for 2014), Urban Meyer or Brady Hoke?
VanHaaren:
If you are judging strictly by which team gained a commitment from a prospect that held an offer from the opposing school, then it's a tie. Both teams have seven commitments from prospects that held offers from the other team.
If you look at the rankings of those players, then it's Michigan. Peppers is the biggest at No. 2 overall.
Ohio State has seven ESPN 300 commitments, but five of them held Michigan offers. Michigan has nine ESPN 300 commitments and six held Ohio State offers. There are still some prospects out there who have yet to make commitments, which could swing it in either direction. Defensive end
Da'Shawn Hand
(Woodbridge, Va./Woodbridge) still has Michigan in it, and could very well end up a Wolverine. We'll have to wait until signing day for the final answer, but right now I would say Michigan is leading the race.
stevejeffers@comcast.net: Who rounds out Ohio State's recruiting class?
Bournival:
First let's go through the locks, who I believe to be four-star athletes
Curtis Samuel
(Brooklyn, N.Y./Erasmus) and Lattimore. After that, I really think inside linebacker
Raekwon McMillan
(Hinesville, Ga./Liberty County) is part of this class, as is Erick Smith. Then you have to start looking at the numbers crunch. I think they miss on Prince and Bookser and nab Mavety. That leaves room for maybe two more, though I don't know if the Buckeyes will use them. I still think defensive tackle
Thomas Holley
(Brooklyn, N.Y./Abraham Lincoln) picks Ohio State, and the Buckeyes could take either tight end
Mike Gesicki
(Manahawkin, N.J./Southern Regional) or wide receiver
Noah Brown
(Sparta, N.J./Pope John XXIII) to round it out, though don't be surprised if either comes to Ohio State.
@bmartinez51: Peyton Newell is deciding Aug. 30. Does he seem Nebraska bound?
VanHaaren:
As you mentioned, the defensive tackle is announcing his decision on Aug. 30 and will be deciding at his high school at 2:30 p.m. local time.
The finalists on his list are Kansas, Kansas State, Nebraska and South Carolina. Nebraska fans think they have a good chance, but a few other schools have put up a good fight.
South Carolina would be a tough school to say no to, but Nebraska would be a good fit for Newell.
October, 5, 2012
10/05/12
1:00
PM ET
Up until the past few years Michigan fans saw top-ranked prospects out of Glenville, Ohio, commit to schools other than Michigan. If a name popped up from Ginn Academy, fans figured there wasn't much of a chance.
That started to change, however, when Michigan coach Brady Hoke and his staff landed defensive end
Frank Clark
in 2011 and then defensive tackle
Willie Henry
in 2012, both from Glenville.
[+] Enlarge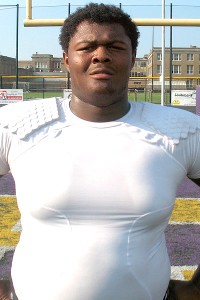 Brad Bournival/ESPN.comMarcelys Jones has friends at FBS schools, but he won't make a decision based on where they are.
The notable school has top-ranked prospects year in and year out, so it's beneficial to build inroads when possible. That holds true for the 2014 class as well, and specifically with offensive lineman
Marcelys Jones
.
To continue reading this article you must be an Insider
Coaches Contending For 'King Of Spring'
BIG TEN SCOREBOARD
Thursday, 9/3
Friday, 9/4
Saturday, 9/5
Sunday, 9/6
Monday, 9/7