Michigan Wolverines:

Luke Kennard
July, 3, 2013
7/03/13
11:54
AM ET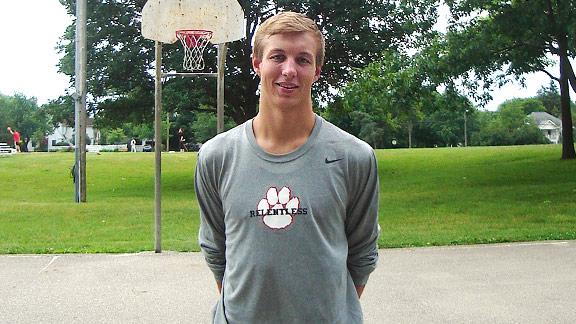 Michael Rothstein/ESPNESPN 60 shooting guard Luke Kennard, the nation's No. 30 recruit in the Class of 2015, has offers from the likes of Michigan, Ohio State, Indiana, Dayton, Notre Dame, West Virginia and Xavier.
There isn't a specific moment
Luke Kennard
remembers as the point he stopped being a regular kid and turned into a mini-celebrity in Franklin, Ohio. His new normal has been this way for two years now.
Friends will make a big deal. As he wanders around his hometown, occasionally people will give a second glance. Yes, the nation's No. 30 hoops prospect in the Class of 2015 is only entering his junior year of high school and just turned 17. But in a town halfway between Cincinnati and Dayton, where the population of 11,819 would be less than half the enrollment of some of the major colleges trying to get him to play basketball for them, he is Franklin's star.
"A lot of my friends, they think I'm famous now," said Kennard, a shooting guard who holds offers from the likes of Michigan, Ohio State, Indiana, Dayton, Notre Dame, West Virginia and Xavier. "Around quite a bit of places, when I walk around, they'll kind of notice me."
None of this, however, has bothered or changed Kennard. He remains the same kid who goes out and plays pickup football or basketball with the neighborhood kids. He is the same kid who used to dominate his youth basketball leagues so much that Franklin's basketball coach, Brian Bales, said, "He was almost on another planet compared to the kids."
None of that has changed. Only the attention has.
It all started before he even played a high school varsity basketball game. He already had multiple colleges interested in him and some schools offering scholarships. The scholarship chase began the summer before his freshman year when he went with Franklin High to a team basketball camp at Michigan. Every year, Bales picks a different college camp to attend and the program had never been to Ann Arbor.
The Michigan coaching staff asked Bales if he had any players they should watch. At first, he wasn't going to say anything because, well, Kennard was just entering his freshman year of high school.
Bales recalled explaining to a Michigan graduate assistant, "You know, this is going to sound crazy, and I don't know how good he is, but we think he's pretty special. We have an eighth-grader who is going to be a freshman that you should take a look at."
By Franklin's second game at the camp, one of Michigan's staffers was watching Kennard play. His third game, the entire Wolverines staff was watching. Like that, his recruitment had begun, even if an offer from Michigan, one of the many schools recruiting him, didn't come until June 15 of this year.
"At the time, Luke had not received any offers," Kennard's father, Mark, said. "He had just gotten out of eighth grade."
The last two years has changed that. Franklin, largely due to Kennard, occasionally sells out its basketball arena. He has offers -- or at least interest -- from most of the nation's top 25 college basketball programs. Also a star quarterback on the gridiron, Louisville offered for football and Big Ten schools have expressed interest.
While he doesn't yet know where he is going to college or even what sport he is going to play when he gets there, he is certain of one thing: He will only play one of them. There will be no attempts of doing what Charlie Ward, Ronald Curry and Donovan McNabb, among others, have done before him by balancing both sports in college.
He will choose one. And that will be it.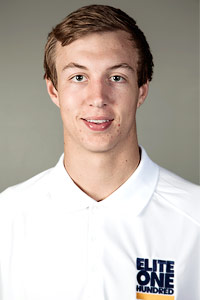 Courtesy of NikeKennard is a star on both the hardwood and the gridiron.
"It would be almost impossible to play both," Mark said. "To me, that would be really tough to do. So he would probably just pick one. I think basketball is his favorite right now, but I talked to him [recently] about football and he was like, 'Dad, I love to play.'
"I'm not going to have him pick one now. I'm going to have him leave his options open."
Those options have increased by the month, part of a two-year journey that has seen him already break some of his father's high school basketball records and put him on pace to break most of Franklin's scoring records in basketball and passing records in football.
Kennard already holds the school's record for single-season touchdown passes in the regular season (22) and for an entire season (24). In his first season as a starter last fall, he completed 140 of 264 passes for 1,880 yards, 24 TDs and seven interceptions.
In basketball, he's already fifth in career points at Franklin with 990 and could pass his uncle, Todd Kennard, for the school's career scoring mark of 1,434 points next season. He holds the school's single-season scoring record (624 points) and record for most free throws made in a season (135). His 27.1 points per game as a sophomore is also a school record.
So what does Kennard want? Right now, he says he likes basketball better. Why? He's not sure.
"Honestly, I don't know," Kennard said. "I just feel like I would play [basketball] any time of the day. It's just my passion, pretty much. I like football a lot, but I am getting more looks for basketball right now, so that's probably why."
There is little doubt, though, how good he can be. Bales said he thinks Kennard could eventually be an NBA player. His football coach, Rodney Roberts, considers Kennard a "once-in-a-lifetime" type of player to coach. They both believe he's that good.
The attention he has received has elevated Franklin into bigger tournaments and more exposure. When Kennard plays basketball, it's an event. The school pre-sells tickets, most of which are often gone by the end of the day. The Franklin gym, which has sold out twice, turns into a loud crush of people trying to get a glimpse of the hometown star.
"It's packed. It's just packed," Roberts said. "There's a buzz around the whole city, a buzz around him."
It's a buzz that should only increase over time as Kennard figures out what sport he wants to play and where he wants to continue with it.
June, 17, 2013
6/17/13
9:44
AM ET
ANN ARBOR, Mich. -- The Michigan assistant coaches heard the questions in the beginning. They understood. In some ways, they wondered themselves.
John Beilein revamped his coaching staff in 2010, hiring two new assistants and promoting a third. As he did this, Michigan's head basketball coach explained his processes. Beilein has adapted throughout his career but has a plan for everything in his basketball life. This includes recruiting, where his strategy is different than most.
In the hare-paced world of college basketball recruiting, Beilein moved at a relative tortoise's pace. This took some adjusting from then-newly hired Bacari Alexander and LaVall Jordan and promoted administrative staffer Jeff Meyer.
Beilein adhered to the National Association of Basketball Coaches' recommendation of not offering a prospect until June 15 following the player's sophomore season. Beilein also won't offer a prospect until he's seen him play in person and until the player has visited Michigan's campus.
Initially, this meant his new assistants needed to do some explaining as they recruited.
"I wouldn't say resistance," Alexander said of the reaction on the recruiting trail. "But I would say a curiosity to why haven't you offered my son yet or why haven't you guys offered my player yet."
"Especially when they have a list of [offers]," Jordan said. "That curiosity, when they have lists."
Eventually, questioning turned to understanding as Beilein and his philosophy, which he adopted before he came to Michigan, became educational. Michigan's assistants, who sat down as a group last week with ESPN.com to explain how their recruiting strategy works, now use it as another selling point.
As they evaluate a prospect, they explain what needs to happen. It doesn't mean they won't recruit a player earlier -- they were the among the first schools to recruit 2014 ESPN 100 guard
Devin Booker
(Moss Point, Miss./Moss Point) and 2015 ESPN 60 guard
Luke Kennard
(Franklin, Ohio/Franklin) -- but they won't offer a scholarship until at least all the previously mentioned criteria have been met.
"That didn't surprise [us]," said Mark Kennard, Luke's father. "It wasn't a surprise or disappointment or anything. We just appreciated that they were kind of the first team to really talk to Luke and recruit him. We were like, 'Coach, that's awesome.' That didn't bother us at all.
"I want schools to be honest with us."
Honesty is part of the process. As Michigan has resisted the changes in college basketball recruiting, it has also thrived for the same reasons.
"I'll throw this at people," Jordan said. "'What's your mom's name?' Because there's a curiosity of why haven't you offered. 'How many brothers? How many sisters? What's your family like? Have you considered the fact that we don't really know each other, but there is a desire for a scholarship offer?'
"So now it's like, 'OK.' It's the education."
[+] Enlarge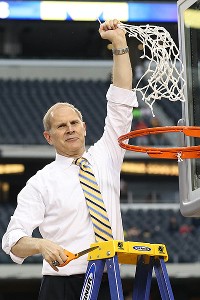 Matthew Emmons/USA TODAY SportsJohn Beilein's unique recruiting process paid off with a trip to the Final Four this past season.
How Michigan recruits
Michigan finds prospects like every other program: through a series of recommendations, research and just being in the gym.
Where its strategy differs is in its evaluation style. Unlike at a lot of schools, Michigan's staff does not work territories or positions. They favor a groupthink where all four coaches -- the three assistants and Beilein -- watch a player at different tournaments to determine a fit for what Michigan wants in skill, attitude and academics.
After watching a prospect, each assistant rates him using an internal numbers system they refuse to disclose. Those evaluations are given to Beilein, who averages out the results to aid his decisions.
"A lot of staffs get attached to a young man because of a relationship because it is your guy and you may be the point man in his recruitment," Jordan said. "Here, we just don't get involved in that. It's what's best for Michigan."
The reason for the "cross evals" is the search for the right fit. Alexander describes the Michigan coaches as "throwbacks" because they use scouting systems and rankings only to cross-check their own numbers and evaluations.
What happens when their internal rankings don't match with external opinion?
"That's when we really get excited," Alexander said.
Among the underrated-when-they-committed finds by this staff:
Trey Burke
,
Glenn Robinson III
,
Nik Stauskas
and
Spike Albrecht
.
"A lot of times it swings on the critical side," Meyer said. "We are looking for kids that play the right way, body language, all the things that we expect out of our kids when they play. When you look at it through a lens, it's almost a critical lens of, does he fit? Will he play the Michigan way, the right way?"
The evaluation goes beyond the prospect. Alexander made this clear through Twitter while sitting in the stands watching players during an evaluation period last July. He tweeted: "Parents need to be mindful that they're evaluated in the stands ALSO!! #uconscious."
Why? Part of this goes to program fit and understanding the dynamics of a prospect's off-court life and situation. The rest, well, Alexander explains.
"Think about how that has changed," Alexander said. "Why is that relevant? Well, now you have the Big Ten's 'Journey' and have CBS Sports, ESPN, all these all-access deals in print or on television. Now what does that tell us?
"Parents have become ambassadors for your institution and they are not even aware of it."
Part of the genesis of Beilein's approach is rooted in academics. He wants to see a prospect's freshman and sophomore transcripts to make sure he is trending correctly educationally. This, Meyer said, is "non-negotiable."
The unofficial visit piece allows for everyone to become acquainted. For Michigan, there is interaction, observation and more informed opinion from non-recruiters like graduate assistants, trainers and strength coaches. For the families, it allows an opportunity to ask any questions they want without the pressure of a commitment.
"How are you going to come here, how are you going to choose Michigan, if you've never been to Michigan," Jordan said. "You've got to know the people."
[+] Enlarge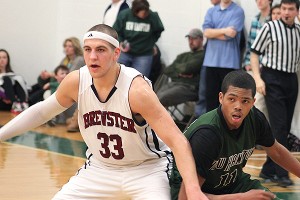 Courtesy of Brewster Academy When Michigan recruited Mitch McGary, they looked at more than just his play on the court.
More than on-court skill
When Alexander visits a player's school, he searches for "indicators" about a player. To do so, he seeks out three people: the academic advisor, who can often give a broader-based picture of a player's academics and family situation; the cafeteria worker; and the custodial staff.
More than any other people in the school, the latter two often silently observe prospects among their peers. They see a player interact when no one is watching. Alexander's best example:
Mitch McGary
at Brewster Academy (N.H.).
Alexander spoke to Brewster's groundskeeper and was told a story about a freshman bawling when his parents dropped him off the first day of school. McGary spotted the kid from a distance, stopped his conversation and ran to him, consoled him and brought him into school with his group of friends.
"Now if that is not a testament to a young man's character," Alexander said. "Where he's the life of the gathering and is unselfish enough to notice somebody is in need of comfort. To do that was very telling to the groundskeeper.
"As a result, it was very telling to us."
With McGary, who was one of the top prospects in the country at Brewster, it was another sign he would mesh with Beilein's philosophy and locker room, which centers around the tenets of integrity, unity, passion, diligence and appreciation.
The way Michigan recruits forces prospects to display almost all those traits before committing.
When did it click?
While the recruiting strategy is nice, is it practical? Michigan received its answer while recruiting highly rated 2013 prospect
Zak Irvin
. The Wolverines recruited Irvin out of Indianapolis, with Indiana and Purdue, among many others, offering.
Irvin had teammates who committed early to other schools. Michigan stuck to its deadline.
[+] Enlarge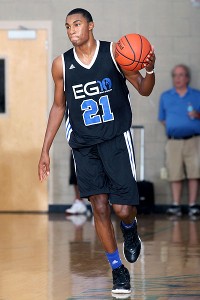 Kelly KlineMichigan followed its recruiting blueprint to perfection to land top-25 prospect Zak Irvin.
"The first challenge for us, because it was a little bit of a point of being anxious, was Zak Irvin," Meyer said. "We're thinking if we do not go out of character with our formula, we may be left at the station with a player that [Jordan] had already done a great job with the family and building relationships.
"Coach Beilein stayed the course, went four semesters of academic work, had been to campus several times."
Irvin said Michigan's staff explained things up front. Not enamored by offers, he didn't mind. If anything, the process strengthened Irvin's opinion of Michigan. The Wolverines recruited him for a year before offering. Some programs offered him after viewing him once.
Irvin eventually received his Michigan offer. He committed six weeks later.
"It turned the whole thing from my perspective," Meyer said. "I think from all of our perspectives. If we're doing our due diligence through the recruiting process, a young man speaks very, very loudly through his actions if he's willing to wait. And they kind of look forward to that date."
There's another, almost unintentional, byproduct. By having prospects wait for an offer and go through myriad steps, Michigan has created more perceived value around an offer from the school. Instead of just another scholarship offer on a list, it is one the player had to work for.
"To see that they still wanted to offer me, it meant a lot after recruiting me for a year and seeing how well I developed and saw how much potential I had," Irvin said. "That was really special to me."
The extra time taken has an added effect when prospects hit campus as well. It is something, however, the current Michigan assistants couldn't see until those recruits they got to know started to hit campus last year.
"It meant a lot to them to get the offer and going through things to make that decision," Jordan said. "So when they get here, getting them to play hard isn't part of the deal. It's about fundamentally getting them to play better and more skilled. Developing and growing them as young men.
"But it isn't going to be a deal of getting them to play hard because that was part of it."
The other secret
Michigan's staff won't divulge everything. Specifics of the internal grading system is one thing. The value of a prospect's birth date is another. The latter is a topic Beilein often brings up in discussing his young players. Asked about it, the three assistants all laughed.
"No comment," Alexander said. "That, we can't tell you."
Michigan's assistants said Beilein brought birth dates into the evaluation process, but that's all they'll say. Consider this: In past interviews, Beilein has mentioned the late birthdays or relatively young starting ages of 2013 commit
Mark Donnal
and current players
Max Bielfeldt
,
Caris LeVert
and
Jordan Morgan
. (Beilein, who is preparing for his first stint as an assistant coach with USA Basketball, was unavailable to comment for the story.)
It isn't a determining factor, but it is yet another piece that makes Michigan unique.
"He's way ahead of the curve on this stuff," Meyer said.
In some ways, yes. But in others, Michigan's somewhat unique recruiting process has elements of a different, older time. And suddenly, what used to be standard is innovative again.
June, 27, 2012
6/27/12
11:13
AM ET
He stood out to Michigan's coaches and to casual observers. Oh, and
Luke Kennard
(Franklin, Ohio/Franklin) thought his performance last weekend at the Michigan team camp was pretty good, too.
The Class of 2015 guard showed up in Ann Arbor, Mich. knowing he was being recruited by the Wolverines and was on their list as one of their top targets for his class. But after he put on a dominating performance -- unofficially three games over 40 points as well as grabbing rebounds and dishing assists -- he might have raised his game even more.
Plus, Michigan's coaches surrounded the court almost every game he played over the Friday-Saturday camp.
June, 22, 2012
6/22/12
8:10
PM ET
Michigan continued with its month-long variety of basketball camps this weekend -- with Friday being the first day of the team camp.
While not as intense or instructional as the college practice camp earlier this month, Michigan did have a few players in with their teams who have either already committed to the school or are a high-profile recruits.
Teams -- including one from Alaska -- competed in pool play Friday and will play in a single-elimination tournament Saturday.
To continue reading this article you must be an Insider
May, 23, 2012
5/23/12
10:57
AM ET
FORT WAYNE, Ind. -- The last name instantly catches attention. So, too, does his game.
Eron Gordon (Indianapolis/North Central) isn't in high school yet, but his game is already mature far beyond its years. The younger brother of NBA player Eric Gordon already has picked up an offer from Indiana, and others around the Midwest are starting to notice.
Never mind his recruitment has barely started and he has yet to take a high school class.
To continue reading this article you must be an Insider
May, 23, 2012
5/23/12
10:55
AM ET
FORT WAYNE, Ind. -- He is already taller than many of his peers, has better handle and can run the floor like a point guard.
Luke Kennard
(Franklin, Ohio/Franklin) has three years before he'll enter college, but the sophomore-to-be is already attracting major attention from schools around the Midwest. There was some surprise at first from the amount of notice he received from big-time programs, including Michigan, but it hasn't been overwhelming for the Class of 2015 guard.
"It's hard to explain," Kennard said. "Just the amount of colleges that have been interested surprised me, but I'm glad it's happening so I'll have a chance to play at the next level."
To continue reading this article you must be an Insider
Michigan C Cites Concussions In Decision To Quit
BIG TEN SCOREBOARD
Thursday, 9/3
Friday, 9/4
Saturday, 9/5
Sunday, 9/6
Monday, 9/7