Michigan Wolverines:

Luke Fickell
June, 12, 2014
6/12/14
12:00
PM ET
Cows don't look like cows on film. You gotta use horses.
February, 25, 2014
2/25/14
9:00
AM ET
Spring football kicks off earlier than normal in the Big Ten, as Michigan takes the field Tuesday, Northwestern follows Wednesday and eight other squads begin their sessions by March 8.
The accelerated schedules seem appropriate in a league filled with players, coaches and teams itching for fresh starts.
New assistants get their first chance to repair struggling units, whether it's Doug Nussmeier with Michigan's offense, Brian Knorr with Indiana's defense or Chris Ash and Larry Johnson with a once-feared Ohio State defense. Quarterback competitions begin or resume at nine places, as new faces such as Illinois'
Wes Lunt
, Nebraska's
Johnny Stanton
and Minnesota's
Chris Streveler
enter the mix, while veterans like Wisconsin's
Joel Stave
and Michigan's
Devin Gardner
try to retain their starting jobs.
Happy Valley continues to buzz about new Penn State coach James Franklin, who seems to galvanize everyone whom he encounters. But Franklin barely has been around his new players and finally begins the real work with a team facing very real challenges.
[+] Enlarge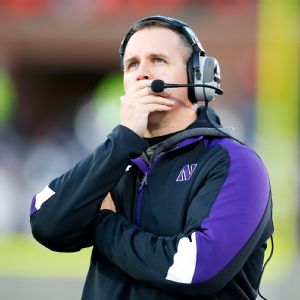 AP Photo/Jeff HaynesNorthwestern coach Pat Fitzgerald hopes his team can start a rebound from a disappointing, injury-riddled 2013 season.
Spring also allows teams such as Northwestern, Michigan, Purdue and Indiana to look forward after disappointing seasons. Michigan State, meanwhile, continues to bask in the Rose Bowl glow but looks toward its next goal -- a national championship -- as spring ball kicks off March 25.
"It's big-picture stuff, building relationships with the players and everyone associated with the program," Franklin told ESPN.com. "The other thing is laying a really good foundation with the philosophies and schemes of how we're going to do things. That's going to happen naturally over time, but I'm not the most patient person. I wish it would have happened yesterday."
Franklin doesn't water down his goals for Penn State, especially in recruiting, but he's also realistic about the challenges of a reduced roster. The Nittany Lions return strong pieces such as quarterback
Christian Hackenberg
and defensive back
Adrian Amos
,
but the two-deep has some holes that Franklin and his assistants must address, while installing new schemes.
"It's one thing when you get put in this situation in the first place with limited scholarships," Franklin said, "but the longer you're in it, the more effect it has. We've got some depth issues, there's no doubt about it, across the board. We're going to have to get creative."
Northwestern also is focused on depth after being hit hard by key injuries in 2013. Pat Fitzgerald blames himself and his staff for failing to get enough second-stringers ready, which proved costly in close Big Ten losses.
After their first bowl-less winter in six years, the Wildcats responded well in the weight room, as more than 50 players recorded personal bests. Although 11 players will miss spring practice, including standout running back/returner Venric Mark, the depth should be better in areas like the secondary.
"We're really emphasizing taking ownership of the finish," Fitzgerald said. "Finishing your technique, finishing the call, finishing the route. There's a lot of disappointment in the way the program didn't take the next step forward."
Michigan coach Brady Hoke
restructured the roles of his defensive assistants
for 2014, but the Wolverines' offense will be in the spotlight this spring after a wildly inconsistent season. Gardner, who continues to recover from a foot injury and likely won't be 100 percent until midway through the spring, will compete with
Shane Morris
,
Russell Bellomy
and midyear enrollee
Wilton Speight
.
But other positions, such as offensive line, figure to be just as important as Michigan tries to achieve Hoke and Nussmeier's vision.
"We had good intentions as far as what we wanted our identity to be, but obviously I don't think it came out the way we'd like it to," Hoke said. "The quarterback position is as important as any, and we have a guy [Gardner] who is very talented and had some really good games and games where we had to protect him better, have a better run game and take pressure off of him, and I don't think we did."
While Michigan turns the page on offense, Ohio State focuses on a defense that allowed 115 points in its last three games and finished 110th nationally in pass yards allowed (268 YPG). The Buckeyes lost top defenders
Ryan Shazier
and
Bradley Roby
, but they also added two accomplished assistants.
Johnson, who churned out NFL linemen during 18 years at Penn State, chose Ohio State instead of remaining in State College. Ash leaves a sole coordinator role at Arkansas for a co-coordinator role at Ohio State, where he'll work with the embattled Luke Fickell and others to mend the defense through a simplified scheme.
"Back in the day when Ohio State played great defense, you knew what you were going to get," Ash said. "They
played with swagger, played with confidence, played with toughness. We have to get back to that. The simplicity of the things we're going to do will lead to faster players, more plays made and a more aggressive defense.
"I wasn't here [in 2013], but I can tell you what Coach Meyer has told me, what Luke Fickell has told me and what I watch on film. I can see there's some hesitation, there's some uncertainty. Why that is, I don't know. But it's my job to get it fixed."
Purdue has plenty to fix after a 1-11 season, and players not surprisingly are
wearing T-shirts with the word "FORWARD" on the backs
. Maryland and Rutgers move forward to a new conference after an offseason that saw several staff changes, including new coordinators at Rutgers (Ralph Friedgen, Joe Rossi).
There's a fresh start of sorts at Wisconsin, as a large and decorated senior class departs. Coach Gary Andersen's markings will be more obvious with his second team, which begins practice March 7.
Wisconsin is just one of many places where the top quarterback job is at stake. Lunt, who sat out last season after transferring from Oklahoma State, competes with
Reilly O'Toole
and
Aaron Bailey
at Illinois.
"Competition's competition, no matter where it's at," said Lunt, who has added about 15 pounds since his arrival and checks in at 225. "It's different because it's different people, different coaches, but I'm excited for it."
He's not alone in the Big Ten. Spring ball can't start soon enough.
December, 20, 2013
12/20/13
4:00
PM ET
Wishing you a great weekend. Check out the
full ESPN bowl schedule
(with broadcast teams).
Don't forget to follow us
on Twitter
if you aren't already.
To the inbox ...

Mike from Allentown, Pa., writes:
Hey Adam, with all the talk about Penn State's bowl ban being looked into this offseason, I have a hypothetical question for you. If the NCAA were to drop Penn State's bowl ban, would the Big Ten comply and make them eligible for the Big Ten championship? Or, is it possible the Big Ten could extend that ban separate from the NCAA?
Adam Rittenberg:
Mike, the Big Ten's penalties always were tied to the NCAA's. Big Ten rules state that if the NCAA declares a team ineligible for postseason play, that team can't play in the Big Ten championship game. So if the NCAA lifts the bowl ban, the Big Ten would declare Penn State eligible for a league title (the Lions already can win their division). Big Ten commissioner Jim Delany has been pleased with Penn State's response to former Sen. George Mitchell, the independent athletics integrity monitor assigned to the school. So I'd be shocked if the Big Ten added or maintained any sanctions against Penn State once the NCAA ones are lifted.
---

Josh from Indy writes:
Have you ever thought about the comparison between Darqueze and his cousin Alfonzo? Both had great careers for their respective teams. Just wanted your take on this.
Adam Rittenberg:
Josh, I definitely thought about it after
Darqueze Dennard
won the Big Ten's Tatum-Woodson Defensive Back of the Year award, which Nebraska's Alfonzo Dennard claimed in 2011. I can't imagine two family members have won the same award while playing for different teams in the same league. Pretty cool. Darqueze's numbers this season are more impressive than Alfonzo's in 2011, although Alfonzo was a true shut-down guy who basically eliminated one side of the field. Darqueze's pro prospects are better, as many peg him as a first-round draft pick. We'll never know where Alfonzo would have been drafted if he hadn't had the off-field trouble. Both are great players, though.
---

Derek from Preston, Iowa, writes:
Hey Adam, I was just curious as to what you thoughts were on Derrell Johnson-Koulianos' Twitter tirade against Kirk Ferentz. Ferentz is beloved for the most part in Hawkeye Country, and this whole thing just seems weird. Why now?
Adam Rittenberg:
The timing is interesting, Derek, as much of this happened three years ago. I understand Derrell's perspective that Ferentz blackballed him with the NFL and stifled his playing career. Some of his teammates back up the accusations against Ferentz and strength coach Chris Doyle. It's an unfortunate situation, but I would be very surprised if Ferentz or Iowa has anything to say about the accusations, especially so long after the fact. Iowa has moved forward and Ferentz's word still carries weight in NFL circles.
DJK has the right to air his grievances, and he has never held back on his views. Honestly, I can't think of a Big Ten player I've covered who fit in less with a particular program. But I doubt there will be major consequences for Ferentz or Iowa.
---

Fatback from Newark, Ohio, writes:
Just wanting to know what your thoughts about Ohio State's defensive coordinator position. I know Fickell is an OSU guy, but we definitely need a change of pace. What do you think about Fickell moving down to just a position coach ( if he doesn't get another job this offseason), and hiring another person from the outside or moving Mike Vrabel up? I think with Vrabel we would play much more aggressive and sit back in all the zone coverage that teams seem to kill us on. Again, your thoughts?
Adam Rittenberg:
It would be tough for Ohio State to demote Fickell, who was the Big Ten's
third highest-paid assistant this year
($610,000). You're not going to pay that salary to a position coach (at least you shouldn't). Fickell still brings a lot of value to Ohio State as a recruiter, and while his defense has its issues this year, youth in the front seven and
Christian Bryant
's injury didn't help matters. On the other hand, Urban Meyer has extremely high standards, and if he feels Fickell isn't helping the team to a national championship, maybe you make the change.
I've heard that Vrabel has definite head-coaching potential, and he did a nice job with a young defensive line this year. With Everett Withers reportedly departing to James Madison, don't be surprised to see a co-coordinator situation with Vrabel and Fickell. Perhaps Vrabel has more say on play calls. I just can't see Ohio State forcing out Fickell right now.
---
Joe from Kentucky writes:
How can you guys leave off
Blake Countess
and
Stanley Jean-Baptiste
from the All-B1G selection for
Bradley Roby
? Roby was suspended for his off-the-field antics (looks really all-conference) and he got exposed by any of the good WRs he faced.
Jared Abbrederis
and
Jeremy Gallon
made him look silly to the tune of almost 400 yards combined. That does not sound like an all-conference performer to me. On the other hand, Countess led the conference in INTs and Jean-Baptiste was right there (if not tied). I think you guys were a little biased in trying to make MSU and OSU the top two represented teams (which their records show). Also,
Ryan Shazier
is the only person on that Ohio State defense to be named All-B1G.
Adam Rittenberg:
Roby's one-game suspension really isn't relevant, as we included
Carlos Hyde
on the team despite his three-game suspension because he was the Big Ten's best running back in league play (few would argue). I agree that Roby struggled against Abbrederis in the Wisconsin game, but many of Gallon's yards didn't come against Roby in the Michigan game. Roby made a touchdown-saving tackle on Gallon, running completely across the field, one of several displays of athleticism he had this season. He had a very good Big Ten season and is one of the better special-teams players I can remember in this league. SJB had a nice season but no picks in Big Ten play. You could make a case for Countess, but I still feel Roby performed better in Big Ten play than any corner other than MSU's Dennard. Shazier is the only other Buckeye defender on our All-Big Ten team, although lineman
Michael Bennett
deservedly made the second-team.
---

Will from Columbus, Ohio, writes:
Should I be concerned that Michigan will be breaking in two new starters at both offensive tackle positions in 2014? Lewan and Schofield took 99.9 percent of the snaps this year, likely making their replacements having VERY little, to no game experience. After the abysmal display on the interior of the line this year, I do believe there are positives in game time reps of the interior line translating to better protection up the middle next season. Will inexperience on the edge hurt the line more next year than the inside this year, or can you mask the youth more on the outside than in?
Adam Rittenberg:
Some good points here, Will. I agree that Michigan's interior line will be improved next year because of all the experience gained, even through some tough times. It will be interesting to see what Michigan does with
Erik Magnuson
, who can play either guard or tackle but might be best at tackle depending on his development. The staff was excited about
Ben Braden
's development in the offseason, and he could step in for Lewan at left tackle. I'm really interested to see how the line performs in Arizona following bowl practices, but you're right that the group will continue to be under the microscope with both veteran tackles departing.
---
Ken from Carmel, Ind., writes:
When
Clifton Garrett
recently committed to LSU, he mentioned the great game-day atmosphere. Having attended a game there, I agree. Sometimes I think the B10 doesn't get that -- and is slow to pick up other little things like that (night games) that can make the difference in winning or losing recruiting battles, and eventually games. As an Iowa grad, the large number of 11 a.m. games certainly don't help the game-day atmosphere. I get the feeling that the people at the top -- president, and A.D. -- don't understand this. You'll have a couple more arrests with later games, but most people just cheer louder and have more fun - a.k.a., better game-day atmosphere. Your thoughts?
Adam Rittenberg:
Couldn't agree more, Ken, and I've been writing this for years. The Big Ten needs to prioritize prime-time games and become more open to weekday games, which would get some of the smaller programs some much-needed exposure. The good news: the league is definitely warming up to the idea, adding more prime-time games and becoming open to November night games, most likely in the 2014 season. Purdue athletic director Morgan Burke said Thursday that the Big Ten's next television contract will feature more prime-time games. That's a good thing, as the noon ET and 3:30 p.m. ET windows just don't carry the same weight with recruits.
December, 12, 2013
12/12/13
2:30
PM ET
USA Today has released its annual
database of assistant coach salaries
throughout college football so let's see how the Big Ten aides stack up. Ten of the 12 Big Ten schools report coaches' salaries (Northwestern and Penn State do not).

Once again, Michigan defensive coordinator Greg Mattison leads Big Ten assistants in pay at $851,400, which ranks fourth nationally behind million-dollar coordinators Chad Morris of Clemson, Kirby Smart of Alabama and John Chavis of LSU.
Michigan offensive coordinator Al Borges is the only other Big Ten assistant in the top 10 nationally in total pay ($709,300). Nebraska offensive coordinator Tim Beck ($700,000) is next, followed by Ohio State defensive coordinators Luke Fickell ($610,000) and Everett Withers ($585,000), Michigan State defensive coordinator Pat Narduzzi ($558,908) and Ohio State offensive coordinator Tom Herman ($555,000).
On the whole, the Big Ten has fewer assistants making top-20 salaries than the SEC. There's also a decent drop-off in salary after Herman, as no others make more than $500,000 (Wisconsin coordinators Dave Aranda and Andy Ludwig both make $480,000).
Here are the highest-paid assistants for the 10 Big Ten squads reporting salary:
Michigan:
Defensive coordinator Greg Mattison ($851,400)
Nebraska:
Offensive coordinator Tim Beck ($700,000)
Ohio State:
Defensive coordinator Luke Fickell ($610,000)
Michigan State:
Defensive coordinator Pat Narduzzi ($558,908)
Wisconsin:
Defensive coordinator Dave Aranda and offensive coordinator Andy Ludwig ($480,000)
Purdue:
Offensive coordinator John Shoop ($400,000)
Illinois:
Offensive coordinator Bill Cubit and defensive coordinator Tim Banks ($400,000)
Indiana:
Offensive coordinator Seth Littrell ($356,500)
Minnesota:
Defensive coordinator Tracy Claeys ($346,800)
Iowa:
Defensive coordinator Phil Parker ($325,500)
Claeys clearly is the best value in the league, as he served as Minnesota's acting head coach during Jerry Kill's health-related absence and remained as the main sideline coach even after Kill returned to duty. Iowa's Parker, along with OC Greg Davis ($325,000) also earned their keep and then some as the Hawkeyes flipped their record from 4-8 to 8-4.
Some Michigan fans will scoff at Borges' salary after the Wolverines offense struggled for much of Big Ten play. Fickell, Shoop and Banks also directed units that had forgettable seasons.
One thing to keep in mind when some of these assistants are mentioned for head-coaching jobs is the pay cuts they'd likely take to lead teams in smaller conferences.
In terms of total staff pay, Ohio State leads the Big Ten and ranks sixth nationally at $3,474,504, trailing LSU, Alabama, Clemson, Texas and Auburn. Michigan comes in next at $3,072,000, which ranks 14th nationally.
Bret Bielema left Wisconsin for Arkansas in part because he had lost so many assistants in his final two years in Madison. Bielema's staff at Arkansas ranks 10th nationally in total staff pay ($3,233,000), while Gary Andersen's staff at Wisconsin ranks 28th ($2,495,000)
Here are the Big Ten teams sorted by total staff pay:
Ohio State:
$3,474,504
Michigan:
$3,072,000
Nebraska:
$2,648,500
Wisconsin:
$2,495,000
Michigan State:
$2,410,483
Iowa:
$2,367,500
Minnesota:
$2,152,350
Indiana:
$2,074,780
Illinois:
$2,066,400
Purdue:
$2,010,000
We can have an endless about debate whether college football coaches make too much money in general, but these numbers remain problematic for the Big Ten in my view. Only two teams are truly paying top dollar for their staffs, and some groups are undervalued.
Michigan State's staff obviously jumps out after the Spartans just won the Big Ten championship. MSU co-offensive coordinators Dave Warner ($280,800) and Jim Bollman ($262,000) are among the lowest-paid coordinators in the league, as several position coaches make more than them. Athletic director
Mark Hollis said last week that raises are coming
for head coach Mark Dantonio and his assistants.
Minnesota's staff also deserves a nice bump after handling such a tough situation this season. I also wonder whether Iowa's coordinators get a raise, especially considering what head coach Kirk Ferentz makes.
Purdue's Marcus Freeman and Jafar Williams are the Big Ten's lowest-paid assistants at $120,000. Only one SEC assistant, Kentucky's Derrick Ansley, makes less than $140,000.
December, 11, 2013
12/11/13
5:00
PM ET
The weather outside is frightful. But your emails are so delightful. Well, except for the guy who sent me repeated missives in all caps about how
Braxton Miller
should have been suspended for the Big Ten championship game. Dude, give it a rest.

Anyway, on to the mailbag:
Scott M. from Charlotte, N.C., writes:
Will we ever know why Ohio State felt two carries were plenty for
Carlos Hyde
in the fourth quarter? The game turned in the third quarter because of the bruiser. Braxton Miller is the driver of the car but those two calls late in the game were just awful. How anyone can say I have third-and-three for the game and my 230 pound, 7-yards-a-rush running back will not touch the ball really needs to look at themselves in the mirror.
Brian Bennett:
Should Carlos Hyde have gotten more than 18 carries against Michigan State? Probably. But don't forget that the Spartans defense specializes in loading the box and daring teams to throw deep. Plus, Miller was the more effective runner of the two most of the night and finished with more yards and yards per carry than Hyde.
The fourth quarter began with an Ohio State punt. Then Michigan State drove for a field goal. On Ohio State's first real possession of the fourth, Hyde ran for four yards on second-and-10, setting up a passing situation on third down. Miller then threw an incomplete pass. The series you're talking about started with 7:36 left. The Buckeyes had Miller run it on third and fourth down, and he was stuffed both times. Urban Meyer said it was his call to give the ball to Miller on fourth-and-2.
And it's hard to fault him for that. We're talking about the two-time Big Ten offensive player of the year who ran for 142 yards vs. Michigan State. A running quarterback is one way to counter the Spartans defense. It didn't work out, mostly because Pat Narduzzi called the right blitz and
Denicos Allen
made a great play. After that, Michigan State scored a touchdown to go up by 10 points, and the the time to run the ball was over for Ohio State.
Bottom line is you have to be successful passing the ball to beat the Spartans. And Ohio State went 8-for-21 for 101 yards through the air.
Tommy B. from Savannah, Ga., writes:
Brian, as a Buckeye fan it's crazy for me to think that after the 2011 6-7 disaster that I'd be so disappointed after the team would go 24-1 under Urban Meyer so far. I'd almost forgot what it felt like to lose on a Saturday (emphasis on almost, it felt terrible in case you were wondering). The problem has obviously been complete inconsistency with the defense. They have big name veteran stars with gaudy numbers and at times (including in the B1G title game) they've been dominant. But in the Michigan game and for some big game-changing plays against MSU they've had complete breakdowns. They have the talent to be better than they are. In your opinion, what's the problem? Fickell? Key injuries (Bryant)? Fickell? Youth in key positions? Fickell?
Brian Bennett:
It's a good question. The place we thought Ohio State's defense might be vulnerable to start the year was up front because of all the youth there. Yet that was arguably the strength of the defense, with guys like
Michael Bennett
,
Joey Bosa
,
Noah Spence
and
Adolphus Washington
. The problem really seemed to be at the linebacker positions other than
Ryan Shazier
and at safety, especially when
Christian Bryant
got injured. Michigan State exposed the Buckeyes' safeties early on last Saturday.
It's kind of hard to believe that Ohio State would find itself so thin at linebacker. The Buckeyes recruited some highly-regarded defensive backs last year, but guys like
Vonn Bell
didn't have much of an impact this season. They're still young, so that's to be expected, but it was disappointing that some of the more veteran players didn't have great seasons (relatively speaking, because Ohio State did go 12-0).
The Buckeyes' defensive coaches all have strong track records, so I have a hard time believing it's simply a coaching issue. But Ohio State clearly needs to develop better depth in its back seven, especially if Shazier decides to leave for the NFL.
Randy from Waukesha, Wis., writes
: I just learned that Wisconsin's
Jared Abbrederis
won an award for the national best walk-on player-of the-year in CF! Did I miss your guys' article on this? If not please tell us more..... B1G can use all the kudos it can get, especially at this time of the year!
Brian Bennett:
Yes,
Abbrederis won the Burlsworth Trophy
, which is award to the best player who started his career as a walk-on. We didn't write a post about it, mainly because there are seemingly thousands of college football awards now, but we did tweet it. Abbrederis was a slam-dunk choice for that award, and it's hard to believe he ever was a walk-on. He'll be on an NFL roster next fall.
King from Los Angeles writes:
I agreed with you about the silliness of the coaches' poll. I am a Huskers fan and I do not believe we deserved a top 25 ranking even though Bo thinks so. I think they should change the way coaches vote by making a rule that you cannot vote for your own team. That could take away all the biases. What do you think?
Brian Bennett:
That would only solve part of the problem, as there still would be inherent conflicts of interest involving teams in a coach's own conference, his opponents, friends, etc. The good news is it won't matter at all as part of the national championship provess next year, so the coaches can be as silly as they want to be. And given how little most coaches want to deal with the hassle, I'm not sure why there should even be a coaches' poll next year.
Greg from Lansing, Mich., writes:
In giving conferences more power on selecting bowl match-ups should we just assume Ohio State/Michigan will always occupy the better bowl games? (If they aren't already in the play-off).
Brian Bennett:
I can understand why there's a feeling in some quarters that Ohio State and Michigan get preferential treatment from the league office. But the truth is that the biggest brand-name schools already get preferential treatment from bowls. Is there any reason why Michigan at 7-5, should be in the Big Ten's No. 3 non-BCS bowl this year? Or why Ohio State went to the Gator at 6-6 in 2011? Only one: drawing power.
What the new system will basically do is allow the leagues more input on the process so as to avoid teams going to the same destination over and over again and to create better matchups. Had it been in place this year, however, I doubt we'd see Nebraska going back to Florida for a rematch with Georgia. Bowls are always going to want big-name teams as long as they are businesses. But better matchups and fresher destinations should help fans.
Greg from Atlanta writes:
As an Iowa fan living in Georgia, I'm wondering how an 8-4 Georgia team gets ranked and an 8-4 Iowa team doesn't? Now, I'm not saying Iowa deserves a ranking, because 4 wins shouldn't get you in the top 25. But, Georgia lost to Vandy and needed double OT to beat Ga Tech. They also struggled with teams they should have throttled and fell far below expectations. Iowa played two teams tough that will both play in BCS bowls. Is this just more bias against the Big Ten? If so, will that bias ever go away?
Brian Bennett:
I don't think this is a case of anti-Big Ten bias as much as it is probably pro-SEC sentiment. Iowa is a tough case and a team I debated putting in my final Top 25 for a while before ultimately deciding against it. Barely. The Hawkeyes' four losses are all highly respectable -- Michigan State, Ohio State, Wisconsin and Northern Illinois. But you shouldn't get credit for just losing to good teams. Iowa's best wins are over Minnesota, Michigan and Nebraska, with two of those on the road. Very solid, but not spectacular.
Georgia's in a similar boat in terms of "good" losses, including Clemson and Missouri. The Dawgs also lost on the road to Auburn thanks to a miracle play at the end. They have also beaten South Carolina and LSU, two wins better than anything Iowa can claim, and the team was decimated by injuries this season.
I think the Hawkeyes are good, and they have some nice momentum after winning their final three games. That's why I'm really looking forward to seeing how they play against LSU. Iowa definitely ends the season in the Top 25 with a win over the Tigers in the Outback. And given the wide-open nature of next year's West Division, at least on paper, Iowa could emerge as one of the preseason favorites in that division in 2014.
December, 3, 2013
12/03/13
12:00
PM ET
The only way college football could be better is if people had stronger opinions about it.
November, 25, 2013
11/25/13
2:30
PM ET
The theory was spawned sometime after the 2011 season, as Michigan celebrated Brady Hoke's successful debut and new Ohio State coach Urban Meyer had Columbus buzzing with optimism.
Both programs signed top-10 recruiting classes in February 2012. Both coaches had clear visions and lofty goals and standards. The rest of the Big Ten, the theory held, was in serious trouble.
The Big Ten was headed back to the Big Two and everybody else. Some college football observers said it publicly; many others said it privately. They pointed mainly to recruiting, but also to other factors.
At the very least, the gap separating Ohio State and Michigan from 2008 to 2010 -- and also from 2005 to 2009 -- would narrow as both programs were poised to take up residence in college football's penthouse.
[+] Enlarge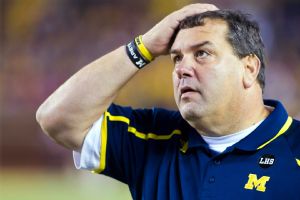 AP Photo/Tony DingBrady Hoke and the Wolverines have stumbled down the stretch this season, losing three of their last four.
Two years later, Ohio State has renewed its lease. Michigan, meanwhile, has been evicted.
Ohio State and Michigan seemingly are worlds apart as they gather this week for The Game at Michigan Stadium. The Buckeyes, headed for the league championship, lead a group of Big Ten elites that includes No. 11 Michigan State and No. 15 Wisconsin. Michigan is a rung or two below.
The last time the longtime rivals met at the Big House, Michigan
ended its seven-game losing streak
against Ohio State. The Wolverines went on to win the Sugar Bowl and finish 11-2, but the victory over Ohio State, from an emotional and symbolic standpoint, arguably meant more to Hoke, his players and Michigan fans sick of hearing about The Streak.
Two days after the Michigan loss, Ohio State
named Meyer head coach
. The Buckeyes went on to lose their bowl game under Luke Fickell before Meyer took full control. They have yet to lose under Meyer, setting a team record Saturday against Indiana with their 23rd consecutive win.
Ohio State is No. 3 in the BCS standings, and with two more wins could make the trip to Pasadena, Calif., for the national championship game on Jan. 6. The Buckeyes rank third nationally in scoring (48.7 ppg) and boast arguably the nation's most dynamic offensive backfield: quarterback
Braxton Miller
and running back
Carlos Hyde
.
Michigan is fortunate to be bowl-eligible, is unable to run the ball and, barring a major surprise Saturday, is headed for its worst stretch under Hoke (losses in four of its final five games). Hoke, along with his offensive staff, is feeling the heat. While Ohio State has reached historic milestones under Meyer, Michigan has endured historic lows in recent weeks, from the lowest net rushing total in team history (minus-48 against Michigan State) to becoming the only FBS team in the past 10 seasons with consecutive games of minus-20 rush yards or fewer (minus-48 against MSU, minus-21 against Nebraska).
The win over Ohio State in 2011, followed by the Sugar Bowl triumph, have been high points in the Hoke era. Since the bowl win, Michigan is just 15-9, including a 2-5 mark against teams ranked in the AP Top 25.
Even after a 2012 season filled with close losses to good teams, Michigan seemed ready to join Ohio State in the elite when it thumped Notre Dame, the 2012 national runner-up, in Week 2 this season. Quarterback
Devin Gardner
and the offense were rolling, star linebacker
Jake Ryan
would soon return from injury, and a favorable schedule put Michigan in great position to meet Ohio State in the Big Ten championship game.
Then the turnovers started. Michigan nearly lost to Akron at home and Connecticut on the road. Defensive woes surfaced in an overtime loss to Penn State and a shootout win against Indiana. The offense then fizzled against Michigan State and Nebraska. Michigan's lone win since Oct. 19 -- an overtime triumph at Northwestern -- wouldn't have happened if officials had called illegal motion on a tying field goal at the end of regulation.
Sure, the Wolverines are young at some spots, namely offensive line, but the clear vision that seemed to be in place two years ago is cloudier now.
"Is the goal always to win the Big Ten championship? No question about it," Hoke said Monday. "We won't make excuses nor back down from it. Have we played and coached as well as we needed to? Obviously not."
Both Meyer and Hoke are taking the correct approach to the week and have put the rivalry on a pedestal. Ohio State began its Michigan prep a day early, while Michigan, typically off on Mondays, went to work today.
There's plenty at stake for both teams, as Ohio State can keep its national title hopes alive and Michigan can lessen the disappointment of the season by beating its rival on senior day and handing the Buckeyes their first loss under Meyer. On paper, The Game looks like a mismatch, but rivalry games can spark surprises, especially when the underdog is playing at home on senior day.
"This game has always been different in some ways," Hoke said. "Are they a good football team? Yeah. They're a very good football team. Do we have to play better than we've played? I don't think there's any doubt about that."
Meyer doesn't put much stock in the Wolverines' record and expects "their best game."
When national signing day rolls around in February, Ohio State and Michigan will be in the same category, both likely signing
top-10 recruiting classes
(possibly top-five). It might refuel the Big Two theory in the Big Ten. After all, the original argument was heavily rooted in recruiting success.
But the real gauge comes this week on the field. Michigan must close the gap.
Otherwise, it's just another Big Ten program looking up at the Buckeyes.
November, 9, 2013
11/09/13
7:00
AM ET
Setting the table for an afternoon of Big Ten football. Feel free to fill up then, because it will all be gone by dinner time.
Noon ET


Penn State (5-3, 2-2) at Minnesota (7-2, 3-2), ESPN2:
There's more than a Victory Bell on the line for the Gophers, as arguably the most surprising team in the league remains alive for a division title despite all the adversity that has come its way this season. Jerry Kill, the entire coaching staff and a resilient roster deserve every bit of praise that has accompanied an unexpected push into contention. And should Minnesota come up with another victory at home, it can expect many more compliments by remaining a factor in the Legends Division.


Iowa (4-5, 2-3) at Purdue (1-7, 0-4), Big Ten Network:
A short, miserable October gave way to a November that didn't start any better for the Boilermakers, who haven't scored a touchdown since September. Granted, Purdue has only played three games in that span, but that's still an embarrassingly long drought, and Iowa is certainly capable of extending it with a hard-nosed, aggressive defense. The Hawkeyes also need a victory to clinch a bowl bid, so they won't be lacking for motivation.
3:30 ET


Illinois (3-5, 0-4) at Indiana (3-5, 1-3), BTN:
Both programs had designs on getting back to a bowl game before the season and encouraging starts in nonconference play, but the odds are starting to look long for each of them now. The loser this afternoon will have no margin for error from here on out, and the Hoosiers and Illini both have a date with No. 4 Ohio State coming up in the next two weeks. The winner will still have work to do, so it's not exactly a play-in game. But there probably won't be any need to worry about the postseason without a victory at Memorial Stadium.


Nebraska (6-2, 3-1) at Michigan (6-2, 2-2), ABC:
The matchup between two of the most decorated programs in the history of college football was always tabbed as a crucial one in the Legends Division, but the stakes are certainly a bit smaller than might have been anticipated. The Wolverines are on the ropes after losing a potential head-to-head tiebreaker with first-place Michigan State with their loss in East Lansing last week, and while the Huskers survived on a Hail Mary against Northwestern, they can't afford another loss, either, if they hope to stay in the race. Can Michigan's offense rebound against a still suspect group of Blackshirts, or will Nebraska finally right the ship against an attack that has been prone to turnovers and has problems with their running game? The answer will determine who gets to keep entertaining the idea of a division title.


BYU (6-2) at No. 24 Wisconsin (6-2, 4-1), ESPN:
Gary Andersen just can't seem to escape his old foe from previous stops at Utah and Utah State, but at least the Wisconsin coach is plenty familiar with this November nonconference opponent. The Badgers are still being haunted by what happened outside the league in September thanks to the officiating blunder that led to their loss at Arizona State, but they've got one more chance to notch a non-Big Ten win that could provide a boost for their BCS at-large hopes.
Weather
For early November in Big Ten country, the weather could hardly be any better for football. Both games in Indiana should have temperatures around 60 in the afternoon, which is tough to beat this time of year. The temperature will be a bit chillier in Minneapolis and Madison, but anticipated highs in the mid-40s leave little room to complain as well.
The Huskers and Wolverines should have pretty decent weather by kickoff as well, though there's a chance of showers in the morning before the projected high of 56 later in the day.
Top Week 11 stories
What to watch in the Big Ten
|
Predictions
|
Did you know?
No ban for Taylor Lewan
Q&A with Indiana's Cody Latimer
Philip Nelson taking Gophers to another level
Old foe in Gary Andersen's way
Attitude fuels Nebraska's Ameer Abdullah
Urban Meyer shoots down rumors of Luke Fickell interviewing at Florida Atlantic
Big Ten race update
Improved Iowa still needs finishing school
Mark Dantonio shapes Spartans in his image
Michigan offensive line not living up to expectations
Michigan and Nebraska are seeking a defining moment
Combination of Braxton Miller and Kenny Guiton worthy of Heisman
November, 8, 2013
11/08/13
4:00
PM ET
A few questions and answers before Week 11 in the Big Ten. Don't forget to follow us
on Twitter
, the best place to track the latest news on Saturdays.
Ready? Break.

Darin from Lyme, N.H., writes:
The Buckeyes don't need to worry about making the national title game if they win out. If you look at the BCS historically, only one out of 15 years has an undefeated team from a major conference not made the game (Auburn 2004). The odds are extremely long that we will end up with more than two undefeated teams.
Adam Rittenberg:
Darin, you make a good point. The BCS usually works itself out to where undefeated teams from major conferences aren't on the outside looking in. Oregon's loss to Stanford on Thursday night certainly helps Ohio State, as the Ducks once again won't be going to the national title game. Baylor's big victory against Oklahoma helps the Bears' chances, but I still don't think Baylor runs the table. Ohio State won't jump Florida State or Alabama if both teams win out, and FSU's path to the title game certainly looks easier than that of Alabama, which still has LSU, Auburn and most likely South Carolina or Missouri in the SEC title game. The Buckeyes simply need to keep winning, ideally in impressive fashion, and hope teams like Wisconsin and Michigan State also continue to win. Ohio State already has beaten Wisconsin and would benefit from facing an 11-1 MSU team in the Big Ten championship game.
---

Bob from Forest, Va., writes:
I realize you don't know much about the Rutgers program.
Regarding coaching salaries
you said "fairly or unfairly" the fact that RU is paying the football coach 800-900K per year leaves the perception that RU doesn't belong in a league like the Big Ten. Do you recall what they paid Coach Flood's predecessor? Also I always thought it was on-field performance that determined whether or not a team belonged. Outside of Ohio State, is there really a single B1G team RU can't compete with? We've held our own vs the Big Ten if you take out Penn State pre-B1G with a .500 record. What I don't get are the jabs from you. Is it an ESPN thing or are you just writing what you think your readers want to hear?
Adam Rittenberg:
Bob, you're absolutely right that on-field performance, and not coach salary, determines whether a team like Rutgers will sink or swim in the Big Ten. It always comes down to winning, and Rutgers has an excellent opportunity to prove itself in a loaded East Division with Ohio State, Michigan, Penn State and Michigan State. You say Rutgers has held its own with the Big Ten outside of Penn State. Who else has Rutgers played? Rutgers hasn't played a Big Ten team since 2006 (Illinois) and has never faced seven current Big Ten teams (Indiana, Iowa, Michigan, Minnesota, Ohio State, Purdue and Wisconsin). Your argument is therefore irrelevant.
I realize Rutgers paid more for Greg Schiano, and that Flood is a young coach who doesn't demand a huge salary. But like I wrote, the perception looks like Rutgers is small time when every other Big Ten coach is making at least $1.2 million. Placed in the larger context of what major conference coaches make, it looks pretty low. Purdue faced the same perception when it paid coach Danny Hope less than $1 million. That's just the way it is. But you're right that Rutgers can improve its perception by beating teams coached by guys making four times as much as Flood does.
---

Anthony from New York writes:
Why didn't you include Michigan in your list of BCS at-large candidates? We know from 2011 that a two-loss Michigan team will be attractive to BCS bowls if ranked in the top 14. As you've said, Michigan is better off not making the B1G title game if it wants an at-large bid. It is perfectly plausible to see Michigan beat Nebraska, Iowa, and Northwestern (though none are easy games). Add in an upset of unbeaten Ohio and you've got a top-14 Michigan team coming off four straight wins. Wouldn't they be a very attractive team?
Adam Rittenberg:
Anthony, as I specified in the top of
the post
, I'm not including any unranked teams in the conversation for at-large berths at this point. If and when Michigan re-enters the BCS standings, it will appear as a candidate. But even then, how attractive would Michigan be? The Wolverines would have to look a lot better in their final four games than they have in their first eight. You and your fellow Michigan fans won't agree, but it would be a real shame if a Michigan State team that went 11-1 in the regular season and lost in the Big Ten title game to Ohio State missed out on a BCS berth in favor of a team like Michigan, which the Spartans embarrassed last week. I also wonder whether Michigan would get into the top 14 of the final BCS standings and be eligible for selection. An Ohio State win certainly would help, but it would depend on what other teams do elsewhere. Let's see how things play out, but I don't see a top-15 team in Ann Arbor this year.
---
Pat from East Lansing, Mich., writes:
You both always pretty much have the same predictions week to week. Can we get creative?
Adam Rittenberg:
We have to pick the teams we think will win, Pat, and sometimes they'll all be the same. I've differed from Brian in one game in each of the past two weeks and lost both times, as Nebraska's Hail Mary got me last week. One chatter Thursday suggested we incorporate score prediction into the race, which isn't a bad idea. We might look to do something with that next year. I think you'll see a few more disagreements down the stretch, but we're not going to be contrarians here, especially with an expensive dinner in Indianapolis on the line.
---
Charley from New York writes:
Is it a journalist's job to lobby for millionaires to paid even more money? I must admit my jaw dropped
when I read from you
: "Both Wilson and Kill earn less than coaches from Colorado State, Navy, South Florida and Central Florida. That seems a bit troubling for teams in a loaded league like the Big Ten." Troubling? I notice you haven't been much of an advocate for paying the kids who actually generate the millions of dollars colleges earn from football, but you have always been an advocate for higher head and assistant coaches' salaries. Is this your way of trying to brown-nose your sources or do you really believe that educational institutions should devote more and more of their budgets to football coaches' salaries?
Adam Rittenberg:
Charley, do I believe college football coaches make ridiculous salaries for university employees? Yes. But they also bring in a ton of money, and the market is dictating what they're making. We can have a discussion on the larger issue of coach salaries if you want, but the pay structures are what they are in major conferences. People look at why the Big Ten is struggling right now. It's hard to completely dismiss the fact that SEC head coaches are making much more on average (SEC assistants are, too). As I wrote last month,
money isn't the problem in the Big Ten
, even though the league sponsors more sports than the SEC. From a perception standpoint, not necessarily reality, it doesn't look like Minnesota and Indiana are that invested in their programs when you look at the league they're in and the market rates for college coaches.
---

Chris from Knoxville, Tenn., writes:
I know most people, myself a Michigan fan, included, favor Ohio State over Michigan later this month. But so many people are calling it to be a blowout. I disagree -- even in 2011 a downtrodden Ohio State kept that game close, and I expect this year's game to also be close, especially since it's at the Big House. Teams tend to preform better in rivalry games. Who do you think is right, the many people mentioned or my pick of a close game?
Adam Rittenberg:
It's way too soon to call for a blowout in The Game. It's still three weeks away, we don't know the injury situations for both teams and we don't know how the teams will be playing entering that one. I don't expect Michigan to magically become a top-10 team by Nov. 30, but the Wolverines could remedy some of their issues before Ohio State comes to town. You're absolutely right that teams perform better in rivalry games. Michigan likely is out of the Big Ten title mix, so beating Ohio State is really the only major goal left for Brady Hoke's crew. More important, as you mention, Michigan plays much better at home under Hoke, never losing a game in his two-plus seasons. I'm not sure of my prediction for The Game, but I doubt I'll pick Ohio State to win by more than 10 points. Michigan will give its best effort on that day.
---

Grant from Cincinnati writes:
Is it just me, or is Luke Fickell's stock much higher than it should be? His track record as a recruiter and positions coach is well documented, and he seems to be a high quality, character guy. However, in his only season as head coach, he went 6-7. It's not as though the cupboard was bare for him, as that year was sandwiched between a Sugar Bowl victory and an undefeated season. Also, his defense has underachieved for much of this season, though it seems to be getting back on track a bit. Now he's interviewing for a head coaching gig and you're mentioning that you expected him to hold out for a major conference head coaching position. In short, Fickell seems like a good guy, but why the love fest?
Adam Rittenberg:
Some fair points here, Grant. Fickell's stock certainly seemed higher before he became a head coach -- albeit under very difficult circumstances -- or a defensive play-caller (Jim Heacock handled those duties until last season). I don't think you can judge him too much for the struggles in 2011, as the program was rocked by Jim Tressel's resignation and had a tough situation at quarterback because of Terrelle Pryor's departure. Fickell handled himself well overall, although the on-field product left much to be desired. There have been some valid criticisms of him as a defensive coordinator, as Ohio State hasn't been a salty as it used to be on that side of the ball. But I think Fickell could thrive as a head coach because of his personality and recruiting ability. He might be a better CEO type than a coordinator, and I think fans and players would rally around him. It needs to be the right situation, unlike the one in 2011.
---

Nick from East Lansing, Mich., writes:
How likely is it that MSU has to look for a new coach in the offseason? It would be hard to turn down if Texas came calling.
Adam Rittenberg:
Sure, Texas certainly has its perks, but I highly doubt Mark Dantonio is going anywhere. He's in a great situation at Michigan State, works for a great athletic director (Mark Hollis) who he loves, and has roots in the Midwest as an Ohio native. Dantonio definitely is
due a raise
at Michigan State, although it's more important to him to pay his assistants, which the school has been doing. At this stage in his career, I don't think Dantonio wants to deal with all the excess stuff at a place like Texas. You never say never, but I'd be very surprised if he's not back at MSU in 2014.
---

Matt from Michigan writes:
I am a little confused after reading the
"rooting interests" article
. Why would Michigan want Minnesota to lose? If Michigan State loses to Minnesota and either Northwestern or Nebraska and if (big IF) Michigan were to win out and finish 6-2 along with MSU finishing 6-2, it would be MSU winning the tie breaker. However, wouldn't Michigan still have a chance to represent the Legends in a three-way (or even four-way) tie at 6-2? Looking at the schedule, I think it is possible to have MSU, Michigan, Nebraska and Minnesota ALL finish at 6-2. Not saying likely, but that would make for a compelling last weekend!
Adam Rittenberg:
Indeed it would, Matt. My rationale for the Minnesota loss would be to knock the Gophers out of the race, but if the tiebreaker is Michigan's best chance to win the division, which it may well be, it would make sense for Minnesota to win out. The key obviously is for Michigan State to start losing games, beginning next week against Nebraska. If Michigan State loses out -- highly unlikely -- and Michigan wins out, the Wolverines would go to Indy.
May, 20, 2013
5/20/13
9:00
AM ET
Ohio State already had started paying more competitive salaries for assistant coaches before Urban Meyer arrived in November 2011.
But when Meyer and athletic director Gene Smith sat down to discuss staff pay, Smith soon realized he needed to do more.
"I think Michigan had stepped up with their coordinators," Smith recalled last week during Big Ten spring meetings in Chicago. "So we were already going to that before Urban Meyer came, but we bumped it up a little more. Any time there's change, you have that opportunity."
[+] Enlarge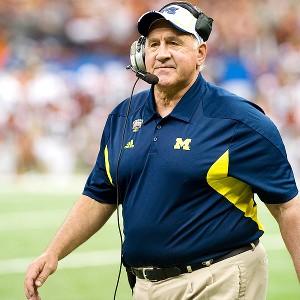 Lon Horwedel/Icon SMIMichigan DC Greg Mattison ranks as the highest-paid assistant coach in the Big Ten for the 2013 season.
"Everyone's always focused on head coaches' salaries," Smith continued. "That's always the thing. But really when you look at the changes, it's really been assistants' salaries across the country -- not just in the SEC, but the Big 12, Pac-12, all across the country."
The Big Ten is part of the change, too, as the league is allocating more money toward football assistants than ever before. The Detroit Free Press has an
excellent look at Big Ten assistants' salaries
, complete with a
database
that includes 10 of the 12 current members (Northwestern doesn't submit salaries as a private institution, and Penn State doesn't have to because of state laws).
The Free Press found that eight of the 10 schools are paying more for assistants in 2013 than they did in 2012 (only Indiana and Illinois are not). There are some significant total increases, such as Wisconsin (up $558,000), Nebraska (up $518,500), Purdue ($400,000) and Minnesota ($355,000). Staff pay had been an issue at Wisconsin, which lost six assistant coaches following the 2012 Rose Bowl, and at Purdue, which paid less for its staff during the Danny Hope era than any Big Ten school.
The total trend among the 10 schools is an increase of $1,720,852.24 for 2013.
Ohio State and Michigan remain No. 1 and No. 2 in Big Ten staff salary, as the Buckeyes allocate $3.416 million and the Wolverines allocate $2.805 million. Nebraska and Wisconsin make the biggest moves in the league for 2013, as the Huskers rise from sixth to third and the Badgers rise from seventh to fourth.
Illinois, which replaced five assistants from the 2012 team, including co-offensive coordinators Chris Beatty and Billy Gonzales, dropped from third in staff pay ($2.314 million) to eighth ($2.065 million).
The database shows that nearly every Big Ten assistant with "coordinator" in his title -- whether he's the sole coordinator or a co-coordinator -- will earn north of $300,000 for 2013. Only 18 assistants listed will make less than $200,000 in 2013 -- 15 work for Minnesota, Illinois, Purdue and Indiana.
Some notes:
Although Wisconsin paid former offensive coordinator Paul Chryst good coin, the school has increased its commitment for Gary Andersen's staff, not only with the coordinators but with some coveted position coaches like running backs coach Thomas Hammock ($300,000).
All of Nebraska's assistants are earning $200,000 or more for 2013, but there's a huge drop-off between Beck and the next highest-paid assistant (defensive coordinator John Papuchis at $310,000).
Michigan State has a similar drop off between Narduzzi and co-offensive coordinators Dave Warner ($270,000) and Jim Bollman ($260,000). Warner will be the primary offensive play-caller and has been on Mark Dantonio's staff since 2006, while Bollman is a newcomer.
Although Michigan is paying top dollar for its coordinators, the school gets its assistants for a relative bargain. Receivers coach/recruiting coordinator Jeff Hecklinski will earn $225,000 in 2013, while the others all will earn $205,000. Ohio State, meanwhile, pays all but one of its assistants $286,000 or more.
The Big Ten's three lowest-paid assistants all are in their first years: Illinois wide receivers coach Mike Bellamy ($125,000) and Purdue linebackers coach Marcus Freeman and running backs coach Jafar Williams (both at $120,000).
Although schools like Illinois, Wisconsin and Iowa ($325,000) pay their coordinators the exact same amount, others have slight differences in salary. Purdue's Shoop makes $5,000 more than defensive coordinator Greg Hudson. Minnesota defensive coordinator Tracy Claeys ($340,000) makes $5,000 more than offensive coordinator Matt Limegrover. Wonder if that leads to any underlying jealousy?
Most Big Ten schools have assistant salaries in round numbers, but there are some interesting totals from Indiana, which pays co-offensive coordinators Seth Littrell and Kevin Johns $255,500.04 and new recruiting coordinator/assistant defensive line coach James Patton $173,740.08. Never know when that change can come in handy.
The Big Ten still lacks some of the OMG totals seen in the SEC -- LSU is
paying new offensive coordinator Cam Cameron $3.4 million
in the next three years -- but the overall trend puts the league more on par with what we're seeing nationally.
August, 7, 2012
8/07/12
2:47
PM ET
The "Inside the Game" position preview series continues with the crux of any defense -- and long a position with a lot of lineage at both Michigan and Ohio State: Linebackers.
BuckeyeNation's Austin Ward and WolverineNation's Michael Rothstein take a look at the men in the middle of both defenses.


Michigan
Rothstein:
Michigan's linebackers can rejoice. For the first time since any of them has been a Wolverine, they will play in essentially the same defensive scheme with the same defensive coordinator for the second season in a row.
And if you think that doesn't make a difference, you're kidding yourself. Even defensive coordinator Greg Mattison said as much, that having the players learning the same system for the second year allows for a faster refresher course along with more advanced teaching. And for the linebackers more than any other defensive position group, this is critical.
Michigan has the bulk of its main playmakers at the position back, including fifth-year senior
Kenny Demens
in the middle along with sophomores
Desmond Morgan
and
Jake Ryan
on the outside.
Demens is Michigan's leading returning tackler with 94 last season, including three sacks. Morgan, as a freshman, was fifth in tackles with 63. At linebacker, that kind of production is expected.
That starting group, though, will be pushed. Junior Cam Gordon is fighting with Ryan for time, as is senior
Brandin Hawthorne
behind Morgan. Also involved are a gaggle of talented freshmen, including James Ross III, Royce Jenkins-Stone,
Kaleb Ringer
and
Joe Bolden
, who enrolled last spring and could see a lot of time his freshman season.
Still, though, it is a young group with a lot of room to grow and likely won't see its true potential for another season or two.
Ohio State
Ward:
There may not be a linebacker with the name recognition of the Ohio State legends that have come before them.
By its own admission, the current group of Buckeyes didn't live up to the expectations established by those predecessors.
But even without a Hawk or Laurinaitis this fall, the middle of the defense should be much improved even if there isn't any established star on the roster during training camp.
Perhaps by the time the Buckeyes take on their rivals at the end of the season, though, sophomores
Ryan Shazier
and
Curtis Grant
could make themselves a lot more familiar to folks around the Big Ten. Shazier in particular began building some buzz for himself during a three-game tackling barrage when he was inserted into the starting lineup due to injury last season and responded with 30 takedowns.
Now Shazier appears to have a more permanent spot in the rotation, and along with Grant and senior
Etienne Sabino
they should give defensive coordinator and linebackers coach Luke Fickell a solid foundation to start with. While there isn't much experience in reserve to work with right now, the Buckeyes loaded up with five talented signees in February who will ultimately be charged with restoring the program's proud defensive tradition.
There probably won't be as much pressure to do it right away with arguably the best line in the nation in front and a skilled, veteran secondary behind them. But they should be able to get things back on track either way.
October, 13, 2011
10/13/11
12:44
PM ET
Ten items to track Saturday as a five-pack of Big Ten games is on tap.
1. A Legendary rivalry:
Pardon the pun, but Michigan and Michigan State meet Saturday at Spartan Stadium with more than bragging rights on the line. The winner has to be considered the frontrunner in the Legends division. Michigan can improve to 7-0 overall, 3-0 in Big Ten play and, most important, 2-0 in division play with both wins coming on the road. Michigan State arguably has more on the line as Saturday marks one of just two Legends division home games. The Spartans still must travel to Nebraska, Iowa and Northwestern, so defending their home turf against Michigan is critical.
2. Desperate Buckeyes hope to avoid history:
These are tough times for Luke Fickell and the
Ohio State Buckeyes
, who are in an unfamiliar spot at 3-3 after last week's meltdown at Nebraska. A loss Saturday at No. 16 Illinois would drop Ohio State below .500 for the first time since 1999 -- and for the first time this late in the year since 1988, the Buckeyes' last losing season. After months of disappointing news and heightened criticism for Fickell and the coaching staff in recent weeks, Ohio State desperately needs something good to happen.
[+] Enlarge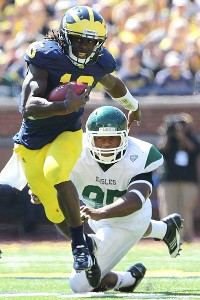 Leon Halip/Getty ImagesWill Denard Robinson be able to break loose against Michigan State, or will the Spartans bottle him up again?
3. Denard vs. the Spartan Swarm:
"There's no way to stop that kid," Northwestern coach Pat Fitzgerald said earlier this week, referring to Michigan star QB
Denard Robinson
. While no team has slowed down "Shoelace" this season, Michigan State put the brakes on Robinson in 2010. The Spartans were the
first team to stifle Robinson last fall
in a 34-17 win, picking off three of his passes and holding him to just 86 rush yards on 21 carries. Michigan State has an even better defense this year, a unit that leads the nation in fewest yards allowed (173.4 ypg) and ranks third in points allowed (10.2 ppg). It'll be strength vs. strength Saturday as Robinson goes up against the Spartans' defense.
4. Must-win game at Kinnick:
Night games at Kinnick Stadium are always electric, but the intensity level might go up a few notches Saturday as Northwestern comes to town. Both Northwestern and Iowa are winless in Big Ten play and in danger of moving closer to the league's bottom-feeders than the lead pack. Throw in the fact that Northwestern has won three straight at Kinnick and five of the past six against Iowa, and Hawkeyes fans will be geared up. They hope their team displays better energy after a lackluster performance at Penn State. One squad will walk out of Kinnick with some momentum.
5. The scoreboard at Camp Randall:
Last year Wisconsin hung 83 points on Indiana, the third-highest total scored in a Big Ten game and the most ever allowed by the Hoosiers. The Badgers' offense is arguably more dangerous this year with
Russell Wilson
at the helm, and Indiana ranks 11th in the Big Ten in total defense (421.5 ypg). Will Bucky Badger eclipse his 573 push-ups from last year on Saturday, or will Indiana's defense respond and make Wisconsin work for its points? It should be interesting to see how Wisconsin looks following a bye week, and how Indiana performs at a place where it was embarrassed last year.
6. Penn State's never-ending QB competition:
The biggest mystery in the Big Ten isn't who should start for Penn State at quarterback, but why it's taking Joe Paterno and his staff so long to reach a decision. The
numbers point
to
Matthew McGloin
over
Rob Bolden
, and Penn State's offense has consistently operated better with McGloin calling the signals. But Paterno isn't budging, saying he's not convinced one quarterback is better than the other. Perhaps Saturday's game against Purdue provides a resolution under center. McGloin can help himself with a completely clean performance after tossing an interception in the end zone last week against Iowa. Also worth watching: how Purdue uses quarterbacks
Caleb TerBush
and
Robert Marve
.
7. Illinois' Mercilus defense vs. Braxton Miller:
Illinois defensive coordinator Vic Koenning has pulled the right strings for most of the season, mixing fronts and formations and maintaining an aggressive style from week to week. You can bet Koenning will turn up the heat on Ohio State quarterback Braxton Miller, who left the Nebraska game with a sprained right ankle but will play against Illinois. Keep an eye on Illini defensive end Whitney Mercilus, who leads the nation in sacks (8.5) and leads the Big Ten in both tackles for loss (10.5) and forced fumbles (4). Illinois also gets linebacker Jonathan Brown back from suspension. Ohio State must protect Miller and find the gaps in Illinois' defense, as it did for the first two and a half quarters at Nebraska.
8. Rushing the field in East Lansing:
It's all about the ground game in the Michigan-Michigan State rivalry. The team with more rushing yards has claimed 38 of the teams' past 41 meetings. Michigan State has outrushed Michigan 613-274 during its current three-game win streak in the series, but Michigan boasts the nation's No. 7 rushing offense, led by Robinson, the Big Ten's leading rusher (120 ypg). Michigan State is No. 3 nationally against the run, but the Spartans also must get their own run game going.
Le'Veon Bell
and
Edwin Baker
gashed Michigan last year in Ann Arbor, but Michigan State's green offensive line is still building chemistry and faces an improved Michigan defense.
9. Boom is back:
You could see the difference in Ohio State's offense with left tackle Mike Adams back on the field from suspension at Nebraska. The Buckeyes regain another key piece as running back
Dan "Boom" Herron
returns from suspension at Illinois. Herron gives the Buckeyes another option in the backfield, which should allow
Jordan Hall
to be utilized in different ways. Herron is Ohio State's most seasoned skill player and a guy performed well in Big Ten games last year (876 rush yards, 11 TDs in eight games). With Miller likely not 100 percent, Herron could play a big role for the Buckeyes' offense.
10. Persa vs. Vandenberg:
The Northwestern-Iowa game could be a high-scoring affair, and quarterbacks
Dan Persa
and
James Vandenberg
will have opportunities to showcase their talents. Northwestern ranks last in the Big Ten in total defense (439.4 ypg) and pass defense (263.8), so Vandenberg and his receivers should regain their swagger after a rough outing at Penn State. Persa shredded Iowa's defense in the fourth quarter of last year's game in Evanston, firing the game-winning touchdown pass with 1:22 left and rupturing his Achilles' tendon on the play. The senior has been sharp since his return and faces an Iowa team allowing its opponents to complete 64.7 percent of their passes.
Michigan C Cites Concussions In Decision To Quit
BIG TEN SCOREBOARD
Thursday, 9/3
Friday, 9/4
Saturday, 9/5
Sunday, 9/6
Monday, 9/7