Michigan Wolverines:

Lloyd Carr
November, 15, 2013
Nov 15
4:00
PM ET
Hanging out in SEC country this weekend, but the Big Ten is always on the brain.
Let's check the inbox ...

Greyson from Lansing, Mich., writes:
Hey Adam, I believe those fans who are calling for Brady Hoke's head need to simmer down a little bit. If they look back, Lloyd Carr lost four games in each of his first two seasons, and that was without having to go through a complete overhaul of the offensive system. The Sugar Bowl gave a false sense of accomplishment, but Michigan has an excellent defensive coordinator, and five players on USA Today's All-USA High School Football Team. It is ugly growing pains with the offensive line this year, but with all the youth there, as well as who is coming in, I think if Michigan fans can sit on their hands for another year or two, they will be extremely happy they did.
Adam Rittenberg:
Some really good points here, Greyson, especially about the Sugar Bowl inflating the expectations for Hoke. The hard thing to reconcile is the exceptional recruiting and the mediocre results, although many of those players need more time to develop. The other difficult thing for Michigan fans is seeing a team that doesn't reflect the values Hoke preaches about, especially toughness along the line of scrimmage. Michigan should always be able to run the ball, but Hoke's teams have had a hard time doing so the past two seasons, and especially in recent weeks. It will be interesting to see how the season ends, but I don't think a coaching change makes much sense now.
---
Lance from Greensboro, N.C., writes:
Adam, as a B1G fan I'm actually pulling for 'Bama and FSU to win out. Why? Because I think it would be better for the B1G to have Ohio State beat Stanford in the Rose Bowl while Wisconsin and Michigan State beat good SEC teams in Florida than to have the Buckeyes serve as the next sacrificial lamb for the Tide. I know some think FSU can give 'Bama a game -- but they are no better analysts than those who thought ND would last year. I live in ACC country and the ACC is atrocious this year. What do you think?
Adam Rittenberg:
Lance, if your assumption is Alabama would smash Ohio State, then the scenario you outline is certainly better for the Big Ten. A Rose Bowl win, one of few for the Big Ten in recent years, would help perception, and so would a strong overall bowl record. I think Michigan State and Wisconsin could hold their own against good, but not great, SEC teams in the Capital One and Outback Bowls. And this scenario would prevent Big Ten teams from moving up a spot, creating potential mismatches.
---
Grant from San Francisco writes:
Hi, Adam. I feel like the
Taylor Lewan
suspension (or lack thereof) got glossed over last week. In 2011, when William Gholston was suspended, it was all we heard about in the days before, during, and after the ruling. What was the difference exactly between the two actions (there was a face mask twist, a punch to the head and extracurriculars in both cases) that led them to
not
suspend Lewan? And if there is not a true difference, what does this say about the priorities of the B1G brass? When Hoke called Lewan's actions "unacceptable," I at least expected
some
punitive measures from either Michigan or the B1G. I guess I just must not understand the definition of the word "unacceptable."
Adam Rittenberg:
Grant, my apologies for not addressing this earlier. The difference with William Gholston is a punch was thrown and caught on camera. If you recall,
the Big Ten referenced the punch
and not the face mask twist in its ruling on Gholston. Does that mean the league condones what
Taylor Lewan
did? You could argue it considers face mask twisting part of the game, while a punch clearly crosses the line. I'm not saying it's right, and I thought a partial-game suspension would have been warranted for Lewan. But his display wasn't as blatant as Gholston's, regardless of the circumstances.
---
Chris from Madison, Wis., writes:
Very hypothetical situation here, but if Ohio State wins out and makes the national championship game, Michigan State loses to OSU in the B1G championship game and Wisconsin wins out, MSU is 11-2, UW is 10-2* and both are in the top 14 of the BCS. Assuming the Rose Bowl wants the 100th Granddaddy of them All to be a B1G/Pac-12 battle, which team do you see getting the at-large spot?
Adam Rittenberg:
Chris, it's pretty unlikely both teams would be in the top 14. But if so, I think the Rose Bowl would go with Michigan State. The Spartans haven't been to Pasadena since after the 1987 season, while Wisconsin has been each of the past three years. Michigan State would be a more appealing choice even if it lost its last game.
---

Derek from Eden Prairie, Minn., writes:
Hi, Adam. I have not been overly optimistic about the Gophers bowl chances. I have been a loyal fan all my life and know the realities. So my question is a BIG "what-if." What if the Gophers win the legends and lose to OSU. Are they in contention for an at-large BCS bid? Again. it's just a what if, from a daydreamer in an off week.
Adam Rittenberg:
Derek, that's probably a pipe dream, as Minnesota still doesn't appear in the BCS standings. The Gophers would have to rise into the top 14 after beating Wisconsin and Michigan State and then stay there after a loss to Ohio State just to remain eligible for at-large selection. That's not happening this year, but Minnesota still should go somewhere nice for its bowl.
---

Fatback from Newark, Ohio, writes:
Just trying to figure out how
Carlos Hyde
isn't getting any love for any awards. He has 701 yards with 7.3 yards a carry in only five games. Yes he has played in six games but had just five carries in the game against FAMU. He is on pace to have 1,122 yards and he will become the first Urban Myer back to gain 1,000 yards. Is the reason he is getting no love due to the fact that he missed the first 3 games?
Adam Rittenberg:
The suspension definitely hurts Hyde when it comes to national awards consideration. Other backs simply have better numbers, and while anyone who has watched Hyde respects his game, it's hard to give him the edge when others have played in more games. It's more about what the other backs are doing throughout the entire season than what Hyde hasn't done. He'll certainly be in the mix for All-Big Ten honors.
---

Mike from Ossian, Iowa, writes:
All right, Rittenberg, you coward. So what's the scoop? The week that I send you a question about how you can justify ranking Minnesota ahead of Iowa even though Iowa has the head-to-head victory over the Gophers and four losses to teams with a combined three losses, you don't have a mailbag? Huh? No answer? I think I know why. It's because you know I'm right. You know that you can't defend your ranking. You know that Iowa should be first, but you were just looking at records. Shame on you, Rittenberg. Shame on you. Boom. Lawyered.
Adam Rittenberg:
Boom, lawyered? What does that even mean? The mailbag has been there every week, pal. The power rankings always have been how a team is playing right now, not how a team was playing in late September. I've made that clear since the power rankings started on this blog. Iowa has dropped three of its last five games; Minnesota is on a four-game win streak with a victory against Nebraska. You can't use head-to-head results as the sole mechanism for determining power rankings. If Iowa wins its final two games, then there will be a debate about which team should be ranked higher. But Minnesota is the hotter team right now.
August, 2, 2013
Aug 2
3:51
PM ET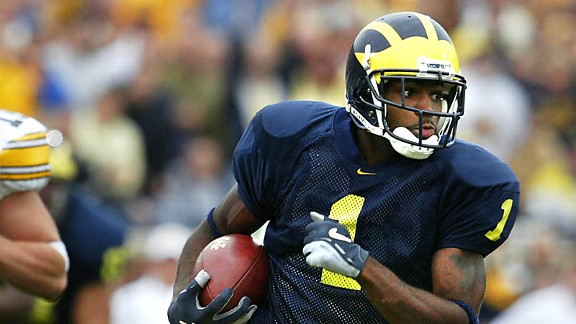 Tom Pidgeon/Getty ImagesBraylon Edwards in 2003-04 was the last Michigan receiver to wear the No. 1 jersey.
ANN ARBOR, Mich. -- At some point in the future, a Michigan wide receiver will wear the famed No. 1 jersey.
The question now is when.
"Eventually, someone is going to wear the No. 1," Michigan receivers coach Jeff Hecklinski told ESPN.com this week. "I don't know who it is going to be, because somebody has to be good enough and earn it that way.
"But again, eventually, that's going to happen at some point in time."
Hecklinski was quick to add he did not know if that would happen this season, next season or at a point beyond that. The No. 1 jersey has not been worn by a Michigan receiver since Braylon Edwards wore the number in 2003 and 2004.
In all, six Michigan receivers have worn the number: Anthony Carter (1979-1982), Greg McMurtry (1986-1989), Derrick Alexander (1990-1993), Tyrone Butterfield (1994-1996), David Terrell (1998-2000) and Edwards.
All but Butterfield played in the NFL.
"When you get it, there's a certain thing that goes with it," Terrell said. "Now adding all that extra stuff into it, it wore it down, man. Now, let's see what happens. If they go and do it, they know the ones. Coaches know. Lloyd (Carr) picked me for it. I don't think they were wrong.
"They know how to pick things. These people know what their job is."
[+] Enlarge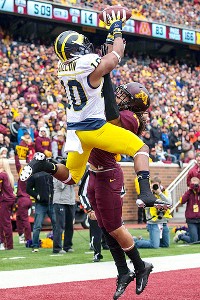 Jesse Johnson/US PresswireJeremy Gallon is the best receiver on the current Wolverines roster. Could he switch numbers?
Hecklinski, though, said the No. 1 jersey isn't something that will be promised during recruiting.
"It's earned," Hecklinski said of the jersey. "I don't control that. Coach (Brady) Hoke doesn't control that. You've got to earn that. Your play dictates that. Coach Hoke has a say on it, but he doesn't say, 'Oh, I think this could happen or think that could happen.'
"We just watch you play. It's the same thing when people say is a kid going to redshirt? We don't determine that. If he's ready to play, he's going to play. If he's not ready to play, he's going to redshirt. So that's where I think, there are things that are earned throughout your career. Those are goals you should have."
Between its current roster and recruiting, Michigan has several viable candidates for whenever the school chooses to dust off the No. 1.
Senior
Jeremy Gallon
is one of the best blocking receivers in the Big Ten and has the potential for a 1,000-yard season this year. In its 2014 recruiting class, Michigan has a commitment from the No. 8 wide receiver and No. 72 overall prospect,
Drake Harris
(Grand Rapids, Mich./Grand Rapids Christian). In the 2015 class, the No. 1 athlete and No. 3 player overall in the ESPN Junior 300,
George Campbell
(Tarpon Springs, Fla./ East Lake), has also verbally chosen the Wolverines.
July, 30, 2013
Jul 30
10:30
AM ET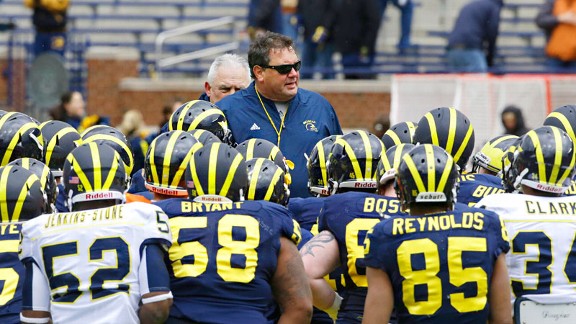 AP Photo/Carlos OsorioIt's difficult to project what would have happened to Michigan football if Rich Rodriguez had not been hired. Brady Hoke was at Ball State and was not a candidate back in 2007.
ANN ARBOR, Mich. -- Football season begins this week with the opening of Michigan's fall camp. In a month, the Wolverines will have their first game and all of the questions that have been asked over the past four months will have the beginnings of some resolution to them.
Some questions about football -- and a quick look into Michigan basketball -- populate this week's Michigan mailbag, filled with your questions.
To continue reading this article you must be an Insider
March, 4, 2013
Mar 4
12:00
PM ET
'Exit Interview' is a concept started at WolverineNation last year where we chat with Michigan athletes not returning for next season.
Brandon Moore
is the last of an era at Michigan. He was recruited by Lloyd Carr as the No. 6 tight end in the Class of 2008, signed with Rich Rodriguez and played for he and Brady Hoke -- although not as much as Moore planned.

Moore had two career catches and spent most of his senior year injured.
Q: You came into Michigan somewhat highly touted and your career had ups and downs. How do you view your career?
To continue reading this article you must be an Insider
February, 12, 2013
Feb 12
11:18
PM ET
EAST LANSING, Mich. -- Some thoughts after No. 8 Michigan State's
75-52 pulverizing
of No. 4 Michigan on Tuesday night at the Breslin Center.


Overview:
As
Adreian Payne
lifted his arms toward the home crowd, trying to get it louder with 7 minutes remaining in a game no longer in doubt, the Spartans forward looked like he wanted more.
All of Michigan State appeared to want more. Meanwhile, Michigan looked like it just wanted to travel the one hour southeast back to Ann Arbor as fast as possible. The Wolverines had already gone deeper than usual into their bench to play guard
Eso Akunne
and by then it didn't matter, because nothing John Beilein's team was doing worked.
Michigan State dominated, almost from tip to final whistle.
Yes, it is tough to win on the road in the Big Ten, but for a program touted as a national-title contender all season, this was Michigan's last chance to win a significant road game in the Big Ten. And it failed. Miserably.
The second-half comebacks Michigan had at Indiana and Ohio State didn't show up, either, mostly due to Michigan State's ability to control the paint and body up the Wolverines' big men.
It all led to Michigan State's first 20-plus-point victory over Michigan in over a decade, when the Spartans beat the Wolverines 71-44 on Jan. 30, 2002.
Turning point:
Michigan State guard
Keith Appling
made three consecutive jumpers, including a 3-pointer in transition with 16:32 left, to give Michigan State a 48-29 lead and whipped the already-hyper Breslin student section into a loud, jumping, delirious frenzy of white shirts going nuts at every possible opportunity.
Key player:
Spartans senior
Derrick Nix
punished Michigan's four-headed big-man rotation inside in the first half and helped to open up everything else for the Spartans. Nix finished with 16 points, 5 rebounds and 3 assists on 7-of-10 shooting.
Key stat:
Zero first-half points for
Tim Hardaway Jr.
After scoring 18, 23 and 18 points in the previous three games, respectively, Hardaway couldn't find anything in the first half. He missed all six of his shots, including four 3-pointers. This from a player who brought Michigan back a week earlier against Ohio State by making six 3-pointers, then followed it up by making what was almost the game-winner at Wisconsin on Saturday. Without Hardaway's production, Michigan struggled to shoot 27.3 percent from the 3-point line in the first half. Hardaway would finish with two points.
Miscellaneous:
Michigan football coach Brady Hoke, defensive coordinator Greg Mattison, former coach Lloyd Carr and former Michigan basketball player Zack Novak all watched the game from behind the Wolverines' bench. Hoke and Michigan State counterpart Mark Dantonio had a brief chat before the game right behind the benches. … After not scoring in double figures for almost a month, Nix now had back-to-back games with 10 points or more.… This ends a rough four-game stretch for Michigan, which started the sequence as the No. 1 team in the nation. After a 1-3 swing with games at Indiana, Michigan State and Wisconsin and a home game against Ohio State, the Wolverines have some major regrouping to do.
Next game:
Both teams receive something of a breather in the Big Ten. Michigan State travels to Nebraska for a game Saturday; Michigan has a home game against Penn State on Sunday.
February, 7, 2013
Feb 7
9:00
AM ET
While Greg Mattison might be recognized as the best recruiter among Michigan assistants, it is clear that running backs coach Fred Jackson deserves some recognition, as well.
Not only has he been on the Michigan coaching staff for 20-plus years -- working with Gary Moeller, Lloyd Carr, Rich Rodriguez and Brady Hoke -- but given the recruits he was able to bring in for the 2013 class, fans will enjoy a more streamlined run game.
As dazzling as some of
Denard Robinson
's jaunts were, Michigan hasn't really had an up-the-middle, smashmouth run game in the recent past, but Jackson is convinced that with his three 2013 running back signees, the Wolverines will be able to do just that.
To continue reading this article you must be an Insider
December, 3, 2012
12/03/12
5:02
PM ET
Former Michigan coach Lloyd Carr -- like many others -- loved the Southeastern Conference on his final Harris Poll ballot of the season.
He also appeared to like many teams from smaller conferences ahead of the one he used to coach for over a decade.
Carr placed Michigan at No. 22 in his final ballot -- fourth among Big Ten teams behind Northwestern, Nebraska and Wisconsin. Also ranked ahead of the Wolverines on the ballot were Utah State and BCS-bound Northern Illinois at No. 20.
To continue reading this article you must be an Insider
August, 27, 2012
8/27/12
1:40
PM ET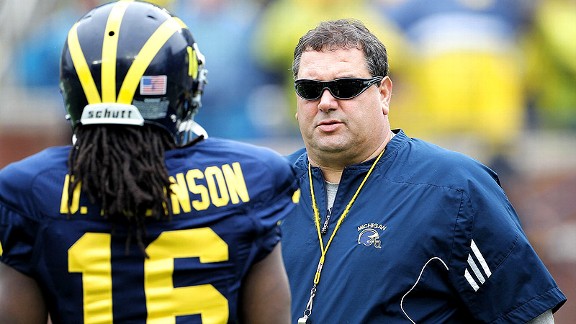 Leon Halip/Getty ImagesBrady Hoke and the Wolverine have a big challenge Saturday night against Alabama.
Jim Delany has never suppressed his desire for Big Ten members to test themselves outside the conference.
It's why the commissioner puts together unquestionably the nation's toughest bowl lineup each year. It's why he spearheaded the short-lived scheduling alliance with the Pac-12.
Even as the Big Ten's losses in nationally significant games pile up and its last national title in football gets smaller in the rear-view mirror, Delany wants teams to measure themselves against the best.
Michigan has gotten the message, loud and clear.
The Wolverines open the season Saturday night against defending national champion Alabama in Arlington, Texas. Alabama has hoisted the crystal football in two of the past three seasons. The Tide boast a 55-12 record under coach Nick Saban and haven't dropped a nonconference game since the 2007 season, Saban's first in Tuscaloosa.
The big blue banner isn't the only one Michigan will carry onto the field Saturday night. The Wolverines are playing for their beleaguered conference, too.
"Saban is probably the coach of the decade, and Alabama's probably the team of the decade with two national championships in the last three years," Delany told ESPN.com on Monday morning. "Michigan's trying to re-establish a program and a team, and Saban has done a fabulous job of returning Alabama to its programmatic height. So for us, it's a big game. I don't think you can minimize it. It's an important game, a big game, a big stage, and those are the kinds of games we want to play."
July, 20, 2012
7/20/12
4:36
PM ET
By
ESPN.com staff
| ESPN.com
January, 3, 2012
1/03/12
2:10
PM ET
NEW ORLEANS -- Watching the first half of Michigan's season opener against Western Michigan in September, Lloyd Carr might have known he'd end up in New Orleans since the College Football Hall of Fame is honoring its inductees for this class at the Allstate Sugar Bowl.
He wasn't expecting his old team, Michigan, to necessarily join him.
"If you had told me back in August that this Michigan team was going to have the season they had and improve so much from start to finish, I go back to the first half against Western Michigan when we had problems stopping them," Carr said before a Hall of Fame luncheon Tuesday. "You fast forward to Nebraska, to me, it was a sensational performance in every phase of the game.
To continue reading this article you must be an Insider
December, 27, 2011
12/27/11
10:28
AM ET
As part of the d festivities surrounding next week's Allstate Sugar Bowl, add this to the list.

The College Football Hall of Fame will honor its latest class of inductees before the game and with other activities throughout the week in New Orleans.

And that class includes former Michigan coach Lloyd Carr, who was inducted into the College Hall at a dinner in New York on Dec. 6.

Carr and the rest of his class will be announced to the crowd during a pregame ceremony at the bowl on Jan. 3. It is part of the National Football Foundation's Hall of Fame salute.
December, 5, 2011
12/05/11
11:14
AM ET
Just as current Michigan coach Brady Hoke votes in the USA Today coaches poll, former Wolverines coach Lloyd Carr also has a small say in the national championship race.
He's a Harris poll voter.
The Harris poll released its final votes today and Carr's ballot was somewhat consistent -- he had Michigan at No. 9 and Michigan State at No. 11. But he also had some surprises. He ranked Northern Illinois at No. 25 and somewhat shockingly had Clemson at No. 8.
To continue reading this article you must be an Insider
November, 19, 2011
11/19/11
9:20
PM ET
Former Michigan football coach Lloyd Carr sat in front of the media after Michigan's 45-17 win over Nebraska on Saturday.
"This is a little bit nicer press room," Carr said of the renovated Michigan Stadium.
Carr retired after the 2007 season with a 122-40 record during his 13 seasons as head coach. He spent 28 years on the Michigan football staff, working as a defensive backs coach and as a defensive coordinator under Gary Moeller and Bo Schembechler.
To continue reading this article you must be an Insider
November, 12, 2011
11/12/11
7:03
PM ET
Turning point:
Michigan cornerback J.T. Floyd read a
Nathan Scheelhaase
pass perfectly, jumping to pick off the play and return it 65 yards into Illinois territory with 10:50 left in the game. The Wolverines then scored on the following drive with a
Devin Gardner
27-yard touchdown pass to
Martavious Odoms
for a 24-7 Michigan lead.


Player of the game:
Michigan defensive tackle Mike Martin. The senior nose tackle was in the Illinois backfield all day, making a team-high nine tackles and having a half-sack. The nine tackles are one off his career high of 10, set against Wisconsin in 2009. He disrupted everything Illinois tried to do on offense in the first half.
Unsung hero of the game:
Michigan running back
Fitzgerald Toussaint
. The Michigan running back started the game hot, gaining 134 of his career-high 192 yards in the first half, but his play led to two early Wolverines touchdowns and forced Illinois to shift its defensive plan and focus on the running back.
What Michigan learned, What Illinois learned:
Michigan --
The Wolverines learned two things Saturday. First, that it can win with defense. Michigan defensive coordinator Greg Mattison called the best game of his first season in his second stint with the Wolverines against Illinois. Michigan held Illinois to negative-12 yards rushing in the first half and pressured Scheelhaase all game long. It also learned it might have a good quarterback in backup Gardner. As he received more snaps, he looked more comfortable and his touchdown pass to Odoms was one of the better throws of the season.
Illinois --
That the offensive line needs some work. Illinois couldn't block much of what Michigan ran at the Illini on Saturday, barely being able to run the ball and not giving Scheelhaase time to stay in the pocket. It seemed to throw Illinois' entire offense out of rhythm.
What it means:
For Michigan, it gives the Wolverines the most wins they've had since 2007, when Michigan went 9-4 in the final season for former coach Lloyd Carr. It also showed Michigan it could win on the road in a hostile atmosphere. For Illinois, it is four straight losses and what looked like a special season in Champaign, Ill. is now in freefall as the Illini have to face Wisconsin next Saturday.
Record performance:
It may not seem like a big record, but Odoms had a season-high two catches for 46 yards, including his first touchdown catch of the season. The 46 yards, though, pushed Odoms over 1,000 yards receiving for his career.
Weekend Recruiting Wrap: Big Ten - Dec. 2