Michigan Wolverines:

Lavonte David
February, 7, 2014
2/07/14
4:30
PM ET
Signing day is over and spring ball is a few weeks away. Enjoy a quiet weekend.
To the inbox ...
Matt from Omaha writes:
Hey Adam, I liked the article "How did B1G's top 2010 recruits pan out?" and, as a Husker fan, decided to look back at some of our recruits to see which names still stood out. In my opinion, it appears that JUCO players seem to be least likely to become a bust when they come to college. Since recruiting isn't an exact science, do you think that it might be easier to evaluate JUCO players, or is my perception of the situation skewed do to the likes of Lavonte David, SJB, and
Randy Gregory
rolling into Lincoln in recent years?
Adam Rittenberg:
Matt, Nebraska certainly has had a very nice run of jucos in recent years. There certainly are a number of juco busts, but you're right that it's often easier to assess those players because they're more physically mature and, in some cases, would have gone right to FBS programs out of high school if not for other reasons (academics, etc). There are risks to taking junior college players, as some have red flags in their background, but Nebraska has seen the rewards of bringing in players like David and Gregory.
[+] Enlarge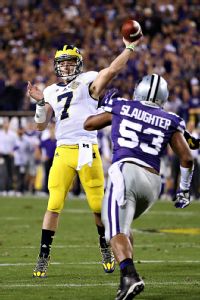 Christian Petersen/Getty ImagesIs Shane Morris ready to take over as Michigan's starting QB?
Mark from Cincinnati writes:
No one would listen when I said, post bowl, that
Shane Morris
would be the man in '14 for Michigan. NOW---that the debate is out there, I hope to get your opinion. Morris is a future 1st round pick when his days at U of M are over.
Devin Gardner
will NEVER be an N.F.L Q.B. He will be an offensive weapon. Why would we not make this move now, when D.G can give us another target for Shane? Not like he's new to the position.
Adam Rittenberg:
Mark, you're not the first person to mention the possibility of Gardner moving back to wide receiver, which certainly is a position of need for Michigan after losing
Jeremy Gallon
and
Drew Dileo
. I just don't know if I'm buying Morris as much as you are -- not yet, at least. He did a decent job in the bowl game but operated with a limited playbook filled mostly with short, high-percentage passes. I'd like to see him stretch the field more and create big plays when protection breaks down. Keep in mind that Gardner had some huge performance for Michigan last year, and he operated behind a terrible offensive line. If the line doesn't improve -- Doug Nussmeier's scheme could help out the group -- it's asking a lot from a young player like Morris to run the show on his own.
Dan from Lewes, Del., writes:
Nobody's done more with less as far as having great recruits in the past than Kirk Ferentz. But as a Hawks fan, I can't help but wonder with the amount of players they've put into the NFL (an extremely high amount compared to the success of the program), why don't more highly ranked recruits want to go there? Would being Alabama or Florida State's 3rd or 4th receiver really be better in the long run? What's the deal?
Adam Rittenberg:
Dan, Iowa definitely sells its NFL tradition, but it's not as if programs like Alabama, USC, LSU and Florida State are failing to send players to the next level, too. Those programs are located closer to the top recruiting hotbeds than Iowa, which has to extend its recruiting reach far beyond the state. Iowa also doesn't sell itself as an overly flashy program. That's not Kirk Ferentz's style, but sometimes it might work against Iowa in recruiting some of the elite players, who crave the spotlight. Iowa isn't a program you hear about much in the national media, which is largely by design. But if you want to work with a staff focused on development with a track record of producing NFL players, Iowa is a great place to go.
Chris from Milwaukee writes:
Hey Adam, I love recruiting season, but have one pet peeve. Whenever a team loses out on a recruit you start hearing from the fan base the player had academic issues and wasn't going to qualify. Do academic requirements vary from school to school or do they all follow the NCAA Clearinghouse?
Adam Rittenberg:
Chris, every school must adhere to initial NCAA eligibility requirements when admitting athletes, but academic standards most definitely vary from program to program. I don't know if the differences are as pronounced as some fans believe them to be, but there different standards, different numbers of academic exceptions, etc., not just from league to league but within each league as well.
John from Northern Michigan writes:
I think Brian and you have some explaining to do with this list of top 10 games. First, I just noticed Nebraska's win over Georgia is not included. A B1G team beats a SEC team on New Year's Day and it is not in the top 10? That is actually the biggest oversight, it is easily in the top 10.Second, no way you can justify leaving the Rose Bowl victory out of the #1 position. Try to gain some perspective here, this is only the B1G's second victory in 14 years at the Rose Bowl.
Adam Rittenberg:
John, some good points on why the Rose Bowl should have been No. 1, and perhaps we made a mistake there. It certainly was a historic win, not just for Michigan State but the Big Ten. But Nebraska-Georgia? C'mon. Two banged-up teams that had underachieved during the season played a rematch in a bowl game that neither fan base cared that much about. Credit Nebraska for winning and playing well, but that game doesn't belong on a Top 10 list.
Marcus Aurelius from Placer, Calif., writes:
When will the NCAA get with the times and allow emailed/scanned letters of intent, like the rest of the world uses for documentation?
Adam Rittenberg:
It would be nice, Marcus. Some schools like Northwestern actually are
offering programs that allow electronic signatures and email/scanning
, but for the most part, it's still all about the fax machine. I spent signing day at Michigan State and some of their assistants were joking about how archaic the faxes are. I know the compliance folks need clear proof of signatures and that the forms are filled out correctly, but we have programs that can do this through email. I think we'll see more and more schools go that route.
January, 12, 2012
1/12/12
2:16
PM ET
Now that the season is over, it's time to take a look back at our Top 10 moments of the year in Big Ten football, on and off the field:
No. 1
"Rocket" men (Oct. 22)

[+] Enlarge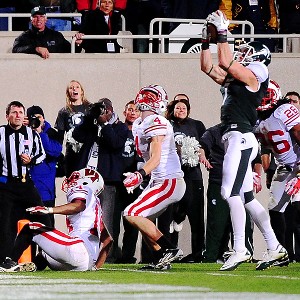 Andrew Weber-US PRESSWIREMichigan State Spartans wide receiver Keith Nichols' (right) catch to defeat the Wisconsin Badgers was the top play of the 2011 Big Ten season.
Michigan State's 44-yard Hail Mary pass from
Kirk Cousins
to
Keith Nichol
(via
B.J. Cunningham
's facemask) stands as the most memorable play of the Big Ten season and, we would argue, the top play of the college football year. The Spartans' 37-31 win over Wisconsin derailed the Badgers' national title hopes and helped propel Michigan State to a Legends Division title. And that set up another fantastic moment ...
No. 2
Badgers get revenge (Dec. 3)
The first Big Ten championship game couldn't have asked for much more drama, as Wisconsin and Michigan State staged a highly-anticipated rematch of their earlier classic. This one played out in almost the same fashion, with each team trading huge plays in a thrilling game. This time, the Badgers completed a desperation heave, as
Russell Wilson
found
Jeff Duckworth
on a long pass in the fourth quarter to set up the go-ahead touchdown. A running-into-the-punter penalty ended the Spartans' chances of winning in the final minute again. Wisconsin clinched a second straight Rose Bowl appearance with its 42-39 victory, and another Spartans-Badgers epic duel made the inaugural title game a smashing success.
No. 3
Michigan's miracle (Sept. 10)
If not for those Michigan State-Wisconsin games, Michigan's 35-31 win over Notre Dame would likely be remembered as the most exciting game of the Big Ten season. The Wolverines trailed 24-7 after three quarters and couldn't get much going offensively. But then
Denard Robinson
took over. The two teams scored three touchdowns in the final 1:12, until Robinson ended matters with a 16-yard scoring strike to
Roy Roundtree
with two seconds left. That kind of magic would stay with Michigan all season long, right through its equally improbable Allstate Sugar Bowl win over Virginia Tech.
No. 4
Braxton's bomb (Oct. 29)
A week after losing on that Hail Mary in East Lansing, Wisconsin had its guts ripped out all over again in Columbus. Precocious Ohio State freshman quarterback
Braxton Miller
scrambled and nearly crossed the line of scrimmage before firing a 40-yard touchdown pass to a wide-open
Devin Smith
with 20 seconds left as the Buckeyes won 33-29. Little did we know then that it would be Ohio State's last great moment of the season, or that the Badgers would somehow regroup to still win the league championship.
No. 5
The fall of an icon (Nov. 9)
No story in the Big Ten, or in all of sports, was bigger than the child sex abuse scandal that erupted at Penn State in November. The rape allegations against former assistant coach Jerry Sandusky, as well as charges that school administrators failed to stop him and/or lied under oath, became international news. And on Nov. 9, that scandal led to the firing of legendary head coach Joe Paterno, who won 409 games while leading the program since 1966. Everything about that week in State College, from students rallying on Paterno's front lawn to the bizarre, circus-like atmosphere at the Board of Trustees news conference announcing his dismissal, was and remains surreal.
No. 6
A time for healing (Nov. 12)
After all the events and controversy leading up to Penn State's home game against Nebraska, which included student riots in the streets of downtown a few days earlier, there was serious concern about what would happen at Beaver Stadium that Saturday. Security was on high alert. But the Nittany Lions and Huskers players helped diffuse the tension by meeting at midfield just before kickoff for a moving prayer. Nebraska won the game and won some admirers for how it handled the difficult situation.
No. 7
Urban renewal (Nov. 28)
Most of Ohio State's season, which featured a 6-7 record and a 2012 NCAA bowl ban handed down in December, was something its fans would like to forget. But Buckeyes fans can't wait for the future after the school hired Ohio native Urban Meyer as its next head coach. Meyer's first season will be hampered by the postseason ban. Still, for Ohio State to go through the mess it faced during 2011 and still end up with a coach of Meyer's stature and pedigree has to be considered a victory.
No. 8
Gophers go hog wild (Oct. 29)
Minnesota barely looked like an FBS team, much less a Big Ten one, during its 1-6 start. The Gophers had lost to North Dakota State and were outscored 144-31 in their first three league contests. But the rivalry game against Iowa brought out the best in them. Minnesota scored two touchdowns in the final 8:22 and pulled off a daring onside kick to stun the Hawkeyes 22-21 in the upset of the Big Ten season. The Gophers kept the Floyd of Rosedale trophy in Minneapolis for a second straight season.
No. 9
Huskers' historic comeback (Oct. 8)
Nebraska's first Big Ten home game was one to remember. The Huskers trailed Ohio State by 21 points in the second half before rallying for the biggest comeback victory in program history.
Taylor Martinez
,
Rex Burkhead
and Lavonte David all had huge nights as the team scored 28 straight points for a 34-27 victory. And by beating the league's reigning blue-chip program, Nebraska proved it belonged in the Big Ten.
No. 10
The Streak ends (Nov. 26)
Brady Hoke promised to "Beat Ohio" when he took the Michigan job. And he delivered with an exciting 40-34 victory
that snapped an infuriating seven-game losing streak to the hated Buckeyes. Robinson accounted for five touchdowns as the Wolverines held off a big performance from Ohio State's Miller. With Hoke and Meyer now battling it out every year, The Game could resume its place as college football's top rivalry.
January, 10, 2012
1/10/12
4:25
PM ET
The college football season is officially over. So it's time to break out the crystal ball and offer our projections for the preposterously-too-early 2012 Big Ten power rankings.

1. Michigan State:
The Spartans must replace a lot of leadership, including quarterback
Kirk Cousins
, receivers
B.J. Cunningham
and
Keshawn Martin
and All-American defensive tackle Jerel Worthy. But nine starters return off the Big Ten's top overall defense, featuring Will Gholston, Denicos Allen and Isaiah Lewis as potential breakout stars.
Le'Veon Bell
could have a big year as the No. 1 tailback, and if
Andrew Maxwell
can adequately fill in for Cousins, the offense should be fine, especially if Tennessee transfer
DeAnthony Arnett
gets his waiver to become immediately eligible at receiver. Plus, the road schedule (at Central Michigan, at Indiana, at Michigan, at Wisconsin, at Minnesota) is far more manageable than what the team navigated in 2011.
2. Michigan:
A lot of things went right for the Wolverines in 2011, including a favorable schedule. That slate gets harder in 2012, beginning with Alabama at Cowboys Stadium and including road trips to Nebraska and Ohio State. Still,
Denard Robinson
and Fitz Toussaint form one of the most dangerous offensive duos in the league, and the second year under Brady Hoke and his staff should mean more familiarity and comfort. Coming off a BCS win, Michigan could start the season in the Top 10.
3. Wisconsin:
The Badgers will have to overcome many challenges to reach their third straight Rose Bowl. The biggest concern is at quarterback, where there's no experience to replace
Russell Wilson
and his record-breaking efficiency level. Bret Bielema will have to remake almost his entire offensive coaching staff after Paul Chryst took several assistants with him to Pittsburgh. Still, Heisman Trophy finalist
Montee Ball
returns to keep the Wisconsin running game among the best in the country. And the two Big Ten teams who beat the Badgers in 2011 -- Michigan State and Ohio State -- must come to Madison in '12.
4. Ohio State:
The Buckeyes aren't eligible to make the Big Ten title game, but don't be surprised if they put up the best record in the Leaders Division. A transition period can be expected as Urban Meyer takes over as head coach and installs an entirely new offensive system. But Ohio State had a small senior class in 2011 and brings back many talented players, such as defensive lineman John Simon, quarterback
Braxton Miller
and running back
Carlos Hyde
. A schedule that features eight home games should equal much improvement over this year's 6-7 record.
5. Nebraska:
Few teams will be as experienced on offense as Nebraska, which returns seven starters and just about every key skill player on that side of the ball.
Taylor Martinez
and
Rex Burkhead
should be even better with another year in offensive coordinator Tim Beck's system. The questions are on defense, where the Huskers struggled at times in 2011 before losing their top two players in linebacker Lavonte David and cornerback Alfonzo Dennard. Nebraska must get tougher up front defensively to handle the Big Ten grind and has difficult road assignments looming at Ohio State and Michigan State.
6. Penn State:
For the first time since 1965, we'll see what a Penn State team looks like that is not coached by Joe Paterno to start the season. New coach Bill O'Brien made a wise decision to retain defensive assistants Larry Johnson and Ron Vanderlinden, and even without All-American lineman Devon Still, that side of the ball should stay stout with standouts like Gerald Hodges, Jordan Hill and hopefully a healthy Michael Mauti. O'Brien's biggest impact should come on offense. The former New England Patriots offensive coordinator will try to bring the Nittany Lions attack into the 21st century with a competent passing game. Tailback
Silas Redd
provides a nice crutch while that transition occurs.
7. Iowa:
After two straight 7-5 regular-season finishes, the Hawkeyes will look to get back into Big Ten contention. But they'll have to overcome the losses of star receiver
Marvin McNutt
, offensive tackle Riley Reiff, defensive linemen Mike Daniels and Broderick Binns and cornerback Shaun Prater. When he's on,
James Vandenberg
is as good a dropback passer as there is in the Big Ten, but making up for McNutt's production won't be easy. Assuming
Marcus Coker
returns from suspension, the running game should be very good. The defense simply has to improve after giving up too many big plays in 2011, and Kirk Ferentz hasn't yet named a successor to veteran defensive coordinator Norm Parker, who retired.
8. Purdue:
The Boilermakers have a chance to make a move in a Leaders Division that is marked by coaching changes. They return most of the major pieces of their Little Caesars Bowl-winning team, and the return of
Rob Henry
from his season-ending knee surgery opens up some interesting possibilities at quarterback. Kawann Short should be one of the top defensive linemen in the league if he decides to return for his senior year. We'd still like to see more consistency from Danny Hope's program before we rank Purdue too high, however.
9. Northwestern:
Dan Persa
and his record-breaking accuracy are gone, along with top receiver
Jeremy Ebert
. Yet we're not too concerned about the offense and like the multi-dimensional options that
Kain Colter
provides with his all-around athleticism. Northwestern's issue is whether it can fix a defense that had trouble stopping anybody. The fact that the Wildcats lose their top three defensive backs from a secondary that was routinely torched does not inspire confidence.
10. Illinois:
New coach Tim Beckman has his work cut out for him in Year One. He has to completely revamp an offense that couldn't shoot straight in the back half of 2011 while implementing a new spread style. He has to try to maintain the defense without coordinator Vic Koenning or All-American defensive end Whitney Mercilus. And he faces a schedule that sees the Illini going to Ohio State, Wisconsin and Michigan, all three of which won in Champaign this past season. There's still talent on defense, led by promising linebacker Jonathan Brown. Quarterback
Nathan Scheelhaase
needs to build on his second-half showing in the Kraft Fight Hunger Bowl.
11. Minnesota:
After a horrible start, the Gophers showed a lot more fight down the stretch in 2011, beating Iowa and Illinois at home. Jerry Kill knows how to build a program, and the team can't help but be better in 2012, especially if MarQueis Gray continues to develop at quarterback. But Minnesota still has some holes on its roster that can only be fixed through recruiting, and while the Gophers could make a run at bowl eligibility this year, they'll be hard-pressed to make too much noise in a stacked Legends Division.
12. Indiana:
The good news for the Hoosiers is that they played a ton of freshmen in 2011, and the growing pains should start to pay off for guys such as
Tre Roberson
and Mark Murphy in 2012. The second year under Kevin Wilson should also bring progress. Still, this is a team that went 1-11 in 2011 with no wins over FBS teams, so it remains an uphill climb.
Coaches Contending For 'King Of Spring'
BIG TEN SCOREBOARD
Thursday, 9/3
Friday, 9/4
Saturday, 9/5
Sunday, 9/6
Monday, 9/7