Michigan Wolverines:

Kyle French
September, 30, 2013
9/30/13
11:00
AM ET
How much heartburn can one team and one fan base take?
That's one of the lingering questions from Week 5 for Wisconsin, which dropped another close game Saturday in a 31-24 loss to Ohio State. That's 10 defeats by seven points or less since the start of 2011 for the Badgers, who have done this so much that we're starting to see reruns.
Prime example: Ohio State quarterback
Braxton Miller
's 40-yard touchdown pass to
Corey Brown
with one second to go in the first half covered the same distance as Miller's game-winning heave in the last half Wisconsin played in the Horseshoe, back in 2011. This time, safety
Dezmen Southward
was late in providing help after cornerback Peniel Jean peeled off, making an inexcusable mistake by letting a receiver get free in the end zone on the half's final snap.
"It's basically a play that shouldn't ever happen," Southward said afterward.
[+] Enlarge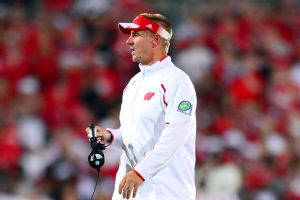 Andrew Weber/USA TODAY SportsGary Andersen couldn't pull out a win for Wisconsin against Ohio State.
The Badgers also had two potential Ohio State turnovers negated by penalties, one on a face-mask call that didn't look like a face-mask violation on replay and the other on an illegal punt formation. Kicker
Kyle French
also missed a 32-yard field goal -- the same distance he was being set up for at Arizona State.
The late-game problems can't really be blamed on the head coach's late-game management. Gary Andersen had his team in position to win at Arizona State until the officials botched the final seconds. On Saturday, he elected to have his team punt on fourth-and-1 from its own 17 with under seven minutes left, while trailing by 14 points. At the time, that looked like a potential mistake. But Wisconsin got the ball right back and scored a touchdown with 2:05 left.
The Badgers then tried a pooch onside kick that
Bradley Roby
had to knock out of bounds. In retrospect, with all three timeouts remaining, Andersen could have just kicked off and potentially gotten better field position after his defense held for a three-and-out. But it was a totally understandable call to try to get the ball back on the road.
Meanwhile, every decision seems to continue working out for Urban Meyer in his 17-game winning streak. I thought Meyer was a little more conservative than normal on Saturday night. It was very surprising, for instance, to see him not go for it on fourth and 2 from the Wisconsin 45 in the first half, instead trying the lame "Let's-try-to-draw-them-offside" technique before punting. Ohio State also played it safe in the fourth quarter instead of going for the kill shot. Miller's wounded duck pass before the touchdown at the end of the half should have been picked off.
But the Buckeyes -- who scored only seven points in the second half -- again came away unscathed. They have become the anti-Wisconsin, having won six games by seven or fewer points since the start of last season.
Badgers fans have to wonder when their heartburn will finally be soothed.
Take that and rewind it back …
Team of the week:
Ohio State. The Buckeyes got their first major challenge of the season and pulled through in a tough game against Wisconsin. The environment in the Horseshoe was electric from start to finish and included a visit from LeBron James and
this amazing halftime show
by TBDBITL (try not to be impressed by the formation around the 4:30 mark). Seventeen in a row and counting.
Worst hangover:
Minnesota. The Gophers thought they had made progress in getting ready for the rigors of Big Ten play and that this year's 4-0 start meant more than last year's. Instead, they got manhandled by Iowa in game No. 5 just like last season, leading to questions about what really has changed for this program.
Big Man on Campus (offense):
We usually don't single out players from teams who lost for this honor, but the best effort we saw this past weekend came from Wisconsin receiver
Jared Abbrederis
. Ohio State thought it could slow down the Badgers' only notable receiving threat by putting All-America cornerback Roby on him. Not close. Abbrederis finished with 10 catches for 207 yards and a touchdown. His Twitter handle is @abbrecadabra, and how he keeps getting so open might just be magic.
Big Man on Campus (defense):
Iowa linebacker
James Morris
had an outstanding game against Minnesota, recording eight tackles, a sack and an interception and leading the defensive effort that limited the Gophers to just 165 total yards. "He plays the way I expect him to," Iowa coach Kirk Ferentz said. "He's a complete football player. Nobody prepares any harder, works any harder. He does things you would hope anybody would do. And he backs it up every Saturday." Ohio State's
Ryan Shazier
and Wisconsin's
Chris Borland
also had standout games, but what else is new in this star-studded linebacker league?
Big Man on Campus (special teams)
: Ohio State punter
Cameron Johnston
placed all six of his punts inside the Wisconsin 20-yard line and five of those inside the 10, helping the Buckeyes maintain great field position most of the night. The Badgers managed just three return yards on punts. "Our punt team is solid, and that's probably the star of our special teams," Meyer said.
Fun with numbers (via ESPN Stats & Info):
Ohio State's Miller was 9-for-11 for 107 yards and had three of his four passing touchdowns off play-action Saturday. He has completed more passes off run fakes against Wisconsin (17) in his career than any other opponent. … Meanwhile, Badgers QB
Joel Stave
threw the ball 25 times without using play-action and completed just 13. It was only the third game in the last four seasons that a Wisconsin quarterback attempted at least 25 passes without a run fake; the Badgers have lost all three of them. … Illinois'
Nathan Scheelhaase
has completed 21 passes that have gone for at least 20 yards. That's tops in the Big Ten and tied for eighth in the nation. … Remember how frustrating it was to watch Iowa continually come up short of the sticks on third down last season? That's not the case this year for the improved Hawkeyes. They're converting on 52.5 percent of their third-down tries, good for 13th best in the country. … Northwestern has scored 83 points off turnovers in four games, the most in the nation. … Purdue's opponents have committed just 12 penalties in five games, second fewest of any team in the FBS. The Boilers' penalty margin is the worst in the country, as they have committed 30 themselves for a minus-18 margin.
September, 16, 2013
9/16/13
11:00
AM ET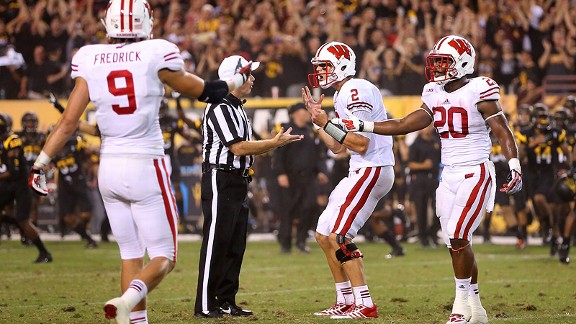 Christian Petersen/Getty ImagesJoel Stave and the rest of the Wisconsin Badgers were flabbergasted by the ending of Saturday night's loss to Arizona State, as the Badgers bizarrely ran out of time deep in ASU territory.
It was a rough weekend all around for the Big Ten, which went 0-3 against ranked teams, 1-3 versus the Pac-12 and only 5-5 against FBS competition. Even some of the winning teams either had major scares (Michigan), looked sluggish (Northwestern) or had the game overshadowed by a different concern (Minnesota).
But, really, all I want to talk about is the Wisconsin-Arizona State ending, aka the Desert Debacle.
If you haven't read up on one of the most absurd finishes of all time yet, take a moment to brush up
here
and
here
and
here
. Consider all the things that went sideways in 18 infamous seconds:
As Badgers quarterback Joel Stave ran to his left to center the ball for an upcoming field goal try, he collided into the backside of left guard Ryan Groy and very nearly clipped Groy's heel while attempting to kneel. (Groy didn't even need to be there, as he'd shed a defender and had no one left to block.) Adding to the confusion, Stave quickly bounced up and placed the ball on the 15-yard line as if the pigskin were covered with scorpions. Had he merely Tebowed it and held onto the ball for a couple of seconds, or just handed it to an official, the ensuing chaos probably doesn't occur.

A whistle had blown and the referee, stationed behind the Wisconsin offense, clearly signaled the ball as down. And yet, other officials and players seemed unsure if Stave had actually knelt or whether it was a live, loose ball. Postgame photographic evidence proved he did take a knee, but it took a specific angle on a freeze frame from the hi-def broadcast to remove doubt. Things aren't nearly as clear in full speed live action when you're a 50-year-old-plus referee who's been running around in desert heat for three-plus hours.

But here's the thing: It shouldn't have mattered whether Stave's knee actually ever touched the turf. According to the NCAA rules manual (specifically, Rule 4, Article 2, Section A), the ball is dead if "an official sounds his whistle (even though inadvertently) or otherwise signals the ball dead." Later in Rule 4, the handbook states that the play is dead "when a ball carrier simulates placing his knee on the ground." So Stave should be off the hook here, even though his actions looked odd at the time.

Three Sun Devils players went for the ball, understandably so given the mixed signals, and Anthony Jones laid on it for more than five seconds. Ironically, Arizona State fans booed earlier in the game when they thought Wisconsin's Michael Caputo faked an injury to slow their team's offensive pace by the goal line. Apparently, an even better way to disrupt tempo is to smother the ball like it's a rogue hand grenade, because Jones astonishingly got away with a clear and obvious delay of game infraction.

Even if Stave's kneel-down had gone smoothly, the clock would not have stopped, and the Badgers had no timeouts. Yet, Stave and his teammates wasted precious time by looking to the confused officials instead of rushing into formation for a spike. In fact, Wisconsin players only frantically pointed to the clock when there were two seconds left. The umpire, moving slower than most Arizona retirees, wrongly signaled for the Badgers line to back away, but even that didn't happen until 0:02. The umpire also appeared never to have looked at the referee as the latter was signaling the ball as down.
Without question, the Pac-12 officiating crew displayed a shocking lack of rules knowledge and cohesion. They never huddled together to try and figure out what had happened. The referee, who presumably whistled the play dead and signaled it as so, should have taken charge of the situation. It's disgraceful that two teams could play so hard for 59-plus minutes, only to have officials approach the frenzied final moments so casually (they sure moved fast once they'd decided the Sun Devils had won, however). And if we're going to continually interrupt games for replays, many of which have seemingly little effect on the final outcome, then why isn't there a protocol in place to correct last-second disasters like this on review?
While the officials deserve nearly all the blame, Wisconsin played with fire in trying to get the ball into only slightly better kicking position with the clock dwindling. Badgers coach Gary Andersen said his team practices that specific play for that amount of time, but any seasoned Saturday observer knows that most college teams are notoriously bad at late-game execution. That's because of both inexperienced players and the NCAA 20-hour rule that limits the amount of time coaches can spend on such scenarios. Even when teams do practice for it, they can neither simulate nor predict how quickly -- or, in this case, how interminably -- a given official will clear the pile and spot the ball.
Two more points to consider: First, the bizarre finish absolved Arizona State's Todd Graham of some atrocious clock management and play calling on the Sun Devils' final drive. Graham has yet to impress as a head coach; he twice decided to go for two-point conversions far too early in a back-and-forth game, and it nearly cost his team.
Secondly, Wisconsin's kicking game has been highly suspect for a while now, so there's no guarantee
Kyle French
makes that field goal, even if it's only from 27 yards out after a delay penalty. But French is 6-for-6 in his career from 30 yards or closer, and he'd made one from 34 earlier Saturday night. It's a shame we'll never know if he could have hit the game winner.
One last question: Why do so many weird things keep cropping up at the end of games for the Badgers, who now have 10 losses by a touchdown or less since the start of 2011? Wisconsin fans can no longer scapegoat Bret Bielema for late-game mismanagement; his wife's schadenfreude was readily apparent when Jen Bielema tweeted "#karma" shortly after the Arizona State fiasco ended.
Take that and rewind it back ...
Team of the Week:
Iowa. The Hawkeyes snapped a two-game losing streak against Iowa State, beat a FBS team for the first time since Oct. 13 of last year, and now can feel much better about a potential return to postseason play.
Biggest hangover:
Nebraska. For all
the obvious reasons
. The sky isn't falling in Lincoln, as the Huskers should still be able to win at least eight or nine games. But the sun sure ain't shining, either.
[+] Enlarge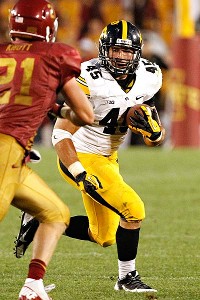 David Purdy/Getty ImagesMark Weisman made 35 carries against Iowa State. Workhorse running backs are still typical throughout the Big Ten.
Fun with numbers (via ESPN Stats & Info):
Iowa's
Mark Weisman
ranks third in the FBS in rushing yards, but his most impressive stat might be his 85 carries. Weisman, who toted it 35 times versus Iowa State, has run the ball 10 times more than anybody else in the nation. Michigan State workhorse Le'Veon Bell had 81 carries through three games last year. ... Wisconsin's
Melvin Gordon
, meanwhile, leads the country at 12.89 yards per rush. The redshirt sophomore is averaging 10.1 yards per attempt for his career. ... Indiana's
Nate Sudfeld
has taken over the Big Ten lead in QBR. Sudfeld ranks seventh nationally with his 91.7 raw score (based on a 100 point scale). Sudfeld also is tied for the national lead in most completions of 20 yards or more, with 19. ... Penn State continues to baffle with its ineptitude on third down, having now converted just four of 34 tries. Only Miami of Ohio (3-for-29) has been worse. ... Bet you wouldn't have guessed this, but Iowa is leading the league in plays per game, at 83 snaps per contest. The Hawkeyes are tied for 10
th
nationally in plays per game. Minnesota is running the fewest plays per game in the Big Ten, at 60.
Big Man on Campus (Offense):
Kenny Guiton
-- or Kenny Football, as I've taken to calling him, because the real Kenny G is far too lame -- continues to get it done in
Braxton Miller
's absence. The Ohio State quarterback threw for 276 yards and four touchdowns and ran for 92 yards in the win at Cal. Urban Meyer says he might find ways to play Guiton when Miller is healthy.
Big Man on Campus (Defense):
Not a lot of great individual defensive performances in Week 3 (see below), so we'll go with Iowa's linebackers.
Christian Kirksey
,
Anthony Hitchens
and
James Morris
combined for 25 tackles, and Morris had a 27-yard interception return. They helped limit Iowa State to just 59 yards rushing.
Big Man on Campus (Special teams):
It's time to recognize Purdue's
Cody Webster
, who might win the Ray Guy Award if it were handed out today. Webster continued his tremendous season by averaging 41.8 yards per punt and downing three of them inside the 20 versus Notre Dame.
Pointing up (the wrong way):
In the first two rewinds of 2013, we pointed out how scoring is up in the Big Ten. In Week 3, that was also true in a negative way. Six Big Ten teams (Nebraska, Ohio State, Penn State, Wisconsin, Purdue and Illinois) gave up at least 31 points, and Michigan nearly joined them (and would have been the sixth of seven to lose if so). Offenses have improved in the league, but let's face it: Most Big Ten teams still aren't well-equipped to win shootouts, so the defenses need to play better.
Strangest moment, Part II:
Nothing tops the end of the Wisconsin-Arizona State game for absurdity. But more strangeness occurred in the UCLA-Nebraska game, when officials signaled for a made field goal on a kick that was obviously wide right. The call was overturned on replay, but how is that missed in the first place? An Arizona State field goal early against Wisconsin was similarly odd, as it appeared to curve from out, to in, to above the right upright. Officials called it good, but it was hard to tell for sure. Both plays only added fuel to comedian Adam Carolla's common-sense
crusade to raise the darn uprights already
.
Did you see?
A skywriter
spelled out "Go Blue" over Spartan Stadium
shortly before Michigan State's game against Youngstown State on Saturday. Who bothered to do that or why remains unclear, but as Michigan State swimming coach Matt Gianiodis tweeted: "That's a lot of work for your 3
rd
biggest rival." Maybe Michigan fans should have focused more on Akron.
Coaches Contending For 'King Of Spring'
BIG TEN SCOREBOARD
Thursday, 9/3
Friday, 9/4
Saturday, 9/5
Sunday, 9/6
Monday, 9/7