Michigan Wolverines:

Kirk Ferentz
May, 10, 2013
May 10
11:52
AM ET
Inspired by
Florida's "#ComePlayWRFortheJoker" campaign
">Florida's "#ComePlayWRFortheJoker" campaign, our recruiting writers looked at other ways schools can sell themselves on the trail. Here's a look at recruiting pitches for the Big Ten:

Illinois Illini
What they're selling:
A chance to rebuild a program from the ground up, beginning with four-star quarterback
Aaron Bailey
, who signed in 2013.
What they're missing:
Just about all of the top prospects from their own state.

Indiana Hoosiers
What they're selling:
Indiana coach Kevin Wilson
embraces the idea of a college spring break
and is ready to head to Cancun with some of his players.
What they're missing:
Wilson looks like he might hold the group up in Mexico, however, as he still needs the assistance of a flotation device. Points that it is in the shape of a turtle, though.

Iowa Hawkeyes
What they're selling:
Iowa boasts one of the few staffs that can say they will be there all four years of a recruit's career and has the history to back it up. Kirk Ferentz is the longest tenured coach in the Big Ten and it's not even close.
What they're missing
: Out-of-state prospects tend to think Iowa is all cornfields, leaving the staff to battle that misconception countless times throughout the recruiting cycle.

Michigan Wolverines
What they're selling:
Michigan coach Brady Hoke looks like an outlaw patrolling the sideline on Saturdays without a headset.
What they're missing:
The player who graces the NCAA Football 2014 cover Denard Robinson. "Shoelace" was one of the Wolverines' best recruiting tools.

Michigan State Spartans
What they're selling:
Michigan State coach Mark Dantonio is the
man behind Little Giants
, one of the greatest trick plays of the last few decades.
What they're missing:
A trip to a Rose Bowl under Dantonio would put Michigan State over the top when it comes to recruiting. There is already a significant difference in the caliber of player the Spartans are now getting compared to just a few seasons ago.

Minnesota Gophers
What they're selling:
The Gophers boast the biggest locker room in college football.
What they're missing:
They have not had a winning season since 2008.

Nebraska Cornhuskers
What they're selling:
Bo Pelini whipped out
"The Bernie" in the Huskers' Harlem Shake video
. Harlem Shake equals instant credibility with recruits.
What they're missing:
A lack of a strong base of in-state talent makes it tough to recruit at Nebraska, and a Harlem Shake video can overcome only so much.

Northwestern Wildcats
What they're selling:
The new facilities are right near Lake Michigan, which, as assistant Bob Heffner is telling recruits, is a great spot for fishing.
What they're missing:
Not too many high schoolers in New Jersey have taken up fishing as a hobby. At least not yet.

Ohio State Buckeyes
What they're selling:
Urban Meyer is bringing SEC speed to the Big Ten.
What they're missing:
Has anyone actually clocked Meyer in the 40-yard dash? How fast is he really?

Penn State Nittany Lions
What they're selling:
Beaver Stadium fits more than 106,000 on Saturdays, making it the second largest stadium in the country. Inside is also one of the country's most passionate fan bases, and ESPN analyst Kirk Herbstreit once listed Penn State's student section as "simply the loudest, most supportive student section in college football."
What they're missing:
A full slate of scholarships and a chance to play for a Big Ten title the next few years.

Purdue Boilermakers
What they're selling:
Few programs have the history Purdue does at quarterback, and former Boilermakers Drew Brees, Kyle Orton and Curtis Painter are all on NFL rosters. The Boilermakers just signed ESPN 300 QB
Danny Etling
, too.
What they're missing:
Brees, Orton and Painter.

Wisconsin Badgers
What they're selling:
The Badgers have been to three straight Rose Bowls.
What they're missing:
The coach who took them there.
May, 2, 2013
May 2
3:30
PM ET
My hometown is already packed full of visitors and C-list celebrities in anticipation of the Kentucky Derby on Saturday. If you've never been, well come on down and enjoy the party. I've got a spare guest room.

When you live in Louisville, horse racing and handicapping are about all you can think of this time of year, in between bites of Derby Pie. So, like
last year
, I've imagined what the Big Ten 2013 program would look like if the championship chase were more like a horse race. I think the odds would go a little something like this (like the Churchill Downs toteboard, our odds only go up to 99-to-1),:
Ohio State: Even
Despite being scratched from last year's race by NCAA probation, the Buckeyes are the odds-on favorites this time around. They've got big-time winners both at trainer (Urban Meyer) and on the reins (
Braxton Miller
), and their schedule looks like they should get a clean trip.
Michigan: 5-to-1
The Wolverines are switching running styles this year, ditching the spread for a more traditional passing offense led by
Devin Gardner
. No need for blinders, as
Taylor Lewan
has the blind side locked down. Still, this entry hasn't had enough first-place finishes in its recent past performances.
Nebraska 6-to-1
The Huskers have been like one of those tantalizing horses in the program with a huge Beyer speed figure that always disappoints when you put the big money on them. Expect them to be a major pace-setter because of their early schedule, but that defense will determine whether they can make a long-awaited trip to the winners' circle.
Wisconsin: 10-to-1
Pretty good value here for a three-time defending champion of the Run for the Rose Bowl. Still, the Badgers are operating under new connections this time around (new coach Gary Andersen) and will have to prove they can track down Ohio State in the Leaders Division.
Northwestern 12-to-1
Another good option for those seeking value, as the Wildcats might be the wise-guy pick after last year's 10-win season. The problem is the potential of a very bumpy trip with that schedule (Ohio State and Wisconsin as crossover opponents). And there will be a lot of jostling in that Legends Division.
Michigan State: 20-to-1
Some bettors like to look for the bounce factor, meaning they seek out otherwise successful horses who are coming off one bad outing. The Spartans look like the best bounce candidate following last year's 6-6 season, which came after two straight double-digit win seasons. They have a more favorable post position (er, schedule) this time, but their early works suggest some lingering questions about the offense.
Minnesota: 50-to-1
We've reached the real long shots now. Jerry Kill has shown that his charges take off in their third year of training, and the Gophers have turned in some encouraging works. Still, they'll need to run a perfect race to factor in the money.
Indiana:
65-to-1
This would be a Giacomo-level upset. An exotic pick, at best. But with the Hoosiers' ability to score points, they could pull off a shocker if everyone else falters.
Purdue: 75-to-1
Handicappers got burned by picking Purdue as their sleeper last year. The Boilermakers might be even more of a mystery horse this year with a new trainer in Darrell Hazell. Still looks like an also-ran, but don't forget that they seem to run neck-and-neck with Ohio State lately, for whatever reason.
Iowa: 80-to-1
Failed to fire last year, and the speed figures aren't pretty. If you're betting the Hawkeyes, you're basing it on the pedigree of Kirk Ferentz. Should show more fight this time, but might be too much of a plodder to hit the board.
Illinois: 99-to-1

Stumbled out of the gate, no rally, didn't factor in 2012. Equipment changes on offense (new coordinator Bill Cubit's spread system) should help. But Tim Beckman has a lot of work to do to show he's not saddling another nag.
Penn State: Scratched
DQ'd by the NCAA. (Now accepting future wagering on 2016).
So there's how I'd write the program. What kind of odds would you give to each team, and who would you put money on in 2013?
March, 11, 2013
Mar 11
1:00
PM ET
Is it safe? Is Big Ten coach poaching season over? For the sake of this post, let's hope so.
Although this year's Big Ten coaching carousel didn't include as many riders as last year's, which featured an unprecedented 40 changes in the league, there was a flurry of activity at the end. We saw two coaches -- Jim Bollman and Jim Bridge -- make jumps from one Big Ten school to another (in Bridge's case, he left Illinois the day the Illini opened spring ball for Purdue, where he replaced, you guessed it, Bollman as offensive line coach).
Purdue saw a complete staff overhaul in the transition from Danny Hope to Darrell Hazell, while Wisconsin brought in seven new assistants under new boss Gary Andersen. Illinois coach Tim Beckman survived a disastrous first season in Champaign, but he lost six assistants during the winter months, five of whom left voluntarily. Iowa's stretch of staff stability is over, as Kirk Ferentz hired three new assistants for the second straight year, and Michigan State restructured its staff after losing offensive coordinator Dan Roushar to the NFL's New Orleans Saints. Michigan made its first staff change of the Brady Hoke era after losing defensive line coach Jerry Montgomery to Oklahoma.
Despite the movement around much of the Big Ten, the league also had complete staff continuity at four schools: Minnesota, Nebraska, Northwestern and Ohio State. Nebraska flipped responsibilities for Barney Cotton and John Garrison, making Cotton the tight ends coach and Garrison the sole offensive line coach. Ohio State added special teams coordinator to the title of cornerbacks coach Kerry Coombs.
Minnesota and Northwestern are the only FBS teams without a staff change for the past three seasons.
It seems like the carousel has finally stopped, so let's take a look at the staff changes throughout the league. These changes only include head coaches and full-time assistants.
Here's the rundown (number of new coaches in parentheses):

ILLINOIS (5)
Who's gone?
Chris Beatty, co-offensive coordinator/quarterbacks
Billy Gonzales, co-offensive coordinator/wide receivers
Luke Butkus, offensive line
Keith Gilmore, defensive line
Steve Clinkscale, cornerbacks
Who's in?
Bill Cubit, offensive coordinator/quarterbacks
Mike Bellamy, wide receivers
A.J. Ricker, offensive line
Greg Colby, defensive line
Al Seamonson, outside linebackers
Other moves
Hired Ricker after Bridge left for same post at Purdue
Made defensive coordinator Tim Banks secondary coach (had previously coached only safeties)
Split linebacker duties between holdover Mike Ward and new assistant Seamonson
Promoted Bellamy from assistant director of player personnel

INDIANA (2)
Who's gone?
Mike Ekeler, co-defensive coordinator/linebackers
Mark Hagen, defensive tackles/special teams and recruiting coordinator
Who's in?
William Inge, co-defensive coordinator/linebackers
James Patton, special teams and recruiting coordinator/assistant defensive line

IOWA (3)
Who's gone?
Erik Campbell, wide receivers
Lester Erb, running backs/special teams
Darrell Wilson, defensive backs/special teams
Who's in?
Bobby Kennedy, wide receivers
Chris White, running backs/special teams
Jim Reid, assistant linebackers
Other moves
Reid and holdover LeVar Woods will share linebacker duties
D.J. Hernandez, an offensive graduate assistant hired this winter, will work with the tight ends

MICHIGAN (1)
Who's gone?
Jerry Montgomery, defensive line
Who's in?
Roy Manning, outside linebackers
Other moves
Defensive coordinator Greg Mattison will coach defensive line (head coach Brady Hoke also has responsibilities there)
Manning and Mark Smith will share linebacker duties, as Smith now will handle the inside linebackers

MICHIGAN STATE (2)
Who's gone?
Dan Roushar, offensive coordinator/tight ends
Ted Gill, defensive line
Who's in?
Jim Bollman, co-offensive coordinator/tight ends
Ron Burton, defensive line
Other moves
Promoted quarterbacks coach Dave Warner to co-offensive coordinator/running backs coach. Warner will call plays this fall
Moved running backs coach Brad Salem to quarterbacks
Promoted defensive coordinator Pat Narduzzi to assistant head coach

PENN STATE (1)
Who's gone?
Ted Roof, defensive coordinator
Who's in?
Anthony Midget, safeties
Other moves
Promoted secondary coach John Butler to defensive coordinator. Butler will continue to coach cornerbacks
Running backs coach Charles London and linebackers coach Ron Vanderlinden will oversee special teams, an area Butler previously handled

PURDUE (10)
Who's gone?
Danny Hope, head coach
Gary Nord, offensive coordinator/quarterbacks
Tim Tibesar, defensive coordinator/linebackers
Greg Burns, defensive backs
Shawn Clark, offensive line
J.B. Gibboney, special teams coordinator
Patrick Higgins, wide receivers
Cornell Jackson, running backs
Donn Landholm, outside linebackers
Kevin Wolthausen, defensive line
Who's in?
Darrell Hazell, head coach
John Shoop, offensive coordinator/quarterbacks
Greg Hudson, defensive coordinator
Jon Heacock, defensive backs
Jim Bridge, offensive line
Kevin Sherman, wide receivers
Jafar Williams, running backs
Marcus Freeman, linebackers
Rubin Carter, defensive line
Gerad Parker, tight ends/recruiting coordinator
Other moves
Replaced Jim Bollman with Bridge after Bollman left for Michigan State

WISCONSIN (8)
Who's gone?
Bret Bielema, head coach
Matt Canada, offensive coordinator/quarterbacks
Chris Ash, defensive coordinator/defensive backs
Zach Azzanni, wide receivers
Andy Buh, linebackers
Eddie Faulkner, tight ends
Bart Miller, offensive line
Charlie Partridge, co-defensive coordinator/defensive line
Who's in?
Gary Andersen, head coach
Andy Ludwig, offensive coordinator/quarterbacks
Dave Aranda, defensive coordinator/linebackers
Chris Beatty, wide receivers
Bill Busch, secondary
Jeff Genyk, tight ends/special teams coordinator
Chad Kauha'aha'a, defensive line
T.J. Woods, offensive line
Retained from previous staff
Thomas Hammock, assistant head coach/running backs/recruiting coordinator
Ben Strickland, assistant secondary coach
Other moves
Hired Genyk to replace tight ends/special teams Jay Boulware, who left earlier this month for a post at Oklahoma
November, 15, 2012
11/15/12
10:15
AM ET
Ten items to track around the Big Ten entering Week 12:
1. Ballin' for history:
Thirteen years after Ron Dayne broke the NCAA career rushing record, another Wisconsin running back is on the doorstep of a major milestone. Badgers senior
Montee Ball
, who, unlike Dayne, spent a year and a half as a reserve, needs one more touchdown Saturday against Ohio State to tie the NCAA career mark of 78 held by former Miami (Ohio) star Travis Prentice. Ball has scored 13 touchdowns in his past six games and is averaging 179.1 yards and three touchdowns in his past nine November games. A big performance against the unbeaten Buckeyes will once again put Ball on the radar for top national honors. Ball's next rushing touchdown will mark his 72nd, moving him past Dayne for the Big Ten career record.
2. Holding serve in the Legends:
Nebraska and Michigan are tied atop the Legends Division at 5-1, and on paper, they should stay that way after Week 12. Both teams are favored to take care of Minnesota and Iowa, respectively, on senior day in Lincoln and Ann Arbor. Nebraska's magic number (wins and Michigan losses) to punch its ticket to Indianapolis is 2. A Huskers loss and a Michigan win puts the Wolverines in control of their own fate in the division. One senior day subplot is whether face-of-the-program stars like Nebraska running back
Rex Burkhead
and Michigan quarterback
Denard Robinson
will play after missing time with injuries. Burkhead (knee) returned to practice this week and seems closer to a return, while Robinson (elbow) remains day-to-day.
[+] Enlarge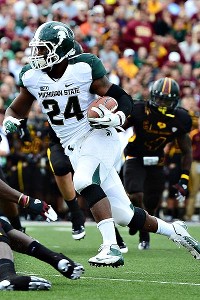 Andrew Weber/US PresswireLe'Veon Bell and the Spartans plan to finish strong against Northwestern on Saturday.
3. Finishing school:
Northwestern and Michigan State easily could be playing for a Legends Division title Saturday. Instead, both teams' inability to finish against the likes of Nebraska and Michigan has left them looking for a full 60-minute performance. Michigan State's four Big Ten losses have come by a combined 10 points. Northwestern held double-digit second-half leads in all three of its Big Ten losses. Something's gotta give Saturday as the teams meet at Spartan Stadium. "Their problem, just like ours, has been closing out games," Spartans linebacker
Chris Norman
told ESPN.com this week. "... It's going to come down to who can finish the best. Saturday is going to be interesting."
4. Hope and a prayer:
There's growing talk that Purdue will make a head-coaching change after the regular season no matter what happens in the final two games. But can fourth-year boss Danny Hope save himself with a three-game win streak to become bowl-eligible? It's reason enough to tune in for an otherwise off-the-radar game between Purdue and slumping Illinois on Saturday. A loss to the Illini would prevent Purdue from getting bowl-eligible and likely seal Hope's fate, while a Purdue win adds intrigue to next week's Bucket game against Indiana. The Boilers' offense got on track last week behind quarterback
Robert Marve
and running back
Ralph Bolden
, while defensive tackle
Kawann Short
had his best game of the season at Iowa.
5. Rivalry renewed:
Saturday's game at Camp Randall Stadium won't decide which Leaders Division team goes to the Big Ten title game, as Wisconsin already punched its ticket last week. But Ohio State can lock up the Leaders Division championship -- the only title it can win this season -- while Wisconsin can legitimize its trip to Indy by handing Urban Meyer's Buckeyes their first loss of the season. Looking ahead, the Ohio State-Wisconsin game likely will be the signature contest in the division for years to come. Illinois is a mess, Purdue has backslid this season, Indiana is still building and Penn State still has three more years of postseason bans. "I hate Wisconsin just as much as Michigan," Ohio State wide receiver
Corey Brown
said this week. While Meyer and Wisconsin coach Bret Bielema say their post-signing day spat is a thing of a past, it could bubble up Saturday depending on how the game goes.
6. Taking a pass:
The Big Ten might not be flush with elite quarterbacks and high-powered offenses this season, but a few of its teams can sling the ball a bit, and two of them meet at Beaver Stadium. Indiana and Penn State are the Big Ten's top two pass offenses, ranking 26th and 40th nationally, respectively. They'll share the field Saturday as they try to rebound from different types of losses. Indiana quarterback
Cameron Coffman
struggled with his accuracy (25-for-46) in last week's loss to Wisconsin and looks for a sharper afternoon. Penn State quarterback
Matt McGloin
wasn't a happy guy after the Nebraska loss and will try to take it out on IU. The game features two of the Big Ten's top receivers in Penn State's
Allen Robinson
and Indiana's
Cody Latimer
.
7. Hawkeye hex:
Iowa has been in a funk for much of the season and particularly in the past month, dropping four consecutive Big Ten contests. Perhaps a date with Michigan can put the Hawkeyes back on track. See, Iowa has won three straight against Michigan for the first time in team history and five of its past eight against the Wolverines. Michigan's seniors are anxious to finally get over the hump against Iowa, one of two Big Ten teams (Penn State the other) they have yet to beat. But maybe it works the other way and Iowa finally shows a spark on offense and stiffens its defense. If not, the Hawkeyes won't be going bowling for the first time since the 2006 season, and it'll be a very long winter for Kirk Ferentz. "It doesn't hurt, obviously," Ferentz said of his team's Michigan win streak, "but it doesn't guarantee us anything."
8. Backs of different sizes:
Michigan State's
Le'Veon Bell
is the biggest featured running back in the Big Ten, checking in at 6-2 and 244 pounds. Northwestern's
Venric Mark
is the smallest, checking in at 5-8 and 175 pounds. But both have been extremely effective this season with the ball in their hands. Bell leads the Big Ten in rushing yards (1,249), while Mark ranks third in rushing yards (1,181) and first in all-purpose yards (1,917). Each has been the MVP of his respective offense, and it'll be interesting to see them on the same field at Spartan Stadium. Both Michigan State and Northwestern defend the run well, too, both ranking in the top 25 nationally.
9. Illini look for a spark:
Illinois ranks last in the Big Ten in scoring, rushing and total offense, and lingers near the bottom of the FBS in all the significant categories. The Illini need some sort of boost on offense or a 2-10 season is a virtual certainty. Head coach Tim Beckman, whose background is defense but who had a high-powered offense at Toledo the past few years,
took a more active role with the offense
this week in an effort to get things going. Beckman also noted that co-offensive coordinators Chris Beatty and Billy Gonzales call plays on different downs. Hmmm. Starting cornerback
Terry Hawthorne
took more reps with the wide receivers this week and could see an increased role against Purdue. Illinois aims to win on senior day for the first time since 2007.
10. Bowl picture taking shape:
We learned a little more about the Big Ten bowl contingent last week as Minnesota became bowl-eligible, Purdue took a big step toward the postseason and both Iowa and Indiana took a step toward a winter at home. There should be some more answers in Week 12. Michigan State aims for its sixth win to go bowling for the sixth consecutive season under coach Mark Dantonio. Purdue must keep its bowl hopes alive at Illinois, while both Iowa and Indiana must win on the road to avoid loss No. 7. It won't be easy for the Hawkeyes or Hoosiers. Indiana never has won at Beaver Stadium in 15 previous meetings with Penn State. Iowa never has won consecutive games at Michigan Stadium.
November, 11, 2012
11/11/12
10:00
AM ET
Lessons learned from Week 11 in the Big Ten:
1. A Wisconsin-Nebraska title game looks very likely:
Wisconsin and Nebraska opened the Big Ten season under the lights in Lincoln on Sept. 29. The Badgers and Huskers probably will close out the conference season Dec. 1 in Indianapolis. Wisconsin punched its ticket for the Big Ten title game Saturday by
crushing Indiana 62-14
.
Montee Ball
and the Badgers rushed for a team-record 564 yards -- the highest total in Big Ten play since 1975 -- and completed a rough road back to Indy with a very easy final leg. Nebraska and Michigan remain tied atop the Legends division, but the Huskers hold the head-to-head tiebreaker and took a big step toward Lucas Oil Stadium with another come-from-behind victory Saturday against Penn State. Nebraska once again overcame mistakes and turned in a big second half to remain perfect at home this season. If the Huskers take care of Minnesota at home and Iowa on the road, they'll head to Indianapolis, regardless of what Michigan does in its final two games. These two teams provided plenty of excitement in their first meeting, and it looks as though they'll be reuniting in three weeks.
[+] Enlarge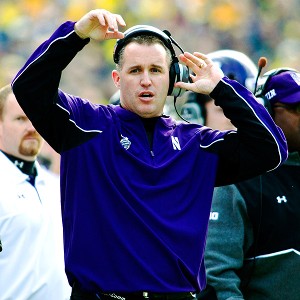 AP Photo/Tony DingPat Fitzgerald has seen his Northwestern squad blow double-digit leads in each of its three losses.
2. Northwestern's late-game problems are an epidemic:
Northwestern still calls itself the "Cardiac Cats" and touts its long-term record in close games (32-13 in games decided by seven points or fewer since 2004), but blown leads have been a problem throughout Pat Fitzgerald's tenure, and they've been magnified this season. The Wildcats have squandered double-digit second-half leads in each of their three losses (Penn State, Nebraska and Michigan). The most painful collapse arrived Saturday as Northwestern outplayed Michigan most of the way but couldn't knock down a desperation pass to
Roy Roundtree
(or interfere with Roundtree, which might have been just as good) that set up the game-tying field goal. There have been different explanations for each blown lead -- not having top cornerback
Nick VanHoose
might have cost Northwestern two games -- but Fitzgerald's late-game strategy should be called into question. There have been too many games like this under his watch, and until something shifts, Northwestern won't get over the hump. This is a young Wildcats team that has overachieved to a degree, but the season will be one filled with missed opportunities.
3. Iowa is staring at a lost season:
It has been a season of low points for Kirk Ferentz and the Hawkeyes. The first arrived in Week 4, when they blew a late lead and fell to a woeful Central Michigan team at Kinnick Stadium. The next came a month later, as Penn State turned a much-anticipated night game at Kinnick into an offensive and defensive clinic. More misery arrived the next two weeks, but Iowa managed to find a new low Saturday against a Purdue team that had dropped five straight and had been blown out four times in the Big Ten. Purdue gave Iowa opportunities with three turnovers, but the Hawkeyes couldn't cash in nearly enough, continuing a season-long theme, and
lost 27-24
. Iowa is plus-11 in turnover margin this season, among the national leaders, and sits at 4-6. That's very hard to do, and underscores Iowa's problems on offense. With upcoming games against Michigan (road) and Nebraska (home), Iowa is staring at a 4-8 season, which would be its worst under Ferentz since a 3-9 campaign in 2001. Tough times right now in Hawkeye Country.
4. The Big Ten's bowl contingent now could be growing:
The
Week 10 lessons
noted that the Big Ten could have as few as five teams in the postseason this season, its lowest number since 1998. That still could be the case, but things changed a bit after Purdue scored an upset victory at Iowa and Minnesota ensured it will be bowling for the first time since 2009 after a victory at Illinois. As poorly as Purdue has played in the Big Ten, the Boilers still have a very realistic chance to get to 6-6, which is all you need this season in the Big Ten. Danny Hope's crew must beat Illinois on the road and Indiana at home, which doesn't seem overly daunting after the way the Hoosiers performed against Wisconsin. To their credit, the Boilers dominated Iowa at Kinnick Stadium and wouldn't have needed a last-second field goal to win if not for three turnovers. Perhaps Purdue can finish strong. Minnesota rode defense and
Donnell Kirkwood
to the six-win plateau, notching a crucial win before a tough closing stretch (at Nebraska, Michigan State). If Michigan State beats Northwestern on Saturday, five of the six Legends division teams will be bowling.
5. The Big Ten has an officiating problem:
Crisis is probably too strong a word, but at the very least, the Big Ten has an image issue with its officiating after the past several weeks. Michigan State coaches and players were livid with some of the late-game calls in the loss against Nebraska, particularly a pass-interference penalty near the end zone at the end of the game. Michigan and Minnesota also griped about pass-interference interpretations, while Penn State has felt as though it has gotten the short end of the stick a lot this year, especially with a lack of holding calls versus Ohio State. Frustrations boiled over for the Nittany Lions on a controversial fumble ruling late in Saturday's loss to Nebraska, which led quarterback
Matt McGloin
to suggest an
officiating conspiracy against Penn State
. That's taking things a little too far, but Big Ten officiating has some credibility issues right now. It would be nice if the league would issue some sort of statements about the most controversial calls, but the Big Ten prefers to handle such things in-house. The conference needs to make sure its officiating house is in order going forward.
September, 12, 2012
9/12/12
3:45
PM ET
Investor confidence in the Big Ten neared an all-time low in Week 2. But past performance does not necessarily indicate future results. Let's check the stock market:
Stock up
Chi Chi Ariguzo:
The Northwestern linebacker moved into a starting role for the first time this season, and the move has gone very well for the redshirt sophomore. Ariguzo -- whose actual first name is Ikechi -- was named the Big Ten defensive player of the week after collecting 10 tackles, including three for loss, against Vanderbilt. In Week 1 at at Syracuse, he had an interception and returned a botched lateral for a touchdown. He currently leads the Big Ten with 4.5 tackles for loss.
Devin Funchess:
The Michigan true freshman tight end was outstanding against Air Force, hauling in four catches for 106 yards and a touchdown. The athletic 6-foot-5, 229-pounder showed receiving skills, and could provide a much needed target for
Denard Robinson
. He has future star written all over him.
[+] Enlarge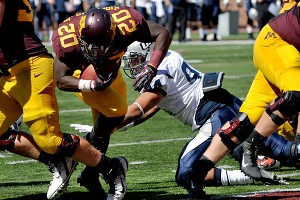 AP Photo/Tom OlmscheidRunning back Donnell Kirkwood has sparked an improved rushing attack for Minnesota.
Minnesota's running game:
The Gophers currently rank fourth in the Big Ten at 224.5 rushing yards per game, a marked improvement over last season's 160 yards per game. It hasn't just been quarterback
MarQueis Gray
, either, as sophomore
Donnell Kirkwood
has rushed for at least 70 yards in the first two games. Head coach Jerry Kill says better play out of the receivers is opening some things up for the running game. Minnesota must prove it against better defenses than UNLV and New Hampshire, but is off to a good start in building a more complete offense.
Iowa's linebackers:
Not much has gone right for the Hawkeyes' offense, but the linebackers have done their part. Head coach Kirk Ferentz said
James Morris
, who had 12 tackles and a key interception late against Iowa State, played tremendously last week.
Christian Kirksey
has been doing his part as well, which Ferentz said has opened opportunities for
Anthony Hitchens
. A first-year starter, Hitchens tallied an eye-popping 19 tackles last week. Now, if the defense could just get some help ...
Purdue in the red zone:
Boiler up inside the 20. Purdue is currently tied for the national lead in red-zone offense, scoring on all nine drives inside the opponent's 20-yard line. That includes eight touchdowns. The Boilermakers also rank 13th nationally in red-zone defense, having surrendered just four scores -- and only two touchdowns -- during their opponents' seven trips inside their 20.
Stock down
Iowa in the red zone:
The Hawkeyes, of course, have scored only one touchdown all season, and that came from outside the red zone on a 23-yard run by
Damon Bullock
against Northern Illinois. Iowa has been in the red zone on offense six times in two games -- and come away with only five field goals.
Wisconsin's running game:
You knew the Badgers' offensive output was atrocious, which led to offensive line coach Mike Markuson being dumped this week. Wisconsin has only 203 rushing yards as a team after two games, an average of 101.5 yards per game. To put that in perspective,
Montee Ball
alone only had three games all of last season when he failed to gain at least 115 yards, and he exceeded 203 yards against both Purdue (223) and Illinois (224).
Quarterback fears vs. Spartans, Buckeyes:
There was near universal agreement this preseason that Michigan State and Ohio State would field the best defensive lines in the Big Ten this season. While they haven't been bad, it's somewhat shocking to see that the Spartans and Buckeyes have combined for only four total sacks this season. Urban Meyer has stressed the need for a better pass rush from his team. Michigan State has gotten decent pressure, but has only sack to show for it, and defensive coordinator Pat Narduzzi says he's not happy with the play of the defense overall. Sack numbers can be overrated, but it's also true that both lines can do a better job bringing down quarterbacks.
Illinois' defense:
The Illini defense looked terrific in the opener against Western Michigan, continuing a string of great performances dating to last season. Which is why it was so shocking to see Arizona State move the ball at will against Illinois in last week's 45-14 shellacking. Players said this week that they had mix-ups in communication and were caught off guard by the Sun Devils' tempo. The latter doesn't make much sense since Todd Graham's teams have always played up-tempo, and the Illini defenders practiced against their own spread offense all preseason. We'll see if this was just one bad showing or an alarm bell.
Big Ten expansion candidates:
With Notre Dame off the chessboard and the ACC going to a $50 million exit fee, who's left if the Big Ten ever decides to expand again? Rutgers? UConn? Louisville? None of those are very appealing, and it means that the league will be better off staying at 12 for the foreseeable future -- or at least until the next big seismic conference shift.
July, 12, 2012
7/12/12
10:03
AM ET
Our week-long series on college football coaches continues with a look at the best jobs in the country.
What makes a job great? Tradition, administrative/fan support, facilities, recruiting location, championship expectations, recent track record, college town and brand name all play key parts. Most Big Ten schools can be viewed as destination jobs for certain coaches, but only a select few are destination jobs for most coaches around the country.

In ranking the Big Ten's coaching jobs, I placed the most emphasis on the following four factors: tradition, facilities, recruiting location and recent track record. As a reminder, this isn't a ranking of Big Ten coaches, but of the jobs they occupy.
Here's the rundown ...
1. Ohio State:
There's a reason Ohio State can go through a year like 2011 and then hire a coach like Urban Meyer. Most programs would have been in big trouble. From winning tradition to tremendous facilities to a location in the Big Ten's most fertile recruiting state, Ohio State has it all. It is one of the sport's best brands.
2. Michigan:
No Big Ten program has greater long-term tradition than Michigan, and Brady Hoke and his assistants are showing just how dangerous the Wolverines can be on the recruiting trail. Recent facilities upgrades -- stadium, indoor practice facility -- have made Michigan an even better position and certainly a destination job for many coaches.
3. Penn State:
Football is king at Penn State, and despite the recent scandal, this remains a very appealing job. Penn State has the facilities, the administrative support and good tradition on the field. While the school's location isn't ideal, Bill O'Brien's success on the recruiting trail amid the turmoil proves Penn State can still attract top talent.
4. Nebraska:
The job isn't as attractive as it was during the glory years, but Nebraska still has first-class facilities, incredible administrative/fan support and a tradition of winning at the highest levels. The drawback is recruiting location, making Nebraska a tougher sell when the program isn't among the nation's elite.
5. Wisconsin:
There's no way Wisconsin would be anywhere close to the top five before Barry Alvarez arrived in 1990. But Alvarez made Wisconsin relevant, and Bret Bielema has continued the success. Although Wisconsin is lacking in facilities (soon to be improved) and recruiting location, its recent track record has been exceptional, and Madison is an easy sell to prospects. The Wisconsin brand is very strong these days.
6. Michigan State:
Mark Dantonio is showing just how good this job can be if occupied by the right man. The Michigan State job always has had appeal because of the program's tradition and recruiting location. The recent facilities upgrades (completed and ongoing) and stability in the athletic department (AD Mark Hollis) bump the job up a few notches.
7. Iowa:
There are inherent challenges at Iowa, mainly a less than favorable recruiting location in a state that doesn't produce many high-level FBS prospects. The fan support is tremendous and Iowa has some tradition and a solid recent track record under Kirk Ferentz. Long overdue facilities upgrades enhance the appeal of the job.
8. Illinois:
There are definite pluses, namely upgraded facilities and a location in a good state for football recruits. But Illinois still is known as a basketball school, and the program's most successful period came before World War II. Although the Illini have made some questionable coaching hires, the program's inconsistency raises questions about the quality of the job itself.
9. Purdue:
It's a very close call between Purdue and Minnesota, but the Boilers get the nod. Purdue has a stronger recent track record, and while both programs face recruiting challenges, Purdue is more centrally located. Like Illinois, Purdue fights the "basketball school" stigma, although Joe Tiller made this a more appealing job with his successful tenure.
10. Minnesota:
TCF Bank Stadium makes this a much more attractive job, as a head coach can sell on-campus football in a terrific facility. But Minnesota has some significant recruiting challenges, administrative support is so-so and the program's inability to win a Big Ten title since 1967 would give some coaching candidates some pause.
11. Northwestern:
What used to be the worst job in major college sports is much better these days, and the team's historic run of success since 1995 boosts the job's appeal. But Northwestern still faces challenges with its lofty academic standards. It has the
worst facilities
and smallest crowds in the Big Ten, and the delay in announcing a major facilities upgrade raises questions about administrative support.
12. Indiana:
The Hoosiers lack tradition and have very little recent success to boast about. IU's facilities are improved but not near the top of the Big Ten, and it isn't located in a great state for recruiting. The "basketball school" perception never looks more accurate than with Indiana, although the program lured one of the nation's top assistants, Kevin Wilson, to be its head coach in 2010.
June, 14, 2012
6/14/12
6:29
PM ET
Earlier today, I wrote a story about the construction craze gripping college sports, including the Big Ten.

Even in a long story, I didn't have room for all the good notes and quotes from the reporting process. Luckily, that's why we have this blog.

Iowa is an interesting case study. The Hawkeyes, one could easily argue, have been doing just fine in the Big Ten under Kirk Ferentz. Yet outside of their recent improvements to Kirk Ferentz, their football facilities were lacking. Now the school is completing a $56 million upgrade that includes a new practice facility to replace the old bubble and eventually new offices. Will that make a difference competitively for Iowa, which has been cranking out NFL players under Ferentz?

Hawkeyes athletic director Gary Barta said the practice bubble was built in the early 1980s and had a life expectancy of 10-to-15 years.

"Was it a disadvantage for us?" Barta told ESPN.com "I don't know. I do know that the facility had outlived its lifespan, and it was time for a new one.

"My goal, first and foremost, is to hire and retain the best people. Then you have to make sure to give those people the tools to be successful."

Several athletic directors who were interviewed said having new and state-of-the-art facilities are critical in recruiting.

"When you have 17-to-18 year-olds who are being toured around the country to decide where they want to take their talents and perform, they are looking with a critical eye at facilities," Michigan athletic director Dave Brandon said. "They know these are the places where they're going to spend a disproportionate amount of their time. And it's the right thing to do; if you're going to ask world-class athletes to come to your institution, you want to provide them with the very best you can in terms of the facilities they're going to be operating in."

"Kids are smart," Indiana athletic director Fred Glass said. "We can say all we want to about our commitment to the program, but [they're thinking], 'Let's see how that manifests itself.' The perception is so important. When kids come in, when fans come in, when parents come in, they can see there's an institutional commitment to the sport."

While Glass noted in the story that Big Ten television revenue has had a huge impact on his program, others said they still rely mostly on donations to fund major facility improvement projects. At Michigan, for example, Brandon said the TV money might help get a project finished sooner but doesn't pay for the whole thing.

"The extra TV revenue has been terrific," Barta said. "I don't want to oversell it or undersell it. But without the contributions of our donors, we wouldn't be able to do it either. So it's a combination of support and contributions."

Schools have to decide on their priorities when undertaking construction projects. Things like new or expanded stadiums can help increase revenue, while the recent big push for better training and operations centers enhance the quality of the athletes' experience but don't add any dollars to the bottom line.

"You have a student-athlete focus, and you have a fan focus, and you have to make decisions accordingly," Michigan State athletic director Mark Hollis said. "We're trying to be extremely aggressive within the resources we have available at Michigan State to provide the best for both of those segments of our population. It becomes a challenge. You have to have a global perspective, and you have to have a long-range perspective and make sure that you can generate the funds necessary for the debt capacity that you're building."

All of the ADs I interviewed for the story said they don't get caught up in the arms race, though each admitted they pay attention to what other schools are doing when it comes to facilities. The unanswered question is whether building craze will ever slow down.

"I'd like to say cooler heads will prevail and stop the escalation, but I'm not sure they will," Indiana's Glass said. "It's a marketplace, and at some level if athletic departments are generating the money, I'm not sure I see the downside of reinvesting it in their athletic programs. If it leads to the academic side subsidizing the athletic side, then think it's gone too far and hopefully the market will reorient itself."
January, 10, 2012
1/10/12
4:25
PM ET
The college football season is officially over. So it's time to break out the crystal ball and offer our projections for the preposterously-too-early 2012 Big Ten power rankings.

1. Michigan State:
The Spartans must replace a lot of leadership, including quarterback
Kirk Cousins
, receivers
B.J. Cunningham
and
Keshawn Martin
and All-American defensive tackle Jerel Worthy. But nine starters return off the Big Ten's top overall defense, featuring Will Gholston, Denicos Allen and Isaiah Lewis as potential breakout stars.
Le'Veon Bell
could have a big year as the No. 1 tailback, and if
Andrew Maxwell
can adequately fill in for Cousins, the offense should be fine, especially if Tennessee transfer
DeAnthony Arnett
gets his waiver to become immediately eligible at receiver. Plus, the road schedule (at Central Michigan, at Indiana, at Michigan, at Wisconsin, at Minnesota) is far more manageable than what the team navigated in 2011.
2. Michigan:
A lot of things went right for the Wolverines in 2011, including a favorable schedule. That slate gets harder in 2012, beginning with Alabama at Cowboys Stadium and including road trips to Nebraska and Ohio State. Still,
Denard Robinson
and Fitz Toussaint form one of the most dangerous offensive duos in the league, and the second year under Brady Hoke and his staff should mean more familiarity and comfort. Coming off a BCS win, Michigan could start the season in the Top 10.
3. Wisconsin:
The Badgers will have to overcome many challenges to reach their third straight Rose Bowl. The biggest concern is at quarterback, where there's no experience to replace
Russell Wilson
and his record-breaking efficiency level. Bret Bielema will have to remake almost his entire offensive coaching staff after Paul Chryst took several assistants with him to Pittsburgh. Still, Heisman Trophy finalist
Montee Ball
returns to keep the Wisconsin running game among the best in the country. And the two Big Ten teams who beat the Badgers in 2011 -- Michigan State and Ohio State -- must come to Madison in '12.
4. Ohio State:
The Buckeyes aren't eligible to make the Big Ten title game, but don't be surprised if they put up the best record in the Leaders Division. A transition period can be expected as Urban Meyer takes over as head coach and installs an entirely new offensive system. But Ohio State had a small senior class in 2011 and brings back many talented players, such as defensive lineman John Simon, quarterback
Braxton Miller
and running back
Carlos Hyde
. A schedule that features eight home games should equal much improvement over this year's 6-7 record.
5. Nebraska:
Few teams will be as experienced on offense as Nebraska, which returns seven starters and just about every key skill player on that side of the ball.
Taylor Martinez
and
Rex Burkhead
should be even better with another year in offensive coordinator Tim Beck's system. The questions are on defense, where the Huskers struggled at times in 2011 before losing their top two players in linebacker Lavonte David and cornerback Alfonzo Dennard. Nebraska must get tougher up front defensively to handle the Big Ten grind and has difficult road assignments looming at Ohio State and Michigan State.
6. Penn State:
For the first time since 1965, we'll see what a Penn State team looks like that is not coached by Joe Paterno to start the season. New coach Bill O'Brien made a wise decision to retain defensive assistants Larry Johnson and Ron Vanderlinden, and even without All-American lineman Devon Still, that side of the ball should stay stout with standouts like Gerald Hodges, Jordan Hill and hopefully a healthy Michael Mauti. O'Brien's biggest impact should come on offense. The former New England Patriots offensive coordinator will try to bring the Nittany Lions attack into the 21st century with a competent passing game. Tailback
Silas Redd
provides a nice crutch while that transition occurs.
7. Iowa:
After two straight 7-5 regular-season finishes, the Hawkeyes will look to get back into Big Ten contention. But they'll have to overcome the losses of star receiver
Marvin McNutt
, offensive tackle Riley Reiff, defensive linemen Mike Daniels and Broderick Binns and cornerback Shaun Prater. When he's on,
James Vandenberg
is as good a dropback passer as there is in the Big Ten, but making up for McNutt's production won't be easy. Assuming
Marcus Coker
returns from suspension, the running game should be very good. The defense simply has to improve after giving up too many big plays in 2011, and Kirk Ferentz hasn't yet named a successor to veteran defensive coordinator Norm Parker, who retired.
8. Purdue:
The Boilermakers have a chance to make a move in a Leaders Division that is marked by coaching changes. They return most of the major pieces of their Little Caesars Bowl-winning team, and the return of
Rob Henry
from his season-ending knee surgery opens up some interesting possibilities at quarterback. Kawann Short should be one of the top defensive linemen in the league if he decides to return for his senior year. We'd still like to see more consistency from Danny Hope's program before we rank Purdue too high, however.
9. Northwestern:
Dan Persa
and his record-breaking accuracy are gone, along with top receiver
Jeremy Ebert
. Yet we're not too concerned about the offense and like the multi-dimensional options that
Kain Colter
provides with his all-around athleticism. Northwestern's issue is whether it can fix a defense that had trouble stopping anybody. The fact that the Wildcats lose their top three defensive backs from a secondary that was routinely torched does not inspire confidence.
10. Illinois:
New coach Tim Beckman has his work cut out for him in Year One. He has to completely revamp an offense that couldn't shoot straight in the back half of 2011 while implementing a new spread style. He has to try to maintain the defense without coordinator Vic Koenning or All-American defensive end Whitney Mercilus. And he faces a schedule that sees the Illini going to Ohio State, Wisconsin and Michigan, all three of which won in Champaign this past season. There's still talent on defense, led by promising linebacker Jonathan Brown. Quarterback
Nathan Scheelhaase
needs to build on his second-half showing in the Kraft Fight Hunger Bowl.
11. Minnesota:
After a horrible start, the Gophers showed a lot more fight down the stretch in 2011, beating Iowa and Illinois at home. Jerry Kill knows how to build a program, and the team can't help but be better in 2012, especially if MarQueis Gray continues to develop at quarterback. But Minnesota still has some holes on its roster that can only be fixed through recruiting, and while the Gophers could make a run at bowl eligibility this year, they'll be hard-pressed to make too much noise in a stacked Legends Division.
12. Indiana:
The good news for the Hoosiers is that they played a ton of freshmen in 2011, and the growing pains should start to pay off for guys such as
Tre Roberson
and Mark Murphy in 2012. The second year under Kevin Wilson should also bring progress. Still, this is a team that went 1-11 in 2011 with no wins over FBS teams, so it remains an uphill climb.
November, 3, 2011
11/03/11
1:51
PM ET
Greg Mattison sat in the stands at Kinnick Stadium, the Michigan defensive coordinator with nothing in his control and his son playing on the field.
Yes, Mattison has coached in Kinnick before, but his memories aren't about that. They are instead about the five years his son, Bryan, was a defensive lineman for the Hawkeyes under Kirk Ferentz.
"I just, I really respect him, really respect their program," Mattison said. "Any time you allow your son to go somewhere, you have to have a lot of faith in them. His experience there couldn't have been better. It was a tremendous fit for him."
To continue reading this article you must be an Insider
November, 1, 2011
11/01/11
3:00
PM ET
A few notes from a conference call with Iowa coach Kirk Ferentz, who is in his 12th year as head coach at Iowa.
Ferentz doesn't believe in what he called the road game conspiracy, which would indicate that any team playing on the road will have a much harder time winning. "It's about playing well and not playing well," Ferentz said, adding that his team didn't play well enough to win in its two Big Ten road games (13-3 at Penn State, 22-21 at Minnesota).
Ferentz said that seeing Michigan junior quarterback Denard Robinson and sophomore quarterback Devin Gardner on the field does make his team look at Michigan differently, because "it's one more thing to prepare for. ... Now there's two guys back there who can throw."
To continue reading this article you must be an Insider