Michigan Wolverines:

Keith Appling
March, 22, 2013
3/22/13
6:31
PM ET
AUBURN HILLS, Mich. -- VCU has spent much of this season flustering opposing point guards, sending them into various states of disarray and their "Havoc" defense wreaked, well, havoc on the plans of opponents all season long.
The Rams, though, have not seen an offense quite like the one they will Saturday in the round of 32. VCU turns everyone over. Michigan, with its sophomore point guard
Trey Burke
, hardly ever gives up the ball.
Something has to give.
"It's a difference of style," VCU sophomore guard
Briante Weber
said. "If they take care of the ball, they win. If we get them to turn over, then we win."
It may come off as that simple, but trying to beat Havoc is anything but.
[+] Enlarge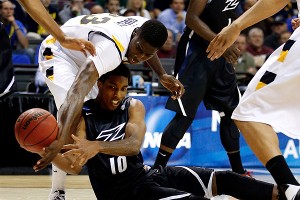 Gregory Shamus/Getty ImagesVCU's "Havoc" defense forced Akron into 21 turnovers during the Rams' first-round rout.
Michigan spent Friday morning looking at variations of VCU's Havoc, then walked through the varying press breaks it would try to use to stop it.
It is not something the Wolverines can simulate. Other teams have tried and failed.
"We really haven't seen pressure like that in my years of being here," said Memphis junior guard
Chris Crawford
, whose Tigers lost to VCU 78-65 in November. "We had to adjust to it, but it was like they were everywhere."
That is part of the plan. VCU spends its entire preseason working on conditioning and defense in an effort to run Havoc at almost all times, forcing opponents to flail about and start to see passing lanes that aren't really there.
It happened for Memphis, which turned the ball over 22 times in that loss. That number is what the Rams have averaged in their 27 wins this season. They have blitzed opponents left and right with a press that can have a multitude of variations, depending on the opponent.
"We just try to deny the wings," VCU guard
Darius Theus
said. "Team stops, actually. Just build a wall around the basket."
The wall, at times, can seem impenetrable. It took Memphis a half to figure out exactly how to move the ball up the floor against VCU. And trying to do it with one primary point guard alone won't work, either.
"What's crazy is it's one thing to try and prepare for it," Memphis assistant Damon Stoudamire said. "When we actually seen it, it started our guys on the initial. If we played them now, we'd be prepared.
"When you see stuff like that, the way it came, it's like a barrage, boom, boom, boom, boom. And they made shots. They turning you over and then they score, that's a bad recipe right there."
The key is to not try and go up the sides of the floor. Doing that will be the high-risk, high-reward maneuver for Michigan. If it beats VCU up the side, it'll have a fast break. If it doesn't -- it'll be a likely turnover.
And it needs to get more than just Burke involved, using guards
Tim Hardaway Jr.
,
Nik Stauskas
and maybe even backup point guard
Spike Albrecht
as options.
"Our guys have to stay connected," Michigan assistant LaVall Jordan said. "They are all connected defensively with their rotations and their traps. We have to be connected offensively."
Someone will get disjointed Saturday. Whichever team doesn't likely will end up winning.
News and Notes
Memphis and Michigan State know each other well even as nonconference opponents. Tigers point guard Joe Jackson and Spartans guard Keith Applingplayed together on the USA Basketball Under-19 team this summer. "I'm real cool with Keith Appling," Jackson said. "We played together in the USA games overseas. I kind of know what he can do good and what he can do bad."He isn't the only one to know a Michigan State player. Memphis' Adonis Thomas and Michigan State's Branden Dawson were teammates on the West team in the 2011 McDonald's All American game, and Dawson said they have stayed in touch. "He's a great guy," Dawson said. "A great player. The thing that really shocked me is that he's 6-7, 240 now. When we were at the McDonald's, he didn't weigh that much." There's also a decent chance Appling will be matched up with Jackson and Thomas with Dawson on Saturday.

Appling tweaked the patellar tendon in his left knee Thursday against Valparaiso. A day later, he said it is still bothering him "a little bit off and on," but that he anticipated playing tomorrow.

Burke said his back is "a little sore" from falling yesterday but definitely would play Saturday. Michigan guard Matt Vogrich, who missed Thursday's game with strep throat, was back with the team Friday.
February, 12, 2013
2/12/13
11:18
PM ET
EAST LANSING, Mich. -- Some thoughts after No. 8 Michigan State's
75-52 pulverizing
of No. 4 Michigan on Tuesday night at the Breslin Center.


Overview:
As
Adreian Payne
lifted his arms toward the home crowd, trying to get it louder with 7 minutes remaining in a game no longer in doubt, the Spartans forward looked like he wanted more.
All of Michigan State appeared to want more. Meanwhile, Michigan looked like it just wanted to travel the one hour southeast back to Ann Arbor as fast as possible. The Wolverines had already gone deeper than usual into their bench to play guard
Eso Akunne
and by then it didn't matter, because nothing John Beilein's team was doing worked.
Michigan State dominated, almost from tip to final whistle.
Yes, it is tough to win on the road in the Big Ten, but for a program touted as a national-title contender all season, this was Michigan's last chance to win a significant road game in the Big Ten. And it failed. Miserably.
The second-half comebacks Michigan had at Indiana and Ohio State didn't show up, either, mostly due to Michigan State's ability to control the paint and body up the Wolverines' big men.
It all led to Michigan State's first 20-plus-point victory over Michigan in over a decade, when the Spartans beat the Wolverines 71-44 on Jan. 30, 2002.
Turning point:
Michigan State guard
Keith Appling
made three consecutive jumpers, including a 3-pointer in transition with 16:32 left, to give Michigan State a 48-29 lead and whipped the already-hyper Breslin student section into a loud, jumping, delirious frenzy of white shirts going nuts at every possible opportunity.
Key player:
Spartans senior
Derrick Nix
punished Michigan's four-headed big-man rotation inside in the first half and helped to open up everything else for the Spartans. Nix finished with 16 points, 5 rebounds and 3 assists on 7-of-10 shooting.
Key stat:
Zero first-half points for
Tim Hardaway Jr.
After scoring 18, 23 and 18 points in the previous three games, respectively, Hardaway couldn't find anything in the first half. He missed all six of his shots, including four 3-pointers. This from a player who brought Michigan back a week earlier against Ohio State by making six 3-pointers, then followed it up by making what was almost the game-winner at Wisconsin on Saturday. Without Hardaway's production, Michigan struggled to shoot 27.3 percent from the 3-point line in the first half. Hardaway would finish with two points.
Miscellaneous:
Michigan football coach Brady Hoke, defensive coordinator Greg Mattison, former coach Lloyd Carr and former Michigan basketball player Zack Novak all watched the game from behind the Wolverines' bench. Hoke and Michigan State counterpart Mark Dantonio had a brief chat before the game right behind the benches. … After not scoring in double figures for almost a month, Nix now had back-to-back games with 10 points or more.… This ends a rough four-game stretch for Michigan, which started the sequence as the No. 1 team in the nation. After a 1-3 swing with games at Indiana, Michigan State and Wisconsin and a home game against Ohio State, the Wolverines have some major regrouping to do.
Next game:
Both teams receive something of a breather in the Big Ten. Michigan State travels to Nebraska for a game Saturday; Michigan has a home game against Penn State on Sunday.
January, 24, 2013
1/24/13
10:00
AM ET
By
Chantel Jennings, Tom VanHaaren & Michael Rothstein
| ESPN Insider
ANN ARBOR, Mich. -- Every Thursday the WolverineNation writers discuss three important issues affecting Michigan sports. This week they look at some NFL draft stock, a possible Michigan basketball loss and the Wolverines' next recruiting class.
1) You're an NFL coach. If you could draft Denard Robinson but only use him at one position, which would it be and why?
[+] Enlarge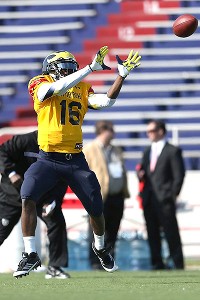 AP Photo/Ben LiebenbergA still banged-up Denard Robinson has struggled at the Senior Bowl.
Michael Rothstein:
Running back. He has shown the ability to have vision and break tackles along with accelerating at great speeds in the open field. It has yet to be proven he can catch -- something he could still do out of the backfield -- and lining him up at running back makes an occasional halfback option pass something other teams would have to be concerned about. It is, frankly, where he can be the most versatile.
March, 6, 2012
3/06/12
1:09
PM ET
Michigan State enters the Big Ten Tournament with the top seed, despite a two-game losing skid to end its regular season schedule.
While the losses at the end of the season were surprising to say the least, it seemed to exemplify a conference in which on any given night any team (that's right, all you Wildcats and Boilermakers fans) could win.
But here are my predictions for how the Big Ten Tournament goes down in Indianapolis. But I will preface that with the fact that I'm terrible at predictions. With the exception of the 2008 NCAA Tournament, in which I picked all four No. 1 seeds to make it to the Final Four, I've never done well in bracket competitions. So, here goes…
To continue reading this article you must be an Insider
February, 5, 2012
2/05/12
5:08
PM ET
EAST LANSING, Mich. -- Rarely does Michigan basketball coach John Beilein's offense appear stale. But rarely have his Wolverines executed as poorly as they did against No. 10 Michigan State on Sunday.
In a 64-54 loss at the Breslin Center, No. 22 Michigan's offense never strung together more than a few possessions looking efficient and effective. Instead, the Wolverines turned the ball over 10 times and had one of their lowest scoring outputs of the season.
The Spartans were able to shut them down by pushing play outside, effectively shutting down the Wolverines' pick-and-roll offense that they've relied heavily upon this season. Without the pick-and-roll, the catalyst of their offense, Michigan never got going offensively.
To continue reading this article you must be an Insider
February, 5, 2012
2/05/12
3:07
PM ET
EAST LANSING, Mich. -- Some thoughts following No. 10 Michigan State's 64-54 win over No. 22 Michigan at the Breslin Center on Sunday afternoon.
Player of the game:
Michigan State forward
Draymond Green
. The Spartans senior, after losing to Michigan, 60-59, on Jan. 17, guaranteed his team would win in East Lansing today. And any time Michigan tried to make a run, Green responded. He hit turnaround jumpers on the baseline and in the paint. He grabbed critical rebounds and he did it while still recovering from a left knee injury. He finished with 14 points, 16 rebounds and four assists.
Unsung hero of the game:
Michigan State guard
Keith Appling
. Against Michigan in Ann Arbor, Appling struggled. He couldn't keep up with Michigan freshman guard Trey Burke and was off offensively as well. On Sunday, he was good on both ends. He drove the lane confidently and guarded Burke strongly -- denying him entries into the lane. Appling had 10 points, two assists and three steals.
Stat of the game:
Michigan couldn't rebound much at all. Green -- a one-man machine in his final regular season game against the Wolverines -- had as many rebounds as Michigan as a team . Green had 16 rebounds. Michigan also had 16.
Second guessing:
Michigan sophomore guard
Tim Hardaway Jr.
had one of the worst games of his career on Sunday. He couldn't get anything going from the outside or driving the ball -- shooting 1 of 10 from the field and scoring two points. He also missed his first four shots of the second half when the Wolverines were trying to make a run.
What it means:
After three straight wins for Michigan, the Spartans ensured they wouldn't go two seasons in a row without beating Michigan. For Green, it means he finishes the regular season portion of his career with a 4-3 record against Michigan. The two teams could met again in the Big Ten tournament, of course.
February, 5, 2012
2/05/12
12:21
AM ET
Michigan hasn't been in this position in a while. A three-game win streak over its biggest rival. Visiting East Lansing having won their last road game against the Spartans is something the Wolverines haven't done in more than a decade.
Yet this is the position Michigan is in on Super Bowl Sunday. Travel to Michigan State with no more albatross. Michigan is competitive with Michigan State now and it should be a close game.
So what would Michigan have to do to ensure its fourth straight win over Michigan State? Here are three keys.
To continue reading this article you must be an Insider
January, 17, 2012
1/17/12
10:26
PM ET
Despite a poor showing at Iowa last weekend, the No. 19 Michigan basketball team kept to its goal of staying undefeated at home as it beat No. 9 Michigan State on Tuesday night, 60-59.
Michigan State coach Tom Izzo said the Spartans "did enough things to lose the game." And they did, but their stats didn't show it. The Spartans shot 48 percent from the field and outrebounded the Wolverines 31-18. They had multiple chances to win the game on the final possession.
But, at the end of the day, the Wolverines did just enough to pull off the win.
To continue reading this article you must be an Insider
January, 17, 2012
1/17/12
7:48
PM ET
Turning point:
Michigan scored on back-to-back layups -- first with a
Trey Burke
drive and dish to Stu Douglass, who one-touched it to
Jordan Morgan
for a layup. Then Burke stole the ball in the Michigan State backcourt and drove in for another layup to give Michigan a 30-20 lead.
Best player in the half:
Burke has been sensational. The freshman, who has improved steadily throughout the course of the season, controlled the pace of the game. He finished with nine points, three rebounds, two assists and a steal -- but more impressive was how he drove to the lane, beating Michigan State guard
Keith Appling
and whomever else the Spartans had guarding him.
What Michigan needs to do, What Michigan State needs to do:
Michigan --
Get Tim Hardaway Jr. more involved. The star sophomore has continued in his slump, shooting 0 of 3 from the field, 0 of 2 from the 3-point line and picked up all four of his points from the free-throw line. If Hardaway Jr. finds his game, Michigan could be in line to win its third straight against Michigan State.
Michigan State --
Go inside more. One of Michigan's big weaknesses is interior defense and the Spartans have three guys who can really hurt Michigan there in
Derrick Nix
,
Adreian Payne
and
Draymond Green
. Combined, they have 15 points and 11 rebounds, but seven of those boards are from Green. Meanwhile Morgan, who is perpetually in foul trouble, hasn't picked up any.
January, 17, 2012
1/17/12
5:12
PM ET
No extra motiviation is needed when Michigan and Michigan State meet. The fact both are ranked -- the Wolverines are No. 19 and Michigan State No. 9 -- and coming off stinging road losses to unranked conference rivals just add to the importance.
The Wolverines are coming off a season in which they swept the Spartans, a memory that sophomore guard
Tim Hardaway Jr.
said is his fondest in college basketball. But if the Wolverines are hoping to extend that streak, here are three keys they'll need to focus on in Tuesday's matchup.
1. Freshman point guard Trey Burke needs to stay on the floor
. Teams have figured it out: In Big Ten play, Michigan
needs
Burke on the floor. Without Hardaway Jr. or senior guard
Zack Novak
, the Wolverines are down. Without Burke, Michigan is as good as out. There is no backup on this team who can manage the offense as well as Burke or a player that keeps the Wolverines playing in transition and getting those easy buckets. That was shown in the Iowa game. He'll have a solid matchup with sophomore guard
Keith Appling
, but just as he was psyched to play against Wisconsin senior point guard
Jordan Taylor
, he should be ready to play against Appling.
To continue reading this article you must be an Insider
January, 16, 2012
1/16/12
4:06
PM ET
Michigan coach John Beilein and members of the No. 19 Michigan basketball team met with the media on Monday to discuss Tuesday night's game against No. 9 Michigan State.
Michigan coach John Beilein
:
ARE SENSES HEIGHTENED FOR TOMORROW NIGHT'S GAME: "I would say so," Beilein said. "For way beyond me and Tom Izzo, this has been a great series for years and years."
ON MICHIGAN STATE SENIOR FORWARD DRAYMOND GREEN: Beilein said he has been impressed with Green's passing ability, saying he is "as good a passing big man as there is in the country." Beilein pointed out both Green's shooting and rebounding abilities and said Green has opened the floor up for other players.
To continue reading this article you must be an Insider
Harbaugh: Split With 49ers Not Mutual
BIG TEN SCOREBOARD
Thursday, 9/3
Friday, 9/4
Saturday, 9/5
Sunday, 9/6
Monday, 9/7