Michigan Wolverines:

Jon Jansen
April, 17, 2013
4/17/13
9:00
AM ET
ANN ARBOR, Mich. -- All players who walk through the door to Schembechler Hall understand what Michigan once was. They merely have to keep their eyes and ears open.
Many college coaches, even those at traditional power programs, concern themselves only with the present and the future. Michigan's Brady Hoke puts the past on a pedestal.
Hoke's players know what the numbers 134 and 42 mean -- Michigan enters its 134th year of football and boasts 42 Big Ten championships. They know about the program's national titles and award winners. They see the Bo Schembechler quotes, the
Big Ten banners
and the
legends lockers
dedicated to program greats.
Many of the current Wolverines hadn't put on a helmet and pads in their lives the last time Michigan won a national title in 1997, but they know what the program was like because coaches like Hoke and defensive coordinator Greg Mattison, both Michigan assistants that season, tell them about it all the time. Offensive line coach Darrell Funk, who had no ties to Michigan before arriving with Hoke in 2011, often shows his players tape of former Wolverines stars Steve Hutchinson, Jake Long and Jon Jansen.
[+] Enlarge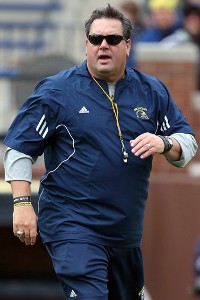 Leon Halip/Getty ImagesBrady Hoke and the Wolverines are working to get the program back to where it once was.
"There's a tremendous sense of pride that Brady instills," Mattison told ESPN.com, "and our entire football organization feels that 'Let's get Michigan back to the way we remember it,' where when Michigan gets on that field, everybody goes, 'Whoa, here they come.' That's what I envision. I want to do anything that I can do to help us get there, to get Michigan back to the football level it was when I remember it."
Senior linebacker
Cam Gordon
was 6 years old when Michigan won the national championship and 13 when the Wolverines claimed their last Big Ten title (2004, co-championship). But he hears about the glory days from coaches like Mattison and new outside linebackers coach Roy Manning, who played for Big Ten championship teams in 2003 and 2004.
"I do remember the stories about Michigan," Gordon said. "Before they even stepped on the field, the game was won."
The constant history lessons taught inside Schembechler Hall don't stem from an unhealthy state of nostalgia. Hoke wants his players to understand the standard at Michigan. He's also extremely blunt about the fact that the Wolverines have yet to meet it.
Hoke guided Michigan to 11 wins in his first season and ended the seven-year losing streak against archrival Ohio State. He has yet to lose a game at Michigan Stadium. He has pulled Michigan out of the fog of the Rich Rodriguez era. Recruiting is undoubtedly on the upswing, and Michigan looks more like its old self on both sides of the ball.
But Hoke's tenure to this point, by his own barometer, has been a failure.
"We didn't get it done," he said of the 2012 season, when Michigan went 8-5. "We were still in a second year of changing a culture and changing a philosophy to some degree, offensively and defensively and the whole scope of what we try and do as a team. But still, at the end of the day, this is about winning Big Ten championships. We have 42 of them, and we need to start on our 43rd."
Hoke's message is heard loud and clear from the team's best player on down.
"The standard at Michigan is a Big Ten championship every single year," All-American left tackle
Taylor Lewan
said. "That's the minimum. Everything else is a failure. The Sugar Bowl, the BCS game, that was awesome. It was such a great experience, Bourbon Street was cool, New Orleans was cool -- failure. Outback Bowl, close game, lost in the last 20 seconds -- failure.
"Those are all games that are failures. The only way this team would be happy, would be satisfied with one season, is if we win a Big Ten championship."
Things weren't that way when Lewan arrived in 2009.
"The main goal was to make it to a bowl game," he said. "I don't know if that's how it's supposed to be at Michigan. I don't know how much my opinion counts, but I think it should be a Big Ten championship every single year. These coaches have done a great job of preaching that.
"We're not going to settle."
It has been nearly a decade since the Wolverines could call themselves league champions, their longest drought since a lull between 1950 and 1964. Every year that passes without a title means Michigan moves a little further away from the great times, a little further away from regaining the mystique Mattison and others preach about.
Talking about a winning culture in the past only goes so far without establishing a winning culture in the present. It's why much of Michigan's offseason work has been from the neck up.
"There were times where we were down in games and we came back and won the game based off our mental toughness," wide receiver
Jeremy Gallon
said. "And there were times in games where we didn't come back, and it was our lack of mental toughness."
Defensive tackle
Quinton Washington
said Michigan worked on breaking "mental barriers" this spring, one of which is playing better away from the Big House. The Wolverines dropped three road games (Notre Dame, Nebraska and Ohio State) and two neutral-site contests (Alabama, South Carolina) last fall.
[+] Enlarge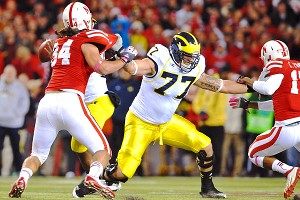 AP Photo/Dave WeaverTaylor Lewan (77) knows expectations are high for every player who wears a Michigan uniform.
Michigan is just 5-7 in road or neutral-site games under Hoke.
"We didn't play well on the road," Hoke said. "We didn't play with the toughness that it takes. We learned a lot in the bowl game about us as people, especially the guys coming back, good and bad."
Hoke has a
Sun Tzu quote
displayed in the weight room that reads:
Victorious warriors win first and then go to war, while defeated warriors go to war first and then seek to win.
The goal is for the Wolverines to enter games with the same mindset as their predecessors.
Many think the Michigan mystique is dead, but Hoke's players are driven to revive it.
"If they don't fear Michigan," Gordon said, "then obviously that's something that we're going to have to change."
Beginning this fall.
"Anywhere you go in the world, everyone knows Michigan," defensive end
Frank Clark
said. "Anywhere in the nation, as far as college football, everyone knows Michigan. For the last couple years, we haven't lived up to those expectations. This next season, we have to.
"It's time. There aren't anymore excuses."
April, 2, 2012
4/02/12
12:16
PM ET
Catching Up With... is an occasional series at WolverineNation where we chat with former Michigan athletes about their time in Ann Arbor and what has happened to them since they left school. Want t o hear from someone in particular


Juaquin Feazell came to Michigan from Fort Valley, Ga., as a defensive lineman. He played for the Wolverines from 1995 to 1998, being named co-captain of the 1998 team along with Jon Jansen.

Michigan C Cites Concussions In Decision To Quit
BIG TEN SCOREBOARD
Thursday, 9/3
Friday, 9/4
Saturday, 9/5
Sunday, 9/6
Monday, 9/7