Michigan Wolverines:

Johnny Stanton
May, 7, 2014
5/07/14
5:00
PM ET
By the time you read this, I'll be somewhere over the Atlantic. (Where are the best Big Ten bars in Italy?). But before my Euro trip, I had time to answer your postcards ... er, emails:


Rob from New York writes:
Brian, a lot of the Big Ten rivalry games aren't really rivalries anymore (or maybe ever). Not sure anyone is really getting up for the Illibuck, Governor's Victory Bell or the Old Brass Spittoon, not to mention lesser games like the Land Grant or Little Brown Jug. In your opinion, which games (A) deserve to be recognized rivalry games, (B) deserve to be trophy games, and (C) which ones should be retired and/or have their trophies burned to the ground? (Hint: the unanimous ugliest of them all.) My vote goes to Wisconsin/Michigan State becoming a rivalry AND trophy game, with a brass penalty flag as the trophy, since the series is littered with controversial calls and Michigan State fans whining about them (yeah, I'm biased). A non-trophy rivalry game could be Indiana and Michigan State, since it's not really a rivalry anymore. And a rivalry game that needs to die is Minnesota and Penn State (honestly, would anyone notice?).
Brian Bennett:
Rob, Adam and I did a full assessment of the state of the Big Ten rivalries last year as the conference was working on realigning the division. You can find that post
here
. There's a difference between rivalries and trophy games. You can hand out a trophy for any game, but rivalries reveal themselves. For example, Wisconsin and Michigan State had grown into a rivalry without a trophy, while hardly anybody thinks the Old Brass Spittoon game is an actual rivalry. Alas, the Badgers and Spartans will be in different divisions now, didn't play last year and won't meet in 2014 or '15, so it's going to be hard to keep that going as a rivalry. I like the trophies, because many of them are goofy and fun and have some interesting history. But it will be worth tracking how the new division alignment and expansion affect actual rivalries.
---
Ben from Omaha writes:
OK, I'm going to do my best to not be a homer here, but I'm a little shocked Nebraska isn't a favorite over Wisconsin in the West Division. Nebraska returns almost all of its D and as long as
Tommy Armstrong
just plays consistently and doesn't turn it over, our offense will be great again. Wisconsin, on the other hand, loses a ton of its D and O, and its only returning contributors are
Joel Stave
and
Melvin Gordon
. I get that Nebraska can be tough to trust, but I'd still take them based off returning players. Am I being a homer here or am I on to something?
Brian Bennett:
First, Ben, I'd have to ask where you're getting the idea that there's a favorite in the West. I think the division is pretty wide open, and it's only early May. Colleagues Mark Schlabach and Brian Fremeau
do have Wisconsin ranked higher
than Nebraska right now, but I don't believe there's any real consensus. I am higher on the Huskers than the Badgers, because I think Gary Andersen's team has too many question marks. But the schedule is a real factor here. Wisconsin and Iowa have much easier roads to Indianapolis than does Nebraska, which has to go to Michigan State as one of its crossovers and plays the Badgers and Hawkeyes on the road. I think sometimes we overrate schedules in the preseason, though.
---

MonsterHunter via Twitter writes:
Did the Big Ten do any due diligence about Rutgers before handing them their Golden Ticket? Strictly amateur hour in N.J.
Brian Bennett:
Rutgers can't seem to get out of its own way when it comes to bad PR. moves, the latest being the flap over the Eric LeGrand speech. I don't think the LeGrand incident is that big of a deal in its own right, but it adds to the string of poor decisions and tin-eared communication skills of the administration. The school has a lot of different political factions tugging it in many directions, so it can often be hard to get everybody on the same page. But for the sake of the Scarlet Knights and the Big Ten, Rutgers really needs to get its house in order and stop creating controversy. Playing good football would make a lot of this stuff go away.
---

Alex from York, Neb., writes:
Hi, Brian. My question is why do I get the feeling from the media that the Nebraska QB battle has already been won? It's only spring. I know Tommy Armstrong is the incumbent starter but that's no reason to end a position battle. Tommy is going to look better in practices because he's been around longer, but in the spring game, the closest to a real game situation we've seen so far,
Johnny Stanton
and ever
Ryker Fyfe
looked much better than TAJR. I'm not saying he won't win the battle, but why do people seem to think the battle is over already?
Brian Bennett:
Armstrong has such an experience edge that I think he would have had to do something to lose the job this offseason. And by all accounts, he played well and took on a bigger leadership role this spring. I don't put much stock in spring game performances. Armstrong can't rest on his laurels, and if he doesn't play well early this season, he has a chance to get passed by. But I'd be really surprised if he weren't the starter in September.
---
Kevin from Fairfax writes:
Seriously, someone has Michigan ranked in the top 25? Michigan is going to be lucky to break .500 this year. As for Sparty, they were one of the two best teams in the country last year, while the defense might take a half step back, the offense should help. Right now there are five Big Ten teams that deserve to be ranked: Michigan State, Ohio State, a Penn State team that was far closer to an 11-win team than most admit, Wisconsin and Nebraska.
Brian Bennett:
I don't quite get ranking Michigan either, though the Wolverines clearly have some talent if they can figure things out. But based on what we saw last year and given some of the issues on the offensive line, this is a team that will have to show me something before I consider it as a Top 25-caliber club. I disagree with you about Penn State. While the Nittany Lions definitely have some upper-echelon players and a pretty good schedule, there are depth questions and an offensive line that might be even more problematic than the one in Ann Arbor. With a new staff in place, this is another show-me team (and I'd like you to show me how a team that lost by double digits to Indiana and Minnesota and by 49 points to Ohio State was almost an 11-win team). The five teams I think should be ranked are, in order, Michigan State, Ohio State, Nebraska, Iowa and Wisconsin.
That's it for me and the mailbag for a bit as it's vacation time.
Arrivederci!
February, 25, 2014
2/25/14
9:00
AM ET
Spring football kicks off earlier than normal in the Big Ten, as Michigan takes the field Tuesday, Northwestern follows Wednesday and eight other squads begin their sessions by March 8.
The accelerated schedules seem appropriate in a league filled with players, coaches and teams itching for fresh starts.
New assistants get their first chance to repair struggling units, whether it's Doug Nussmeier with Michigan's offense, Brian Knorr with Indiana's defense or Chris Ash and Larry Johnson with a once-feared Ohio State defense. Quarterback competitions begin or resume at nine places, as new faces such as Illinois'
Wes Lunt
, Nebraska's
Johnny Stanton
and Minnesota's
Chris Streveler
enter the mix, while veterans like Wisconsin's
Joel Stave
and Michigan's
Devin Gardner
try to retain their starting jobs.
Happy Valley continues to buzz about new Penn State coach James Franklin, who seems to galvanize everyone whom he encounters. But Franklin barely has been around his new players and finally begins the real work with a team facing very real challenges.
[+] Enlarge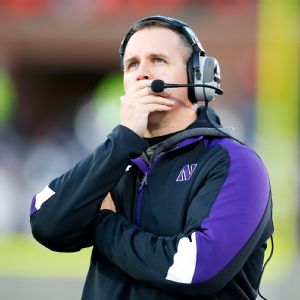 AP Photo/Jeff HaynesNorthwestern coach Pat Fitzgerald hopes his team can start a rebound from a disappointing, injury-riddled 2013 season.
Spring also allows teams such as Northwestern, Michigan, Purdue and Indiana to look forward after disappointing seasons. Michigan State, meanwhile, continues to bask in the Rose Bowl glow but looks toward its next goal -- a national championship -- as spring ball kicks off March 25.
"It's big-picture stuff, building relationships with the players and everyone associated with the program," Franklin told ESPN.com. "The other thing is laying a really good foundation with the philosophies and schemes of how we're going to do things. That's going to happen naturally over time, but I'm not the most patient person. I wish it would have happened yesterday."
Franklin doesn't water down his goals for Penn State, especially in recruiting, but he's also realistic about the challenges of a reduced roster. The Nittany Lions return strong pieces such as quarterback
Christian Hackenberg
and defensive back
Adrian Amos
,
but the two-deep has some holes that Franklin and his assistants must address, while installing new schemes.
"It's one thing when you get put in this situation in the first place with limited scholarships," Franklin said, "but the longer you're in it, the more effect it has. We've got some depth issues, there's no doubt about it, across the board. We're going to have to get creative."
Northwestern also is focused on depth after being hit hard by key injuries in 2013. Pat Fitzgerald blames himself and his staff for failing to get enough second-stringers ready, which proved costly in close Big Ten losses.
After their first bowl-less winter in six years, the Wildcats responded well in the weight room, as more than 50 players recorded personal bests. Although 11 players will miss spring practice, including standout running back/returner Venric Mark, the depth should be better in areas like the secondary.
"We're really emphasizing taking ownership of the finish," Fitzgerald said. "Finishing your technique, finishing the call, finishing the route. There's a lot of disappointment in the way the program didn't take the next step forward."
Michigan coach Brady Hoke
restructured the roles of his defensive assistants
for 2014, but the Wolverines' offense will be in the spotlight this spring after a wildly inconsistent season. Gardner, who continues to recover from a foot injury and likely won't be 100 percent until midway through the spring, will compete with
Shane Morris
,
Russell Bellomy
and midyear enrollee
Wilton Speight
.
But other positions, such as offensive line, figure to be just as important as Michigan tries to achieve Hoke and Nussmeier's vision.
"We had good intentions as far as what we wanted our identity to be, but obviously I don't think it came out the way we'd like it to," Hoke said. "The quarterback position is as important as any, and we have a guy [Gardner] who is very talented and had some really good games and games where we had to protect him better, have a better run game and take pressure off of him, and I don't think we did."
While Michigan turns the page on offense, Ohio State focuses on a defense that allowed 115 points in its last three games and finished 110th nationally in pass yards allowed (268 YPG). The Buckeyes lost top defenders
Ryan Shazier
and
Bradley Roby
, but they also added two accomplished assistants.
Johnson, who churned out NFL linemen during 18 years at Penn State, chose Ohio State instead of remaining in State College. Ash leaves a sole coordinator role at Arkansas for a co-coordinator role at Ohio State, where he'll work with the embattled Luke Fickell and others to mend the defense through a simplified scheme.
"Back in the day when Ohio State played great defense, you knew what you were going to get," Ash said. "They
played with swagger, played with confidence, played with toughness. We have to get back to that. The simplicity of the things we're going to do will lead to faster players, more plays made and a more aggressive defense.
"I wasn't here [in 2013], but I can tell you what Coach Meyer has told me, what Luke Fickell has told me and what I watch on film. I can see there's some hesitation, there's some uncertainty. Why that is, I don't know. But it's my job to get it fixed."
Purdue has plenty to fix after a 1-11 season, and players not surprisingly are
wearing T-shirts with the word "FORWARD" on the backs
. Maryland and Rutgers move forward to a new conference after an offseason that saw several staff changes, including new coordinators at Rutgers (Ralph Friedgen, Joe Rossi).
There's a fresh start of sorts at Wisconsin, as a large and decorated senior class departs. Coach Gary Andersen's markings will be more obvious with his second team, which begins practice March 7.
Wisconsin is just one of many places where the top quarterback job is at stake. Lunt, who sat out last season after transferring from Oklahoma State, competes with
Reilly O'Toole
and
Aaron Bailey
at Illinois.
"Competition's competition, no matter where it's at," said Lunt, who has added about 15 pounds since his arrival and checks in at 225. "It's different because it's different people, different coaches, but I'm excited for it."
He's not alone in the Big Ten. Spring ball can't start soon enough.
January, 24, 2014
1/24/14
1:00
PM ET
The last two seasons have shown that two-quarterback systems can work in the Big Ten.
Northwestern recorded 10 wins in 2012 while rotating
Kain Colter
and
Trevor Siemian
. Indiana led the Big Ten and ranked ninth nationally in total offense last fall while alternating between
Tre Roberson
and
Nate Sudfeld
.
[+] Enlarge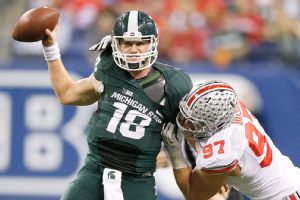 Gregory Shamus/Getty ImagesAfter taking over the quarterback job in Week 5, Connor Cook led the Spartans to 10 consecutive wins.
Given the recent success, my next statement might surprise you: Every Big Ten team would be best served picking one quarterback and sticking with him in 2014. That includes Indiana and Northwestern.
Quarterback rotations can be successful in the short term, but they are rarely sustainable or desirable. We saw this at Northwestern last fall, as the Wildcats never established a consistent offensive rhythm and operated with a reduced playbook, in part because of injuries but also because the unit lacked a clear identity. Northwestern finished 10th in the league in scoring.
Minnesota alternated between quarterbacks
Philip Nelson
and
Mitch Leidner
during several games, including the Texas Bowl against Syracuse. Although the Gophers had a nice surge during Big Ten play and recorded eight wins, they also finished 11th in the league in scoring and last in passing.
Nebraska had some success using two quarterbacks (
Tommy Armstrong Jr.
and
Ron Kellogg III
) last season but did so out of necessity following
Taylor Martinez
's injury. The Huskers also struggled to pass the ball, finishing 11th in the league.
The strongest argument for picking a quarterback and sticking with him comes from the Big Ten's best team in 2013. Michigan State's offense was a train wreck in non-league play as the Spartans used three quarterbacks. After a Week 4 loss to Notre Dame, the coaches decided
Connor Cook
would be their guy. You all know what happened next, but what struck me was Cook's mindset at the time.
"We went through spring ball competition and fall camp competition, it was the most stressed out I've ever been in my entire life just trying to be the quarterback," Cook said last month before the Rose Bowl. "After I got the starting job and started a couple of games, the stress went away and it turned to focus, me being focused and knowing they're not going to use other quarterbacks in the game and not stress too much that go if I make a bad play I'm going to be pulled.
"That's when the stress went out the window."
Players like Northwestern's Siemian and Indiana's Roberson and Sudfeld are more accustomed to sharing time than Cook was, but each of them, like any quarterback, would rather be the clear-cut starter.
Illinois'
Nathan Scheelhaase
is another good example of a player who benefited from an unambiguous role. He struggled
from the middle of the 2011 season through all of 2012, raising the possibility of a rotation last season. Instead, Scheelhaase started every game and led the Big Ten in passing (3,272 yards).
[+] Enlarge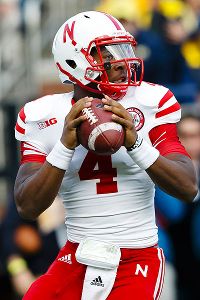 Rick Osentoski/USA TODAY SportsAfter playing well in place of Taylor Martinez, sophomore signal-caller Tommy Armstrong Jr. is the favorite to start for the Cornhuskers in 2014.
I'm all for competition at quarterback, and the Big Ten will feature plenty of it this spring and summer. Only five quarterbacks -- Ohio State's
Braxton Miller
, Penn State's
Christian Hackenberg
, Michigan State's Cook, Iowa's
Jake Rudock
and Michigan's
Devin Gardner
-- can feel pretty secure about their starting roles. Gardner has been mentioned as a possible rotation candidate with
Shane Morris
-- some Michigan fans wouldn't mind seeing Gardner line up at wide receiver, a position of need -- but I'd be surprised if Morris leapfrogs the senior.
I'm also OK with teams employing change-up quarterbacks for a package of plays, be it the Wildcat or something else. Michigan State could be a candidate for this in 2014 with dynamic redshirt freshman
Damion Terry
possibly spelling Cook from time to time.
The first few games also provide a platform to use multiple quarterbacks in settings that can't be replicated on the practice field. Former Ohio State coach Jim Tressel often did this with his younger quarterbacks, giving them a first-half series or two. It makes sense. But by Week 4, roles must be identified.
The offseason is full of Big Ten quarterback questions:
Will Oklahoma State transfer Wes Lunt take the reins at Illinois?

How will Gardner and Hackenberg fare with new offensive coordinators?

After Nelson's transfer, who emerges at Minnesota among Leidner, Chris Streveler and possibly a young quarterback such as Dimonic McKinzy?

Nebraska's Armstrong went 6-1 as a freshman starter, but can he hold off Johnny Stanton?

Can Gary Nova retain his job at Rutgers?

Will Danny Etling keep the top job at Purdue, or will Austin Appleby and possibly early enrollee David Blough enter the mix?

How does Siemian bounce back at Northwestern, and do the Wildcats look at Matt Alviti and Zack Oliver?

Will either Roberson or Sudfeld finally separate himself at IU?
Ultimately, these questions must be answered. The teams that avoid prolonged rotations should be better off for it.
August, 19, 2013
8/19/13
5:00
PM ET
Next Monday will be game week. So excited. For now, more of your Monday mail.
[+] Enlarge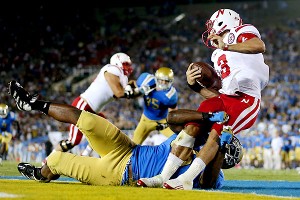 Stephen Dunn/Getty ImagesDon't expect Nebraska's Taylor Martinez to play anywhere but the QB position this fall.
Jeremy from Jenison, Mich., writes:
Which Big Ten team, outside of Ohio State, do you feel has the best chance to make the Rose Bowl? Personally, I think its either Michigan or Nebraska, or Michigan State could possibly sneak in. But what do you think?
Brian Bennett:
Jeremy, I think it's between Michigan and Nebraska. The Huskers benefit because they don't have to play Ohio State in the regular season, while Michigan has the advantage of playing Nebraska in Ann Arbor. I wouldn't be shocked to see Michigan State, Wisconsin or Northwestern sneak up and get to Pasadena (and we are talking about this while assuming Ohio State doesn't go to the BCS title game), but I think the Wolverines and Huskers have better chances because of their talent and schedule. While I rank both below the Buckeyes, either of them could beat Ohio State in a one-game shot -- or in Michigan's case, a second-game-in-two-weeks shot.
Jerry Fan from Minneapolis writes:
Jerry Kill has stated his program needs a signature win this season. Do you think that will happen, and if so, what game do you think it would be?
Brian Bennett:
That's been a consistent theme for Kill this summer, that Minnesota needs to notch a signature win. He hasn't defined exactly what that would look like, but these seem to be the best chances for the Gophers to accomplish that this fall:
Oct. 5: at Michigan
Oct. 19: at Northwestern
Oct. 26: Nebraska
Nov. 9: Penn State
Nov. 23: Wisconsin
Nov. 30: at Michigan State
You could argue whether beating Northwestern or probation-saddled Penn State is really a signature win, but I think Kill would gladly take either of those. Beating Wisconsin would be tremendous for the program because that rivalry has been so one-sided, and the same could be said about Michigan. I'll go out on a limb and say Kill's team does win one of those games, though it won't be against Michigan or Nebraska.
OblioCat from Andersonville, Chicago, writes:
Northwestern wins the Legends Division. Win or lose in the Big Ten Championship Game, is the Big Ten down (even more), or is Northwestern actually a good team? Will the journalists wait for bowl game results to rip on the Big Ten? Granted, when NU beats LSU in its bowl game, part of the South will crumble.
Brian Bennett:
Lot of ifs there, but I doubt too many people would criticize the league for being down if Northwestern wins the Legends Division, unless they finish 8-4 or something and everybody else tanks. The Wildcats are getting plenty of respect this offseason and are ranked in both major polls, so people know how good they are. Heck, the LA Times' Chris Dufresne ranked Northwestern No. 10. The Big Ten's reputation will be based on how the league performs in the nonconference games, but with so few marquee matchups, the Big Ten has more opportunities to reinforce negative perceptions by losing than it does to change them by winning.
Brian from Whiteman Air Force Base writes:
So I was thinking about my Huskers' upcoming season, and thought about Taylor Martinez's future beyond Lincoln. I think it's pretty obvious he won't be drafted as a QB, but more likely as a WR. So I was thinking, how awesome would it be to see him line up at WR a bit for Nebraska, and let our young stub backup QBs (
Tommy Armstrong
and
Johnny Stanton
) get some game experience?? Tim Beck could have a field day with that much talent on the field at one time! That could make for some serious excitement and a terror for defenses!
Brian Bennett:
I'd argue that Nebraska already has a serious amount of talent on offense, and one of the deepest and best receiving corps around.
Taylor Martinez
is so essential to the team's success that I would be stunned to see Beck risk anything by putting him at another position. But I do think playing one of the young guys is going to be important this season for the Huskers as they transition to the post-Martinez era next year. Luckily, the early schedule is such that Martinez could be getting some early rest in September and October, allowing one of those youngsters to get some in-game training.
Kevin from Fairfax writes:
Brian, you missed the most obvious
Heisman sleeper in the Big Ten
:
Akeel Lynch
if he can get on the field early enough. Penn State has the best line in the Big Ten (and maybe the nation) blocking for its running backs, the Nittany Lions have the best collection of skill position players in the league pulling defenders off the line of scrimmage (No PSU back will see a seven or eight man front this year except for in short yardage situations) and the best offensive coaching in the nation.
Brian Bennett:
Eh, sorry, I don't see it.
Zach Zwinak
had a really nice and surprising year last season for Penn State, but it wasn't anything that was remotely Heisman worthy, especially with a 4.9 yards per carry average and only six touchdowns. Plus, coach Bill O'Brien has said that he plans to get carries for Lynch and
Bill Belton
. If anybody is going to attract Heisman attention on the Nittany Lions -- and that in itself is a big question mark because of probation and the lack of roster depth -- I think it will be the quarterback.
Allen Robinson
might be the team's best player, but it's nearly impossible for receivers to win the award. If O'Brien can turn Matt McGloin into the Big Ten's top passer, imagine what he can do with a talent like
Christian Hackenberg
.
Jack from Illinois writes:
While reading your last Big Ten mailbag, I saw your thoughts on Illinois, despite competing and being better, finishing the season at with a record of 3-9. I realize as an Illini fan that we may not be the best team, but should I really be expecting us to be that bad? As daunting as the Illini's schedule looks, it appears there are some games they can really pull an upset in (don't get me wrong though, I don't exactly have much hope in our game against Nebraska). I'm not saying we get bowl eligible, but is it crazy for me to think we get to a record like 5-7?
Brian Bennett:
It's not completely crazy, but Illinois will have to make major strides on offense, defense and special teams to win five games. There are teams on the schedule that the Illini should be able to compete with, like Indiana and Purdue, and they should be favored against Southern Illinois and Miami. Win those four, and it only takes one upset to get to five wins. Still, it seems like an uphill battle given the lack of elite players and depth on the roster.
Dave from Marietta, Ohio, writes:
Regarding the
B1G football bucket list
... I've done all those. Does that mean I'm going to die tomorrow?
Brian Bennett:
I sure hope not, Dave. But whenever you do kick the bucket, you should be pretty happy.
Harbaugh: Split With 49ers Not Mutual
BIG TEN SCOREBOARD
Thursday, 9/3
Friday, 9/4
Saturday, 9/5
Sunday, 9/6
Monday, 9/7