Michigan Wolverines:

Johnny Manziel
November, 29, 2013
11/29/13
10:00
AM ET
You already know who's going to land in the Big Ten title game -- but I bet you don't know most of these crazy Big Ten facts and figures:
It should be a good battle in the trenches for The Game. No, seriously -- the Ohio State rush offense vs. Michigan rush defense should be a good matchup. The Wolverines have allowed just five rushes that have gained 20 or more yards this season, tied for the fifth fewest allowed among FBS teams. Ohio State's offense has had 32 such rushes -- which is tied for fifth most in the FBS.
Braxton Miller might be better in the pocket this season, but that doesn't mean he can't run anymore. In his first seven games this year, he attempted 25 zone-read rushes and gained 87 yards from them. In the last two contests, Miller has shown he can still get it done by rushing 15 times on such plays for 216 yards.
Wondering just how much Devin Gardner's performance has dropped off since last season? Well, besides the obvious stats, take a look at his performance on third downs. Last season, he had a QBR of 98.3 on third downs, which ranked second behind only Johnny Manizel among players with at least 50 third down plays. This season? His QBR has fallen to 49.8 on third downs this year and Gardner has taken 15 sacks and committed seven turnovers. He's thrown nine TDs to seven interceptions on third downs this season, compared to 11 touchdowns and two picks last year.
Minnesota's run-heavy offense could be in trouble against Michigan State. The Gophers have run on 68 percent of their plays this season -- the seventh-highest ratio in the FBS -- and Michigan State has not been kind to those run-first teams. The Spartans have allowed just 15 rushes of 10 or more yards this season, six fewer than the No. 2 team in that category. Also, Michigan State has not allowed a drive of 80 yards or longer this season. The last team to do that? Alabama in 2008.
Michigan State's Jeremy Langford has rushed for at least 100 yards in six straight games -- and those yards have been well-earned. During that span, he has the third-most yards after contact (453) of any BCS player. He's behind only Boston College's Andre Williams (608) and Arizona's Ka'Deem Carey (512).
The ability of Wisconsin to run the ball has been well-documented this season, so let's look at the affect those runs have had on the passing game. On play-action passes, Joel Stave is averaging 12.1 yards per attempt. Without play-action, he's averaging 6.5 yards through the air. Also, the touchdown-to-interception ratio is pretty noticeable. With the play-action, he has nine touchdown strikes and two interceptions. Without? Eight TDs, seven interceptions.
In the Penn State passing attack, there's basically Allen Robinson and ... well ... OK, that's pretty much it. Just look at the numbers. When Christian Hackenberg throws Robinson's way, he's completing 63.6 percent of his passes, averages 9.2 yards per attempt and has thrown five TDs to one pick. When he targets anyone not named Robinson, he's completing 50.4 percent of his passes, averages 5.1 yards per attempt and has thrown four touchdowns to four picks.
The Hawkeyes' defense might not get as much love because of the Spartans, but their run defense is pretty darn good. Iowa has held 10 of its 11 opponents under their rushing average this season. Iowa has allowed just four rushing touchdowns this year -- tied for lowest total in the nation -- and it's allowing an average of just 3.6 yards per rush.
Ameer Abdullah didn't get much love from voters for the Doak Walker Award, but he's still having quite the season. Here are a few Nebraska numbers to chew on: His rushing total right now (1,483 yards) is the most by a Husker since Ahman Green's 1,877 in 1997. He's rushed for 100 yards in eight straight games, which ties him for the fourth-longest streak in Nebraska history. And he also has 10 100-yard games this season, which is also good for fourth on the Cornhuskers' record lists. He needs just one more game to tie the record of 11 held by Mike Rozier (1983), Lawrence Phillips (1994) and Green (1997).
November has been a pretty good month for Illinois' Nathan Scheelhaase. He's gone 128-for-189 (67.7 percent) for 1,316 yards -- which is the second-most passing yards this month behind only Fresno State's Derek Carr (1,374). He's also the only active player in the nation with more than 8,000 passing yards and 2,000 rushing yards ... but, of course, that's for his career -- not just November.
September, 15, 2013
9/15/13
12:20
AM ET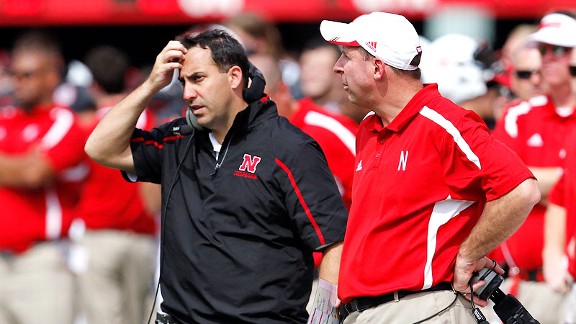 Bruce Thorson/USA TODAY SportsBo Pelini and defensive coordinator John Papuchis watched their team crumble against UCLA.
CHICAGO -- A CBS camera followed
Johnny Manziel
's every move Saturday, tracking the Texas A&M quarterback from the magical to the mundane.
More than 750 media members converged on Kyle Field for a game that had been anticipated for months. This was another SEC Saturday, and no matter what happened in the Big Ten, the eyes of the nation would be on Alabama-A&M.
But the Big Ten had a chance to steal a glance, build some credibility and maybe change the narrative, not to mention a few minds. However, the league fell short in its one Saturday showcase of September.
Nothing to see here, folks. Same old story.
Michigan forgot to show up against an Akron team that had lost 27 consecutive road games. Nebraska decided to pack it in during the third quarter against UCLA. And Penn State's defense made a very good college quarterback (UCF's
Blake Bortles
) look like a Heisman Trophy candidate.
There was one Big Ten game that left everyone talking and tweeting well into Sunday morning, thanks to one of the more bizarre finishes you'll ever see. The clock ran out on Wisconsin after quarterback
Joel Stave
tried to center the ball deep in Arizona State territory. The officials, seemingly confused that Stave placed the ball on the ground rather than make an obvious kneeling motion, delayed in spotting the ball and time expired.
No one could believe it, even the victorious Sun Devils.
Wisconsin deserved a chance to win a big game on the road and salvage something for the Big Ten. Thanks to the inexcusable officiating blunder, the Badgers' 32-30 loss was a black mark on a mostly sour Saturday.
Make no mistake, Week 3 wasn't as bad as Week 2 of the 2012 season, when the Big Ten went 6-6, a virtual impossibility given the forgiving nature of nonconference schedules. After that sorry Saturday, league
commissioner Jim Delany told the critics to swing away
, acknowledging the Big Ten's status as a national pinata.
The Big Ten bashing will continue after this Saturday, although not as much as it did last season. But perhaps just as damaging, the league didn't give people a reason to pay attention. The Big Ten is still viewed as a has-been conference, not a right-now conference.
[+] Enlarge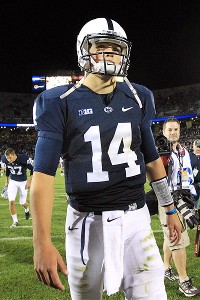 Matthew O'Haren/USA TODAY SportsChristian Hackenberg and PSU were stunned at home by UCF.
Oh, there's Ohio State, which flexed its offensive muscles at Cal despite being without starting quarterback
Braxton Miller
. Michigan State's offense showed up, and so did Indiana's defense. Iowa ended its slide in the Cy-Hawk series and captured a win it absolutely had to have in mostly impressive fashion. Purdue gave Notre Dame a better game than expected before folding early in the fourth quarter. Illinois fought hard against a good Washington squad here at Soldier Field. Northwestern continues to look very good.
But nothing that happened Saturday boosted the Big Ten's poor perception.
Nebraska's fight for national relevancy continues to be sidetracked by complete collapses. After storming ahead to a 21-3 lead against a seemingly emotionally wounded UCLA team, the Huskers allowed
the Bruins to score 38 unanswered points on Big Red's home field
.
This is who you are, Huskers. Your Big Ten legacy can be summed up in a series of numbers: 48-17, 45-17, 30-13, 63-38, 70-31, 45-31 and 41-21. Those are the final scores of Huskers losses in nationally relevant games against Wisconsin (2011), Michigan (2011), South Carolina (2012 Capital One Bowl), Ohio State (2012), Wisconsin (2012 Big Ten championship game), Georgia (2013 Capital One Bowl) and UCLA (Saturday).
They're not stunning collapses because they happen so often. They're as much a part of Nebraska's identity as the Blackshirts, the balloons and the Tunnel Walk.
Coach Bo Pelini said his players
looked like they'd seen a ghost
as UCLA took over in the second half. Maybe they had just seen this movie so many times before.
While Nebraska continued to bring negative attention, Michigan brought unwanted attention. The Wolverines' game against Akron was off the radar in a slate that featured four matchups with the Pac-12, the Iowa-Iowa State rivalry and other superior pairings.
Devin Gardner
and his teammates were supposed to make quick work of Akron, which has won one game in each of the past three seasons.
Akron's best hope for an upset? Former Ohio State coach Jim Tressel, who tortured Michigan during his tenure, is the school's vice president for student success. Maybe Michigan can chalk up Saturday's near-upset to The Curse of The Vest, as Akron's student-athletes had plenty of success at the Big House.
Michigan was a yard away from arguably the worst loss in program history. It wasn't Appalachian State, as the 2007 Mountaineers were miles better than the Toledo team Michigan lost to in 2008 or the current Akron squad. The 2008 Wolverines might have been the worst edition in school history. Michigan entered Saturday off an impressive win against Notre Dame. A letdown was possible? A letdown loss to Akron? Not a chance.
But it nearly happened.
"We almost lost to Akron," said Gardner, who committed four turnovers in
the 28-24 win
. "No disrespect to Akron, but we almost lost after coming out and having a great win last week in front of the whole world, and we come out and almost blow it. I definitely would have been sick if we [had lost]."
Michigan fans thankfully don't have to debate whether 2008 Toledo or 2013 Akron is a worse loss, but they do have to figure out what type of team they'll have the rest of the season after such a step backward.
Penn State can't help the Big Ten's ragged reputation in a bowl game because of NCAA sanctions. But the Lions could have taken care of business against UCF, a 10-win team in 2012.
However, a normally sound defense didn't come through, surrendering 507 yards and failing to get key second-half stops in a
34-31 loss
. Get ready to hear a lot about how the sanctions are finally getting to Penn State.
Listen, it's not all gloom and doom for the Big Ten. There are some bright spots. If Ohio State goes on to win a national title, all the negative stuff washes away. That's how it works in college football.
This could turn out to be a better league than it was last season, when it set a historically low bar. We'll find out in late December and early January.
Until then, it'll be all SEC, all the time.
After another lost Saturday, the Big Ten still doesn't give the nation a reason to care.
June, 5, 2013
6/05/13
1:00
PM ET
Is it preseason All-America team season already? You bet it is.
Phil Steele has issued his
2013 preseason All-America teams
, and a total of 15 players from the Big Ten made the four squads.

Let's take a look:
First team
Second team
Third team
Fourth team
Some notes and thoughts:
February, 19, 2013
2/19/13
6:55
PM ET
INDIANAPOLIS -- Turnabout is fair play, and
Lonnie Johnson
(Gary, Ind./West Side) is starting to play the recruiting game.
A longtime Ohio State lean who wanted to commit to the Buckeyes a few months ago, Johnson stopped himself short of naming Ohio State his leader Monday.
Asked if Ohio State was still his top school, Johnson said: "Yeah, Ohio State," then paused before he said "... really I got a three-headed dragon: It's Illinois, Nebraska and Ohio State. They're all at the top of my list. I don't know where I'm going to go at this point."
November, 27, 2012
11/27/12
9:54
AM ET
ANN ARBOR, Mich. – In four games
Devin Gardner
has gone from wide receiver to emergency starter at quarterback to seemingly unquestioned leader of the Michigan offense heading into 2013.
Given the rate of his improvement in Al Borges' offense, and the fact he presumably will get all of his spring and fall reps at quarterback, is it that farfetched to suggest he could work his way into the Heisman Trophy picture next year?
[+] Enlarge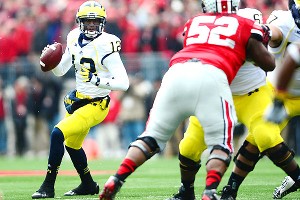 Andrew Weber/US PresswireDevin Gardner and Michigan face a favorable early schedule in 2013 that could launch them into the national spotlight.
Extrapolate Gardner's statistics from the final four games of the regular season through the entire 12 game season and he would have completed 171 of 270 passes for 3,015 yards, 24 touchdowns and 12 interceptions. He also would have rushed for 231 yards and 21 touchdowns.
Consider now that these numbers compare to those of Heisman Trophy frontrunner
Johnny Manziel
of Texas A&M. He has completed 273 of 400 passes for 3,419 yards, 24 touchdowns and eight interceptions. Manziel also has rushed for 1,181 yards and 19 touchdowns.
That Manziel, a freshman, did much of his damage against SEC defenses could land him this season's Heisman. And he assuredly will enter next season as a top candidate.
But for the sake of argument also consider this: Manziel accounted for 10 touchdowns (six passing and four rushing) and 600-plus yards in two games against FCS schools. All of Gardner's stats were compiled against Big Ten competition.
Now, look at the teams the Wolverines play next season. Central Michigan was 99th in points against this season (33.3 points per game) and finished 6-6. Akron was worse, finishing 1-11 and was 108th in points against (35.7 ppg.). Entering Saturday's finale against Cincinnati, Connecticut is 5-6 and is 19th nationally in points against (18.5). Notre Dame, Michigan's fourth non-conference opponent, has one of the top defenses in the country, but could be an early spotlight game for Gardner if he were to have success, and it also will be played in Ann Arbor. Only the game against the Huskies is on the road.
Gardner already has shown he can have success in the Big Ten.
Add into that the Wolverines' schedule is backloaded next season -- Michigan probably will face only one team in the Top 25 (Notre Dame) before November, when the Wolverines have Michigan State, Nebraska, Northwestern, Iowa and Ohio State to finish the season.
But if the Wolverines get past the Irish -- no easy feat considering what could return for them next season -- there is a chance Gardner could be quarterbacking an undefeated team entering that stretch.
And if Michigan is unbeaten, it would likely have a lot to do with the play of Gardner.
Now if only he had a cool nickname.
Michigan C Cites Concussions In Decision To Quit
BIG TEN SCOREBOARD
Thursday, 9/3
Friday, 9/4
Saturday, 9/5
Sunday, 9/6
Monday, 9/7