Michigan Wolverines:

Joe Reynolds
October, 5, 2013
10/05/13
7:00
AM ET
The first bye week of Michigan's season has come and gone, and we'll see how much not playing last weekend will help the Wolverines in their homecoming game this weekend.
Here are five things to watch as Michigan gets back on the field tomorrow.


1. Devin Gardner bouncing back.
Following the Notre Dame game, Heisman hype surrounded Gardner. Now he's saying that he deserves the amount of recent criticism he has gotten from fans and the media. That's quite the swing for anyone, even someone as confident and sure of himself as Gardner. He admitted he strayed from his technique in the Akron and Connecticut games. With a week off to take a step back, spend more time in the film room and work more on the basics, he could step on the field as an entirely new player ... or he could reappear as a turnover risk. However, with the combination of Gardner's attitude and Minnesota's defense, expect Gardner to take a few steps forward this game.
2. The new interior offensive line.
The Wolverines' offensive line was inexperienced and lacked chemistry. Now, at the very beginning of the Big Ten season, the Wolverines are changing it up and hoping for the best. Moving
Graham Glasgow
to center will give Michigan a slightly bigger presence on the inside, but again, they'll be starting from scratch. He has started four games at left guard and has worked at center through practices but he has never had to direct the line and work with Gardner during game action -- let alone the Big Ten opener.
Chris Bryant
will likely pick up his first start at left guard, which is again, not the most promising scenario for Michigan. He has been dinged up with knee and shoulder issues and has only appeared in one game so far this season. Perhaps the Wolverines' O-line will take a few steps forward against the Gophers, but expect the occasional step backward as well.
3. The defensive line moving on up.
The Wolverines showed progress with their four-man rush against Connecticut, and with a bye week to get back to the basics (which Greg Mattison had said they needed) as well as time to work together, expect them to continue their movement against Minnesota. They're going to continue to funnel and shuffle guys through, but we're still waiting on
Frank Clark
, while he has been impressive, to have his coming-out party. Saturday seems like a perfect time for that to happen.
4. A possible role change with Devin Funchess.
The Wolverines haven't had a consistent downfield threat this season. At times,
Joe Reynolds
has shown promise and
Jeremy Jackson
has shown potential, but that hasn't exactly resulted in big gains. With
Jeremy Gallon
and
Drew Dileo
as Gardner's current safety nets, it makes sense for Michigan to try something out, like moving Funchess into more of a receiving role down the field. He has tons of pro potential and has always been a better pass catcher than blocker, so don't be too surprised if you see him line up as a wide receiver against the Gophers.
5. Run game, fun game.
The best the run game has looked was against Connecticut, but even so, it wasn't the way Michigan wants it to be. This week Brady Hoke said that he might give
Fitzgerald Toussaint
(5-foot-10, 200 pounds) a few less carries from here on out just to mix things up and to get different players/bodies out there. So if you see
Derrick Green
(5-foot-11, 240 pounds) and
De'Veon Smith
(5-foot-11, 224 pounds) out there this weekend, don't be too surprised. And if this sparks the Wolverines run game, be even less surprised.
September, 4, 2013
9/04/13
9:00
AM ET
If you've been paying attention to college football over the last few seasons, Michigan's rematch with Notre Dame under the lights this weekend is a game you've been waiting for. So why don't we chat about it? You sent in your Michigan-Notre Dame questions and I answered. Here's what we've got.
1. Paul, Chicago: Can Michigan's O-line really hold up against Notre Dame's defensive line?
A:
That's a great question. If Michigan doesn't play well there, it doesn't win the game. Plain and simple. Offensively, the Wolverines will have a really tough test with Notre Dame's odd front (and front seven, but let's just focus on the D-line for right now). On the inside, Louis Nix is going to be a challenge for the young interior offensive linemen. He's 6-foot-3, 340 pounds, meaning the prospect of him outmuscling and overpowering center
Jack Miller
(6-foot-4, 290 pounds) isn't completely out of the question. And defensive end
Stephon Tuitt
is going to be a challenge too, though one I think
Taylor Lewan
can handle.
2. Christian Sack via Twitter: Derrick Green arguably was one of the better RB's yesterday, will he share carries with Fitz Toussaint vs. ND?
A:
I think we will. Offensive coordinator Al Borges still wants to have a featured back but he said Tuesday that from game to game we might see different looks. I think it's smart to use both of them if both can be effective. I think as Green gets his sea legs we'll still see more of Toussaint, but I don't think it's out of the question that we'll see a fair amount of both.
3. Timothy, New York: Does Michigan have enough weapons in the passing game beyond Jeremy Gallon and Devin Funchess? Or is that all the Wolverines will need against Notre Dame?
A:
I believe those will be the two biggest targets we see this season. However,
Joe Reynolds
proved himself effective on Saturday so I wouldn't count him out for a reception or two a game, especially as Michigan works to get the ball in the air more. And
Drew Dileo
is a name that will always pop up. But if you have to pick just two guys who will be the big targets against Notre Dame, I would think it's those two. They create mismatches (for different reasons) and the Wolverines will look for every way to exploit those.
4. Mark, Fowlerville: Why was Drake Johnson being used on special teams? Why would you have the No. 2 RB on special teams?
A:
There are several coaches who look at special teams as the third tier of importance, however Brady Hoke doesn't necessarily look at it that way. He has been very vocal about how there are three equally important parts of the team and he has offered scholarships to special teams players. Last season
Blake Countess
was also injured on special teams during the Alabama game, but I feel like both were injuries that could've happened in any aspect of the game. Now, Michigan has more depth at running back this season than it did at cornerback last season, if there's any kind of silver lining here. However, it will be interesting to see if Hoke's take on special teams changes at all going into the rest of the season.
September, 2, 2013
9/02/13
11:00
AM ET
Exhale.
You wait nearly nine months for the return of college football, to see players and coaches that have been endlessly analyzed all offseason, and then it all spills out on opening weekend. So of course the natural inclination is to make immediate judgments on what you've seen, and to find instant reasons to panic.
Nebraska's defense is going to be historically bad! Michigan State's offense is somehow worse than last year's! Ohio State is wildly overrated! Purdue and Iowa might not win a game in the conference besides the one against each other!
Some concerns obviously are valid. But remember that it was just opening week. Teams and players are still figuring things out, learning who and what they are. In Week 1 last year, for example, Michigan State beat a ranked Boise State team, Michigan got destroyed by Alabama, Minnesota needed triple-overtime to put away a bad UNLV team, Penn State lost at home to Ohio and Illinois rolled over Western Michigan. Those outcomes hardly defined the season for those teams.
Or better yet, look back to Iowa's win over Northern Illinois in the first game of the 2012 season. Who would have guessed then that the victorious team would wind up 4-8 and that the loser would go to the Orange Bowl?
Many of Saturday's games were also played in extreme heat, a stark contrast to the unseasonably cool August temperatures most teams trained in during the preseason. That's not an excuse, because Big Ten opponents had to deal with the same conditions. But the league race will be decided in October and November in much different weather, and probably by teams that will look a whole lot different.
It's a coach's cliché that teams make their biggest improvements from Week 1 to Week 2. So it's not time to panic yet. At least not for another Saturday.
Take that and rewind it back:
[+] Enlarge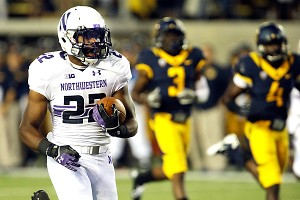 AP Photo/Ben MargotTreyvon Green rushed for 129 yards and two touchdowns in the victory over Cal.
Team of the week:
Northwestern. The Wildcats went to Pac-12 country, where Big Ten teams have had little success in recent years. They lost starting quarterback
Kain Colter
to injury on the second play against Cal, star tailback/returner
Venric Mark
spent more time on the exercise bike than the field, and cornerback
Daniel Jones
went down with a knee injury right before halftime. Meanwhile, Cal threw some haymakers and seemed to seize the momentum in the third quarter. Yet Northwestern -- which had some trouble holding onto late leads last year -- prevailed 44-30.
The win didn't come without controversy, as Cal fans and coaches thought Wildcats players were faking injuries in the second half to slow down the Bears' high-tempo offense. During one Cal drive, Northwestern players went down to the turf after three consecutive plays. Some players, such as linebacker
Damien Proby
, went down more than once. Cal coach Sonny Dykes threw up his hands in frustration at one point, while Bears fans booed, which was pretty funny, given
Cal's own history with faking injuries
against a high-tempo offense.
Northwestern coach Pat Fitzgerald said his team wasn't up to any hijinks.
"If anybody were to question the integrity of myself, our program or our players, I question theirs," he said in the postgame news conference. "When our guys get dinged up, they are instructed to go down, not hobble off to the sideline."
Worst hangover:
The Boilermakers got outscored 35-0 in the second half of their 42-7 loss at Cincinnati and might have gotten shut out if not for a botched Bearcats punt return late in the first half. Purdue was a mess in just about every area and was neither physical nor disciplined, two traits that Darrell Hazell has made priorities.
We're going streaking:
Thanks to Iowa's loss and Illinois' escape against Southern Illinois, the Hawkeyes now have the Big Ten's longest current losing streak, at seven games. That's tied for the fifth-longest losing streak in the FBS and second-worst among AQ teams, behind only Kansas, which was idle last week. The good news is that Iowa should finally get back in the win column this week versus Missouri State, and its Week 3 opponent, Iowa State, lost to Northern Iowa on Saturday.
Fun with numbers (via ESPN Stats & Information):
Yes, the Michigan State passing attack was as bad as it looked against Western Michigan. Through Sunday's games, the Spartans rank second-to-last among all FBS teams in yards per pass attempt (3.14) and percentage of completions that went for at least 10 yards (17.6). ... No team gave up more first downs in Week 1 than Nebraska, which allowed Wyoming to move the chains 35 times. The Huskers were also one of only two AQ teams that gave up more than 500 yards of offense to a non-AQ team in regulation. Oregon State was the other. ... Michigan's
Devin Gardner
threw two interceptions, but he had the Big Ten's
top QBR score
and was No. 15 nationally in Week 1. ... Wisconsin averaged 8.9 yards per rush against UMass and ranks third nationally in that stat. ... Penn State is last in the FBS in third-down conversions after going 1-for-16 against Syracuse. Of course, third down is often only a prelude to the next play for Bill O'Brien.
Point-ing up:
Indiana leads the nation in scoring after putting up 73 against Indiana State on Thursday. The schedule really helped, but offense was up throughout the Big Ten. Eight of the 12 league teams scored at least 37 points and the conference scoring average after one week is 39.5 points per game. Compare that to last year, when the league averaged 26.7 points per game in Week 1. Again, many of the opponents weren't great last week, but the simple eyeball test tells you that several Big Ten teams look more comfortable and have more playmakers on offense. With a couple of notable exceptions.
Big Man on Campus (offense):
Sure, it was against an FCS team, which is why we excluded him from our helmet stickers. But let's recognize Illinois quarterback
Nathan Scheelhaase
, who threw for a carer-high 416 yards and two touchdowns in Bill Cubit's new offense. In one game, Scheelhaase accounted for more than 30 percent of his entire passing yardage in the 2012 season.
Big Man on Campus (defense):
Northwestern linebacker
Collin Ellis
helped save the day, er, night at Cal with a pair of pick-sixes.
Big Man on Campus (special teams):
Tons of big special teams plays this weekend, including kickoff returns for scores by Minnesota's
Marcus Jones
and Illinois'
V'Angelo Bentley
and a punt return TD from Indiana's
Shane Wynn
. Michigan's
Joe Reynolds
scored on a blocked punt by teammate
Dymonte Thomas
. But how about Penn State's
Sam Ficken
? The kicker who was such a liability early last season has turned into a strength, and he made all three of his field goals -- including a career-best 46-yarder -- in the Nittany Lions' 23-17 win over Syracuse.
Best play:
Michigan State safety
Kurtis Drummond
's
one-handed interception against Western Michigan
. Now, can he play receiver?
Looking ahead:
The "GameDay" crew will be at Notre Dame-Michigan, and the Big Ten had better hope for a good showing in this spotlight game. That's because there's nothing much else of interest going on in Week 2. Two Big Ten opponents -- South Florida (at Michigan State) and San Diego State (at Ohio State) -- were blown out by FCS squads in their openers, while another, Southern Miss (versus Nebraska) lost to Texas State. Northwestern-Syracuse is probably the week's second-best game, and the Orange are 0-1 after losing to Penn State.
August, 26, 2013
8/26/13
9:00
AM ET
ANN ARBOR, Mich. -- It has been about nine months since the Wolverines played a game in Michigan Stadium. This weekend, the Wolverines will hit the field against Central Michigan and begin their month of nonconference opponents that they hope will prepare them for the Big Ten slate.
The Wolverines' schedule this season is favorable for a chance to get to the Big Ten title game, but before they can even get to conference play, they need to answer a few questions.
1. Will Michigan actually be challenged?
I'm not going to say that they won't be challenged by any of these teams. Notre Dame is always a challenge, and that's an opportunity for one of those signature wins that teams look for in the nonconference schedule. Michigan might not be challenged hugely by the other three teams (at least, not like it was against Alabama last season), but, the Wolverines will be challenged by themselves. These games allow the Wolverines to iron out the kinks in their offense and defense while building depth at positions. Michigan's interior offensive line will be entirely new and their defensive front has a new look, too. The Wolverines' secondary features new faces and guys at entirely new positions (here's looking at you, free safety
Courtney Avery
). So while Central Michigan, Akron and Connecticut might not provide the drama or build-up (hello, MACtion), it will help Michigan prepare for the Big Ten season as it develops an identity.
2. Can the defensive line get a four-man rush?
This was a question that was consistently asked last season. According to Greg Mattison the defensive line is vastly improved and is getting to the quarterback.
Frank Clark
has been heralded as a top rush end, but can he be a Brandon Graham-like game changer? Three of the four teams Michigan faces in the nonconference schedule feature transitioning O-lines, which will obviously aid Michigan in looking like it has a solid four-man rush. CMU lost tackle Eric Fisher, the No. 1 overall pick in the NFL draft. Notre Dame and Akron are both replacing two starters on their offensive lines. UConn actually returns all five of its starters on the offensive line, but last season the Huskies only averaged 318 yards of offense per game, so how effective that experience will be remains up in the air. But if the Wolverines are going to be successful in the Big Ten, their defensive front must be stout. With the absence of linebacker
Jake Ryan
until at least October, Michigan will be better off if it doesn't have to blitz every other play in order to make opposing quarterbacks uncomfortable in the pocket.
3. How tricky is Al Borges going to get?
[+] Enlarge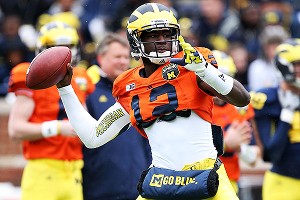 Leon Halip/Getty ImagesMichigan's Devin Gardner finally gets to put away the noncontact jersey this Saturday, although don't expect him to run too much in the nonconference season.
Don't expect Borges to unload his playbook, but I do think we'll see a few wrinkles in the season opener just to make sure Brian Kelly and Notre Dame are on their toes coming in to the Big House the following weekend. Borges and the rest of the offense will probably have a bit of a chip on their shoulders after their performance last season against the Irish. But the Wolverines will probably use their games against Akron and Connecticut to shore up the aspects of their offense not firing on all cylinders at that time. For example, they might run more toward
Michael Schofield
and Kyle Kalis' side as
Taylor Lewan
doesn't need quite as much work, or maybe
Joe Reynolds
or younger receivers will be targeted more. And without Denard Robinson, how does Borges' level of trickery and wrinkles change with
Devin Gardner
?
That brings us to our next question…
4. How good is Gardner?
Gardner stepped in last season and finished out the season in an impressive fashion. With spring ball and the full offseason to gain chemistry with receivers and the offensive line, he should show major strides. Obviously, losing sophomore wide receiver
Amara Darboh
for the season is a blow, but Gardner can use the nonconference schedule (and the lack of elite defensive backs he'll face) to build chemistry with other guys. Brady Hoke said Reynolds,
Jehu Chesson
and
Jeremy Jackson
were the three receivers stepping forward in Darboh's absence.
Assuming Michigan can be effective in the run game, it should open up things in the air for Gardner. He was recruited as a dual-threat QB, and he has those skills. but Michigan might be a bit more conservative with him -- especially in the nonconference schedule -- just because if he goes down, the Wolverines are looking at a true freshman and then a walk-on, which doesn't exactly inspire confidence for a championship season. But with Gardner being Gardner, don't be too surprised if he tests the waters a bit. He's not afraid to run, and if the opportunity presents itself, he'll be looking to make plays by any means necessary.
5. Can Michigan stay healthy heading into the Big Ten schedule?
It's no secret that Michigan is not deep at a few key positions at this point. If Gardner goes down, Michigan will scramble. If
Fitzgerald Toussaint
goes down, will Michigan will turn to
Thomas Rawls
?
Justice Hayes
?
Drake Johnson
?
Derrick Green
? Green came in highly touted but hasn't impressed in fall camp the way most thought he would. Darboh's injury leaves snaps open for wide receivers, but with any more injuries, the Wolverines could be working with a third-string receiver.
Defensively, Michigan is in a better place with depth, considering a lot of young players got experience last season, and Mattison has built depth at each position through recruiting.
Jibreel Black
missed some time during fall camp, which is likely why Frank Clark played some at three-technique. But having D-linemen with experience at multiple positions will only help. These four games can help Michigan to build that kind of experience.
August, 21, 2013
8/21/13
10:00
AM ET
ANN ARBOR, Mich. -- After quarterback
Devin Gardner
tweeted an impressive one-handed catch from
Amara Darboh
and a good spring game performance from the wide receiver, fans couldn't wait to see Darboh hit the field in Michigan Stadium this fall.
[+] Enlarge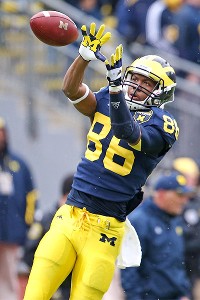 Leon Halip/Getty ImagesWith Amara Darboh out, Jehu Chesson's size and speed might find him more playing time this fall.
But on Tuesday, Michigan coach Brady Hoke announced that Darboh had gotten "banged up a little bit" in Saturday night's scrimmage and by Wednesday, the news had gotten quite a bit worse.
Now fans will have to wait another season to see that potential as the school announced Wednesday that
Darboh would miss the 2013 season
with a foot injury that would require surgery.
With the injury, Michigan is in a bit of a bind. Though Darboh didn't register any catches last season and mainly just played special teams, he did have game-time experience, which is a huge factor when throwing players into the fire. He had been an expected starter (Hoke actually referred to him as such in the press release) and Gardner spent much of his time in the offseason building chemistry with Darboh.
But there are options at wide receiver for the Wolverines.
Gardner still has security blankets in redshirt senior
Jeremy Gallon
and senior
Drew Dileo
, though neither really fits the mold for what Al Borges wants in a big, rangey, downfield target. Neither is above 5-foot-10 and while both have proven effective for Michigan, they really don't have the same skill set as Darboh.
Michigan's likely option will be redshirt freshman
Jehu Chesson
, the 6-foot-3 former track star whose speed has impressed. Redshirt senior
Joe Reynolds
has had a nice fall camp as well, and at 6-foot-1 he could be a bigger target for Gardner.
The injury might also mean Wolverines have to burn some redshirts. In their 2013 class they have three wide receivers who are at least 6-foot-3 -- Csont'e York, Da'Mario Jones and
Jaron Dukes
. Michigan does require its wide receivers to block which many have said takes a lot of time to learn, but if any of these three could pick up blocking more quickly, they could have the chance to see the field this fall.
Considering the nonconference schedule, though Notre Dame's secondary returns several players, Michigan will still have a bit of time to get younger or less experienced wide receivers into the swing of things.
But with Darboh being missing the season, it definitely leaves the Wolverines receiving corps feeling banged up as well.
July, 11, 2013
7/11/13
9:00
AM ET
By
Chantel Jennings, Michael Rothstein & Tom VanHaaren
| ESPN Insider
Every Thursday our writers sit down to thoughtfully discuss some issues surrounding Michigan sports. This week they ponder fall camp, 2014 commits and most importantly, reality TV.

1. We're less than a month to fall camp, which kink will it be important for the Wolverines to work out in those practices?


April, 30, 2013
4/30/13
9:10
AM ET
ANN ARBOR, Mich. -- Spring practice has ended for Michigan and for the first time, the depth chart for the fall is beginning to take shape.
Yes, there will still be some big competitions on Michigan's offense -- particularly at running back and wide receiver -- but there is now a better idea of who the Wolverines' starting 11 will be in August when they open the season against Central Michigan.
WolverineNation takes a two-day look at what Michigan's depth chart will be come fall, starting with the offense.
Quarterback
To continue reading this article you must be an Insider
March, 13, 2013
3/13/13
9:00
AM ET
Michigan begins spring practice on Saturday with both some question marks and some major returning talent. Brady Hoke says of his team: "We're very young. But these guys have a lot of fight to them." There will also be a lot of fighting for starting jobs, beginning in a few days. I recently caught up with the third-year Wolverines coach for his thoughts on the approach of spring ball:
What are the main things you're looking for this spring?
Brady Hoke:
Well, you know, we've got a lot of open spaces. Some guys graduated, some guys aren't with the program anymore and we've got a lot of young guys. I think we only have 11 starters back on both sides of the ball, so there's going to be a lot of great competition, which is exciting. I think the leadership of our seniors, they've done a nice job of holding everybody accountable. But when you get out there with the pads on, it's a little different than just running around in shorts.
[+] Enlarge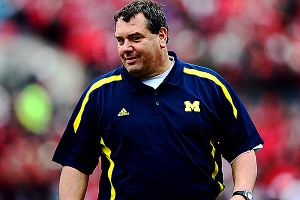 Andrew Weber/USA TODAY SportsWith only 11 returning starters, Michigan coach Brady Hoke said he's excited about the competition this spring.
Some of that competition will be on the offensive line, where you've got three open jobs on the interior. How do you see those battles right now?
BH:
Well, I think the interior of both lines, there's going to be a lot of competition. We've got to find a center, and that's between [
Jack] Miller
and [
Graham] Glasgow
, and
Joey Burzynski
will try to figure that out a little bit, too. At the guard positions,
Ben Braden
is going to move down inside and start out at the left guard, but he'll have a lot of competition because Burzynski is back and so is
Blake Bars
.
Kyle Kalis
will move into the right side, and it will be interesting again with [
Kyle] Bosch
and some of the guys who have been here a little bit. I think it will be a really good competition at all three of those inside positions.
Having
Taylor [Lewan
] back is huge. I think it's great for him and great for Michigan.
Mike Schofield
has had a really good winter. He had some real bright spots during the course of last season, and I think his development is going to be something special.
You mentioned the defensive line, where you also lost a couple of veterans. How does that shape up?
BH
: I think inside, we get
Jibreel Black
for another year and
Quinton Washington
. But once you get through that, there are a lot of young guys ...
Willie Henry
,
Ondre Pipkins
,
Ryan Glasgow
,
Richard Ash
and
Chris Wormley
are all guys who can either play the inside tackle or the strongside end. We'll find out the guys who are competitive.
Tommy Strobel
is another guy we think had a real good winter, and
Keith Heitzman
. So it's going to be fun to see them compete.
Does having so many young guys in key spots on the line make you nervous? Or do you have a lot of confidence in them because you recruited most of them?
BH:
I think it makes you nervous if you think you may have recruited the wrong guys. But we like the work ethic. We like how they've come in to learn and with a lot of enthusiasm. I think there's some competitiveness that we need to keep pushing as a program. You know, we lost five games on the road. We've played pretty well at home but we've got to do better on the road and that's a mindset, a mentality that you have to compete through everything, on every down.
Devin Gardner goes into spring practice as your starting quarterback. How has he developed as a leader?
BH:
I have been really excited about the progress he's made. I'm seeing that maturity that it takes and the leadership it takes and the competitiveness it takes to be the quarterback at Michigan. I think that's a real big part of how he's grown, and I think he's done a nice job with it. I'm liking the direction he's going, and hopefully he can just keep going and keep growing.
What about your running back position this spring, with Fitz Toussaint hurt and Derrick Green not there yet?
BH:
You know, Fitz has come along pretty well. I don't think he'll do a lot of contact or anything like that, but I think he'll be cleared for a lot more drill work. That's gone real well. We've moved [
Dennis] Norfleet
back to running back and we're going to give him an opportunity. Dennis, he's a smaller guy, but he's a very competitive, very tough young man.
Drake Johnson
is a guy we redshirted a year ago, and we really liked the way he competed in scout situations. In the bowl practices, we did some scrimmages and gave him a lot of carries, and we're very excited about what he has to offer.
Thomas Rawls
is coming back, and I think he learned a lot last year about the vision he needs to play with, and I like how he's competed through the [winter]. And
Justice Hayes
is a guy who gives you a little bit different look because of how he can get on the perimeter. He did some things in a couple of games last year, but now I think he'll have a big stage to prove himself more this spring. And he's a bigger guy now, he's 190-something pounds, so he's a little bigger.
[+] Enlarge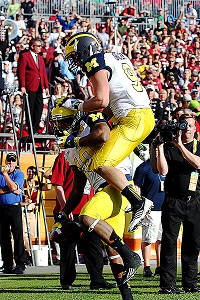 Kim Klement/USA TODAY SportsMichigan coach Brady Hoke said that he's pleased by more than just the on-field success of WRs Drew Dileo and Jeremy Gallon.
You have Jeremy Gallon back at receiver, but you lost Roy Roundtree. You sounded excited about some of the younger guys there during bowl prep. Is spring their time to step up now?
BH:
Yeah, I think so. First of all, I think the leadership with Gallon and
Drew Dileo
, they've done a really nice job being leaders at that position. They're not big guys, but they have a real spirit for the game and really do a nice job of working and leading. We have
Amara Darboh
, who played a little last year, and
Jehu Chesson
, who we redshirted a year ago. And I think
Jeremy Jackson
has had a very good winter; we're very excited about some of the progress he's made.
Joe Reynolds
is a guy who walked on here, and he's done a very nice job. And
Bo Dever
, his dad played here and he walked on. I think that during the course of the spring, we'll be in pretty good shape there. I think as we keep going, we'll keep improving at that position.
Linebacker was a strength for you last year and looks to be so again. Do you see some good competition there this spring, particularly at the weakside spot?
BH:
Yeah, I think with
Desmond Morgan
and
James Ross
, there's going to be great competition.
Joe Bolden
and
Royce Jenkins-Stone
and
Mike Jones
are all guys who are very competitive, and I think the three young guys coming in are going to be guys who will give us a lot of good competition and a lot of good depth.
Kaleb Ringer
is coming back from injury, so we'll see what he can give us. At the sam linebacker,
Jake [Ryan
] is coming back, and we really like what
Cam Gordon
has done during the winter. So I think we feel a little stronger at that position.
How do you replace what Jordan Kovacs gave you in the secondary?
BH:
I don't know if you ever replace that kind of leadership, but I really think
Thomas Gordon
, he's played a lot of football here, and it's time for him to demonstrate the leadership. And he's doing that. Because of the number of snaps and everything he's done, he's really fallen into his own a little bit.
Courtney Avery
has played a lot of football, and whether he's a corner a nickel or wherever, he's got to give us great leadership and great reps.
Blake Countess
is getting healthier; he'll do some things during the spring.
Josh Furman
, I think, has come on.
We've got to see where
Terry Richardson
is and where
Marvin Robinson
is. Both those guys have played a number of snaps. We've got
Raymon Taylor
back, who I think started every game for us last year, we're excited about his development.
Dymonte Thomas
is a guy who's going to compete, and he'll pressure some guys.
Jarrod Wilson
is another guy who played some last year for us. Ross Douglas is here early.
Jeremy Clark
is a 6-foot-4, 210-pound safety we redshirted a year ago, and it's going to be a big spring for him to make some moves.
So I think we may have more personnel back there. And even more in the fall when
Channing Stribling
gets in, and
Reon Dawson
gets in and
Jourdan Lewis
. I think it's going to add something to our secondary.
Finally, what has your message been to the team this offseason after last year's 8-5 season?
BH:
Well, our message has been, we haven't met the expectations at Michigan. That's something that as a football community… that we really feel that we have to do a much better job in all areas, from the coaching aspect of it, from learning and playing with the competitiveness we want to have, from every player at every position playing with the intensity we want to play with. It's about having a mindset and a mentality of how we want to play the game. We make no excuses, but at the same time, we know we have a lot we can do to play better football.
February, 12, 2013
2/12/13
9:10
AM ET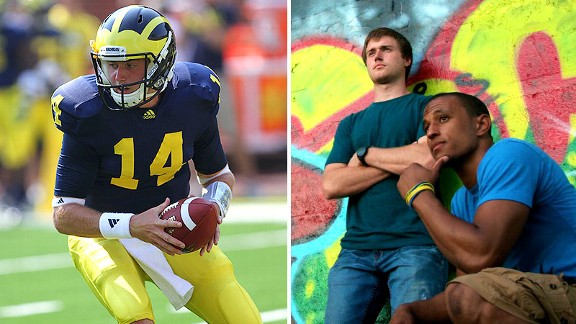 Icon SMI, Courtesy of Ryan DoyleJack Kennedy the performer (with WR Joe Reynolds) has a brighter future than Kennedy the QB.
'Exit Interview' is a concept started at WolverineNation last year where we chat with players leaving Michigan about their experiences with the Wolverines and in some cases, what's next.
Quarterback Jack Kennedy didn't play much at Michigan, with one pass completion for 7 yards and one carry for 6 yards. But Kennedy ended up fairly well known with the Wolverines not because of his play on the field, but for his ability to rap and his musical duo with Michigan wide receiver Joe Reynolds, JDK and Rey.
Q: You had a different career than most because of your music. How would you describe your career?
To continue reading this article you must be an Insider
February, 7, 2013
2/07/13
10:00
AM ET
ANN ARBOR, Mich. -- There's no way to look at Michigan's 2013 class and not believe Brady Hoke when he says he's putting an emphasis up front.
Not only is it impressive that the Wolverines were able to pull in six offensive line signees, each is big and physical (averaging 6-foot-5, 295 pounds).
"It was very important for us to establish guys who can play at the line of scrimmage the way we want to play Michigan football," Hoke said. "For the style of football we need to play, I think that was important."
To continue reading this article you must be an Insider
January, 9, 2013
1/09/13
10:00
AM ET
Over the next few weeks, WolverineNation will look at every position on the Michigan roster and give a depth chart analysis of each heading into the offseason.
For the second consecutive season, Michigan will enter a football season with some questions as to who, exactly, will catch the ball. Entering the 2012 season, with the graduation of Junior Hemingway, there were some options but few known quantities.
Entering next season, there once again are options, but even fewer players who have had past production on which to make a reliable projection.
To continue reading this article you must be an Insider
August, 29, 2012
8/29/12
2:10
PM ET
ANN ARBOR, Mich. -- He pulled the seven of them in front of the rest of their teammates in the Michigan team room Tuesday afternoon and for a second, cornerback
J.T. Floyd
wondered what was going on.
The seven guys up there, though, were about to get a nice gift for their parents. Free education for at least a semester if not the full year. While it likely wasn't the excitement of Oprah Winfrey giving away cars to everyone in her audience of her television show, there was enough excitement there to produce cheers, yells and high-fives all around.
Defensive lineman
Nathan Brink
, offensive lineman
Joey Burzynski
, long snapper
Jareth Glanda
, fullback
Paul Gyarmati
, tight end
Mike Kwiatkowski
, wide receiver
Joe Reynolds
and quarterback
Steve Wilson
all found out they were no longer just walk-ons for Michigan's football team.
"That was fun. I announced it front of the rest of the team and there were hugs and kisses," Hoke said. "Not kisses. Excitement and all that kind of stuff."
The walk-ons were unaware of what was going on at first, at least according to Floyd, who asked one of them after it happened.
Some of them, though, might end up playing large roles with Michigan this season. Burzynski lost a competition with fifth-year senior
Elliott Mealer
at left guard. Kwiatkowski pushed starting tight end Brandon Moore. Both Brink and Glanda are highly likely to see time this season.
So they all have roles to fill.
"The meeting room went absolutely crazy," Floyd said. "Guys were jumping up and down. Those guys are an instrumental part of our team and they help us out in every facet of the game, with special teams, offense, defense, scout team.
"Those guys are great guys and guys we love to compete with."
No longer suspended, status still unknown
Hoke said the status of running back
Fitzgerald Toussaint
and defensive end
Frank Clark
is still not announced, but he anticipates a decision before Saturday's kickoff.
He did offer some clarity, though, to how the two are currently being viewed. He initially suspended them after their legal issues, but now it is more of a wait-and-see type of thing since Toussaint and Clark have been practicing.
"They would be practicing, maybe not playing," Hoke said. "They've been practicing. Usually if you've been suspended, I don't let you practice."
Hoke wouldn't commit to whether Clark or Toussaint will travel to Texas this weekend.
This and that
If Toussaint does not play, Michigan could look at a running back by committee with sophomore
Thomas Rawls
, senior
Vincent Smith
and redshirt freshman
Justice Hayes
. ... Freshman defensive lineman
Chris Wormley
had successful ACL surgery Monday, according to Hoke.
October, 25, 2011
10/25/11
4:51
PM ET
Got to see a little bit of a different view Tuesday for the 20 allotted minutes of practice viewing for the media. Instead of watching just stretching, the media was brought in early, although not too much happened. Here's what we observed -- in bullet form:
Martavious Odoms has shed his protective cast on his arm for good. He was out there catching kicks. Taylor Lewan was at practice, with his left ankle heavily bandaged and tape on both of his wrists. Tough to tell whether the tape on the wrists was at least in response to his injury suffered against Michigan State. Ricky Barnum was also at practice, with his right ankle heavily taped.
Cornerback Troy Woolfolk, who has had multiple injuries this season, was at practice with no wraps or braces of any kind to be seen.
To continue reading this article you must be an Insider
Michigan C Cites Concussions In Decision To Quit
BIG TEN SCOREBOARD
Thursday, 9/3
Friday, 9/4
Saturday, 9/5
Sunday, 9/6
Monday, 9/7