Michigan Wolverines:

Jim Tressel
November, 8, 2013
Nov 8
4:00
PM ET
A few questions and answers before Week 11 in the Big Ten. Don't forget to follow us
on Twitter
, the best place to track the latest news on Saturdays.
Ready? Break.

Darin from Lyme, N.H., writes:
The Buckeyes don't need to worry about making the national title game if they win out. If you look at the BCS historically, only one out of 15 years has an undefeated team from a major conference not made the game (Auburn 2004). The odds are extremely long that we will end up with more than two undefeated teams.
Adam Rittenberg:
Darin, you make a good point. The BCS usually works itself out to where undefeated teams from major conferences aren't on the outside looking in. Oregon's loss to Stanford on Thursday night certainly helps Ohio State, as the Ducks once again won't be going to the national title game. Baylor's big victory against Oklahoma helps the Bears' chances, but I still don't think Baylor runs the table. Ohio State won't jump Florida State or Alabama if both teams win out, and FSU's path to the title game certainly looks easier than that of Alabama, which still has LSU, Auburn and most likely South Carolina or Missouri in the SEC title game. The Buckeyes simply need to keep winning, ideally in impressive fashion, and hope teams like Wisconsin and Michigan State also continue to win. Ohio State already has beaten Wisconsin and would benefit from facing an 11-1 MSU team in the Big Ten championship game.
---

Bob from Forest, Va., writes:
I realize you don't know much about the Rutgers program.
Regarding coaching salaries
you said "fairly or unfairly" the fact that RU is paying the football coach 800-900K per year leaves the perception that RU doesn't belong in a league like the Big Ten. Do you recall what they paid Coach Flood's predecessor? Also I always thought it was on-field performance that determined whether or not a team belonged. Outside of Ohio State, is there really a single B1G team RU can't compete with? We've held our own vs the Big Ten if you take out Penn State pre-B1G with a .500 record. What I don't get are the jabs from you. Is it an ESPN thing or are you just writing what you think your readers want to hear?
Adam Rittenberg:
Bob, you're absolutely right that on-field performance, and not coach salary, determines whether a team like Rutgers will sink or swim in the Big Ten. It always comes down to winning, and Rutgers has an excellent opportunity to prove itself in a loaded East Division with Ohio State, Michigan, Penn State and Michigan State. You say Rutgers has held its own with the Big Ten outside of Penn State. Who else has Rutgers played? Rutgers hasn't played a Big Ten team since 2006 (Illinois) and has never faced seven current Big Ten teams (Indiana, Iowa, Michigan, Minnesota, Ohio State, Purdue and Wisconsin). Your argument is therefore irrelevant.
I realize Rutgers paid more for Greg Schiano, and that Flood is a young coach who doesn't demand a huge salary. But like I wrote, the perception looks like Rutgers is small time when every other Big Ten coach is making at least $1.2 million. Placed in the larger context of what major conference coaches make, it looks pretty low. Purdue faced the same perception when it paid coach Danny Hope less than $1 million. That's just the way it is. But you're right that Rutgers can improve its perception by beating teams coached by guys making four times as much as Flood does.
---

Anthony from New York writes:
Why didn't you include Michigan in your list of BCS at-large candidates? We know from 2011 that a two-loss Michigan team will be attractive to BCS bowls if ranked in the top 14. As you've said, Michigan is better off not making the B1G title game if it wants an at-large bid. It is perfectly plausible to see Michigan beat Nebraska, Iowa, and Northwestern (though none are easy games). Add in an upset of unbeaten Ohio and you've got a top-14 Michigan team coming off four straight wins. Wouldn't they be a very attractive team?
Adam Rittenberg:
Anthony, as I specified in the top of
the post
, I'm not including any unranked teams in the conversation for at-large berths at this point. If and when Michigan re-enters the BCS standings, it will appear as a candidate. But even then, how attractive would Michigan be? The Wolverines would have to look a lot better in their final four games than they have in their first eight. You and your fellow Michigan fans won't agree, but it would be a real shame if a Michigan State team that went 11-1 in the regular season and lost in the Big Ten title game to Ohio State missed out on a BCS berth in favor of a team like Michigan, which the Spartans embarrassed last week. I also wonder whether Michigan would get into the top 14 of the final BCS standings and be eligible for selection. An Ohio State win certainly would help, but it would depend on what other teams do elsewhere. Let's see how things play out, but I don't see a top-15 team in Ann Arbor this year.
---
Pat from East Lansing, Mich., writes:
You both always pretty much have the same predictions week to week. Can we get creative?
Adam Rittenberg:
We have to pick the teams we think will win, Pat, and sometimes they'll all be the same. I've differed from Brian in one game in each of the past two weeks and lost both times, as Nebraska's Hail Mary got me last week. One chatter Thursday suggested we incorporate score prediction into the race, which isn't a bad idea. We might look to do something with that next year. I think you'll see a few more disagreements down the stretch, but we're not going to be contrarians here, especially with an expensive dinner in Indianapolis on the line.
---
Charley from New York writes:
Is it a journalist's job to lobby for millionaires to paid even more money? I must admit my jaw dropped
when I read from you
: "Both Wilson and Kill earn less than coaches from Colorado State, Navy, South Florida and Central Florida. That seems a bit troubling for teams in a loaded league like the Big Ten." Troubling? I notice you haven't been much of an advocate for paying the kids who actually generate the millions of dollars colleges earn from football, but you have always been an advocate for higher head and assistant coaches' salaries. Is this your way of trying to brown-nose your sources or do you really believe that educational institutions should devote more and more of their budgets to football coaches' salaries?
Adam Rittenberg:
Charley, do I believe college football coaches make ridiculous salaries for university employees? Yes. But they also bring in a ton of money, and the market is dictating what they're making. We can have a discussion on the larger issue of coach salaries if you want, but the pay structures are what they are in major conferences. People look at why the Big Ten is struggling right now. It's hard to completely dismiss the fact that SEC head coaches are making much more on average (SEC assistants are, too). As I wrote last month,
money isn't the problem in the Big Ten
, even though the league sponsors more sports than the SEC. From a perception standpoint, not necessarily reality, it doesn't look like Minnesota and Indiana are that invested in their programs when you look at the league they're in and the market rates for college coaches.
---

Chris from Knoxville, Tenn., writes:
I know most people, myself a Michigan fan, included, favor Ohio State over Michigan later this month. But so many people are calling it to be a blowout. I disagree -- even in 2011 a downtrodden Ohio State kept that game close, and I expect this year's game to also be close, especially since it's at the Big House. Teams tend to preform better in rivalry games. Who do you think is right, the many people mentioned or my pick of a close game?
Adam Rittenberg:
It's way too soon to call for a blowout in The Game. It's still three weeks away, we don't know the injury situations for both teams and we don't know how the teams will be playing entering that one. I don't expect Michigan to magically become a top-10 team by Nov. 30, but the Wolverines could remedy some of their issues before Ohio State comes to town. You're absolutely right that teams perform better in rivalry games. Michigan likely is out of the Big Ten title mix, so beating Ohio State is really the only major goal left for Brady Hoke's crew. More important, as you mention, Michigan plays much better at home under Hoke, never losing a game in his two-plus seasons. I'm not sure of my prediction for The Game, but I doubt I'll pick Ohio State to win by more than 10 points. Michigan will give its best effort on that day.
---

Grant from Cincinnati writes:
Is it just me, or is Luke Fickell's stock much higher than it should be? His track record as a recruiter and positions coach is well documented, and he seems to be a high quality, character guy. However, in his only season as head coach, he went 6-7. It's not as though the cupboard was bare for him, as that year was sandwiched between a Sugar Bowl victory and an undefeated season. Also, his defense has underachieved for much of this season, though it seems to be getting back on track a bit. Now he's interviewing for a head coaching gig and you're mentioning that you expected him to hold out for a major conference head coaching position. In short, Fickell seems like a good guy, but why the love fest?
Adam Rittenberg:
Some fair points here, Grant. Fickell's stock certainly seemed higher before he became a head coach -- albeit under very difficult circumstances -- or a defensive play-caller (Jim Heacock handled those duties until last season). I don't think you can judge him too much for the struggles in 2011, as the program was rocked by Jim Tressel's resignation and had a tough situation at quarterback because of Terrelle Pryor's departure. Fickell handled himself well overall, although the on-field product left much to be desired. There have been some valid criticisms of him as a defensive coordinator, as Ohio State hasn't been a salty as it used to be on that side of the ball. But I think Fickell could thrive as a head coach because of his personality and recruiting ability. He might be a better CEO type than a coordinator, and I think fans and players would rally around him. It needs to be the right situation, unlike the one in 2011.
---

Nick from East Lansing, Mich., writes:
How likely is it that MSU has to look for a new coach in the offseason? It would be hard to turn down if Texas came calling.
Adam Rittenberg:
Sure, Texas certainly has its perks, but I highly doubt Mark Dantonio is going anywhere. He's in a great situation at Michigan State, works for a great athletic director (Mark Hollis) who he loves, and has roots in the Midwest as an Ohio native. Dantonio definitely is
due a raise
at Michigan State, although it's more important to him to pay his assistants, which the school has been doing. At this stage in his career, I don't think Dantonio wants to deal with all the excess stuff at a place like Texas. You never say never, but I'd be very surprised if he's not back at MSU in 2014.
---

Matt from Michigan writes:
I am a little confused after reading the
"rooting interests" article
. Why would Michigan want Minnesota to lose? If Michigan State loses to Minnesota and either Northwestern or Nebraska and if (big IF) Michigan were to win out and finish 6-2 along with MSU finishing 6-2, it would be MSU winning the tie breaker. However, wouldn't Michigan still have a chance to represent the Legends in a three-way (or even four-way) tie at 6-2? Looking at the schedule, I think it is possible to have MSU, Michigan, Nebraska and Minnesota ALL finish at 6-2. Not saying likely, but that would make for a compelling last weekend!
Adam Rittenberg:
Indeed it would, Matt. My rationale for the Minnesota loss would be to knock the Gophers out of the race, but if the tiebreaker is Michigan's best chance to win the division, which it may well be, it would make sense for Minnesota to win out. The key obviously is for Michigan State to start losing games, beginning next week against Nebraska. If Michigan State loses out -- highly unlikely -- and Michigan wins out, the Wolverines would go to Indy.
November, 1, 2013
Nov 1
11:00
AM ET
The Legends division race finally begins to take shape this month, and the result of Saturday's game between No. 21 Michigan and No. 22 Michigan State could go a long way toward determining which team reaches Indianapolis. In fact, Michigan State can take a significant step toward locking up the division crown by beating Michigan on Saturday afternoon. The Spartans would be 5-0 in league play with three division games left (Northwestern, Nebraska, Minnesota). Michigan already has one conference loss, albeit a cross-division one, but needs a victory Saturday to keep its main goal -- a Big Ten championship -- in the viewfinder.
Big Ten blogger Adam Rittenberg and Michigan/Big Ten writer Chantel Jennings both will be at Spartan Stadium on Saturday, and they discussed some key questions entering the matchup.
A lot is on the line for this game, but which team gains more from a win or loses more from a loss?
Rittenberg:
It's definitely Michigan. The Wolverines already have a conference loss and essentially would be three games behind Michigan State if they fall Saturday in East Lansing. They would lose the head-to-head tiebreaker and would need either Michigan State to lose out or a multi-team tie with two losses apiece. Keep in mind that Michigan also has the tougher remaining schedule. Both teams play Nebraska and Northwestern -- Michigan State faces both on the road -- but Michigan also faces unbeaten Ohio State on Nov. 30, while Michigan State doesn't play the Buckeyes. A Michigan State loss isn't a backbreaker by any means. The Spartans would have two weeks to prepare for Nebraska, the only Big Ten team Mark Dantonio has yet to beat, and still would have a decent chance to win out and claim the division crown at 7-1.
Jennings:
I agree. From a league race perspective, the Wolverines need this if they want to remain competitive in the Legends division. However, this game is also huge from an emotional/fan base perspective. Michigan will be extremely restless with a loss to MSU this season. The Wolverines also dropped one to Penn State earlier, so losing to Michigan State and possibly Ohio State later this year could mark Hoke's least successful season in Ann Arbor.
Michigan's defense has a lot of questions to answer after its performance against Indiana. How do the Wolverines respond?
[+] Enlarge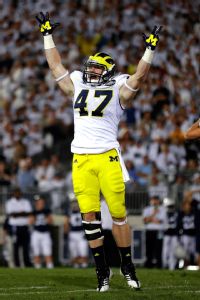 AP Photo/Gene J. PuskarWith an extra week off, Jake Ryan could be closer to full strength and ready to be a factor for Michigan.
Rittenberg:
I don't buy into bye weeks as much as others, but the added prep time allowed Michigan to press the reset button on defense after having few answers against the Hoosiers. Linebacker
Jake Ryan
should benefit as he works his way back to 100 percent from the knee injury. Michigan State has displayed better passing ability in recent weeks, but the Spartans won't challenge Michigan's secondary nearly as much as Indiana did. It really comes down to Michigan's defensive line and whether the front four can slow down emerging Spartans back
Jeremy Langford
and pressure
Connor Cook
. Wolverines end
Frank Clark
has some good numbers, but I'm still waiting for him to dominate a game. Where is the star power on this Wolverines defense? This would be a good time for it to show up, as Michigan State seems to be gaining confidence on offense, especially along the line.
Jennings:
I really don't know. And that sounds like a cop-out answer but having covered this team, it's just so hard to say how they'll respond or how they'll show up or how they'll play. And I do think how a team responds is a bit different than how it'll play. The Wolverines could respond well and come out strong, but the big test will be if they can sustain that through four quarters. This group has just been so inconsistent -- they might be the best in the Big Ten at being inconsistent -- and this is such a physical game. I think we'll find out a lot about the Wolverines' mental fortitude after a few big hits on Saturday.
Michigan State's offense has been a wild card this season -- really bad early on but better in three of the first four Big Ten games. Which Spartans offense shows up Saturday?
Jennings:
Connor Cook has gotten better and better every game, and I think the Spartans' offense is settling into a groove. The Michigan defense is still a big question mark, but they're far from perfect and have struggled with finishing on big plays through the season. Cook will have his opportunities down field, and if Langford can start by slashing the Michigan D up front, those opportunities probably will multiply through the game.
Rittenberg:
It really comes down to the Michigan State offensive line, a group I've criticized in the past but one that has
made noticeable strides during Big Ten play
. If the Spartans control Michigan's defensive front, create some room for Langford and allow Cook to make plays against a defense thinking run-first, run-second, they'll be in good shape to win. I can't fully trust this unit after the Purdue debacle two weeks ago, but wide receiver
Bennie Fowler
seems to make a big difference, and he returned last week against Illinois.
Which position group on either side of the ball will be the MVP (most valuable position group) come Saturday evening?
[+] Enlarge
Brian Spurlock/USA TODAY SportsSpartans cornerback Darqueze Dennard will be tested by Michigan receiver Jeremy Gallon.
Jennings:
Michigan State's defensive line. If the Spartans' defensive front can establish a solid pass rush and get
Devin Gardner
out of his comfort zone, then good things could happen -- three-and-outs, interceptions, poor decisions. It might be the linebackers or defensive backs finishing off the plays, but they'll happen because the defensive line was stout.
Rittenberg:
I
picked Michigan State to win
, so I'll also go with a Spartans defensive unit: the secondary. Michigan can attack downfield with
Jeremy Gallon
and
Devin Funchess
, which will force the Spartans to make plays in space. Fortunately for MSU, it has the type of defensive backs who can do that and match up in single coverage. I can't wait to see Spartans cornerback
Darqueze Dennard
, a potential first-round draft pick next April, go against Gallon. You're right that Michigan State's front four must apply pressure, but at the end of the day, I think we'll be talking about the secondary.
This is the first time Michigan and Michigan State have played in November since 2007 (Mike Hart "little brother" game). How intense is this rivalry now, and where do you see it going in the East division beginning next season?
Rittenberg:
Well, Michigan running back
Fitzgerald Toussaint
certainly
added some fuel
this week, repeating Hart's "little brother" tag for Michigan State and talking about the personal nature of the rivalry. Michigan State coach Mark Dantonio undoubtedly will bring up Toussaint's comments to his players. Dantonio has done a masterful job of playing up the rivalry, much like his mentor Jim Tressel did at Ohio State with the Michigan game. Michigan State won four straight in the series before falling last year in Ann Arbor, and the Spartans will have plenty of emotion on Saturday afternoon. Can Michigan match it? Brady Hoke told me this week that Michigan "flinched" too many times in 2011 in East Lansing, as Michigan State overwhelmed the Wolverines, personal fouls and all. This is a bigger game for Michigan than Michigan State, as a loss likely means another year without a Big Ten title. I'm very interested to see how Michigan comes out on Saturday.
Jennings:
I think it's pretty heated. Specifically for Michigan, the Wolverines have a terrible taste in their mouth from the last time they visited Spartan Stadium. They were embarrassed and beaten up the last time they traveled to East Lansing, and for a group that prides itself on its physicality, that was the biggest insult. A loss is bad. But losing because you were manhandled and bullied is the worst. So not only are the Wolverines fighting for the top of the division, they're also fighting to regain their identity within that stadium. They haven't had to reestablish themselves like that inside an opponent's stadium yet under Hoke.
September, 15, 2013
Sep 15
12:20
AM ET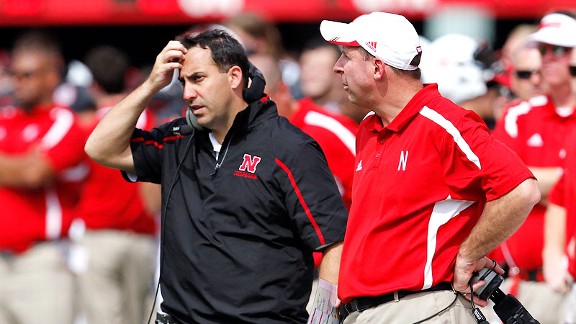 Bruce Thorson/USA TODAY SportsBo Pelini and defensive coordinator John Papuchis watched their team crumble against UCLA.
CHICAGO -- A CBS camera followed
Johnny Manziel
's every move Saturday, tracking the Texas A&M quarterback from the magical to the mundane.
More than 750 media members converged on Kyle Field for a game that had been anticipated for months. This was another SEC Saturday, and no matter what happened in the Big Ten, the eyes of the nation would be on Alabama-A&M.
But the Big Ten had a chance to steal a glance, build some credibility and maybe change the narrative, not to mention a few minds. However, the league fell short in its one Saturday showcase of September.
Nothing to see here, folks. Same old story.
Michigan forgot to show up against an Akron team that had lost 27 consecutive road games. Nebraska decided to pack it in during the third quarter against UCLA. And Penn State's defense made a very good college quarterback (UCF's
Blake Bortles
) look like a Heisman Trophy candidate.
There was one Big Ten game that left everyone talking and tweeting well into Sunday morning, thanks to one of the more bizarre finishes you'll ever see. The clock ran out on Wisconsin after quarterback
Joel Stave
tried to center the ball deep in Arizona State territory. The officials, seemingly confused that Stave placed the ball on the ground rather than make an obvious kneeling motion, delayed in spotting the ball and time expired.
No one could believe it, even the victorious Sun Devils.
Wisconsin deserved a chance to win a big game on the road and salvage something for the Big Ten. Thanks to the inexcusable officiating blunder, the Badgers' 32-30 loss was a black mark on a mostly sour Saturday.
Make no mistake, Week 3 wasn't as bad as Week 2 of the 2012 season, when the Big Ten went 6-6, a virtual impossibility given the forgiving nature of nonconference schedules. After that sorry Saturday, league
commissioner Jim Delany told the critics to swing away
, acknowledging the Big Ten's status as a national pinata.
The Big Ten bashing will continue after this Saturday, although not as much as it did last season. But perhaps just as damaging, the league didn't give people a reason to pay attention. The Big Ten is still viewed as a has-been conference, not a right-now conference.
[+] Enlarge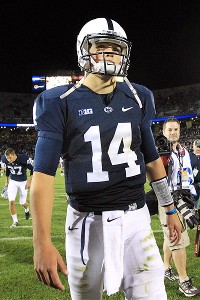 Matthew O'Haren/USA TODAY SportsChristian Hackenberg and PSU were stunned at home by UCF.
Oh, there's Ohio State, which flexed its offensive muscles at Cal despite being without starting quarterback
Braxton Miller
. Michigan State's offense showed up, and so did Indiana's defense. Iowa ended its slide in the Cy-Hawk series and captured a win it absolutely had to have in mostly impressive fashion. Purdue gave Notre Dame a better game than expected before folding early in the fourth quarter. Illinois fought hard against a good Washington squad here at Soldier Field. Northwestern continues to look very good.
But nothing that happened Saturday boosted the Big Ten's poor perception.
Nebraska's fight for national relevancy continues to be sidetracked by complete collapses. After storming ahead to a 21-3 lead against a seemingly emotionally wounded UCLA team, the Huskers allowed
the Bruins to score 38 unanswered points on Big Red's home field
.
This is who you are, Huskers. Your Big Ten legacy can be summed up in a series of numbers: 48-17, 45-17, 30-13, 63-38, 70-31, 45-31 and 41-21. Those are the final scores of Huskers losses in nationally relevant games against Wisconsin (2011), Michigan (2011), South Carolina (2012 Capital One Bowl), Ohio State (2012), Wisconsin (2012 Big Ten championship game), Georgia (2013 Capital One Bowl) and UCLA (Saturday).
They're not stunning collapses because they happen so often. They're as much a part of Nebraska's identity as the Blackshirts, the balloons and the Tunnel Walk.
Coach Bo Pelini said his players
looked like they'd seen a ghost
as UCLA took over in the second half. Maybe they had just seen this movie so many times before.
While Nebraska continued to bring negative attention, Michigan brought unwanted attention. The Wolverines' game against Akron was off the radar in a slate that featured four matchups with the Pac-12, the Iowa-Iowa State rivalry and other superior pairings.
Devin Gardner
and his teammates were supposed to make quick work of Akron, which has won one game in each of the past three seasons.
Akron's best hope for an upset? Former Ohio State coach Jim Tressel, who tortured Michigan during his tenure, is the school's vice president for student success. Maybe Michigan can chalk up Saturday's near-upset to The Curse of The Vest, as Akron's student-athletes had plenty of success at the Big House.
Michigan was a yard away from arguably the worst loss in program history. It wasn't Appalachian State, as the 2007 Mountaineers were miles better than the Toledo team Michigan lost to in 2008 or the current Akron squad. The 2008 Wolverines might have been the worst edition in school history. Michigan entered Saturday off an impressive win against Notre Dame. A letdown was possible? A letdown loss to Akron? Not a chance.
But it nearly happened.
"We almost lost to Akron," said Gardner, who committed four turnovers in
the 28-24 win
. "No disrespect to Akron, but we almost lost after coming out and having a great win last week in front of the whole world, and we come out and almost blow it. I definitely would have been sick if we [had lost]."
Michigan fans thankfully don't have to debate whether 2008 Toledo or 2013 Akron is a worse loss, but they do have to figure out what type of team they'll have the rest of the season after such a step backward.
Penn State can't help the Big Ten's ragged reputation in a bowl game because of NCAA sanctions. But the Lions could have taken care of business against UCF, a 10-win team in 2012.
However, a normally sound defense didn't come through, surrendering 507 yards and failing to get key second-half stops in a
34-31 loss
. Get ready to hear a lot about how the sanctions are finally getting to Penn State.
Listen, it's not all gloom and doom for the Big Ten. There are some bright spots. If Ohio State goes on to win a national title, all the negative stuff washes away. That's how it works in college football.
This could turn out to be a better league than it was last season, when it set a historically low bar. We'll find out in late December and early January.
Until then, it'll be all SEC, all the time.
After another lost Saturday, the Big Ten still doesn't give the nation a reason to care.
August, 21, 2013
Aug 21
12:00
PM ET
My dog tried to play with a skunk this week. I think we're all getting stir crazy waiting for the football season.
July, 15, 2013
Jul 15
9:30
AM ET
The rivalry never sleeps, even in the middle of summer as the final days tick away until camp opens in August.
But just in case a little offseason kick was needed to get the juices flowing for the next edition of "The Game," BuckeyeNation and WolverineNation are teaming up for a week of content looking at some moments from the past and forecasting what will happen a few short months into the future.
Today, we peek back into series history and identify some of the top heroes and villains from the blood feud. Here are Ohio State's villain for the Wolverines:
1. Jim Tressel, coach:
From the moment he was introduced and grabbed a microphone to address the Ohio State faithful, Tressel's mission was clear -- get the program back on top in The Game. The Buckeyes backed up their new coach with a road upset in 2001, and the next decade was completely dominated by The Vest, who posted a 9-1 record before scandal ended his run on the sideline. Even his exit might have twisted the knife in the Wolverines since it helped Ohio State land Urban Meyer, who knocked off Michigan in his first Game to finish an unbeaten season in 2012.
2. Troy Smith, quarterback:
At the height of that dominant run under Tressel, it was the prolific signal-caller inflicting the majority of the damage on the Wolverines. Smith became just the second Ohio State quarterback to beat Michigan three times, with the last couple coming in forgettable fashion. There was the late comeback in 2005 keyed that included 386 passing yards from Smith, and another virtuoso performance in the epic showdown in 2006 that individually clinched a Heisman and sent the Buckeyes to the national title game.
[+] Enlarge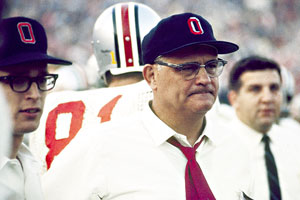 George Long/Getty ImagesIt was during Woody Hayes' 27 years as Ohio State head coach that the blood feud with Michigan truly took shape.
3. Woody Hayes, coach:
The rivalry became firmly entrenched among the most passionate, competitive series in the country when Hayes was at the top of his coaching game and matching wits -- and trading barbs -- with Bo Schembechler. Tressel's gaudy record might have diminished some of hatred for Hayes, however slightly, but his 16 wins in The Game, an infamous decision to go for a 2-point conversion "because he couldn't go for 3" and his place in Ohio State history will always get some Michigan blood boiling.
4. Mike Doss, safety:
Working on a 14-year drought in Ann Arbor and trying to live up to the goal Tressel established when he took over, Doss was instrumental in snapping the skid and setting the tone under Ohio State's new coach in 2001. A pair of interceptions helped set up scoring drives, and an unranked group of Buckeyes snatched a 26-20 win over the No. 11 Wolverines to start building the momentum that would last for pretty much the entire decade.
5. David Boston, wide receiver:
After coming up short in 1997 and hearing all about it from Charles Woodson, Boston exacted some revenge a year later with a massive individual performance as the Buckeyes knocked off the Wolverines 31-16 for one of John Cooper's two wins in the series. Boston was already an enemy for his brash comments before his final season with the Buckeyes, but he could be easily dismissed without ever winning a game. He changed that with 10 catches for 217 yards and two touchdowns, finally backing up his mouth and getting the best of Michigan where it counted -- on the field.
Bonus pick -- Bob Ferguson, fullback:
The message apparently hadn't been delivered emphatically enough, despite Ferguson already having scored three times. He would finish the game with 151 yards. The fourth touchdown by the All-American rusher, though, set the table for the Buckeyes to rub a 50-20 win and a national championship in Michigan's face in 1961 by going for a 2-point conversion with the outcome well in hand.
November, 21, 2012
11/21/12
10:15
AM ET
Ten items to track around the Big Ten on the final weekend of the regular season:
1. Bigger than The Game:
Michigan defensive lineman
Will Campbell
told me this week that
The Game never wavers in importance
, whether Ohio State is 0-11 or 11-0. That's a good attitude for a player to have, but from the outside looking in, the Michigan-Ohio State game is much more appealing when there's a lot at stake for both teams. For the first time since 2007, that's the case. Ohio State aims for the sixth unbeaten, untied season in team history. Michigan can hand the Buckeyes their first loss and possibly reach the Big Ten title game. This one should be fun. "It makes the game even bigger," Ohio State cornerback
Bradley Roby
said.
2. Bo knows:
Stunned by his team's performance in a 63-38 loss to Ohio State, Nebraska coach
Bo Pelini sat in the visitors' media room
at Ohio Stadium and said, "Like I just told the football team, we need to win out. We need to win out." Few thought it would happen, and even Pelini's faith had to be wavering a bit at that low point. But Nebraska has won five consecutive games, rallying for three of the victories, and need only beat slumping Iowa in the Heroes Game to punch its ticket to Indianapolis. The Huskers have ridden the roller coaster all season, but they'd need a serious derailment in Iowa City not to fulfill Pelini's pledge.
3. Senior day in State College:
There might never be another senior day at Penn State quite like the one Saturday at Beaver Stadium. Penn State will recognize a class that kept the team together during a tumultuous summer that included severe NCAA sanctions being handed down and several key player departures. "There's no doubt," first-year coach Bill O'Brien said, "that they set the tone for the future of Penn State football." Unfortunately, Penn State will play without senior linebacker
Michael Mauti
, a top candidate for Big Ten defensive player of the year and the team's emotional leader. Mauti, who suffered a knee injury last week, will be recognized along with his classmates.
4. Spartans, Boilers face must-wins:
Both Michigan State and Purdue entered the season with lofty goals, particularly the Spartans, pegged by many to win the Big Ten and reach the Rose Bowl for the first time in a quarter-century. Few expected MSU and Purdue to be fighting for bowl eligibility in Week 13, but that's exactly the case. Michigan State must win at Minnesota, and coach
Mark Dantonio is confident
, saying Tuesday, "When we win Saturday -- and I'll say when -- we'll be a 6-6 football team." Purdue, meanwhile, aims for its third straight win when it hosts rival Indiana in the Bucket game. Will a 6-6 season save fourth-year coach Danny Hope?
[+] Enlarge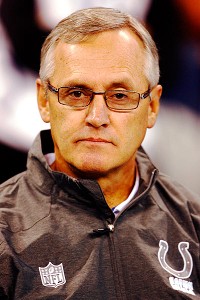 Brian Spurlock/US PresswireJim Tressel, now a consultant for the Indianapolis Colts, will be part of Ohio State's celebration of its 2002 national-title team.
5. Tressel's return:
Former Ohio State coach Jim Tressel will return to Ohio Stadium on Saturday for a reunion of the school's 2002 national championship team. It marks Tressel's first major public appearance at Ohio State since resigning from his post on Memorial Day in 2011. It will be interesting to see how the Buckeyes faithful react to Tressel, whose actions helped land the team in hot water with the NCAA. On the flip side, Ohio State's program is arguably better off with Urban Meyer as coach. "Some people will embrace it, some people will not,"
athletic director Gene Smith told The (Cleveland) Plain Dealer
. "Some people will feel it's awkward, some people will not. I'm not going to feel it's awkward because I'm realistic -- he was part of that team. And I know what he means to those players."
6. Their kind of town:
Northwestern and Illinois both want to increase their clout in the Chicago area. Pat Fitzgerald's Wildcats have been the more consistent program in the past decade and take an 8-3 record into Saturday's clash with the Illini at Ryan Field. With a win, Northwestern will match its highest victories total under Fitzgerald, who would tie Lynn "Pappy" Waldorf for the school's career coaching wins record (90). Illinois first-year coach Tim Beckman has emphasized the Northwestern rivalry from the moment he arrived. Perhaps his players will respond with a strong effort to end an otherwise miserable season.
7. Making their cases for awards:
The Big Ten hands out all its awards next week, and races for offensive and defensive player of the year are still very much in doubt. Mauti's injury creates a potential opening in the defensive player of the year race, and a lot could depend on what happens in Columbus, as candidates such as Michigan linebacker
Jake Ryan
and Ohio State's tandem of
John Simon
and
Ryan Shazier
take the field. Other candidates, such as Purdue defensive tackle
Kawann Short
, also are in action. Ohio State quarterback
Braxton Miller
remains the front-runner for offensive player of the year, but Nebraska's
Taylor Martinez
has been brilliant of late and could challenge Miller if he turns in a monster game at Iowa.
8. Boiler spoilers:
Two weeks ago, Indiana was a home victory from putting itself in line to represent the Leaders Division in the Big Ten title game. The Hoosiers now know their season will end Saturday in West Lafayette, as they won't be going bowling for the fifth consecutive season. But Kevin Wilson's team still can reclaim The Bucket and prevent Purdue from making a bowl game. Wilson talked Tuesday about how the season doesn't feel like it's ending, and with so many young players, the future is promising. He downplayed the spoiler role, saying Tuesday, "It has nothing to do with what it does for them; it's about what it does for us. Winning is good for us. Winning builds us." Indiana has eight home games next season and should be in the mix for a bowl. A victory Saturday would be a nice boost before a crucial offseason.
9. Gray's day:
Minnesota will recognize 15 seniors Saturday against Michigan State, and none has had a more unique career than
MarQueis Gray
. He arrived as a nationally heralded dual-threat quarterback recruit, played quarterback for a year, played primarily wide receiver for a year, started 10 games at quarterback in 2011 and opened this season as the top signal-caller but moved to wide receiver following an ankle injury. He will play primarily at receiver against the Spartans but had two rushing touchdowns last week and could see increased time in the backfield. Gray talked this week about
"closing the chapter" on his Gophers career
, and it'll be interesting to see how he performs in his final game at TCF Bank Stadium.
10. Denard and Devin:
Michigan's
Denard Robinson
is healthy again, but how much quarterback he will play against Ohio State remains to be seen. Robinson's replacement,
Devin Gardner
, has been spectacular since returning to the quarterback role, accounting for 13 touchdowns in the past three games, including six last week against Iowa. Michigan started the Iowa game with Gardner at quarterback and Robinson at running back, and offensive coordinator
Al Borges has the "creative juices" flowing
as he crafts the game plan for Ohio State. Robinson and Gardner certainly give Michigan's offense a different look -- and some extra homework for Ohio State's improving defense.
Weekend Recruiting Wrap: Big Ten - Dec. 2