Michigan Wolverines:

Jim Harbaugh
July, 30, 2013
7/30/13
10:30
AM ET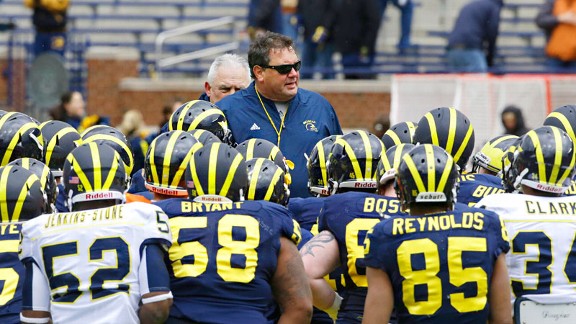 AP Photo/Carlos OsorioIt's difficult to project what would have happened to Michigan football if Rich Rodriguez had not been hired. Brady Hoke was at Ball State and was not a candidate back in 2007.
ANN ARBOR, Mich. -- Football season begins this week with the opening of Michigan's fall camp. In a month, the Wolverines will have their first game and all of the questions that have been asked over the past four months will have the beginnings of some resolution to them.
Some questions about football -- and a quick look into Michigan basketball -- populate this week's Michigan mailbag, filled with your questions.
July, 15, 2013
7/15/13
9:30
AM ET
The rivalry never sleeps, even in the middle of summer as the final days tick away until camp opens in August.
But just in case a little offseason kick was needed to get the juices flowing for the next edition of "The Game," BuckeyeNation and WolverineNation are teaming up for a week of content looking at some moments from the past and forecasting what will happen a few short months into the future.
Today, we peek back into series history and identify some of the top heroes and villains from the blood feud. Here are Ohio State's villain for the Wolverines:
1. Jim Tressel, coach:
From the moment he was introduced and grabbed a microphone to address the Ohio State faithful, Tressel's mission was clear -- get the program back on top in The Game. The Buckeyes backed up their new coach with a road upset in 2001, and the next decade was completely dominated by The Vest, who posted a 9-1 record before scandal ended his run on the sideline. Even his exit might have twisted the knife in the Wolverines since it helped Ohio State land Urban Meyer, who knocked off Michigan in his first Game to finish an unbeaten season in 2012.
2. Troy Smith, quarterback:
At the height of that dominant run under Tressel, it was the prolific signal-caller inflicting the majority of the damage on the Wolverines. Smith became just the second Ohio State quarterback to beat Michigan three times, with the last couple coming in forgettable fashion. There was the late comeback in 2005 keyed that included 386 passing yards from Smith, and another virtuoso performance in the epic showdown in 2006 that individually clinched a Heisman and sent the Buckeyes to the national title game.
[+] Enlarge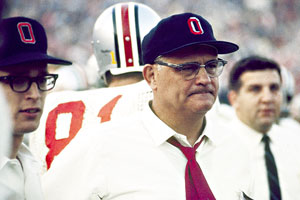 George Long/Getty ImagesIt was during Woody Hayes' 27 years as Ohio State head coach that the blood feud with Michigan truly took shape.
3. Woody Hayes, coach:
The rivalry became firmly entrenched among the most passionate, competitive series in the country when Hayes was at the top of his coaching game and matching wits -- and trading barbs -- with Bo Schembechler. Tressel's gaudy record might have diminished some of hatred for Hayes, however slightly, but his 16 wins in The Game, an infamous decision to go for a 2-point conversion "because he couldn't go for 3" and his place in Ohio State history will always get some Michigan blood boiling.
4. Mike Doss, safety:
Working on a 14-year drought in Ann Arbor and trying to live up to the goal Tressel established when he took over, Doss was instrumental in snapping the skid and setting the tone under Ohio State's new coach in 2001. A pair of interceptions helped set up scoring drives, and an unranked group of Buckeyes snatched a 26-20 win over the No. 11 Wolverines to start building the momentum that would last for pretty much the entire decade.
5. David Boston, wide receiver:
After coming up short in 1997 and hearing all about it from Charles Woodson, Boston exacted some revenge a year later with a massive individual performance as the Buckeyes knocked off the Wolverines 31-16 for one of John Cooper's two wins in the series. Boston was already an enemy for his brash comments before his final season with the Buckeyes, but he could be easily dismissed without ever winning a game. He changed that with 10 catches for 217 yards and two touchdowns, finally backing up his mouth and getting the best of Michigan where it counted -- on the field.
Bonus pick -- Bob Ferguson, fullback:
The message apparently hadn't been delivered emphatically enough, despite Ferguson already having scored three times. He would finish the game with 151 yards. The fourth touchdown by the All-American rusher, though, set the table for the Buckeyes to rub a 50-20 win and a national championship in Michigan's face in 1961 by going for a 2-point conversion with the outcome well in hand.
July, 15, 2013
7/15/13
9:30
AM ET
ANN ARBOR, Mich. -- Nothing really says as much about a rivalry as a good villain. Every narrative, whether someone wants to admit it or not, has one. There's a white hat, a black hat, all of those cliched things.
With Michigan and Ohio State, there is plenty to go around.
Here's a look at the top five Michigan villains for the Buckeyes, most of whom had a hand in critical wins in the last game of the regular season.
1. Bo Schembechler, Coach:
Much like Woody Hayes on the Ohio State side (and maybe Jim Tressel) there is no surprise Schembechler is tops on this list. Heck, a band made up of Ohio State fans even called themselves the Dead Schembechlers. Bo vs. Woody still ranks among the best coaching rivalries in the history of sports. Schembechler finished 11-9-1 against his biggest rival and a 5-4-1 record against Hayes. Oh, and if there were any questions about this, Schembechler's win over Ohio State in 1969 ignited the "Ten-Year War," which elevated this rivalry to among the best in all of sports.
[+] Enlarge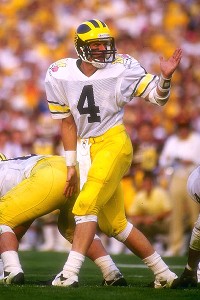 Mike Powell/Allsport Michigan quarterback and Ann Arbor native Jim Harbaugh guaranteed a win over Ohio State in 1986 and delivered.
2. Jim Harbaugh, QB:
You make a guarantee that you will beat your rival, you'd better back it up. When Harbaugh, who grew up in Ann Arbor, said Michigan would beat Ohio State, he permanently placed himself in the history of this rivalry. The Monday before The Game in 1986, Harbaugh said "I guarantee we will beat Ohio State and go to Pasadena." Michigan's response -- they had to do it. Harbaugh did, leading the Wolverines to a 26-24 win at Ohio State that Saturday, sending his team to the Rose Bowl.
3. Charles Woodson, DB:
Where to start? Woodson talked trash with Ohio State receiver David Boston prior to the 1997 contest, then went out and clinched the Heisman Trophy with a 37-yard touchdown reception, a 78-yard punt return touchdown and an interception. This on top of his 1995 performance as a freshman, where in the Tim Biakabutuka game he intercepted two passes to knock off the undefeated Buckeyes. Being from Fremont, Ohio, only makes it more difficult to deal with.
4. Tom Harmon, HB:
Harmon wasn't really even a villain in this rivalry except that he was just so much better than the rest of his peers at the time. According to the Heisman Trophy website, Harmon completed 11 of 12 passes for 151 yards and two touchdowns along with 139 rushing yards and two touchdowns in the final game of his college career and against Ohio State. He also intercepted three passes and kicked four extra points in the game. Harmon won the Heisman after the season. Why wasn't he a bigger villain? Consider this: After the performance, the Michigan Alumnus magazine (on the Bentley Historical Library website) said the crowd at Ohio State gave Harmon a "thundering ovation." Chances are, that doesn't happen today.
5. Barry Pierson, DB:
In the game which really launched the rivalry -- that 1969 one -- Pierson intercepted Ohio State three times. He also had a massive special teams play, returning an Ohio State punt 60 yards to set up a Michigan touchdown. While that entire 1969 team could probably be on that list, Pierson statistically made a major impact that day.
Bonus selection: Drew Henson, QB:
Henson is on this list for a couple of reasons. He was the last Michigan quarterback to beat Ohio State in Columbus in 2000. While that alone might not be enough to be on this list, consider this: When he left Michigan to pursue baseball following that season, he was assigned to be the third basemen for ... the Columbus Clippers. It did not go well. Henson was booed over and over again despite playing for the hometown team and the Triple-A affiliate of the Yankees. All because he played for Michigan and beat Ohio State.
June, 24, 2013
6/24/13
6:15
PM ET
ANN ARBOR, Mich. -- While it isn't as brash a forecast as Jim Harbaugh made in 1986, Michigan quarterback
Devin Gardner
made a prediction Monday afternoon.
Talking with the Huge Show, a syndicated radio program in Michigan, Gardner predicted the Wolverines would beat Ohio State.
"We always have room for improvement, but this is definitely a championship-caliber football team," Gardner said on the Huge Show. "We will win in the Big House, you know, against Ohio State.
"We don't feel like we're inferior to anyone in the country, and we're going to give it our all."
Michigan has beaten Ohio State just once since defeating the Buckeyes in 2003 -- a 2011 win in Ann Arbor during Brady Hoke's first season. Michigan and Ohio State are expected to be two of the top three teams in the Big Ten this season.
In 1986, Harbaugh guaranteed Michigan would beat Ohio State during the week leading up to the game. The Wolverines ended up winning, 26-24.
September, 15, 2012
9/15/12
7:13
PM ET
Michigan did what it was supposed to do Saturday against UMass, flattening the first-year FBS program
63-13
with another big performance from its quarterback.


The Wolverines were able to build some defensive confidence, play a lot of their younger players and establish some sort of running game before next week's matchup against Notre Dame.
It was over when:
Denard Robinson
cut across the field on a scramble and ran 36 yards for a touchdown in the second quarter. The touchdown run gave the Wolverines a 35-10 lead and also gave Michigan complete control after Robinson threw an interception that resulted in a UMass touchdown earlier in the quarter. From there, Michigan routed.
June, 1, 2012
6/01/12
2:37
PM ET
Catching Up With.. is an occasional series at WolverineNation where we chat with former Michigan football and basketball players about their time since leaving Ann Arbor. To see prior Catching Up With... segments, click here.
Jonathan Goodwin
was a two-year starter at guard for Michigan in 2000 and 2001 before heading off to the NFL, where the fifth-round draft pick of the New York Jets has now carved out a 10-year professional career between the Jets, New Orleans and now, San Francisco.
Goodwin, 33, was named to the Pro Bowl following the 2009 season, but couldn't play for good reason. His team, the Saints, had advanced to and eventually won the Super Bowl. WolverineNation caught up with Goodwin before he played golf at the Griese/Hutchinson/Woodson event in May.
To continue reading this article you must be an Insider
May, 10, 2012
5/10/12
9:46
AM ET
By
WolverineNation Staff
| ESPN Insider
With the offseason in full swing, our stable of writers took on some interesting questions this week, including who is the best current coach on campus, who impressed them at the various recruiting events they attended and what quarterback they'd take to lead a Michigan all-time team.
And for the first time, our panel disagreed on almost every topic. What do you think, WolverineNation?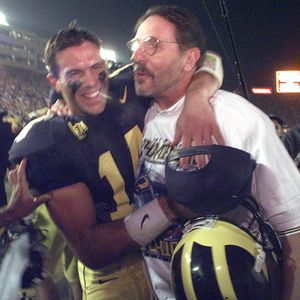 AP Photo/Susan SternerBrian Griese helped lead Michigan to a national title.
1) If you were putting together an all-time Michigan team and had to pick one quarterback to lead it, who would it be and why?
To continue reading this article you must be an Insider
Michigan C Cites Concussions In Decision To Quit
BIG TEN SCOREBOARD
Thursday, 9/3
Friday, 9/4
Saturday, 9/5
Sunday, 9/6
Monday, 9/7