Michigan Wolverines:

Jim Delany
December, 2, 2013
Dec 2
8:30
PM ET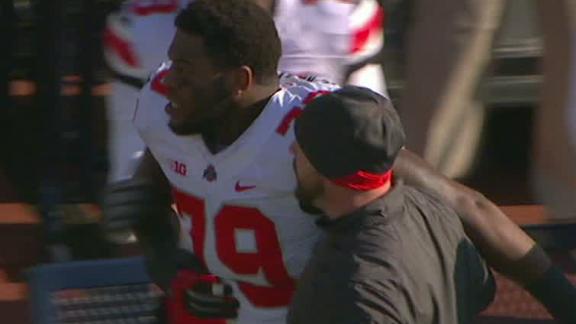 The Big Ten finally has a championship game that rivals the SEC's in national significance.
Unfortunately, the Big Ten is following the SEC's lead in another area: handing out discipline.
A league that considers itself a cut above in every area, including player conduct, had an opportunity to make a statement in the wake of Saturday's fight in the Ohio State-Michigan game. Instead,
the league went soft
, ensuring that its championship game, and Ohio State's national title hopes, would be unaffected by the ugly and embarrassing incident.
Here's what we learned from the Big Ten's ridiculous response Monday night:
Fighting doesn't have long-term consequences. Twisting a helmet? Go right ahead.
Just conduct yourself like a gentleman afterward.
After spending two days reviewing the officials' report from the game and the video of the fracas, the Big Ten decided to hand down no additional discipline to the Ohio State and Michigan players involved. The league merely issued a public reprimand -- the wussiest punishment possible -- for Ohio State offensive lineman
Marcus Hall
and the Buckeyes' coaching staff after Hall gave the crowd a double-bird salute following his ejection from the game. No other players were named by the league, which praised both coaching staffs for defusing the fight.
Ohio State's
Dontre Wilson
and Michigan's
Royce Jenkins-Stone
also were ejected Saturday, but they and others -- like Buckeyes wide receiver
Michael Thomas
and Michigan defensive back
Delano Hill
-- were spared any blowback from the conference.
The Big Ten is falling back on the NCAA's fighting policy, which calls for players ejected in the first half of a game to miss only the remainder of that game. Although the league has issued suspensions before for throwing punches, they have come for players who weren't ejected during the game.
The league had an opportunity to do more and show that behavior like Saturday's, even in a bitter rivalry game, is unacceptable and has long-term consequences. Monday's wimpy response will be seen as an effort to protect the league's title game and one of its biggest brands in Ohio State.
Criticize Ohio State coach Urban Meyer if you want for not tacking on additional playing-time penalties for Hall and Wilson. Honestly, I don't know many coaches who would have. They're trying to win championships and can impose some internal discipline. Michigan State didn't suspend William Gholston for his actions in the 2011 Michigan game, so the Big Ten stepped in with a suspension. The league should have done the same in this case.
Even a half-game suspension, which the SEC probably has trademarked, would have shown some teeth here. Instead, the Big Ten protects its championship game from being affected, and its biggest brand from being impacted in its quest to reach the national title game.
Monday's response will add to the widely held belief by many Big Ten fan bases that the league goes all out to protect Ohio State and Michigan. The response will bring more heat for league commissioner Jim Delany, who still gets ripped for going to bat for Ohio State's "Tat-5" to play in the 2011 Sugar Bowl.
The championship game is a national showcase opportunity for the Big Ten, a chance to display its best product and the values it holds so dear. You'll hear a lot about honoring legends and building leaders, and big lives and big stages.
Then Wilson might return the opening kickoff, and Hall will take the field with Ohio State's starting offensive line. Are those the images the Big Ten wants to present?
"As bad as it was, we're fortunate the incident did not escalate any further," the Big Ten's SECtatement reads. "More can, and should, be done by both coaching staffs in the future to prevent similar incidents."
The Big Ten could have and should have done more, but chose to do the bare minimum.
September, 27, 2013
Sep 27
12:00
PM ET
Enjoy the fact that your royal overlords are a frail old woman and a tiny baby.
August, 16, 2013
Aug 16
12:00
PM ET
Second-to-last weekend without real football. Enjoy.
August, 8, 2013
Aug 8
12:00
PM ET
Happy happiness happens day.
August, 7, 2013
Aug 7
3:08
PM ET
May, 16, 2013
May 16
4:00
PM ET
The
Big Ten released its 2014 league schedule
earlier Thursday, completing what its architect Mark Rudner called a "long, arduous process" of crafting a slate with two new teams, two new divisions and a second open week.
ESPN.com caught up with Rudner, the Big Ten's senior associate commissioner for television administration, to discuss how the 2014 schedule came together.
It's important to note the Big Ten compiled the 2014 slate based upon principles green-lighted by its athletic directors.
They are:
Nonconference games that had been previously contracted were protected. For example, Northwestern visits Notre Dame on Nov. 15, 2014, so the Big Ten made sure not to schedule the Wildcats on that day. Also, Penn State and Rutgers had a previously scheduled non-league game for Sept. 13, 2014, which became a conference game with Rutgers joining the Big Ten. The date wasn't changed.
No more than two consecutive road games
Each team must play two home games and two road games in each half of the season
It's not as if athletic directors ask the league not to schedule multiple rivalry games on the road every year.
"Once you do that," Rudner said, "you're at risk of never having a schedule."
There has been some reaction to Michigan facing in-state rival Michigan State in road games in consecutive seasons (2013, 2014) and Purdue visiting Indiana for the Bucket game the same two years. The Wolverines
never have played the Spartans in East Lansing in back-to-back years
and haven't hosted MSU in consecutive years since 1967-68.
Although it'll be new for Michigan, such back-to-backs are fairly common when a scheduling model changes. Between 2010-11, there were 13 instances of back-to-back matchups, including rivalry games like Iowa-Minnesota (both games in Minneapolis) and Penn State-Ohio State (both games in Columbus) and other good matchups like Wisconsin-Michigan State (both games in East Lansing).
"It's unavoidable," Rudner said. "It happened five times in 2008-2009. So it's not foreign, it's not ideal, but it's unavoidable. When you're introducing new institutions and you dole out home and road games, it just happens."
Big Ten commissioner
Jim Delany has said "parity-based scheduling,"
where teams will face one another more often in crossovers based on historical success,will begin in 2016, will begin once the league goes to a nine-game conference schedule. Rudner said the league asked the ADs if they wanted to start the nine-game schedules in 2014 but they couldn't because of so many signed contracts for non-conference games. If they had, the 2014 would have incorporated parity scheduling.
The 2014 slate ultimately features none of it, as the traditional powers in each division -- Ohio State, Michigan and Penn State in the East, and Nebraska, Wisconsin and Iowa in the West -- don't play at all.
"I don't think it's going to hurt us," Rudner said. "Brand is strong enough. There are enough games that are strong that'll drive television interest. Short of a full round-robin, which nobody in our conference wanted to do, you're going to have these sort of issues."
A few other schedule notes:
Rudner and his staff didn't have a directive to schedule mostly division games in November, but it worked out that way as most teams will play exclusively in their division or play only one crossover in the season's decisive month. "Ideally, that's what we would like to do," Rudner said. "It makes a lot of sense to play division games late in the season, toward a championship."
The Big Ten doesn't look at long-term trends of how often teams open league play on the road when crafting schedules. Athletic directors haven't asked it to a be a principle of building schedules. "It's never been important to them," Rudner said. "What they want to avoid is long road trips and making sure there's balance, home and away, in each half of the season. The rest of it, they can live with. Not everybody plays the same kind of schedule, but they do it based on those principles. They look at it and say, 'That's fair. Let's do it.'" Penn State, by the way, will open league play on the road for the fifth straight year and for the ninth time in the past 11 seasons.
That new members Maryland and Rutgers host traditional powers Ohio State and Michigan on the same day (Oct. 4) was pure coincidence, Rudner said.
The 2015 Big Ten schedule, which should be released by the end of the month, will feature the same matchups at the opposite locations. The league has to maneuver around some previously scheduled non-league games before finalizing the slate.
April, 29, 2013
Apr 29
10:26
AM ET
The Big Ten presidents and chancellors on Sunday approved the new East-West division alignment in football for the 2014 season, as well as a nine-game conference schedule beginning in 2016.

Legends and Leaders are gone, as the league made geography it's top priority in aligning the new divisions. Here's how they'll look when new Big Ten members Maryland and Rutgers join the conference ...
Big Ten East:
Indiana, Maryland, Michigan, Michigan State, Ohio State, Penn State, Rutgers
Big Ten West:
Illinois, Iowa, Minnesota, Nebraska, Northwestern, Purdue, Wisconsin
The Purdue-Indiana game will be the only annual protected crossover in the new alignment. The initial alignment featured protected crossovers for every Big Ten team.
"Big Ten directors of athletics concluded four months of study and deliberation with unanimous approval of a future football structure that preserved rivalries and created divisions based on their primary principle of East/West geography," commissioner Jim Delany said in a prepared statement. "The directors of athletics also relied on the results of a
fan survey
commissioned by [Big Ten Network] last December to arrive at their recommendation, which is consistent with the public sentiment expressed in the poll."
February, 12, 2013
Feb 12
10:30
AM ET
The sting from the
collapse of the short-lived Big Ten/Pac-12 scheduling alliance
isn't totally gone for Big Ten commissioner Jim Delany, but his desire to form partnerships with other conferences hasn't wavered.

Delany told ESPN.com on Monday that the Big Ten continues to explore possible affiliations with other leagues, both for bowl games and non-league scheduling. The Big Ten will be
increasing its conference schedules to nine or 10 games
, reducing the number of nonconference games by one or two per season.
"We would like to discuss [partnerships]," Delany said. "We were disappointed that the [Pac-12] collaboration didn't work. Whether we're at nine or 10, there will be fewer nonconference games, but we hope the fewer are better improved in quality. We would be very energized to sit down with others who were interested in also upgrading their schedules to see how we could do that."
Delany points out that different Big Ten programs have different goals, whether it's competing for national championships or making bowl games on a regular basis. But the message from the league office to its members is to push themselves more in non-league scheduling.
"What we've got to do is upgrade," Delany said. "It doesn't make any sense to be playing people from different divisions with fewer scholarships [FCS]. It doesn't make sense for everyone to be playing Southern Cal and Texas, but there's comparability there that we could seek out. We're trying to find out ways that we can create fair schedules, good schedules, healthy schedules for our teams, our players, our coaches and our fans."
Creating healthier bowl matchups also is an objective for the Big Ten. One idea gaining steam is to increase the flexibility of the selection process by sharing tie-ins with other conferences.
The Big Ten continues to have conversations with other leagues and bowl games as it prepares for its next lineup -- beginning in 2014 -- one built around " keeping things fresh for the fans and for the players and for the bowls," Delany said.
"If you have someone who goes to the same bowl three years in a row, that's problematic," Ohio State athletic director Gene Smith said. "Even two years in a row is problematic. So how do we change that model?"
The Big Ten has valued its alliances with the Rose Bowl in football and with the
ACC in basketball
. Other leagues
like the Big 12
also are motivated to form similar partnerships.
"The problem with partnerships beyond two or three or four is everybody has different objectives," Delany said. "Simple partnerships are easier than multilateral partnerships, but we'll explore both."
January, 3, 2013
Jan 3
11:00
AM ET
The Big Ten plays unquestionably the nation's toughest bowl lineup. The league also plays quite possibly the nation's least diverse bowl lineup.
One of those things should change when a new lineup is unveiled for the 2014 season and beyond.
The Big Ten's current rundown includes three matchups against SEC foes in Florida (Capital One, Outback, TaxSlayer.com Gator). It also includes at least two matchups against the Big 12 (Buffalo Wild Wings, Meineke Car Care Bowl of Texas) and often a third (Heart of Dallas, which sometimes features Conference USA teams). Although the Big Ten faces the Pac-12 most years in the Rose Bowl Game presented by Vizio, the two leagues that have the most in common aren't tied into any other bowl matchups.
The lineup is very SEC- and Big 12-heavy. It's also very New Year's Day-heavy, with five of the eight tie-ins on Jan. 1.
[+] Enlarge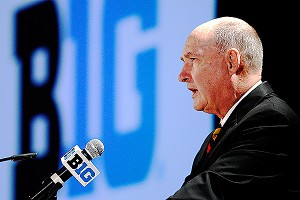 AP Photo/M. Spencer Green, File"We're going to try and be national and try to have relationships on both coasts and maybe in areas we haven't been before," commissioner Jim Delany said.
"We want to play the best," Big Ten commissioner Jim Delany told ESPN.com on Wednesday. "I don't think you'll see any radical changes in those areas, but you'll probably see us having more interactions with more conferences. I'm not exactly sure how that'll play out, but the sites will be national and the quality of opponents will be national."
Delany said the Big Ten met with officials from 10-12 bowl games in November at league headquarters in Park Ridge, Ill. Although Delany's top priorities are figuring out the new division alignment -- with Maryland and Rutgers set to join the league -- and revising the 2014 football schedule, but he hopes to have the bowl lineup, which likely will span the 2014-17 seasons, finalized before the summer.
The Big Ten won't compromise degree of difficulty in the lineup, but Delany understands that a lack of variety can turn off fans interested in traveling to different areas. He attributes part of the bowls' recent attendance/interest problems to a lack of diversity in participating teams.
"We're going to try and be national and try to have relationships on both coasts and maybe in areas we haven't been before," Delany said. "There will be more diversity in teams that get to go, so no one goes to Florida five times in six years or even three years in a row. I hope we would put together a slate of games where our alums live, where we recruit and against opponents that will test us every year. Those are the elements.
"It's a puzzle. Some of the outlines are falling into place, but it's a long way from the particulars of it being filled out."
Delany said at the Big Ten's spring meetings in May that
the league has interest in the New Era Pinstripe Bowl
at New York's Yankee Stadium. That was
before
the league added Rutgers and Maryland as new members and spoke extensively about its new East Coast presence. Nothing is official yet, but I would be stunned if the Big Ten's new lineup doesn't include the Pinstripe Bowl.
We know the
Big Ten will have a more frequent presence in the Discover Orange Bowl
against an ACC opponent.
Another California bowl also is possible (Bridgeport Education Holiday, Kraft Fight Hunger). It would be surprising if the Big Ten's next bowl lineup doesn't include another Pac-12 matchup besides the Rose, and maybe an ACC matchup on the East Coast.
"We'll still have significant competition with the SEC in Florida," Delany said.
Whether that includes keeping all three matchups or maybe just two remains to be seen.
But variety will be a bigger element of the Big Ten's next bowl lineup, which will be welcomed by most fans.
August, 27, 2012
8/27/12
1:40
PM ET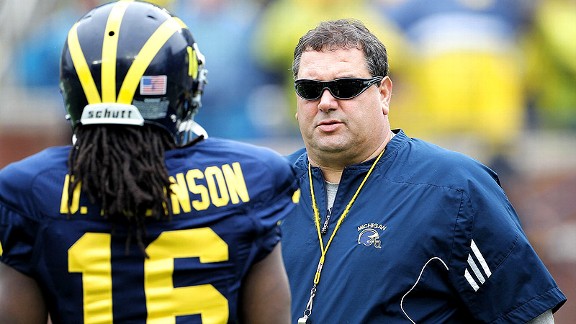 Leon Halip/Getty ImagesBrady Hoke and the Wolverine have a big challenge Saturday night against Alabama.
Jim Delany has never suppressed his desire for Big Ten members to test themselves outside the conference.
It's why the commissioner puts together unquestionably the nation's toughest bowl lineup each year. It's why he spearheaded the short-lived scheduling alliance with the Pac-12.
Even as the Big Ten's losses in nationally significant games pile up and its last national title in football gets smaller in the rear-view mirror, Delany wants teams to measure themselves against the best.
Michigan has gotten the message, loud and clear.
The Wolverines open the season Saturday night against defending national champion Alabama in Arlington, Texas. Alabama has hoisted the crystal football in two of the past three seasons. The Tide boast a 55-12 record under coach Nick Saban and haven't dropped a nonconference game since the 2007 season, Saban's first in Tuscaloosa.
The big blue banner isn't the only one Michigan will carry onto the field Saturday night. The Wolverines are playing for their beleaguered conference, too.
"Saban is probably the coach of the decade, and Alabama's probably the team of the decade with two national championships in the last three years," Delany told ESPN.com on Monday morning. "Michigan's trying to re-establish a program and a team, and Saban has done a fabulous job of returning Alabama to its programmatic height. So for us, it's a big game. I don't think you can minimize it. It's an important game, a big game, a big stage, and those are the kinds of games we want to play."
July, 26, 2012
7/26/12
4:00
PM ET
CHICAGO -- Don't expect to see a nine-game Big Ten schedule any time soon.

Commissioner Jim Delany said at Big Ten media days Thursday that league schools are "of a unanimous mind to stay at eight games" in the conference schedule.

The dissolution of the Pac-12/Big Ten alliance forced the league to re-examine its scheduling philosophy. One idea that was heavily discussed this week was whether to increase the number of conference games to nine, the same number the Pac-12 and Big 12 play and that the ACC will soon play. Of the other power leagues, only the SEC has decided to stick with eight conference games.

The Big Ten voted to go to nine games last summer before abandoning the plan when the Pac-12/Big Ten agreement developed. But many coaches were not in favor of playing nine games, and some athletic directors did not like the idea of having an imbalanced number of home and away league games.

Delany said playing just eight league games will give the Big Ten more opportunities to prove itself on a national basis, which he said will be helpful under the playoff system to be implemented in 2014. Strength of schedule is expected to be a key component that a selection committee will consider when choosing the four teams for the playoff.

"That committee will have to look with the eye test at conferences," Delany said. "But it will also have to look at competitive results between conferences. We think going forward that this is the best way to prepare for the new postseason model."

Delany said that the Big Ten schools serious about competing for national championships will soon have "enhanced schedules," meaning tougher nonconference games. Those schools, he said, will "not only demonstrate strength by winning Big Ten championships but also demonstrate strength relative to other conferences."

The commissioner said the Big Ten might work with other conferences to help scheduling, though he said that would likely not rise to the collaborative level that was planned with the Big Ten.
July, 16, 2012
7/16/12
11:00
AM ET
You know the season is right around the corner when media days approach. The Big Ten will hold its annual media days and preseason kickoff luncheon next week. Here's a quick preview of the event:
Dates:
July 26 and 27
Location:
Hyatt Regency McCormick Place and McCormick Place Convention Center in Chicago
Big names in attendance:
Montee Ball
, RB, Wisconsin;
Denard Robinson
, QB, Michigan;
Rex Burkhead
, RB, Nebraska;
James Vandenberg
, QB, Iowa;
John Simon
, DE, Ohio State;
Silas Redd
, RB, Penn State;
Kawann Short
, DT, Purdue.
Big names not in attendance:
Gerald Hodges
, LB, Penn State;
Braxton Miller
, QB, Ohio State;
Taylor Martinez
, QB, Nebraska;
William Gholston
, DE, Michigan State;
Chris Borland
, LB, Wisconsin.
What to expect:
Here are some of what we think will be the most popular subjects of conversation in Chicago:
Playoff talk. The four-team playoff is still a couple of years away, but it figures to be a huge topic of conversation for every conference on the media days circuit this summer. Players and coaches will be asked for their opinion on the subject, and Big Ten commissioner Jim Delany likely will field plenty of questions about how the league has fared thus far in the postseason negotiations. The idea of a selection committee and who should serve on it will be a major discussion point.
Penn State fallout. You almost feel bad for the three Penn State players (Redd, Jordan Hill and John Urschel) who are attending, along with head coach Bill O'Brien. Though none of them had anything to do with the Sandusky scandal, they will have to answer repeated questions about Joe Paterno and the controversy that has enveloped their campus. So far throughout this trying time, current players and coaches have handled the situation with grace and tact. Also, expect Delany to be grilled about potential Big Ten punishment for the Nittany Lions.
Urban Meyer. Few first-year coaches have ever gotten as much attention as Meyer has since he was hired by Ohio State, and understandably so. This is Meyer's first Big Ten showcase event, and there will likely be a buzz in the room when he takes the podium. Also, look for lots of talk about the Michigan-Ohio State rivalry heating up (if it's possible for that to get hotter). And if you don't think Wisconsin's Bret Bielema will be asked at least one question about Meyer, you haven't been paying attention.
Heisman hopefuls. The player contingent does not lack for star power this year. Ball was a Heisman finalist last year and will draw a crowd. Same goes for Michigan's Robinson, who will speak on behalf of the players at the kickoff luncheon on Friday. Burkhead is also an outside Heisman candidate, along with Redd.
Big Ten/Pac-12 series cancellation. The two leagues announced on Friday their scheduling partnership had dissolved before it ever began. Delany will have to answer questions about what happened to the promising series as well as address how the league plans to address future scheduling. Is a nine-game conference schedule officially back on the table?
New coaches. Meyer will be the main attraction, but Penn State's O'Brien and Illinois' Tim Beckman are also making their Big Ten media days debut. There will be much interest in how they will build their programs, particularly for O'Brien.
National title potential. The Big Ten is working on a long national championship drought, and none of the league's teams will be among the preseason favorites to win it all. Michigan likely will enter the year as the highest ranked team, and Brady Hoke will be asked about the season opener against Alabama. Michigan State, Wisconsin and Nebraska could all be preseason Top 20 teams. Are any of them BCS title caliber, and what's it going to take for the Big Ten to get back there?
October, 25, 2011
10/25/11
10:14
AM ET
One of Michigan athletic director Dave Brandon's go-to sayings throughout his almost two years in charge has been that he's a guy who favors change when it is necessary.
He's been a
believer in NCAA rules reform
and has been vocal that something needs to be fixed within the NCAA legislation.
So it was of little surprise Monday night when he backed NCAA president Mark Emmert's
proposal to add $2,000 per year
to college scholarships to aid in the cost of attendance -- an idea initially floated by Big Ten commissioner Jim Delany at the league's spring meetings in May.
To continue reading this article you must be an Insider
Weekend Recruiting Wrap: Big Ten - Dec. 2