Michigan Wolverines:

Jeremy Jackson
October, 5, 2013
10/05/13
7:00
AM ET
The first bye week of Michigan's season has come and gone, and we'll see how much not playing last weekend will help the Wolverines in their homecoming game this weekend.
Here are five things to watch as Michigan gets back on the field tomorrow.


1. Devin Gardner bouncing back.
Following the Notre Dame game, Heisman hype surrounded Gardner. Now he's saying that he deserves the amount of recent criticism he has gotten from fans and the media. That's quite the swing for anyone, even someone as confident and sure of himself as Gardner. He admitted he strayed from his technique in the Akron and Connecticut games. With a week off to take a step back, spend more time in the film room and work more on the basics, he could step on the field as an entirely new player ... or he could reappear as a turnover risk. However, with the combination of Gardner's attitude and Minnesota's defense, expect Gardner to take a few steps forward this game.
2. The new interior offensive line.
The Wolverines' offensive line was inexperienced and lacked chemistry. Now, at the very beginning of the Big Ten season, the Wolverines are changing it up and hoping for the best. Moving
Graham Glasgow
to center will give Michigan a slightly bigger presence on the inside, but again, they'll be starting from scratch. He has started four games at left guard and has worked at center through practices but he has never had to direct the line and work with Gardner during game action -- let alone the Big Ten opener.
Chris Bryant
will likely pick up his first start at left guard, which is again, not the most promising scenario for Michigan. He has been dinged up with knee and shoulder issues and has only appeared in one game so far this season. Perhaps the Wolverines' O-line will take a few steps forward against the Gophers, but expect the occasional step backward as well.
3. The defensive line moving on up.
The Wolverines showed progress with their four-man rush against Connecticut, and with a bye week to get back to the basics (which Greg Mattison had said they needed) as well as time to work together, expect them to continue their movement against Minnesota. They're going to continue to funnel and shuffle guys through, but we're still waiting on
Frank Clark
, while he has been impressive, to have his coming-out party. Saturday seems like a perfect time for that to happen.
4. A possible role change with Devin Funchess.
The Wolverines haven't had a consistent downfield threat this season. At times,
Joe Reynolds
has shown promise and
Jeremy Jackson
has shown potential, but that hasn't exactly resulted in big gains. With
Jeremy Gallon
and
Drew Dileo
as Gardner's current safety nets, it makes sense for Michigan to try something out, like moving Funchess into more of a receiving role down the field. He has tons of pro potential and has always been a better pass catcher than blocker, so don't be too surprised if you see him line up as a wide receiver against the Gophers.
5. Run game, fun game.
The best the run game has looked was against Connecticut, but even so, it wasn't the way Michigan wants it to be. This week Brady Hoke said that he might give
Fitzgerald Toussaint
(5-foot-10, 200 pounds) a few less carries from here on out just to mix things up and to get different players/bodies out there. So if you see
Derrick Green
(5-foot-11, 240 pounds) and
De'Veon Smith
(5-foot-11, 224 pounds) out there this weekend, don't be too surprised. And if this sparks the Wolverines run game, be even less surprised.
August, 26, 2013
8/26/13
9:00
AM ET
ANN ARBOR, Mich. -- It has been about nine months since the Wolverines played a game in Michigan Stadium. This weekend, the Wolverines will hit the field against Central Michigan and begin their month of nonconference opponents that they hope will prepare them for the Big Ten slate.
The Wolverines' schedule this season is favorable for a chance to get to the Big Ten title game, but before they can even get to conference play, they need to answer a few questions.
1. Will Michigan actually be challenged?
I'm not going to say that they won't be challenged by any of these teams. Notre Dame is always a challenge, and that's an opportunity for one of those signature wins that teams look for in the nonconference schedule. Michigan might not be challenged hugely by the other three teams (at least, not like it was against Alabama last season), but, the Wolverines will be challenged by themselves. These games allow the Wolverines to iron out the kinks in their offense and defense while building depth at positions. Michigan's interior offensive line will be entirely new and their defensive front has a new look, too. The Wolverines' secondary features new faces and guys at entirely new positions (here's looking at you, free safety
Courtney Avery
). So while Central Michigan, Akron and Connecticut might not provide the drama or build-up (hello, MACtion), it will help Michigan prepare for the Big Ten season as it develops an identity.
2. Can the defensive line get a four-man rush?
This was a question that was consistently asked last season. According to Greg Mattison the defensive line is vastly improved and is getting to the quarterback.
Frank Clark
has been heralded as a top rush end, but can he be a Brandon Graham-like game changer? Three of the four teams Michigan faces in the nonconference schedule feature transitioning O-lines, which will obviously aid Michigan in looking like it has a solid four-man rush. CMU lost tackle Eric Fisher, the No. 1 overall pick in the NFL draft. Notre Dame and Akron are both replacing two starters on their offensive lines. UConn actually returns all five of its starters on the offensive line, but last season the Huskies only averaged 318 yards of offense per game, so how effective that experience will be remains up in the air. But if the Wolverines are going to be successful in the Big Ten, their defensive front must be stout. With the absence of linebacker
Jake Ryan
until at least October, Michigan will be better off if it doesn't have to blitz every other play in order to make opposing quarterbacks uncomfortable in the pocket.
3. How tricky is Al Borges going to get?
[+] Enlarge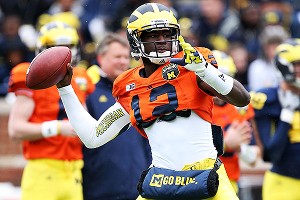 Leon Halip/Getty ImagesMichigan's Devin Gardner finally gets to put away the noncontact jersey this Saturday, although don't expect him to run too much in the nonconference season.
Don't expect Borges to unload his playbook, but I do think we'll see a few wrinkles in the season opener just to make sure Brian Kelly and Notre Dame are on their toes coming in to the Big House the following weekend. Borges and the rest of the offense will probably have a bit of a chip on their shoulders after their performance last season against the Irish. But the Wolverines will probably use their games against Akron and Connecticut to shore up the aspects of their offense not firing on all cylinders at that time. For example, they might run more toward
Michael Schofield
and Kyle Kalis' side as
Taylor Lewan
doesn't need quite as much work, or maybe
Joe Reynolds
or younger receivers will be targeted more. And without Denard Robinson, how does Borges' level of trickery and wrinkles change with
Devin Gardner
?
That brings us to our next question…
4. How good is Gardner?
Gardner stepped in last season and finished out the season in an impressive fashion. With spring ball and the full offseason to gain chemistry with receivers and the offensive line, he should show major strides. Obviously, losing sophomore wide receiver
Amara Darboh
for the season is a blow, but Gardner can use the nonconference schedule (and the lack of elite defensive backs he'll face) to build chemistry with other guys. Brady Hoke said Reynolds,
Jehu Chesson
and
Jeremy Jackson
were the three receivers stepping forward in Darboh's absence.
Assuming Michigan can be effective in the run game, it should open up things in the air for Gardner. He was recruited as a dual-threat QB, and he has those skills. but Michigan might be a bit more conservative with him -- especially in the nonconference schedule -- just because if he goes down, the Wolverines are looking at a true freshman and then a walk-on, which doesn't exactly inspire confidence for a championship season. But with Gardner being Gardner, don't be too surprised if he tests the waters a bit. He's not afraid to run, and if the opportunity presents itself, he'll be looking to make plays by any means necessary.
5. Can Michigan stay healthy heading into the Big Ten schedule?
It's no secret that Michigan is not deep at a few key positions at this point. If Gardner goes down, Michigan will scramble. If
Fitzgerald Toussaint
goes down, will Michigan will turn to
Thomas Rawls
?
Justice Hayes
?
Drake Johnson
?
Derrick Green
? Green came in highly touted but hasn't impressed in fall camp the way most thought he would. Darboh's injury leaves snaps open for wide receivers, but with any more injuries, the Wolverines could be working with a third-string receiver.
Defensively, Michigan is in a better place with depth, considering a lot of young players got experience last season, and Mattison has built depth at each position through recruiting.
Jibreel Black
missed some time during fall camp, which is likely why Frank Clark played some at three-technique. But having D-linemen with experience at multiple positions will only help. These four games can help Michigan to build that kind of experience.
April, 30, 2013
4/30/13
9:10
AM ET
ANN ARBOR, Mich. -- Spring practice has ended for Michigan and for the first time, the depth chart for the fall is beginning to take shape.

Yes, there will still be some big competitions on Michigan's offense -- particularly at running back and wide receiver -- but there is now a better idea of who the Wolverines' starting 11 will be in August when they open the season against Central Michigan.

WolverineNation takes a two-day look at what Michigan's depth chart will be come fall, starting with the offense.

Quarterback

April, 13, 2013
4/13/13
4:47
PM ET
ANN ARBOR, Mich. -- The first real look at Michigan's kind of new return to its pro style run-the-ball roots on offense went about as expected Saturday during its controlled scrimmage.

Michigan didn't give much away. It rotated fairly liberally. And any potential wrinkles or research put together by offensive coordinator Al Borges will remain a public secret until the fall.

The Wolverines' scrimmage, which was going to be deemed controlled at the start, had more of a feel of a situational practice. No official, public statistics were taken. There was no score kept.

Almost everything Michigan ran was pretty rudimentary when it comes to its offensive plan.


March, 13, 2013
3/13/13
9:00
AM ET
Michigan begins spring practice on Saturday with both some question marks and some major returning talent. Brady Hoke says of his team: "We're very young. But these guys have a lot of fight to them." There will also be a lot of fighting for starting jobs, beginning in a few days. I recently caught up with the third-year Wolverines coach for his thoughts on the approach of spring ball:
What are the main things you're looking for this spring?
Brady Hoke:
Well, you know, we've got a lot of open spaces. Some guys graduated, some guys aren't with the program anymore and we've got a lot of young guys. I think we only have 11 starters back on both sides of the ball, so there's going to be a lot of great competition, which is exciting. I think the leadership of our seniors, they've done a nice job of holding everybody accountable. But when you get out there with the pads on, it's a little different than just running around in shorts.
[+] Enlarge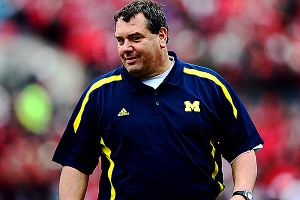 Andrew Weber/USA TODAY SportsWith only 11 returning starters, Michigan coach Brady Hoke said he's excited about the competition this spring.
Some of that competition will be on the offensive line, where you've got three open jobs on the interior. How do you see those battles right now?
BH:
Well, I think the interior of both lines, there's going to be a lot of competition. We've got to find a center, and that's between [
Jack] Miller
and [
Graham] Glasgow
, and
Joey Burzynski
will try to figure that out a little bit, too. At the guard positions,
Ben Braden
is going to move down inside and start out at the left guard, but he'll have a lot of competition because Burzynski is back and so is
Blake Bars
.
Kyle Kalis
will move into the right side, and it will be interesting again with [
Kyle] Bosch
and some of the guys who have been here a little bit. I think it will be a really good competition at all three of those inside positions.
Having
Taylor [Lewan
] back is huge. I think it's great for him and great for Michigan.
Mike Schofield
has had a really good winter. He had some real bright spots during the course of last season, and I think his development is going to be something special.
You mentioned the defensive line, where you also lost a couple of veterans. How does that shape up?
BH
: I think inside, we get
Jibreel Black
for another year and
Quinton Washington
. But once you get through that, there are a lot of young guys ...
Willie Henry
,
Ondre Pipkins
,
Ryan Glasgow
,
Richard Ash
and
Chris Wormley
are all guys who can either play the inside tackle or the strongside end. We'll find out the guys who are competitive.
Tommy Strobel
is another guy we think had a real good winter, and
Keith Heitzman
. So it's going to be fun to see them compete.
Does having so many young guys in key spots on the line make you nervous? Or do you have a lot of confidence in them because you recruited most of them?
BH:
I think it makes you nervous if you think you may have recruited the wrong guys. But we like the work ethic. We like how they've come in to learn and with a lot of enthusiasm. I think there's some competitiveness that we need to keep pushing as a program. You know, we lost five games on the road. We've played pretty well at home but we've got to do better on the road and that's a mindset, a mentality that you have to compete through everything, on every down.
Devin Gardner goes into spring practice as your starting quarterback. How has he developed as a leader?
BH:
I have been really excited about the progress he's made. I'm seeing that maturity that it takes and the leadership it takes and the competitiveness it takes to be the quarterback at Michigan. I think that's a real big part of how he's grown, and I think he's done a nice job with it. I'm liking the direction he's going, and hopefully he can just keep going and keep growing.
What about your running back position this spring, with Fitz Toussaint hurt and Derrick Green not there yet?
BH:
You know, Fitz has come along pretty well. I don't think he'll do a lot of contact or anything like that, but I think he'll be cleared for a lot more drill work. That's gone real well. We've moved [
Dennis] Norfleet
back to running back and we're going to give him an opportunity. Dennis, he's a smaller guy, but he's a very competitive, very tough young man.
Drake Johnson
is a guy we redshirted a year ago, and we really liked the way he competed in scout situations. In the bowl practices, we did some scrimmages and gave him a lot of carries, and we're very excited about what he has to offer.
Thomas Rawls
is coming back, and I think he learned a lot last year about the vision he needs to play with, and I like how he's competed through the [winter]. And
Justice Hayes
is a guy who gives you a little bit different look because of how he can get on the perimeter. He did some things in a couple of games last year, but now I think he'll have a big stage to prove himself more this spring. And he's a bigger guy now, he's 190-something pounds, so he's a little bigger.
[+] Enlarge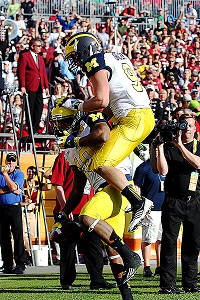 Kim Klement/USA TODAY SportsMichigan coach Brady Hoke said that he's pleased by more than just the on-field success of WRs Drew Dileo and Jeremy Gallon.
You have Jeremy Gallon back at receiver, but you lost Roy Roundtree. You sounded excited about some of the younger guys there during bowl prep. Is spring their time to step up now?
BH:
Yeah, I think so. First of all, I think the leadership with Gallon and
Drew Dileo
, they've done a really nice job being leaders at that position. They're not big guys, but they have a real spirit for the game and really do a nice job of working and leading. We have
Amara Darboh
, who played a little last year, and
Jehu Chesson
, who we redshirted a year ago. And I think
Jeremy Jackson
has had a very good winter; we're very excited about some of the progress he's made.
Joe Reynolds
is a guy who walked on here, and he's done a very nice job. And
Bo Dever
, his dad played here and he walked on. I think that during the course of the spring, we'll be in pretty good shape there. I think as we keep going, we'll keep improving at that position.
Linebacker was a strength for you last year and looks to be so again. Do you see some good competition there this spring, particularly at the weakside spot?
BH:
Yeah, I think with
Desmond Morgan
and
James Ross
, there's going to be great competition.
Joe Bolden
and
Royce Jenkins-Stone
and
Mike Jones
are all guys who are very competitive, and I think the three young guys coming in are going to be guys who will give us a lot of good competition and a lot of good depth.
Kaleb Ringer
is coming back from injury, so we'll see what he can give us. At the sam linebacker,
Jake [Ryan
] is coming back, and we really like what
Cam Gordon
has done during the winter. So I think we feel a little stronger at that position.
How do you replace what Jordan Kovacs gave you in the secondary?
BH:
I don't know if you ever replace that kind of leadership, but I really think
Thomas Gordon
, he's played a lot of football here, and it's time for him to demonstrate the leadership. And he's doing that. Because of the number of snaps and everything he's done, he's really fallen into his own a little bit.
Courtney Avery
has played a lot of football, and whether he's a corner a nickel or wherever, he's got to give us great leadership and great reps.
Blake Countess
is getting healthier; he'll do some things during the spring.
Josh Furman
, I think, has come on.
We've got to see where
Terry Richardson
is and where
Marvin Robinson
is. Both those guys have played a number of snaps. We've got
Raymon Taylor
back, who I think started every game for us last year, we're excited about his development.
Dymonte Thomas
is a guy who's going to compete, and he'll pressure some guys.
Jarrod Wilson
is another guy who played some last year for us. Ross Douglas is here early.
Jeremy Clark
is a 6-foot-4, 210-pound safety we redshirted a year ago, and it's going to be a big spring for him to make some moves.
So I think we may have more personnel back there. And even more in the fall when
Channing Stribling
gets in, and
Reon Dawson
gets in and
Jourdan Lewis
. I think it's going to add something to our secondary.
Finally, what has your message been to the team this offseason after last year's 8-5 season?
BH:
Well, our message has been, we haven't met the expectations at Michigan. That's something that as a football community… that we really feel that we have to do a much better job in all areas, from the coaching aspect of it, from learning and playing with the competitiveness we want to have, from every player at every position playing with the intensity we want to play with. It's about having a mindset and a mentality of how we want to play the game. We make no excuses, but at the same time, we know we have a lot we can do to play better football.
February, 7, 2013
2/07/13
10:00
AM ET
ANN ARBOR, Mich. -- There's no way to look at Michigan's 2013 class and not believe Brady Hoke when he says he's putting an emphasis up front.
Not only is it impressive that the Wolverines were able to pull in six offensive line signees, each is big and physical (averaging 6-foot-5, 295 pounds).
"It was very important for us to establish guys who can play at the line of scrimmage the way we want to play Michigan football," Hoke said. "For the style of football we need to play, I think that was important."
To continue reading this article you must be an Insider
January, 9, 2013
1/09/13
10:00
AM ET
Over the next few weeks, WolverineNation will look at every position on the Michigan roster and give a depth chart analysis of each heading into the offseason.
For the second consecutive season, Michigan will enter a football season with some questions as to who, exactly, will catch the ball. Entering the 2012 season, with the graduation of Junior Hemingway, there were some options but few known quantities.
Entering next season, there once again are options, but even fewer players who have had past production on which to make a reliable projection.
To continue reading this article you must be an Insider
September, 9, 2012
9/09/12
12:19
PM ET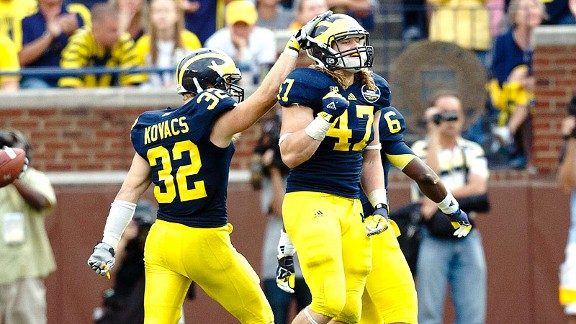 Rick Osentoski/US PresswireMichigan's defense struggled mightily with the Air Force run game and could turn to freshmen for help.
ANN ARBOR, Mich. -- It wasn't the rebound game Michigan expected in a close 31-25 win over Air Force on Saturday, but the Wolverines learned one thing out of their first two games.
They have a lot to work on. Luckily for Michigan, it has first-year FBS program Massachusetts coming to Ann Arbor in six days, so it could have a chance to try some things before the two difficult road games, Notre Dame and Purdue, that follow.
Here's a look at what Michigan should be looking at in the next six days.
To continue reading this article you must be an Insider
August, 29, 2012
8/29/12
9:00
AM ET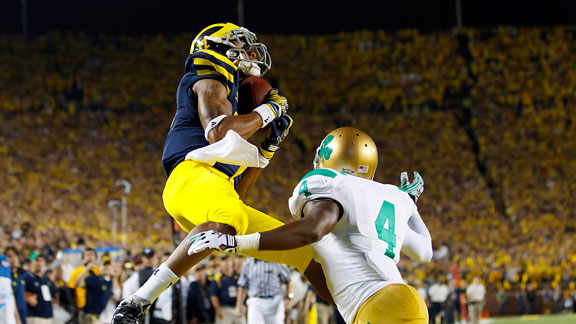 Rick Osentoski/US PresswireWide receiver Roy Roundtree is banking on a bounce-back season as a senior.
Over the next two weeks, WolverineNation will break down the 10 players who need to play to the peak of their abilities for Michigan to have its best possible season, going from 10 all the way to No. 1.
Senior wide receiver
Roy Roundtree
has had an up-and-down career at Michigan. During his sophomore season he caught 72 passes. With expectations sky-high for his junior season, he caught 19. For most it would've been considered disappointing, but Roundtree said it never got to him. He was still an Allstate Sugar Bowl champion. Now, as a senior, coming off what was the worst drop between seasons for passes caught in school history, he has been given the No. 21 Desmond Howard legacy uniform. Coaches are expecting a lot out of the senior, while everyone else is interested to see what happens.
Roundtree has the most experience with senior quarterback
Denard Robinson
and by moving to flanker -- the most prominent receiver position in Al Borges' offense -- the lights will be on Roundtree. If he performs to the peak of his abilities and his arthroscopic knee surgery is nothing but an afterthought, the Wolverines will be poised to have a pretty potent air attack. He's a big target and defenses know he can catch passes, so coverage will be tight. If he doesn't play up to his abilities, the Wolverines will be forced to move to receiver/quarterback/athlete
Devin Gardner
, who has caught just one pass in his career. Past that, Michigan would have to turn to
Jerald Robinson
(no receptions),
Jeremy Jackson
(seven catches) or true freshman
Amara Darboh
.
For Robinson to be able to take advantage of other teams with his feet, he'll have to throw the ball well. And throwing the ball well means someone on the other end must catch it. More likely than not, that target will be Roundtree. But now, the waiting begins to see if he can hold down the position or not.
To continue reading this article you must be an Insider
August, 27, 2012
8/27/12
3:19
PM ET
ANN ARBOR, Mich. -- Some of this was a certainty.
Denard Robinson
was going to be Michigan's starting quarterback. And Taylor Lewan was going to be the Wolverines' starting left tackle.
But Michigan had some surprises in its offensive depth chart when it was released Monday -- starting at running back. The will-he, won't-he, should-he, shouldn't-he debate of junior
Fitzgerald Toussaint
playing Saturday ratcheted up when the junior was listed as the No. 1 running back on the chart given to the media.
Michigan coach Brady Hoke said again Monday that he had not made a decision on Toussaint's availability against Alabama after Toussaint was arrested on suspicion of Operating While Intoxicated on July 21. He further went to say he had an idea of which wasy it was leaning but wasn't sure when he'd let the public in on that.
To continue reading this article you must be an Insider
August, 21, 2012
8/21/12
9:28
PM ET
After nearly four and a half years of work by
Elliott Mealer
's and a few months of speculation by the media, it seems as though Mealer has pulled ahead in the left guard battle.
"I think Elliott Mealer has really done a nice job and I think right now, if we were playing tomorrow, he'd be the guy," Michigan coach Brady Hoke said. "His work ethic, his leadership, I think the maturation process. I'm really excited for Elliott."
Coaches have noticed Mealer playing faster and using better technique, which has helped him separate himself. But a main factor has been Mealer's confidence, according to Hoke.
Redshirt sophomore
Joey Burzynski
and freshman
Kyle Kalis
continue to compete with Mealer. Hoke mentioned that offensive line coach Darrell Funk has been moving around players to find which players can play the best at each position and which group plays the best together.
July, 17, 2012
7/17/12
1:13
PM ET
College football season is almost here. The SEC has begun its media days with the Big Ten on tap for next Thursday and Friday in Chicago.
With that comes an all-football version of the WolverineNation Mailbag. Remember, the 'Bag is only as good as the questions you ask, so shoot them over to
michaelrothsteinespn@gmail.com
or tweet them to
@mikerothstein
.
On to your questions:
To continue reading this article you must be an Insider
June, 27, 2012
6/27/12
9:00
AM ET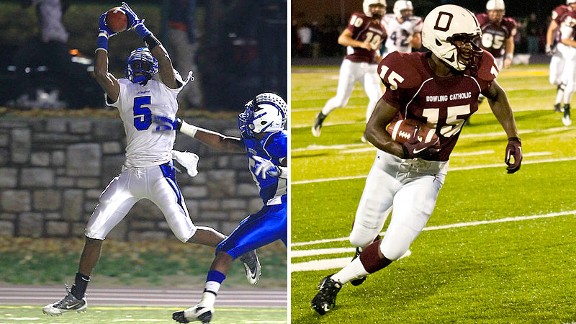 Courtesy of Jody Carr, Steven McIntoshCan incoming freshmen Jehu Chesson and Amara Darboh help the receiving corps in 2012?
We're just over a month away from the start of fall football camp and just over two months away from kickoff against Alabama. But the freshman football players have arrived on campus so the season is one step closer.
I'm sure the football questions are just stirring because of it, and lucky for you, I answer three this week. We love hearing from our readers so keep sending in questions to jenningsespn@gmail.com or tweet me at @ChantelJennings.
But for now, let's get to this week's questions.
To continue reading this article you must be an Insider
March, 2, 2012
3/02/12
11:01
AM ET
They were two receivers hampered by scheme switches and injuries, but the departures of
Junior Hemingway
and
Martavious Odoms
from Michigan will hurt more than most people realize.
Hemingway was the big target with great timing and jumping ability who would often bail out quarterback
Denard Robinson
. Odoms was the sure-handed receiver with some speed who ended up being the Wolverines' best return man.
Then there's
Darryl Stonum
, who was supposed to lead this group. Instead, he's off the team following another violation of team rules.
To continue reading this article you must be an Insider
My Wish: University Of Michigan Football
BIG TEN SCOREBOARD
Thursday, 8/28
Friday, 8/29
Saturday, 8/30