Michigan Wolverines:

Jeremy Clark
September, 19, 2014
9/19/14
11:30
AM ET
Heading into their Big Ten slate with a 3-1 record won't be an easy task for the Wolverines. Michigan will need some of its young players to step up this weekend to get past a Utah team that is averaging 57.5 points per game so far this season. On the other side of the ball, the Utes defense leads the nation in sacks(5.5 per game) and tackles for loss(10.5).
Here are a few players who could make a difference with breakout performances:
WR Amara Darboh:
The sophomore made his first career start in a 34-10 win over Miami(Ohio) last week after missing all of last season with a foot injury. He caught six passes for 88 yards and his first career touchdown against an overmatched RedHawks' defense. Michigan will probably have to take to the air at some point to hang with the high-tempo Utah offense. If senior
Devin Funchess
(leg injury) can't play again this week, Darboh becomes a primary target in the passing game.
LT Mason Cole:
True freshmen starters on the offensive line are a rare species. At left tackle, they are almost unheard of. Cole has impressed teammates and coaches with his poise so far this season, but he'll face the stiffest test of his career this weekend. His respect in the locker room will take a big leap if he can hold off Utah defensive ends
Nate Orchard
and
Hunter Dimick
. That duo has upheld Utah's recent history in the defensive trenches by picking up 2.5 sacks each through two games, an impressive stat line even if two of them came against a woefully inept Fresno State offensive live.
Michigan's secondary:
The Wolverines' defense heads into the weekend tied for dead last among FBS teams (with Utah and a dozen other schools) with only one takeaway. That's been an emphasis for defensive coordinator Greg Mattison all week in practice.
"Coach Mattison keeps pounding it in our head that we need to create turnovers," said sophomore safety
Jeremy Clark
. "I think if we keep playing hard and keep hustling to the ball, we'll get our turnovers."
Clark, a first-year starter, and true freshman
Jabrill Peppers
, who played an expanded role at cornerback last weekend, continue the theme of young players who can make a difference against the Utes. Both have the athletic ability to be playmakers in the secondary if they get themselves in the right spots. Eventually, Michigan's turnover rate has to progress toward the mean. This could be a good week to start.
July, 30, 2013
7/30/13
10:05
AM ET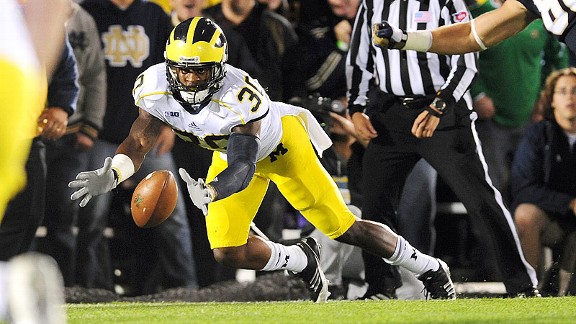 Lon Horwedell/Icon SMIThomas Gordon is one of the most experienced players on the Michigan roster and will be counted upon to lead in the secondary.
ANN ARBOR, Mich. --
As Michigan's preseason approaches at the end of this week, WolverineNation takes a look at the 10 players who are most indispensable for the Wolverines this season. This doesn't mean the most talented players, but rather the players that if Michigan lost them, the team would be in the most trouble.
Redshirt senior safety Thomas Gordon was one of three players sent to the Big Ten Media Days, which generally means he's a guy we'll hear from a lot this season (which means he'll probably be playing quite a bit, too, when he's not talking to the media).
July, 19, 2013
7/19/13
10:30
AM ET
ANN ARBOR, Mich. -- Can a true freshman really contribute at the college level? Is it easier to do so at one position than another? WolverineNation is breaking down the probabilities of playing time and projections of the Wolverines' freshmen, position by position. Today, we look at safety.
What it takes for a true freshman safety to play:
A lot. Less than a handful of true freshmen made a strong impact in the last line of the Michigan defense. And even then, they didn't have great success. One moved to receiver. One transferred soon after his freshman success.
That said, safety is a spot where freshmen could end up getting significant playing time in the future, especially as Michigan employs more nickel packages to combat spread offenses. It will be a position to watch.
To continue reading this article you must be an Insider
May, 2, 2013
5/02/13
10:00
AM ET
ANN ARBOR, Mich. -- While Michigan's offense has a bunch of questions surrounding who will play where and how much time freshmen might see, the Wolverines' defense has other issues.
These, though, aren't so bad.
Michigan has significant depth -- albeit some inexperience -- at every spot on its defense. This allows the Wolverines to come closer to reaching defensive coordinator Greg Mattison's goal of being able to rotate players at both defensive line and linebacker to keep them fresh for later in games and later on in the season.
To continue reading this article you must be an Insider
March, 25, 2013
3/25/13
9:00
AM ET
ANN ARBOR, Mich. -- The past two seasons have seen much of the same mantra when it came to the Michigan secondary. There would be
Jordan Kovacs
, the walk-on turned pro prospect who was the obvious leader of the secondary and almost the entire Wolverines defense.
Then there would be everyone else.
Not that they weren't good players or didn't make plays, but Kovacs had been such an unlikely story and such an obvious leader, everyone else was somewhat overshadowed.
[+] Enlarge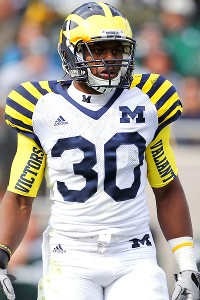 Leon Halip/Getty ImagesThomas Gordon says he's comfortable sliding over to strong safety.
Thomas Gordon
understood that to an extent. While Kovacs took many of the headlines, Gordon made nearly as many plays as an attacking safety with a penchant for forcing turnovers the past two seasons. Now, his role is shifting.
With Kovacs' graduation and an ACL injury to linebacker
Jake Ryan
, Gordon is going to be the leader of Michigan's defense, almost by default.
"I feel like guys tend to come to me for advice and stuff," Gordon said. "I'm real natural at it."
Natural or not, he wasn't needed in that role in prior years. There was Kovacs, linebacker
Kenny Demens
and defensive end
Craig Roh
to handle those responsibilities. Gordon could be a voice, but he didn't have to be
the
voice.
He could cede control of those things and just play. That is no longer an option, either in the secondary or on the defense as a whole. Michigan is replacing Kovacs and cornerback
J.T. Floyd
in the secondary, leaving Gordon as the most experienced defensive back on the roster by far.
"A lot of the time last year, they went back and forth, but Kovacs was definitely more of a vocal leader and made a lot of calls for us," linebacker
Desmond Morgan
said. "Tom has really stepped up and he knows what's going on for sure.
"He's making calls first, before other guys are."
March, 13, 2013
3/13/13
9:00
AM ET
Michigan begins spring practice on Saturday with both some question marks and some major returning talent. Brady Hoke says of his team: "We're very young. But these guys have a lot of fight to them." There will also be a lot of fighting for starting jobs, beginning in a few days. I recently caught up with the third-year Wolverines coach for his thoughts on the approach of spring ball:
What are the main things you're looking for this spring?
Brady Hoke:
Well, you know, we've got a lot of open spaces. Some guys graduated, some guys aren't with the program anymore and we've got a lot of young guys. I think we only have 11 starters back on both sides of the ball, so there's going to be a lot of great competition, which is exciting. I think the leadership of our seniors, they've done a nice job of holding everybody accountable. But when you get out there with the pads on, it's a little different than just running around in shorts.
[+] Enlarge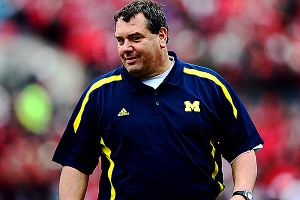 Andrew Weber/USA TODAY SportsWith only 11 returning starters, Michigan coach Brady Hoke said he's excited about the competition this spring.
Some of that competition will be on the offensive line, where you've got three open jobs on the interior. How do you see those battles right now?
BH:
Well, I think the interior of both lines, there's going to be a lot of competition. We've got to find a center, and that's between [
Jack] Miller
and [
Graham] Glasgow
, and
Joey Burzynski
will try to figure that out a little bit, too. At the guard positions,
Ben Braden
is going to move down inside and start out at the left guard, but he'll have a lot of competition because Burzynski is back and so is
Blake Bars
.
Kyle Kalis
will move into the right side, and it will be interesting again with [
Kyle] Bosch
and some of the guys who have been here a little bit. I think it will be a really good competition at all three of those inside positions.
Having
Taylor [Lewan
] back is huge. I think it's great for him and great for Michigan.
Mike Schofield
has had a really good winter. He had some real bright spots during the course of last season, and I think his development is going to be something special.
You mentioned the defensive line, where you also lost a couple of veterans. How does that shape up?
BH
: I think inside, we get
Jibreel Black
for another year and
Quinton Washington
. But once you get through that, there are a lot of young guys ...
Willie Henry
,
Ondre Pipkins
,
Ryan Glasgow
,
Richard Ash
and
Chris Wormley
are all guys who can either play the inside tackle or the strongside end. We'll find out the guys who are competitive.
Tommy Strobel
is another guy we think had a real good winter, and
Keith Heitzman
. So it's going to be fun to see them compete.
Does having so many young guys in key spots on the line make you nervous? Or do you have a lot of confidence in them because you recruited most of them?
BH:
I think it makes you nervous if you think you may have recruited the wrong guys. But we like the work ethic. We like how they've come in to learn and with a lot of enthusiasm. I think there's some competitiveness that we need to keep pushing as a program. You know, we lost five games on the road. We've played pretty well at home but we've got to do better on the road and that's a mindset, a mentality that you have to compete through everything, on every down.
Devin Gardner goes into spring practice as your starting quarterback. How has he developed as a leader?
BH:
I have been really excited about the progress he's made. I'm seeing that maturity that it takes and the leadership it takes and the competitiveness it takes to be the quarterback at Michigan. I think that's a real big part of how he's grown, and I think he's done a nice job with it. I'm liking the direction he's going, and hopefully he can just keep going and keep growing.
What about your running back position this spring, with Fitz Toussaint hurt and Derrick Green not there yet?
BH:
You know, Fitz has come along pretty well. I don't think he'll do a lot of contact or anything like that, but I think he'll be cleared for a lot more drill work. That's gone real well. We've moved [
Dennis] Norfleet
back to running back and we're going to give him an opportunity. Dennis, he's a smaller guy, but he's a very competitive, very tough young man.
Drake Johnson
is a guy we redshirted a year ago, and we really liked the way he competed in scout situations. In the bowl practices, we did some scrimmages and gave him a lot of carries, and we're very excited about what he has to offer.
Thomas Rawls
is coming back, and I think he learned a lot last year about the vision he needs to play with, and I like how he's competed through the [winter]. And
Justice Hayes
is a guy who gives you a little bit different look because of how he can get on the perimeter. He did some things in a couple of games last year, but now I think he'll have a big stage to prove himself more this spring. And he's a bigger guy now, he's 190-something pounds, so he's a little bigger.
[+] Enlarge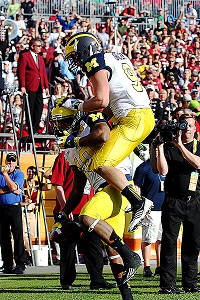 Kim Klement/USA TODAY SportsMichigan coach Brady Hoke said that he's pleased by more than just the on-field success of WRs Drew Dileo and Jeremy Gallon.
You have Jeremy Gallon back at receiver, but you lost Roy Roundtree. You sounded excited about some of the younger guys there during bowl prep. Is spring their time to step up now?
BH:
Yeah, I think so. First of all, I think the leadership with Gallon and
Drew Dileo
, they've done a really nice job being leaders at that position. They're not big guys, but they have a real spirit for the game and really do a nice job of working and leading. We have
Amara Darboh
, who played a little last year, and
Jehu Chesson
, who we redshirted a year ago. And I think
Jeremy Jackson
has had a very good winter; we're very excited about some of the progress he's made.
Joe Reynolds
is a guy who walked on here, and he's done a very nice job. And
Bo Dever
, his dad played here and he walked on. I think that during the course of the spring, we'll be in pretty good shape there. I think as we keep going, we'll keep improving at that position.
Linebacker was a strength for you last year and looks to be so again. Do you see some good competition there this spring, particularly at the weakside spot?
BH:
Yeah, I think with
Desmond Morgan
and
James Ross
, there's going to be great competition.
Joe Bolden
and
Royce Jenkins-Stone
and
Mike Jones
are all guys who are very competitive, and I think the three young guys coming in are going to be guys who will give us a lot of good competition and a lot of good depth.
Kaleb Ringer
is coming back from injury, so we'll see what he can give us. At the sam linebacker,
Jake [Ryan
] is coming back, and we really like what
Cam Gordon
has done during the winter. So I think we feel a little stronger at that position.
How do you replace what Jordan Kovacs gave you in the secondary?
BH:
I don't know if you ever replace that kind of leadership, but I really think
Thomas Gordon
, he's played a lot of football here, and it's time for him to demonstrate the leadership. And he's doing that. Because of the number of snaps and everything he's done, he's really fallen into his own a little bit.
Courtney Avery
has played a lot of football, and whether he's a corner a nickel or wherever, he's got to give us great leadership and great reps.
Blake Countess
is getting healthier; he'll do some things during the spring.
Josh Furman
, I think, has come on.
We've got to see where
Terry Richardson
is and where
Marvin Robinson
is. Both those guys have played a number of snaps. We've got
Raymon Taylor
back, who I think started every game for us last year, we're excited about his development.
Dymonte Thomas
is a guy who's going to compete, and he'll pressure some guys.
Jarrod Wilson
is another guy who played some last year for us. Ross Douglas is here early.
Jeremy Clark
is a 6-foot-4, 210-pound safety we redshirted a year ago, and it's going to be a big spring for him to make some moves.
So I think we may have more personnel back there. And even more in the fall when
Channing Stribling
gets in, and
Reon Dawson
gets in and
Jourdan Lewis
. I think it's going to add something to our secondary.
Finally, what has your message been to the team this offseason after last year's 8-5 season?
BH:
Well, our message has been, we haven't met the expectations at Michigan. That's something that as a football community… that we really feel that we have to do a much better job in all areas, from the coaching aspect of it, from learning and playing with the competitiveness we want to have, from every player at every position playing with the intensity we want to play with. It's about having a mindset and a mentality of how we want to play the game. We make no excuses, but at the same time, we know we have a lot we can do to play better football.
January, 22, 2013
1/22/13
12:00
PM ET
Over the next few weeks, WolverineNation will look at every position on the Michigan roster and give a depth chart analysis of each position on the roster heading into the offseason.
Thomas Gordon
has played here the past two seasons despite threats of competition from behind and occasionally having his play called into question by his coaches. But one thing can't be denied: Gordon is a ball hawk.
Now, though, he could be on the move, opening up his free safety position for a newcomer.
Jordan Kovacs
' graduation leaves Michigan with an intriguing question: Where does Gordon fit better -- at his old position, free safety, or a potential new one as a strong safety?
To continue reading this article you must be an Insider
September, 12, 2012
9/12/12
2:45
PM ET
ANN ARBOR, Mich. -- Michigan now has an idea of who it will play and who it will redshirt this season.

Michigan coach Brady Hoke said Wednesday that he feels comfortable with where his team stands now with its freshman class after 12 of them have played in the first two games of the season.

And if they haven't played yet -- it is likely they won't until 2013.


June, 25, 2012
6/25/12
2:30
PM ET
Entrance Interview is a series at WolverineNation -- similar to our Exit Interview series -- where we chat with incoming Michigan football and men's basketball players about their thoughts as they start college, what their expectations are, and what they'll miss most about high school.
Initially,
Jeremy Clark
(Madisonville, Ky./North Hopkins) was supposed to only sort of be a part of this class. The safety was offered a grayshirt, which means he would have enrolled after this coming football season. Eventually, though, Clark played well enough to have the coaches bring him in with the rest of his classmates next week.
WolverineNation caught up with the 6-foot-4, 190-pound defensive back earlier this month as he enjoyed his final few weeks before heading off to Michigan
To continue reading this article you must be an Insider
April, 25, 2012
4/25/12
11:00
AM ET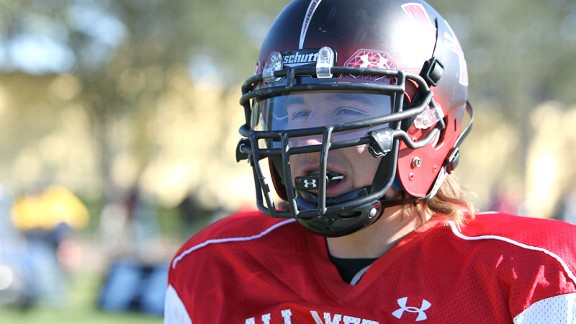 Miller Safrit/ESPN.comEarly enrollee linebacker Joe Bolden could be the starter at the Mike position in 2014.
It's always fun to look into the future and guess where players will be after the next few seasons. So Tom and Chantel decided to sit down and do their best to produce the depth chart for the beginning of the 2014 season. They aren't coaches, nor are they scouts, but this is an educated guess at what could happen over the next few seasons.
View the offensive depth chart here
.
DEFENSIVE DEPTH CHART:
WDE:
To continue reading this article you must be an Insider
January, 16, 2012
1/16/12
10:20
AM ET
WolverineNation will be running Q&A's with the parents of the Michigan commitments leading up to signing day to give their perspective on the recruiting process. Here is a look at what safety commit Jeremy Clark's father, Jerrell, had to say.
Q:
Are you happy with the way your son's recruitment turned out?
A:
Yes, I think the coaching staff at Michigan treated him very well, and treated the whole family very well. I think I enjoyed it more than my son did.
To continue reading this article you must be an Insider
December, 9, 2011
12/09/11
10:42
AM ET
Of Michigan's 198 total punt return yards, Jeremy Gallon has 192 of them. Luckily for the Wolverines, Gallon is only a sophomore and will be back next season. Martavious Odoms is the leading kick returner, but he's a senior and thus won't be back next season.
The special teams yielded no touchdowns off returns this season and haven't scored a touchdown off a return since 2009. A positive is that touchdown return came from Darryl Stonum, who will be back next season.
Stonum and Gallon should give the special teams a boost as they've accounted for a good amount of Michigan's return yards in the past few years.
To continue reading this article you must be an Insider
October, 23, 2011
10/23/11
7:14
PM ET
Loyalty and hard work has paid off for Michigan's grayshirt commit
Jeremy Clark
(Madisonville, Ky./Madisonville North). He is no longer a grayshirt commit and has been offered a full scholarship for the 2012 class according to his coach, Will Weaver.
"The Michigan coaches called me and said they're not going to grayshirt Jeremy anymore," Weaver said. "They have been very impressed with his play, and they want to get him on campus. I'm not surprised. He already has five defensive touchdowns for us this season."
Clark's coach might not have been surprised, but Clark definitely was not expecting it. In fact, he was sleeping when his coach called to tell him the news.
To continue reading this article you must be an Insider
Michigan C Cites Concussions In Decision To Quit
BIG TEN SCOREBOARD
Thursday, 9/3
Friday, 9/4
Saturday, 9/5
Sunday, 9/6
Monday, 9/7