Michigan Wolverines:

Jareth Glanda
November, 20, 2013
11/20/13
9:15
AM ET
Michigan was an inch, a second, a single miscommunication away from a loss on Saturday.
Without every last detail played to perfection in the waning moments of regulation, the Wolverines wouldn't have attempted that game-tying field goal and wouldn't have had a chance to play for an overtime win against Northwestern in Evanston, Ill.
[+] Enlarge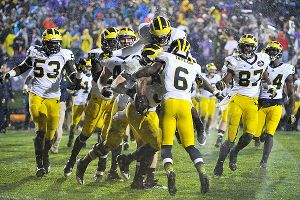 David Banks-USA TODAY SportsThe Wolverines pulled off a hurry-up field goal in the final seconds vs. Northwestern to force overtime.
"It was one of the best team plays I've seen," Michigan coach Brady Hoke said. "But that whole team and the team getting off the field did a tremendous job."
There was
Matt Wile
finding kicker
Brendan Gibbons
to let him know Michigan would be running a hurry-up field goal. There was
Taylor Lewan
,
Erik Magnuson
and
Kyle Bosch
getting to the sideline in time. And then there were the other linemen getting on to the field in time.
There was Gibbons -- a player whose position is predicated on routine and detail -- getting to the 34-yard line, shuffling back and moving his weight back and forth a few times. In film, special teams coach Dan Ferrigno would tell Gibbons that steps are overrated.
There was snapper
Jareth Glanda
making sure to get to the ball in time, then waiting for the signal from holder
Drew Dileo
.
And then there was Dileo, fresh off a vertical route the previous play of the game, on the opposite side, unable to hear the coaches on the sideline. He didn't know the play call until he saw Gibbons running on to the field. At that point he took off.
And then there was the play within the play -- Dileo's slide (or as people on Twitter took to calling it, the
#DileoPowerSlide
).
The slide was for substance, not style (though it definitely added some style points to the game), because every millisecond mattered.
"At first, honestly no, I really didn't [think I'd make it]," Dileo said. "I saw Brendan run on the field. I looked at the clock and it was six seconds left and so then I just put my head down and ran to where his foot was."
Dileo remembers signaling for the ball with two seconds remaining, and after three overtimes, the Wolverines were able to successfully celebrate a
road win
, its special teams and the Dileo power slide.
That slide so perfectly encapsulated the chaos of the moment, the need to do whatever it took -- including a return to Dileo's baseball days -- in order for the play to work.
Dileo didn't know whether Lewan started the trend or if it were someone else on Twitter, but it blew up and suddenly -- after a full day of college football -- everyone seemed to be watching and talking about a special teams play that happened in a relatively inconsequential Big Ten game.
With the exception of the impromptu slide, however, that play for Michigan is relatively normal. The hurry-up field goal is something the Wolverines have practiced every week since Hoke and this coaching staff arrived at Michigan.
Though, admittedly, sometimes Hoke makes it a bit more difficult.
"Coach Hoke's countdown is not a real countdown," Dileo said. "Sometimes he goes from 10 to one in about four seconds. ... I think the game was probably just a culmination of practice the last three years and we executed really well."
The execution was there, and for a team that has struggled to make big plays and give their fans something to be excited about, the Wolverines managed to come up the biggest in the moment with the smallest margin for error.
Michigan fans have been in awe of it and Hoke said it was one of the best he has ever been a part of, but was it the best team play Dileo had ever seen?
"I really think so," Dileo said. "In the last couple days I've watched that play over and over and over. And it really is amazing that we got the ball off. Really the whole two-minute drive ... and them getting off the field. It really was amazing."
November, 18, 2013
11/18/13
11:00
AM ET
Twelve seconds.
That's how much time remained in regulation at Northwestern after Michigan quarterback
Devin Gardner
hit
Jeremy Gallon
on a 16-yard pass. The clock was running. What happened next was what Wolverines coach Brady Hoke said "might be the best single play I've ever seen."
The Michigan field goal unit sprinted onto the field. Holder
Drew Dileo
, who had run a pattern as a wide receiver, ran in from the other side of the field and slid into position. The snap came with one second to go, and kicker
Brendan Gibbons
made a 44-yarder to send the game into overtime, where the Wolverines eventually won.
Northwestern coach Pat Fitzgerald was upset that his team didn't get a chance to substitute its block team in. The Wildcats were in disarray as the field goal try went up. Referee Bill LeMonnier
explained to a pool reporter afterward
that on the final play of the half, teams aren't automatically given the right to substitute on field goal defense.
That play goes down as the second-craziest finish to regulation of a Big Ten game this year. In the Wisconsin-Arizona State game, there were 18 seconds left when
Joel Stave
downed the ball. The Badgers never got to run another play.
Take that and rewind it back ...
[+] Enlarge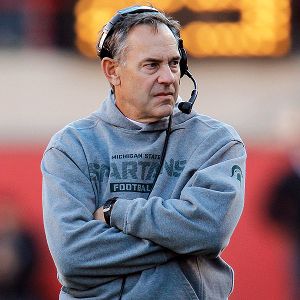 Bruce Thorson/USA TODAY SportsMark Dantonio and the Spartans control their own destiny to reach the Big Ten title game.
Team of the week:
Michigan State. It was not a vintage defensive performance for the Spartans, who allowed 28 points to a Nebraska offense that turned the ball over five times and played with a stitched-together line. But Mark Dantonio's team still won by double digits on the road in Lincoln for its first win over the Huskers while clinching at least a share of the Legends Division title. Then there's this: Through 10 games, the Spartans are averaging 30.9 points per contest.
Worst hangover:
Northwestern finds more ways to lose than anybody. The Wildcats had a dominant defensive effort against Michigan in allowing no touchdowns in regulation. But they had a 7-yard shank punt that set up a Michigan first-and-goal,
Ibraheim Campbell
dropped an easy interception on the Wolverines' final drive, and they couldn't pounce on a fumble in overtime. Northwestern has lost twice in overtime, once on a Hail Mary and in games that went down to the final drives against Minnesota and Ohio State. Sheesh.
Best call:
Nebraska had to be ready for some Michigan State tomfoolery, right? We've seen it so many times from Dantonio in a big game.
And it worked again on Saturday. The Spartans lined up for a field goal on fourth-and-1 from the Nebraska 27, leading 27-21 in the fourth quarter. Punter
Mike Sadler
, who serves as the holder on field goals, took the snap and pushed his way forward for 3 yards. The play was called "Charlie Brown," evoking memories of Lucy snatching the ball away in "Peanuts." But Sadler was actually supposed to check out of the play because of the way Nebraska was set up, and the play was never designed to go up the middle where he ran.
"That was the last thing going through my mind," said Sadler, who went up the middle on a successful punt fake at Iowa last month. "I was just trying to think of my touchdown dance."
He didn't score, but
Connor Cook
delivered a touchdown pass three plays later to all but seal the victory.
Big Man on Campus (Offense):
Ohio State running back
Carlos Hyde
piled up five total touchdowns while rushing for 246 yards on just 24 carries versus Illinois. He had touchdown runs of 51 and 55 yards in the final four minutes to put the game on ice.
Big Man on Campus (Defense):
In a game that didn't feature a whole lot of defense, Ohio State's
Ryan Shazier
still managed an impressive stat line at Illinois: 16 tackles, 3.5 tackles for loss, 1.5 sacks and a forced fumble. He had the safety on
Reilly O'Toole
that gave the Buckeyes some breathing room. And while he had a chance to turn that into a touchdown had he not celebrated a bit too soon, Shazier still had an outstanding performance considering Ohio State's other two starting linebackers were out with injuries.
[+] Enlarge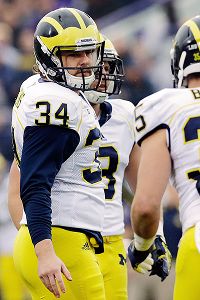 AP Photo/Nam Y. HuhBrendan Gibbons hit a 44-yard field goal as time expired to put Michigan into overtime at Northwestern.
Big Men on Campus (Special teams):
This goes to the entire Michigan field goal unit, including Gibbons, Dileo, snapper
Jareth Glanda
, special-teams coordinator Dan Ferrigno and everyone else involved in that unbelievable play at the end of regulation at Northwestern. That was a team effort, and if one guy was a half-second late, the Wolverines lose. (Tips of the cap also go out to Purdue's
Raheem Mostert
and Illinois'
V'Angelo Bentley
, who both scored on returns).
Sideline interference:
Illinois coach Tim Beckman
had to be separated
from offensive coordinator Bill Cubit on the sidelines after quarterback Reilly O'Toole was sacked in the end zone. Both coaches later said it was just a heat-of-the-moment thing, and Cubit added, "You'd be shocked at how many times" that happens during games. But it's still not a good look for Beckman, whose sideline mishaps the past two years include getting called for interference penalties and getting caught using chewing tobacco.
Who needs tickets?:
Want to see a Big Ten game, but you don't have more than 50 cents in your pocket? Then this week's Illinois-Purdue Basement Bowl is for you. On
StubHub this morning
, several tickets to Saturday's game at Ross-Ade Stadium could be had for as little as 39 cents. Get 'em while they're hot!
Fun with numbers (via ESPN Stats & Info):
Wisconsin ran for 554 yards Saturday versus Indiana. It was the second most in school history, behind the 564 the Badgers compiled against the Hoosiers last year. So in the past two games against IU, Wisconsin has rushed for 1,118 yards and 13 touchdowns; on Saturday the Badgers had three 100-yard rushers (James White, Melvin Gordon and Corey Clement) and an 86-yard rusher (Jared Abbrederis, on reverses). The Badgers' running game added 35.8 expected points to their net scoring margin; two of the top 10 rushing EPA games in the FBS the past 10 years were posted by Wisconsin against Indiana. The Badgers still fell far short of the Big Ten rushing record of 832 yards, set by Minnesota in 1905. But they do get Indiana again next year, so you never know.
ESPN's strength of schedule rankings (out of 126 FBS teams):
Alabama: 48th
Florida State: 60th
Ohio State: 88th
Baylor: 95th
February, 15, 2013
2/15/13
12:00
PM ET
'Exit Interview' is a concept started at WolverineNation last year where we chat with players leaving Michigan about their experiences with the Wolverines and in some cases, what's next.
Curt Graman
didn't play much in his career and other than a brief stint at tight end, a position he played in high school, his specialty was as a long snapper.
WolverineNation caught up with Graman last month.
February, 15, 2013
2/15/13
10:30
AM ET
ANN ARBOR, Mich. -- Long snapper is a position in which offering a scholarship is still somewhat unorthodox. Much like giving kickers and punters scholarships a decade ago, this new wave of scholarship offers is slowly gaining acceptance.

As football continues to become more specialized, giving long snappers a free ride for four years is beginning to happen more often.

Michigan was always going to take a long snapper somehow. It has been a personal preference of coach Brady Hoke for years, and this season made the most sense to grab one.


August, 29, 2012
8/29/12
2:10
PM ET
ANN ARBOR, Mich. -- He pulled the seven of them in front of the rest of their teammates in the Michigan team room Tuesday afternoon and for a second, cornerback
J.T. Floyd
wondered what was going on.
The seven guys up there, though, were about to get a nice gift for their parents. Free education for at least a semester if not the full year. While it likely wasn't the excitement of Oprah Winfrey giving away cars to everyone in her audience of her television show, there was enough excitement there to produce cheers, yells and high-fives all around.
Defensive lineman
Nathan Brink
, offensive lineman
Joey Burzynski
, long snapper
Jareth Glanda
, fullback
Paul Gyarmati
, tight end
Mike Kwiatkowski
, wide receiver
Joe Reynolds
and quarterback
Steve Wilson
all found out they were no longer just walk-ons for Michigan's football team.
"That was fun. I announced it front of the rest of the team and there were hugs and kisses," Hoke said. "Not kisses. Excitement and all that kind of stuff."
The walk-ons were unaware of what was going on at first, at least according to Floyd, who asked one of them after it happened.
Some of them, though, might end up playing large roles with Michigan this season. Burzynski lost a competition with fifth-year senior
Elliott Mealer
at left guard. Kwiatkowski pushed starting tight end Brandon Moore. Both Brink and Glanda are highly likely to see time this season.
So they all have roles to fill.
"The meeting room went absolutely crazy," Floyd said. "Guys were jumping up and down. Those guys are an instrumental part of our team and they help us out in every facet of the game, with special teams, offense, defense, scout team.
"Those guys are great guys and guys we love to compete with."
No longer suspended, status still unknown
Hoke said the status of running back
Fitzgerald Toussaint
and defensive end
Frank Clark
is still not announced, but he anticipates a decision before Saturday's kickoff.
He did offer some clarity, though, to how the two are currently being viewed. He initially suspended them after their legal issues, but now it is more of a wait-and-see type of thing since Toussaint and Clark have been practicing.
"They would be practicing, maybe not playing," Hoke said. "They've been practicing. Usually if you've been suspended, I don't let you practice."
Hoke wouldn't commit to whether Clark or Toussaint will travel to Texas this weekend.
This and that
If Toussaint does not play, Michigan could look at a running back by committee with sophomore
Thomas Rawls
, senior
Vincent Smith
and redshirt freshman
Justice Hayes
. ... Freshman defensive lineman
Chris Wormley
had successful ACL surgery Monday, according to Hoke.
January, 12, 2012
1/12/12
2:06
PM ET
It's time to look back and recognize some of the highlights and lowlights from the Big Ten bowl season:
Best performance:
Michigan State. After falling behind 16-0 to Georgia, the Spartans rallied back to take the lead in the second half. When they needed to drive the field for a tying touchdown with only 1:55 left, they did just that. When
Kirk Cousins
threw an interception on the first overtime possession, they responded by holding tough on defense. Michigan State had 17 tackles for loss against the Bulldogs, including five by defensive end William Gholston. Darqueze Dennard grabbed two interceptions, and the special teams came up with a blocked kick to win the game. The 33-30 triple-overtime victory was yet another milestone for the program under Mark Dantonio.
[+] Enlarge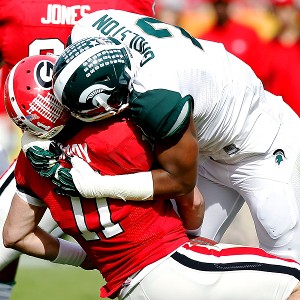 J. Meric/Getty ImagesMichigan State's William Gholston is looking to build off his two-sack performance in the Outback Bowl.
Worst performance:
Penn State clearly didn't want to go to the TicketCity Bowl, and it showed right away. Houston quarterback
Case Keenum
made a mockery of the Nittany Lions' defense, throwing for 227 yards in the first quarter alone. Penn State had allowed that many yards passing in an entire game only once all season. He'd finish with 532 yards passing as the Cougars breezed to a 30-14 victory.
Best new mascot:
Northwestern brought a stuffed monkey with a No. 63 jersey to its Meineke Car Care Bowl game against Texas A&M, symbolizing its quest to end a 63-year bowl victory drought. Alas, the Wildcats will have to order a No. 64 uniform after losing 33-22. Better make it a big jersey, because this postseason curse is more like an 800-pound gorilla at this point.
Worst near-death experience:
Near the end of Iowa's Insight Bowl loss to Oklahoma, star Hawkeyes receiver
Marvin McNutt
was nearly taken out by ESPN's skycam, which fell to the field from its cables. The heavy camera almost hit McNutt off the bounce, and he got caught up in its wiring as he left the Iowa huddle. The skycam was unceremoniously escorted off the field, kind of like how Iowa's season ended in a 31-14 loss.
Worst ball security:
Purdue and Western Michigan combined for 11 turnovers in a wild Little Caesars Bowl. On two separate occasions, the Boilermakers forced a turnover only to give the ball right back to the Broncos as defenders coughed it up trying to go the other way. Ultimately, Purdue got the upper hand by creating seven takeaways and holding on for a 37-32 victory.
Best clock management:
Michigan State trailed Georgia 27-20 late in the fourth quarter of the Outback Bowl when the Spartans were called for pass interference on third-and-3 from the Bulldogs' 37. The officials ruled that Georgia had completed the pass on the play even though receiver
Malcolm Mitchell
clearly dropped the ball. Dantonio challenged the ruling, despite the fact that Georgia was going to get a first down either way. Dantonio's successful challenge meant that instead of the clock running down toward three minutes, the clock was stopped and reset to 3:43. That extra time proved enormous, as the Spartans tied the game with 14 seconds left in regulation.
Worst clock management:
Wisconsin coach Bret Bielema was unsure if he could challenge the ruling when Oregon's
De'Anthony Thomas
hesitated and nearly left the end zone before kneeling down for kick-return touchback. As Bielema asked the sideline official for a clarification, he was charged with a timeout. That was the second timeout burned by the Badgers early in the second half. They dearly could have used the stoppages when the offense ended the game at the Oregon 25-yard line.
Russell Wilson
hurried to the line and was instructed to spike the ball with two seconds left, but officials ruled there was no time left.
Best impersonation of a wide receiver:
Michigan's fake field goal attempt late in the first half of the Allstate Sugar Bowl went awry when holder
Drew Dileo
's intended receiving target, tight end
Kevin Koger
, didn't know the fake was on. So Dileo threw the ball into a crowd, and Virginia Tech deflected it. But long snapper
Jareth Glanda
saved the day by hauling it in for an 11-yard gain. The Wolverines ended up with a field goal on the play, and they needed every point in an overtime victory.
Best use of the kicking game:
Purdue coach Danny Hope turned into a riverboat gambler in the Little Caesars Bowl, calling for two consecutive onside kicks in the first half. Both worked and led to points.
Raheem Mostert
also returned a kickoff 99 yards for a score.
Worst use of the kicking game:
Ohio State had a punt blocked for a touchdown and allowed a 99-yard kickoff return by Florida. The Buckeyes lost by seven points in the TaxSlayer.com Gator Bowl.
Worst loss of composure:
Nebraska star cornerback Alfonzo Dennard and South Carolina receiver
Alshon Jeffery
let their emotions get the best of them in the third quarter of the Capital One Bowl. Dennard took a coupLe of swings at Jeffery, who pushed Dennard's helmet back. Both players were rightly ejected. Amazingly, Jeffery was still named MVP of South Carolina's 30-13 win.
Best crisis management:
We saw what happened to Penn State and Ohio State as they played for lame-duck head coaches. Illinois not only had to deal with that but also a six-game losing streak and a group of assistants threatening to boycott the Kraft Fight Hunger Bowl hours before the game. Somehow, interim head coach Vic Koenning managed to hold things together to help the Illini win 20-14 over UCLA.
Best inspiration:
As Michigan's Brendan Gibbons lined up for the 37-yard kick to win the game in overtime, he had one thing on his mind. "Brunette girls," Gibbons said. "Every time we were like struggling in kicking, coach tells me to think about girls on a beach or brunette girls," Gibbons told reporters. "So that's what we did. Made the kick." And they say blondes have more fun.
Michigan C Cites Concussions In Decision To Quit
BIG TEN SCOREBOARD
Thursday, 9/3
Friday, 9/4
Saturday, 9/5
Sunday, 9/6
Monday, 9/7