Michigan Wolverines:

Jake Long
August, 7, 2013
Aug 7
3:08
PM ET
August, 1, 2013
Aug 1
10:00
AM ET
As Michigan's preseason approaches at the end of this week, WolverineNation takes a look at the 10 players who are most indispensable for the Wolverines this season. This doesn't mean the most talented players, but rather the players, if Michigan lost them, would be in the most trouble.
ANN ARBOR, Mich. -- To many people other than
Taylor Lewan
, Taylor Lewan should be in his first NFL training camp right now, being hazed as a rookie and preparing for a career as a bookend tackle for whatever NFL franchise drafted him.
The redshirt senior chose to hold off on all of that for another season, surprising his teammates, his coaches and almost everyone else by returning to Michigan for his fifth season.
To continue reading this article you must be an Insider
July, 10, 2013
Jul 10
10:49
AM ET
COLUMBUS, Ohio -- Forget about the blasphemy.
Also disregard for a moment that there are no trades in college football.
But as the all-time draft festivities start winding down this week, a proposal was sent to the various general managers in charge of filling out the rosters for two programs at the heart of The Game and its passionate rivalry. What if one player selected for a Michigan squad could be added to an Ohio State team, or vice versa?
[+] Enlarge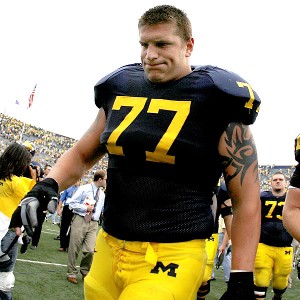 Gregory Shamus/Getty ImagesTackle Jake Long never beat Ohio State during his Michigan career, which makes adding him to an all-time Buckeyes roster a bit easier to take.
For Team Ward, that answer was pretty simple.
After missing out on a number of high-profile Buckeyes on the offensive line, the clear choice to provide a boost for my defensively-loaded, skill-position-heavy roster would be a physical, nasty blocker to provide some protection and rushing lanes from the tackle spot. So if I could poach from That Draft Up North, I'd be stealing from my beat-writing colleague Michael Rothstein and taking his first-round pick, Jake Long.
No offense to Chris Ward or Jim Daniell, but Long is a former No. 1 overall pick in the NFL draft and undoubtedly would provide a lift with his strength and athleticism up front, keeping Braxton Miller clean in the pocket and helping clear the way for Eddie George and Pete Johnson out of the backfield.
Plus, if this squad was forced to have a representative from the Wolverines, who better than somebody who did so much to help the Buckeyes during his career?
He couldn't beat the Buckeyes. If a trade was absolutely necessary, Long would be welcome to join them on Team Ward.
June, 21, 2013
Jun 21
9:00
AM ET
ANN ARBOR, Mich. -- Can a true freshman really contribute at the college level? Is it easier at one position than another? Over the summer WolverineNation has been breaking down the probabilities of playing time and projections of the Wolverines' freshmen, position by position.
To continue reading this article you must be an Insider
May, 28, 2013
May 28
2:30
PM ET
The Big Ten endured arguably the worst NFL draft in its history last month, and its struggles to produce high first-round talent are well documented.

The league hasn't had a top-10 pick since Michigan's Jake Long and Ohio State's Vernon Gholston went No. 1 and No. 6, respectively, in the 2008 draft. The Big Ten narrowly avoided being shut out of the first round for the first time since the NFL-AFL merger when Wisconsin's Travis Frederick went at No. 31 in April's draft.
Is the troubling trend for the Big Ten more of a coaching/development issue or a recruiting issue? The declining number of first-round picks might have more to do with the Big Ten footprint than the Big Ten Conference.
As CoachingSearch.com's Chris Vannini points out, certain states in the Big Ten footprint, namely Ohio, have seen a drop in producing first-round picks in recent years. Vannini looked at where first-round picks from the past eight drafts played their high school ball.
Not surprisingly, Texas (17) and Florida (12) produced the most first-round picks between 2010-13, followed by Georgia (10) and California (8). Florida, Texas and California also were among the top producers in the previous four drafts (2006-09).
Pennsylvania is the top producer in the Big Ten footprint with five first-round picks since 2010. Michigan (4) and Wisconsin (4) are next, along with future Big Ten state New Jersey (4).
Where's Ohio? Way down the list with just two first-round picks since 2010. It comes as a surprise as Ohio is celebrated for its high school football and serves as the starting point in recruiting for many Big Ten programs.
Ohio produced nine first-round draft picks between 2006-09. New Jersey also saw its total drop from 10 (between 2006-09) to four (between 2010-13).
Pennsylvania and Wisconsin both produced three more first-round picks in the past four drafts than the previous four. All four Wisconsin products -- J.J. Watt, Gabe Carimi, Kevin Zeitler and Frederick -- played for the Wisconsin Badgers during their run of Rose Bowls. Michigan saw a slight increase in recent years, Illinois held steady and Indiana dropped from four (2006-09) to two (2010-13). Minnesota had one first-round pick in 2012 after none from 2006-09, while Nebraska and Iowa aren't on the board for either span.
What about the Big Ten's other new territory, the Washington D.C./Maryland/Northern Virginia region? Maryland's total dropped from four (2006-09) to three (2010-13), Virginia's went from seven (2006-09) to three (2010-13) and Washington D.C. failed to produce a first-round pick from 2010-13 after having two between 2006-09.
What does this mean for the Big Ten? First-round draft picks are only one way to gauge the strength of a league or a region, but the numbers reinforce that much of the nation's elite talent grows up far from Big Ten campuses. Big Ten schools have to spread their wings in recruiting and invest more time and resources in states like Texas, Florida and Georgia. Many programs already do this, but there's a greater sense of urgency.
The Ohio total is a bit alarming, but I'd be surprised if the state produces so few first-round picks in the next four years. It will be interesting to see what happens with the Wisconsin total under a new Badgers coaching staff.
I still like the Big Ten's new additions, Rutgers and Maryland, from a recruiting standpoint, but the declining totals of first-round draft picks from both areas are a bit unsettling as the two programs prepare to move to the Big Ten in 2014.
April, 17, 2013
Apr 17
9:00
AM ET
ANN ARBOR, Mich. -- All players who walk through the door to Schembechler Hall understand what Michigan once was. They merely have to keep their eyes and ears open.
Many college coaches, even those at traditional power programs, concern themselves only with the present and the future. Michigan's Brady Hoke puts the past on a pedestal.
Hoke's players know what the numbers 134 and 42 mean -- Michigan enters its 134th year of football and boasts 42 Big Ten championships. They know about the program's national titles and award winners. They see the Bo Schembechler quotes, the
Big Ten banners
and the
legends lockers
dedicated to program greats.
Many of the current Wolverines hadn't put on a helmet and pads in their lives the last time Michigan won a national title in 1997, but they know what the program was like because coaches like Hoke and defensive coordinator Greg Mattison, both Michigan assistants that season, tell them about it all the time. Offensive line coach Darrell Funk, who had no ties to Michigan before arriving with Hoke in 2011, often shows his players tape of former Wolverines stars Steve Hutchinson, Jake Long and Jon Jansen.
[+] Enlarge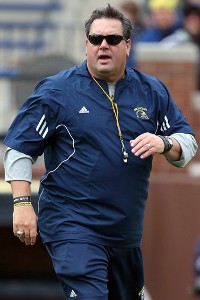 Leon Halip/Getty ImagesBrady Hoke and the Wolverines are working to get the program back to where it once was.
"There's a tremendous sense of pride that Brady instills," Mattison told ESPN.com, "and our entire football organization feels that 'Let's get Michigan back to the way we remember it,' where when Michigan gets on that field, everybody goes, 'Whoa, here they come.' That's what I envision. I want to do anything that I can do to help us get there, to get Michigan back to the football level it was when I remember it."
Senior linebacker
Cam Gordon
was 6 years old when Michigan won the national championship and 13 when the Wolverines claimed their last Big Ten title (2004, co-championship). But he hears about the glory days from coaches like Mattison and new outside linebackers coach Roy Manning, who played for Big Ten championship teams in 2003 and 2004.
"I do remember the stories about Michigan," Gordon said. "Before they even stepped on the field, the game was won."
The constant history lessons taught inside Schembechler Hall don't stem from an unhealthy state of nostalgia. Hoke wants his players to understand the standard at Michigan. He's also extremely blunt about the fact that the Wolverines have yet to meet it.
Hoke guided Michigan to 11 wins in his first season and ended the seven-year losing streak against archrival Ohio State. He has yet to lose a game at Michigan Stadium. He has pulled Michigan out of the fog of the Rich Rodriguez era. Recruiting is undoubtedly on the upswing, and Michigan looks more like its old self on both sides of the ball.
But Hoke's tenure to this point, by his own barometer, has been a failure.
"We didn't get it done," he said of the 2012 season, when Michigan went 8-5. "We were still in a second year of changing a culture and changing a philosophy to some degree, offensively and defensively and the whole scope of what we try and do as a team. But still, at the end of the day, this is about winning Big Ten championships. We have 42 of them, and we need to start on our 43rd."
Hoke's message is heard loud and clear from the team's best player on down.
"The standard at Michigan is a Big Ten championship every single year," All-American left tackle
Taylor Lewan
said. "That's the minimum. Everything else is a failure. The Sugar Bowl, the BCS game, that was awesome. It was such a great experience, Bourbon Street was cool, New Orleans was cool -- failure. Outback Bowl, close game, lost in the last 20 seconds -- failure.
"Those are all games that are failures. The only way this team would be happy, would be satisfied with one season, is if we win a Big Ten championship."
Things weren't that way when Lewan arrived in 2009.
"The main goal was to make it to a bowl game," he said. "I don't know if that's how it's supposed to be at Michigan. I don't know how much my opinion counts, but I think it should be a Big Ten championship every single year. These coaches have done a great job of preaching that.
"We're not going to settle."
It has been nearly a decade since the Wolverines could call themselves league champions, their longest drought since a lull between 1950 and 1964. Every year that passes without a title means Michigan moves a little further away from the great times, a little further away from regaining the mystique Mattison and others preach about.
Talking about a winning culture in the past only goes so far without establishing a winning culture in the present. It's why much of Michigan's offseason work has been from the neck up.
"There were times where we were down in games and we came back and won the game based off our mental toughness," wide receiver
Jeremy Gallon
said. "And there were times in games where we didn't come back, and it was our lack of mental toughness."
Defensive tackle
Quinton Washington
said Michigan worked on breaking "mental barriers" this spring, one of which is playing better away from the Big House. The Wolverines dropped three road games (Notre Dame, Nebraska and Ohio State) and two neutral-site contests (Alabama, South Carolina) last fall.
[+] Enlarge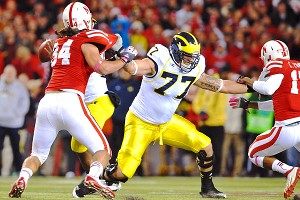 AP Photo/Dave WeaverTaylor Lewan (77) knows expectations are high for every player who wears a Michigan uniform.
Michigan is just 5-7 in road or neutral-site games under Hoke.
"We didn't play well on the road," Hoke said. "We didn't play with the toughness that it takes. We learned a lot in the bowl game about us as people, especially the guys coming back, good and bad."
Hoke has a
Sun Tzu quote
displayed in the weight room that reads:
Victorious warriors win first and then go to war, while defeated warriors go to war first and then seek to win.
The goal is for the Wolverines to enter games with the same mindset as their predecessors.
Many think the Michigan mystique is dead, but Hoke's players are driven to revive it.
"If they don't fear Michigan," Gordon said, "then obviously that's something that we're going to have to change."
Beginning this fall.
"Anywhere you go in the world, everyone knows Michigan," defensive end
Frank Clark
said. "Anywhere in the nation, as far as college football, everyone knows Michigan. For the last couple years, we haven't lived up to those expectations. This next season, we have to.
"It's time. There aren't anymore excuses."
October, 9, 2012
10/09/12
2:34
PM ET
Here are how Michigan's alumni fared in Week 5 of the NFL season:
October, 2, 2012
10/02/12
11:06
AM ET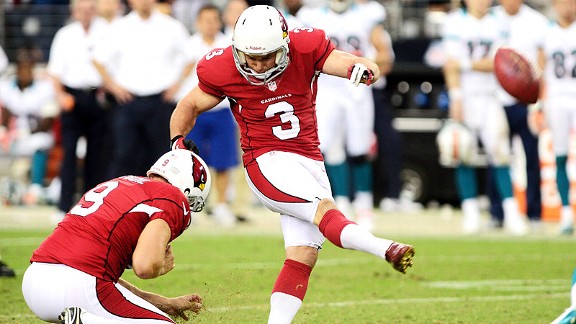 Jennifer Stewart/US PresswireJay Feely's field goal in overtime on Sunday pushed the Cardinals to a surprising 4-0.
Here are how Michigan's alumni fared in Week 4 of the NFL season:
September, 25, 2012
9/25/12
8:40
AM ET
Here are how Michigan's alumni fared in Week 3 of the NFL season:
September, 11, 2012
9/11/12
10:34
PM ET
Here's a look at how former Michigan players fared during Week 1 of the NFL season:
Jay Feely, K, Arizona: Made both his field goals and extra points in a 20-16 win over Seattle. Next up -- vs. New England, Sunday 1 p.m.
Leon Hall, CB, Cincinnati: Had four tackles (all solo) and two pass deflections in a 44-13 loss to Baltimore. Next up -- vs. Cleveland, Sunday 1 p.m.
Jeff Backus, OT, Detroit: Started at tackle and blocked for 429 yards of offense in a 27-23 win over St. Louis. Next up -- vs. San Francisco, Sunday 8:20 p.m.
Charles Woodson, CB, Green Bay: Had five tackles (3 solo, 2 assisted), two quarterback hurries, a forced fumble and 1.5 sacks in a 30-22 loss to San Francisco. Next up -- vs. Chicago, Thursday 8:30 p.m.
Tim Jamison, DE, Houston: Had one tackle and one sack in a 30-10 win over Miami. Next up -- vs. Jacksonville, Sunday 1 p.m.
Chad Henne, QB, Jacksonville: DNP in 26-23 loss to Minnesota. Next up -- vs. Houston, Sunday 1 p.m.
Steve Breaston, WR, Kansas City: Had two catches for 30 yards in a 40-24 loss to Atlanta. Next up -- vs. Buffalo, Sunday 1 p.m.
Junior Hemingway, WR, Kansas City: DNP (Practice squad) against Atlanta. Next up -- vs. Buffalo, Sunday 1 p.m.
Jake Long, OT, Miami: Started at left tackle and blocked for 275 yards of offense in a 30-10 loss to Houston. Next up -- vs. Oakland, Sunday 1 p.m.
Tom Brady, QB, New England: Completed 23 of 31 passes for 236 yards, two touchdowns and no interceptions along with two rushes for one yard in a 34-13 win over Tennessee. Next up -- vs. Arizona, Sunday 1 p.m.
Zoltan Mesko, P, New England: Punted four times with a 33.5 yard net average, including a long of 51 yards and three inside the 20 in a 34-13 win over Tennessee. Next up -- vs. Arizona, Sunday 1 p.m.
David Baas, C, New York Giants: started and helped block for 269 yards of offense in a 24-17 loss to Dallas. Next up -- Tampa Bay, Sunday, 1 p.m.
Stevie Brown, DB, New York Giants: had two tackles in a 24-17 loss to Dallas. Next up -- Tampa Bay, Sunday, 1 p.m.
David Harris, LB, New York Jets: Had seven tackles (4 solo, 3 assisted) and three assisted tackles in a 48-28 win over Buffalo. Next up -- vs. Pittsburgh, Sunday 4:25 p.m.
Jason Avant, WR, Philadelphia: Had four catches for 27 yards in a 17-16 win over Cleveland. Next up -- vs. Baltimore, Sunday 1 p.m.
Brandon Graham, DE, Philadelphia: Had one tackle in a 17-16 win over Cleveland. Next up -- vs. Baltimore, Sunday 1 p.m.
Larry Foote, LB, Pittsburgh: Had eight tackles (7 solo, 1 assisted), a sack and a pass defended in a 31-19 loss to Denver. Next up -- vs. New York Jets, Sunday 4:25 p.m.
LaMarr Woodley, LB, Pittsburgh: Had three tackles (1 solo, 2 assisted) in a 31-19 loss to Denver. Next up -- vs. New York Jets, Sunday 4:25 p.m.
David Molk, C, San Diego: He played, but did not start, in a 22-14 win over Oakland. Next up -- vs. Tennessee, Sunday 4:25 p.m.
Jonas Mouton, LB, San Diego: Listed as inactive against Oakland. Next up -- vs. Tennessee, Sunday 4:25 p.m.
Jonathan Goodwin, OL, San Francisco: Started at center and blocked for 377 yards of offense in a 30-22 win over the Packers. Next up -- vs. Detroit, Sunday 8:20 p.m.
Mario Manningham, WR, San Francisco: Had four catches for 29 yards in a 30-22 win over the Packers. Next up -- vs. Detroit, Sunday 8:20 p.m.
Alan Branch, DT, Seattle: Had three tackles (1 solo, 2 assisted) in a 20-16 loss to Arizona. Next up -- vs. Dallas, Sunday 4:05 p.m.
Braylon Edwards, WR, Seattle: Had five catches for 43 yards in a 20-16 loss to Arizona. Next up -- vs. Dallas, Sunday 4:05 p.m.
Steve Hutchinson, OG, Tennessee: Started at left guard and blocked for 292 yards of offense in a 34-13 loss to New England. Next up -- vs. San Diego, Sunday 4:25 p.m.
Mike Martin, DT, Tennessee: Had one solo tackle and two assisted tackles in a 34-13 loss to New England. Next up -- vs. San Diego, Sunday 4:25 p.m.
August, 28, 2012
8/28/12
9:57
AM ET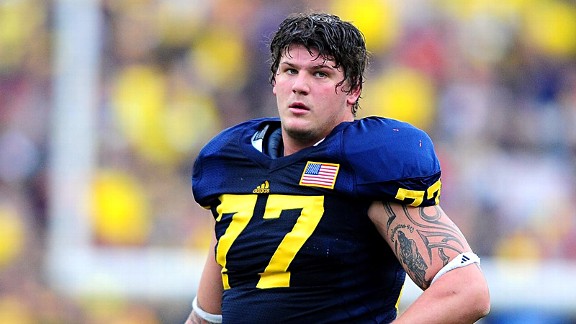 Andrew Weber/US PresswireLeft tackle Taylor Lewan is the Wolverines' best NFL offensive line prospect since Jake Long.
Over the next two weeks, WolverineNation will break down the 10 players who need to play to the peak of their abilities for Michigan to have its best possible season, going from 10 all the way to No. 1.
Taylor Lewan
is Michigan's most experienced offensive lineman and the best professional prospect the Wolverines have had along the offensive line since another dominant left tackle played for the Wolverines, Jake Long.
Lewan, though, still has a lot of room to improve. While he is one of the best overall blockers in the Big Ten, he has never had to be the leader of the offensive line, having Stephen Schilling around two seasons ago and David Molk last season. Both now are with the San Diego Chargers, leaving Lewan to do more than just play his position. And with a first-time starter next to him at left guard and fifth-year senior
Ricky Barnum
still growing into the center slot in his first season starting there, it will be up to Lewan to work on the cohesiveness of the unit.
To continue reading this article you must be an Insider
February, 7, 2012
2/07/12
11:27
AM ET
Michigan had four Super Bowl winners -- players Mario Manningham and David Baas along with coaches Jim Hermann and Jerald Ingram -- but many more former Wolverines were trying to reach the pinnacle of football.
In all, 29 former Michigan players finished the season on NFL rosters this season -- which is why Braylon Edwards won't appear on the list below. While not as many had the success of the four Wolverines on the Giants, here's a rundown of how every former Michigan player fared in the league this season.
In alphabetical order (by first name) *stats are regular season only:
Adrian Arrington, WR, New Orleans Saints: Arrington played in four games this season, making two catches for 31 yards.
Alan Branch, DL, Seattle Seahawks: Branch started 15 games in his first season with the Seahawks after four seasons in Arizona. He had 34 tackles and three sacks.
To continue reading this article you must be an Insider
December, 27, 2011
12/27/11
7:41
PM ET
The NFL
released its Pro Bowl rosters
Tuesday night and three former Michigan players will be represented.
Former Michigan quarterback
Tom Brady
was named the starting quarterback for the AFC. Tackle
Jake Long
will also represent the AFC and former Michigan Heisman Trophy winner
Charles Woodson
was named a starting cornerback for the NFC.
It is possible, though, that none of the three end up playing in the game. The Pro Bowl is held the weekend before the Super Bowl on Jan. 29 in Honolulu. If the Patriots or Packers make the Super Bowl, they won't play in the Pro Bowl.
Also, Long
suffered a right bicep injury last weekend
in a loss to the Patriots so he might not be available for the game.
Weekend Recruiting Wrap: Big Ten - Dec. 2
BIG TEN SCOREBOARD
Saturday, 12/21
Monday, 12/23
Tuesday, 12/24
Thursday, 12/26
Friday, 12/27
Saturday, 12/28
Monday, 12/30
Tuesday, 12/31
Wednesday, 1/1
Thursday, 1/2
Friday, 1/3
Saturday, 1/4
Sunday, 1/5
Monday, 1/6