Michigan Wolverines:

Illinois Fighting Illini
December, 19, 2013
12/19/13
12:00
PM ET
February, 24, 2013
2/24/13
5:18
PM ET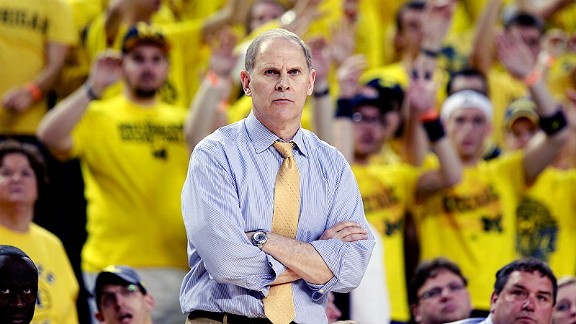 AP Photo/Carlos OsorioCoach John Beilein's Wolverines didn't really turn it on until the second half of their win over Illinois.
ANN ARBOR, Mich. -- Michigan coach John Beilein summed up his team's
71-58 win over Illinois
with the first sentence of his news conference.
"I'm thrilled with that second half that we played today," he said.
And he should've been. The seventh-ranked Wolverines scored 43 points, including 16 off turnovers. Michigan established a flow, and despite the Illini keeping it close for much of the second, the Wolverines controlled the pace and tempo of the game, looking like a top-10 team.
So thrilled is how Beilein should've been. But it's the first 20 minutes that fall short of that mark.
The slow, sloppy start against Illinois looked like it would doom the Wolverines and their perfect record at home. Michigan players let the ball slip through their hands, through their legs and fly out of bounds. Despite impressive play from
Trey Burke
(26 points, 8 assists, 1 turnover) and him trying to make everything work, the transition game never really got going.
It wasn't until the final minutes of the first half that Michigan even took its first lead of the game.
"I don't want to say it's just how the team plays, it's just we come out and we try to get a feel for the game," Burke said. "We're continuing to try and get better in that area to when we come out and we go on an 8- or 9-0 run and I think once we get to that point we'll really be dangerous."
The problem of late? It's taking Michigan a while to get to the point where it is dangerous. Last week against a Big Ten-winless Penn State squad, the Wolverines never really broke away. In losses at Ohio State and Michigan, the Wolverines started slow, too.
Burke didn't really have an answer for why it keeps happening. He seems to come out strong every game, but the team doesn't. Youth could be a factor, though it's not an excuse, Burke clarified. Junior guard Tim Hardaway Jr. didn't have much of an answer either. He joked that maybe they had warmed up too long or something.
"I don't know what it is, but we did have a week off, and maybe we were in practice mode. We weren't really in game mode and that really played a big part," Hardaway Jr. said. "It was great to get back in rotation after halftime and come out with a win."
Hardaway Jr. said Michigan spent halftime discussing rebounding and defense, a reminder of what it hadn't done well in the first half. And then it all just happened to come together in the second.
The Wolverines did hit their rotation, and looked more like their old selves as the clock ticked away.
Defensively, they held
Brandon Paul
-- who had 10 first half points -- scoreless in the second. Rotations looked crisper and players had more energy. Because of that, they outrebounded Illinois 17-10 on the glass in the second half (including a 4-0 advantage on the offensive boards).
A big part of UM putting it together in the second half was redshirt junior
Jordan Morgan
. He only played five minutes in the first half, but his 12 second-half minutes proved pivotal as he helped clean up the glass and get the Wolverines second-chance points. He provided a surge and presence that just wasn't felt with freshman
Mitch McGary
in the game.
In the end, a solid 20 minutes was enough to propel Michigan to its 10th conference win. But it knows that with home games against Michigan State and Indiana on the horizon, it will have to start much stronger and play a complete 40 minutes if it wants to hang with the Spartans and Hoosiers.
What was enough against Illinois, likely won't be enough against those two.
"They were smarter and tougher than us in the second half and that was the difference in the game," Illinois coach John Groce said. "They had more of a physical disposition than we had in the second half and in this league that's a recipe for bad stuff."
And that's something Beilein and the Wolverines
can
be thrilled about.
February, 24, 2013
2/24/13
5:16
PM ET
ANN ARBOR, Mich. -- A few quick thoughts from Michigan's
71-58 victory over Illinois
.


Overview:
Call him a Renaissance Man. In Sunday's win over Illinois, Michigan sophomore
Trey Burke
hit the 1,000-point scoring mark by varying it up for the Wolverines. A steal and layup, here. A finger roll, there. A deep 3 for good measure. Some fast breaks. And why not a pair of free throws?
Burke was the obvious highlight -- in what was mostly a sloppy game -- becoming just the seventh true sophomore at UM to hit the 1,000-point mark, joining the likes of Jalen Rose, Phil Hubbard and Chris Webber.
But here are some other thoughts on the Wolverines' late surging win over Illinois.
Turning point:
With a slim three-point lead and just less than 16 minutes left in the second half,
Jordan Morgan
made a no-look pass to Glenn Robinson, who threw down a dirty dunk, energizing a near dead Crisler Center. During the following timeout, for the first time during the game, Michigan looked relaxed, exchanging high fives. But Robinson then followed that up with yet another dunk, extending the Wolverines' lead to seven. From there, it remained close, but UM controlled the game better, and finished out with a win.
Key player:
Burke, as always, proved vital for the Wolverines' success. Following his 1,000th point (which came on a free throw), he didn't even react. It was business as usual as the sophomore finished with a game-high 26 points, eight assists and just one turnover.
Key stat:
16:30 -- The amount of time that passed before Michigan even took a lead over Illinois. The following three and a half minutes were nothing spectacular, and UI would take the lead going into halftime. But it was an especially sloppy stretch for Michigan. The usually strong 3-point shooting team made just two attempts from behind the arc in the first half (29 percent) and only made it to the free throw line three times, putting together a frustrating half everywhere on the floor. Combine that with their six turnovers, and it was a 16:30 that John Beilein will be glad to forget.
Miscellaneous:
Michigan improved to 16-0 at home this season with its fifth-straight win over the Illini. … Freshman center
Mitch McGary
picked up his second career start. He finished with 6 points, 3 rebounds and a block. …
Brandon Paul
, who averages 16 points per game, was held to 10 and forced into four turnovers while dishing out just one assist.
Next game:
The Wolverines close out the conference schedule with two less-threatening road games at Purdue and Penn State, but their two weekends at home with Michigan State and Indiana will provide plenty of excitement. Illinois heads home for a matchup with Nebraska, its last home game of the season.
January, 7, 2012
1/07/12
1:19
PM ET
Michigan assistant strength and conditioning coach Aaron Hillmann is heading to Illinois.
Hillmann was announced
as the Illini's head strength and conditioning coach
under new football coach Tim Beckman on Friday.
"Aaron and I go back to our days at Bowling Green, and he will do everything he can to assist our players in reaching their potential in the weight room and on the field," Beckman said in a statement. "He is considered one of the best in the nation in what he does."
November, 8, 2011
11/08/11
2:41
PM ET
Michigan's biggest issue on defense Saturday will be the same thing that has plagued the Wolverines' opponents all year -- how to defend the mobile quarterback.
While Illinois quarterback
Nathan Scheelhaase
doesn't have the speed Michigan quarterback
Denard Robinson
does, he is one of the Big Ten's most versatile signal-callers. Like Robinson, opponents have to worry continuously about him pulling the ball down and trying to make plays as a rusher -- more so than as a passer.
"Scheelhaase is a really versatile quarterback," Michigan defensive lineman
Ryan Van Bergen
said. "Looking at some of the numbers this year, he's become a better passer, and he's going to be more difficult to defend than he was last year.
Michigan C Cites Concussions In Decision To Quit
BIG TEN SCOREBOARD
Thursday, 9/3
Friday, 9/4
Saturday, 9/5
Sunday, 9/6
Monday, 9/7