Michigan Wolverines:

illini-wolverines-101312
October, 13, 2012
10/13/12
9:57
PM ET
ANN ARBOR, Mich. -- It seems as though quarterback
Denard Robinson
-- a natural-born runner -- is finally hitting his stride. With Michigan football coach Brady Hoke and offensive coordinator Al Borges putting together game plans that favor Robinson more than ever, the senior quarterback seems to be more comfortable every time he steps on the field or throws the football.
In the Wolverines' second Big Ten game -- a 45-0 win over Illinois -- the coaches approached it with a similar plan as their first outing against Purdue, and again, they got the same outcome.
Run a lot, sprinkle in some passes, finish with a win.
[+] Enlarge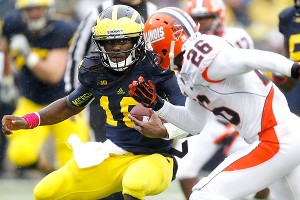 Gregory Shamus/Getty ImagesDenard Robinson had 159 yards passing, 128 yards rushing and four total touchdowns for the Wolverines.
"I'm comfortable with it," Robinson said of the game plan. "This is Michigan and this is how a Michigan offense plays. The running backs were running well and the offensive line they come out every day ... and they put forth the effort today. I'm happy for them because that's where it starts at."
And Robinson was right. Michigan's O-line blocked well, albeit against a mediocre Illini defensive line. It was a part of the Wolverines' game that showed it needed serious work early in the season after Michigan struggled to get much of a running game going. But against Illinois, it finally got going. The line opened up holes for the Michigan running backs, and the corps took advantage.
Senior
Fitzgerald Toussaint
, who Hoke said is still the No. 1 back, ended up as the third most effective running back on the day with 62 yards. Ahead of him were sophomore
Thomas Rawls
and redshirt freshman
Justice Hayes
, who ran for 90 and 66 yards, respectively.
"We feel that we are progressing week to week, which is a goal of ours," offensive lineman
Patrick Omameh
said. "We never want to feel satisfied with any kind of progress we made or the position that we're at but we can look at the mistakes we made today and continue improving."
And Robinson was able to break through for a few of his own, which surprised no one. The senior rushed for 128 yards and two touchdowns.
With the running game coming at the Illini from several angles, the passing game opened as well. And like the running game, the passing game came at the Illini from everywhere. Nine players in total caught passes (though only seven from Robinson).
Robinson was 7-for-11 with two touchdowns and no interceptions. It was the second game in a row that Robinson didn't turn the ball over, and his decision-making continued to improve. On long runs he avoided absorbing big hits by getting out of bounds and few of his passes left fans covering their eyes.
Hoke said that he feels as though the offense's ability to be more complete, as a result of Robinson being more complete, stems from both Robinson's maturity and his growing comfort with the Wolverines' game plans.
"I think he obviously reassessed after Notre Dame a little bit. I think we all did, [with] where we were," Hoke said. "And then I think some game plan-wise. We were bound and determined that we were going to run the football and the passing game, the play-action part of it, the part of the passing part of our offense that he felt more comfortable with."
And with that added comfort level, Robinson did what he does best -- just enjoy playing the game, and it was why the Wolverines were able to be so effective against the Illini.
"I just go with whatever we get," Robinson said. "I just go out there and play football, whatever I see, I just play with it."
October, 13, 2012
10/13/12
8:50
PM ET
ANN ARBOR, Mich. -- The obvious connection didn't initially enter Michigan coach Brady Hoke's mind as he went through his selection criteria for who would wear the No. 48 jersey of former United States President Gerald R. Ford.
Sure, Hoke has a lot of players from the Grand Rapids, Mich. area on the roster. But he didn't look at that as something which mattered when honoring one of Michigan's legendary players and certainly one of its most successful after football.
It just worked out that way.
[+] Enlarge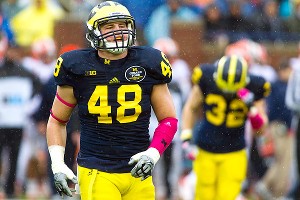 AP Photo/Tony DingMichigan linebacker Desmond Morgan was awarded the honorary No. 48 jersey, formerly worn by Michigan player and former U.S. President Gerald Ford.
Hoke said he gave sophomore linebacker
Desmond Morgan
the No. 48 jersey because of what he does, not because of where he is from.
"It was very easy to choose Desmond because of his character and his integrity," Hoke said. "Because of how he comes every day in our building, in the classroom, in the community. He's a great kid.
"Really, the Grand Rapids connection didn't really have a whole lot to do with it. When I felt I was going to do it with Desmond, then it kind of clicked in."
Morgan is from Holland, Mich., about a half-hour southwest of Ford's hometown of Grand Rapids.
"I'm quite honored and privileged to represent a former Michigan player," Morgan said. "He was a standout person and player and on top of that, President of the United States. It's such a great honor and I'm going to wear it proud."
It also means two of the four Legends Patch jerseys given out belong to sophomore linebackers.
Jake Ryan
switched his jersey number earlier this season to No. 47 in honor of Bennie Oosterbaan.
This was something Ryan and Morgan, who could conceivably be anchors of the Michigan defense for the next two-and-a-half seasons, had already discussed.
"Having 47 and 48 as linebackers is pretty cool, being lined up with each other," Ryan said. "Desmond definitely deserved it and he'll definitely represent the jersey."
October, 13, 2012
10/13/12
8:43
PM ET
ANN ARBOR, Mich. -- It's no secret that senior quarterback
Denard Robinson
is what makes Michigan's offense go. So when he went down in the first quarter against Illinois with what was later referred to as a "boo boo," there were a few fears when redshirt freshman
Russell Bellomy
began warming up on the sideline. And while he didn't wow the crowds with a ground-breaking performance, Bellomy also didn't break under the pressure.
[+] Enlarge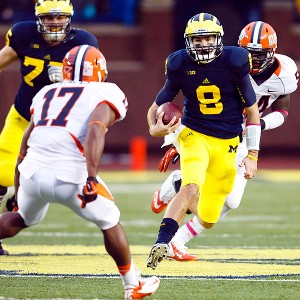 Rick Osentoski/US PresswireBackup quarterback Russell Bellomy (8) runs the ball in the second half against Illinois.
Robinson had left Bellomy and the rest of the Michigan offense in good position, on the Illinois 9-yard line with three downs to reach the end zone. And while the Wolverines would have to settle for a field goal on Bellomy's first drive against Illinois, Michigan coach Brady Hoke was happy to get his backup into the game.
"It always is [critical]," Hoke said of getting Bellomy into the game. "We're very excited about Russ Bellomy, and have been. And he came in there with a lot of confidence."
Bellomy finished the game with just one completion -- for eight yards -- on three attempts. And he displayed a bit of running ability, rushing twice for eight yards.
It wasn't a highlight-reel game by any stretch of the imagination, but it was significant time for a player backing up Robinson, a quarterback who has been prone to injury in Big Ten seasons past. And Hoke was happy with how the redshirt freshman performed under pressure.
"He's a guy that we think is a good quarterback," Hoke said. "That's why we recruited him. It was good to get him some work."
October, 13, 2012
10/13/12
6:39
PM ET
ANN ARBOR, Mich. -- Michigan put the finishing touches on
a 45-0 blowout of Illinois
, the Wolverines' first shutout since playing Minnesota last season.


Not a lot went right for Illinois, including losing quarterback
Nathan Scheelhaase
for the game due to injury in the second quarter, while the Wolverines continued to improve defensively for the third straight game.
It was over when:
Denard Robinson
returned to the game from injury in the second quarter. Robinson was briefly knocked from the game, but he returned and led Michigan on a drive culminating in a 6-yard touchdown run to give the Wolverines a 17-0 lead. Illinois, which had lost Scheelhaase, never threatened after that.
Game ball goes to:
Michigan linebacker
Jake Ryan
. The redshirt sophomore tied a career high with 11 tackles, including 3.5 tackles for loss, 1.5 sacks and a forced fumble. He also pressure Illinois' quarterbacks all day and was a constant presence everywhere for the Wolverines defense.
Stat of the game:
11.6 yards per carry. That was all it took for Robinson on Saturday. He scored two rushing touchdowns to tie Mike Hart for third on Michigan's career rushing touchdown ledger with 41.
Record performance:
Again from Robinson, who passed the 10,000-yard barrier for yards gained with his 49-yard touchdown run in the third quarter. Halfway through his senior season, Robinson has 10,065 career yards. He was the eighth player in Big Ten history to pass the 10,000-yard mark.
What it means:
In a mediocre season for the Big Ten, Illinois is proving to be one of the league's worst teams. It still has not lost a game by fewer than 17 points. Michigan, meanwhile, continued to prove it might be the league's second-best team after Ohio State, meaning the Wolverines could be the league's best bowl-eligible team this season. Michigan's defense has also held teams under 14 points in its past four games.
October, 13, 2012
10/13/12
5:04
PM ET
ANN ARBOR, Mich. -- Michigan has done what it expected to do in the first half, having dominated on both offense and defense to take a 17-0 lead at halftime over Illinois.


Stat of the half
: 185 yards. That is
Denard Robinson
's combined rushing and passing yardage Saturday despite that he missed almost a quarter's worth of time with an injury before returning in the second quarter. Robinson outgained Illinois all by himself.
Player of the half:
Michigan linebacker
Jake Ryan
. The Wolverines' best defender had a team-high eight tackles during the first half and covered sideline to sideline quite well. He also got good pressure on Illinois' quarterbacks. Ryan also had two tackles for loss and was the catalyst for a defense which held Illinois to 121 yards.
What's working for Michigan
: Michigan's defense. The Wolverines have been extremely stout the entire first half, holding Illinois to four yards passing in the first quarter and 43 yards overall. Michigan put good pressure on Illinois quarterback Nathan Scheelhaase and the defensive line was very effective against the Illini front.
What's not working for Michigan:
A couple of penalties here and there, including a punt catch interference call on
Josh Furman
during coverage, will likely frustrate Brady Hoke, but the Wolverines had a pretty strong half on both offense and defense.
Which Players Have The Most To Prove In 2015?
BIG TEN SCOREBOARD
Thursday, 9/3
Friday, 9/4
Saturday, 9/5
Sunday, 9/6
Monday, 9/7