Michigan Wolverines:

Ibraheim Campbell
November, 18, 2013
Nov 18
11:00
AM ET
Twelve seconds.
That's how much time remained in regulation at Northwestern after Michigan quarterback
Devin Gardner
hit
Jeremy Gallon
on a 16-yard pass. The clock was running. What happened next was what Wolverines coach Brady Hoke said "might be the best single play I've ever seen."
The Michigan field goal unit sprinted onto the field. Holder
Drew Dileo
, who had run a pattern as a wide receiver, ran in from the other side of the field and slid into position. The snap came with one second to go, and kicker
Brendan Gibbons
made a 44-yarder to send the game into overtime, where the Wolverines eventually won.
Northwestern coach Pat Fitzgerald was upset that his team didn't get a chance to substitute its block team in. The Wildcats were in disarray as the field goal try went up. Referee Bill LeMonnier
explained to a pool reporter afterward
that on the final play of the half, teams aren't automatically given the right to substitute on field goal defense.
That play goes down as the second-craziest finish to regulation of a Big Ten game this year. In the Wisconsin-Arizona State game, there were 18 seconds left when
Joel Stave
downed the ball. The Badgers never got to run another play.
Take that and rewind it back ...
[+] Enlarge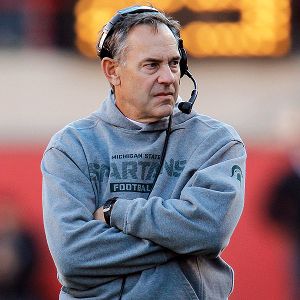 Bruce Thorson/USA TODAY SportsMark Dantonio and the Spartans control their own destiny to reach the Big Ten title game.
Team of the week:
Michigan State. It was not a vintage defensive performance for the Spartans, who allowed 28 points to a Nebraska offense that turned the ball over five times and played with a stitched-together line. But Mark Dantonio's team still won by double digits on the road in Lincoln for its first win over the Huskers while clinching at least a share of the Legends Division title. Then there's this: Through 10 games, the Spartans are averaging 30.9 points per contest.
Worst hangover:
Northwestern finds more ways to lose than anybody. The Wildcats had a dominant defensive effort against Michigan in allowing no touchdowns in regulation. But they had a 7-yard shank punt that set up a Michigan first-and-goal,
Ibraheim Campbell
dropped an easy interception on the Wolverines' final drive, and they couldn't pounce on a fumble in overtime. Northwestern has lost twice in overtime, once on a Hail Mary and in games that went down to the final drives against Minnesota and Ohio State. Sheesh.
Best call:
Nebraska had to be ready for some Michigan State tomfoolery, right? We've seen it so many times from Dantonio in a big game.
And it worked again on Saturday. The Spartans lined up for a field goal on fourth-and-1 from the Nebraska 27, leading 27-21 in the fourth quarter. Punter
Mike Sadler
, who serves as the holder on field goals, took the snap and pushed his way forward for 3 yards. The play was called "Charlie Brown," evoking memories of Lucy snatching the ball away in "Peanuts." But Sadler was actually supposed to check out of the play because of the way Nebraska was set up, and the play was never designed to go up the middle where he ran.
"That was the last thing going through my mind," said Sadler, who went up the middle on a successful punt fake at Iowa last month. "I was just trying to think of my touchdown dance."
He didn't score, but
Connor Cook
delivered a touchdown pass three plays later to all but seal the victory.
Big Man on Campus (Offense):
Ohio State running back
Carlos Hyde
piled up five total touchdowns while rushing for 246 yards on just 24 carries versus Illinois. He had touchdown runs of 51 and 55 yards in the final four minutes to put the game on ice.
Big Man on Campus (Defense):
In a game that didn't feature a whole lot of defense, Ohio State's
Ryan Shazier
still managed an impressive stat line at Illinois: 16 tackles, 3.5 tackles for loss, 1.5 sacks and a forced fumble. He had the safety on
Reilly O'Toole
that gave the Buckeyes some breathing room. And while he had a chance to turn that into a touchdown had he not celebrated a bit too soon, Shazier still had an outstanding performance considering Ohio State's other two starting linebackers were out with injuries.
[+] Enlarge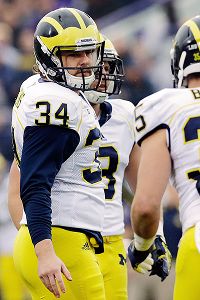 AP Photo/Nam Y. HuhBrendan Gibbons hit a 44-yard field goal as time expired to put Michigan into overtime at Northwestern.
Big Men on Campus (Special teams):
This goes to the entire Michigan field goal unit, including Gibbons, Dileo, snapper
Jareth Glanda
, special-teams coordinator Dan Ferrigno and everyone else involved in that unbelievable play at the end of regulation at Northwestern. That was a team effort, and if one guy was a half-second late, the Wolverines lose. (Tips of the cap also go out to Purdue's
Raheem Mostert
and Illinois'
V'Angelo Bentley
, who both scored on returns).
Sideline interference:
Illinois coach Tim Beckman
had to be separated
from offensive coordinator Bill Cubit on the sidelines after quarterback Reilly O'Toole was sacked in the end zone. Both coaches later said it was just a heat-of-the-moment thing, and Cubit added, "You'd be shocked at how many times" that happens during games. But it's still not a good look for Beckman, whose sideline mishaps the past two years include getting called for interference penalties and getting caught using chewing tobacco.
Who needs tickets?:
Want to see a Big Ten game, but you don't have more than 50 cents in your pocket? Then this week's Illinois-Purdue Basement Bowl is for you. On
StubHub this morning
, several tickets to Saturday's game at Ross-Ade Stadium could be had for as little as 39 cents. Get 'em while they're hot!
Fun with numbers (via ESPN Stats & Info):
Wisconsin ran for 554 yards Saturday versus Indiana. It was the second most in school history, behind the 564 the Badgers compiled against the Hoosiers last year. So in the past two games against IU, Wisconsin has rushed for 1,118 yards and 13 touchdowns; on Saturday the Badgers had three 100-yard rushers (James White, Melvin Gordon and Corey Clement) and an 86-yard rusher (Jared Abbrederis, on reverses). The Badgers' running game added 35.8 expected points to their net scoring margin; two of the top 10 rushing EPA games in the FBS the past 10 years were posted by Wisconsin against Indiana. The Badgers still fell far short of the Big Ten rushing record of 832 yards, set by Minnesota in 1905. But they do get Indiana again next year, so you never know.
ESPN's strength of schedule rankings (out of 126 FBS teams):
Alabama: 48th
Florida State: 60th
Ohio State: 88th
Baylor: 95th
October, 28, 2013
Oct 28
11:00
AM ET
You know the old adage about offense selling tickets and defense winning championships? Forget about it.
If that were true, how could you explain that four of the top five scoring teams in the country are Baylor, Oregon, Florida State and Ohio State? And that all four are undefeated, ranked in the top five in the major polls and in the BCS title chase? (No. 4 on that list, by the way, is Texas A&M, which has a reigning Heisman Trophy winner and is 12th in the BCS standings). Even Alabama is averaging 41.2 points per game, 13th best in FBS.
[+] Enlarge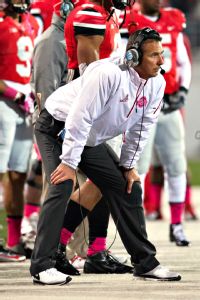 Greg Bartram/USA TODAY SportsUrban Meyer and Ohio State were on the offensive against Penn State.
The only team in the Top 25 nationally in points per game that doesn't have a winning record? Indiana, which is tied for eighth at 42.4 PPG -- but also is No. 119 in total defense.
You've got to score a lot to win big in college football these days, and you've got to do the same to stand out in the BCS crowd. So no wonder Urban Meyer and Ohio State put their foot on the gas pedal Saturday against Penn State, scoring 42 points in the first half en route to a 63-14 rout.
The Buckeyes' 686 total yards were their most ever against a Big Ten opponent. Meyer, in classic step-on-your-neck fashion, challenged a spot on a Penn State fourth-down play late in the third quarter. Ohio State led 56-7 at the time -- and got the call reversal to go its way. Nittany Lions coach Bill O'Brien just stared ahead for several seconds when a a reporter later asked about that challenge, then declined to comment. But O'Brien did say of the game, "We'll remember some things."
Still, it's hard to blame the Buckeyes for doing everything they could to put up an impressive score after they've heard about their lack of style points all year long. The scary thing for the rest of the Big Ten is that Ohio State and
Braxton Miller
appear to be just now finding their stride on offense. Yes, that's a funny thing to say for a team scoring 47.2 points per contest and that has seven 50-point games since 2012, or one more than the program managed in the entire Jim Tressel era. But it's true.
This is an offense that appears to be steamrolling toward a championship. Wouldn't it be fun if Michigan State's equally dominating defense got a chance to test that old adage in Indianapolis?
Take that and rewind it back:
Team of the week:
For the second straight week, it's Minnesota. Of course it is, after the Gophers knocked off Nebraska for the first time since 1960, got their signature Big Ten win and clinched bowl eligibility. What the team has been doing while head coach Jerry Kill is on a leave of absence is incredible.
Worst hangover:
There have been some ugly losses in the Bo Pelini era at Nebraska, but maybe none as dispiriting as Saturday's defeat at Minnesota. The 9-7 home loss to Iowa State might be the only one to trump it. Tommie Frazier, who publicly criticized Pelini and his staff after the UCLA debacle, tweeted out "Do I need to say anymore?" right after the game ended. It will be another uncomfortable week in Lincoln.
Best play:
Facing third-and-7 from the Northwestern 8-yard line in overtime,
Iowa's
Jake Rudock
dropped back to pass and almost immediately had blitzing safety
Ibraheim Campbell
in his grille. When Rudock released the ball, it looked in live action as though he was merely throwing it away. Instead, the ball sailed perfectly to tight end
C.J. Fiedorowicz
for the touchdown that proved to be the game winner.
[+] Enlarge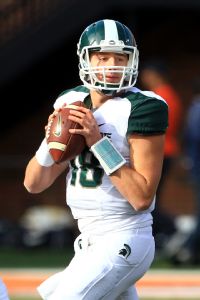 Pat Lovell/USA TODAY SportsConnor Cook won't soon forget Saturday's win.
Craziest play:
Speaking of surprising touchdown passes,
Connor Cook
must be living right. The Michigan State
quarterback scrambled to his right late in the first half
on a third-and-25 from the Illinois 29-yard line. He then threw toward the end zone into double coverage, and a pair of Illini defensive backs,
Jaylen Dunlap
and
Eaton Spence
, were in front of Bennie Fowler for the underthrown pass, and Dunlap tipped it twice before it fell in the hands of Fowler for a TD. The score was 7-3 before that play, and it was the start of 35 unanswered points for Michigan State. "I was a little afraid," Cook said of his throw. But he finished with just one incompletion in 16 attempts.
Big Man on Campus (Offense):
Braxton Miller is getting hot. Scorching hot, in fact. He went 18-of-24 for 252 yards and three touchdowns through the air while rushing for 68 yards and two scores in the 63-14 trouncing of Penn State. If he plays like that, nobody in this league is beating the Buckeyes.
Big Man on Campus (Defense):
Iowa linebacker
Anthony Hitchens
had nine tackles, a sack and a key forced fumble in the win over Northwestern.
Big Man on Campus (Special teams):
His team lost, but
Pat Smith
did all he could for Nebraska. Smith went 3-for-3 on field goals, connecting from 37, 42 and 45 yards on a windy day. Say this for the Huskers: They keep churning out excellent kickers.
Got a plane to catch?
This might be the craziest number of the week: 2:50. That's how long the Northwestern-Iowa game lasted. Yes, the two teams somehow managed to play an overtime game in less than three hours, or about the time it takes for two David Ortiz at-bats. Of course, it might have taken a bit longer had Pat Fitzgerald elected to use his timeouts at the end of the game.
After a
Mike Trumpy
fumble, Iowa took over at midfield with 3:14 remaining. The Hawkeyes struck on an 18-yard Fiedorowicz pass reception to get near field goal range and then started going conservative as the clock drained. Fitzgerald, who had two timeouts in his pocket, did not call either of them to save some potential time for the Northwestern offense. He finally called one after Iowa had used its own timeout on fourth-and-11 with 15 seconds left. The Wildcats then intercepted the pass but had no time to do anything but take a knee.
Fitzgerald said later that he thought the wind would make it tough on Iowa to kick a field goal and that "we were playing to win the game." It sure seemed instead that he was playing for overtime, and we saw in the Michigan game that playing not to lose often leads to exactly the thing you're trying to avoid.
October, 18, 2013
Oct 18
11:00
AM ET
We've reflected on the
first half of the Big Ten season
, evaluated
each team
and looked ahead to what promises to be a
more exciting second half
.
As we put a bow on the first half, we're selecting a midseason All-Big Ten team. This list certainly isn't as significant as the postseason squad, but these players merit recognition for their performances during the first seven weeks of the season.

The envelope, please ...
OFFENSE
QB:
Nathan Scheelhaase
, Illinois
RB:
Melvin Gordon
, Wisconsin
RB:
Ameer Abdullah
, Nebraska
WR:
Allen Robinson
, Penn State
WR:
Jared Abbrederis
, Wisconsin
TE:
Ted Bolser
, Indiana
C:
Corey Linsley
, Ohio State
OL:
Spencer Long
, Nebraska
OL:
Brandon Scherff, Iowa

OL:
Rob Havenstein, Wisconsin

OL:
Jack Mewhort, Ohio State
DEFENSE
DE: Shilique Calhoun, Michigan State
DT: DaQuan Jones, Penn State
DE: Tyler Scott, Northwestern
LB: Chris Borland, Wisconsin
LB: Ryan Shazier, Ohio State
LB: Max Bullough, Michigan State
LB: James Morris, Iowa
DB: Darqueze Dennard, Michigan State
DB: Stanley Jean-Baptiste, Nebraska
DB: Ibraheim Campbell, Northwestern
DB: Blake Countess, Michigan
SPECIALISTS
K:
Jeff Budzien
, Northwestern
P:
Mike Sadler
, Michigan State
KR:
Marcus Jones
, Minnesota
PR:
Kevonte Martin-Manley
, Iowa
We'll start with the quarterback spot, which has been underwhelming around most of the league, partly because of injury. It was a close call between Scheelhaase and Penn State true freshman
Christian Hackenberg
, but Scheelhaase gets a slight edge with more touchdown passes and fewer interceptions. We had another tough decision at the No. 2 running back spot between Abdullah and Iowa's
Mark Weisman
, who has been very productive so far. Ultimately, Abdullah has made more out of his carries and got the nod.
The Big Ten's depth at linebacker prompted us to go with a 3-4 defensive alignment for the midseason team. We had some debate for the lone defensive tackle spot between Jones, Ohio State's
Michael Bennett
and Minnesota's
Ra'Shede Hageman
, but went with Jones, the league's leader in tackles for loss (8.5). Linebacker is so deep that it was tough limiting the list to only four. We ultimately went with Morris over Illinois'
Jonathan Brown
because Morris has made more game-changing plays. Cornerback has been a deeper position than safety through the first half, so we went with three corners and only one safety.
Kick returner was another close call between Minnesota's Jones and Illinois'
V'Angelo Bentley
.
September, 19, 2013
Sep 19
4:00
PM ET
Every Big Ten team has already completed one-quarter of its regular-season schedule, and after this weekend, everybody but idle Illinois will have finished off a third of its regular season. (Don't blame me, I'm just the messenger).

With a little bit of data to crunch, it's time to bring back the weekly awards race tracker, where I attempt to gauge the temperature for some of the Big Ten's top individual honors. Please note that there's a long way to go, and performance in conference play looms large, so these will fluctuate wildly. But for now, here's how I see these races stacking up:
Graham–George Offensive Player of the Year
1. Penn State WR Allen Robinson:
Receivers have a tough time winning these kinds of awards because they're so dependent on others. But I'd argue Robinson stands farther above his Big Ten peers at his position than any running back or quarterback right now. He ranks fourth in the FBS in receiving yards with 405 through three games, and that's with missing the first half of the opener because of a suspension. He's on pace for a 1,600-yard season.
2. Wisconsin RB Melvin Gordon:
He's leading the Big Ten in rushing with 477 yards while averaging a ludicrous 12.9 yards per carry.
3. Michigan QB Devin Gardner:
He would have been the frontrunner after Week 2, but his turnover binge against Akron really hurt. Still, he's leading the league in total offense.
4. Indiana QB Nate Sudfeld:
He's tops in the conference in passing (917 yards) and passing touchdowns (10) while ranking seventh nationally in pass efficiency.
5. Iowa RB Mark Weisman:
He's been Superman for the Hawkeyes so far, carrying the ball 85 times in three games and averaging 141.7 yards per game. The big news is that neither
Braxton Miller
, the reigning champ, nor
Taylor Martinez
appear in our initial Graham-George tracker. Miller simply hasn't played enough, while Martinez hasn't put up the rushing numbers we expected. But it's early.
Waiting room:
Illinois QB
Nathan Scheelhaase
; Michigan WR
Jeremy Gallon
; Ohio State RB
Jordan Hall
Nagurski–Woodson Defensive Player of the Year
1. Michigan State DE Shilique Calhoun:
The Spartans sophomore gets the early nod in a wide-open race thanks to his scoring heroics (three defensive touchdowns so far) and being one of the faces of the league's best defense by a large margin.
2. Wisconsin LB Chris Borland:
The Badgers statistically have the Big Ten's second-best defense, though that's propped up by two early cupcake opponents. Still, Borland has been his usual brilliant self, leading his team with 24 tackles.
3. Penn State DT DaQuan Jones:
He was dominant in the Nittany Lions' first two games, not so much in the UCF shredding last week. Yet Jones' numbers -- 23 tackles, two sacks, five tackles for loss -- are very impressive.
4. Minnesota DT Ra'Shede Hageman:
Hageman is having the big senior season we expected from him. He has collected 4.5 tackles for loss, and his push inside has helped free teammate
Theiren Cockran
, who's leading the league in sacks (three).
5. Northwestern S Ibraheim Campbell:
All he does is catch the other team's passes. Campbell has three interceptions so far and one in each of his past five games.
Waiting room:
Ohio State LB
Ryan Shazier
, Michigan State LB
Max Bullough
, Illinois LB
Jonathan Brown
, Iowa LB
Christian Kirksey
Thompson–Randle El Freshman of the Year
1. Penn State QB Christian Hackenberg:
Keep reminding yourself that he's only 18 years old, but Hackenberg has been every bit as good as advertised, and quite possibly better. He has completed 71.7 percent of his passes for 851 yards and four touchdowns, though he does have three interceptions.
2. Ohio State WR Dontre Wilson:
Speed kills, and Wilson is an assassin. He is averaging 9.3 yards per carry, has caught seven passes for 72 yards and has a 51-yard kickoff return. Expect his role to grow throughout the season. For now, this is a two-man race.
Waiting room:
Michigan OL
Kyle Kalis
; Minnesota QB
Mitch Leidner
; Nebraska LB
Josh Banderas
, DE
Avery Moss
and DT
Vincent Valentine
; Indiana S
Antonio Allen
and LB
T.J. Simmons
; Wisconsin RB
Corey Clement
September, 19, 2013
Sep 19
12:00
PM ET
Unlike in Cleveland, there are no white flags waving here in September.
September, 19, 2013
Sep 19
9:00
AM ET
Three weeks in and we're all square in the season standings. Get ready for a tightly contested race most of the way.
The Week 4 slate isn't nearly as appetizing as its predecessor, although there are a few sneaky good games on the docket. Big Ten play officially begins at Camp Randall Stadium and 11 league squads are in action (Illinois is off).
Let's begin …
SAN JOSE STATE at MINNESOTA
Brian Bennett:
Mitch Leidner
could start at quarterback for the Gophers as
Philip Nelson
is questionable with a hamstring injury. That's not good news against a San Jose State team led by a future NFL draft pick in
David Fales
. The Spartans are the best team Minnesota has played, and I say they pull off the road upset
. … San Jose State 24, Minnesota 20

Adam Rittenberg:
A tough one here as the Gophers haven't been tested and San Jose State's Fales could stress a
secondary already down one starter
(
Briean Boddy-Calhoun
). There's some uncertainty on offense at quarterback, but I like the fact the Gophers have a full stable of running backs. Minnesota racks up 200 rush yards and three touchdowns to survive with a win.
… Minnesota 27, San Jose State 24
FLORIDA A&M at OHIO STATE
Adam Rittenberg:
The scoreboard operator will be busy as Buckeyes backs
Jordan Hall
and
Carlos Hyde
combine for six touchdowns. The quarterbacks don't have to do much in this one as Ohio State rolls on to 4-0.
… Ohio State 59, Florida A&M 7
Brian Bennett:
This is a ludicrous matchup. Buckeyes can name their score.
… Ohio State 63, Florida A&M 10

WESTERN MICHIGAN at IOWA
Brian Bennett:
Oh boy. We get to watch Western Michigan take on a Big Ten team for the third time in four weeks. The first two times didn't go well for the Broncos, and
Mark Weisman
will add to their misery with 150 yards rushing.
… Iowa 35, Western Michigan 7

Adam Rittenberg:
Northwestern ran roughshod on Western Michigan and Iowa will do the same. Coach Kirk Ferentz gives Weisman a bit of a breather and spreads the ball around, as both
Damon Bullock
and
Jordan Canzeri
reach the end zone. Iowa pulls away in the third quarter.
… Iowa 31, Western Michigan 10
MAINE at NORTHWESTERN
Adam Rittenberg:
Expect another vanilla offensive game plan from Northwestern as the coaches save the goods for Week 6 against Ohio State. Five different Wildcats rush for touchdowns, including true freshman
Warren Long
, in the team's final tune-up before Big Ten play.
… Northwestern 48, Maine 13
Brian Bennett:
Please don't feed the Black Bears!
Ibraheim Campbell
makes it six games in a row with a pick as the Wildcats roll.
… Northwestern 45, Maine 17

MICHIGAN STATE at NOTRE DAME
Brian Bennett:
The Spartans finally have a bit of confidence and stability at quarterback, but
Connor Cook
still has a ways to go and this is a tough road spot. The Irish jump out early on a special-teams touchdown and manage to hold on in a defensive struggle.
… Notre Dame 17, Michigan State 10

Adam Rittenberg:
Michigan State's renewed offense comes in with confidence and scores early. But reality begins to set in on the road, and the Spartans stall midway through the second quarter. The defense keeps it close as always, but Notre Dame rallies late behind
Tommy Rees
and his receivers.
… Notre Dame 19, Michigan State 16
SOUTH DAKOTA STATE at NEBRASKA
Adam Rittenberg:
The Huskers rest top quarterback
Taylor Martinez
(toe), and backups
Ron Kellogg III
and Tommy Armstrong both play and combine for three pass touchdowns.
Imani Cross
sparks the rushing attack in the second quarter and Nebraska fans can smile a little after a brutal eight-day stretch.
… Nebraska 59, South Dakota State 14
Brian Bennett:
The Jackrabbits are just what Nebraska needs right now. The Huskers get off to a sluggish start without a healthy Martinez, but
Randy Gregory
forces a fumble for a defensive score and the running game is too much for SDSU to handle.
… Nebraska 38, South Dakota State 10

KENT STATE at PENN STATE
Brian Bennett:
I think the Penn State defense comes out mad after last week's performance, and Kent State has had a tough time scoring so far this season.
Zach Zwinak
scores twice and the defense comes up with three turnovers.
… Penn State 28, Kent State 10

Adam Rittenberg:
Unless
Blake Bortles
secretly suits up for the Golden Flashes, Penn State should be OK in this one and takes control in the second quarter. Chalk up two more touchdown passes from
Christian Hackenberg
to
Allen Robinson
, and defensive end
Deion Barnes
finally shows up for the Lions.
… Penn State 31, Kent State 20
PURDUE at WISCONSIN
Adam Rittenberg:
No officiating blunders in this one as Wisconsin starts a bit slowly before getting
Melvin Gordon
and the run game going in the second half. Gordon records his first 20-carry performance and racks up 180 yards and two touchdowns. Purdue jumps out to an early lead but once again struggles in the fourth quarter.
… Wisconsin 34, Purdue 21
Brian Bennett:
Purdue hasn't been able to stop the Wisconsin running game the past couple of years, and it's no different in this one. Gordon and
James White
each eclipse 100 yards and the Badgers take out some frustration on the Boilermakers.
... … Wisconsin 42, Purdue 14

MICHIGAN at CONNECTICUT
Brian Bennett:
The Wolverines haven't been quite the same team on the road as they have been at home for Brady Hoke, but Rentschler Field ain't exactly the Horseshoe. UConn doesn't have enough offensive talent to do much damage, and
Devin Gardner
bounces back with four total touchdowns and just one turnover.
… Michigan 38, Connecticut 9

Adam Rittenberg:
Last week's near disaster against Akron will heighten Michigan's focus. So, too, will a road game under the lights (even if it feels more like a home game). Gardner delivers a turnover-free performance, and Fitz Toussaint has a big game on the ground (130 rush yards, 2 TDs).
… Michigan 35, Connecticut 17
MISSOURI at INDIANA
Adam Rittenberg:
This should be the most entertaining game of the day, as both offenses will put up points. Maybe I'm buying into Indiana too much after last week's impressive performance, but I like what I saw from the defense, which does just enough against Mizzou and records a game-ending takeaway. Expect another balanced offensive performance as
Tevin Coleman
rushes for two more touchdowns.
… Indiana 41, Missouri 37
Brian Bennett:
I expect a wild shootout where the punters can probably chill out on the sidelines. Ultimately, I don't have enough faith in the Hoosiers' defense and think
James Franklin
and
Henry Josey
will be too much to overcome. But take heart, Indiana fans: I've been wrong on your team each of the past two weeks.
… Missouri 48, Indiana 42

You've heard from us. Now it's time to see what this week's guest picker has cooked up. As a reminder, throughout the season we'll choose one fan/loyal blog reader each week to try his or her hand at outsmarting us. There's nothing but pride and some extremely limited fame at stake. If you're interested in participating, contact us
here
and
here
. Include your full name (real names, please) and hometown and a
brief
description why you should be that week's guest picker. Please also include "GUEST PICKS" in all caps somewhere in your email so we can find it easily.
We felt a little sorry for this guy after what happened last week in Tempe, Ariz.
Garret Olsen from Madison, Wis.,
the floor is yours:
I am a born-and-raised Wisconsin fan and 2010 University of Wisconsin Grad in complete shock this week. I'm in need of a win. I attended my first Badger football game with my grandparents when I was 5 years old and have attended many more Badger games over the years with them. I never missed a home game during my time as an undergrad and traveled to many of the B1G stadiums and followed the Badgers to Indy and Pasadena. Each week my former Mifflin Street college roommate and I have a friendly pick-off between us and I can proudly report that I have beaten him the last two years. The blog is a daily read for me and I would be honored to pick alongside you and Adam and I promise not to botch any last-second pick situations.
Here are Garret's Week 4 selections:
San Jose State 35, Minnesota 34
Ohio State 45, Florida A&M 7
Iowa 28, Western Michigan 14
Northwestern 55, Maine 10
Notre Dame 17, Michigan State 10
Nebraska 42, South Dakota State 21
Penn State 33, Kent State 24
Wisconsin 49, Purdue 17
Michigan 34, Connecticut 13
Missouri 42, Indiana 38
SEASON RECORDS
Adam Rittenberg:
31-5
Brian Bennett:
31-5
Guest pickers:
27-9
August, 30, 2013
Aug 30
4:00
PM ET
My mailbag will come to you just once a week from here on out, right around this time on Fridays. Don't forget to follow us
on Twitter
.
Have a great first football weekend! To the inbox ...
---
Craig from Braintree, Mass., writes:
Hi Adam. Just reviewed
your chat
today. In general, agree with your comments on Minnesota except the lack of depth. Yes they have areas of lack of depth -- LB, CB, WR -- but elsewhere they are deeper than last year. That depth, plus Nelson's additional experience, plus their bowl experience, is why I like the team better. I also think Kill's health is better and that can't hurt.
Adam Rittenberg:
Some good points here, Craig. I think we saw in
Thursday's opener against UNLV
how Nelson's experience last year paid off. He looked very comfortable moving around in the pocket, and his athleticism on designed runs also gives Minnesota a good weapon in the ground game. I'm still a little concerned at whether Minnesota's skill players will make an impact against good Big Ten opponents. The Gophers line struggled to dominate UNLV for much of the game and didn't show the physical play we saw in the bowl game against Texas Tech.
You're right that I overlooked some of the depth in the secondary despite losing corners Michael Carter and Troy Stoudermire. The Gophers have some playmakers back there. The good news is Minnesota won its opener easily and still has a lot of room for improvement. And we're all pleased that Coach Kill seems to have his health more under control.
---
John from Au Gress, Mich., writes:
As far as Defensive POY is concerned, it was interesting to see what a rival network found when it polled BIG players and coaches.
Max Bullough
was the runaway choice. Two things work against Max for this award (1) few journalists take enough time to recognize the value of a defensive quarterback like Bullough and (2) with all the "3 and outs" the MSU defense will force, he won't have enough tackles to get his due. Total tackles is an overhyped stat too. My first thought is the overall defense must stink if you get that many opportunities. Borland will probably lead the BIG with around 150 tackles and he would probably like to stay around 100. He seems like a great team guy, and would rather have the defense get off the field.
Adam Rittenberg:
John, some good points here, and I couldn't agree more about tackles being an overrated statistic, especially when it comes to linebackers. I would hope the award isn't given based on total tackles, as some standout defenders will be on the field a lot less than others. For me, it's between Borland and Bullough for this award. Both are the nerve centers of their respective defenses. If the Spartan Dawgs once again finish in the top five nationally, I'd have no issue with Bullough getting the hardware. Ultimately, Borland makes more impact plays than Bullough -- or any Big Ten defender, for that matter. Borland is just a freak in that way. Does it mean he's more valuable to his defense than Bullough? It's up for debate. Both are exceptional players, and
as I recently wrote
, both have a ton of respect around the Big Ten.
---
Curtis from San Angelo, Texas, writes:
You wrote, "Bad calls shouldn't be hidden from fans in the stadium when those at home see them replayed over and over." No, they probably shouldn't. On the other hand, replays of bad calls shouldn't be used like gasoline being poured on a fire, either. Not everyone enjoys going to a sporting event and hearing "fans" yell obscenities (sometimes en masse) at the officials for missing a call. As long as humans are involved, calls will be missed. Hopefully this won't backfire and lead to egging on rude behavior.
Adam Rittenberg:
Curtis, I think there's a compromise here, although the replays will be at the discretion of each Big Ten school. I agree that a controversial call shouldn't be replayed 20 times in super slo-mo in the stadium, but fans who pay good money to watch those games have the right to see what everyone else does at home. Big Ten officiating chief Bill Carollo wants his crews to be held accountable. He puts a lot of pressure on them to get it right. Sure, some fans will act like idiots, but the yelling at the officials is going to be there with or without the replays. It's important to enhance the game-day experience at a time when attendance is dropping a bit and the modern-fay fan wants more out of his/her Saturday afternoon.
---
Lone Wolf McCaw from Siberia, USSR:
I don't get it Adam, I don't. I see there are a lot of coaches that won't name who their starters are. Why? I get there are players and positions where you just don't know who is better, or want to see how they perform in a real game. But you can't tell me that, that is the case with all the teams that won't give out a depth chart. Are the coaches writers for a mystery TV show or something, and want to keep us guessing til the end? How does not revealing who your starters are benefit the team in any way, shape or form? I will hang up now and listen to your answer.
Adam Rittenberg:
Lone Wolf, as a media member in the business of information, you're preaching to the choir, brother. Some coaches think concealing their starting quarterback provides an advantage because opponents have to prepare for more than one player. I'm not sure I buy that. Teams have so much time to prepare for the opener that they almost overprepare. I think the secrecy has more to do with taking pressure off of the starter, and even the player or players who lose the competition. When you have a true freshman starter, as Penn State likely will with
Christian Hackenberg
, you can delay the heavy scrutiny until after he plays his first game. But I'm not a fan of keeping this under wraps.
---
Steve from Washington, D.C., writes:
Count me among the many Northwestern fans who are incredibly psyched for this season. I'm stoked to see the speed and talent that we have lined up on the defensive side of the ball. What keeps me up at night, though, is that we play in a conference known for power football, big linemen pushing up the middle with a big RB running behind them. Do you think NU will struggle to stop an up-the-gut power run game? Which matchups should I be particularly worried about in this regard?
Adam Rittenberg:
Steve, I think this is a fair concern, although Northwestern's run defense improved significantly in 2012, going from 84th in 2011 to 21st last year (127.6 ypg). The big issue is the loss of defensive tackle Brian Arnfelt, hardly a household name around the Big Ten but a huge part of Northwestern's success against the run. The Wildcats lack depth at defensive tackle and need
Sean McEvilly
to stay healthy and others (
Will Hampton
,
C.J. Robbins
) to step up. Standout safety
Ibraheim Campbell
also plays a huge role in stopping the run. Campbell might be Northwestern's most valuable player, especially against teams like Wisconsin that run the power.
---
Adam from DC writes:
Ohio State lost seven starters from last year's squad, including all four defensive linemen and two of their three linebackers. OSU also won some close games last year and didn't exactly lead the conference in defense.You picked the OSU Defense for your fantasy team. Why so much faith in the 2013 OSU defense?
Adam Rittenberg:
Adam, it has more to do with how fantasy points are awarded for defense, at least in the
ESPN College Football Challenge
, which Brian and I use. Ohio State's defense actually recorded the most fantasy points (149) in the Big Ten last year, while Michigan State's defense, undoubtedly the best in the league, finished sixth in fantasy points (105). Defenses are
awarded points
for team wins, of which Ohio State will have plenty, and can pile up points for scoring touchdowns and forcing turnovers. Ohio State might not be the most stifling Big Ten defense, but I expect the Buckeyes to make a bunch of plays, even with all of their youth. The Buckeyes feature several big-play defenders like linebacker
Ryan Shazier
and cornerback
Bradley Roby
.
---
Jeff from San Diego writes:
I had a slew of Hawkeye questions for you, but really you can answer them all by responding to this one question; will Kirk Ferentz still be Iowa's coach in three years?
Adam Rittenberg:
In three years? Hmm, that's a very tough one. I'm inclined to say yes, but I'm not confident in my answer. That would put Ferentz in his 17th season at Iowa. Obviously, he has a
hefty contract that goes for much longer
, and maybe he'd like to keep coaching the Hawkeyes for another eight years. Still, it's a long time, and if the momentum doesn't turn soon, Iowa will face a tough decision with its highly paid coach. I don't think Ferentz is in danger this season, but he has to show some positive signs soon. The move to the West division and the soft schedules the next few years should help him.
---
Ben from Ann Arbor, Mich., writes:
Adam, where would you have put
Jake Ryan
in your preseason rankings had he been healthy? I'm thinking between Roby and Dennard, but I'd appreciate your unbiased opinion.
Joe from Columbus, Ohio, writes:
Really? No
Carlos Hyde
in the top 25? Does his three-game suspension (no charges by the way) really merit that much of a drop? Where would he have ranked had he not been suspended? I figured he would have be top 10/ top 15 for sure.
Adam Rittenberg:
Ben, I think we would have had Ryan around No. 11 or No. 12, behind both Roby and Dennard, who have a little more potential to be nationally elite than Ryan does. I'm a big fan of Ryan's playmaking ability, though, and can't wait to see him back on the field for the Maize and Blue. Joe, we were in a bit of a bind with Hyde because when we kicked off the rundown, his status for the season was very much in doubt and there had been some chatter that he wouldn't play this fall. We had to make
our full list
on the assumption that he wouldn't play. If the Hyde situation hadn't happened, you'd probably see him right around the No. 15 spot.
December, 13, 2011
12/13/11
6:05
PM ET
Earlier today, we revealed a handful of our top freshmen from 2011. Now it's time to unveil the entire Big Ten All-Freshman team from the season.
Some positions were easier to find players than others, but this crew should be worth watching in years to come. Both
true freshmen
and
redshirt freshmen
were considered for the team.
Without further ado ...
OFFENSE
QB:
Braxton Miller
, Ohio State
RB:
Donovonn Young
, Illinois
RB:
Ameer Abdullah
, Nebraska
WR:
Kenny Bell
, Nebraska
WR:
Kevonte Martin-Manley
, Iowa
TE:
Jon Davis
, Illinois
OL:
Travis Jackson, Michigan State
OL:
Bernard Taylor, Indiana
OL:
Michael Heitz, Illinois
OL:
Brandon Vitabile, Northwestern
OL:
Tyler Moore, Nebraska
DEFENSE
DL:
Marcus Rush, Michigan State
DL:
Ryan Russell, Purdue
DL:
Michael Bennett, Ohio State
DL:
Ben Perry, Minnesota
LB:
Ryan Shazier, Ohio State
LB:
Jake Ryan, Michigan
LB:
Desmond Morgan, Michigan
CB:
Bradley Roby, Ohio State
CB:
Blake Countess, Michigan
S:
Mark Murphy, Indiana
S:
Ibraheim Campbell, Northwestern
SPECIAL TEAMS
K:
Matt Wile, Michigan
P:
Mike Sadler, Michigan State
KR:
Raheem Mostert
, Purdue
PR:
Ameer Abdullah, Nebraska
There were some tough choices, and several positions had more candidates than others. Cornerback, for example, featured several promising freshmen contributors. Michigan State's Tony Lippett and Penn State's Adrian Amos were close to making the cut. Indiana quarterback
Tre Roberson
is another player meriting mention, although Miller deserved the nod at quarterback.
Not surprisingly, it was a struggle to fill out the offensive line as most freshmen linemen don't see the field. Like we did with the general All-Big Ten team, we didn't assign positions for the O-line and simply picked the best five players. It also was a bit unusual not to have a full-time freshman place-kicker. Michigan's Wile handled kickoffs and some punting, but Brendan Gibbons kicked field goals for the Wolverines.
Weekend Recruiting Wrap: Big Ten - Dec. 2