Michigan Wolverines:

Gene Smith
May, 20, 2013
May 20
9:00
AM ET
Ohio State already had started paying more competitive salaries for assistant coaches before Urban Meyer arrived in November 2011.
But when Meyer and athletic director Gene Smith sat down to discuss staff pay, Smith soon realized he needed to do more.
"I think Michigan had stepped up with their coordinators," Smith recalled last week during Big Ten spring meetings in Chicago. "So we were already going to that before Urban Meyer came, but we bumped it up a little more. Any time there's change, you have that opportunity."
[+] Enlarge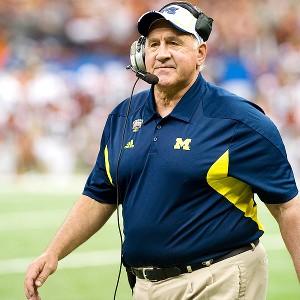 Lon Horwedel/Icon SMIMichigan DC Greg Mattison ranks as the highest-paid assistant coach in the Big Ten for the 2013 season.
"Everyone's always focused on head coaches' salaries," Smith continued. "That's always the thing. But really when you look at the changes, it's really been assistants' salaries across the country -- not just in the SEC, but the Big 12, Pac-12, all across the country."
The Big Ten is part of the change, too, as the league is allocating more money toward football assistants than ever before. The Detroit Free Press has an
excellent look at Big Ten assistants' salaries
, complete with a
database
that includes 10 of the 12 current members (Northwestern doesn't submit salaries as a private institution, and Penn State doesn't have to because of state laws).
The Free Press found that eight of the 10 schools are paying more for assistants in 2013 than they did in 2012 (only Indiana and Illinois are not). There are some significant total increases, such as Wisconsin (up $558,000), Nebraska (up $518,500), Purdue ($400,000) and Minnesota ($355,000). Staff pay had been an issue at Wisconsin, which lost six assistant coaches following the 2012 Rose Bowl, and at Purdue, which paid less for its staff during the Danny Hope era than any Big Ten school.
The total trend among the 10 schools is an increase of $1,720,852.24 for 2013.
Ohio State and Michigan remain No. 1 and No. 2 in Big Ten staff salary, as the Buckeyes allocate $3.416 million and the Wolverines allocate $2.805 million. Nebraska and Wisconsin make the biggest moves in the league for 2013, as the Huskers rise from sixth to third and the Badgers rise from seventh to fourth.
Illinois, which replaced five assistants from the 2012 team, including co-offensive coordinators Chris Beatty and Billy Gonzales, dropped from third in staff pay ($2.314 million) to eighth ($2.065 million).
The database shows that nearly every Big Ten assistant with "coordinator" in his title -- whether he's the sole coordinator or a co-coordinator -- will earn north of $300,000 for 2013. Only 18 assistants listed will make less than $200,000 in 2013 -- 15 work for Minnesota, Illinois, Purdue and Indiana.
Some notes:
Although Wisconsin paid former offensive coordinator Paul Chryst good coin, the school has increased its commitment for Gary Andersen's staff, not only with the coordinators but with some coveted position coaches like running backs coach Thomas Hammock ($300,000).

All of Nebraska's assistants are earning $200,000 or more for 2013, but there's a huge drop-off between Beck and the next highest-paid assistant (defensive coordinator John Papuchis at $310,000).

Michigan State has a similar drop off between Narduzzi and co-offensive coordinators Dave Warner ($270,000) and Jim Bollman ($260,000). Warner will be the primary offensive play-caller and has been on Mark Dantonio's staff since 2006, while Bollman is a newcomer.

Although Michigan is paying top dollar for its coordinators, the school gets its assistants for a relative bargain. Receivers coach/recruiting coordinator Jeff Hecklinski will earn $225,000 in 2013, while the others all will earn $205,000. Ohio State, meanwhile, pays all but one of its assistants $286,000 or more.

The Big Ten's three lowest-paid assistants all are in their first years: Illinois wide receivers coach Mike Bellamy ($125,000) and Purdue linebackers coach Marcus Freeman and running backs coach Jafar Williams (both at $120,000).

Although schools like Illinois, Wisconsin and Iowa ($325,000) pay their coordinators the exact same amount, others have slight differences in salary. Purdue's Shoop makes $5,000 more than defensive coordinator Greg Hudson. Minnesota defensive coordinator Tracy Claeys ($340,000) makes $5,000 more than offensive coordinator Matt Limegrover. Wonder if that leads to any underlying jealousy?

Most Big Ten schools have assistant salaries in round numbers, but there are some interesting totals from Indiana, which pays co-offensive coordinators Seth Littrell and Kevin Johns $255,500.04 and new recruiting coordinator/assistant defensive line coach James Patton $173,740.08. Never know when that change can come in handy.
The Big Ten still lacks some of the OMG totals seen in the SEC -- LSU is
paying new offensive coordinator Cam Cameron $3.4 million
in the next three years -- but the overall trend puts the league more on par with what we're seeing nationally.
April, 29, 2013
Apr 29
3:31
PM ET
You've waited for it, and the Big Ten prime-time schedule for the 2013 season is finally here. Well, at least the first part of it.

ESPN/ABC has made its six prime-time picks for the upcoming season. One game already had been announced: Notre Dame at Michigan on Sept. 7.

Here's the full Big Ten prime-time schedule on ESPN/ABC:

Sept. 7: Notre Dame at Michigan, 8 p.m. ET, ABC or ESPN or ESPN2

Sept. 14: Notre Dame at Purdue, 8 p.m. ET, ABC or ESPN or ESPN2

Sept. 28: Wisconsin at Ohio State, 8 p.m. ET, ABC or ESPN or ESPN2


February, 12, 2013
Feb 12
10:30
AM ET
The sting from the
collapse of the short-lived Big Ten/Pac-12 scheduling alliance
isn't totally gone for Big Ten commissioner Jim Delany, but his desire to form partnerships with other conferences hasn't wavered.

Delany told ESPN.com on Monday that the Big Ten continues to explore possible affiliations with other leagues, both for bowl games and non-league scheduling. The Big Ten will be
increasing its conference schedules to nine or 10 games
, reducing the number of nonconference games by one or two per season.
"We would like to discuss [partnerships]," Delany said. "We were disappointed that the [Pac-12] collaboration didn't work. Whether we're at nine or 10, there will be fewer nonconference games, but we hope the fewer are better improved in quality. We would be very energized to sit down with others who were interested in also upgrading their schedules to see how we could do that."
Delany points out that different Big Ten programs have different goals, whether it's competing for national championships or making bowl games on a regular basis. But the message from the league office to its members is to push themselves more in non-league scheduling.
"What we've got to do is upgrade," Delany said. "It doesn't make any sense to be playing people from different divisions with fewer scholarships [FCS]. It doesn't make sense for everyone to be playing Southern Cal and Texas, but there's comparability there that we could seek out. We're trying to find out ways that we can create fair schedules, good schedules, healthy schedules for our teams, our players, our coaches and our fans."
Creating healthier bowl matchups also is an objective for the Big Ten. One idea gaining steam is to increase the flexibility of the selection process by sharing tie-ins with other conferences.
The Big Ten continues to have conversations with other leagues and bowl games as it prepares for its next lineup -- beginning in 2014 -- one built around " keeping things fresh for the fans and for the players and for the bowls," Delany said.
"If you have someone who goes to the same bowl three years in a row, that's problematic," Ohio State athletic director Gene Smith said. "Even two years in a row is problematic. So how do we change that model?"
The Big Ten has valued its alliances with the Rose Bowl in football and with the
ACC in basketball
. Other leagues
like the Big 12
also are motivated to form similar partnerships.
"The problem with partnerships beyond two or three or four is everybody has different objectives," Delany said. "Simple partnerships are easier than multilateral partnerships, but we'll explore both."
February, 1, 2013
Feb 1
9:00
AM ET
As we've written for the past several days, Big Ten athletic directors have a whole host of decisions to make over the next few months, including
how many league games
they should play,
how to align the divisions
,
the next bowl lineup
and even
what to call the divisions
.

"We've got some heavy lifting to do here for the next few months," Purdue athletic director Morgan Burke said.
But what if all that huffing and puffing turns out to be a Sisyphean task? There's one thing that could send conference leaders scrambling back to the drawing board: more expansion.
The decisions the athletic directors will make for the 2014 season and beyond will be based on the new 14-team format with Maryland and Rutgers joining. Many people suspect the Big Ten is not done adding members and could soon grow to 16 or even to 20 members. Ohio State president E. Gordon Gee recently informed us that conference
expansion talks are "ongoing."
The athletic directors are well aware of the possibility that more teams could be coming at just about any time.
"Based on the last three years I've been in this business, you'd be crazy not to think about it," Michigan athletic director Dave Brandon said. "But it's hard to model anything because you don't know what to model. The minute you get yourself convinced that you're going to go from 14 to 16, for all you know you're going to 18, and a lot of people think the ultimate landing place is 20. Who knows?"
For now, all the decisions they make will be based on a 14-team model only.
"You make your decision based on today," Iowa's Gary Barta said. "And today, we have that many teams. We can't worry about something that's not established yet. I don't know if and when there will be more teams. Right now, we're going to make decisions based on the additions of Rutgers and Maryland, and we're going to make them with the information we have, consistent with our principles."
"It's hard to predict the future," added Northwestern's Jim Phillips. "No one would have predicted we'd be at this place we're at right now. I don't think you can get polarized by the what-ifs or the potential of what might be and lose sight of where you're at."
The league's ADs will do their best to come up with the best framework for a 14-team league. If future expansion arrives in time for the 2014 season or shortly after it, at least the conference has gained lots of recent experience in how to deal with it.
"When you get into the discussion of things like 10 [conference games], you say, 'Wow, if we had a couple more teams, it would be easier,'" Ohio State athletic director Gene Smith said. "That's a natural. But it's not something that motivates you to say, 'We've got to position this in case we have another team, or two more teams.' We don't do that."
"What I've liked about our league is, when we added Nebraska, we felt like we needed to settle and watch the landscape. We thought the East Coast was important, and we got two good pickups relative to that principal. So I think we deal with what we have now, sit, monitor the landscape, and if something emerges down the road, we're positioned to be able to absorb."
November, 21, 2012
11/21/12
10:15
AM ET
Ten items to track around the Big Ten on the final weekend of the regular season:
1. Bigger than The Game:
Michigan defensive lineman
Will Campbell
told me this week that
The Game never wavers in importance
, whether Ohio State is 0-11 or 11-0. That's a good attitude for a player to have, but from the outside looking in, the Michigan-Ohio State game is much more appealing when there's a lot at stake for both teams. For the first time since 2007, that's the case. Ohio State aims for the sixth unbeaten, untied season in team history. Michigan can hand the Buckeyes their first loss and possibly reach the Big Ten title game. This one should be fun. "It makes the game even bigger," Ohio State cornerback
Bradley Roby
said.
2. Bo knows:
Stunned by his team's performance in a 63-38 loss to Ohio State, Nebraska coach
Bo Pelini sat in the visitors' media room
at Ohio Stadium and said, "Like I just told the football team, we need to win out. We need to win out." Few thought it would happen, and even Pelini's faith had to be wavering a bit at that low point. But Nebraska has won five consecutive games, rallying for three of the victories, and need only beat slumping Iowa in the Heroes Game to punch its ticket to Indianapolis. The Huskers have ridden the roller coaster all season, but they'd need a serious derailment in Iowa City not to fulfill Pelini's pledge.
3. Senior day in State College:
There might never be another senior day at Penn State quite like the one Saturday at Beaver Stadium. Penn State will recognize a class that kept the team together during a tumultuous summer that included severe NCAA sanctions being handed down and several key player departures. "There's no doubt," first-year coach Bill O'Brien said, "that they set the tone for the future of Penn State football." Unfortunately, Penn State will play without senior linebacker
Michael Mauti
, a top candidate for Big Ten defensive player of the year and the team's emotional leader. Mauti, who suffered a knee injury last week, will be recognized along with his classmates.
4. Spartans, Boilers face must-wins:
Both Michigan State and Purdue entered the season with lofty goals, particularly the Spartans, pegged by many to win the Big Ten and reach the Rose Bowl for the first time in a quarter-century. Few expected MSU and Purdue to be fighting for bowl eligibility in Week 13, but that's exactly the case. Michigan State must win at Minnesota, and coach
Mark Dantonio is confident
, saying Tuesday, "When we win Saturday -- and I'll say when -- we'll be a 6-6 football team." Purdue, meanwhile, aims for its third straight win when it hosts rival Indiana in the Bucket game. Will a 6-6 season save fourth-year coach Danny Hope?
[+] Enlarge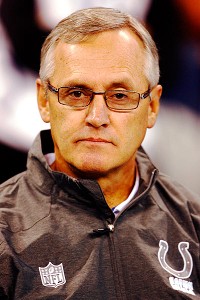 Brian Spurlock/US PresswireJim Tressel, now a consultant for the Indianapolis Colts, will be part of Ohio State's celebration of its 2002 national-title team.
5. Tressel's return:
Former Ohio State coach Jim Tressel will return to Ohio Stadium on Saturday for a reunion of the school's 2002 national championship team. It marks Tressel's first major public appearance at Ohio State since resigning from his post on Memorial Day in 2011. It will be interesting to see how the Buckeyes faithful react to Tressel, whose actions helped land the team in hot water with the NCAA. On the flip side, Ohio State's program is arguably better off with Urban Meyer as coach. "Some people will embrace it, some people will not,"
athletic director Gene Smith told The (Cleveland) Plain Dealer
. "Some people will feel it's awkward, some people will not. I'm not going to feel it's awkward because I'm realistic -- he was part of that team. And I know what he means to those players."
6. Their kind of town:
Northwestern and Illinois both want to increase their clout in the Chicago area. Pat Fitzgerald's Wildcats have been the more consistent program in the past decade and take an 8-3 record into Saturday's clash with the Illini at Ryan Field. With a win, Northwestern will match its highest victories total under Fitzgerald, who would tie Lynn "Pappy" Waldorf for the school's career coaching wins record (90). Illinois first-year coach Tim Beckman has emphasized the Northwestern rivalry from the moment he arrived. Perhaps his players will respond with a strong effort to end an otherwise miserable season.
7. Making their cases for awards:
The Big Ten hands out all its awards next week, and races for offensive and defensive player of the year are still very much in doubt. Mauti's injury creates a potential opening in the defensive player of the year race, and a lot could depend on what happens in Columbus, as candidates such as Michigan linebacker
Jake Ryan
and Ohio State's tandem of
John Simon
and
Ryan Shazier
take the field. Other candidates, such as Purdue defensive tackle
Kawann Short
, also are in action. Ohio State quarterback
Braxton Miller
remains the front-runner for offensive player of the year, but Nebraska's
Taylor Martinez
has been brilliant of late and could challenge Miller if he turns in a monster game at Iowa.
8. Boiler spoilers:
Two weeks ago, Indiana was a home victory from putting itself in line to represent the Leaders Division in the Big Ten title game. The Hoosiers now know their season will end Saturday in West Lafayette, as they won't be going bowling for the fifth consecutive season. But Kevin Wilson's team still can reclaim The Bucket and prevent Purdue from making a bowl game. Wilson talked Tuesday about how the season doesn't feel like it's ending, and with so many young players, the future is promising. He downplayed the spoiler role, saying Tuesday, "It has nothing to do with what it does for them; it's about what it does for us. Winning is good for us. Winning builds us." Indiana has eight home games next season and should be in the mix for a bowl. A victory Saturday would be a nice boost before a crucial offseason.
9. Gray's day:
Minnesota will recognize 15 seniors Saturday against Michigan State, and none has had a more unique career than
MarQueis Gray
. He arrived as a nationally heralded dual-threat quarterback recruit, played quarterback for a year, played primarily wide receiver for a year, started 10 games at quarterback in 2011 and opened this season as the top signal-caller but moved to wide receiver following an ankle injury. He will play primarily at receiver against the Spartans but had two rushing touchdowns last week and could see increased time in the backfield. Gray talked this week about
"closing the chapter" on his Gophers career
, and it'll be interesting to see how he performs in his final game at TCF Bank Stadium.
10. Denard and Devin:
Michigan's
Denard Robinson
is healthy again, but how much quarterback he will play against Ohio State remains to be seen. Robinson's replacement,
Devin Gardner
, has been spectacular since returning to the quarterback role, accounting for 13 touchdowns in the past three games, including six last week against Iowa. Michigan started the Iowa game with Gardner at quarterback and Robinson at running back, and offensive coordinator
Al Borges has the "creative juices" flowing
as he crafts the game plan for Ohio State. Robinson and Gardner certainly give Michigan's offense a different look -- and some extra homework for Ohio State's improving defense.
October, 14, 2012
10/14/12
8:45
PM ET
Oh, Gene Smith. If only Ohio State had self-imposed a bowl ban in 2011 before the NCAA did (for 2012), there's a good chance the unbeaten Buckeyes would be headed to some BCS game, perhaps the big one Jan. 7 in Miami.
As it stands, Ohio State is out of the mix (along with Penn State), and Michigan, despite two losses to top-10 teams, looks like the Big Ten's best bet to reach the Rose Bowl. The Wolverines have been dominant in their first two Big Ten games, and enter a crucial Legends stretch against Michigan State and Nebraska. Right now, Brady Hoke's squad clearly is the team to beat.
Wisconsin makes a nice move in the projections after dismantling Purdue at Ross-Ade Stadium. Following back-to-back trips to Pasadena, the Badgers are pegged for a familiar bowl site -- Orlando, Fla. -- in the Capital One Bowl. Nebraska drops a spot in the projections, partly because of its struggles and partly because it visited the Capital One Bowl last season. Iowa, meanwhile, moves up after its road upset of Michigan State. Although Iowa and Northwestern could finish with similar records, Iowa's larger fan base gets it the nod to the Gator Bowl.
Michigan State, our preseason Rose Bowl pick, tumbles to the Meineke Car Care Bowl of Texas following its third home loss of the season. The Spartans could be looking at more defeats, as their upcoming schedule (Michigan, Wisconsin, Nebraska) only gets tougher.
We're keeping both Minnesota and Purdue in the bowl projections for now, but both teams have some work to do. The Gophers certainly could get to six wins with MarQueis Gray, but the senior quarterback's health remains a question mark. Purdue is an absolute mess and could have a tough time winning three more times. Indiana isn't in the projections just yet but has shown impressive fight in Big Ten play and has some winnable games left.
Here's our latest way-too-early stab at projecting the postseason:
Rose Bowl, Jan. 1: Michigan

Capital One Bowl, Jan. 1: Wisconsin

Outback Bowl, Jan. 1: Nebraska

Gator Bowl, Jan. 1: Iowa

Buffalo Wild Wings Bowl, Dec. 29: Northwestern

Meineke Car Care Bowl of Texas, Dec. 28: Michigan State

Heart of Dallas Bowl, Jan. 1: Minnesota

Little Caesars Pizza Bowl, Dec. 26: Purdue
Weekend Recruiting Wrap: Big Ten - Dec. 2