Michigan Wolverines:

Fitz Toussaint
March, 13, 2014
3/13/14
12:00
PM ET
Hoops, hoops everywhere. Here's some football:
October, 16, 2013
10/16/13
5:00
PM ET
It's mail time. I'll warn you in advance, it's going to get weird at the end.
Jason from Columbus writes:
Brian, Iowa is the only FBS team in the country that has not allowed a rushing touchdown in the country this season. Ohio State is 12th in the country with 17 rushing touchdowns in only 6 games. Who comes out on top this weekend, Iowa's rush defense or
Carlos Hyde
,
Dontre Wilson
,
Jordan Hall
, and the rest of the Buckeyes who can run through a defense?
Brian Bennett:
Good question. Urban Meyer is so impressed with Iowa's front seven that he mentioned them in the same sentence as Alabama this week. Not sure I'd go that far, but the improvement of the Hawkeyes' defense up front has been one of the pleasant surprises this season. However, as you mentioned, Ohio State has a great running game. And that all starts with what has been the best offensive line in the Big Ten for the past two years. The Buckeyes' blockers are big, physical and smart, and they pave the way for the speed of Hall, Wilson and
Braxton Miller
as well as the power of Hyde. That's going to be tough for any defense to stop, including one playing as well against the run as Iowa.
The bigger concern I'd have if I were Kirk Ferentz and Phil Parker is Miller taking shots down the field. Ohio State is not a consistently good passing team but does connect at times on the deep ball, and the Hawkeyes are more vulnerable on the back end.
David K. from Oxnard, Calif., writes:
First off, I'm biased: I've been a Badger football fan since November 1962, when I attended the UW-Minnesota game, which the Badgers won with a great comeback, led by Ron Vanderkelen and Pat Richter. And I attended the UW, off and on, from 1966 to 1974. Biases admitted, why the heck isn't
Melvin Gordon
even being mentioned in the discussions regarding the 2013 Heisman Trophy? He's the 3rd-leading rusher in the BCS division with a 9.7 YPC average. Every time he touches the football, everybody holds their breath. I mean, c'mon, guys, what does he have to do? Leap tall buildings in a single bound?
Brian Bennett:
I love watching Gordon, and we named him our midseason offensive player of the year as well as an ESPN.com first half All-American. So he's on the radar for the Heisman, but there are a few things really working against him. One is that Wisconsin has two losses. For better or worse, the Heisman usually goes to players on national title contenders, although Robert Griffin III and Tim Tebow both won it on teams with multiple losses. Another problem is that in the Badgers' signature game, at Ohio State in primetime, Gordon has his lowest output of the season and got injured to boot. Wisconsin simply doesn't have any marquee games left on the schedule, so he won't get the opportunity to make up for it. Gordon would have to put up insane numbers to get back in the conversation. He is, of course, capable of doing just that.
Alex H. from Bloomington, Ill., writes:
Watching that Michigan-PSU game was a bummer, I will not lie. Can we not act like the sky is falling for a moment? The defense played opportunistic despite that last-minute 4th quarter drive, and even on those throws coverage wasn't bad. I was impressed with Gardner's 2nd half. The biggest concern is Lewan out, the run game stalling. This loss doesn't hinder there Big Ten championship goals as they still play Neb, NU, MSU in November. I'd still put them near the top of the Legends, am I being too optimistic in thinking Indy?
Brian Bennett:
Michigan certainly can still win the Legends Division. But the Wolverines are going to have to fix some major problems first. You mentioned the running game, and it is abysmal. It's going to be hard to win those big games in November if Michigan cannot effectively run the ball. The turnovers by Gardner are of course another massive problem. The defense, meanwhile, has been decent but not overpowering, though
Jake Ryan
's return should help. As I've written and asked, what exactly is the strength of this Michigan team? I can't seem to find one. And so it's hard to envision a team like putting together a long winning streak, especially once the schedule toughens up in November.
John K. from Austin, Texas, writes:
You and Adam noted that Brady Hoke "played for the safe field goal instead of going for the touchdown in overtime" as if that is a bad thing. Now, I can understand if he was just going for the tie, but each time it was for the win. He has a good kick (or at least at that point no reason not to believe that). With a good kicker and 42 yards for the win... I'm taking that every day of the week!
Brian Bennett:
To be clear, I'm not saying Hoke should have been going for it on fourth down when all he needed was a field goal to win. I have a major problem with the playcalling on first and second down, when Michigan gained two total yards after
Sam Ficken
missed a field goal in the first overtime. I know
Brendan Gibbons
has been a very good kicker, but a 40-yard field goal on the road in overtime is by no means a sure bet for most college kickers. And then you run the risk of having it blocked, which is exactly what happened.
It's only fair to also point out that Michigan did throw a pass in the third overtime after
Allen Robinson
's fumble, and it gained nine yards. But then on third and one, I hated the call to have
Fitzgerald Toussaint
run it when Michigan's running game had been terrible all game.
We saw the same thing late in the fourth quarter, when Michigan had the ball at Penn State's 28-yard line with 3:10 left, leading by seven. The next three plays were Toussaint runs, which ended up losing two yards, plus a delay of game penalty, to take the Wolverines out of field-goal range.
I understand playing it safe with the lead on the road, but Toussaint had 27 rushes for 27 yards in last week's game. Why would you go to that well 27 times when it clearly isn't working, especially when the game is on the line? You might as well just kneel. And how many times over the years have we seen teams stop being aggressive and then lose?
Sam from East Lansing writes:
First time, long time. Brian, as we progress through the season and my Spartan offense has appeared to return to average (very, very average), I have a scenario question for you. If a Legend' team plays an undefeated Ohio State team in the B1G Championship and loses, possibly putting the Buckeyes in the National Championship, does that mean the loser of B1G Championship game is put in the Rose Bowl automatically or would the bowl committee go back and look at win-loss records, including the B1G Championship lose? Should Legends contender teams who miss Ohio State on the schedule (ie. Michigan State, Nebraska) be rooting for Ohio State to go undefeated? Thoughts of Michigan 2012 Sugar Bowl mishap are dancing in my head. Please calm them.
Brian Bennett:
Not sure you'll like my answer, Sam. If Ohio State goes to the BCS title game, then the Rose Bowl is free to choose any team that qualifies in the BCS standings as its replacement pick. That means the Rose could go outside the Big Ten for its choice, but with this being the 100th edition of the game and the last one before the playoff could disrupt things, I think the Rose Bowl will make every attempt to stage a classic Big Ten-Pac-12 matchup.
The problem is that, historically, losers of conference championship games don't get selected for at-large spots. Bowls prefer teams who are riding winning streaks rather than ones coming off a loss. And Michigan State's issue could be a lack of signature wins. A team like Wisconsin, should it go 10-2, or a Legends runner-up like Nebraska or Michigan could leapfrog the Big Ten runner-up in such a scenario.
As an aside, I know Michigan State is dying to get back to the Rose Bowl. If the Spartans lost to Ohio State in the championship game but still got picked for the Rose, would it feel ... earned? Or does just getting to the Rose Bowl any way possible enough?
Glenn from Florida writes:
Brian, aside from your's, Adam's, and all of ESPN's love for OSU, how can you justify the PSU-Michigan game as not the best and biggest game?
Brian Bennett:
I guess you're talking about our choice of Ohio State-Northwestern as the top game of the first half. You know, just because games go to multiple overtimes does not mean they're great. Michigan-Penn State was very sloppy, and some of the continued failures in overtime was ugly to watch. Northwestern-Ohio State was a far better game aesthetically, in my opinion.
Barry M. from Sheboygan, Wis., writes:
I'm guessing we will not see any Purdue players on [your fantasy teams] this season. You could make it interesting and add a rule that you must take a player from each team for at least one week during the season.
Brian Bennett:
It's nothing personal, Barry, it's just that I want to beat Adam much more than I want to have every school represented on my fantasy team. This isn't the baseball all-star game. Purdue does not have a player in the top 10 in rushing or passing and is starting a true freshman quarterback. There's just not much to choose from. But I'll make you this promise, Barry. If I have either wrapped up the championship or am out of it in the final week, I will pick up a Boilermaker for my team. Even if it's just the kickers.
Bart from Waverly, Neb., writes:
I see how you and Adam both voted Wisconsin in the 17-18 spot. My question is, how do you justify ranking them that high when they have two losses? Granted, one was to OSU, but the other was to a (currently) unranked ASU. I am just curious as the Huskers have had their defensive troubles, but our single loss was to a top-10 team in UCLA, and only Adam was generous enough to include Big Red in his rankings.
Brian Bennett:
I've heard from a few Huskers fans who are miffed that I didn't rank Nebraska, and many of them try to use the loss to UCLA as some sort of justification. Sorry, but you don't get credit just for playing a highly-ranked team, especially if you lose to said team by 20 points at home while looking terrible in the second half. Nebraska just hasn't beaten anyone with a pulse. I won't rank the Huskers until they do, and if that happens, they'll climb up my ballot quickly.
It's a much different story for Wisconsin, whose two losses were on the road to very good teams, and one of those defeats was a direct result of some of the worst officiating incompetency I've ever seen. The Badgers played Ohio State, clearly the best team in the league, to within a touchdown on the road and smashed what was a Top 20 Northwestern team. There's no doubt in my mind that Wisconsin deserves a Top 20 ranking.
Tim P. from Port Washington, Wis., writes:
It is maddening to me to keep hearing about Michigan's "winged" helmets. The markings on a wolverine are the alleged "wings" on its head and stripes down the rest of its body. The Michigan helmet is thus simply a representation of the markings on the wolverine animal. Of course, the Michigan athletic department gets away with calling these helmets "winged" because few, if any, Michiganders have ever actually seen a wolverine. Wolverines are not indigenous to Michigan as their habitat is prmarily alpine tundra and mountain forests; environments which are found only in North America in Canada and the Western U.S. It is estimated there are only 250 to 300 wolverines still living and they are found in Western Montana, Idaho and Eastern Washington and Oregon. So I don't know who started this myth that the Michigan helmets are "winged" but I am sick and tired of hearing about it.
Brian Bennett:
OK, then. It appears we've reached the bizarre part of the mailbag. Proceed with caution...
SSG Smith, Justin from Ft Campbell Ky writes:
Hey Brian, I am not by any means the most knowledgeable NCAA Football fan out there. I say this to humble my self before I ask this question. Were you bullied by a Nebraska fan as a child (or young adult)? ... How do you give so many teams the advantage over Nebraska. Your Biased is unprofessional and your over all hate for the Huskers is blinding. Why do you blog for the Big Ten without being biased?
Brian Bennett:
Ho, boy. Yep, I hate Nebraska so much that I picked the Huskers to win the Legends Division in the preseason. And I picked them to win the Big Ten title game last year. What a hater! Justin also included in his email the records of the teams Nebraska has beaten this year, as if that somehow helped his case. But he did admit right up front that he wasn't knowledgeable, so I can forgive.
John F. from Mansfield, Ohio, writes:
IF you represent the BIG, you should parlay this into BIG votes, I constantly watch "How You VOTED" and ALL I see is YOUR votes for the SEC not the BIG ... YOU cannot say you are BIG representatives, and continue to give other conferences your votes....... this makes you 2-faced and opinionated as well, that's great for people who choose to pencil whip a conference for being the best in the nation... It is press writers who have a vote that are destroying the BIG .......... NOT THE PLAYERS
Brian Bennett:
I only included about half of John's email, which if there were any justice would have been cobbled together by random letters from magazines. I guess the ESPN.com power rankings ballots that Adam and I submit each week are what's holding the Big Ten back. Sure, makes sense. Also, covering a league as a reporter and "representing" a conference are two very different things. Until the Big Ten starts signing my checks, I'll report, write and vote with my conscience, thanks.
September, 4, 2013
9/04/13
9:00
AM ET
If you've been paying attention to college football over the last few seasons, Michigan's rematch with Notre Dame under the lights this weekend is a game you've been waiting for. So why don't we chat about it? You sent in your Michigan-Notre Dame questions and I answered. Here's what we've got.
1. Paul, Chicago: Can Michigan's O-line really hold up against Notre Dame's defensive line?
A:
That's a great question. If Michigan doesn't play well there, it doesn't win the game. Plain and simple. Offensively, the Wolverines will have a really tough test with Notre Dame's odd front (and front seven, but let's just focus on the D-line for right now). On the inside, Louis Nix is going to be a challenge for the young interior offensive linemen. He's 6-foot-3, 340 pounds, meaning the prospect of him outmuscling and overpowering center
Jack Miller
(6-foot-4, 290 pounds) isn't completely out of the question. And defensive end
Stephon Tuitt
is going to be a challenge too, though one I think
Taylor Lewan
can handle.
2. Christian Sack via Twitter: Derrick Green arguably was one of the better RB's yesterday, will he share carries with Fitz Toussaint vs. ND?
A:
I think we will. Offensive coordinator Al Borges still wants to have a featured back but he said Tuesday that from game to game we might see different looks. I think it's smart to use both of them if both can be effective. I think as Green gets his sea legs we'll still see more of Toussaint, but I don't think it's out of the question that we'll see a fair amount of both.
3. Timothy, New York: Does Michigan have enough weapons in the passing game beyond Jeremy Gallon and Devin Funchess? Or is that all the Wolverines will need against Notre Dame?
A:
I believe those will be the two biggest targets we see this season. However,
Joe Reynolds
proved himself effective on Saturday so I wouldn't count him out for a reception or two a game, especially as Michigan works to get the ball in the air more. And
Drew Dileo
is a name that will always pop up. But if you have to pick just two guys who will be the big targets against Notre Dame, I would think it's those two. They create mismatches (for different reasons) and the Wolverines will look for every way to exploit those.
4. Mark, Fowlerville: Why was Drake Johnson being used on special teams? Why would you have the No. 2 RB on special teams?
A:
There are several coaches who look at special teams as the third tier of importance, however Brady Hoke doesn't necessarily look at it that way. He has been very vocal about how there are three equally important parts of the team and he has offered scholarships to special teams players. Last season
Blake Countess
was also injured on special teams during the Alabama game, but I feel like both were injuries that could've happened in any aspect of the game. Now, Michigan has more depth at running back this season than it did at cornerback last season, if there's any kind of silver lining here. However, it will be interesting to see if Hoke's take on special teams changes at all going into the rest of the season.
August, 19, 2013
8/19/13
1:14
PM ET
We are here to do a job, not channel Scrooge McDuck.
August, 12, 2013
8/12/13
12:00
PM ET
If that's true, if you don't know who I am, then maybe your best course would be to tread lightly.
March, 15, 2013
3/15/13
1:30
PM ET

The Wolverines look for replacements for two highly productive departed seniors in Denard Robinson and Jordan Kovacs.
March, 13, 2013
3/13/13
9:00
AM ET
Michigan begins spring practice on Saturday with both some question marks and some major returning talent. Brady Hoke says of his team: "We're very young. But these guys have a lot of fight to them." There will also be a lot of fighting for starting jobs, beginning in a few days. I recently caught up with the third-year Wolverines coach for his thoughts on the approach of spring ball:
What are the main things you're looking for this spring?
Brady Hoke:
Well, you know, we've got a lot of open spaces. Some guys graduated, some guys aren't with the program anymore and we've got a lot of young guys. I think we only have 11 starters back on both sides of the ball, so there's going to be a lot of great competition, which is exciting. I think the leadership of our seniors, they've done a nice job of holding everybody accountable. But when you get out there with the pads on, it's a little different than just running around in shorts.
[+] Enlarge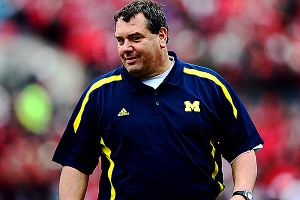 Andrew Weber/USA TODAY SportsWith only 11 returning starters, Michigan coach Brady Hoke said he's excited about the competition this spring.
Some of that competition will be on the offensive line, where you've got three open jobs on the interior. How do you see those battles right now?
BH:
Well, I think the interior of both lines, there's going to be a lot of competition. We've got to find a center, and that's between [
Jack] Miller
and [
Graham] Glasgow
, and
Joey Burzynski
will try to figure that out a little bit, too. At the guard positions,
Ben Braden
is going to move down inside and start out at the left guard, but he'll have a lot of competition because Burzynski is back and so is
Blake Bars
.
Kyle Kalis
will move into the right side, and it will be interesting again with [
Kyle] Bosch
and some of the guys who have been here a little bit. I think it will be a really good competition at all three of those inside positions.
Having
Taylor [Lewan
] back is huge. I think it's great for him and great for Michigan.
Mike Schofield
has had a really good winter. He had some real bright spots during the course of last season, and I think his development is going to be something special.
You mentioned the defensive line, where you also lost a couple of veterans. How does that shape up?
BH
: I think inside, we get
Jibreel Black
for another year and
Quinton Washington
. But once you get through that, there are a lot of young guys ...
Willie Henry
,
Ondre Pipkins
,
Ryan Glasgow
,
Richard Ash
and
Chris Wormley
are all guys who can either play the inside tackle or the strongside end. We'll find out the guys who are competitive.
Tommy Strobel
is another guy we think had a real good winter, and
Keith Heitzman
. So it's going to be fun to see them compete.
Does having so many young guys in key spots on the line make you nervous? Or do you have a lot of confidence in them because you recruited most of them?
BH:
I think it makes you nervous if you think you may have recruited the wrong guys. But we like the work ethic. We like how they've come in to learn and with a lot of enthusiasm. I think there's some competitiveness that we need to keep pushing as a program. You know, we lost five games on the road. We've played pretty well at home but we've got to do better on the road and that's a mindset, a mentality that you have to compete through everything, on every down.
Devin Gardner goes into spring practice as your starting quarterback. How has he developed as a leader?
BH:
I have been really excited about the progress he's made. I'm seeing that maturity that it takes and the leadership it takes and the competitiveness it takes to be the quarterback at Michigan. I think that's a real big part of how he's grown, and I think he's done a nice job with it. I'm liking the direction he's going, and hopefully he can just keep going and keep growing.
What about your running back position this spring, with Fitz Toussaint hurt and Derrick Green not there yet?
BH:
You know, Fitz has come along pretty well. I don't think he'll do a lot of contact or anything like that, but I think he'll be cleared for a lot more drill work. That's gone real well. We've moved [
Dennis] Norfleet
back to running back and we're going to give him an opportunity. Dennis, he's a smaller guy, but he's a very competitive, very tough young man.
Drake Johnson
is a guy we redshirted a year ago, and we really liked the way he competed in scout situations. In the bowl practices, we did some scrimmages and gave him a lot of carries, and we're very excited about what he has to offer.
Thomas Rawls
is coming back, and I think he learned a lot last year about the vision he needs to play with, and I like how he's competed through the [winter]. And
Justice Hayes
is a guy who gives you a little bit different look because of how he can get on the perimeter. He did some things in a couple of games last year, but now I think he'll have a big stage to prove himself more this spring. And he's a bigger guy now, he's 190-something pounds, so he's a little bigger.
[+] Enlarge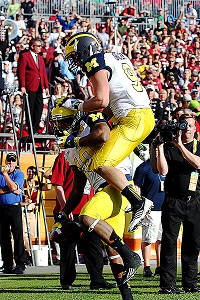 Kim Klement/USA TODAY SportsMichigan coach Brady Hoke said that he's pleased by more than just the on-field success of WRs Drew Dileo and Jeremy Gallon.
You have Jeremy Gallon back at receiver, but you lost Roy Roundtree. You sounded excited about some of the younger guys there during bowl prep. Is spring their time to step up now?
BH:
Yeah, I think so. First of all, I think the leadership with Gallon and
Drew Dileo
, they've done a really nice job being leaders at that position. They're not big guys, but they have a real spirit for the game and really do a nice job of working and leading. We have
Amara Darboh
, who played a little last year, and
Jehu Chesson
, who we redshirted a year ago. And I think
Jeremy Jackson
has had a very good winter; we're very excited about some of the progress he's made.
Joe Reynolds
is a guy who walked on here, and he's done a very nice job. And
Bo Dever
, his dad played here and he walked on. I think that during the course of the spring, we'll be in pretty good shape there. I think as we keep going, we'll keep improving at that position.
Linebacker was a strength for you last year and looks to be so again. Do you see some good competition there this spring, particularly at the weakside spot?
BH:
Yeah, I think with
Desmond Morgan
and
James Ross
, there's going to be great competition.
Joe Bolden
and
Royce Jenkins-Stone
and
Mike Jones
are all guys who are very competitive, and I think the three young guys coming in are going to be guys who will give us a lot of good competition and a lot of good depth.
Kaleb Ringer
is coming back from injury, so we'll see what he can give us. At the sam linebacker,
Jake [Ryan
] is coming back, and we really like what
Cam Gordon
has done during the winter. So I think we feel a little stronger at that position.
How do you replace what Jordan Kovacs gave you in the secondary?
BH:
I don't know if you ever replace that kind of leadership, but I really think
Thomas Gordon
, he's played a lot of football here, and it's time for him to demonstrate the leadership. And he's doing that. Because of the number of snaps and everything he's done, he's really fallen into his own a little bit.
Courtney Avery
has played a lot of football, and whether he's a corner a nickel or wherever, he's got to give us great leadership and great reps.
Blake Countess
is getting healthier; he'll do some things during the spring.
Josh Furman
, I think, has come on.
We've got to see where
Terry Richardson
is and where
Marvin Robinson
is. Both those guys have played a number of snaps. We've got
Raymon Taylor
back, who I think started every game for us last year, we're excited about his development.
Dymonte Thomas
is a guy who's going to compete, and he'll pressure some guys.
Jarrod Wilson
is another guy who played some last year for us. Ross Douglas is here early.
Jeremy Clark
is a 6-foot-4, 210-pound safety we redshirted a year ago, and it's going to be a big spring for him to make some moves.
So I think we may have more personnel back there. And even more in the fall when
Channing Stribling
gets in, and
Reon Dawson
gets in and
Jourdan Lewis
. I think it's going to add something to our secondary.
Finally, what has your message been to the team this offseason after last year's 8-5 season?
BH:
Well, our message has been, we haven't met the expectations at Michigan. That's something that as a football community… that we really feel that we have to do a much better job in all areas, from the coaching aspect of it, from learning and playing with the competitiveness we want to have, from every player at every position playing with the intensity we want to play with. It's about having a mindset and a mentality of how we want to play the game. We make no excuses, but at the same time, we know we have a lot we can do to play better football.
December, 21, 2012
12/21/12
9:00
AM ET
Final grades are in -- at least for each Big Ten team's regular season. We're handing out report cards on each team's offense, defense, special teams and overall performance in 2012.
Today's subject: the
Michigan Wolverines
.
Offense
:
B-minus

Michigan's offense went through several ups and downs this season. The Wolverines averaged a very respectable 30 points per game but ranked just 80th nationally in total offense. The attack fizzled in big games against Alabama, Notre Dame, Michigan State and Nebraska, but averaged 40 points against the likes of Illinois, Iowa, Minnesota, Northwestern and Purdue.
Denard Robinson
ran for 1,166 yards, but was limited in the back half of the season by injuries.
Devin Gardner
put a charge into the passing game starting in November, rejuvenating the seasons of receivers like
Roy Roundtree
and
Jeremy Gallon
. The running backs, though, were a major disappointment, as
Fitz Toussaint
followed up his 1,000-yard season in 2011 with just 515 yards this season. Much of the blame for that belonged to an offensive line that largely underperformed outside of All-American
Taylor Lewan
. Michigan's offense could look unstoppable one week and wholly underwhelming the next -- or even from one half to the next, as the season finale showed.
Defense: A-minus
Though not as dominant on the defensive line as they were a year ago, the Wolverines still found ways to develop into a terrific unit. They finished second in the Big Ten in both points allowed and total defense, and were No. 11 and No. 16 nationally in those categories, respectively.
Will Campbell
finally lived up to his recruiting hype as a senior by becoming a very good run-stuffer.
Jake Ryan
was a monster at linebacker, constantly disrupting other teams' plans. The secondary overcame the early loss of
Blake Countess
to do a very good job against the pass and had a great leader in senior safety
Jordan Kovacs
. Michigan's defense was short on superstars but long on production. The only mark against it was that the defense benefited from playing some questionable Big Ten offenses like Illinois, Iowa, Minnesota and Michigan State. Better attacks like Alabama, Air Force, Northwestern and Ohio State were able to exploit the Wolverines with speed on the perimeter.
Special teams: B
-
plus
Will Hagerup
was named the Big Ten's punter of the year, and placekicker
Brendan Gibbons
had a strong year, booting the game-winner against Michigan State and the field goal against Northwestern to send the game into overtime. The Wolverines were average in the return game, where
Dennis Norfleet
looks like a possible future star. Michigan did rank last in the Big Ten in kickoff coverage, however.
Overall: B-minus
If we were using Brady Hoke's grading scale, we'd have to give Michigan an 'F' since he has said any season that doesn't end with a Big Ten title is a failure. The Wolverines once again fell short of hanging a league or even a division championship banner during their 8-4 campaign. It's tough to be too critical of a team whose losses were to the Nos. 1, 2 and 3 teams in the Associated Press poll (Notre Dame, Alabama and Ohio State) and Legends Division champ Nebraska. But as Hoke would say, this is Michigan, fergawdsake. The Wolverines are expected to not just play great teams, but win their fair share. Robinson's interception-festival cost them a shot at beating Notre Dame on the road, the lack of a strong backup plan when he got hurt killed any chance of winning at Nebraska, and some curious second-half playcalling contributed to the Ohio State loss. Michigan beat the teams it should have beaten and finally broke the losing streak against Michigan State, which was good. But you don't achieve greatness simply by being on the same field with great teams. You have to beat some. That's why a victory against South Carolina in the Outback Bowl would raise the overall grade for the Wolverines' season.
Previous report cards
Illinois
Indiana
Iowa
March, 22, 2012
3/22/12
2:30
PM ET
Michigan offensive coordinator Al Borges likes what he has to work with this spring. And who wouldn't be excited about
Denard Robinson
and
Fitz Toussaint
returning in the backfield as the offensive core?

But like every team, the Wolverines have some issues. One of the key concerns is building a solid two-deep along the offensive line.
"It's a position where we feel good about the kids who are playing," Borges said. "We just need to enhance our depth."
Michigan must replace Rimington Trophy winner
David Molk
at center, and
Ricky Barnum
will get the first crack at the gig. Barnum was injured most of last season, and has played left guard in the past.
"He's athletic," Borges said. "Ricky can move. He's really has the profile more of a center. He's smart, he understands who to block and he's played some guard, which should have some carry-over to center. So I think Ricky is going to be fine."
Making up for Molk's leadership might be the toughest task this spring. Borges said Barnum, left tackle
Taylor Lewan,
and senior guard
Patrick Omameh
should help pick up the slack in that area.
The starting group up front should be solid, with senior
Elliott Mealer
taking over at left guard, and
Michael Schofield
moving to right tackle to replace
Mark Huyge
. Behind them is a lot of inexperience. Borges said redshirt freshmen
Jack Miller
and
Chris Bryant
should contribute. And an incoming freshman like
Kyle Kalis
has a chance to crack the depth chart.
"We'll see how quick they can pick it up," Borges said.
Another area of concern is tight end, which loses departed seniors
Kevin Koger
and
Steve Watson
. Borges said senior
Brandon Moore
, who has played sparingly, and
Ricardo Miller
, who's more of a receiving tight end, will get the bulk of the work this spring. But it's a position that remains unsettled.
"We're looking at other kids, and the jury is still out," Borges said. "It's a position where, if a freshman came in and showed something, he could probably make a contribution."
Incoming recruit
Devin Funchess
could be that guy, though he'll likely need to put on some weight. The Wolverines also signed
A.J. Williams
as a tight end prospect.
"Seeing who's going to come to the forefront and be our starting tight end this spring, that's huge," Borges said.
January, 10, 2012
1/10/12
4:25
PM ET
The college football season is officially over. So it's time to break out the crystal ball and offer our projections for the preposterously-too-early 2012 Big Ten power rankings.

1. Michigan State:
The Spartans must replace a lot of leadership, including quarterback
Kirk Cousins
, receivers
B.J. Cunningham
and
Keshawn Martin
and All-American defensive tackle Jerel Worthy. But nine starters return off the Big Ten's top overall defense, featuring Will Gholston, Denicos Allen and Isaiah Lewis as potential breakout stars.
Le'Veon Bell
could have a big year as the No. 1 tailback, and if
Andrew Maxwell
can adequately fill in for Cousins, the offense should be fine, especially if Tennessee transfer
DeAnthony Arnett
gets his waiver to become immediately eligible at receiver. Plus, the road schedule (at Central Michigan, at Indiana, at Michigan, at Wisconsin, at Minnesota) is far more manageable than what the team navigated in 2011.
2. Michigan:
A lot of things went right for the Wolverines in 2011, including a favorable schedule. That slate gets harder in 2012, beginning with Alabama at Cowboys Stadium and including road trips to Nebraska and Ohio State. Still,
Denard Robinson
and Fitz Toussaint form one of the most dangerous offensive duos in the league, and the second year under Brady Hoke and his staff should mean more familiarity and comfort. Coming off a BCS win, Michigan could start the season in the Top 10.
3. Wisconsin:
The Badgers will have to overcome many challenges to reach their third straight Rose Bowl. The biggest concern is at quarterback, where there's no experience to replace
Russell Wilson
and his record-breaking efficiency level. Bret Bielema will have to remake almost his entire offensive coaching staff after Paul Chryst took several assistants with him to Pittsburgh. Still, Heisman Trophy finalist
Montee Ball
returns to keep the Wisconsin running game among the best in the country. And the two Big Ten teams who beat the Badgers in 2011 -- Michigan State and Ohio State -- must come to Madison in '12.
4. Ohio State:
The Buckeyes aren't eligible to make the Big Ten title game, but don't be surprised if they put up the best record in the Leaders Division. A transition period can be expected as Urban Meyer takes over as head coach and installs an entirely new offensive system. But Ohio State had a small senior class in 2011 and brings back many talented players, such as defensive lineman John Simon, quarterback
Braxton Miller
and running back
Carlos Hyde
. A schedule that features eight home games should equal much improvement over this year's 6-7 record.
5. Nebraska:
Few teams will be as experienced on offense as Nebraska, which returns seven starters and just about every key skill player on that side of the ball.
Taylor Martinez
and
Rex Burkhead
should be even better with another year in offensive coordinator Tim Beck's system. The questions are on defense, where the Huskers struggled at times in 2011 before losing their top two players in linebacker Lavonte David and cornerback Alfonzo Dennard. Nebraska must get tougher up front defensively to handle the Big Ten grind and has difficult road assignments looming at Ohio State and Michigan State.
6. Penn State:
For the first time since 1965, we'll see what a Penn State team looks like that is not coached by Joe Paterno to start the season. New coach Bill O'Brien made a wise decision to retain defensive assistants Larry Johnson and Ron Vanderlinden, and even without All-American lineman Devon Still, that side of the ball should stay stout with standouts like Gerald Hodges, Jordan Hill and hopefully a healthy Michael Mauti. O'Brien's biggest impact should come on offense. The former New England Patriots offensive coordinator will try to bring the Nittany Lions attack into the 21st century with a competent passing game. Tailback
Silas Redd
provides a nice crutch while that transition occurs.
7. Iowa:
After two straight 7-5 regular-season finishes, the Hawkeyes will look to get back into Big Ten contention. But they'll have to overcome the losses of star receiver
Marvin McNutt
, offensive tackle Riley Reiff, defensive linemen Mike Daniels and Broderick Binns and cornerback Shaun Prater. When he's on,
James Vandenberg
is as good a dropback passer as there is in the Big Ten, but making up for McNutt's production won't be easy. Assuming
Marcus Coker
returns from suspension, the running game should be very good. The defense simply has to improve after giving up too many big plays in 2011, and Kirk Ferentz hasn't yet named a successor to veteran defensive coordinator Norm Parker, who retired.
8. Purdue:
The Boilermakers have a chance to make a move in a Leaders Division that is marked by coaching changes. They return most of the major pieces of their Little Caesars Bowl-winning team, and the return of
Rob Henry
from his season-ending knee surgery opens up some interesting possibilities at quarterback. Kawann Short should be one of the top defensive linemen in the league if he decides to return for his senior year. We'd still like to see more consistency from Danny Hope's program before we rank Purdue too high, however.
9. Northwestern:
Dan Persa
and his record-breaking accuracy are gone, along with top receiver
Jeremy Ebert
. Yet we're not too concerned about the offense and like the multi-dimensional options that
Kain Colter
provides with his all-around athleticism. Northwestern's issue is whether it can fix a defense that had trouble stopping anybody. The fact that the Wildcats lose their top three defensive backs from a secondary that was routinely torched does not inspire confidence.
10. Illinois:
New coach Tim Beckman has his work cut out for him in Year One. He has to completely revamp an offense that couldn't shoot straight in the back half of 2011 while implementing a new spread style. He has to try to maintain the defense without coordinator Vic Koenning or All-American defensive end Whitney Mercilus. And he faces a schedule that sees the Illini going to Ohio State, Wisconsin and Michigan, all three of which won in Champaign this past season. There's still talent on defense, led by promising linebacker Jonathan Brown. Quarterback
Nathan Scheelhaase
needs to build on his second-half showing in the Kraft Fight Hunger Bowl.
11. Minnesota:
After a horrible start, the Gophers showed a lot more fight down the stretch in 2011, beating Iowa and Illinois at home. Jerry Kill knows how to build a program, and the team can't help but be better in 2012, especially if MarQueis Gray continues to develop at quarterback. But Minnesota still has some holes on its roster that can only be fixed through recruiting, and while the Gophers could make a run at bowl eligibility this year, they'll be hard-pressed to make too much noise in a stacked Legends Division.
12. Indiana:
The good news for the Hoosiers is that they played a ton of freshmen in 2011, and the growing pains should start to pay off for guys such as
Tre Roberson
and Mark Murphy in 2012. The second year under Kevin Wilson should also bring progress. Still, this is a team that went 1-11 in 2011 with no wins over FBS teams, so it remains an uphill climb.
Michigan C Cites Concussions In Decision To Quit
BIG TEN SCOREBOARD
Thursday, 9/3
Friday, 9/4
Saturday, 9/5
Sunday, 9/6
Monday, 9/7