Michigan Wolverines:

espn the magazine
December, 3, 2013
12/03/13
11:00
AM ET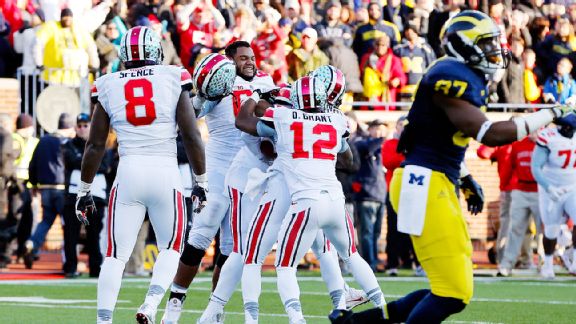 Gregory Shamus/Getty ImagesOhio State players celebrate stopping Michigan's fourth-quarter two-point conversion attempt.
For four months, ESPN The Magazine will follow the march to the Vizio BCS National Championship, moment by moment, culminating in our "Story of the Season" double issue Dec. 27. Every Tuesday, Mag senior writer Ryan McGee will pick the previous week's biggest moments and tell you why they'll have the most impact on potential BCS title matchups. If you disagree, send a tweet to @ESPNMag and tell us why your moment matters more, using the hashtag #StoryoftheSeason. Who knows? Your moment (and tweet) might just end up in our issue.
"We play the game to win ..."
Brady Hoke's vocal cords sounded even more tired than usual as the Michigan coach stood at the podium on Saturday afternoon, moments after losing to archrival Ohio State 42-41. His answer was a response to the first question he faced -- and the one he'll keep hearing as his Wolverines trudge through their mid-tier bowl and into a cold Ann Arbor winter.
Going for two instead of kicking the PAT and likely heading to overtime? At home? In the Big House? With your offense performing at a season-best clip? With a chance to shoot down the Buckeyes' chances at a BCS title?
That's the scenario Hoke had presented to his seniors on the Michigan Stadium sideline. He'd left it up to them, though he was quick to absorb all the criticism after the final outcome. They wanted to go for it. So did he. Besides, they had the go-to, two-point play already dialed up. Always did.
From the moment quarterback
Devin Gardner
stepped into the shotgun position, the play -- like so many others during his amazing 451-yard passing and five-touchdown day -- had looked perfect. In reality, it looked too perfect. On both sides of the football.
Michigan initially lined up with two receivers stacked on the right side, led by 6-foot-5
Devin Funchess
, who had just hauled in the touchdown pass that set up the situation. On the left side was the sneaky Wes Welker-like possession artist, 5-10
Drew Dileo
. But before the snap, Dileo went into motion and jogged over to take his place behind Funchess and
Jeremy Gallon
, who already had 175 yards receiving on the day.
The moment Dileo took his position, Ohio State corner
Tyvis Powell
had to catch himself. He didn't want to reveal what had just popped into his mind, like some sort of heavenly transmission from Woody Hayes ... or at the very least a current OSU position coach.
"It's all thanks to Coach Coombs," said Powell, referring to the Buckeyes' demonstrative secondary coach, Kerry Coombs. Head coach Urban Meyer had let Michigan get set for the two-point try and called a timeout to discuss what the coaches had just seen. Coombs approached Powell, a redshirt freshman, and told him that there was no doubt the Wolverines would run one of two plays. It would either be a speed option, which had already led to a pair of Michigan touchdowns. Or the play would come out of a triple stack ... with Dileo, Powell's man, hiding in the third slot ... as the primary receiver ... running something short ... likely a pivot ... at the goal line ...
"It all started happening just like we'd seen on film and how the coaches said it would," recalled Powell, still sounding a little stunned by it all. But he didn't believe that's how the actual play would go down. It was too obvious, right? Wrong.
Even though Ohio State had four defensive backs guarding three receivers, it was a designed mismatch by Michigan. At the snap, Funchess made contact with Powell and was supposed to either screen him out or draw him into the back of the end zone to help the waiting safety. But Powell didn't bite. His eyes never left Gardner, whose eyes never left Dileo. Funchess had a size mismatch in the back of the end zone, and if Gallon had run a true out instead of a halfhearted block attempt on OSU corner
Doran Grant
, he would've had room to work on the outside half of the end zone.
But Gardner fired the ball into unexpected double coverage, where Powell stepped in at the goal line and made the interception. (Had he not, Grant was also waiting in front of Dileo, having slipped Gallon's shove.)
"He really threw the ball," said Powell, admitting he was "shocked" to see it come his way. "That's their bread-and-butter play on two-point conversions. All week that's what we practiced."
Michigan, too.
A couple of hours later, Powell was still gripping the Michigan football in his arms on the team bus. He was still grinning. But now he was watching Alabama play at Auburn on the bus TV. Like the game he'd just played in, this one seemed destined for overtime.
"There was a shot ... we had the wind behind us ..."
If Hoke's voice was hoarse, then Nick Saban's was like the inside of a gravel truck. Like Hoke, the Alabama coach had rolled the dice. Unlike Hoke, Saban's situation -- a 57-yard field goal with no time remaining -- seemed risk-free. Miss and go to overtime.
But what happened next --
Chris Davis
' impromptu 109-yard kick return for the game-winning touchdown -- has sparked college football conversations in every corner of America, from stuffed-shirt academia to Barbara Walters and Whoopi Goldberg on Monday morning's "The View."
It should be no surprise that perfection-obsessed Saban routinely addresses that very situation in practice, despite the fact that Saturday night's Miracle on the Plains was, according to the NCAA, only the fourth time a game has ended on a similar play. It should also be no surprise that Saban reminded his team as they took the field (like the Michigan two-pointer, after a timeout) to keep an eye on Davis, who was lining up in the end zone, more than half a field away from the line of scrimmage.
Of course, Auburn practices that play, too. No matter how rare it might be. That was made obvious by the beautiful wall of blockers that lined the left sideline to plow the road for Davis. At least three pancake blocks took place in Davis' line of sight. But while all that was going on, we all should have been paying more attention to the cornerback's left foot, which came within inches of stepping over the line and out of bounds at the 35 ... the 40 ... the 45 ... and pretty much every yard in between.
It was so close that a group of bitter Tide fans posted what they believe is photographic evidence that he did step out of bounds, along with a
petition to have overtime played.
"It was closer than I thought," admitted Davis, who carried his game-winning football all the way home, just like Powell. "But I knew I was in."
Davis' white-line ballet was reminiscent of so many other moments in so many games this season that came down to inches. (Remember that missed Missouri field goal against South Carolina in double-OT? How much more interesting would the SEC title game be had it gone the other way?)
But as Lou Holtz reminds us each weekend on "College Football Final," every team that wins a national championship has to have one game in which they're lucky. Auburn now has two. Ohio State, on the other hand, hasn't needed much this year, at least not until Michigan.
Still, for these two teams to meet in Pasadena, Calif., in January, it will require ... lots more luck. They'll need Duke (perhaps second only to Auburn when it comes to 2013's out-of-nowhere teams) to work some magic in Charlotte, N.C., against Florida State. And they'll both need to make sure they aren't on the wrong side of luck in their respective conference title games.
But regardless of what happens this weekend, Tyvis Powell and Chris Davis will never have to buy another lunch in their home states. And Powell will always have his football. Davis is still searching for his.
He dropped it after crossing the goal line during the celebration. The last time anyone saw it, it was at the feet of fellow defensive back
Robenson Therezie
, one of Davis' escorts into the end zone, who stood over it signaling for a touchdown as the crowd started flooding the field. At one point it was thought that it had been retrieved and Davis was even handed a football that was believed to be the one. But it was not.
A crystal football in January would be a nice substitute.
Why we love college football. #StoryOfTheSeason pic.twitter.com/qqqidLG1Op

— ESPN The Magazine (@ESPNMag) December 1, 2013
September, 24, 2013
9/24/13
11:00
AM ET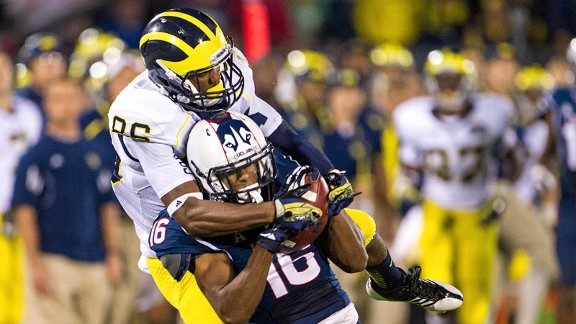 David Hahn/Icon SMIMichigan survived a nail-biting game against what was supposed to be a pushover team.
For four months, ESPN The Magazine will follow the march to the Vizio BCS National Championship, moment by moment, culminating in our Story of the Season double issue Dec. 27. Every Tuesday, Mag senior writer Ryan McGee will pick the previous week's biggest moments and tell you why they'll have the most impact on potential BCS title matchups. If you disagree, send a tweet to @ESPNMag and tell us why your moment matters more, using the hashtag #StoryoftheSeason. Who knows? Your moment (and tweet) might just end up in our issue.

---
"WELL,
it was a win ... that's about all I've got."
You can't blame Michigan coach Brady Hoke for being speechless at his postgame news conference, as if he'd just gotten off a roller coaster. UConn certainly wasn't billed as the Top Thrill Dragster, but the Huskies shook up the Wolverines like an old, half-broken down ride that isn't supposed to knock the breath out of you -- except that it does.
It didn't help that Hoke had to survive a nail-biter over what should have been a pushover opponent just one week earlier. On Sept. 14, Michigan needed a stop on the game's final play to hold off lowly Akron 28-24. Then college football's winningest program barely made it out of East Hartford alive, edging the Huskies 24-21. Yes, the same UConn that opened the season with a loss to Towson, an FCS opponent, by 15.
"You can't give the ball away," Hoke said, speaking of his team's eight turnovers in two weeks. "We've got a major league problem and we've got to fix it, because that's not going to win you championships."
Ah yes, championships. By the time an overwhelmingly underwhelming fourth stanza of the 2013 season had finished late Saturday night, no fewer than three would-be BCS contenders nearly had their championship dreams crushed.
How close did they come?
Three yards, one finger and one toe.
---
At jam-packed Rentschler Field, where UConn welcomed Ray Allen and Derek Jeter and had to bring in more than 2,000 temporary seats to meet ticket demand, the Huskies hassled Michigan quarterback Devin Gardner all night. He threw two interceptions (one tipped) and fumbled away a snap. During one ridiculous five-minute stretch that ended the first quarter and started the second, UConn tied the score 7-7, recovered a botched punt that hit the leg of a member of Michigan's return team, took the lead at 14-7 and then took the Gardner fumble 34 yards for a TD that made it 21-7.
(Flips the channel to ABC to see UConn ahead of Michigan, 21-7. MIND. BLOWN.) #StoryOfTheSeason #MICHvsUCONN

— ESPN The Magazine (@ESPNMag) September 22, 2013
The Wolverines clawed back to take the lead 24-21, but in the closing two minutes, UConn still had a chance to set up overtime or win in regulation. On fourth-and-29 from the Huskies' 33, quarterback
Chandler Whitmer
had receiver Deshon Fox tracked. The up-and-down Whitmer flicked a beautiful pass and hit Fox in the middle of tight coverage with a safety sliding over in a hurry. That safety,
Jarrod Wilson
, provided just enough help to drop Fox less than 3 yards short of a first down, which would have put UConn at Michigan's 41 with 1:43 remaining.
Three plays prior to that pass, UConn already had been across midfield, but a pass for minus-2 yards, a false start penalty and a sack for a 12-yard loss had driven Whitmer back into his own territory. Reverse any of those plays, and that fourth down becomes a first down.
"We've got an off week to work this out," Hoke said as he departed for the bus and then the airport. "We'll take 4-0. But we can't keep counting on the breaks to go our way."
Hoke didn't know it, but he looked and sounded an awful lot like Georgia coach Mark Richt had earlier in the day, lumbering into a postgame presser as though he had sandpaper in his pants.
Anyone who has made a trip to Denton, Texas, recently knows that the North Texas football program has all the potential in the world. It's in a recruit-rich area with sparkling new facilities. But even the staunchest supporter of the Mean Green will tell you that coach Dan McCarney's players still have a lot of work to do to meet that potential.
Yet there they were, between the hedges, tied 21-21 with the No. 9 Bulldogs in the middle of the third quarter. The rain was beginning to pour. The Mean Green was a team ready to believe and the Dawgs appeared to be a team ready to go home. Then quarterback
Aaron Murray
led his team on an eight-play, 53-yard drive that he capped with a keeper for the go-ahead score.
"Hey, we're fine," he told his teammates. "Just play ball and have fun."
And they did. In fact, the next drive (12 plays for 95 yards) was even prettier. But it nearly ended in disaster. On second-and-goal from the 4-yard line, receiver
Chris Conley
ran a picture-perfect, inside-to-outside route and was headed to the right-front pylon as Murray turned and flicked the ball toward the corner. North Texas's Zac Whittlefield is a great athlete, a converted running back who is now an All-Conference USA candidate at cornerback. He hadn't bit on Conley's fake. In fact, he'd used it to set up a great inside move that put him on the goal line between Murray and his target.
Whittlefield had a read on the ball floating toward him and actually appeared to take a quick glance downfield to see the open lane for what could be a 100-yard pick-six. He timed his leap and extended his left arm upward. He swiped and made contact. It wasn't going to be a pick, but it was definitely going to be batted down. The pass hit three of Whittlefield's fingers -- he needed it to hit one more.
Instead of being slapped to the turf, the ball dropped straight down … and into Conley's hands. Whittlefield, assuming he'd broken up the pass, was stunned when the Georgia crowd erupted and he turned to see Conley celebrating. Down two scores, the wind out of its sails, the Mean Green lost 45-21 and Georgia's one-loss title hopes kept floating.
Two nights prior, the coach who pinned that loss on Georgia, Clemson's Dabo Swinney, had also arrived to his postgame Q&A looking as worn out as Hoke and Richt. The Tigers had just survived an unquestionably ugly, 26-14 Thursday night win at NC State.
The initial volley of questions didn't center on Heisman hopeful Tajh Boyd's accuracy issues (his season-best 64.9% completion rate looked good on paper but not in person) or even the importance of earning the team's first ACC win and avoiding, for a week anyway, talk of "pulling a Clemson." Instead, reporters immediately asked about one specific play.
Down 13-7, Wolfpack receiver Brian Underwood electrified Carter-Finley Stadium with an 83-yard touchdown reception, setting up a chance to lead the third-ranked Tigers by a point (or more) with 7:31 remaining in the third. But line judge Richard Misner ruled that Underwood had stepped out of bounds at the Clemson 47-yard line. When the whistle was blown, the play was instantly dead, meaning that it couldn't be reviewed from the replay booth.
Within minutes, ACC coordinator of officials Doug Rhoads had vanished from the NC State press box. He was off to the instant replay booth so he could see all angles of the play. The former back judge knew that, regardless of whether the play could be officially reviewed, he needed to know exactly what it looked like, especially as the ESPN TV booth continued to question the call and NC State fans kept booing every scoreboard replay.
It was a rare instance when freeze frames and replays contradicted one another. Multiple shots seemed to prove that Underwood had stayed in bounds. But at least one appeared to show the right side of his foot barely over the line. In the end, Rhoads explained, even if the whistle hadn't blown, there wouldn't have been enough evidence to overturn the on-field ruling.
@ESPNMag @ESPNMcGee NCSU play called out of bounds vs. Clemson that was a touchdown. Total game changer. #accconspiracy #swoffordisajoke

— Andrew Williams (@ATWBUNS) September 21, 2013
Just three plays later, NC State quarterback
Pete Thomas
fumbled. Five plays later, Clemson went up 20-7. The Pack never recovered, physically or mentally.
As Swinney took his seat in the press room, he unknowingly spoke for many of his fellow coaches, not to mention thousands of fans, when it came to summing up a gross, sloppy Week 4 filled with mismatches, miscues and malaise from coast to coast. Yes, in the end nearly all of the teams that were supposed to win did. But like Clemson, most of them seemed uneasy, unsatisfied and anxious for Week 5.
"Glad to get that one over," Swinney said. "We can't load up the buses soon enough."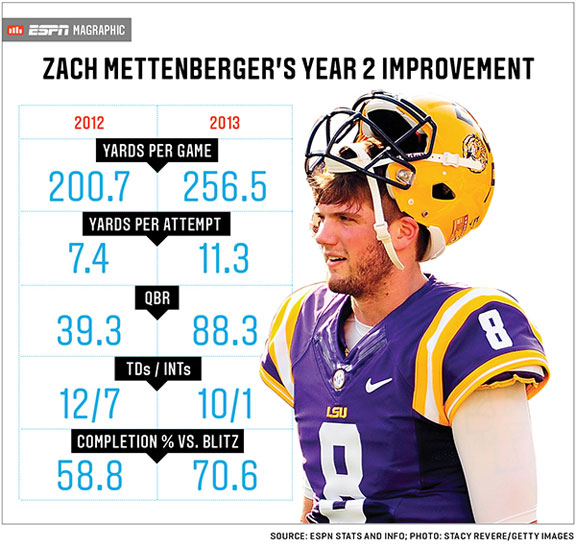 ESPN The Magazine
September, 10, 2013
9/10/13
11:00
AM ET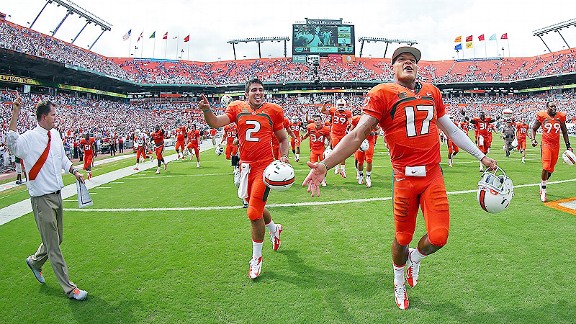 Mike Ehrmann/Getty ImagesThe Miami Hurricanes celebrated an upset win over the Florida Gators on Sept. 7.
For four months, ESPN The Magazine will follow the march to the Vizio BCS National Championship, moment by moment, culminating in our Story of the Season double-issue on Dec. 27. Every Tuesday, Mag senior writer Ryan McGee will pick the previous week's biggest moments and tell you why they'll have the most impact on potential BCS title matchups. If you disagree, send a tweet to @ESPNMag and tell us why your moment matters more, using the hashtag #StoryoftheSeason. Who knows? Your moment (and tweet) might just end up in our issue.
---
ON PAPER,
Week 2 didn't exactly appear overrun with BCS-altering showdowns. But by the time the final whistle had blown in the Pacific time zone, there were indeed dashed postseason hopes scattered among the wreckage.
If Week 1 was the Saturday that the FCS-FBS line officially blurred, then Week 2 was the Saturday that the BCS storylines officially started to take shape. Let's just call it Power Shift Saturday. And let's start in South Florida.
The previous five times the Florida Gators and Miami Hurricanes played, the winner finished the season ranked in the top 5 in the AP poll. The programs have been on-again, off-again rivals, part of a longstanding, round-robin tourney (along with Florida State) to be the kings of the Sunshine State.
Sensing that this will be the final regular-season matchup between the two teams for the foreseeable future, the oft-maligned Sun Life Stadium crowd actually showed up. Officials even uncovered extra seats, a practice normally reserved for the Orange Bowl, not Hurricanes fans who don't typically bother with the drive from Coral Gables.
With the heightened stakes, the blood was up early on both sidelines -- early as in before the game started. During warm-ups, the two teams started edging closer and the jawing became so intense that game officials had to give a polite warning. "There was so much smack talk, I can't even describe it," Miami quarterback
Stephen Morris
said after the game.
To open the game, the Gators' offense, led by
Jeff Driskel
, marched down the field on an eight-play drive, only to fumble in Miami territory. They marched again on a seven-play drive that bled into the second quarter, only to have Driskel throw a pick inside the Miami 5. And again they marched, only to have an 11-play drive stall after a failed fourth-and-1 at the Miami 16. Finally, a 12-play drive ended on a
Trey Burton
fumble in the red zone, with less than a minute to play in the half.
Still, the Gators' defense gave the offense a chance to win, eventually locking down what started as a runaway Hurricanes offense and limiting them to less than 2 yards per rush.
With seven minutes remaining in the game, Miami led 14-9, but Florida was driving (again), with a third-and-3 at the Canes' 16-yard line. Driskel took the snap from the shotgun and immediately fell into the habit that plagued him all day: His eyes betrayed him.
As soon as he had the ball, he was looking right, where two wide receivers were running quick outs. With an onrushing Miami defender in his face, Driskel rocketed a pass toward the sideline and wideout
Quinton Dunbar
, who was at the Miami 7, just beginning his turn to the quarterback.
"This is where you see Driskel get himself into trouble as a one-level thinker," an NFL scout told me on Sunday, watching film of the play on my laptop. "It's a boom-boom play; he's not supposed to take a lot of time, but damn, he never even considered another option. He already had his mind made up who the ball was going to, come hell or high water."
The play had a designed safety valve, which was Burton, running toward the sideline at the 12. Instead, Driskel fired it past Burton to Dunbar, who was cut inside by cornerback
Tracy Howard
, who essentially iced the game with an interception. The Gators did get the ball back, but turned it over (again), this time on a Driskel fumble deep in their own territory. Florida's final TD made the 21-16 result look closer than the game was.
"[Driskel] does this the whole game," the scout said, taking my laptop and scrolling back to the second quarter, when Driskel appeared to be first-option only, gunning blindly into nearly quadruple-coverage for an INT. "That play was designed to the running back on the left. If he's not there, then he's got a clear out to run. But again, he'd decided where he was going with it before the play even started. You can't be a real title contender like that. Did you see Tennessee against Western Kentucky? Ball hawks. That team might intercept this kid five times."
If the Vols do so on Sept. 21 in Gainesville, Florida -- which dropped from No. 12 to No. 18 in the AP poll -- is nearly guaranteed an opening SEC loss. During the Will Muschamp era, the Gators are 19-9. In those 19 wins, they've committed 18 turnovers, good for a plus-20 turnover margin. In the nine loses, that margin falls to minus-21.
As for the power shift, The U scored its first win against a top-15 opponent since 2009 and easily its biggest since knocking off No. 3 Virginia Tech in 2005. The Canes, which went from unranked to No. 15 in the poll after the win, reinforced the ACC media's preseason decision to vote them as the Coastal Division favorites. But more importantly, they reinforced the ACC itself. For the second straight week, the conference knocked off a highly ranked SEC foe. The coach who earned that first power-shifting win was quick to acknowledge the trend.
"How about that ACC?" Clemson's Dabo Swinney said as he wrapped up his postgame news conference Saturday after trouncing South Carolina State. "Spunky little league."
Then he threw up Miami's trademark "U" hand gesture and walked off the stage.
Of course, he doesn't have to face the Canes during the regular season, unlike Jimbo Fisher and Florida State, who do on Nov. 2.
---
Georgia, the team that Swinney and Clemson beat Aug. 31, last week knocked off the team that the Tigers hope to beat on Nov. 30: Jadeveon Clowney and South Carolina. The Dawgs' 41-30 win over the then-No. 6 Gamecocks also indicated a significant power shift. UGA snapped a maddening three-game losing streak to its SEC East rival. Yes, Georgia still managed to make the SEC title game the past two years, but the South Carolina losses always dogged its potential BCS title game status. Should Aaron Murray and company return to Atlanta this season, they still will have the Clemson loss hanging over them. But if the Tigers win out (they will certainly be favored in all of their remaining games), then they could potentially meet the Dawgs again in Pasadena. Then again, South Carolina could ruin the party for both if it beats Clemson in Columbia, something it has done in four straight seasons.
Michigan's 41-30 victory over Notre Dame signified a bit of a power shift: The Wolverines managed to beat a ranked opponent, something they did only once in five tries last season. Meanwhile, the Irish, who were ranked No. 14 last week, failed their first test of 2013 after beating an all-star list of schools during their improbable unranked-to-BCS title game run of 2012. Last season, Michigan lost to South Carolina (No. 11), Ohio State (No. 4), Alabama (No. 2) and yes, Notre Dame (No. 11). Now both teams have done something they couldn't a year ago -- one beat a ranked team, and the other lost a regular-season game.
Speaking of power shifts ... was it really just eight years ago that Texas and USC played for the national title at the Rose Bowl? In case you need to be reminded, both suffered surprising upsets Saturday. And if you're a member of either of those fan bases, safe to say you're also upset. The Longhorns fired one-time wunderkind defensive coordinator Manny Diaz after just two games, a decision accelerated by BYU's unthinkable 550-yard rushing performance. As for the Trojans' fall (at the Coliseum, no less), the closing minutes of the loss to Mike Leach's Washington State squad were played among "Fire Kiffin!" chants. USC has lost seven of its past nine games; Texas has dropped three of its past five.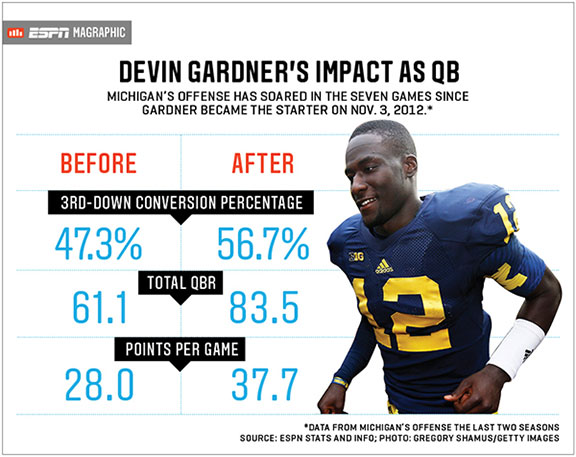 ESPN The Magazine
Michigan C Cites Concussions In Decision To Quit
BIG TEN SCOREBOARD
Thursday, 9/3
Friday, 9/4
Saturday, 9/5
Sunday, 9/6
Monday, 9/7