Michigan Wolverines:

Erik Gunderson
October, 22, 2013
10/22/13
9:00
AM ET
Putting together the Michigan offense this season has been a bit of a puzzle for coach Brady Hoke and his staff. But the part that has proven to be the most difficult is also the part that gets it all going -- the offensive line.
The Wolverines have started three different offensive lines through seven games. And while Michigan had its best game -- statistically -- last Saturday, it was against one of the worst defenses in the Big Ten.
"

Obviously the big test in two weeks, you're playing one of the top five defenses in the country and in our conference in all the categories. We've got a lot of work to do before then.

"

Coach Brady Hoke on the Wolverines' next game at Michigan State.
Even with that, Hoke was happy with the push from the offensive line and the protection it provided for quarterback
Devin Gardner
.
"I liked the progress that they made," Hoke said. "And even the guys who weren't starting, the weeks that they had were significant in their development. The competition that we always have, I think, is helping us as a football team."
That competition so far this season has provided enough talent for Hoke to shuffle faces around on the O-line. The three players who have started every game are
Taylor Lewan
and
Michael Schofield
at the tackles and
Graham Glasgow
, first at left guard, and then moving over to center when conference play began.
One of the bigger personnel surprises was redshirt freshman
Kyle Kalis
being moved out of the starting lineup. Coaches had spoken highly of him from the beginning of fall camp, but even though he lost his starting spot to redshirt freshman
Erik Magnuson
, Hoke said that Kalis is still in the middle of that competition.
"I think he's probably responded like you'd like him to," Hoke said. "He has had a good week of practice -- came out and was physical, really understands that we're going to need him. The next five games I can assure you we're going to need every guy that we have in both fronts to play their best football."
And they might be using that depth as they already have this season. Here's a look at who played where through the first seven games this season.
Central Michigan to Connecticut:
LT:
Taylor Lewan (Erik Magnuson)
LG:
Graham Glasgow (
Chris Bryant
)
C:
Jack Miller
(
Joey Burzynski
)
RG
: Kyle Kalis (
Erik Gunderson
)
RT:
Michael Schofield (
Ben Braden
, Magnuson)
Minnesota and Penn State:
LT:
Lewan (when Lewan got injured: Schofield, Gunderson)
LG:
Chris Bryant (Burzynski)
C:
Glasgow
RG:
Kalis (Burzynski)
RT:
Schofield (Magnuson)
Indiana:
LT:
Lewan
LG:
Joey Burzynski (
Kyle Bosch
)
C:
Glasgow
RG:
Magnuson (Kalis)
RT:
Schofield
It will be interesting to see what Hoke and his staff decide to do with his group going forward.
On Monday, Hoke announced that Burzynski would be out the rest of the season with a torn ACL so that opens up the left guard spot again. When Burzynski exited the Indiana game, Hoke inserted Bosch, a freshman who held his own.
Whether Bosch can keep that spot, or if Hoke and his staff decide to shuffle more players around the line, will be something that plays out over the next week and a half as the Wolverines prepare for Michigan State.
The Spartans are the country's best defense, allowing just 228 yards per game, including just 59 rushing yards per game. Considering the rushing performance the Wolverines had against Indiana, they'll be heading into that game feeling confident, but they'll certainly have their work cut out for them.
"Obviously the big test in two weeks, you're playing one of the top five defenses in the country and in our conference in all the categories," Hoke said. "We've got a lot of work to do before then."
August, 13, 2013
8/13/13
10:00
AM ET
ANN ARBOR, Mich. -- It took
Erik Gunderson
a month to learn anything about his best friend at Michigan,
Michael Schofield
. Schofield's bookend tackle,
Taylor Lewan
, is still learning new things daily about his redshirt senior classmate.
His offensive line coach, Darrell Funk, is just glad Schofield is talking now.
"He's finally passed the 50-word mark in two years," Funk said. "He said about eight words the first year. He's up to a little over 50 now."
Schofield, entering his second season as Michigan's right tackle and third year starting on the offensive line, is the antithesis of the Wolverines' more well-known, publicized left tackle, Lewan.
[+] Enlarge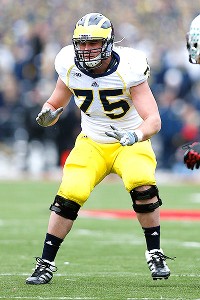 Joe Robbins/Getty ImagesRight tackle Michael Schofield prefers the spotlight on left tackle Taylor Lewan.
Lewan soaks in attention like a surfer hunts for the big wave. Schofield, by comparison, would stay on the beach. He has no interest in being in the spotlight. Michigan, per the school's policy, said Schofield declined an interview request on behalf of his parents for this story.
"I'm kind of a shy guy in general," Schofield said, and he used shy to describe himself every time he was asked. "I don't really mind not being in the spotlight. I kind of like that Taylor is in the spotlight so I just kind of sit back.
"I don't really mind at all."
It's why, on Michigan's media day on Sunday, the 6-foot-7 Schofield crammed next to fellow offensive linemen
Kristian Mateus
and Gunderson on a bench, reporters occasionally approaching him. Lewan held court in a corner with multiple reporters and television cameras. Schofield noticed, shrugged and laughed.
He enjoys being somewhat unknown as Michigan's other redshirt senior offensive tackle with NFL ambitions.
"I just recently started finding out things," Lewan said. "I knew he had a huge family, dad is a firefighter. He wants to be a PE teacher. He doesn't want that large and glamorous life.
"He just wants to live his life and be happy."
Happiness for Schofield is surrounded by family, with four sisters, his parents and a younger brother, Andrew, who is an offensive lineman at the University of South Dakota. He never sought the spotlight as a kid with the crush of siblings around him. Even if he wanted it, he'd have to share it.
He hung with Andrew, competing at everything from checkers (Michael insists he's better) to Super Smash Brothers on Nintendo 64, where Andrew's Link usually destroys Michael's preferred character of Pikachu the Pokemon.
The family life extends to the holidays the two middle Schofield children miss. With Andrew and Michael gone every Thanksgiving, their mother, Kathy, began a new tradition, now three years old.
"Schogiving" is a giant Thanksgiving party in either late July or early August, depending when the Schofield boys report to football camp. The party ballooned to 50 people this year with at least 15 pounds of pork tenderloin, a 35-pound turkey and a 20-pound ham. The food is prepared by Kathy in the Schofield kitchen.
"She kind of made up a holiday," Schofield said. "She wanted to do it. Our whole family is there. She wanted to make a giant dinner and it became our entire family and friends."
Kathy did this because fall Saturdays are spent following Michael and Michigan. At least one family member will usually attend Andrew's games.
Over the past three seasons, the Schofields have seen their son mature from a first-time left guard to an NFL prospect at right tackle. Schofield realized the NFL was a possibility last season after he went up against Notre Dame's
Stephon Tuitt
.
Then, in the Outback Bowl, Lewan cramped up and missed a few plays. Schofield slid from right to left tackle and hung in for a handful of plays against South Carolina's superstar,
Jadeveon Clowney
. Those two performances helped give him NFL hopes as well.
It also forced Schofield to realize if he wanted to become a pro, he needed to focus on every opponent like he did Tuitt.
"My redshirt sophomore year, I would always get hyped playing the bigger-name guys," Schofield said. "Then middle of last year I started to realize I had to dominate whoever I am going against."
It is a lesson carrying into this season, where for the first time Schofield might go from anonymous bookend to a player recognized on his own merits. Not that it'll change him at all.
"I'm not going to go out of the way to get attention, I guess," Schofield said. "I'm just going to stay in the background and just do my thing."
July, 29, 2013
7/29/13
10:05
AM ET
As Michigan's preseason approaches at the end of this week, WolverineNation takes a look at the 10 players who are most indispensable for the Wolverines this season. This doesn't mean the most talented players, but rather the players, if Michigan lost them, would be in the most trouble.
ANN ARBOR, Mich. -- Though left tackle
Taylor Lewan
is the most well known tackle at Michigan at the moment, right tackle
Michael Schofield
is also a very integral part of everything the Wolverines will do on offense this season.
July, 25, 2013
7/25/13
3:00
PM ET
CHICAGO -- Michigan offensive tackle
Taylor Lewan
caused a stir this past spring when he announced that he and some Wolverines teammates had
bought a pig and named it Dr. Hamlet III
. The blogosphere, naturally, went nuts over this revelation.

On Thursday at Big Ten media days, Lewan went whole hog on the details of his short-lived swine time. Getting a pet pig was the brainchild of him and his roommates
Erik Gunderson
,
Michael Schofield
,
Jack Miller
and
Graham Glasgow
, who are all fellow offensive linemen.
"So we bought a pig," Lewan started off, and if there's a better way to begin a story, I haven't heard it. "Offensive linemen are hogs, and that's how that works."
Where do you find a pig? Craigslist, of course. The linemen pooled their money and spent $250 for a teacup pig. As for the robust name?
"I don't know," he said. "I just wanted my pig to have a Ph.D."
The Wolverines players weren't quite prepared for what they had gotten themselves into, however.
"It was fun for about two weeks," Lewan said. "Then the pig got kind of mean. We weren't neglecting it or anything. We were being sweet to it."
The little porker's sour disposition wasn't totally his fault. The house Lewan and his teammates are renting has a lot of hardwood floors and tile, which does not combine well with a pig's hooves. Lewan said Dr. Hamlet III ended up confined to a small rug area roughly the size of a ballroom round table.
"I thought it was going to be a good deal, but I didn't realize the hooves of a pig struggle so hard with the tile," Lewan said. "It got in the kitchen one time, and it was like watching Bambi on the ice, if you've ever seen that movie. It was so comical."
After about two weeks, the players decided that their pig experience needed to end. Lewan said Gunderson arranged for Dr. Hamlet III to find a more suitable home.
"A living animal can't be confined to a small space like that," he said. "So we decided that the best thing for the pig was to give it away, and now he's a happy pig. We sent it to a farm where it could do pig things."
As for the Wolverines linemen, Lewan said they've given up on the idea of having a pet this year. Not even a dog or a cat?
"Nah," he said. "That's too normal for us."
January, 15, 2013
1/15/13
1:00
PM ET
Over the next few weeks, WolverineNation will look at every position on the Michigan roster and give a depth chart analysis of each position on the roster heading into the offseason.
Michigan will have major holes and questions on the offensive line entering next season having to replace the entire interior of the line. Two players remain, though, and they'll be able to give Michigan some stability on an otherwise fluctuating position group. And one will potentially start next season at right tackle.
The starter:
Redshirt senior
Michael Schofield
. The starter here last season, Schofield did well at times and struggled at others after shifting over from left guard, where he stood out as a sophomore. Now, he has a more important role considering the majority of the Michigan offensive line will be first-time starters, including whoever he plays next to at guard.
To continue reading this article you must be an Insider
August, 27, 2012
8/27/12
3:19
PM ET
ANN ARBOR, Mich. -- Some of this was a certainty.
Denard Robinson
was going to be Michigan's starting quarterback. And Taylor Lewan was going to be the Wolverines' starting left tackle.
But Michigan had some surprises in its offensive depth chart when it was released Monday -- starting at running back. The will-he, won't-he, should-he, shouldn't-he debate of junior
Fitzgerald Toussaint
playing Saturday ratcheted up when the junior was listed as the No. 1 running back on the chart given to the media.
Michigan coach Brady Hoke said again Monday that he had not made a decision on Toussaint's availability against Alabama after Toussaint was arrested on suspicion of Operating While Intoxicated on July 21. He further went to say he had an idea of which wasy it was leaning but wasn't sure when he'd let the public in on that.
To continue reading this article you must be an Insider
August, 25, 2012
8/25/12
12:30
PM ET
ANN ARBOR, Mich. -- A good steak needs to be savored. If cooked properly it can almost melt once it hits your mouth.

Craig Roh
understands the importance of a good piece of meat and how it could help him.
Once he decided to shift his diet this year, moving toward a Blood Type Diet in an effort to build muscle along with decreasing fat and inflammation in his body, he realized he had to eat even more steak.
To continue reading this article you must be an Insider
Coaches Contending For 'King Of Spring'
BIG TEN SCOREBOARD
Thursday, 9/3
Friday, 9/4
Saturday, 9/5
Sunday, 9/6
Monday, 9/7