Michigan Wolverines:

Eric Glover-Williams
October, 15, 2013
10/15/13
8:00
PM ET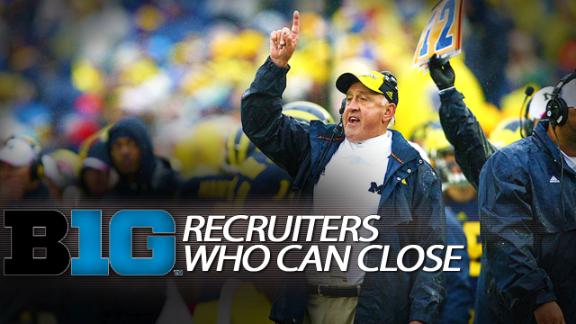 Editor's note: For a look at the national recruiter power rankings based only on Class of 2014 success,
click here
.
Michigan and Ohio State both sit in the top 10 recruiting rankings this year after each landed top 10 classes in 2013 -- the Buckeyes were third, while the Wolverines were sixth.
That's why it should come as no surprise that the two schools have the top four recruiters in the Big Ten Conference for the Class of 2014 so far.
Here's a look at the top 10 recruiters in the Big Ten and why they deserve such high praise:
To continue reading this article you must be an Insider
October, 7, 2013
10/07/13
12:00
PM ET
Here are this week's top performances from Big Ten commits and targets:

Illinois:
Julian Hylton:
Hylton led Lincoln-Way North (Ill.) with 34 carries, 153 yards and two touchdowns in a 22-21 win over Lincoln-Way Central.
To continue reading this article you must be an Insider
September, 23, 2013
9/23/13
2:40
PM ET
There wasn't a ton of movement in terms of recruiting for The Big Ten, but there were plenty of big performances from the commits and targets over the weekend. Here is a look at some of the top performers.
Illinois
Mike Dudek:
Committed to Illinois, Dudek helped his team, Neuqua Valley (Ill.), to a 54-28 win over St. Charles East. Dudek had 335 all purpose yards, 5 receptions, 154 yards receiving and 4 touchdowns. He also had a 94-yard kick return for a touchdown in the win.
To continue reading this article you must be an Insider
September, 6, 2013
9/06/13
11:00
AM ET
@bwessfootball: How do you see Penn State's class rounding out? Would you say PSU is now the favorite for Montae Nicholson and Qadree Ollison?
Brad Bournival: The first part of that question is tricky as the Nittany Lions are still in on Dravon Henry (Aliquippa, Pa./Aliquippa), Ricky Walker (Hampton, Va./Bethel), Alex Bookser (Pittsburgh/Mount Lebanon), Thomas Holley (Brooklyn, N.Y./Lincoln) and Mike Gesicki (Manahawkin, N.J./Southern Regional) but may not be the favorite for any of them. As far as Ollison goes, I fully expect him to be part of the 2014 Penn State class by Monday afternoon. The fact he's visiting the Nittany Lions just before his announcement bodes well for Penn State. As far as Nicholson goes, the jury is still out on that one. He's visiting Michigan State this weekend, but Pittsburgh is in his backyard and don't count out Oregon or Florida State. The safety wants to set official visit dates soon so that could be telling.
---
[+] Enlarge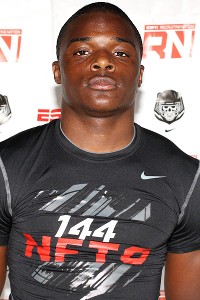 Tom Hauck for ESPN.comCould Michigan State land standout cornerback Darius West?
@Collin_Stauder:
Any chance Michigan State grabs Nicholson or Darius West down the stretch?
Tom VanHaaren: That's a pretty relevant question right now as Nicholson (Monroeville, Pa./Gateway) is visiting Michigan State this weekend and West (Lima, Ohio/Central) just recently took a visit to East Lansing.
I think you could probably even throw defensive back Parrker Westphal (Bolingbrook, Ill./Bolingbrook) in this question because he recently told me that he would like to get out to Michigan State for a game.
It was believed that Northwestern and Vanderbilt had the best shot with Westphal, but if he makes it out to East Lansing that might be an interesting situation. He was originally going to make a decision before his season, but it looks like he could take a few visits.
As for West, he is still committed to Kentucky and publicly is saying the visit to Michigan State wasn't a big deal. I don't think a prospect takes a visit this late in the game if it's not a big deal. If Kentucky continues to struggle that could be something to watch.
Nicholson has had an interesting recruitment recently with Michigan telling him they aren't recruiting him anymore. I believe he is open at this point, so this visit could help Michigan State. It's too early to tell with him, though.
---
@DukeLukeofJuke: Do you see any dark horse recruits that few are connecting to Ohio State at the moment that could end up in Columbus by national signing day?
Bournival: The names are pretty standard at this point in recruits like Noah Brown (Sparta, N.J./Pope John XXIII), Chad Mavety (Garden City, N.Y./Nassau Community College), Damian Prince (Forestville, Md./Bishop McNamara), Raekwon McMillan (Hinesville, Ga./Liberty County), Erick Smith (Cleveland/Glenville) and Marshon Lattimore (Cleveland/Glenville). If you're asking me to go out on a limb, maybe someone like Gesicki or Alex Bookser (Pittsburgh/Mount Lebanon) winds up with the Buckeyes. While it's not much of a stretch, those two aren't getting a lot of play lately in recent Ohio State news.
---
@ssullie71: Has Malik McDowell given a timeline when he will make his decision on colleges?
VanHaaren: He is saying going into this weekend that he plans on waiting to make a decision. This has been a hot topic, because I do believe there is a chance he makes a decision sooner than later.
McDowell (Southfield, Mich./Southfield) has been somewhat quiet about all this and doesn't share much, so he could do anything. It wouldn't surprise me to see him wait things out, but it wouldn't surprise me to see him make a decision soon.
He initially had been saying he was going to wait until the Army All-American game, but I don't think that will happen anymore.
---
jbacevice@gmail.com: Damon Webb is the face of the 2014 class for Ohio State. Eric Glover-Williams has that honor in 2015. Put your prognosticator glasses on, who takes that role in 2016?
Bournival: Early signs point to someone with a familiar last name. While there aren't a ton of offers out there just yet to 2016 stars, I don't think it will much matter as defensive end Nick Bosa (Fort Lauderdale, Fla./St. Thomas Aquinas) has all the tools to carry the flag if he picks the Buckeyes down the line.
We all know is brother Joey is already making a name for himself as a freshman at Ohio State, but Nick could be even bigger. St. Thomas Aquinas coach Rocco Casullo has already said he thinks everyone will know all there is about the sophomore by the time he finishes with the Raiders. Buckeyes assistant Mike Vrabel is high on Nick already, but not just because of his play. The 6-foot-2, 215-pound defensive end's character and maturation at such a young age is what many are talking about.
September, 5, 2013
9/05/13
9:00
AM ET
A year ago,
Jerome Baker Jr
. (Cleveland/Benedictine) toiled in obscurity.
Now, the 6-foot-1, 202-pound junior can't move an inch without someone asking about him.
Such is the life of an ESPN Junior 300 standout that has burst onto the scene as a can't-miss prospect in the 2015 class.
To continue reading this article you must be an Insider
August, 30, 2013
8/30/13
11:00
AM ET
It's time to dip into the Big Ten recruiting mailbag and answer some of your questions. We'll try to give everyone a chance to get their questions answered. We encourage you to send your questions by Twitter to
@bbournival
or
@TomVH
.
@Blue_gC_Blood: How close in size are Michigan commit Shaun Crawford and Ohio State pledge Eric Glover-Williams? I heard they are pretty much a carbon copy of each other, true?
Brad Bournival:
Having seen both individuals multiple times in pads, that is a very fair assessment. Crawford (Lakewood, Ohio/Saint Edward) is 5-foot-9 and 175 pounds and EGW is 5-10, 170 pounds. But it goes well beyond that as both are very athletic kids who aren't afraid to mix it up at times. Speed, obviously, is their biggest common denominator. It would be great to see Glover-Williams play the slot or split out wide to see just how close in game they actually are, but unfortunately for Canton (Ohio) McKinley, the Bulldogs put their junior star behind center because he is the best athlete on the field. That said Crawford is the better defender, though it should be noted Glover-Williams is better offensively. Seeing the two in camps, however, their game really is almost the same.
---
@joshuas430: Do you think the recruiting success for Rutgers has been more with the move to the Big Ten or their new head coach?
Tom VanHaaren:
That's a good question. I think there is some cache for recruits to play for Rutgers now that they are a part of the Big Ten. But if you look at their top prospects, they are all guys from New Jersey.
In the 2014 class, Rutgers has four ESPN 300 commitments and they are all from New Jersey. Rutgers has always done well with local prospects and that hasn't changed with this class.
From 2011 to 2013, Rutgers actually signed 10 prospects ranked as four-stars from New Jersey and New York. That is a key for the Scarlet Knights' success in recruiting, and it's continued in 2014.
It's interesting to look at the Big Ten aspect of this, because if Rutgers was already in the conference, it would have the No. 3 ranked class in the Big Ten.
---
@GRSportsBlog: What is your opinion of Montae Nicholson being able to play a hybrid safety/outside linebacker at the next level and the fact Penn State is trying to recruit guys to be versatile in its defensive packages?
Bournival:
Penn State has never brought that up to Nicholson (Monroeville, Pa./Gateway) as it wants him to play safety and not linebacker, as the Nittany Lions will take a linebacker in this class. However, with the NCAA sanctions, the limited number of 65 scholarships really does alter how Penn State approaches the type of players they pursue. The Nittany Lions don't have the luxury to miss on a player, so you'll see more athletic players who can play multiple roles on the team. For example, if it can grab a player who helps in the offense and special teams, Penn State won't hesitate.
The other reason the Nittany Lions need to have fast, athletic type players is to be able to matchup in an ever-changing Big Ten Conference that isn't all ground and pound anymore.
---
@dydd911: Do you think we will see any commits from visitors at the Under the Lights game?
VanHaaren:
Michigan's night game against Notre Dame in Week 2 is going to be one of the bigger recruiting events of the season. The Wolverines really only have three big home games, so it's also an important event in general.
The last time these two teams faced off at night at Michigan Stadium, safety
Dymonte Thomas
ended up committing right after the game.
This answer all depends on who ends up making it in for the game, but as of now it doesn't look like there will be that type of situation. It looks like this game will be something that sets the tone for a prospect and could eventually lead to a commitment down the road.
Some of the bigger names that are visiting include 2014 defensive end
Da'Shawn Hand
(Woodbridge, Va./Woodbridge) and the No. 1 ranked player in the 2015 class
Jashon Cornell
(St. Paul, Minn./Cretin-Derham Hall).
Hand has his announcement date set for Nov. 14 and still has official visits to Florida and then Alabama, so he doesn't seem likely. Cornell, while he does have Michigan very high on his list, still plans on waiting to make a decision.
Since Michigan's 2014 class is nearly full there will be a lot more underclassmen than seniors. That's not a bad thing, especially if the environment is anything like it was two seasons ago in the first night game.
---
@buckeyefan686: It seems like Urban Meyer went hard after defensive backs and wide receivers in 2013 and linebackers/offensive tackles in 2014. What position groups do you see being the focus in 2015?
Bournival:
First and foremost, I think Meyer looks at the quarterback position more than any other. With
Braxton Miller
possibly gone after this season and
Kenny Guiton
definitely, gone he'll need to bolster that position and give it some depth. There could be no one with any meaningful in-game experience coming back in 2014 and he'll need to address that in 2015.
With four defensive linemen gone after the 2014 season, don't be surprised if he dips into the trenches yet again.
---
Mark, Chicago, Ill.: Do you see Northwestern landing any of the remaining big targets they have left in 2014?
VanHaaren:
Short answer, yes. The bigger targets left on the board are all ESPN 300 prospects. Linebacker
Brandon Lee
(Indianapolis/Lawrence Central), defensive back
Parrker Westphal
(Bolingbrook, Ill./Bolingbrook) and tight end
Garrett Dickerson
(Oradell, N.J./Bergen Catholic).
Lee is visiting Cal this weekend when they take on Northwestern and will likely then take an official out to see the Wildcats at home.
I do think there is a good chance that at least one of these prospects chooses Northwestern. The question is how many? That is yet to be seen.
August, 26, 2013
8/26/13
8:00
AM ET
By
Brad Bournival & Tom VanHaaren
| ESPN.com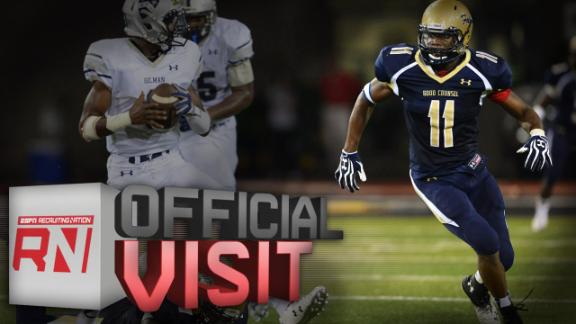 Ohio State and Michigan were at it again over the weekend in what has become commonplace in the recruiting world. The Wolverines nabbed an ESPN Junior 300 commit Friday and followed it up with another junior pledge on Saturday.
Not to be outdone, the Buckeyes grabbed an ESPN 300 standout of their own Sunday.
Here is a look at what happened over the past week.
To continue reading this article you must be an Insider
August, 14, 2013
8/14/13
10:00
AM ET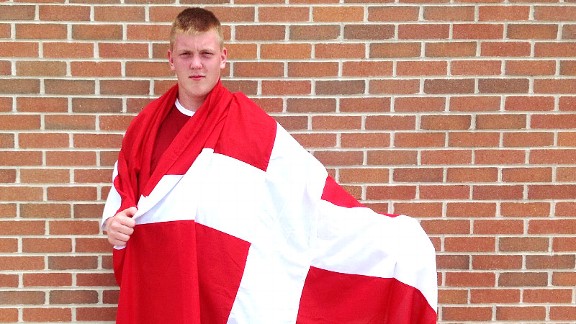 Brad Bournival/ESPNHjalte Froholdt, the No. 14 player in the ESPN Junior 300, will be playing his junior season in his native Denmark but will have plenty of suitors waiting for his return to the United States.
There are currently 34 Midwest prospects -- 15 from Ohio -- within the ESPN Junior 300. Not a single one of them has pledged an allegiance to a school as of yet.
That means the dogfight is already on, as Big Ten schools and others around the country prepare for an 18-month battle for some of the best.
As is usually the case, the Midwest will bring some interesting storylines over the next few years as the focus will shift to the heartland for some of the biggest names at the high school level.
In keeping with Tuesday's theme, here are the top 11 prospects out of the Midwest and where they're at in the process.
To continue reading this article you must be an Insider
July, 16, 2013
7/16/13
4:42
PM ET
Most colleges are not completely sure which position
Eric Glover-Williams
will play at the next level, but they plan to use him the same way his Canton (Ohio) McKinley coaches will in 2013. Glover-Williams will have the ball in his hands early and often.
To continue reading this article you must be an Insider
June, 17, 2013
6/17/13
9:00
AM ET
By
Tom Van Haaren
| ESPN.com
ANN ARBOR, Mich. -- The Michigan coaching staff will host several top prospects this week for their high school camp. Running from Sunday until Thursday, there will be plenty of news out of the event as the week goes on. Here are just a few things to watch heading into the week:
2014 sleepers
For the past two years Michigan has extended an offer to an under-the-radar rising senior after stellar camp performances. In the 2012 class, it was safety
Jeremy Clark
and in the 2013 class it was
Channing Stribling
.
To continue reading this article you must be an Insider
Michigan Outlook: 2014
BIG TEN SCOREBOARD
Thursday, 8/28
Saturday, 8/30