Michigan Wolverines:

Dravon Henry
October, 4, 2013
10/04/13
11:00
AM ET
It's time to dip into the Big Ten recruiting mailbag and answer some of your questions. We'll try to give everyone a chance to get their questions answered. We encourage you to send your questions by Twitter to
@bbournival
or
@TomVH
.
@HoosierHolmes: What positions are Indiana most focused on to finish up its class?
Brad Bournival:
A look at who the Hoosiers are targeting shows it's still very much on defense -- at linebacker and in the secondary more specifically. Indiana picked up a tremendous hybrid outside linebacker/safety in
Dameon Willis Jr.
(Cleveland/St. Ignatius) on Wednesday. With defensive backs
Micquell Cotton
(O'Fallon, Ill./O'Fallon) and
Craig James
(Edwardsville, Ill./Edwardsville) out there, as well as linebackers
Tegray Scales
(Cincinnati/Summit Country Day) and
Nile Sykes
(Lombard, Ill./Montini Catholic), expect the Hoosiers to turn up the heat defensively on the recruiting front.
---
@GabeJasinski: What big time recruit do you think Michigan State has a chance at getting?
Tom VanHaaren:
The Spartans are in on some big prospects still and have put themselves in the top group of a few ESPN 300 targets. Defensive backs
Montae Nicholson
(Monroeville, Pa./Gateway) and
Parrker Westphal
(Bolingbrook, Ill./Bolingbrook) both have Michigan State in their top group.
I think it might be difficult to pull both, but it seems as though there is a shot.
Nicholson took an unofficial visit to East Lansing, and there is a chance that Westphal will take a visit soon, as well. It's probably a long shot, as Virginia and Pitt appear to be the leader, but wide receiver
Jamil Kamara
(Virginia Beach, Va./Bishop Sullivan) might be an option, as well.
Kamara visits Michigan State on Nov. 3, so who knows what can happen once he's on campus.
---
@buckeyefan686: After Raekwon McMillan and Marshon Lattimore, which uncommitted recruit do you think is the most important for Ohio State to land?
Bournival:
It's not one specific player as much it is a position. Ohio State swung and missed last year along the line and needs to fix that this year. Now, they're doing fantastic with four already in the fold. That said, it is imperative for the Buckeyes to land either
Damian Prince
(Forestville, Md./Bishop McNamara),
Alex Bookser
(Pittsburgh/Mt. Lebanon) or top junior college tackle
Chad Mavety
(Garden City, N.J./Nassau Community College).
---
PSUlions1121: Any chance Penn State could get back in on Dravon Henry now that the sanctions are reduced?
Bournival:
Henry's father Roland was reached the day the sanctions were reduced, but his son's stance didn't change. "It's more the postseason ban than the scholarship restrictions," Roland told ESPN.com recruiting writer Jared Shanker. Some have said that Henry just didn't get the feeling at Happy Valley like he did at West Virginia. While Henry remains uncommitted, the favorite seems to be the Mountaineers, but Pitt looks like it will be in it until the end, as well.
---
@pinkelman9876: Where do you think Nebraska will end up in Big Ten recruiting rankings? Is the perception of Nebraska hurting their chances at projected top talent?
VanHaaren:
Nebraska currently has the No. 37 overall recruiting class in the country, which is good for No. 6 in the conference. The problem for the Cornhuskers is that there aren't many big name targets still on the board that would move the dial too much.
Michigan, Ohio State, Northwestern, Michigan State, Wisconsin and Penn State are all currently ahead of Nebraska and have targets still on the board that would keep them ahead of the Cornhuskers.
Something that I see as a problem has to do with the location relative to the rest of the Big Ten. Once Nebraska joined the Big Ten, they left their footprint in the Big 12 behind. Trying to land Midwest prospects from 12 hours away is very difficult, and it has proven to be hard for this coaching staff. The coaches try to recruit nationally, but there isn't one area where they have a home base to secure top prospects year in and year out.
---
@kholmes147: Regarding 2015 Michigan quarterback recruiting ... since it's clear [Josh] Rosen has no interest, who do you think is most likely to get the second offer?
VanHaaren:
Rosen is currently the only 2015 quarterback with a Michigan offer, and as you mentioned likely will stay on the West Coast.
The coaching staff has been in contact with plenty of other prospects, though, including
Kyle Kearns
(Pleasanton, Calif./Foothill),
Kevin Dillman
(LaMirada, Calif./LaMirada),
Alex Malzone
(Birmingham, Mich./Brother Rice),
Sheriron Jones
(Moreno Valley, Calif./Rancho Verde),
Riley Neal
(Yorktown, Ind./Yorktown).
It's tough to say who will get the first offer, but much like the 2014 class, the coaches can stand to be a little picky for now. They can take some time to evaluate the right prospect, gauge interest levels and see who is the right fit.
September, 13, 2013
9/13/13
11:00
AM ET
It's time to dip into the Big Ten recruiting mailbag and answer some of your questions. We'll try to give everyone a chance to get their questions answered. We encourage you to send your questions by Twitter to
@bbournival
or
@TomVH
.
@buckeyefan686: How do you see Urban Meyer and Co. utilizing a player like Noah Brown?
Brad Bournival:
First and foremost, Brown is a player who brings versatility and can play either split out or in the slot. He can even go in the backfield if Meyer needs him there. His size -- 6-foot-2 and 215 pounds -- makes him a solid choice to play the X receiver. With explosiveness and good route-running, he's a natural to go out wide for Ohio State. Expect to see him on special teams soon for the Buckeyes.
---
@kraut2k:
Is DeAnthony Arnett having a negative effect with Michigan State and Brian Cole?
Tom VanHaaren:
It seems as though he might be, yes. Arnett, a wide receiver from Saginaw, Mich., hasn't been getting playing time at Michigan State. He transferred from Tennessee after his freshman season, but hasn't made an impact yet. That does seem to be something Cole (Saginaw, Mich./Heritage) has taken notice of. Cole and Arnett are friends, as is Cole's father. A program can't change what it does on the field for a recruit, but in this case it does look like it's having an impact on this prospect. I'm not sure there is much that can be done if that's the way Cole and his family feels.
---
@PSUlions1121: Have you heard anything about Justin Hilliard's visit?
Bournival:
After talking to his dad, the ESPN Junior 300 junior is very intrigued by "linebacker university" and wants to see what Happy Valley is all about. He also has heard all about the atmosphere of a night game, so he wanted to see that firsthand this weekend as well. He has rescheduled his trip to Kentucky for Oct. 12 when the Wildcats play Alabama.
---
@UMKirwin12:
Which Big Ten teams do you think will see their class ranking change the most, up or down, from where they are now to where they end up on national signing day?
VanHaaren:
I think Michigan and Ohio State still have a lot left on their boards to bump each of them up in the rankings. They are both in the top 10, but with some big prospects still in play, they could still see a bump. Northwestern, Michigan State and Nebraska are also teams that have opportunity to jump in the rankings as well. All three teams have ESPN 300 prospects still listing them in their top group, so there is a chance we could see some upward movement.
---
@darkknight1093: With all the turmoil at Texas, do you now see Ohio State as a serious contender to land Solomon Thomas or Myles Garrett?
Bournival:
If things play out like they did with Penn State and Oregon in Meyer's first two classes, don't expect him to do much until after the season. I'm sure there is a lot of interest in Thomas and Garrett, but Meyer is very careful where he picks his spots.
---
@CooperLily21: General question for you. In your opinion what is the most important thing (or things) kids look for in a school?
VanHaaren:
That's tough to answer in a short response because there are so many factors for different kids. It really depends on what the prospect is looking for, what his situation is and what caliber player he is. I think the biggest similarity is a comfort level. This gets overlooked a lot, but a big part of why recruits take visits is to see how comfortable they feel with the coaches, players and that campus. That's partially why it doesn't always work out when a recruit is a fan of a school growing up and then ends up committing elsewhere. If he feels a different level of comfort or feels more wanted at a different program, that goes a long way.
---
@GRSportsBlog: Any idea what's up with Dravon Henry and his shakeup with the top schools?
Bournival:
In a nutshell, the ESPN 300 athlete just didn't think Penn State was a good fit. ACC recruiting reporter Jared Shanker wrote an
excellent piece
on it Wednesday. It looks like it's down to Pitt and West Virginia with Ohio State having an outside shot. The bowl ban might have played a role in Henry dropping the Nittany Lions.
---
@redwingyooper:
Why the delay in Michigan offering Matt Burrell Jr. and Tim Settle when they have shown interest?
VanHaaren:
Numbers are tight again for 2015, so every offer is important. Right now there are only around 15 scholarships available in that class. There are already technically seven spots taken up with greyshirt commit
Brady Pallante
counting towards 2015 for now. With attrition that total number of 15 can rise, so there are probably around 10 spots left, give or take. With Burrell, Michigan has
Jon Runyan Jr
. (Philadelphia/St. Joseph's Prep) already committed as an interior offensive lineman. That's also what Burrell position Burrell plays, and Michigan seems to be in the market for tackles.
September, 12, 2013
9/12/13
2:00
PM ET
From official visits past and future to a commitment, the Big Ten was buzzing with headlines this week.

Here's a look at a few programs that highlight a busy week in this week's Big Ten storylines.

Boiler Up


September, 6, 2013
9/06/13
11:00
AM ET
@bwessfootball: How do you see Penn State's class rounding out? Would you say PSU is now the favorite for Montae Nicholson and Qadree Ollison?
Brad Bournival: The first part of that question is tricky as the Nittany Lions are still in on Dravon Henry (Aliquippa, Pa./Aliquippa), Ricky Walker (Hampton, Va./Bethel), Alex Bookser (Pittsburgh/Mount Lebanon), Thomas Holley (Brooklyn, N.Y./Lincoln) and Mike Gesicki (Manahawkin, N.J./Southern Regional) but may not be the favorite for any of them. As far as Ollison goes, I fully expect him to be part of the 2014 Penn State class by Monday afternoon. The fact he's visiting the Nittany Lions just before his announcement bodes well for Penn State. As far as Nicholson goes, the jury is still out on that one. He's visiting Michigan State this weekend, but Pittsburgh is in his backyard and don't count out Oregon or Florida State. The safety wants to set official visit dates soon so that could be telling.
---
[+] Enlarge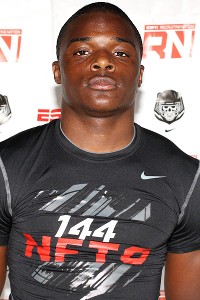 Tom Hauck for ESPN.comCould Michigan State land standout cornerback Darius West?
@Collin_Stauder:
Any chance Michigan State grabs Nicholson or Darius West down the stretch?
Tom VanHaaren: That's a pretty relevant question right now as Nicholson (Monroeville, Pa./Gateway) is visiting Michigan State this weekend and West (Lima, Ohio/Central) just recently took a visit to East Lansing.
I think you could probably even throw defensive back Parrker Westphal (Bolingbrook, Ill./Bolingbrook) in this question because he recently told me that he would like to get out to Michigan State for a game.
It was believed that Northwestern and Vanderbilt had the best shot with Westphal, but if he makes it out to East Lansing that might be an interesting situation. He was originally going to make a decision before his season, but it looks like he could take a few visits.
As for West, he is still committed to Kentucky and publicly is saying the visit to Michigan State wasn't a big deal. I don't think a prospect takes a visit this late in the game if it's not a big deal. If Kentucky continues to struggle that could be something to watch.
Nicholson has had an interesting recruitment recently with Michigan telling him they aren't recruiting him anymore. I believe he is open at this point, so this visit could help Michigan State. It's too early to tell with him, though.
---
@DukeLukeofJuke: Do you see any dark horse recruits that few are connecting to Ohio State at the moment that could end up in Columbus by national signing day?
Bournival: The names are pretty standard at this point in recruits like Noah Brown (Sparta, N.J./Pope John XXIII), Chad Mavety (Garden City, N.Y./Nassau Community College), Damian Prince (Forestville, Md./Bishop McNamara), Raekwon McMillan (Hinesville, Ga./Liberty County), Erick Smith (Cleveland/Glenville) and Marshon Lattimore (Cleveland/Glenville). If you're asking me to go out on a limb, maybe someone like Gesicki or Alex Bookser (Pittsburgh/Mount Lebanon) winds up with the Buckeyes. While it's not much of a stretch, those two aren't getting a lot of play lately in recent Ohio State news.
---
@ssullie71: Has Malik McDowell given a timeline when he will make his decision on colleges?
VanHaaren: He is saying going into this weekend that he plans on waiting to make a decision. This has been a hot topic, because I do believe there is a chance he makes a decision sooner than later.
McDowell (Southfield, Mich./Southfield) has been somewhat quiet about all this and doesn't share much, so he could do anything. It wouldn't surprise me to see him wait things out, but it wouldn't surprise me to see him make a decision soon.
He initially had been saying he was going to wait until the Army All-American game, but I don't think that will happen anymore.
---
jbacevice@gmail.com: Damon Webb is the face of the 2014 class for Ohio State. Eric Glover-Williams has that honor in 2015. Put your prognosticator glasses on, who takes that role in 2016?
Bournival: Early signs point to someone with a familiar last name. While there aren't a ton of offers out there just yet to 2016 stars, I don't think it will much matter as defensive end Nick Bosa (Fort Lauderdale, Fla./St. Thomas Aquinas) has all the tools to carry the flag if he picks the Buckeyes down the line.
We all know is brother Joey is already making a name for himself as a freshman at Ohio State, but Nick could be even bigger. St. Thomas Aquinas coach Rocco Casullo has already said he thinks everyone will know all there is about the sophomore by the time he finishes with the Raiders. Buckeyes assistant Mike Vrabel is high on Nick already, but not just because of his play. The 6-foot-2, 215-pound defensive end's character and maturation at such a young age is what many are talking about.
August, 13, 2013
8/13/13
12:00
PM ET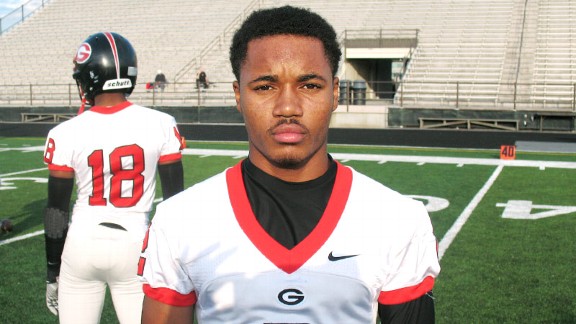 Brad Bournival/ESPNMarshon Lattimore, the No. 51 prospect in the ESPN 300, might go to an Ohio State feeder school, but programs such as Alabama and Michigan are making a push for him.
There are currently 198 committed prospects within the ESPN 300. That means that it's a dogfight for the remaining 102 uncommitted prospects.
The Big Ten schools are recruiting prospects within the ESPN 300 from across the nation, but as always, the Midwest is a big focus. There are currently 11 prospects from the Midwest in the top list that are uncommitted.
Here is a look at those Midwest prospects and where they're at in the process.
To continue reading this article you must be an Insider
May, 7, 2013
5/07/13
12:00
PM ET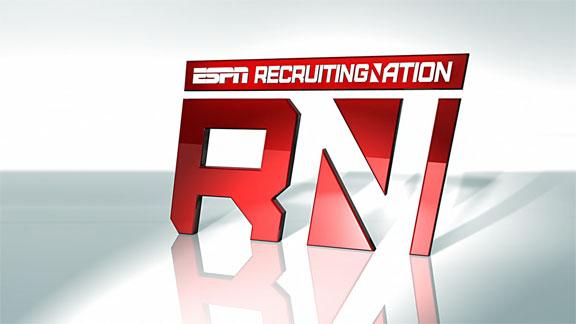 ESPN 150 athlete
Dravon Henry
(Aliquippa, Pa./Aliquippa) listed his top four schools about two months ago with the understanding it would slow down his recruitment.
With the mailbox now stuffed with 50 letters by the middle of the week, it's safe to say the four-star athlete understood incorrectly.
To continue reading this article you must be an Insider
February, 28, 2013
2/28/13
9:00
AM ET
Michigan landed six defensive backs in the 2013 class to help fill depth in the secondary. That means the Wolverines will be able to take a smaller number of defensive backs going forward and still have competition at each spot.
Here is a look at some of the targets for Michigan at defensive back for 2014:
To continue reading this article you must be an Insider
October, 5, 2012
10/05/12
12:00
PM ET
Dravon Henry
(Aliquippa Pa./Aliquippa) has the best kind of problem any recruit could hope for -- he's not playing full games because his high school team is winning by too much.
Most games, Aliquippa coach Michael Zmijanac has to pull his star running back/safety early. And considering the Quips are 5-0 and have outscored teams 264-7, Henry is having a really hard time seeing his lack of playing time as any kind of problem at all.
"I'm really only playing like two quarters a game," Henry said. "But it's fine. When I'm in, I know how to make players miss."
To continue reading this article you must be an Insider
Which Players Have The Most To Prove In 2015?
BIG TEN SCOREBOARD
Thursday, 9/3
Friday, 9/4
Saturday, 9/5
Sunday, 9/6
Monday, 9/7