Michigan Wolverines:

Doran Grant
October, 23, 2013
Oct 23
12:00
PM ET
World Series. Game 1. Wainwright. Fenway. So excited. Full sentences ... difficult. Links:
August, 20, 2013
Aug 20
12:34
PM ET
Game week is rapidly approaching ...
July, 17, 2013
Jul 17
10:00
AM ET
Trades aren't happening in college football any time soon. Even if they were legalized, the thought of two hated rivals doing anything to potentially help each other out would make Woody and Bo start spinning in their graves.
But pretend for a second those laws were relaxed and the Buckeyes and Wolverines each had a need so pressing that the programs at least kicked around some ideas. As part of our ongoing look this week at "The Game," a couple ESPN.com beat writers took a shot to see just what they could get from each other that might spur on a championship run for the current roster. Thanks to the Freedom of Information Act, here's a look at how a (fictional) deal might have gone down.
From:
OSU_GM
To:
UM_PersonnelDept
Subject:
Don't tell anybody
Mr. Rothstein:
We probably shouldn't even be talking, and if word gets out that we even considered making a deal, we might need to consider looking for new jobs. But since the rules against trades in college football magically vanished and we were hired for some reason to become general managers for Ohio State and Michigan, respectively, I think we at least owe it to ourselves to pursue all options. As I'm sure you're aware, the Buckeyes were hit pretty hard by graduation in the front seven after knocking off the Wolverines to cap a perfect season last fall (in case you forgot about the celebration in the 'Shoe). And recently the program has seen a group of linebackers that was already thin lose a couple more bodies that could have offered some help off the bench this fall. Additionally, while the future looks pretty bright at tackle for
Taylor Decker
or
Chase Farris
, right now there is one spot without much experience that tends to stand out when there are four seniors starting elsewhere on the line. So, I don't know what position is troubling you most as training camp sneaks up on college football, but if there's a potential swap or two that might help us both out, I am all ears. But you didn't hear that from me.
Sincerely,
Austin Ward
Interim Ohio State personnel director
---
[+] Enlarge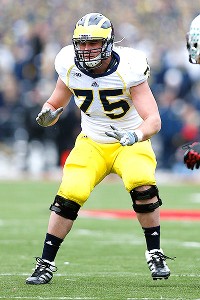 Joe Robbins/Getty ImagesThe Buckeyes wanted Michael Schofield for experience at tackle, but Michigan's demands in return were too rich for OSU's blood.
From:
UM_PersonnelDept
To:
OSU_GM
Subject:
Too late
Mr. Ward:
Unfortunately for you, I'm mouthy. And I've already started rumors you are trying to trade
Braxton Miller
for the remnants of Rich Rodriguez's offense. Apologies in advance. Not going to lie, looking over my roster I have concerns at wide receiver, running back and I could use some experience on the interior of the offensive line. Also, while there's some depth at cornerback, wouldn't mind grabbing one or two from you. Oh, and since you're interested in giving up Miller, that would solidify some of the depth issues there. I see you're fishing for a tackle. Sorry,
Taylor Lewan
is not available. While I like
Michael Schofield
a lot, he is more available at the right price. So too are some of the linebackers. What interests you on the Michigan squad? I'm willing to listen for anyone except for Lewan and quarterback
Devin Gardner
.
Sincerely,
Michael Rothstein
Fake Michigan personnel director
---
From:
OSU_GM
To:
UM_PersonnelDept
Subject:
Re: BRAXTON
Hey bud, these talks just about ended instantly with any mention of the franchise quarterback being available. Newsflash -- Miller won't be on the market heading into his senior season either, so get used to trying to defend him. At any rate, Schofield would be an intriguing option for the Buckeyes because he could provide another veteran presence with ample experience in the Big Ten, potentially giving Decker or Farris another year to develop physically before moving into the starting lineup in 2014. After getting a glimpse at what
Desmond Morgan
could do last fall when he made 11 tackles (in a losing effort) against Ohio State, he might look good in Scarlet and Gray, especially if the spring gave him flexibility to play in the middle. I probably don't need to mention that
Bradley Roby
is untouchable in the secondary, but there is no shortage of talent alongside him in the backend. Might want to take a look at the stable of running backs the Buckeyes have in the fold as well -- but feel free to skip over
Carlos Hyde
.
AW
---
From:
UM_PersonnelDept
To:
OSU_GM
Subject:
No subject
July, 16, 2013
Jul 16
10:00
AM ET
COLUMBUS, Ohio -- Training camp hasn't even started yet. After that grueling month, there's still almost an entire season to be played before "The Game" that matters most.
But it's never too early to set the table for the feud between Ohio State and Michigan, and at BuckeyeNation and WolverineNation, we're doing it all week.
We looked back on Monday at some
heroes
and
villains
on both sides of the rivalry. Today we're looking ahead at the strengths and weaknesses that could decide the latest edition in the storied series, which is just more than four short months away.
STRENGTHS
Ground and pound: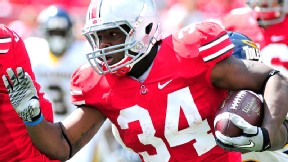 David Dermer/Diamond Images/Getty ImagesOhio State running back Carlos Hyde is poised for a big senior season.
The Ohio State rushing attack was potent enough a year ago, but it's only added more experience and weapons to the mix now. By November, it might be almost impossible to slow down the Buckeyes on the ground as they incorporate the new pieces to the attack and potentially get more support from the passing game.
Braxton Miller
is obviously a threat to score from anywhere on the field, and if
Carlos Hyde
makes the kind of improvement he's targeted in terms of making defenders miss at the second level, that one-two combination will continue to rank among the best in the country, particularly with four seniors back on the offensive line.
But it might be the added dimension of a healthy
Jordan Hall
or a true freshman such as
Dontre Wilson
or
Jalin Marshall
at the hybrid, Pivot position that gives opponents even more fits. Or maybe it's a backfield that can be loaded up with as many as three talented rushers, rolling out
Rod Smith
or
Bri'onte Dunn
in a diamond formation with Hyde and Miller. Either way, the Buckeyes have the personnel to give Michigan a workout in the front seven.
Air patrol:
The expectations are growing for Michigan's passing attack now that
Devin Gardner
has the position all to himself, and he'll have plenty of time to develop and find a rhythm before meeting up with the Buckeyes. But there might be no stiffer test in the country than the one Ohio State can present a quarterback thanks to its overflowing talent and veteran savvy in the secondary. Cornerback
Bradley Roby
and safeties
Christian Bryant
and
C.J. Barnett
would make life difficult on their own, but the Buckeyes can complement that with another senior safety in reserve in
Corey "Pittsburgh"' Brown
, a junior cornerback looking to make a name for himself in
Doran Grant
and a class of incoming defensive backs that represented perhaps the best signing day haul in the nation.
The Buckeyes plan to get as many of those guys involved as possible this season, which could make the secondary even more fearsome by the time Gardner gets a crack at them.
WEAKNESSES
Middle ground:
The fresh faces are almost everywhere in the front seven, but heading to training camp, there's not all that much uncertainty about who will be filling which shoes left behind by the defenders who helped the Buckeyes go unbeaten last fall.
Noah Spence
and
Adolphus Washington
are poised for breakouts at end and
Curtis Grant
and
Joshua Perry
appear ready to lend a hand next to
Ryan Shazier
at linebacker, but there are two critical spots on the inside of the line that bear monitoring as Ohio State prepares to stop opposing rushing attacks.
Michael Bennett
is close to a lock for one role, but there could be a heated competition for reps next to him to complete the rotation.
Tommy Schutt
battled injuries throughout spring practice, but he has the ability to be a future star.
Joel Hale
is a grinder and respected leader, and the junior could be an intriguing option as well. And if big
Chris Carter
can manage his weight, his massive frame clearly could fill up some rushing lanes.
By November, the Buckeyes figure to have long ago answered those questions up front and should have also built up plenty of experience. But that will be at the top of the priority list as Ohio State chases a Big Ten title -- and keeps an eye on its rival.
Kicking it:
More often than not, the Buckeyes had the edge over opponents in the third phase. But considering how much value Urban Meyer places on special teams and how much production he expects, Ohio State wasn't all that close to giving him what he wanted a year ago. Kicker
Drew Basil
wasn't used all that much, aside from the season-ending win over Michigan, but among his 11 attempts last season were a pair of missed field goals from less than 39 yards that didn't exactly inspire confidence. The Buckeyes will be breaking in a new punter as well, and winning the field position battle is as important under Meyer as it has always been under previous regimes at Ohio State -- putting pressure on some young contributors to make plays in kickoff and punt coverage.
Philly Brown
took a couple punts back for touchdowns last year and the "Freak Show" punt block unit made itself a nuisance a few times, but Meyer and newly-promoted special teams coordinator Kerry Coombs keep the bar pretty high in that area of the game. And in tightly contested rivalries, it can make all the difference.
August, 8, 2012
8/08/12
12:10
PM ET
The "Inside the Game" position preview series concludes with a look at the Michigan and Ohio State secondaries.
Like many of the other position groups discussed by Austin Ward of BuckeyesNation and Michael Rothstein of WolverineNation, a peek into the secondaries of Michigan and Ohio State reveals a lot of similarities between the schools.


Ohio State
Ward:
No infusion of new talent is necessary for Ohio State.
All the Buckeyes need is a deep pool of veteran defensive backs to take another step forward, and throwing the ball against them could be one of the tougher challenges in the Big Ten.
Bradley Roby
is shaping up as an emerging star at cornerback, and while
Travis Howard
and
Doran Grant
could battle for the right to start opposite him, the Buckeyes figure to be fine with either of them or backup
Adam Griffin
on the field.
C.J. Barnett
might be poised to breakout as well at safety, though there's plenty of experienced depth alongside him at the back of the defense. A pair of juniors in
Christian Bryant
and
Corey Brown
and senior
Orhian Johnson
provide plenty of options for defensive backs coach Everett Withers, who brings a proven track record of creating turnovers with him to Ohio State.
The Buckeyes picked off 13 passes last season, with Johnson and Roby tied for the team lead with three apiece. But both of those numbers will have to improve for Withers to be happy at the end of the season, and there is more than enough know-how and ability to make that happen.
Rothstein:
What once was a group of players thought to have little talent and no experience has turned into this: the best unit on Michigan's entire roster.
A few holdovers from the disastrous 2009 and 2010 seasons for the Michigan secondary remain on the roster in key positions, including starting cornerback
J.T. Floyd
and safety
Jordan Kovacs
, both of whom were thrown into unenviable positions as young players in a 3-3-5 defense few inside the Michigan program were familiar with.
But they learned and went from questionable players to two of the more reliable players anywhere on the Michigan roster. Joining them in the likely starting defensive backfield are safety
Thomas Gordon
and sophomore cornerback
Blake Countess
.
All four started at least half of Michigan's games a season ago.
The four are just the front line of an incredibly deep secondary with both experience -- nickel back
Courtney Avery
-- and a youthful push, including highly touted freshman safety
Jarrod Wilson
and sophomore cornerback
Delonte Hollowell
, who stood out on special teams as a freshman.
There could be trouble if Kovacs were to be injured, but otherwise this is Michigan's most dependable position group.
Weekend Recruiting Wrap: Big Ten - Dec. 2