Michigan Wolverines:

Desmond Howard
September, 5, 2013
9/05/13
11:00
AM ET
The Michigan-Notre Dame rivalry dates back to 1887 when the Wolverines instructed the Irish in the rules and ways of the game. Today, it's still one of the most well-known and respected matchups in the country. But on Saturday, the two teams will meet for the last time (for the foreseeable future) in Michigan Stadium. To commemorate this event, we've counted down the top five games in the rivalry's history in the Big House.


5. 2009 | Michigan 38, No. 18 Notre Dame 34
Enter Tate Forcier. His career at Michigan was short-lived, but as a freshman he led one of the greatest come-from-behind drives against Notre Dame in Michigan Stadium. With Notre Dame forced to punt, Forcier and the Wolverines got the ball back with 2:13 left in the game, down three. The freshman led Michigan down the field and capped the drive with a 5-yard TD pass with 11 seconds left in the game. The ensuing PAT sealed the victory for Michigan.
4. 1981 | No. 11 Michigan 25, No. 1 Notre Dame 7
The Wolverines had started the season No. 1 in the country, but Wisconsin wiped the floor with them. With Notre Dame's season-opening win over LSU, the Irish came into the Big House ranked No. 1 in the nation, while the Wolverines had dropped to No. 11. But behind clutch defensive performances, which held the Irish without a second- or third-quarter first down, Michigan rolled.
3. 2011 | Michigan 35, Notre Dame 31
If we were counting down the top moments of the rivalry, this would arguably be No. 1. And there are 114,804 people to testify to that. However, as far as the game as a whole, this one was basically a snoozer until the final moments. Everyone remembers Roy Roundtree's game-winning catch from Denard Robinson with two seconds left. Or they remember the catch, one play earlier, by
Jeremy Gallon
. Those kinds of memories erase the fact that the Wolverines went into the fourth quarter down 24-7. But that final quarter -- with all the emotion and anticipating -- gets the 2011 game on the top-five list.
2. 1989 | No. 1 Notre Dame 24, No. 2 Michigan 19
Bo Schembechler's final game in this series was not a memorable one for the Wolverines, who saw Raghib Ismail return two kickoffs for touchdowns. It was the defending national champions, the No. 1-ranked Irish against No. 2 Michigan, with Irish quarterback Tony Rice attempting just two passes in the wet conditions. The Wolverines saw a 10-game unbeaten streak snapped, and the Irish became the first team to beat Schembechler three straight times.
1. 1991 | No. 2 Michigan 24, Notre Dame 14
Up three early in the fourth quarter, Desmond Howard made the first of many memorable plays in what would become a Heisman Trophy-winning season. Howard caught a 25-yard pass from Elvis Grbac on fourth-and-1, a signature moment in this rivalry's history, known to Wolverine fans simply as "The Catch." Michigan snapped a four-game losing streak to Notre Dame.
August, 16, 2013
8/16/13
3:45
PM ET
ANN ARBOR, Mich. -- Last winter quarterback
Devin Gardner
tweeted an image of a reaching, one-handed catch by then-freshman wide receiver
Amara Darboh
. Though Darboh had never caught a pass during the season, his reputation spiked and fans wondered if he could be a Roy Roundtree-like receiver for Gardner.
But Darboh isn't the only receiver in his class who should be receiving hype.
Jehu Chesson
redshirted last year, but his physical ability, coupled with the fact he did in fact redshirt, have made him a player to watch this year.
"Jehu has learned the game of football a lot more now," wide receiver coach Jeff Hecklinski said. "I think he's settled down. I think he's nice and relaxed now. He's a great kid, you can't ask for a better kid. … He's understanding more what it takes to play and all the little details that it takes to play."
July, 19, 2013
7/19/13
11:00
AM ET
ANN ARBOR, Mich. -- The Michigan-Ohio State rivalry has a ton of individual moments which stick out in the memories of fans, be it individual performances or games or sometimes even the hoopla surrounding it.
Considering this rivalry is among the biggest, longest and best in sports, there is an overflow of Michigan-Ohio State moments to pick from when it comes to selecting the five most memorable, from a Michigan perspective.
Here's one man's look at five signature moments in the Michigan-Ohio State rivalry.
1. Michigan upsets Ohio State in 1969
: The game which turned the rivalry from just another rivalry into one of the most celebrated rivalries regardless of sport in the nation. First-year head coach Bo Schembechler and Michigan upset Ohio State, 24-12, snapping a 22-game winning streak for the Buckeyes. The win sparked the "Ten-Year War" between Michigan and Ohio State and its legendary coaches, Schembechler and Woody Hayes. At the time it was considered among the biggest upsets in college football history.
[+] Enlarge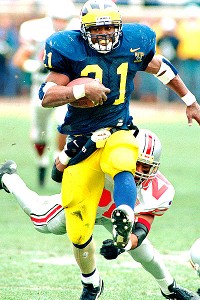 AP Photo/Tom PidgeonMichigan running back Tim Biakabutuka high steps past an Ohio State defender to gain some of his career-high 313 yards.
2. Tim Biakabutuka, 1995:
Perhaps the single-most impressive individual performance from a Michigan player in the history of the rivalry. While Biakabutuka only scored once in a 31-23 win over then-No. 2 Ohio State, ruining the Buckeyes' national title hopes, he gained 313 yards, slashing through the entirety of the OSU defense. It was the second-best single-game rushing performance in Michigan history and one of two 300-plus yard rushing games in school history.
3. Snow Bowl, 1950:
Like most seasons, the Big Ten title was on the line when these teams played in what the Ohio State library website quotes the Ohio State University Monthly as a "full-scale blizzard." Michigan won, 9-3, in a game where Wolverines punter Chuck Ortmann punted 24 times. The game's only touchdown, according to the OSU library site, came after a blocked Ohio State punt in the end zone was recovered by Michigan.
4. Punt returns. So many punt returns:
Stop in the end zone. Look around. Pose. When Desmond Howard finished off a 93-yard punt return for a touchdown in 1991, he struck the iconic Heisman pose still replayed more than 20 years later. The return -- and the pose against Ohio State -- helped cinch his Heisman Trophy. Six seasons later, with another potential statue there for the taking, Charles Woodson caught a punt of his own and returned it 78 yards for a touchdown to help Michigan knock off the Buckeyes. Woodson didn't pose after his return, but the win pushed Michigan to the Rose Bowl and eventual national championship. Oh, and for Woodson, the first and only primarily defensive player to win the Heisman.
5. The day after Bo Schembechler's death:
The day before the biggest game in the history of this rivalry, one of its biggest icons collapsed and died of a heart attack. Bo Schembechler, the architect of a lot of what has turned into the Michigan football of today, had passed away. The
last 24 hours of his life included a funeral for a former player, speaking to the 2006 Michigan team and a dinner with old friends
. While Michigan lost the next day in Columbus, it turned what would usually have been one of the more intense atmospheres of the year into a somber remembrance. Ohio State honored Schembechler, a former assistant, before the game. His death also transformed Michigan's program for a handful of years until Brady Hoke's hire in 2011.
July, 10, 2013
7/10/13
11:19
AM ET
Ohio State and Michigan don't get along very well, period.
But if the Buckeyes were able to nab one player for
their all-time draft
to round out a team, fans might not mind it. Well, if for no other reason than to stick it to the Wolverines.
After analyzing
WolverineNation's draft
and looking at my own team, it came down to three players.
[+] Enlarge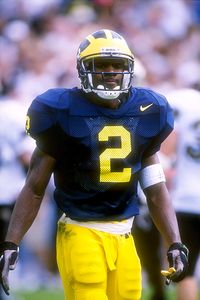 Jonathan Daniel/Stringer/Getty ImagesAt Michigan, Charles Woodson won the 1997 Heisman Trophy and became the first predominantly defensive player to win the award. And he's also from Fremont, Ohio.
It was either Tom Harmon from Chantel Jennings, Desmond Howard from Michael Rothstein or Charles Woodson from Tom VanHaaren.
All three were Heisman winners, and Harmon is the only player to lead the nation in scoring in consecutive years. But sorry, I'll still take two-time Heisman king Archie Griffin in my backfield.
That left the choice between Howard and Woodson. Both were great for Michigan, but Woodson was arguably the best player on the last national championship team for the Wolverines. Even if that title was shared. (Sorry, couldn't resist the dig there.)
That said, what Woodson did against Ohio State -- and all of college football for that matter -- can't be overstated.
An eight-time Pro Bowl selection and seven-time All-Pro, the defensive rookie of the year and Super Bowl champion's game certainly translated to the NFL.
But this wasn't a draft based on the NFL, it was a draft based on college, and what the native of Fremont, Ohio, did for the Wolverines was legendary.
The Big Ten Freshman of the Year in 1995, Woodson set a Michigan record for pass breakups as a sophomore with 15, was a finalist for the Jim Thorpe Award and was an Associated Press first-team All-American.
In 1997, he was the first predominantly defensive player to win the Heisman. He also won the Bronko Nagurski Trophy and Jim Thorpe Award and was the Chevrolet Defensive Player of the year for the second year in a row.
Ohio State remembers Woodson for returning a punt 78 yards for a score against the Buckeyes in 1997 and stopping a fourth-quarter drive with an interception in the end zone.
He finished his college career with 18 interceptions, 30 pass breakups and countless broken hearts collected from Buckeyes fans.
That made him an easy pick as the player I'd take from Michigan and suit up in scarlet and gray.
July, 10, 2013
7/10/13
9:00
AM ET
ANN ARBOR, Mich. -- The top picks in the
WolverineNation all-time draft
all had a few characteristics in common: They were tremendous players at Michigan; they had high goals and worked hard to achieve them; and they, for the most part, avoided serious injuries. And in the time since they left the maize and blue, they still seem recent in fans' memories.
So it's not hard to imagine that in 20 years, when a new set of writers are drafting an all-time team, there might be a member of the 2014 class going early, gracing himself among the one-named fames of Michigan football -- Harmon, Desmond, Woodson, Long, Braylon and maybe ... Peppers?
To continue reading this article you must be an Insider
June, 11, 2013
6/11/13
10:00
AM ET
By
Chantel Jennings & Tom VanHaaren
| ESPN Insider
ANN ARBOR, Mich. -- Quick Hits is a look at the must-know facts for each region in regard to Michigan and its football recruiting efforts. It will give you an idea of the Wolverines' history in that region, as well as what one can expect from that region over the next few seasons.
MIDWEST
1. How many players on Michigan's roster are from the region?
To continue reading this article you must be an Insider
September, 15, 2012
9/15/12
3:48
PM ET
ANN ARBOR, Mich. -- Michigan senior tight end
Brandon Moore
will wear the No. 87 Legends jersey in honor of Ron Kramer for the rest of the season.
"When you think of the history and tradition of this program and some of the great players like Ron Kramer, to carry on that legacy, that responsibility, is humbling," Moore said in a statement. "It's an honor to wear No. 87."
Moore, who used to wear No. 89, is injured and will not dress Saturday.
Kramer was a two-time All-American in 1955 and 1956 and a three-time All-Big Ten first-team player from 1954 to 1956. He mostly played tight end and on the defensive line for Michigan, but also saw brief stints at quarterback, running back and returning kicks and punts.
At Michigan, Kramer is eighth all-time in receiving yards among tight ends with 880 from 1954 to 1956.
Besides football, Kramer also played basketball and ran track at Michigan. He averaged 16.9 points a game for the Wolverines from 1954-57 in basketball and scored 1,119 points in his career, 38th all-time. Kramer is also Michigan's all-time free throw percentage leader at 87.8 percent.
Kramer, who died at age 75 in 2010, was a first round draft pick for Green Bay in 1957 and played in the NFL for 10 seasons. He had 229 catches for 3,272 yards and 16 touchdowns during his career.
His jersey has been the third given the "Legends Patch" distinction by Michigan, joining the No. 21 from Desmond Howard last season (currently worn by
Roy Roundtree
) and the No. 47 from Bennie Oosterbaan (worn by
Jake Ryan
).
September, 8, 2012
9/08/12
4:31
PM ET
ANN ARBOR, Mich. --Michigan redshirt sophomore linebacker
Jake Ryan
is wearing the No. 47 jersey, unretired Saturday before No. 19 Michigan's game against Air Force.
Ryan had five tackles in the season-opener against Alabama.
Bennie Oosterbaan's family was honored on the field before the game, presented with a framed No. 47.
This is the second Legends Patch awarded. Former Michigan receiver Desmond Howard was given the designation last season and his No. 21 jersey was first worn by Junior Hemingway and then this season by fifth-year senior
Roy Roundtree
. Oosterbaan's No. 47 is the first of four previously retired jerseys to be put back into circulation this season by Michigan.
Oosterbaan is one of two three-time All-Americans at Michigan, earning the honor in 1925, 1926 and 1927. After playing at Michigan, he started coaching at the school, first as an assistant for Fritz Crisler and then as the Michigan head coach from 1948 to 1958.
In that time, he had a 63-33-4 record and won the national championship in 1948. His teams also won or shared three Big Ten titles.
Oosterbaan was also a two-time All-American in basketball in 1927 and 1928.
June, 12, 2012
6/12/12
2:23
PM ET
Red Hot Chili Peppers drummer Chad Smith grew up in Michigan and is an unabashed fan of teams from the state, including Michigan and the Red Wings. He even brought Niklas Lidstrom on stage at a recent concert.

He also made news recently for singing part of "The Victors" at the end of a Chili Peppers concert in Columbus, Ohio. We caught up with Smith on Tuesday, when he explained how he became a Michigan fan, some of his favorite moments watching the Wolverines and what Chili Peppers song he'd like to hear played in Michigan Stadium.


May, 18, 2012
5/18/12
6:19
PM ET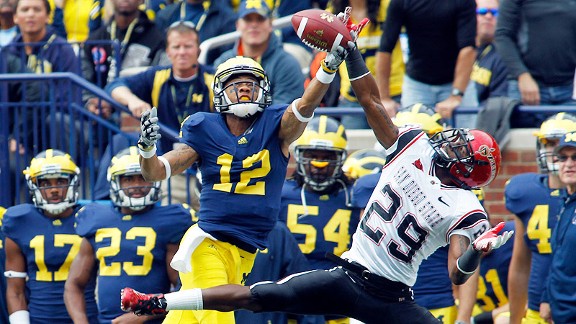 AP Photo/Tony DingRoy Roundtree will switch from No. 12 to the No. 21 jersey next season in honor of Desmond Howard.
ANN ARBOR, Mich.--
Roy Roundtree
is changing numbers.
The fifth-year senior receiver will wear No.21 next season instead of No.12, which he wore his first four seasons.
Michigan made the number a big deal last season, honoring former Heisman Trophy winner Desmond Howard.
"Coach [Brady] Hoke and I discussed it and one day I came into the locker room and went to the No.12 locker and didn't see my name anymore," Roundtree said."I laughed, looked around and there it was at No.21."
Howard said in a statement he was pleased with Roundtree wearing the jersey next season.
"He's the type of kid who is always positive, upbeat and wearing a smile on his face," Howard said."Roy embraces the concept of team that was instilled in us by coach [Bo] Schembechler so many years ago."
The first time Roundtree will wear the jersey in a game will be Sept.1 against Alabama.
February, 7, 2012
2/07/12
11:08
AM ET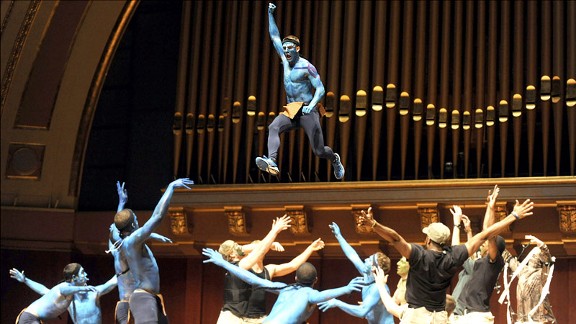 Courtesy David BraunThe men's track and field team performs during Mock Rock 2011.
ANN ARBOR, Mich. -- College athletes are typically goal-oriented. They have to be to reach that level.
The Student-Athlete Advisory Council (SAAC) at the University of Michigan set a goal last June when they were away from the courts, fields and matches: six figures.
To continue reading this article you must be an Insider
January, 26, 2012
1/26/12
3:20
PM ET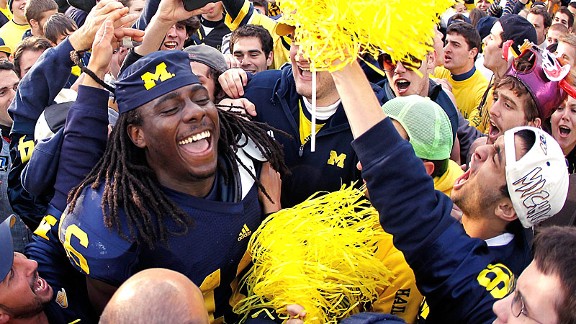 Gregory Shamus/Getty ImagesCan Denard Robinson transition from college QB to NFL WR?
As NFL Draft analyst Mel Kiper Jr. continues to laud the possibility of Michigan quarterback
Denard Robinson
as a wide receiver in the NFL --
he has him as his No. 2 senior NFL Draft prospect at receiver for 2013
-- the question remains.
Could Robinson be a first-round draft pick having never caught a college pass?
To continue reading this article you must be an Insider
Top Position Battles Heading In To Spring
BIG TEN SCOREBOARD
Thursday, 9/3
Friday, 9/4
Saturday, 9/5
Sunday, 9/6
Monday, 9/7