Michigan Wolverines:

Delano Hill
December, 2, 2013
12/02/13
8:30
PM ET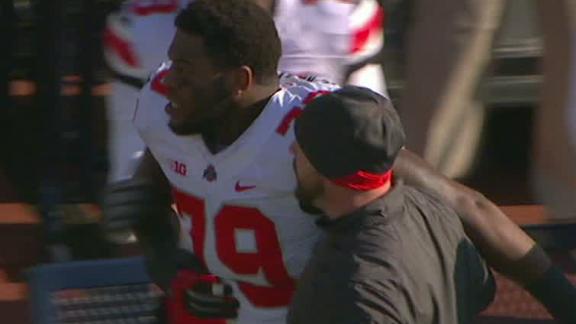 The Big Ten finally has a championship game that rivals the SEC's in national significance.
Unfortunately, the Big Ten is following the SEC's lead in another area: handing out discipline.
A league that considers itself a cut above in every area, including player conduct, had an opportunity to make a statement in the wake of Saturday's fight in the Ohio State-Michigan game. Instead,
the league went soft
, ensuring that its championship game, and Ohio State's national title hopes, would be unaffected by the ugly and embarrassing incident.
Here's what we learned from the Big Ten's ridiculous response Monday night:
Fighting doesn't have long-term consequences. Twisting a helmet? Go right ahead.
Just conduct yourself like a gentleman afterward.
After spending two days reviewing the officials' report from the game and the video of the fracas, the Big Ten decided to hand down no additional discipline to the Ohio State and Michigan players involved. The league merely issued a public reprimand -- the wussiest punishment possible -- for Ohio State offensive lineman
Marcus Hall
and the Buckeyes' coaching staff after Hall gave the crowd a double-bird salute following his ejection from the game. No other players were named by the league, which praised both coaching staffs for defusing the fight.
Ohio State's
Dontre Wilson
and Michigan's
Royce Jenkins-Stone
also were ejected Saturday, but they and others -- like Buckeyes wide receiver
Michael Thomas
and Michigan defensive back
Delano Hill
-- were spared any blowback from the conference.
The Big Ten is falling back on the NCAA's fighting policy, which calls for players ejected in the first half of a game to miss only the remainder of that game. Although the league has issued suspensions before for throwing punches, they have come for players who weren't ejected during the game.
The league had an opportunity to do more and show that behavior like Saturday's, even in a bitter rivalry game, is unacceptable and has long-term consequences. Monday's wimpy response will be seen as an effort to protect the league's title game and one of its biggest brands in Ohio State.
Criticize Ohio State coach Urban Meyer if you want for not tacking on additional playing-time penalties for Hall and Wilson. Honestly, I don't know many coaches who would have. They're trying to win championships and can impose some internal discipline. Michigan State didn't suspend William Gholston for his actions in the 2011 Michigan game, so the Big Ten stepped in with a suspension. The league should have done the same in this case.
Even a half-game suspension, which the SEC probably has trademarked, would have shown some teeth here. Instead, the Big Ten protects its championship game from being affected, and its biggest brand from being impacted in its quest to reach the national title game.
Monday's response will add to the widely held belief by many Big Ten fan bases that the league goes all out to protect Ohio State and Michigan. The response will bring more heat for league commissioner Jim Delany, who still gets ripped for going to bat for Ohio State's "Tat-5" to play in the 2011 Sugar Bowl.
The championship game is a national showcase opportunity for the Big Ten, a chance to display its best product and the values it holds so dear. You'll hear a lot about honoring legends and building leaders, and big lives and big stages.
Then Wilson might return the opening kickoff, and Hall will take the field with Ohio State's starting offensive line. Are those the images the Big Ten wants to present?
"As bad as it was, we're fortunate the incident did not escalate any further," the Big Ten's SECtatement reads. "More can, and should, be done by both coaching staffs in the future to prevent similar incidents."
The Big Ten could have and should have done more, but chose to do the bare minimum.
February, 28, 2013
2/28/13
10:00
AM ET
The writers at WolverineNation and BuckeyeNation put their heads together to break down the rivals' 2013 classes. Position by position, they'll give you a look at who Brady Hoke and Urban Meyer brought in and, ultimately, which class edged out the other. It's too early to say what will happen over the next few seasons, and we won't make any promises except that Hoke and Meyer are going to put talent on the field.
Ohio State got:
The Buckeyes were praised nationally for their wide receiver/athlete, linebacker and defensive line positions, but there's no doubt the defensive backfield is the headliner of the 2013 recruiting class. From ESPN 150 cornerbacks
Eli Apple
(Voorhees, N.J./Eastern) and
Cam Burrows
(Trotwood, Ohio/Trotwood-Madison) to other ESPN 150 defensive backs such as
Gareon Conley
(Massillon, Ohio/Washington) and
Vonn Bell
(Rossville, Ga./Ridgeland), Ohio State is loaded in the secondary. The fact ESPN 300 safety
Jayme Thompson
(Toledo, Ohio/Central Catholic) is the fifth-best DB on the list shows just how strong the unit is. Add three-star safety
Darron Lee
(New Albany, Ohio/New Albany), who is ranked 22nd at his position, and Ohio State's strength will come in air defense for the next four to five years.
February, 8, 2013
2/08/13
10:00
AM ET
Michigan's defense has been much improved under coordinator Greg Mattison, but it's still not at the level he knows it needs to be.
Mattison has coached at all levels and knows the type of player he needs on his defense to be a national contender. Through recruiting the coaching staff has been working to get back to that talent level on defense, and a big part of those efforts have been with recruiting the right type of defensive backs.
"First thing is we always want to be a pressure team, but we want to pressure more when we want to, not because we have to," he said. "To do that you have to be able to play zone and you have to be able to play some straight man."
To continue reading this article you must be an Insider
January, 28, 2013
1/28/13
10:00
AM ET
Michigan's secondary suffered a big blow in the first game of last season when sophomore starter
Blake Countess
went down with an ACL injury. The already thin unit held together well without him, but the depth was a concern going forward, especially at cornerback.
That concern was evident on the recruiting trail as Michigan currently has six defensive back commits for 2013, five of which will likely be corners. The secondary in general is a younger position group, so competition for a few spots might be up for grabs in the future.
To continue reading this article you must be an Insider
January, 23, 2013
1/23/13
8:00
AM ET
Commitments:
26
ESPN 150 commitments:
9
To continue reading this article you must be an Insider
January, 22, 2013
1/22/13
3:40
PM ET
ANN ARBOR, Mich. -- The Wolverines are out on the recruiting trail, closing out their 2013 class and looking forward to future classes. Naturally, the next class to consider is the 2014 class, which has two commitments (linebacker
Michael Ferns
and offensive lineman
Denzel Ward
) and several offered prospects.
But with a recent surprising miss at Detroit Cass Tech with
Damon Webb
committing to Ohio State, the Wolverines aren't going to skip a beat with any player, regardless of class.
To continue reading this article you must be an Insider
January, 21, 2013
1/21/13
12:00
PM ET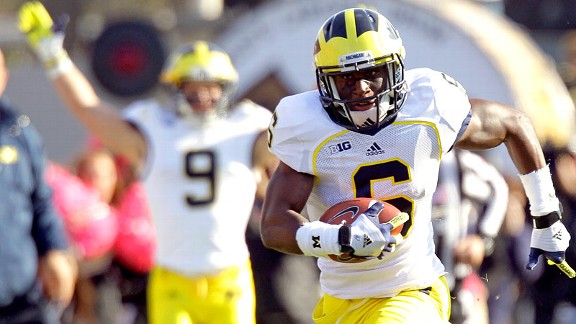 AP Photo/Michael ConroySophomore Raymon Taylor was thrust into a starting cornerback position when Blake Countess went out for the season due to injury, and his experience should help Michigan's secondary next season.
Over the next few weeks, WolverineNation will look at every position on the Michigan roster and give a depth chart analysis of each position on the roster heading into the offseason.
This was considered a position of strength entering last season, with two experienced corners getting ready to man their positions and have breakout years. It didn't really take place as
Blake Countess
missed all but one game of the season with an injury and
J.T. Floyd
was consistent but didn't make the next leap.
Now, entering next season, Michigan is in the same position. It has two starting cornerbacks ready to jump up a talent level and a bunch of guys behind them who are talented but don't have much experience at all.
To continue reading this article you must be an Insider
December, 17, 2012
12/17/12
9:00
AM ET
Michigan added two needed pieces to its 2013 class with Detroit Cass Tech teammates
David Dawson
and defensive back
Delano Hill
. Dawson is the No. 1-ranked guard in the country and recommitted to Michigan while on his official visit.
The additions of the two prospects give the Wolverines five committed prospects along the offensive line and five defensive back commitments as well. Depth is limited for both positions, so it's no surprise that the coaching staff made those groups an emphasis.
Hill and Dawson weren't the only two impressed with Michigan on the big visit weekend, though. Wisconsin commit
Marcus Ball
(Westerville, Ohio/Westerville South) came away impressed with the Wolverines, as did the Michigan commits on the visit with him. Ball said he now has a lot to think about with his commitment but wants to wait to see who Wisconsin hires before making any decisions.
To continue reading this article you must be an Insider
December, 15, 2012
12/15/12
2:39
PM ET
With the commitments of offensive lineman
David Dawson
and defensive back
Delano Hill
on Saturday, Michigan has landed seven prospects from Detroit Cass Tech High School since the 2009 class. It's nothing new for Michigan fans, since the program continues to produce top talent year in and year out.
Dawson, the No. 1 ranked guard and ESPN 150 prospect, took an alternate route but finds himself back in Michigan's 2013 class.
He's back because he initially committed to the Wolverines in February, but decided he wanted to take a visit to Florida. That goes against Michigan coach Brady Hoke's no-visit policy for commitments and the two split ways only for Dawson to realize that he wanted to stay closer to home and his family.
To continue reading this article you must be an Insider
December, 15, 2012
12/15/12
1:21
PM ET
On a big visit weekend for Michigan, the Wolverines have picked up two big-time prospects in offensive lineman
David Dawson
(Detroit/Cass Tech) and his teammate, defensive back
Delano Hill
. Dawson, the one-time Michigan commit, was on his official visit, while Hill had only recently been offered by Michigan.
The two are big commitments for Michigan as they both come at positions of need, and they also happen to be very good prospects. Dawson is a four-star and the No. 1-ranked guard, while Hill is a solid three-star safety who had been committed to Iowa until flipping to Michigan on Saturday.
The two commitments now give Michigan 24 total for the 2013 class, and will likely give the Wolverines a boost in the ESPN class rankings as well. With the NCAA and Big Ten rules, Michigan is still able to sign three more prospects in this class. With plenty
more options on the board
, Michigan should be in good shape to land a few more top prospects.
September, 24, 2012
9/24/12
5:36
PM ET
Mike Weber (Detroit/Cass Tech), a 2015 running back prospect, was in South Bend on Saturday on the first unofficial visit of his college recruitment. He was there not only to see the Fighting Irish but to watch a former workout partner wearing maize and blue,
Dennis Norfleet
.
"A lot of recruiters talked to the me at the game," Weber said. "I really liked Notre Dame. It was nice. … And to see Norfleet on that field, playing in college, it just really made me proud of him. I made sure to send him a text before the game and say, 'Good luck.' "
The 2015 running back is hearing the most from Notre Dame, but Michigan and Indiana have also inquired about Weber to Cass Tech coach Thomas Wilcher.
To continue reading this article you must be an Insider
Michigan C Cites Concussions In Decision To Quit
BIG TEN SCOREBOARD
Thursday, 9/3
Friday, 9/4
Saturday, 9/5
Sunday, 9/6
Monday, 9/7