Michigan Wolverines:

DeAnthony Arnett
June, 16, 2014
6/16/14
5:00
PM ET
Welcome to another edition of the Monday mailbag. Adam is on vacation this week, so I'm going to attempt to fill his Friday slot as well as my usual Wednesday 'bag this week. But I need questions to pull that off, so make sure to send them
here
or hit us up on
Twitter
.
To your queries ...
Aaron from Washington, Iowa, writes:
I feel like
Ty Issac
signing at Michigan hasn't gotten as much attention as it should have. I feel like Michigan's RBs could have a huge year if the pieces fall into place. Your thoughts?
Brian Bennett:
Isaac, who transferred from USC, is potentially a big boost for the Wolverines. But it remains to be seen whether Isaac will receive a waiver from the NCAA to become immediately eligible. He's from Shorewood, Illinois, which isn't exactly next door to Ann Arbor. The NCAA, though, has been pretty lenient on waiver cases of late, so we'll see. We should also have learned by now to exercise caution with hyped transfers. Remember all the hoopla about
Kyle Prater
transferring from USC to Northwestern, or
DeAnthony Arnett
going to Michigan State from Tennessee? Neither has had much of an impact yet in the Big Ten, though there's still time.
There is absolutely no doubt that Michigan has to improve its rushing attack after averaging just 3.3 yards per carry last season.
Derrick Green
should be better as a sophomore, especially with a more streamlined body.
De'Veon Smith
is pushing him. New offensive coordinator Doug Nussmeier is emphasizing the north-south running game, and the Wolverines simply can't win at a high level without it. The question, of course, is whether the offensive line can coalesce and create enough holes for the back to plow through. If not, it won't matter who is carrying the ball.
---
Dale from Los Angeles writes:
I'm a firm believer that certain units of Big Ten teams may look impressive during the season, but it is only because they are playing against Big Ten opponents. For instance, according to the numbers, Michigan State, Wisconsin, Ohio State and Iowa all had top-20 rush defenses in 2013. But look at the bowl performances. MSU held their opponents to 2.85 yards per carry, but Stanford ran for 4.5 ypc against MSU. South Carolina ran for 3.44 ypc against Wisconsin's 3.22 average. LSU ran for 4.31 ypc against Iowa's 3.51 average. Ohio State's rushing D performed the worst relative to their average ypc allowed, as Clemson ran for more than 5 yards per carry and more than 2.2 yards/carry above the average OSU opponent. As soon as they played real teams, the shine rubbed off these so called "elite" rush defenses.
My question is: I know you guys (and most college football analysts) think Ohio State's D-line is the best unit in the Big Ten. But how do you think they measure up nationally? I think Clemson's line is head and shoulders better, considering that this Tigers front blew up Ohio State's allegedly great offensive line for five sacks and 10 (10!!) tackles for loss in the Orange Bowl. Is Ohio State's D-line even in the nation's top 20?
Brian Bennett:
It's always going to be tough to compare college football teams directly against one another statistically across conferences because they all play such different schedules. Also remember that no team plays elite competition every week; statistical measures like yards per carry allowed are always going to be boosted by games against weak nonconference opponents, league bottom-feeders, heavy passing teams, etc. It would be surprising if a team like Michigan State didn't give up more rushing yards than its season average against a team like Stanford, which had one of the nation's better ground games last year and features a powerful attack that is unlike most FBS teams.
It also works in reverse. You mentioned, for example, Wisconsin's game against South Carolina in the Capital One Bowl. The Badgers rushed for 293 yards and for 6.8 yards per carry in that game, numbers that were way above the Gamecocks' season defensive averages. Does that mean that South Carolina's defense was overrated? What about the impact on Big Ten defenses that had to face Wisconsin?
There's very little question about the talent on Ohio State's defensive line. You've got two of the top returning defensive ends in the league in
Joey Bosa
and
Noah Spence
(when he returns from suspension). Defensive tackle
Michael Bennett
is being projected as a first-round NFL draft pick.
Adolphus Washington
is also extremely skilled, and there is promising depth behind the starters. The Buckeyes could have three or four first-round picks on that unit this fall. That's why everyone is so high on that defensive line, though, of course, the group still needs to prove it on the field against the best of the best.
---

Jerry D. from Dublin, Va., writes:
I am amazed at the lack of coverage you are giving Maryland, unless it's some kind of negative press. Maryland finished 7-5 last year with a severely crippled team. Maryland will shock the Big Ten when Ohio State crosses the Mason-Dixon and loses to the Terps. Then the other heavyweight, Michigan State will be "blacked out" by the nighttime atmosphere at Byrd Stadium. Not the biggest stadium in the country, but can be one of the loudest! Go Terps!
Brian Bennett:
Love your optimism, Jerry. A couple of things -- for one, it's the summer time, and things are pretty slow everywhere. There hasn't been a lot of news out of College Park in a while. Maryland doesn't officially even join the Big Ten (along with Rutgers) until July 1, at which time we hope to have some more coverage of the Terps. Maryland fans have also been very quiet -- we haven't heard much from you guys on Twitter on in the mailbags. I think Randy Edsall has an interesting team on his hands and one that can make some noise if it can stay healthy. It's a pretty simple equation around here: The more you win and have an impact on the league, the more we're going to talk about you.
---

Xavier from Paoli, Ind., writes:
I would love to know why Indiana offensive players don't get any respect. I get IU won five games last year, but you can't blame the offense that was ninth in the nation.
Nate Sudfeld
and
Tevin Coleman
are two of the top players at their respective positions. Nate Sudfeld threw for 21 TDs and 9 INTs in 322 attempts last year. Only
Connor Cook
and
Joel Stave
threw for more TDs, but Stave threw four more INT's and attempted 336 passes and Cook attempted 380 passes. Coleman rushed for 958 yards in nine games and averaged 7.8 yards a carry, which was tied for eighth in the nation with
Carlos Hyde
. I truly think both should be getting more respect than they do, because they get just about zero. Maybe they need to put on a Michigan or Ohio State jersey to get it?
Brian Bennett:
We're well aware of Indiana's offensive prowess, Xavier, and we mention those guys a lot around here. We're doing some statistical projections in the next few days, and the Hoosiers will be well represented. If you're talking about national respect, it's all about winning games. When a team has been out of the postseason since 2007, like IU, it becomes pretty irrelevant nationally. Its games don't receive spotlight broadcast times, and individual accomplishments get overlooked. Indiana needs to pull off a couple of Big Ten upsets for its players to get noticed nationally. Sudfeld and Coleman need to deliver in games against Ohio State, Michigan State and other top contenders.
---

Cameron from San Diego writes:
Brian, the Big Ten's ban on FCS schools makes sense for the most part. No self-respecting Ohio State team should be playing Florida A&M. I know there is a bit more of a gray area with matchups like Minnnesota-NDSU and the like. But one that I think absolutely needs to be played that I don't think I've ever heard anyone mention is Rutgers-Princeton in 2019. That's right -- the 150th anniversary of college football. From what I hear there are no talks about it. I don't even know if anybody knows or cares, but I think it would be perfect! It needs to happen! It would be a great thing for the Big Ten to capitalize on as well.
Brian Bennett:
Fun idea, Cameron. The Ivy League has steered clear of playing FBS teams in recent years. But this is one FBS-FCS matchup I could support, if only for the historical celebrations and ceremonies that could come with it.
September, 13, 2013
9/13/13
11:00
AM ET
It's time to dip into the Big Ten recruiting mailbag and answer some of your questions. We'll try to give everyone a chance to get their questions answered. We encourage you to send your questions by Twitter to
@bbournival
or
@TomVH
.
@buckeyefan686: How do you see Urban Meyer and Co. utilizing a player like Noah Brown?
Brad Bournival:
First and foremost, Brown is a player who brings versatility and can play either split out or in the slot. He can even go in the backfield if Meyer needs him there. His size -- 6-foot-2 and 215 pounds -- makes him a solid choice to play the X receiver. With explosiveness and good route-running, he's a natural to go out wide for Ohio State. Expect to see him on special teams soon for the Buckeyes.
---
@kraut2k:
Is DeAnthony Arnett having a negative effect with Michigan State and Brian Cole?
Tom VanHaaren:
It seems as though he might be, yes. Arnett, a wide receiver from Saginaw, Mich., hasn't been getting playing time at Michigan State. He transferred from Tennessee after his freshman season, but hasn't made an impact yet. That does seem to be something Cole (Saginaw, Mich./Heritage) has taken notice of. Cole and Arnett are friends, as is Cole's father. A program can't change what it does on the field for a recruit, but in this case it does look like it's having an impact on this prospect. I'm not sure there is much that can be done if that's the way Cole and his family feels.
---
@PSUlions1121: Have you heard anything about Justin Hilliard's visit?
Bournival:
After talking to his dad, the ESPN Junior 300 junior is very intrigued by "linebacker university" and wants to see what Happy Valley is all about. He also has heard all about the atmosphere of a night game, so he wanted to see that firsthand this weekend as well. He has rescheduled his trip to Kentucky for Oct. 12 when the Wildcats play Alabama.
---
@UMKirwin12:
Which Big Ten teams do you think will see their class ranking change the most, up or down, from where they are now to where they end up on national signing day?
VanHaaren:
I think Michigan and Ohio State still have a lot left on their boards to bump each of them up in the rankings. They are both in the top 10, but with some big prospects still in play, they could still see a bump. Northwestern, Michigan State and Nebraska are also teams that have opportunity to jump in the rankings as well. All three teams have ESPN 300 prospects still listing them in their top group, so there is a chance we could see some upward movement.
---
@darkknight1093: With all the turmoil at Texas, do you now see Ohio State as a serious contender to land Solomon Thomas or Myles Garrett?
Bournival:
If things play out like they did with Penn State and Oregon in Meyer's first two classes, don't expect him to do much until after the season. I'm sure there is a lot of interest in Thomas and Garrett, but Meyer is very careful where he picks his spots.
---
@CooperLily21: General question for you. In your opinion what is the most important thing (or things) kids look for in a school?
VanHaaren:
That's tough to answer in a short response because there are so many factors for different kids. It really depends on what the prospect is looking for, what his situation is and what caliber player he is. I think the biggest similarity is a comfort level. This gets overlooked a lot, but a big part of why recruits take visits is to see how comfortable they feel with the coaches, players and that campus. That's partially why it doesn't always work out when a recruit is a fan of a school growing up and then ends up committing elsewhere. If he feels a different level of comfort or feels more wanted at a different program, that goes a long way.
---
@GRSportsBlog: Any idea what's up with Dravon Henry and his shakeup with the top schools?
Bournival:
In a nutshell, the ESPN 300 athlete just didn't think Penn State was a good fit. ACC recruiting reporter Jared Shanker wrote an
excellent piece
on it Wednesday. It looks like it's down to Pitt and West Virginia with Ohio State having an outside shot. The bowl ban might have played a role in Henry dropping the Nittany Lions.
---
@redwingyooper:
Why the delay in Michigan offering Matt Burrell Jr. and Tim Settle when they have shown interest?
VanHaaren:
Numbers are tight again for 2015, so every offer is important. Right now there are only around 15 scholarships available in that class. There are already technically seven spots taken up with greyshirt commit
Brady Pallante
counting towards 2015 for now. With attrition that total number of 15 can rise, so there are probably around 10 spots left, give or take. With Burrell, Michigan has
Jon Runyan Jr
. (Philadelphia/St. Joseph's Prep) already committed as an interior offensive lineman. That's also what Burrell position Burrell plays, and Michigan seems to be in the market for tackles.
September, 11, 2013
9/11/13
12:00
PM ET
July, 19, 2012
7/19/12
2:16
PM ET
On Wednesday, we ranked the top
individual wide receivers and tight ends
in the Big Ten heading into 2012. So of course that means it's time to look at the position group as a whole throughout the league. Remember, we're weighing past performance heavily here with consideration given to potential.
It's go time.
1. Northwestern:
We didn't rank a single Wildcat in our top 10 individual receivers or tight ends, yet we have the group No. 1. Have we lost our minds? Well, maybe. But we really like the depth of this group, even with star Jeremy Ebert off to the pros.
Demetrius Fields
,
Christian Jones
,
Tony Jones
and
Venric Mark
are all very good, and if Kyle Prater gets eligible this might be the deepest receiving corps in the league. The drawback is the lack of an experienced tight end to take over for Drake Dunsmore, but that's less important in a spread offense.
[+] Enlarge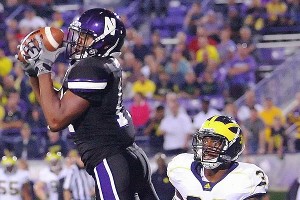 Dennis Wierzbicki/US PresswireNorthwestern's Christian Jones helps form one of the best wide receiver groups in the Big Ten.
2. Nebraska:
The Huskers might not be the most prolific passing team, but they've got a lot of options.
Kenny Bell
emerged as a real weapon last season, and
Quincy Enunwa
,
Jamal Turner
and
Tim Marlowe
all bring something to the table. Add to that one of the league's top tight end duos in
Kyler Reed
and
Ben Cotton
, and this is a strong group.
3. Wisconsin:
Bonus points here for star power, as receiver
Jared Abbrederis
and tight end
Jacob Pedersen
enter the season as the top-rated players at their respective position. There are a lot of other question marks at receiver, though the Badgers have a large cast of candidates. And they're loaded at tight end.
4. Iowa:
Keenan Davis
and
Kevonte Martin-Manley
form one of the best returning receiving tandems in the Big Ten.
C.J. Fiedorowicz
could become a star at tight end. Marvin McNutt is gone, but
James Vandenberg
should still have plenty of targets.
5. Purdue:
The Boilers bring back three of their top four pass-catchers from a year ago, led by
Antavian Edison
. They need to stretch the field more, and perhaps star kick returner
Raheem Mostert
can add more playmaking ability to the group. They have a deep group of tight ends that could be one of the strengths of the offense.
6. Michigan:
Junior Hemingway is gone, but the Wolverines are hopeful
Roy Roundtree
can fill his role.
Jeremy Gallon
is tiny but manages to make big plays. Michigan will need a third receiver to emerge and for someone to take over for
Kevin Koger
at tight end.
Brandon Moore
is the top candidate for that.
7. Penn State:
Justin Brown
gives the Nittany Lions a solid top option, but the loss of
Curtis Drake
and
Devon Smith
hurt the depth. Penn State's tight ends have mostly been anonymous, but that -- along with overall passing game production -- should change with the new staff.
8. Indiana:
There's talent here, if the Hoosiers can harness it.
Kofi Hughes
can be one of the league's top receivers and is complemented by
Duwyce Wilson
,
Cody Latimer
and the diminutive
Shane Wynn
.
Ted Bolser
had a nice spring and looks ready to be very productive at tight end.
9. Ohio State:
By now, you know the stat. No Buckeye had more than 14 catches last year. No matter how many times you hear it, it's still a little hard to believe. At least Ohio State has talented players to work with in guys like
Corey Brown
,
Devin Smith
and freshman Michael Thomas. And
Jake Stoneburner
could thrive under Urban Meyer at tight end. Expect the group's numbers to soar.
10. Illinois:
It was almost A.J. Jenkins or bust for the Illini receivers last year. They'll need to find new playmakers in the spread offense.
Darius Millines
has to step up, along with
Spencer Harris
.
Jon Davis
had a promising freshman year at tight end.
11. Michigan State:
The Spartans lost their top three receivers and their starting tight end, so no wonder they're so low on this list. The addition of Tennessee transfer
DeAnthony Arnett
helps, and
Andre Sims
Jr. and
Keith Mumphery
had good springs. Still, playing time here is wide open, and true freshmen will get a chance to contribute.
Dion Sims
has as much physical talent as any Big Ten tight end.
12. Minnesota:
Quick, name a Minnesota receiver. If you're not a Gophers fan, you probably are still thinking. This is a group of largely unknown guys who'll have to raise their profile this fall.
Brandon Green
,
Malcolm Moulton
and
Devin Crawford-Tufts
are the leading returning receivers. Transfer Isaac Fruechte and some youngsters will be counted on to contribute. Senior
John Rabe
brings experience to the tight end spot.
January, 10, 2012
1/10/12
4:25
PM ET
The college football season is officially over. So it's time to break out the crystal ball and offer our projections for the preposterously-too-early 2012 Big Ten power rankings.

1. Michigan State:
The Spartans must replace a lot of leadership, including quarterback
Kirk Cousins
, receivers
B.J. Cunningham
and
Keshawn Martin
and All-American defensive tackle Jerel Worthy. But nine starters return off the Big Ten's top overall defense, featuring Will Gholston, Denicos Allen and Isaiah Lewis as potential breakout stars.
Le'Veon Bell
could have a big year as the No. 1 tailback, and if
Andrew Maxwell
can adequately fill in for Cousins, the offense should be fine, especially if Tennessee transfer
DeAnthony Arnett
gets his waiver to become immediately eligible at receiver. Plus, the road schedule (at Central Michigan, at Indiana, at Michigan, at Wisconsin, at Minnesota) is far more manageable than what the team navigated in 2011.
2. Michigan:
A lot of things went right for the Wolverines in 2011, including a favorable schedule. That slate gets harder in 2012, beginning with Alabama at Cowboys Stadium and including road trips to Nebraska and Ohio State. Still,
Denard Robinson
and Fitz Toussaint form one of the most dangerous offensive duos in the league, and the second year under Brady Hoke and his staff should mean more familiarity and comfort. Coming off a BCS win, Michigan could start the season in the Top 10.
3. Wisconsin:
The Badgers will have to overcome many challenges to reach their third straight Rose Bowl. The biggest concern is at quarterback, where there's no experience to replace
Russell Wilson
and his record-breaking efficiency level. Bret Bielema will have to remake almost his entire offensive coaching staff after Paul Chryst took several assistants with him to Pittsburgh. Still, Heisman Trophy finalist
Montee Ball
returns to keep the Wisconsin running game among the best in the country. And the two Big Ten teams who beat the Badgers in 2011 -- Michigan State and Ohio State -- must come to Madison in '12.
4. Ohio State:
The Buckeyes aren't eligible to make the Big Ten title game, but don't be surprised if they put up the best record in the Leaders Division. A transition period can be expected as Urban Meyer takes over as head coach and installs an entirely new offensive system. But Ohio State had a small senior class in 2011 and brings back many talented players, such as defensive lineman John Simon, quarterback
Braxton Miller
and running back
Carlos Hyde
. A schedule that features eight home games should equal much improvement over this year's 6-7 record.
5. Nebraska:
Few teams will be as experienced on offense as Nebraska, which returns seven starters and just about every key skill player on that side of the ball.
Taylor Martinez
and
Rex Burkhead
should be even better with another year in offensive coordinator Tim Beck's system. The questions are on defense, where the Huskers struggled at times in 2011 before losing their top two players in linebacker Lavonte David and cornerback Alfonzo Dennard. Nebraska must get tougher up front defensively to handle the Big Ten grind and has difficult road assignments looming at Ohio State and Michigan State.
6. Penn State:
For the first time since 1965, we'll see what a Penn State team looks like that is not coached by Joe Paterno to start the season. New coach Bill O'Brien made a wise decision to retain defensive assistants Larry Johnson and Ron Vanderlinden, and even without All-American lineman Devon Still, that side of the ball should stay stout with standouts like Gerald Hodges, Jordan Hill and hopefully a healthy Michael Mauti. O'Brien's biggest impact should come on offense. The former New England Patriots offensive coordinator will try to bring the Nittany Lions attack into the 21st century with a competent passing game. Tailback
Silas Redd
provides a nice crutch while that transition occurs.
7. Iowa:
After two straight 7-5 regular-season finishes, the Hawkeyes will look to get back into Big Ten contention. But they'll have to overcome the losses of star receiver
Marvin McNutt
, offensive tackle Riley Reiff, defensive linemen Mike Daniels and Broderick Binns and cornerback Shaun Prater. When he's on,
James Vandenberg
is as good a dropback passer as there is in the Big Ten, but making up for McNutt's production won't be easy. Assuming
Marcus Coker
returns from suspension, the running game should be very good. The defense simply has to improve after giving up too many big plays in 2011, and Kirk Ferentz hasn't yet named a successor to veteran defensive coordinator Norm Parker, who retired.
8. Purdue:
The Boilermakers have a chance to make a move in a Leaders Division that is marked by coaching changes. They return most of the major pieces of their Little Caesars Bowl-winning team, and the return of
Rob Henry
from his season-ending knee surgery opens up some interesting possibilities at quarterback. Kawann Short should be one of the top defensive linemen in the league if he decides to return for his senior year. We'd still like to see more consistency from Danny Hope's program before we rank Purdue too high, however.
9. Northwestern:
Dan Persa
and his record-breaking accuracy are gone, along with top receiver
Jeremy Ebert
. Yet we're not too concerned about the offense and like the multi-dimensional options that
Kain Colter
provides with his all-around athleticism. Northwestern's issue is whether it can fix a defense that had trouble stopping anybody. The fact that the Wildcats lose their top three defensive backs from a secondary that was routinely torched does not inspire confidence.
10. Illinois:
New coach Tim Beckman has his work cut out for him in Year One. He has to completely revamp an offense that couldn't shoot straight in the back half of 2011 while implementing a new spread style. He has to try to maintain the defense without coordinator Vic Koenning or All-American defensive end Whitney Mercilus. And he faces a schedule that sees the Illini going to Ohio State, Wisconsin and Michigan, all three of which won in Champaign this past season. There's still talent on defense, led by promising linebacker Jonathan Brown. Quarterback
Nathan Scheelhaase
needs to build on his second-half showing in the Kraft Fight Hunger Bowl.
11. Minnesota:
After a horrible start, the Gophers showed a lot more fight down the stretch in 2011, beating Iowa and Illinois at home. Jerry Kill knows how to build a program, and the team can't help but be better in 2012, especially if MarQueis Gray continues to develop at quarterback. But Minnesota still has some holes on its roster that can only be fixed through recruiting, and while the Gophers could make a run at bowl eligibility this year, they'll be hard-pressed to make too much noise in a stacked Legends Division.
12. Indiana:
The good news for the Hoosiers is that they played a ton of freshmen in 2011, and the growing pains should start to pay off for guys such as
Tre Roberson
and Mark Murphy in 2012. The second year under Kevin Wilson should also bring progress. Still, this is a team that went 1-11 in 2011 with no wins over FBS teams, so it remains an uphill climb.
January, 3, 2012
1/03/12
12:45
PM ET
Tennessee wide receiver DeAnthony Arnett has
been granted a full release
by coach Derek Dooley. Arnett asked for the release, but was initially told it would be a conditional release and would not include any Big Ten schools in Michigan.
Arnett is now waiting for coaches at other programs to receive the release, which will be when they are technically allowed to contact him regarding their school. Schools such as Michigan, Michigan State, Notre Dame and Ohio State have been mentioned as potential landing spots for Arnett.
There is mutual interest at Michigan, but there is still a chance that Arnett does not end up in Ann Arbor. Dooley needs to give a 100-percent unconditional release in order for the 6-foot-2, 175-pound wideout to land in Ann Arbor.
Arnett had 24 receptions for 242 yards and two touchdowns in his freshman season for Tennessee.
December, 29, 2011
12/29/11
10:24
AM ET
The Weekly Update at WolverineNation is a sneak peak inside Michigan recruiting.
As with everything we do here, we ask that this information stays on The Den Forum.
This information is for WolverineNation subscribers only.
To continue reading this article you must be an Insider
Michigan C Cites Concussions In Decision To Quit
BIG TEN SCOREBOARD
Thursday, 9/3
Friday, 9/4
Saturday, 9/5
Sunday, 9/6
Monday, 9/7