Michigan Wolverines:

David Terrell
August, 19, 2013
8/19/13
9:00
AM ET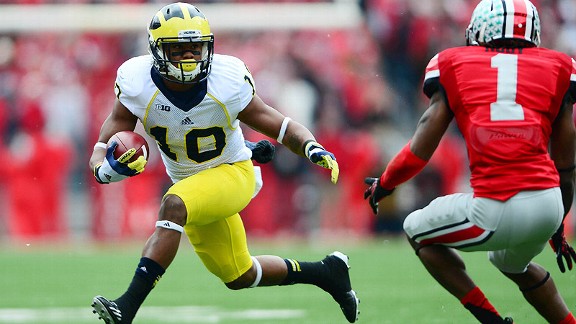 Andrew Weber/US PressiwireJeremy Gallon will try to become the 10th Michigan receiver to reach 1,000 yards in a season.
ANN ARBOR, Mich. --
Jeremy Gallon
brushed the question off, the entire premise actually. He insisted a 1,000-yard season would not be a big deal for him.
He focused his answers on what he could do for Michigan's team, about helping the younger receivers the way Junior Hemingway and Roy Roundtree assisted him when he was a freshman.
Eventually, he couldn't hold it in any more. Yeah, hitting 1,000 yards receiving in his final season at Michigan would mean something to him.
"It'll mean a lot, but it's just me wanting to come out and do whatever for my team," Gallon said. "Stats and me catching the ball are the least of my concerns at this point."
Fair, except he is the only one who believes it. His position coach, Jeff Hecklinski, publicly said it is a goal Gallon should shoot for. His former teammate, Roundtree, started pestering Gallon about 1,000 yards before last season even ended.
Michigan wide receivers know the importance of a four-digit season.
"A thousand yards is a big deal for anyone," senior receiver
Drew Dileo
said. "It's a big deal for Junior Hemingway, Roy Roundtree, Braylon Edwards."
It is a big enough thing for the Wolverines that two of those guys -- Hemingway and Roundtree -- never got there. Edwards is one of two Michigan receivers, along with David Terrell, to have more than one 1,000-yard season. Edwards is also the single-season receiving yards holder, with 1,330.
The 1,000-yard receiving mark is an elusive one at Michigan despite the school's litany of big-name receivers. In school history, there have only been 12 1,000-yard seasons, spread among nine players.
Gallon is attempting to become the 10th. The good news for him if he does: The other nine all had at least brief careers in the NFL. The bad news: Other than Desmond Howard, all were prototypical professional receivers when it came to size.
Gallon, a fifth-year senior, was almost an afterthought in his first two seasons at Michigan. The change in coaching staff from Rich Rodriguez, who recruited him, to Brady Hoke could have been problematic. Hoke and his staff wanted to move to a pro-style offense featuring the big, tall receivers Michigan traditionally featured.
The 5-foot-8 Gallon is not that, and he easily could have been dismissed as another small receiver the staff was unsure of what to do with. Instead, he has the potential to turn into one of the top receivers in school history.
If that 1,000-yard season happens, he'll finish his career in the top five in career receiving yards at Michigan. Depending how many catches it takes, he could end up in the top 10 in receptions, too.
"It's a realistic benchmark for him," Michigan receivers coach Jeff Hecklinski said. "If he reaches that plateau, then we're moving the ball and we're doing good things offensively. If he doesn't reach that plateau, then we are probably struggling.
"I think it's a good benchmark for us, too, because he is a guy on the outside that we need to make plays."
In the past five seasons at Michigan this has never been an emphasis. It has been the read option or the reflexive reliance on Denard Robinson's legs that has provided the offensive impetus for Michigan.
With Robinson gone and Michigan moving to a pro-style offense in which play action and downfield passing will be featured, Gallon's role becomes more important.
The last Michigan receiver to gain 1,000 yards was Mario Manningham in 2007 (1,174).
Since then, Roundtree came the closest with 935 yards in 2010.
"For a personal goal for him [Gallon], I think he's saying Michigan is used to having thousand-yard receivers and guys who are used to making plays like that," Hecklinski said. "I think he's seeing that as his goal, that he is having the opportunity to put himself in the same conversation as some of those guys.
"There are some huge names in there."
August, 2, 2013
8/02/13
3:51
PM ET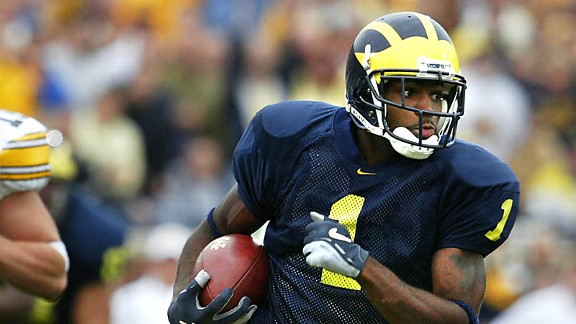 Tom Pidgeon/Getty ImagesBraylon Edwards in 2003-04 was the last Michigan receiver to wear the No. 1 jersey.
ANN ARBOR, Mich. -- At some point in the future, a Michigan wide receiver will wear the famed No. 1 jersey.
The question now is when.
"Eventually, someone is going to wear the No. 1," Michigan receivers coach Jeff Hecklinski told ESPN.com this week. "I don't know who it is going to be, because somebody has to be good enough and earn it that way.
"But again, eventually, that's going to happen at some point in time."
Hecklinski was quick to add he did not know if that would happen this season, next season or at a point beyond that. The No. 1 jersey has not been worn by a Michigan receiver since Braylon Edwards wore the number in 2003 and 2004.
In all, six Michigan receivers have worn the number: Anthony Carter (1979-1982), Greg McMurtry (1986-1989), Derrick Alexander (1990-1993), Tyrone Butterfield (1994-1996), David Terrell (1998-2000) and Edwards.
All but Butterfield played in the NFL.
"When you get it, there's a certain thing that goes with it," Terrell said. "Now adding all that extra stuff into it, it wore it down, man. Now, let's see what happens. If they go and do it, they know the ones. Coaches know. Lloyd (Carr) picked me for it. I don't think they were wrong.
"They know how to pick things. These people know what their job is."
[+] Enlarge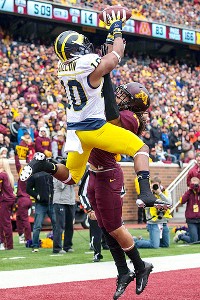 Jesse Johnson/US PresswireJeremy Gallon is the best receiver on the current Wolverines roster. Could he switch numbers?
Hecklinski, though, said the No. 1 jersey isn't something that will be promised during recruiting.
"It's earned," Hecklinski said of the jersey. "I don't control that. Coach (Brady) Hoke doesn't control that. You've got to earn that. Your play dictates that. Coach Hoke has a say on it, but he doesn't say, 'Oh, I think this could happen or think that could happen.'
"We just watch you play. It's the same thing when people say is a kid going to redshirt? We don't determine that. If he's ready to play, he's going to play. If he's not ready to play, he's going to redshirt. So that's where I think, there are things that are earned throughout your career. Those are goals you should have."
Between its current roster and recruiting, Michigan has several viable candidates for whenever the school chooses to dust off the No. 1.
Senior
Jeremy Gallon
is one of the best blocking receivers in the Big Ten and has the potential for a 1,000-yard season this year. In its 2014 recruiting class, Michigan has a commitment from the No. 8 wide receiver and No. 72 overall prospect,
Drake Harris
(Grand Rapids, Mich./Grand Rapids Christian). In the 2015 class, the No. 1 athlete and No. 3 player overall in the ESPN Junior 300,
George Campbell
(Tarpon Springs, Fla./ East Lake), has also verbally chosen the Wolverines.
Which Players Have The Most To Prove In 2015?
BIG TEN SCOREBOARD
Thursday, 9/3
Friday, 9/4
Saturday, 9/5
Sunday, 9/6
Monday, 9/7